Preview: Mini Black and White Cookies are smaller in size than the classic black and white cookie but just right for the average person.
I know what you're thinking…Black and White Cookies are supposed to be BIG. REALLY BIG!
I'm no expert, but I think you're right. Traditionally, they are so big they really need to be shared. I'm not good at sharing. So I came up with Mini Black and Whites that would be more appropriate for parties, showers, etc.
When I first heard about Black and White Cookies, I became obsessed with finding the best recipe so I could add it to my frosted cookie collection. I tried several recipes before I perfected the recipe you see printed here.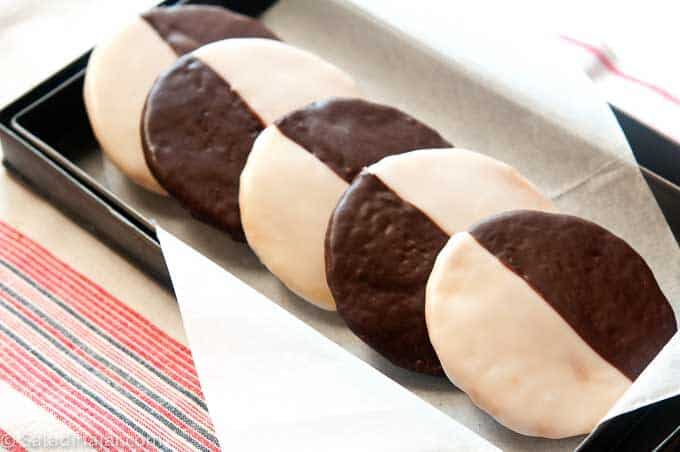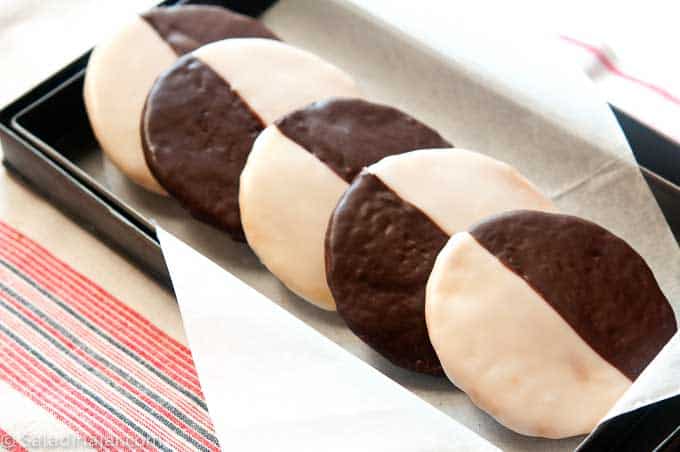 Thanks to my taste-testers…
My co-workers acted as official taste-testers. They declared this version the winner. My friend Daphne, who remembers eating them in California, excitedly proclaimed them authentic. I'll take that as a high-flying endorsement.
---
Why "Mini" Black and White Cookies?
The classic Black and White Cookie is 5 inches across according to Wikipedia. Surely that's illegal according to the portion control police!
To avoid prosecution and instant expansion, I choose to make mine smaller, which is actually still plenty big. (See picture below)
---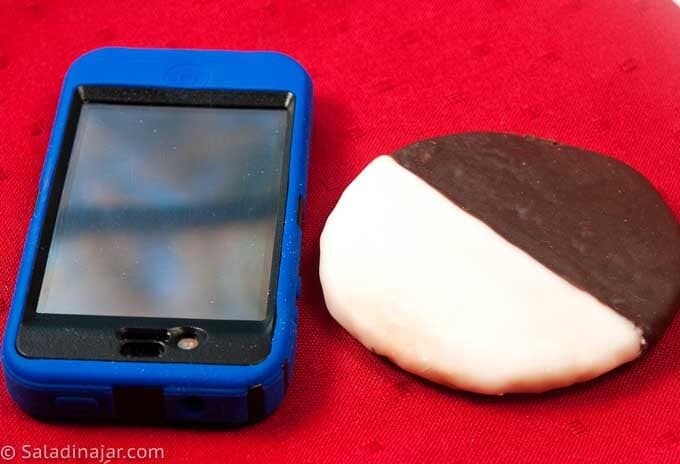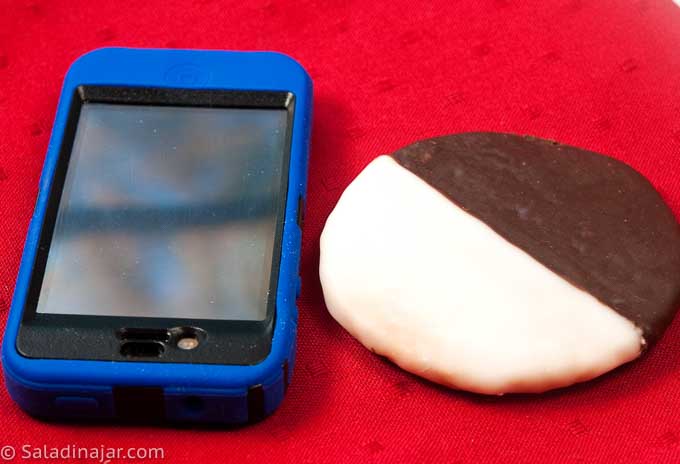 ---
Ingredients and substitutions:
FLOUR: Unbleached all-purpose flour is what I use in almost all of my baking. Substitute bleached all-purpose flour if that's what you have.

BUTTER: Use salted or unsalted butter. If using salted, decrease the salt a little bit.

SUGAR: Use granulated white sugar. I can't recommend any substitutions as I haven't tried any.

EGG: If you don't have a large egg, measure what you have until you come close to 50 grams.

LEMON OIL: Lemon oil imparts a richer and deeper lemon flavor than extract or grated lemon. But if you don't have lemon oil, the extract or grated lemon rind are acceptable substitutions.

BUTTERMILK: Make your own buttermilk if you like (1 cup milk + 1 tablespoon lemon juice or vinegar). I prefer to use unflavored Greek yogurt thinned with milk to the consistency of buttermilk. Yogurt contributes to a wonderful soft and cake-like texture.

CONFECTIONERS' SUGAR: Confectioners' sugar is also known as powdered sugar or XXX sugar (that's in America; not sure about other countries)

MILK: The fat content does not matter here. Use fat-free, lowfat, 2% or whole milk.

CORN SYRUP: Corn syrup is not the same as high fructose corn syrup. Stick to the Karo brand so you can be sure that your corn syrup is 100% glucose.
---
How to frost Mini Black and White Cookies:
First: Start with the white frosting first. For some unidentified reason, I find it easier to get a neat look before I drag chocolate into the whole scheme of things.
Second: Finish with the chocolate icing. No question about it. That little offset spatula knife you see in the picture really helps to do a neat job where the black and white meet. Worth the investment if you don't have one already.
Kitchen Secret for frosting Black & Whites
Did you notice anything interesting about the frosting on these cookies besides being half 'n' half?
Time's up.
The glaze goes on the bottom of the cookie, not the top.
If you do it the usual way with frosting on top, you'll be struggling mightily to keep the dividing line straight between the vanilla and chocolate glaze. Besides that, they won't be like a real, authentic Black and White Cookie.
---
More cookies from this blog:
---
If you enjoyed this recipe, it would help others and me if you gave it a five-star rating inside the recipe card below. 🤩 No comment required. Thank you.

Hope to see you again soon!
Paula
p.s. Questions or suggestions? Please email me: Paula at saladinajar.com.
---