Mini Black and White Cookies: Smaller Size, Same Taste
Sneak Preview: Mini Black and White Cookies are more petite than the classic black and white cookie and are appropriate for showers, cookie trays, and dessert.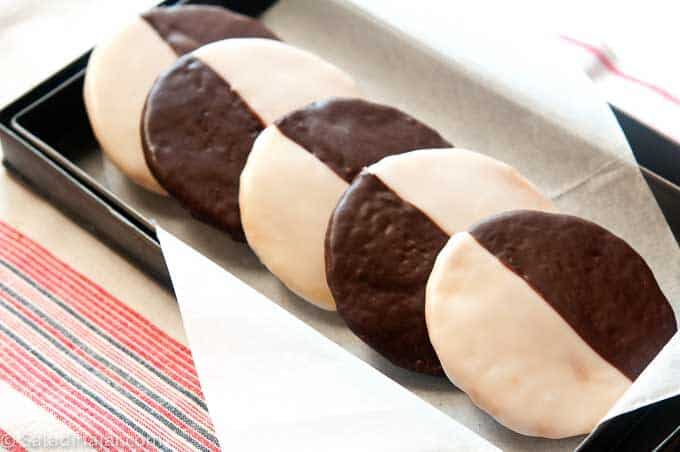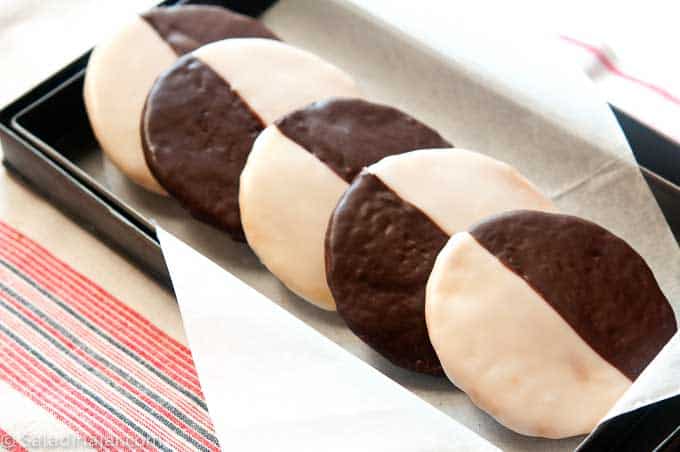 As an Amazon Associate, I earn from qualifying purchases.
I know what you're thinking. Black and White Cookies are supposed to be humongous!
You're right. Traditionally, black and white cookies are so big they need to be shared. But, unfortunately, I'm not good at sharing. So I came up with Mini Black and Whites that would be more appropriate for parties, showers, etc.
When I first heard about Black and White Cookies, I was obsessed with finding the best recipe to add to my frosted cookie collection. I tried several recipes before I perfected the recipe you see printed here.
Why "mini" Black and White Cookies?
The classic Black and White Cookie is 5 inches across, according to Wikipedia. Surely that's illegal according to the portion control police!
To avoid prosecution and instant waistline expansion, I choose to make mine smaller, which is big enough. (See picture below) Smaller cookies are also much nicer for a tea party, a shower, or with ice cream.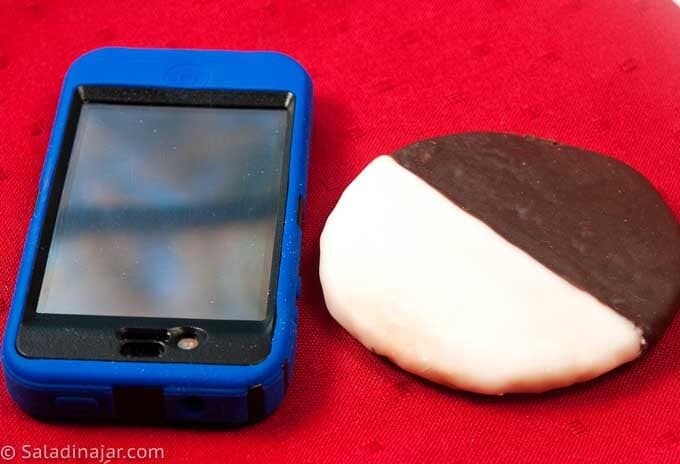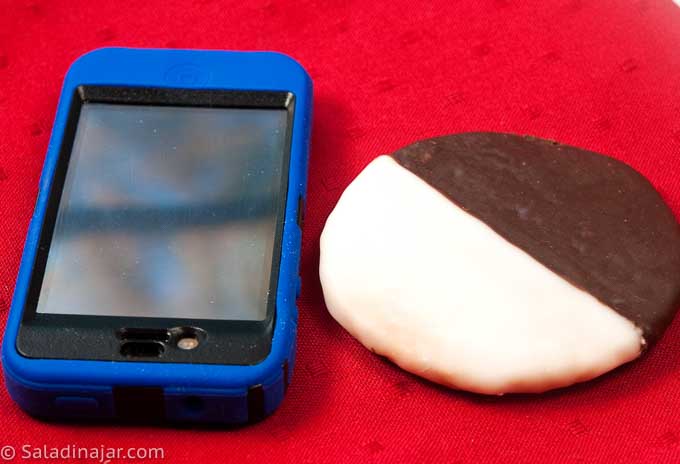 Ingredients and substitutions:
FLOUR: Unbleached all-purpose flour is what I use in almost all of my baking. Substitute bleached all-purpose flour, if that's what you have.

BUTTER: Use salted or unsalted butter. If using salted, decrease the salt a bit.

SUGAR: Use granulated white sugar. I can't recommend any substitutions as I have tried none.

EGG: If you don't have a large-size egg, measure what you have until you come close to 50 grams.

LEMON OIL: Lemon oil imparts a richer and deeper lemon flavor than extract or grated lemon. But if you don't have lemon oil, the extract or grated lemon rind are acceptable substitutions.

BUTTERMILK: Make your own buttermilk if you like (1 cup of milk + 1 tablespoon lemon juice or vinegar). I prefer to use unflavored Greek yogurt thinned with milk to the consistency of buttermilk. Yogurt contributes to a wonderfully soft and cake-like texture.

CONFECTIONERS' SUGAR: Confectioners' sugar is also known as powdered sugar, icing sugar, or XXX sugar (that's in America; not sure about other countries).

MILK: The fat content does not matter in this recipe. Use fat-free, low-fat, 2%, or whole milk.

CORN SYRUP: Corn syrup is not the same as high fructose corn syrup. Stick to the Karo brand so you can be sure that your corn syrup is 100% glucose.
How to frost Mini Black and White Cookies:
1. Start with the white frosting first. I find it easier to get a neat look before I drag chocolate into the entire scheme of things for some unknown reason.
2. Finish with the chocolate icing. The offset spatula knife you see in the picture helps make a neat line where the black and white meet. It's worth the investment if you don't have one already.
Kitchen Secret for frosting Black & Whites
Did you notice anything interesting about the frosting on these cookies besides being half 'n' half?
Time's up.
The glaze goes on the bottom of the cookie, not the top.
If you do it the usual way with frosting on top, you'll be struggling to keep the dividing line straight between the vanilla and chocolate glaze. Besides that, they won't be like an authentic Black and White Cookie.
---
FAQ:
What flavor is a black and white cookie?
The cookie itself can be vanilla, but most have some lemon flavor added.
Are black and white cookies different flavors?
The two colors of frosting are different flavors. The black side is dark chocolate and the white side is vanilla.
Frosted cookies are my thing. Frosting makes cookies disappear much faster. If you enjoy making them, too, try these Frosted Lemon Cookies (made with Greek yogurt) or our family favorite, Soft Cinnamon Cookies with Browned Butter Icing.
---
If you have questions or suggestions, email me privately to Paula at saladinajar.com. Hope to see you again soon! Paula
---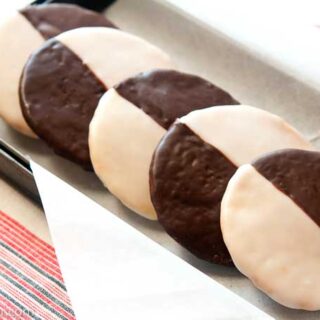 Mini Black and White Cookies Recipe
This Black and White Cookie recipe is smaller in size than the classic cookie but fresher and tastier than the average store-bought black and white cookie.
Ingredients
2

cups

unbleached all-purpose flour

-

240 gr

½

teaspoon

baking soda

½

teaspoon

table or sea salt

½

cup

butter

-

softened (113 gr)

1

cup

granulated sugar

-

198 gr

1

large egg

-

50 gr

1/4-1/2

teaspoon

lemon oil

-

See note

1

teaspoon

vanilla extract

¾

cup

buttermilk

-

or use unflavored Greek yogurt thinned with milk to the consistency of buttermilk (227 gr)
Chocolate Glaze
1-

ounce

unsweetened chocolate

1-

ounce

semi-sweet chocolate

2

teaspoons

butter

⅔

cup

confectioners' sugar

-

76 gr

2

tablespoons

boiling water

2

teaspoons

light corn syrup

½

teaspoon

vanilla extract
Vanilla Glaze
2

cups

confectioners' sugar

-

227 gr

3

tablespoons

hot milk

-

42 gr

1

tablespoon

corn syrup

½

teaspoon

vanilla extract

Pinch

salt
Instructions 
Preheat oven to 400˚F. Prepare baking sheets by spraying with vegetable oil or cover with parchment paper or silicone baking sheet.

Sift together flour, soda, and salt.

Use a mixer to beat butter until smooth and lemony colored about 3 minutes. Add sugar and continue beating for another minute. Add in egg and beat until light and fluffy. Stir in lemon oil and vanilla.

Add the flour mixture alternately with the yogurt mixing gently until mixed.

Drop by large spoonfuls onto a greased baking pan or sheet lined with parchment or a silicone baking sheet. I use an ice cream dipper (which holds ⅛ cup) to achieve a uniform size. Use ¼ cup for the larger size cookies.

Bake in an oven preheated to 400˚F for 10-12 minutes until lightly browned. (Longer for classic size.) Remove slightly cooled cookies to a cooling rack after 2-3 minutes. Leaving on the pan too long will cause the bottom to absorb moisture and roll into crumbs when removed from the tray. Speaking from experience, this will spoil your icing job.

Make the glaze while the cookies bake. Apply vanilla glaze to one half of the cookie and let it dry before spreading chocolate glaze on the other half for the neatest application. Allow glazed cookies to dry for several hours.
Chocolate Glaze
Microwave chocolate and butter for 1 minute. Stir to enable complete melt without scorching. Add in sugar, boiling water, syrup and vanilla. Beat until smooth. If glaze gets too thick to spread evenly, add a few drops of boiling water.
Vanllla Glaze
Add hot milk to confectioners' sugar and stir until smooth. Add remaining ingredients, stirring again until smooth. If glaze gets thick, add a few drops of hot milk.
Notes
Lemon oil can be purchased online, at health food stores, or specialty grocery stores like Central Market or Whole Foods. Leave it out if you wish or use anywhere from a few drops to 1/2 teaspoon depending on your taste for lemon. I like 1/4 teaspoon. Substituting lemon extract gives a different flavor I'm not all that crazy about.
Nutrition
Nutrition Facts
Mini Black and White Cookies Recipe
Amount per Serving
% Daily Value*
* Percent Daily Values are based on a 2000 calorie diet.
Like this recipe? Thanks for leaving a 5-star rating inside the recipe at the top! 🤩