Sneak Peek: This recipe for Greek Yogurt Cookies with Lemon Icing was inspired by Giada's Lemon Ricotta Cookies. A lemony powdered sugar glaze makes them memorable.
Although not my favorite vacation spot, what happened one day at lunch in Vegas was unforgettable.
We were eating at Giada's restaurant. Our waitress mentioned Giada sometimes showed up unplanned to greet her patrons.
5 minutes later…
Giada appeared out of nowhere, bouncing from table to table. I could hardly contain myself when she turned our direction. What a friendly, gorgeous, and charismatic ball of energy!
Giada is famous for her cookbooks, her food shows, and her million-dollar smile. But she's also tiny. How does she maintain her weight when thinking about food all day?
Turns out she hears that question more than any other. She shares her secrets in Giada's Feel Good Food cookbook.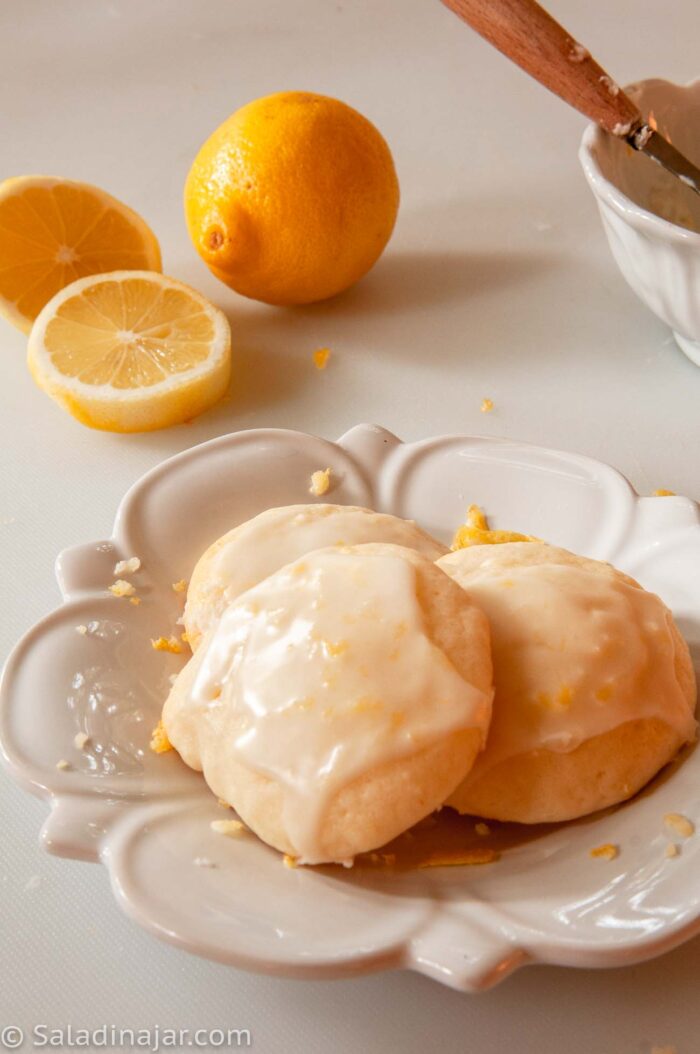 The brown bag I'm holding contains cookies we ordered from the dessert menu. I was too excited to think about removing them from the paper bag for the photo. The assortment included Giada's famous Lemon Ricotta Cookies with Lemon Icing.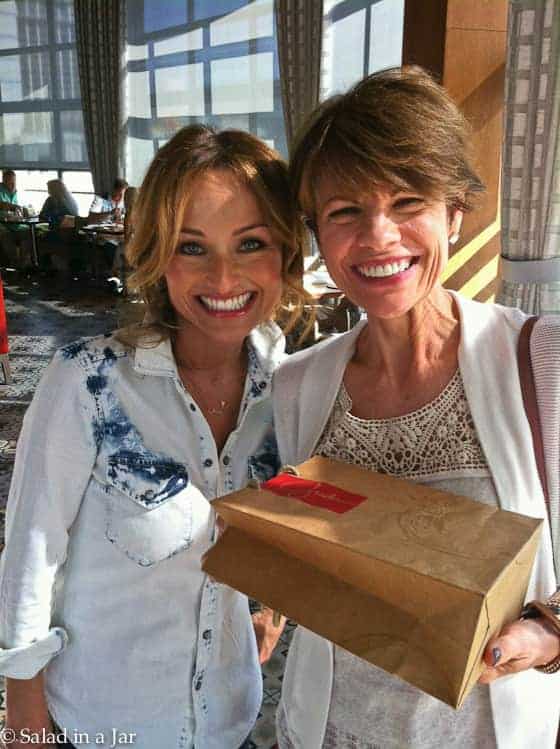 Her recipe from "Giada's Kitchen" inspired these lemon-flavored Greek Yogurt Cookies. They taste similar.
Since I'm a Greek yogurt maker like many of you, I usually have more yogurt in my fridge than ricotta cheese. Besides that, yogurt is cheaper.
---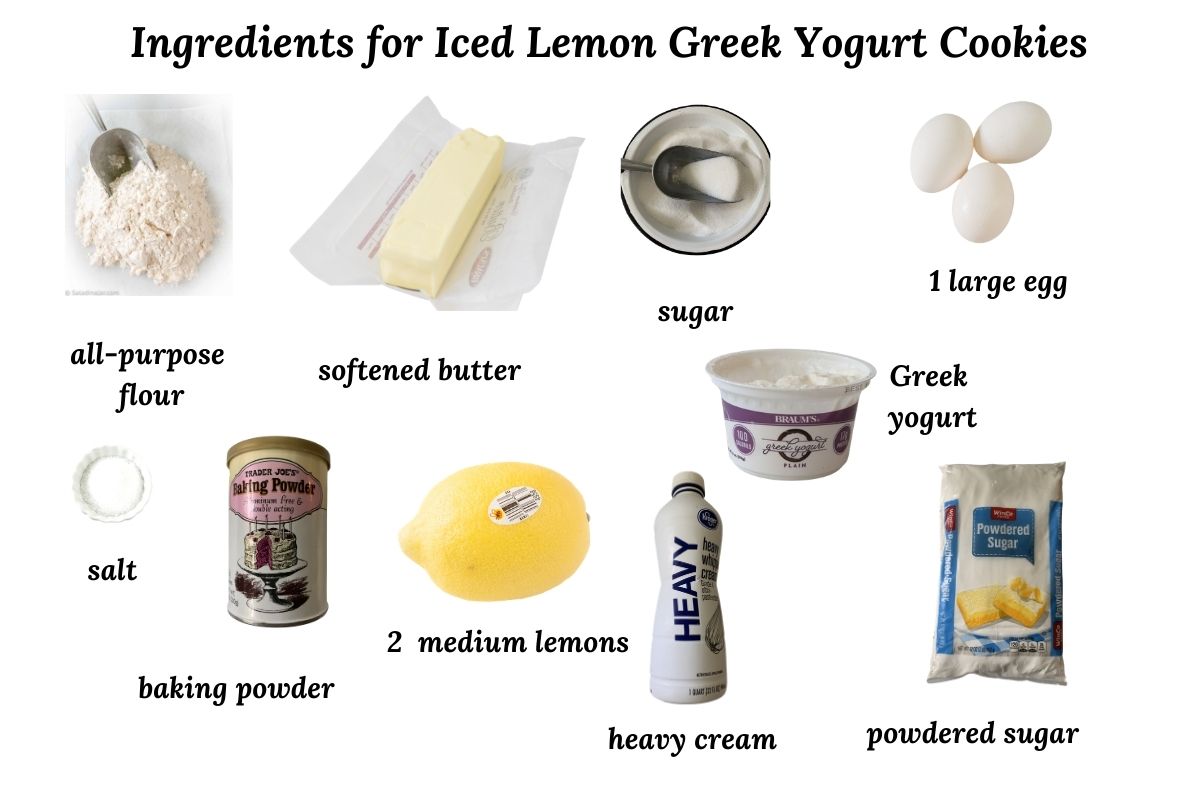 ---
FLOUR: All-purpose flour is best – bleached or unbleached.
SALT: Table or sea salt
BUTTER: Set the butter and eggs out beforehand to come to room temperature before mixing. Unsalted butter is preferred. Decrease the salt by a pinch if using salted butter.
SUGAR: Granulated. No known substitutes.
EGG: Large size
LEMONS: Small to medium lemons are good. I haven't tried it, but oranges seem like a good substitute for lemons if you prefer.
GREEK YOGURT: The tanginess of yogurt plus the tartness of lemon equals a perfect marriage of flavors. Or do like Giada: use ricotta cheese if you prefer.

If you can only get regular yogurt or your Greek yogurt is not as thick as ricotta cheese, you might want to strain it to remove more whey. The process will produce a more ricotta-cheese-like texture.

And exactly how do I strain it?

Pour yogurt into a cheap strainer or colander lined with a paper coffee filter or paper towel. Drain for 30-60 minutes.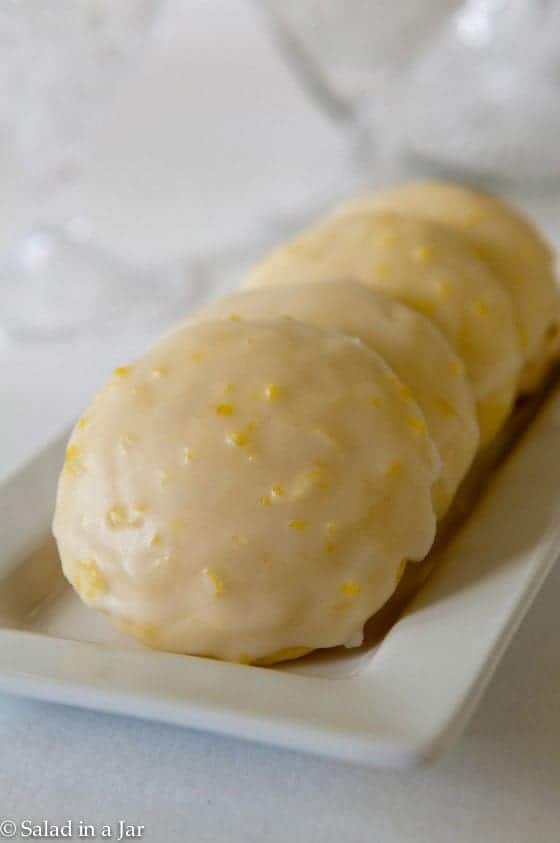 ---
What is the difference between regular yogurt and Greek yogurt?
Greek yogurt is regular yogurt with part of the whey removed. The process makes Greek yogurt thicker, higher in protein, and lower in sugar.

In this recipe, the thicker Greek yogurt will help the cookies bake up puffy instead of flat like a pancake. When using regular yogurt, either drain the whey for 30-60 minutes or add additional flour.
What does Greek yogurt do for these cookies?
Greek yogurt keeps them moist, fluffy and light like miniature cakes.
Is it OK to double this recipe?
Yes. This recipe only makes 30 small cookies (20 large) so make a double batch for a party.
How do these cookies contain so much protein?
The Greek yogurt in this recipe adds 18 grams of protein. According to the nutritional analysis, each cookie contains 2 grams of protein.
Can I freeze these cookies?
Yes. Wrap them with waxed paper between the layers so the icing won't glue them together. Double wrapping is always a good idea.
---
How to make Greek Yogurt Cookies with Lemon Icing: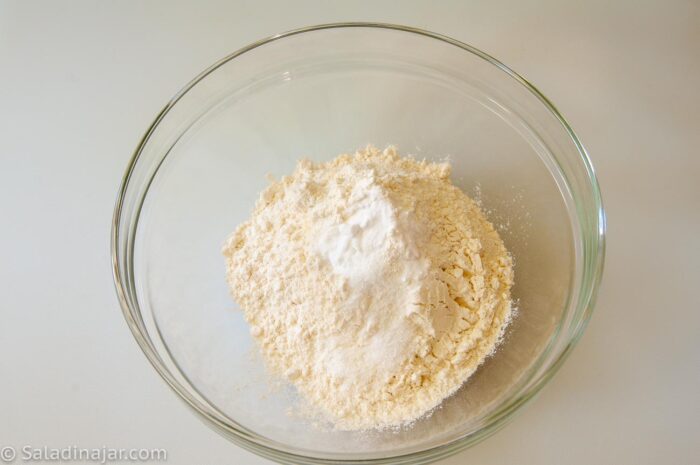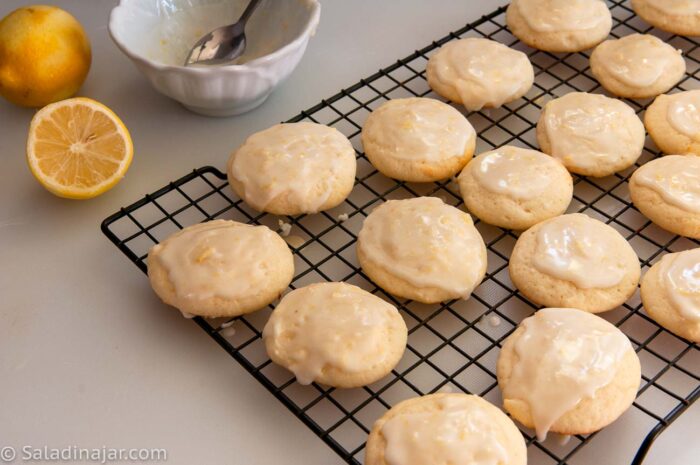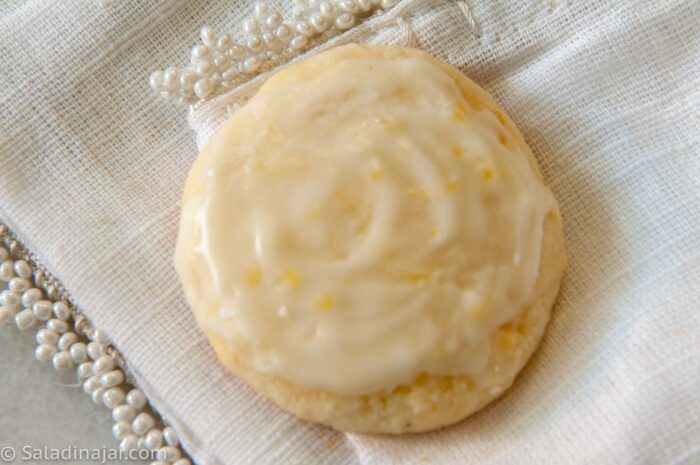 ---
More Recipes for Lemon Lovers
Did you enjoy this recipe? If so, you can help others and me by leaving a 5-star 🤩 rating inside the recipe below. No comments are required.
Hope to see you again soon!
Paula
p.s. If you have any questions or suggestions, you can email me privately: Paula at saladinajar.com.
---