Preview: This recipe for an incredibly flaky Yogurt Pie Crust (regular or Greek yogurt) is guaranteed to make your next pie memorable. Mix the dough in a stand mixer.
You need this recipe for a pie crust made with yogurt if…
You love a tender and flaky pie crust
You often have unflavored yogurt in your fridge
You like to make pie crust from scratch
As a young County Extension agent, I made a guest appearance on a TV cooking show at 5:30 one Saturday morning.
My mission: To show the viewers how to make the perfect pie crust. It had to be right the first time through, no retakes allowed. I practiced for weeks beforehand and got pretty good at rolling out a pie crust.
Ever since my 30-minute brush with fame, I've been experimenting. This Greek yogurt pie crust is my best and favorite recipe to date.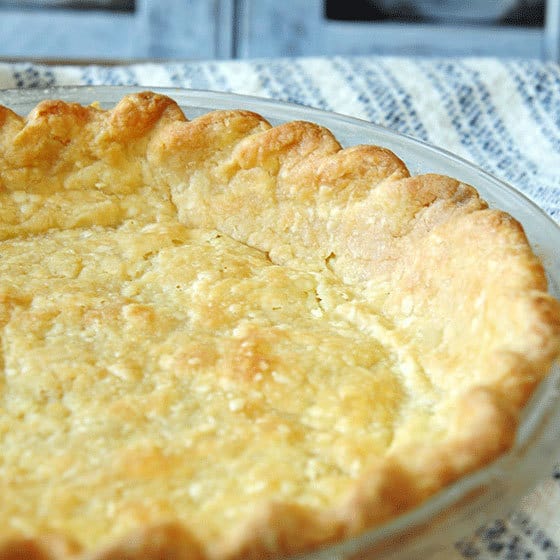 Recipe inspiration:
A few years ago, I ran across a crust recipe in a magazine (remember those?) calling for sour cream in addition to butter. This gave me an idea.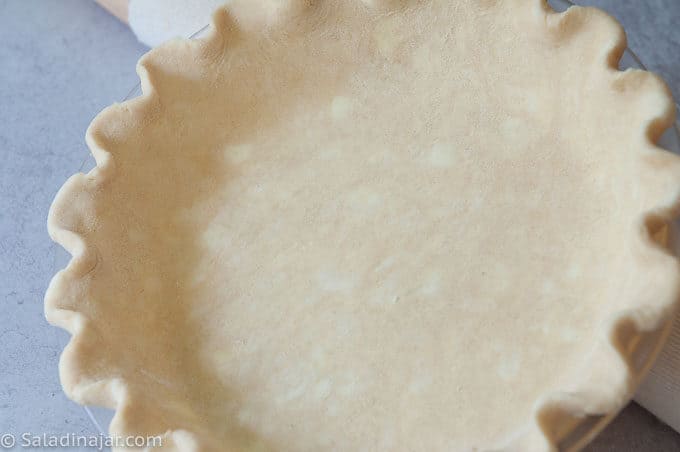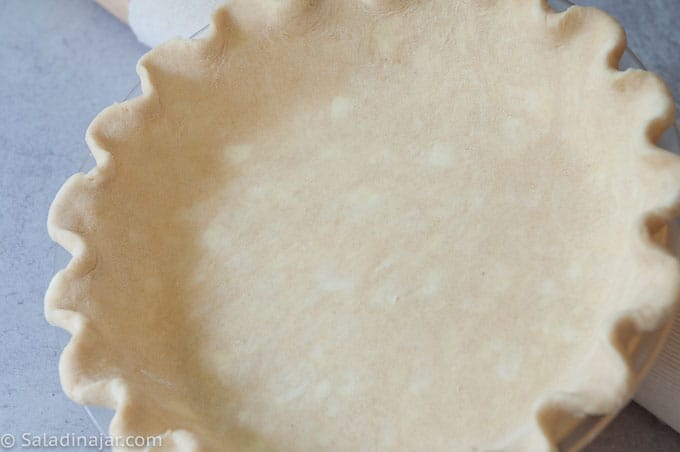 What if I replaced the sour cream and water with yogurt?
I tried it and It worked. I think you're going to love the result!
Why does yogurt make a pie crust flakier?
A bit of research revealed why sour cream is a little-known secret to flaky pie crust. The same principle seems to apply to yogurt.
The acid in the sour cream slows down the development of gluten (the structure-forming protein in flour), which makes for a more tender and flaky crust."

The America's Test Kitchen Family Baking Book
Turns out the acidity of the yogurt acts the same way vinegar or lemon juice does in some recipes. The yogurt also replaces water as a binder. A touch of sugar and an egg yolk increases the richness and encourages browning.
I don't totally understand it, but the yogurt seems to work magic. You will be rewarded with a crust that's full of layers and flavor.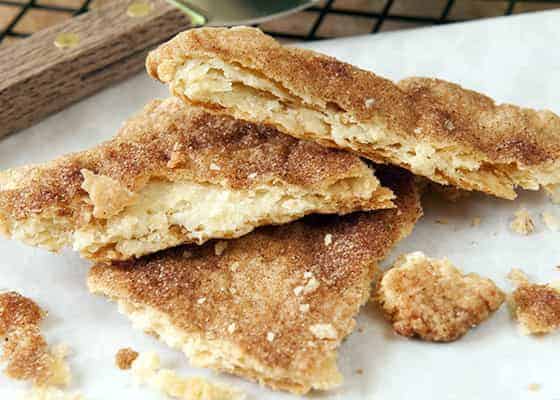 Ingredients and substitutions
FLOUR: Use all-purpose flour, bleached or unbleached. A high-protein flour may cause the crust to be tough.

SUGAR: You may leave this out if you prefer. I think it adds flour.

SALT: Salt is optional but it enhances the flavor.

BAKING POWDER: I'm always tweaking my recipes. After experimenting with baking powder as recommended by the Kitchn, I added it to the recipe. You can't taste it. True to what the Kitchn says, it does add the slightest lift to the crust and keeps it from shrinking.

BUTTER: Be sure the butter is cold. Frozen is good. If your butter is salted, no need to add the extra salt specified in the recipe.

YOGURT: Although I use my own homemade unflavored yogurt, this recipe also works with store-bought regular nonfat yogurt, vanilla-flavored nonfat yogurt, and nonfat Greek yogurt. If you use Greek yogurt that is VERY thick, thin it with a bit of milk before measuring.

EGG YOLK: If you prefer not to use an egg yolk, leave it out and increase the amount of yogurt to 1/3 cup.
---
Can I freeze this pie crust?
Yes. Freeze for up to 1 month in an oven-safe pie dish. Double wrap to avoid freezer burn.
No need to defrost before baking.
---
FAQ about homemade yogurt pie crust:
1. Why does my pie crust drip butter?
Most likely, the pieces of butter were too large after you finished cutting them into the flour. An easy way to make sure this doesn't happen is to grate the butter. See #4 below.
Just in case…
When baking this pie crust, I always place it on a rimmed cookie sheet covered with foil or a silicone baking mat. The cookie sheet will catch any buttery drips that might otherwise fall to the oven floor and burn. The foil will make clean-up a breeze.
2. Why is my pie crust tough and hard to cut?
You have likely overprocessed the dough. Another reason is adding too much liquid or too much flour.
3. Why did my pie crust shrink when prebaking it?
Several possibilities:
The dough was overprocessed.
The dough was stretched while placing it into a pie pan.
The oven was pre-baked at too high of a temperature.
4. Can I make mix this up by hand if I don't have a stand mixer?
Yes. Here's an easy tip for making sure the butter pieces get mixed in well without overdoing it. Freeze the butter, then grate it by hand. Add it to the bowl containing your flour mixture and stir until you get a crumbly dough. Proceed with the recipe as written.
How to assemble yogurt pie crust:
How to "smoosh" the crumbles (aka as fraisage):
Don't miss the video showing how to do this.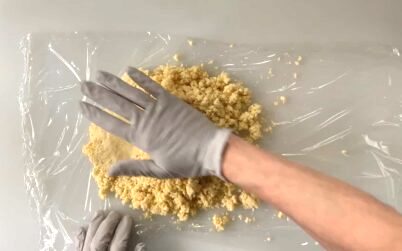 ---
How to roll out yogurt pie dough: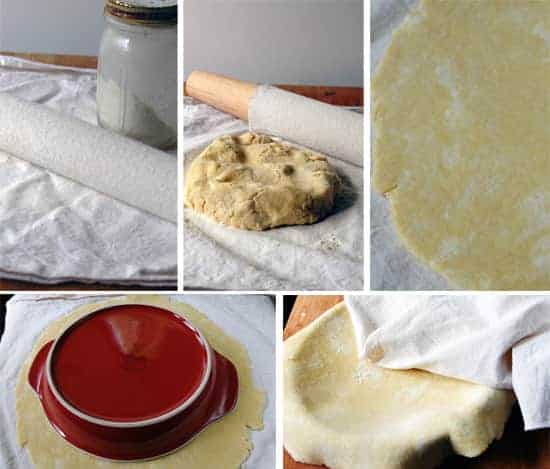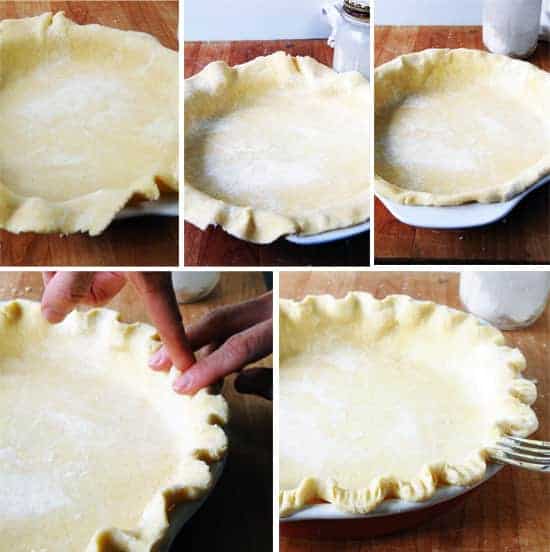 ---
How to blind-bake this yogurt pie crust recipe:
Freeze prepared pie crust while you preheat oven to 375˚ F.
---
***Kitchen secret for cheap and handy pie weights:
My favorite is a heavy chain. You can buy it by the foot at a hardware store. No chasing beans or pie weights around the kitchen.
---
Are you interested in more recipes with yoghurt?
---
If you enjoyed this recipe, it would help others and me if you gave it a five-star rating inside the recipe card below. 🤩 No comment required. Thank you.

Hope to see you again soon!
Paula
p.s. Questions or suggestions? Please email me: Paula at saladinajar.com.
---