Preview: This Layered Pumpkin Custard Pie is a delicate pumpkin pie recipe that bakes into distinct layers like magic. Requires only 3 tablespoons of pumpkin puree.
If you can't convince yourself to like pumpkin pie, you must try my Grandma's Magic Pumpkin Pie. Three layers of goodness, four if your count the crust, will keep you coming back for more.
Layers starting from the top down:
A soft and airy golden brown layer on top protects the layers underneath and keeps them a secret until the pie is opened.
The second and usually largest layer is a delicate and mildly flavored custard-like affair. I love to use my fork to play with this layer.
The third layer is thin. Only a couple of tablespoons of canned pumpkin gives this pie the pumpkin flavor (or use butternut squash for a milder taste).
The fourth layer is the crust–an important component of any pie in my book. My favorite recipe is this flaky pie-crust recipe made with yogurt.
Grandma made this pie every year. We call it "Grandpa's Favorite Pumpkin Pie." Eating this pie may be my most-anticipated holiday tradition.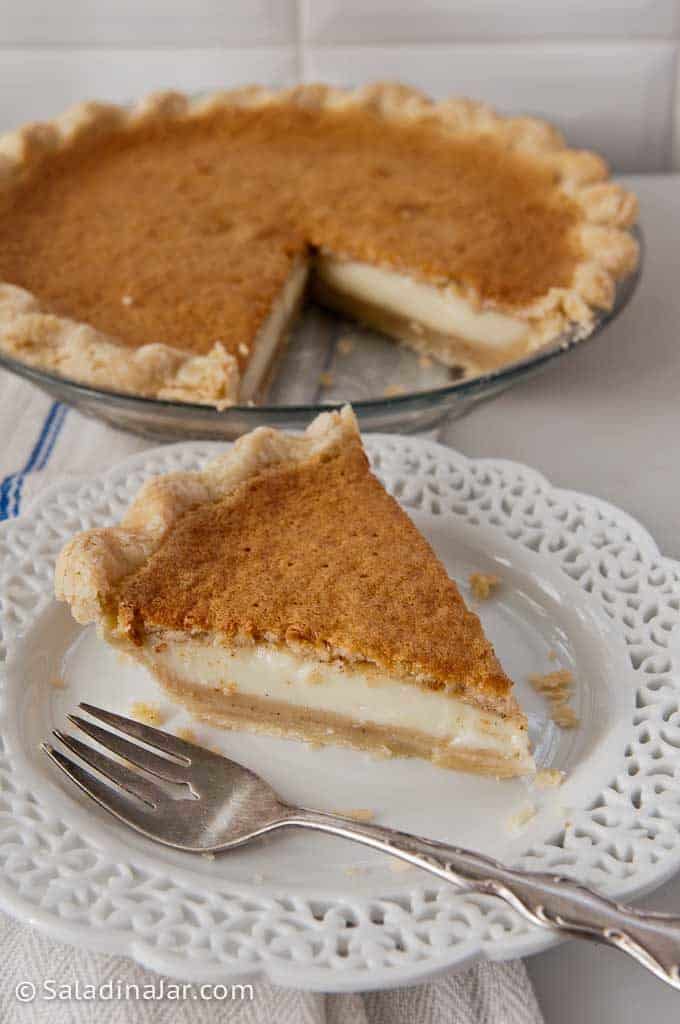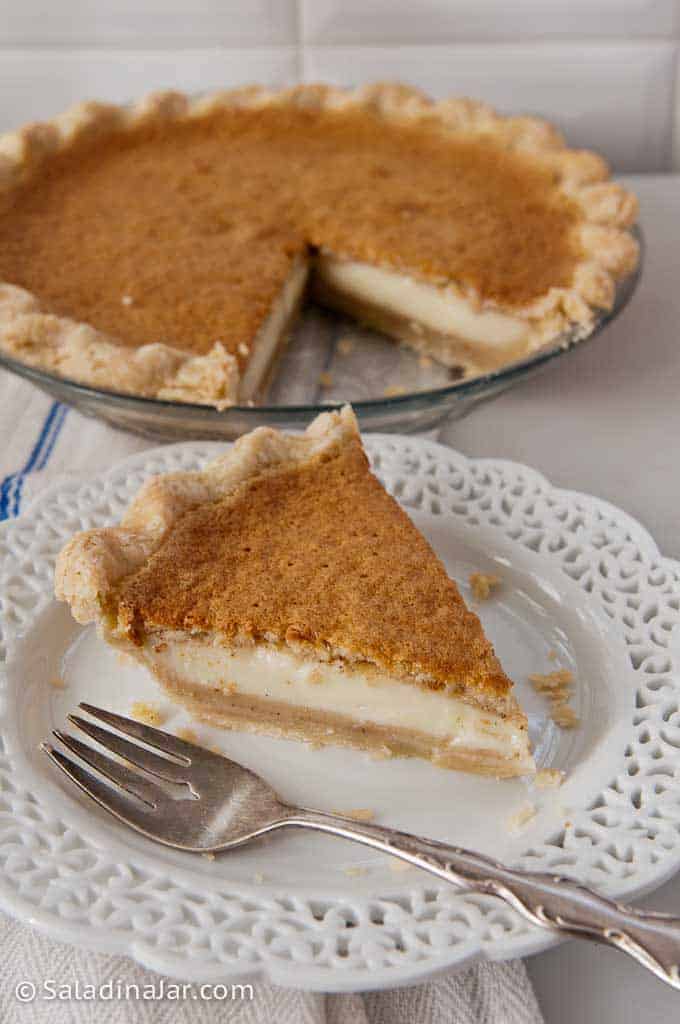 Not sure why, but…
At Thanksgiving, we always have two kinds of pumpkin pie.
RELATED POST: Pumpkin Pie Mini-Tarts
One is the traditional recipe on the back of Libby's can of pumpkin and the other is my grandma's magical Layered Custard Pumpkin Pie. Only a couple of spoonfuls of pumpkin are required.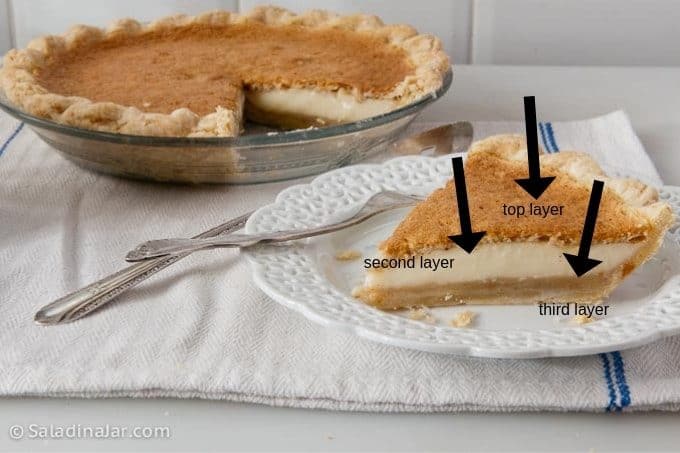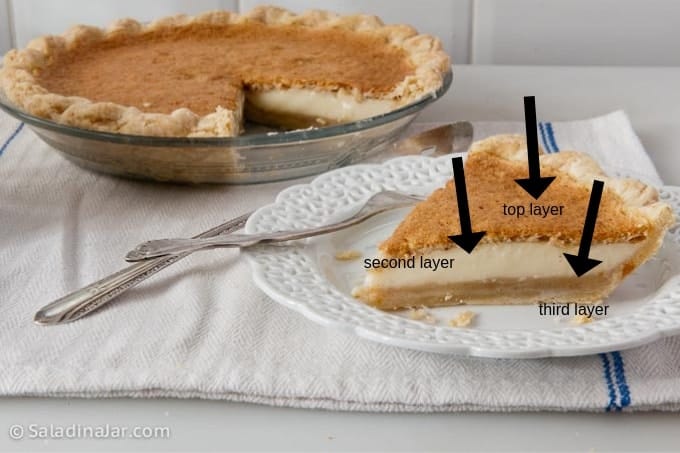 FAQ about this layered Pumpkin Pie recipe:
Is this recipe a sponge pie?
It is. Technically, a sponge pie is a common name for a custard pie that separates into clearly defined layers.

Lemon sponge pies seem to be the most commonly known variety. We prefer this recipe made with pumpkin puree or butternut squash puree.
What can I substitute for the pumpkin?
This pie is known as "squash pie" in our family because of my tendency to substitute mashed butternut squash for the pumpkin. (It's a little milder.) Although guests are sometimes put off by the name, it is full of memories and good flavors in our family, so we would rather not share anyway.
What can I do with leftover pumpkin puree?
Only 2-3 tablespoons of pumpkin puree are required. If you just made pumpkin muffins or cake and don't know what to do with the leftover pumpkin, this is it.

On the other hand, if you just opened a can of pumpkin and now have lots of pumpkin puree leftover, check out this post about Three Things To Do with Less than 1/4 cup of Pumpkin.
Can I use any kind of milk in this pie?
Yes. I used to always make it with skim milk. BUT. To no one's surprise, it's much better when made with 2% or whole milk.
Do I have to pre-bake the crust?
My grandma never pre-baked the crust. However, most custard pies are better (crispier and flakier) when the crust has been partially baked beforehand. This recipe for A Flaky Pie Crust Made with Greek Yogurt is my favorite.
How to make a "Layered Pumpkin Custard Pie:"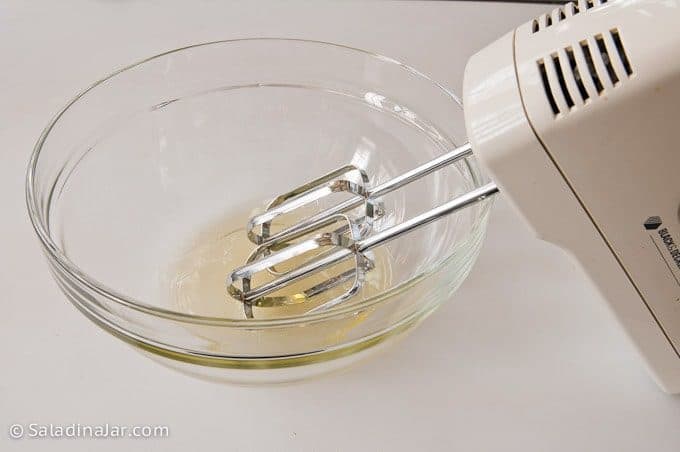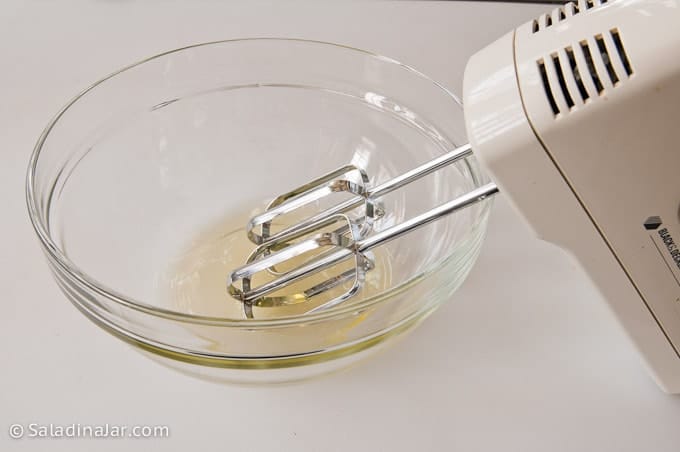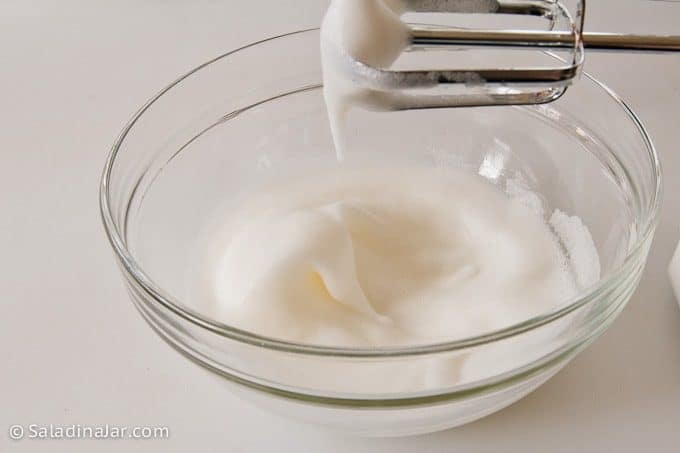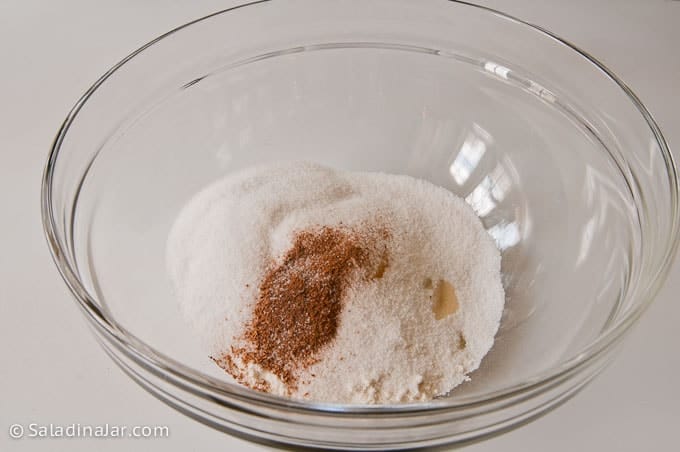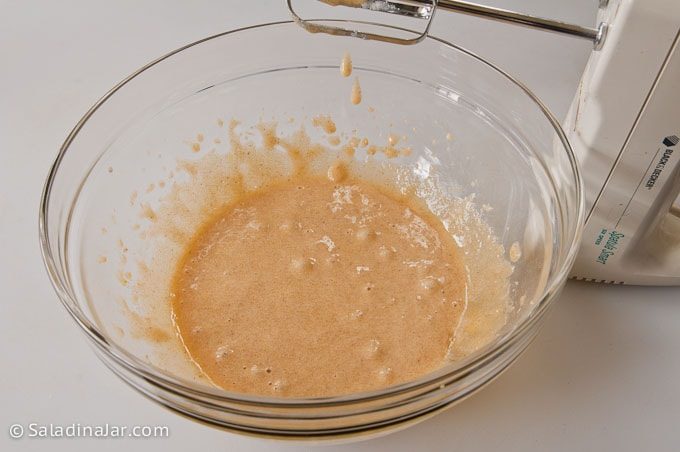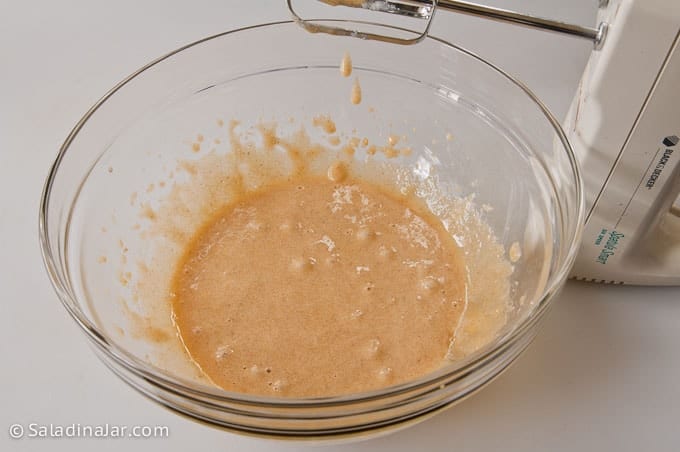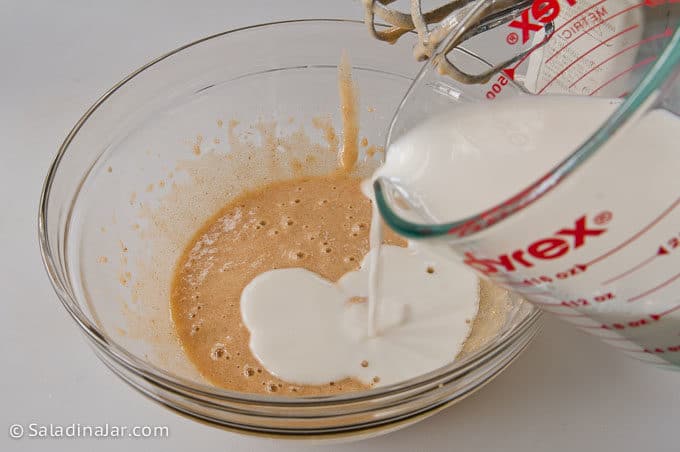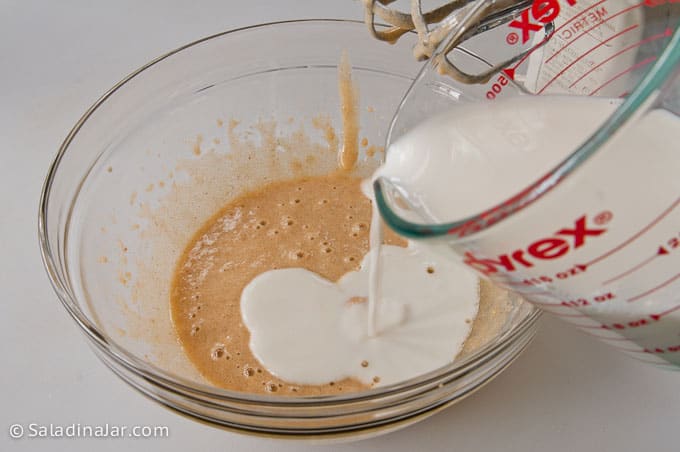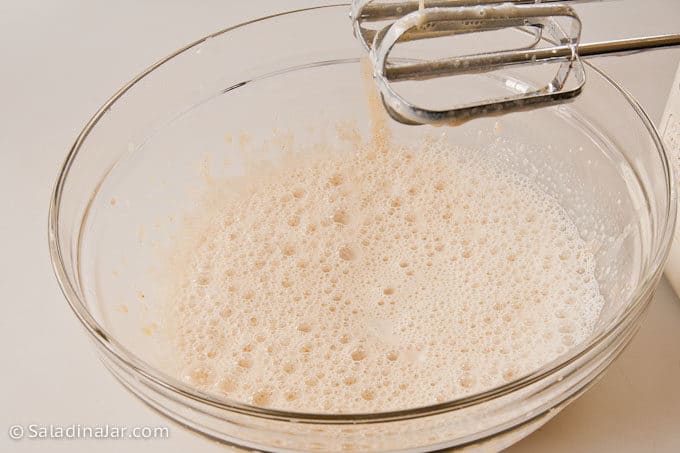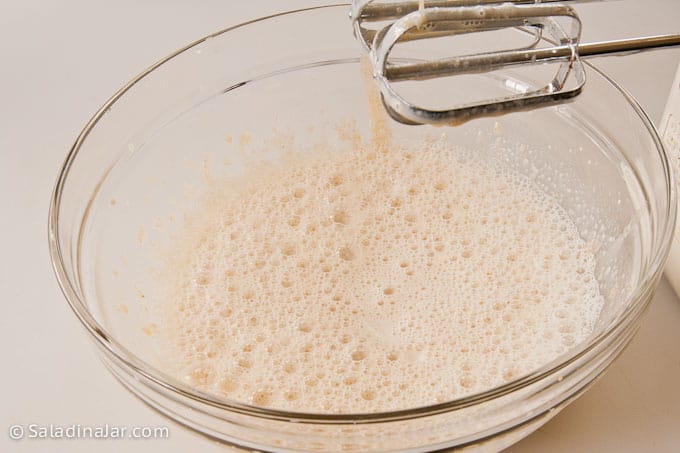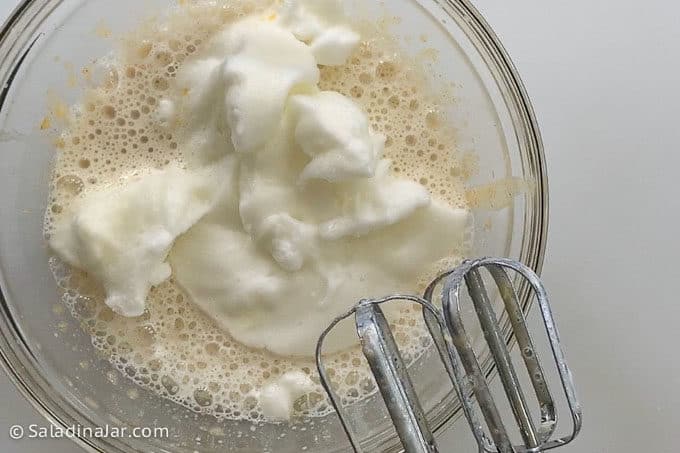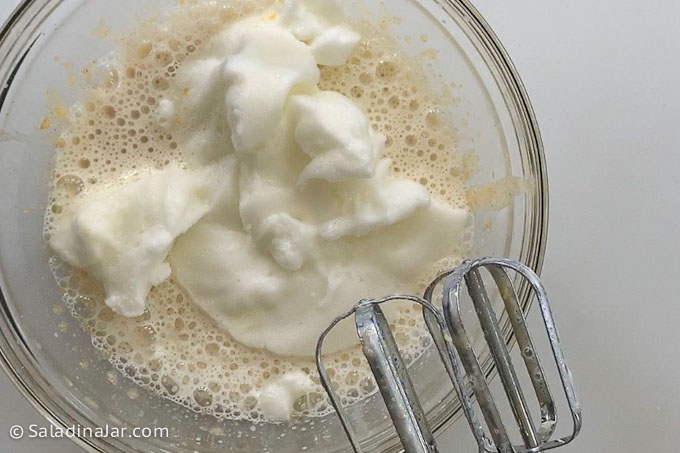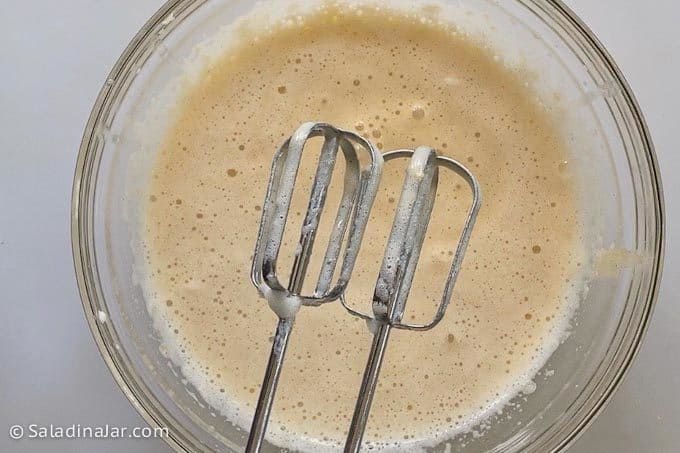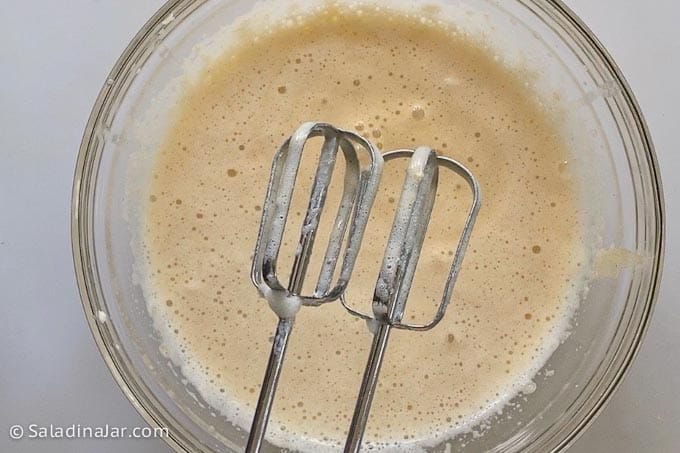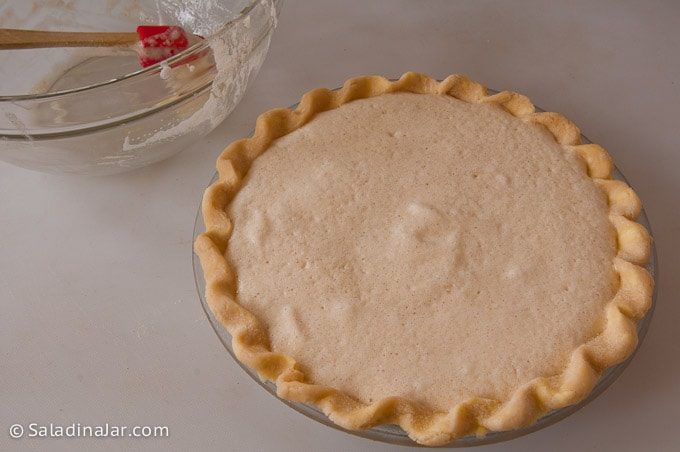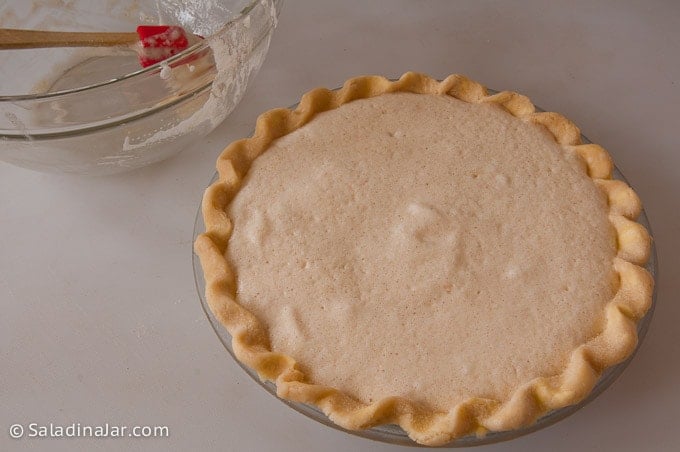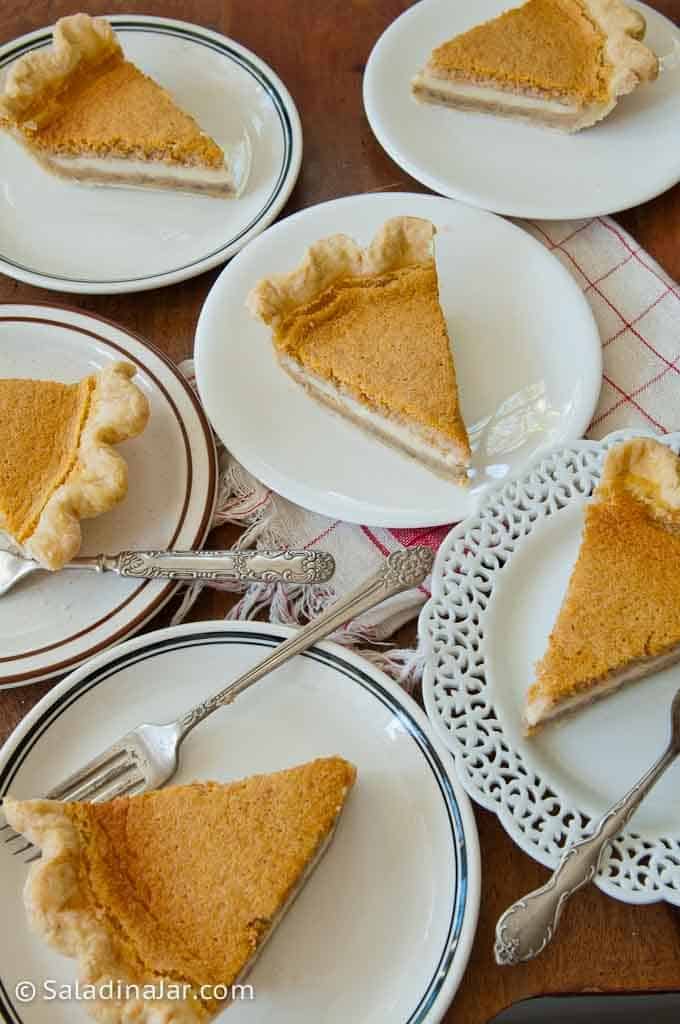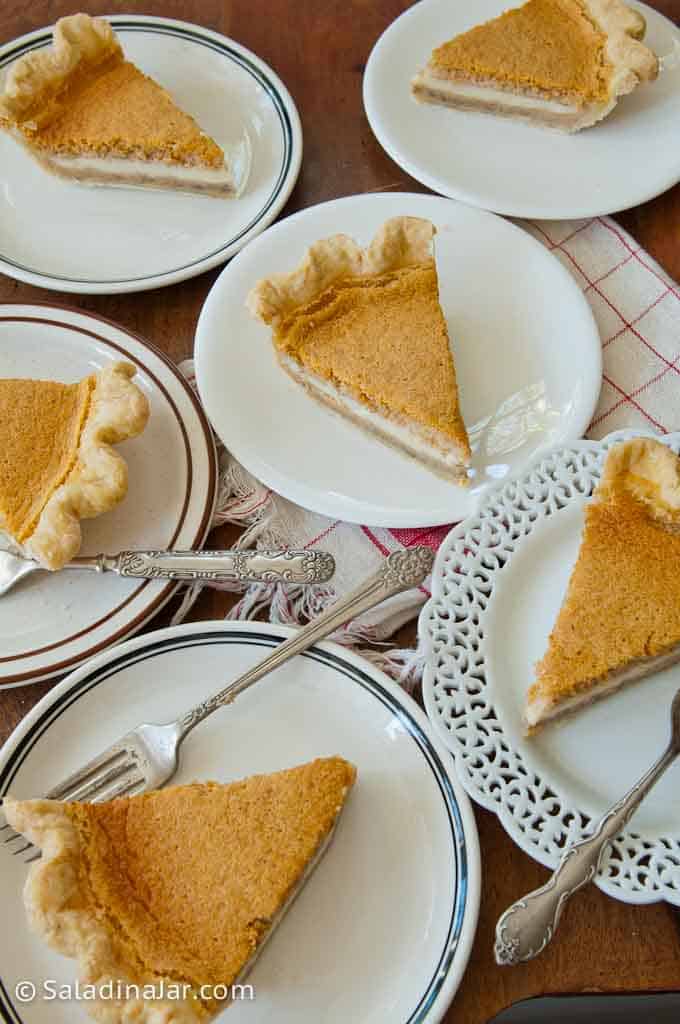 ---
More recipes for holiday pies:
---
---
Did you enjoy this recipe? You can help others (and me) by leaving a rating on the recipe card itself underneath the picture. No comment required. Thank you.

Hope to see you again soon!
Paula
p.s. Questions? Email me: paula at saladinajar.com.
Yield: 8 servings
Grandma's Magic Layered Custard Pumpkin Pie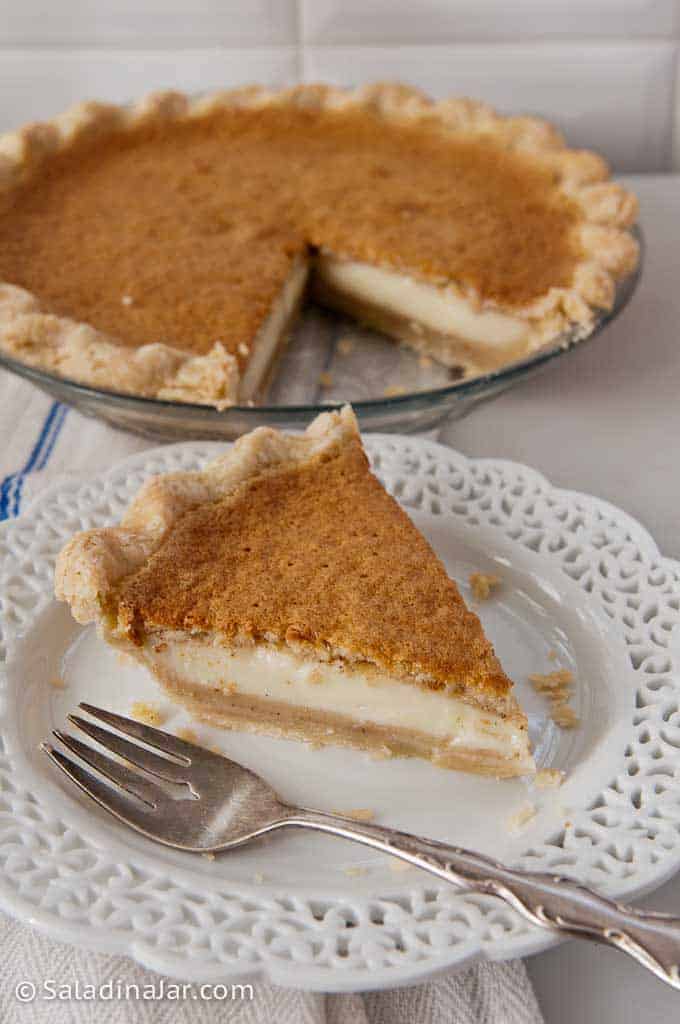 A non-traditional pumpkin pie flavored with only 2-3 tablespoons pumpkin pureé. As the pie bakes, it will magically turn into 3 distinct custard-like layers.
Ingredients
2 egg whites
2-3 tablespoons pumpkin pureé (or baby food butternut squash)
3 tablespoons flour
2 egg yolks
2/3 c. sugar
dash of salt
1/8 t. cinnamon
generous pinch of nutmeg
generous pinch of allspice
1-1/2 c. milk (only use 1 cup for 8-inch crust)
9-inch partially-baked pie crust
Instructions
Whip egg whites until stiff and set aside.
Combine pumpkin, flour, egg yolks, sugar, salt and spices. Blend milk into this mixture adjusting amount according to the size of pie pan you are using. 1 c. is plenty for an 8-inch pie but you may need more for a 9-inch pie plate.
Mix in egg whites carefully. Mixture should be completely blended but no more. (I use a hand mixer.)
Pour into partially-baked pie shell. Bake at 350 degrees for 40-50 minutes. Pie should be set with the slightest jiggle when done. The top should be a deep golden brown. If cooked too long, the filling will pull away from the crust as it cools.
Allow to cool and refrigerate before serving. If the layers are distinct when you slice it, you did it right!
Notes
Regarding the crust:
Use a store-bought crust or your favorite recipe for the pie shell. Bake it lightly before adding the pie crust. By that I mean, the crust should be baked but not browned. To be honest, Grandma did not bake hers before adding the filling. I've tried it both ways and prefer a pre-baked crust.
Recommended Products
As an Amazon Associate, I earn from qualifying purchases. But don't worry. This doesn't change the price you pay.
Nutrition Information:
Yield:
8
Serving Size:
1
Amount Per Serving:
Calories:

217
Total Fat:

7g
Saturated Fat:

3g
Trans Fat:

0g
Unsaturated Fat:

4g
Cholesterol:

50mg
Sodium:

145mg
Carbohydrates:

33g
Fiber:

1g
Sugar:

18g
Protein:

4g
Updated April 2020.