Flaky Yogurt Pie Crust Recipe: Worthy of Your Favorite Pie Filling
Sneak Peek: This flaky Yogurt Pie Crust recipe with butter will blow you away with its layers of flakiness. Do your next pie a favor and show it off with this crust. Use unflavored regular yogurt or Greek yogurt (aka yoghurt).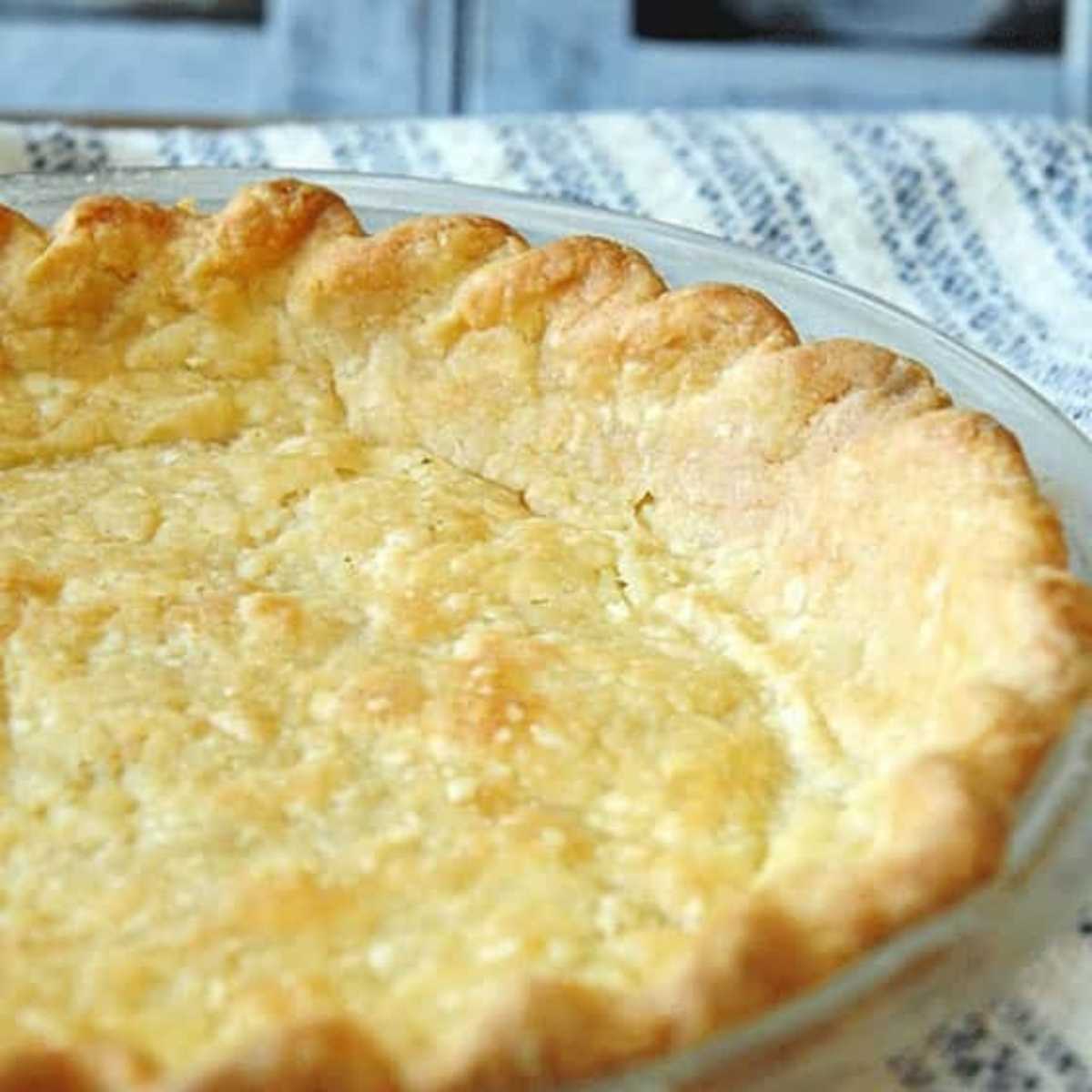 As an Amazon Associate, I earn from qualifying purchases.
You need this recipe for a pie crust made with yogurt if:
You love a tender and flaky pie crust
You often have unflavored yogurt in your fridge
You enjoy making pie crust from scratch
As a young County Extension agent, I made a guest appearance on a TV cooking show at 5:30 one Saturday morning. My topic was "How to make a perfect pie crust."
Ever since my 30-minute brush with fame, I've been obsessed with pie crusts. This flaky and buttery pie crust with yogurt is my favorite recipe. I think you will love it, too. It is worthy of your favorite pie filling. Speaking of favorites, be sure to take a look at my favorite pecan pie, my grandma's Magic Pumpkin Pie, and this Deep Dish Chocolate Pecan Pie.
Happy Cooks Speak Up
Absolutely amazing! I used it for chicken pot pie and everyone loved it!–Karen
---
Recipe inspiration: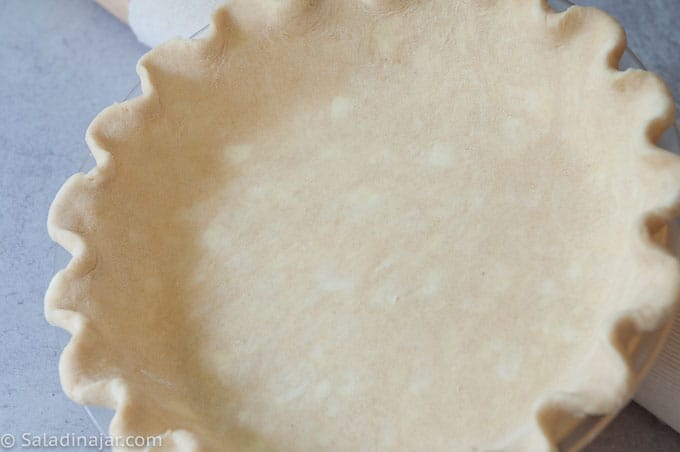 A few years ago, I ran across a crust recipe in a magazine (remember those?) calling for sour cream in addition to butter.
Reading that article gave me an idea.
What if I replaced the sour cream and water with yogurt?
I tried it, and It worked.
Why does yogurt make a pie crust flakier?
My research revealed why sour cream is a little-known secret to flaky pie crust. The same principle seems to apply to yogurt.
"The acid in the sour cream slows down the development of gluten (the structure-forming protein in flour), which makes for a more tender and flaky crust."

The America's Test Kitchen Family Baking Book
The acidity of the yogurt acts the same way vinegar or lemon juice does in some recipes. The yogurt also replaces water as a binder. A touch of sugar and an egg yolk increases the richness and encourages browning.
I don't understand it, but the yogurt seems to work magic. Your reward is a crust that's full of layers and flavor.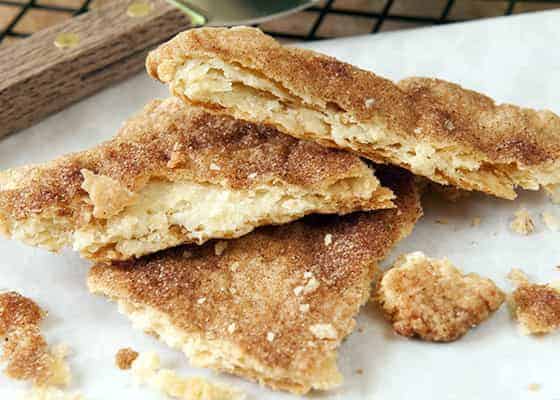 ---
Ingredients and substitutions
FLOUR: Use all-purpose flour, bleached or unbleached. A high-protein flour may cause the crust to be tough.

SUGAR: You may leave this out if you prefer, but it adds flavor and helps the crust brown.

SALT: Salt is optional, but it enhances the flavor.

BAKING POWDER: I like to tweak my recipes. After experimenting with baking powder as recommended by the Kitchn, I added it to the recipe. You can't taste it. True to what the Kitchn says, it does add the slightest lift to the crust and keeps it from shrinking.

BUTTER: Be sure the butter is cold. Frozen is good. If your butter is salted, there is no need to add the extra salt specified in the recipe. In a pinch, substitute shortening for the butter.

YOGURT: Although I use my homemade unflavored yogurt, this recipe also works with store-bought yogurt, vanilla-flavored yogurt, and Greek yogurt. If you use Greek yogurt that is VERY thick, thin it with a bit of milk before measuring.

EGG YOLK: If you prefer not to use an egg yolk, leave it out and increase the amount of yogurt to 1/3 cup.
---
How to assemble a buttery pie crust with yogurt: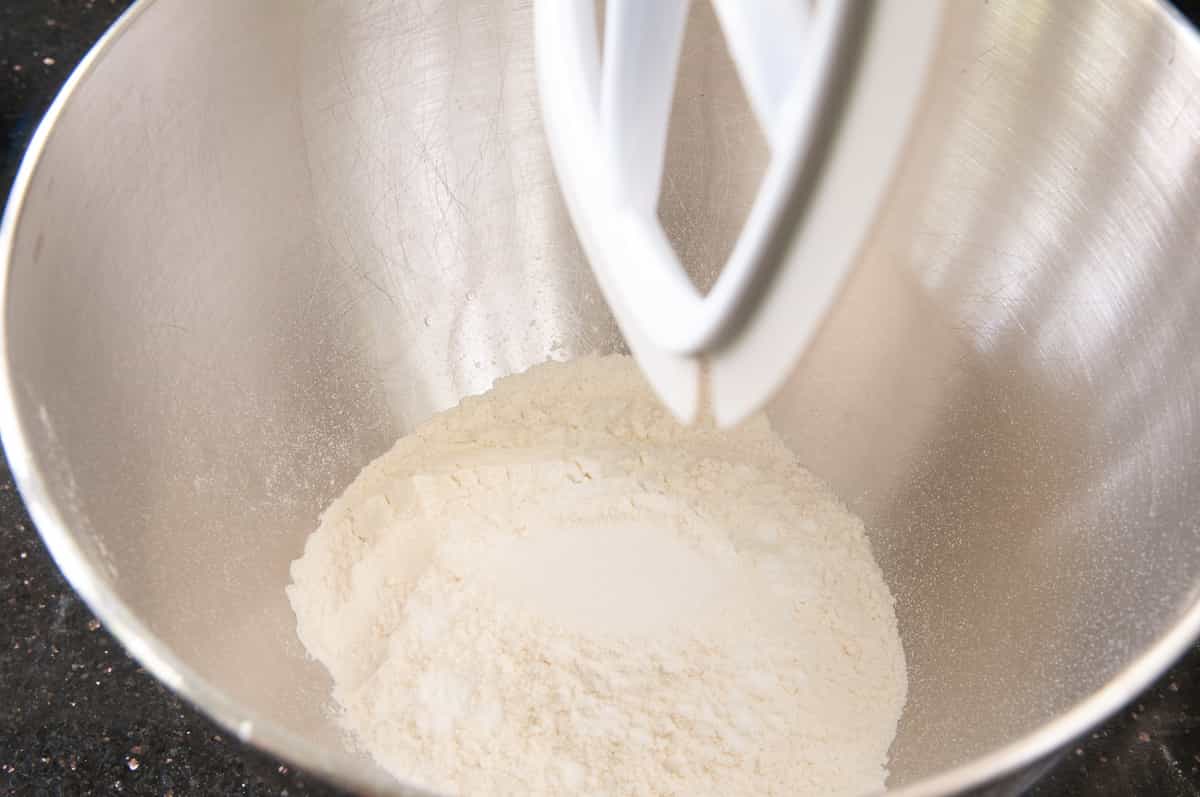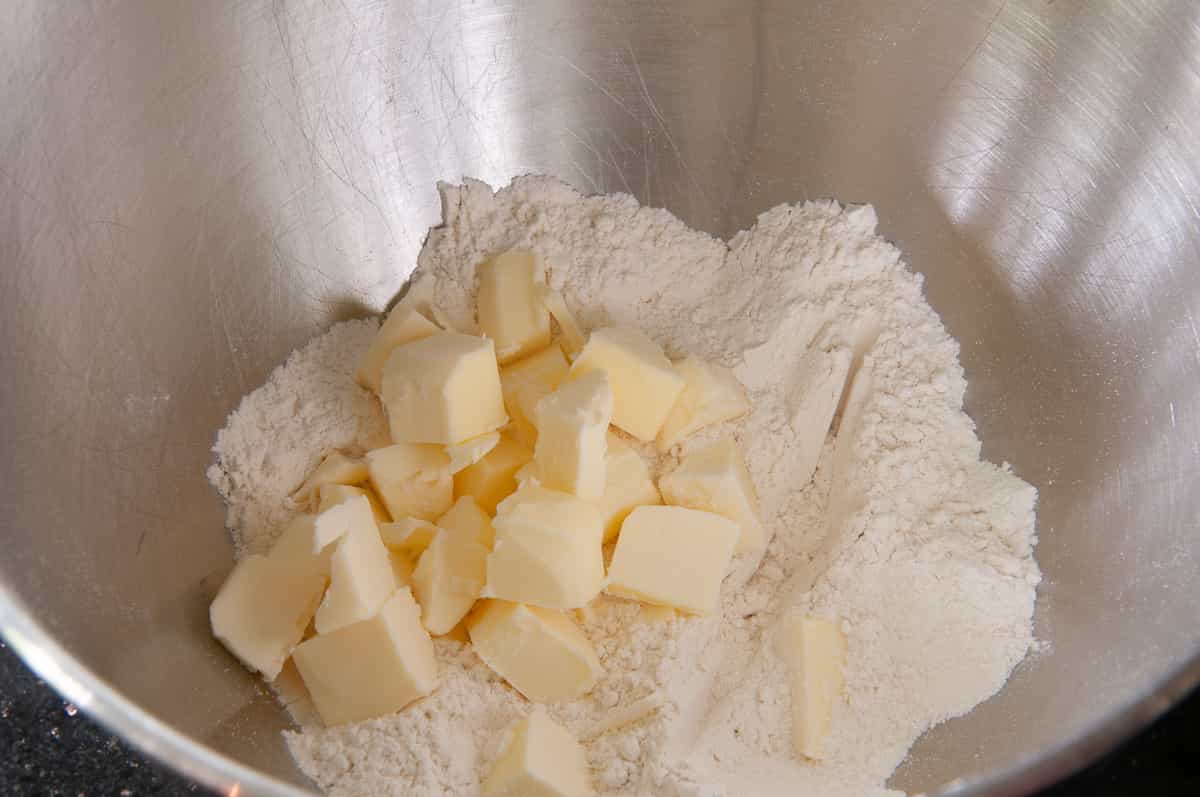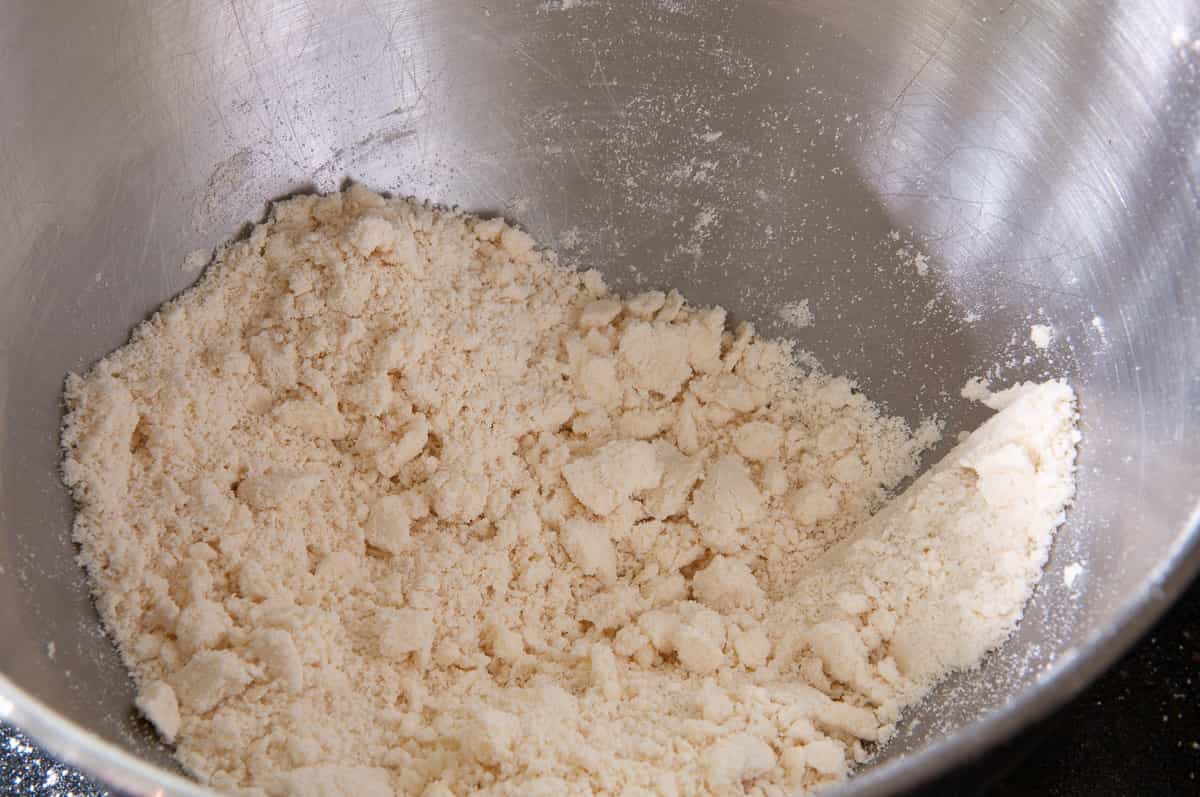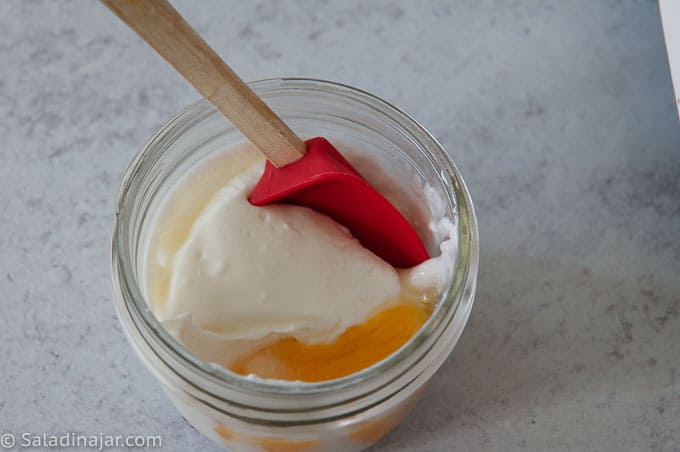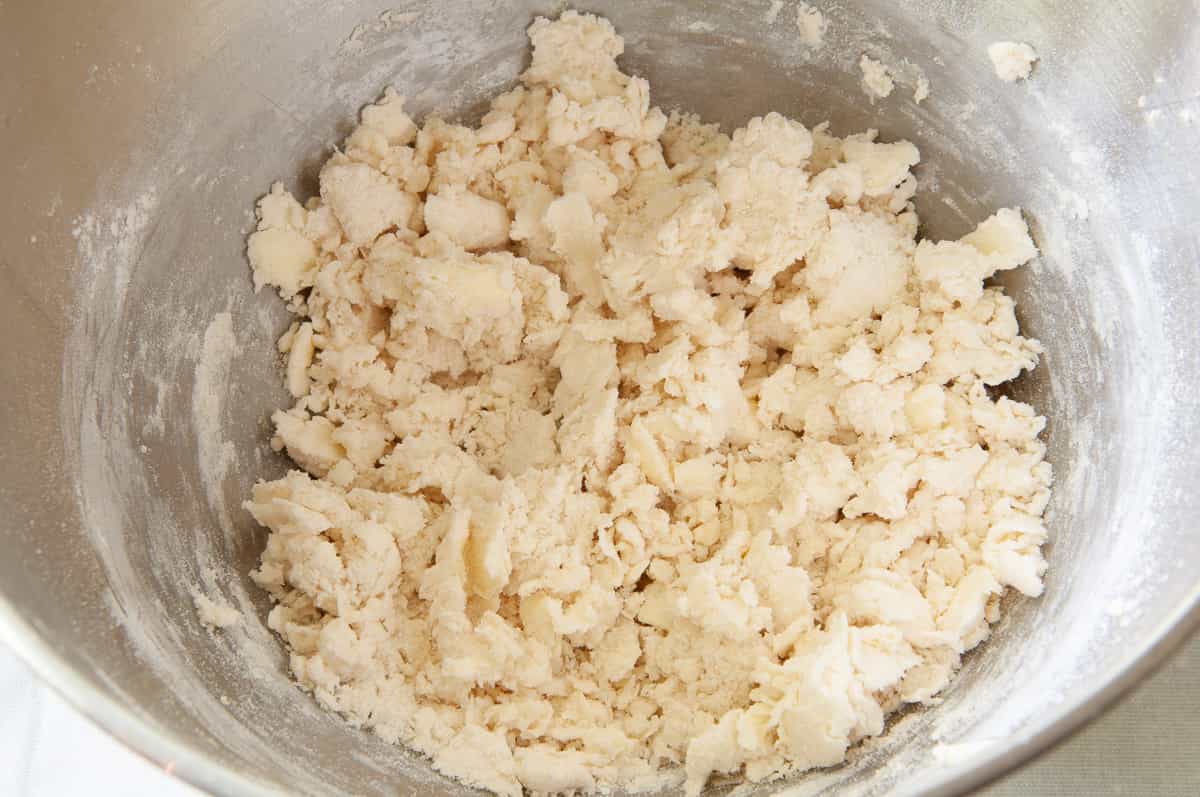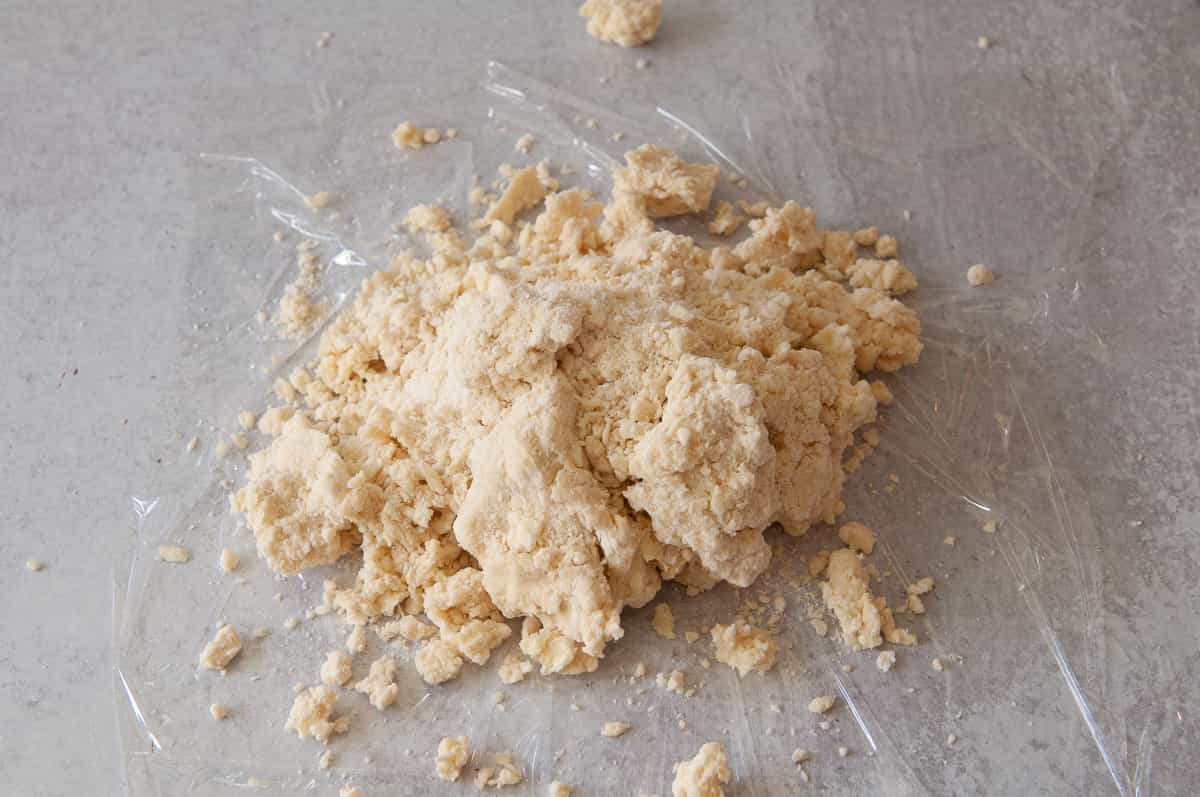 ---
How to "smoosh" the crumbles (aka as fraisage):
Don't miss the video showing how to do this.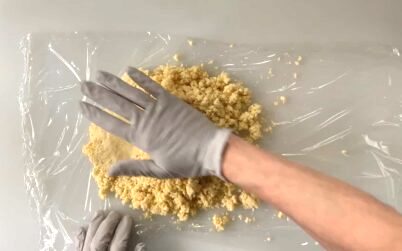 There should be no significant, visible pieces of butter. If the butter pieces are too large, they may melt as the crust bakes and drip onto the oven floor. Not good.
---
How to roll out a buttery pie dough: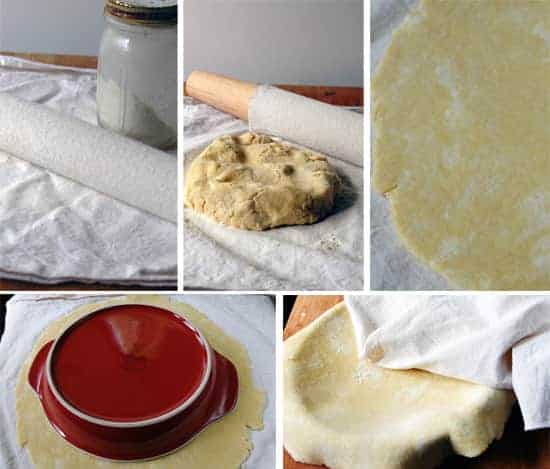 Note: I've learned to put the crust back into the fridge for about fifteen minutes after I place the crust into a pie plate and before I crimp the edges. This allows the crust to relax and makes it easier to make a decorative edge. It also helps to keep the crust from shrinking as it bakes.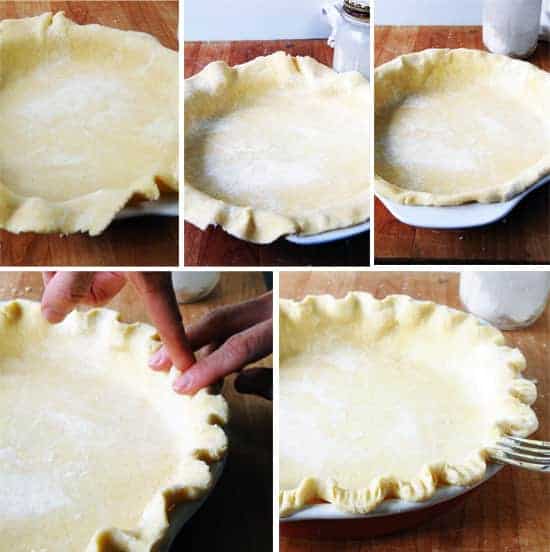 ---
How to blind-bake this yogurt pie crust recipe:
Addendum 11/12/21: After getting my hands on the fabulous "The Book on Pie" by Erin McDowell, I have changed the instructions for par-baking this crust. She recommends NOT freezing a rolled-out pie crust. Better to chill it in the refrigerator. You can freeze the dough (up to three months) before rolling it out. But don't freeze a rolled-out crust or bake it straight from the freezer.
The other thing Erin suggests is to heat the oven to 425˚F. The bake is faster and helps to prevent the crust from shrinking. Of course, you still need to dock the crust and put some weights inside the pie shell, as shown below.
I tried her suggestions, and sure enough, my pie crust improved. The directions are revised accordingly.
Chill a prepared pie crust while you preheat the oven to 425˚ F.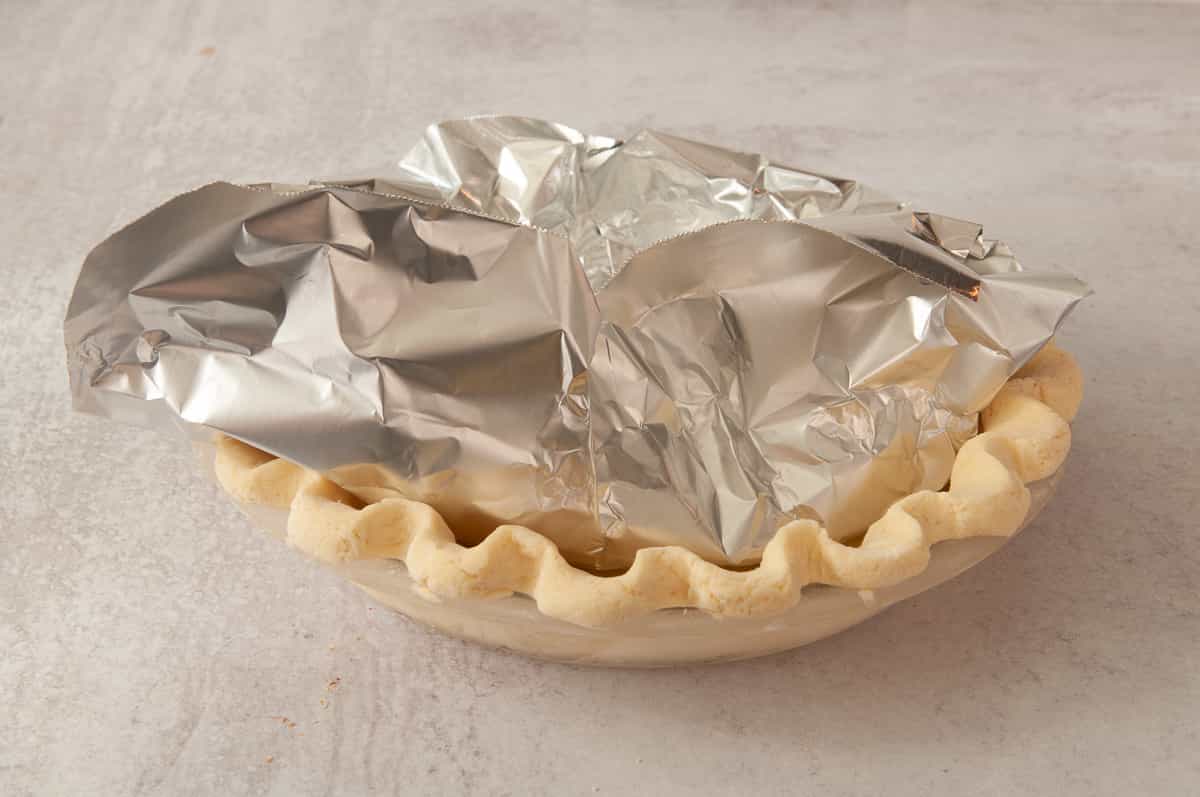 After docking the pie crust with a fork:
Cover the pie crust with non-stick aluminum foil or parchment paper.
Use two pieces of foil, if necessary, to cover the entire crust.
Press it snugly into the shape of the pie shell.
---
Kitchen secret for cheap and handy pie weights:
My favorite is a heavy chain which you can purchase by the foot at your local hardware store. There's no reason to chase beans or pie weights around the kitchen.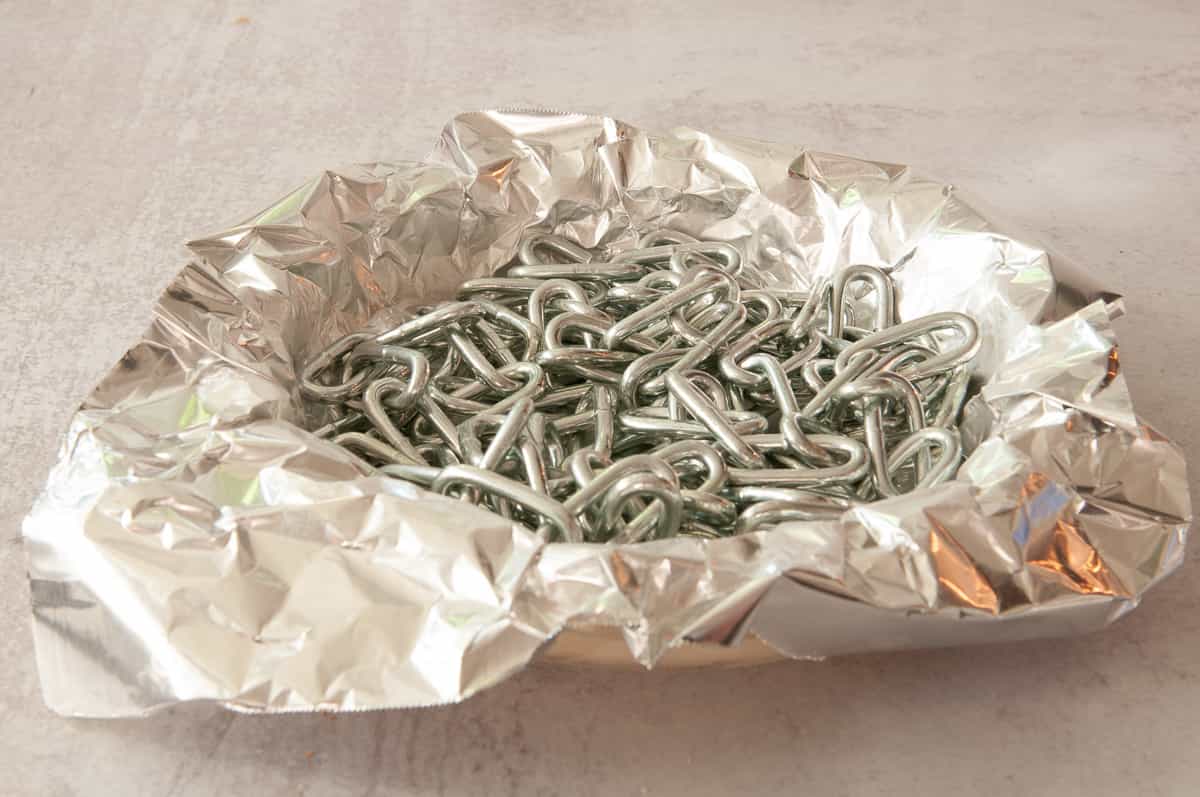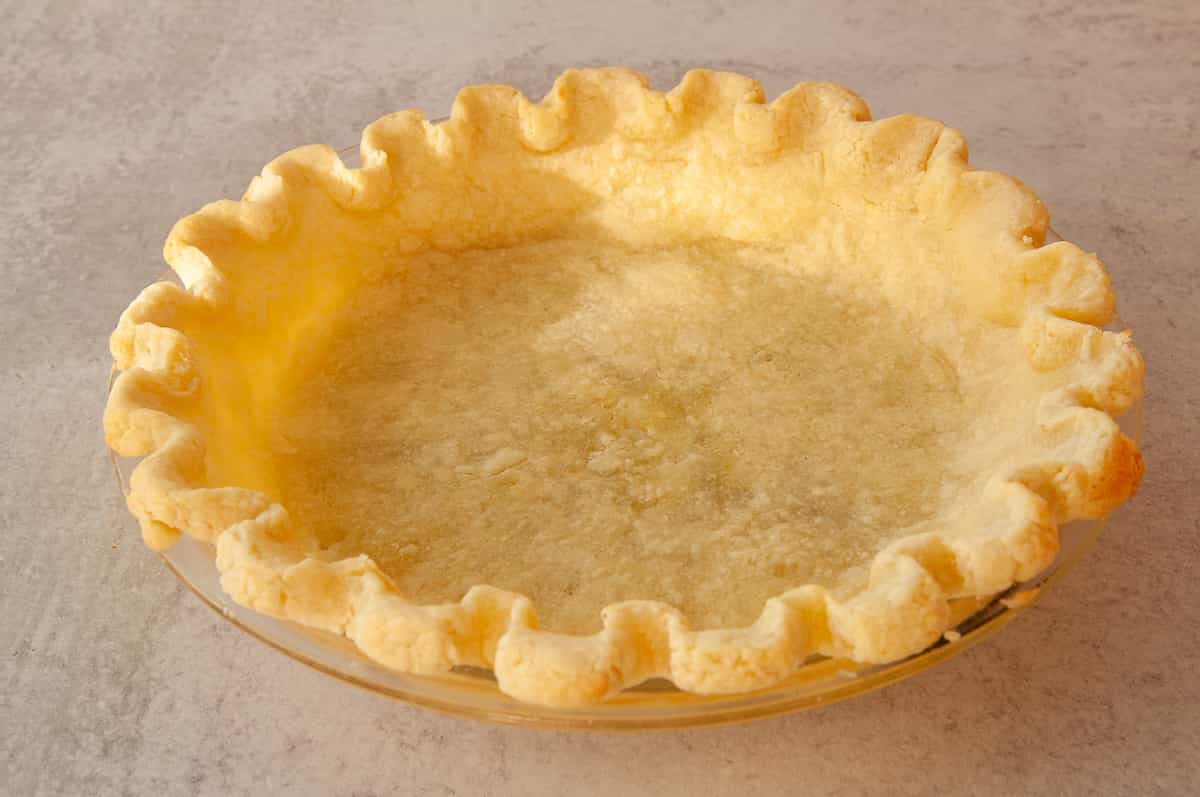 ---
Recipe Help at Your Fingertips: For questions or suggestions, email Paula at saladinajar.com. If you need help, I'm happy to troubleshoot via email (faster than leaving a comment). Attach pictures and as many details as possible for the best advice.
---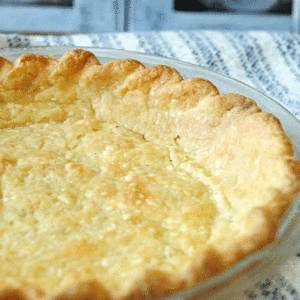 Flaky Yogurt Pie Crust Recipe
This recipe for an all-butter pie crust with unflavored yogurt produces an incredibly tasty, flaky, and tender crust that bakes up beautifully, even without a filling.
Share recipe love here. ⬇
Ingredients
1¼

cup

(

120

g

)

all-purpose, unbleached flour

1

teaspoon

granulated sugar

¼

teaspoon

salt

⅛

teaspoon

baking powder

½

cup

(

114

g

)

unsalted butter, cold

¼

cup

(

70

g

)

unflavored regular yogurt or Greek yogurt

1

(

18

g

)

egg yolk
Instructions
Using a stand mixer with a paddle attachment, combine

1¼ cup

(

120

g

) all-purpose, unbleached flour,

1 teaspoon

granulated sugar,

¼ teaspoon

salt, and

⅛ teaspoon

baking powder at low speed for 5 seconds.

Cut

½ cup

(

114

g

) unsalted butter, cold into 16 pieces, and add to the flour mixture. Mix on low speed for about 45 seconds. (I count it off).

Combine

¼ cup

(

70

g

) unflavored regular yogurt or Greek yogurt and

1

(

18

g

) egg yolk. Add all at once to the flour.

Mix on low speed for 12-15 seconds. All particles should be barely moistened but not yet coming into a ball. You're going for a shaggy mess that will hold together if you squeeze it between your fingers.

Dump the dough onto a big piece of plastic wrap or a floured tea towel.

Take the palm of your hand and slide it face-down from the middle toward the side of the pile to smoosh the crumbs together and flatten out the big pieces of butter. Work around the pile as you gently press the dough into one big flat clump. There should not be any large and visible pieces of butter. If the butter pieces are too large, they may melt as the crust bakes and drip onto the oven floor. Not good.

Fold plastic wrap up around the dough, pressing gently to form a smooth round patty approximately an inch thick.

Wrap and chill the dough at this point for at least 1-4 hours. When ready to roll out, allow to sit at room temperature for about 10 minutes.

Using a well-floured pastry cloth or a silicone pastry mat and a pastry sock-covered rolling pin, roll out pie dough to a diameter about 1-1/2 inch larger than your pie plate.

Place a 9-inch pie plate upside down on the dough and flip the dough into your pie pan using a pastry cloth to hold on as you invert dough.

Peel the pastry cloth off the dough and carefully fit the dough inside the pan being careful not to stretch it. If dough sticks to the cloth, use a knife to loosen it carefully and lightly dab it with flour to repair.

Trim crust about a half-inch past the rim of your pie plate. Turn under any excess dough, so it is even with the side of the plate. Form decorative edge as desired. (If the dough seems too soft to work with, refrigerate until firm.)

Place the shaped pie crust back into the refrigerator until ready to bake. It should be well-chilled (not frozen) when it goes into the oven.
Notes
How To Blind-Bake (no filling) a Flaky Pie Crust with Yogurt:
When ready to bake, remove from the refrigerator and use a fork to dock the crust. Press a piece (or two) of non-stick aluminum foil or parchment paper to the inside of the pie crust. Fold the edges of the foil carefully over the decorative edge to protect it from over-browning. Although you could fill the pie crust with beans, rice, or pie weights, I prefer to use chain-link sold by the foot at hardware stores.
Bake in a preheated 425˚F (220˚C) oven for 15-17 minutes. For a partially baked crust, carefully remove foil and weights, and let bake another 2-3 minutes until the crust is light brown.
If you need a fully baked crust, continue baking the crust (uncovered) for 8-10 minutes longer or until golden brown.
If you have trouble with the butter leaking out of the crust when baking:
Freeze the butter, then grate it. Add to the flour mixture and continue with the recipe as written.
Nutrition
Serving:
1
slice
|
Calories:
129
kcal
|
Carbohydrates:
4
g
|
Protein:
2
g
|
Fat:
12
g
|
Saturated Fat:
8
g
|
Polyunsaturated Fat:
1
g
|
Monounsaturated Fat:
3
g
|
Trans Fat:
1
g
|
Cholesterol:
55
mg
|
Sodium:
84
mg
|
Potassium:
19
mg
|
Fiber:
1
g
|
Sugar:
1
g
|
Vitamin A:
387
IU
|
Calcium:
17
mg
|
Iron:
1
mg
HELP OTHERS find this recipe. Leave a 5 🌟🌟🌟🌟🌟 rating at the top of the recipe card if you enjoyed it. No comment is required.