If you like a flaky pie crust and you often have unflavored Greek yogurt in your fridge, don't hesitate to try this pie crust made with Greek yogurt.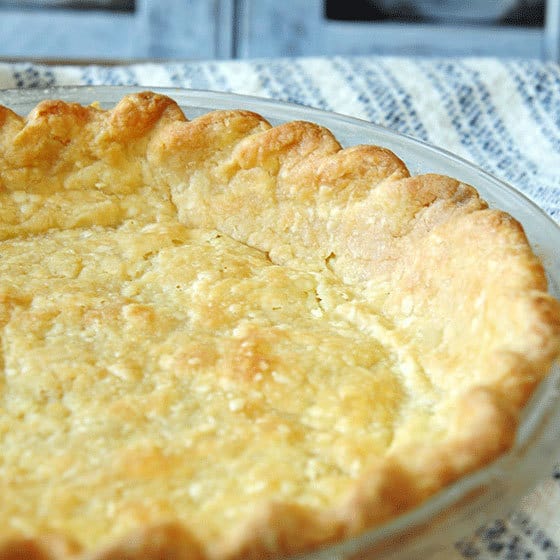 Recipe Inspiration
A few years ago, I ran across a crust recipe in a magazine (remember those?) calling for sour cream in addition to butter. This gave me an idea.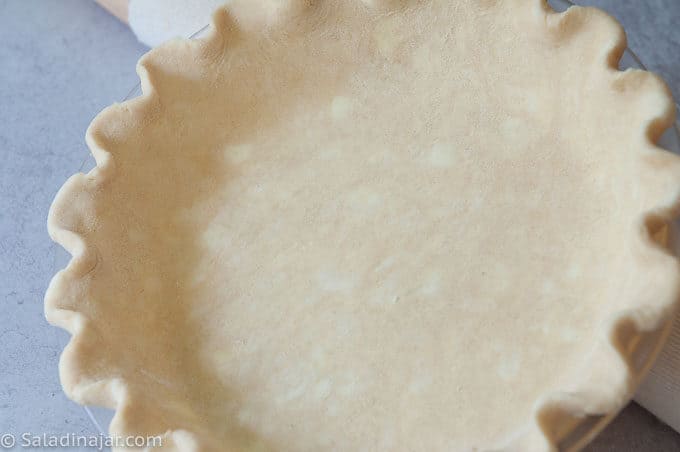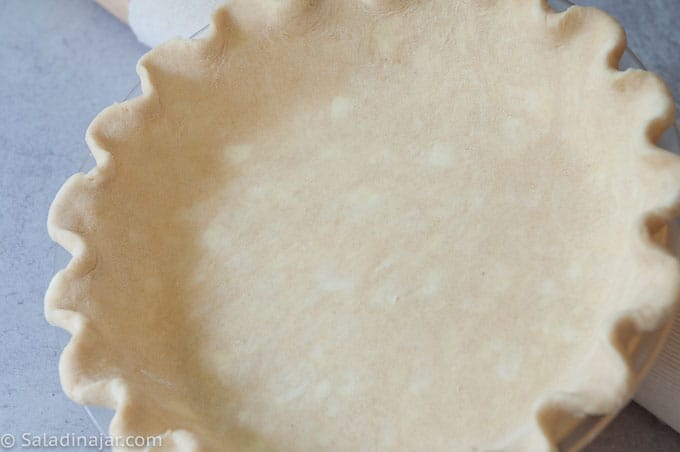 What if I replaced the sour cream and water with yogurt?
Well, guess what? It worked. I think you're going to love the result!
Why does yogurt make a pie crust flakier?
A bit of research revealed why sour cream is a little-known secret to flaky pie crust. The same principle seems to apply to yogurt.
The acid in the sour cream slows down the development of gluten (the structure-forming protein in flour), which makes for a more tender and flaky crust."

The America's Test Kitchen Family Baking Book
Turns out the acidity of the yogurt acts the same way vinegar or lemon juice does in some recipes. The yogurt also replaces water as a binder. A touch of sugar and an egg yolk increases the richness and encourages browning.
I don't totally understand it. but the yogurt seems to work magic. You will be rewarded with a crust that's full of layers and flavor.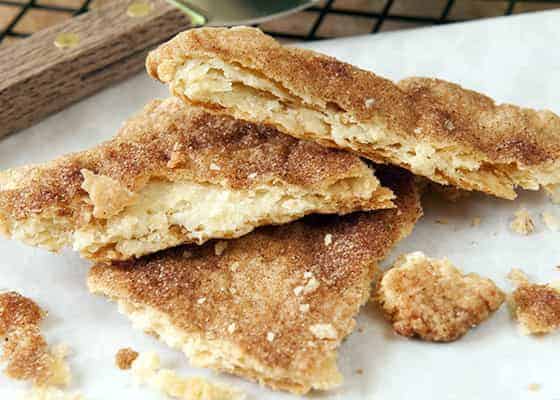 Substitutions
Although I use my own homemade unflavored yogurt, this recipe also works with store-bought regular nonfat yogurt, vanilla flavored nonfat yogurt, and nonfat Greek yogurt.
If you use Greek yogurt that is VERY thick, thin it with a bit of milk before measuring.
If you don't have or want to use an egg yolk, leave it out and increase the amount of yogurt to 1/3 cup.
Can I freeze this pie crust?
Yes. Freeze for up to 1 month. Double wrap to avoid freezer burn.
No need to defrost before baking.
How To "Smoosh" the Crumbles
Don't miss the video showing how to do this.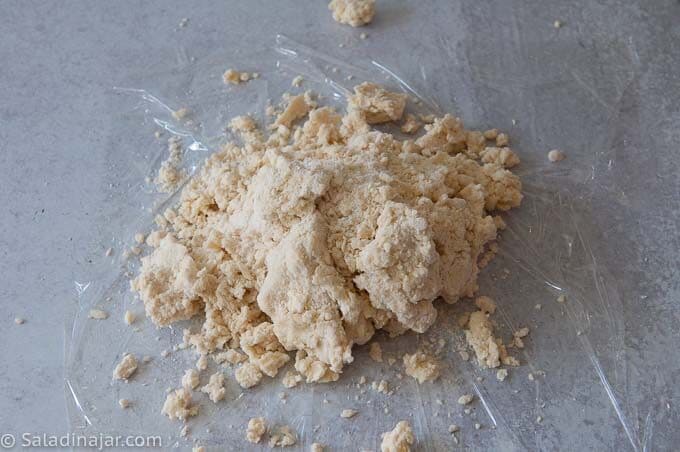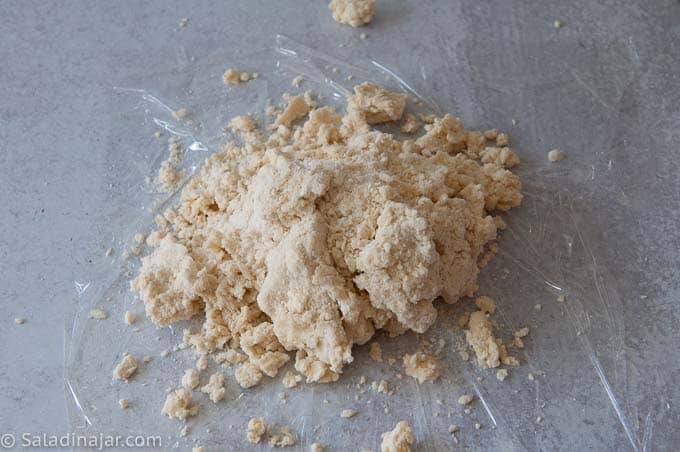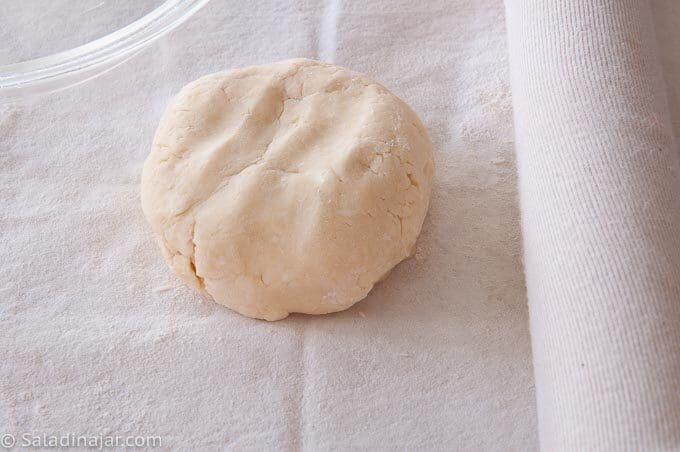 How To Roll Out Yogurt Pie Dough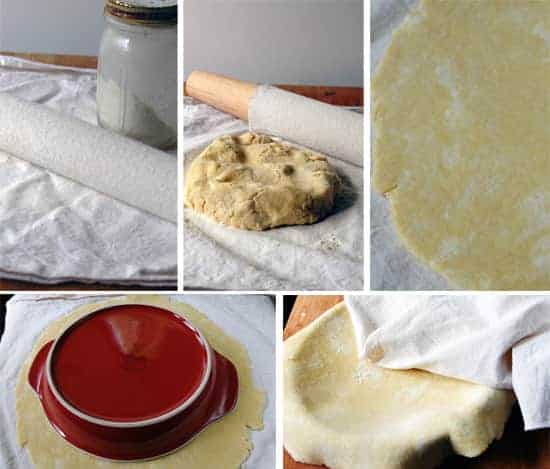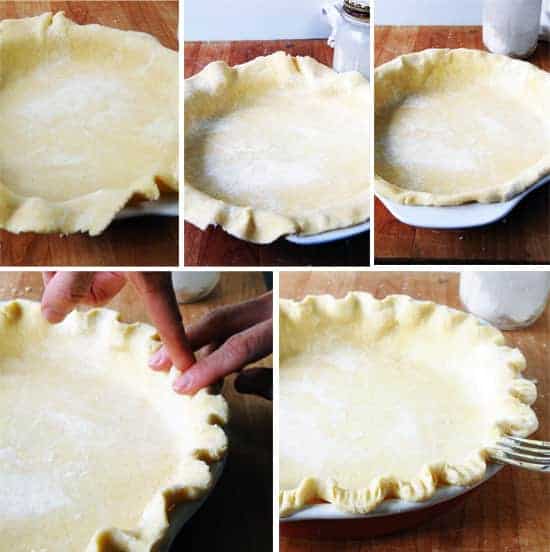 How To Blind Bake this Pie Crust Recipe
Freeze prepared pie crust while you preheat oven to 375 degrees F.
***Kitchen Secret for Cheap and Handy Pie Weights
My favorite is a heavy chain. You can buy it by the foot at a hardware store. No chasing beans or pie weights around the kitchen.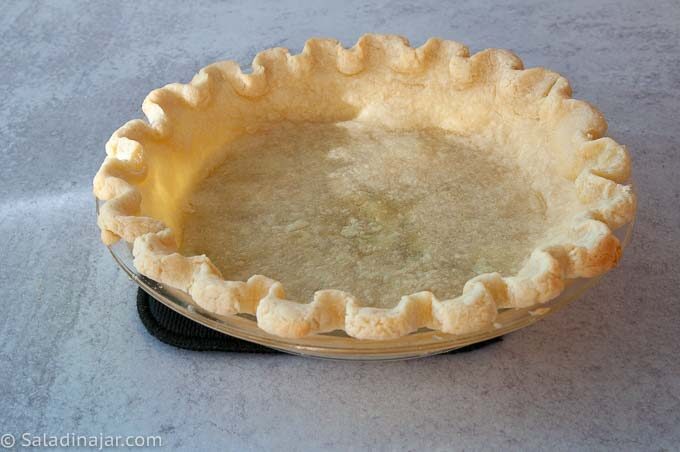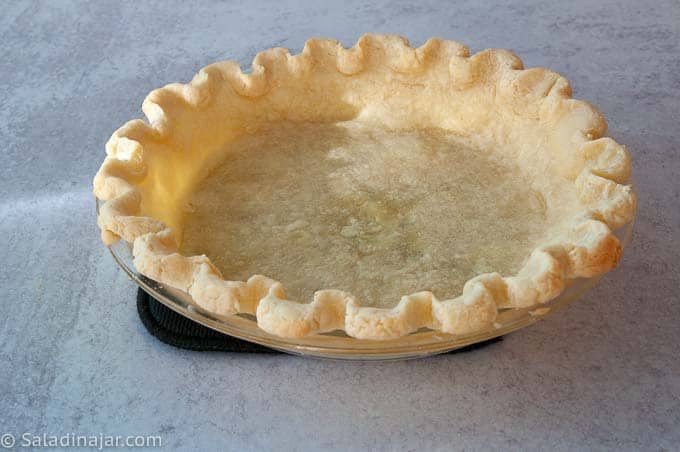 Why does my pie crust drip butter?
Most likely, the pieces of butter were too large after you finished cutting them into the flour.
Just in case…
When baking this pie crust, I always place it on a rimmed cookie sheet covered with foil or a silicone baking mat. The cookie sheet will catch any buttery drips that might otherwise fall to the oven floor and burn. The foil will make clean-up a breeze.
Why is my pie crust tough and hard to cut?
You have likely overprocessed the dough. Another reason is adding too much liquid or too much flour.
Why did my pie crust shrink when prebaking it?
Several possibilities:
The dough was overprocessed.
The dough was stretched while placing it into a pie pan.
The dough was pre-baked at too high of a temperature.
Recipe Notes
I am always tweaking my recipes. After experimenting with baking powder as recommended by the Kitchn, I added it to the recipe. You can't taste it. True to what the Kitchn says, it does add the slightest lift to the crust and keeps it from shrinking.

Another change: I replace the egg yolk with more yogurt. This has helped with the over-browning issues I was having with the crust.
More recipes containing yogurt
---
Pin the picture below to save for later.
---
---
---
Did you try this recipe and enjoy it? Consider helping other readers (and me) by returning to this post. Leave a rating on the recipe card itself underneath the picture. Although always appreciated, comments aren't required.
If you have a question or tip to share, please leave it in the regular comments after the recipe so I can answer back. Or, email me privately: paula at saladinajar.com.

Thank you for visiting!
Paula
---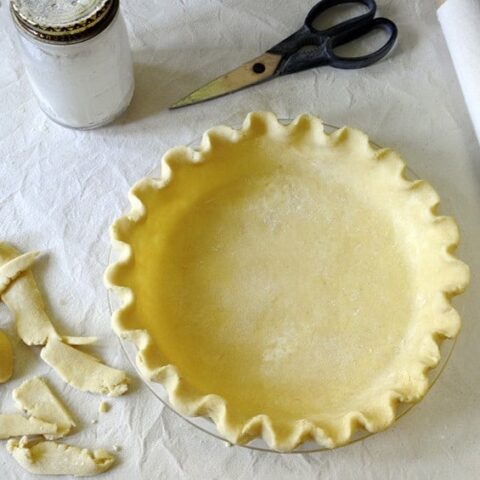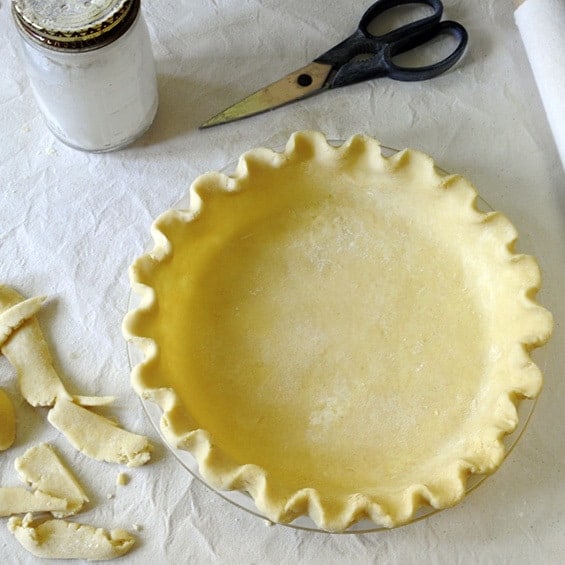 Greek Yogurt Pie Crust Recipe
Yield:
1 9-inch pie crust
Additional Time:
30 minutes
All-butter pie crust with unflavored Greek yogurt produces an incredibly tasty, flaky and tender crust that bakes up beautifully, even without a filling.
Ingredients
1-1/4 cup (5 ounces) all-purpose, unbleached flour
1 teaspoon granulated sugar
1/4 teaspoon salt
Scant 1/4 teaspoon baking powder
1/2 cup (1 stick, 4 ounces) cold, unsalted butter
1/4 cup unflavored Greek yogurt
1 egg yolk
Instructions
Using a stand mixer with a paddle attachment, combine flour, sugar, and salt on low speed for 5 seconds.
Cut butter into 8 pieces and add to flour. Mix on low speed for about 45 seconds. (I count it off).
Add combine yogurt and egg yolk all at once to the flour.
Mix on low speed for 12-15 seconds. All particles should be barely moistened but not yet coming into a ball. You're going for a shaggy mess that will hold together if you squeeze it between your fingers.
Dump the dough onto a big piece of plastic wrap or a floured tea towel.
Take the palm of your hand and slide it face-down from the middle toward the side of the pile to smoosh the crumbs together and flatten out the big pieces of butter. Work your way around the pile until dough is smashed into one big flat clump.
Fold plastic wrap up around dough, pressing gently to form a smooth round patty approximately an inch thick.
Wrap and chill the dough at this point for at least 1-4 hours. When ready to roll out, allow to sit at room temperature for about 10 minutes.
Using a well-floured pastry cloth or a silicone pastry mat and a pastry sock-covered rolling pin, roll out pie dough to a diameter about 1-1/2 inch larger than your pie plate.
Place a 9-inch pie plate upside down on the dough and flip the dough into your pie pan using a pastry cloth to hold on as you invert dough.
Peel pastry cloth off the dough and carefully fit dough inside pan being careful not to stretch it. If dough sticks to cloth, use a knife to carefully loosen it and lightly dab with flour to repair.
Trim crust about a half-inch past the rim of your pie plate. Turn under any excess dough so it is even with the side of the plate. Form decorative edge as desired. (If the dough seems too soft to work with, refrigerate until firm.)
Wrap well and freeze until hard--about 30 minutes or longer--up to a month.
Notes
How To Blind-Bake (no filling) Greek Yogurt Pie Crust:
When ready to bake, remove from the freezer and snugly press a piece (or two) of non-stick aluminum foil or parchment paper to the inside of the pie crust. Fold the edges of the foil carefully over the decorative edge to protect from over-browning. Although you could fill the pie crust with beans, rice, or pie weights, I prefer to use chain-link sold by the foot at hardware stores.
Bake in a preheated 375-degree oven for 25-30 minutes. For a partially baked crust, carefully remove foil and weights, and allow to cool.
If you need a fully baked crust, continue baking the crust (uncovered) for 8-10 minutes longer or until golden brown.
Nutrition Information:
Yield:

8
Serving Size:

1
Amount Per Serving:
Calories:

274
Total Fat:

24g
Saturated Fat:

15g
Trans Fat:

0g
Unsaturated Fat:

8g
Cholesterol:

85mg
Sodium:

142mg
Carbohydrates:

13g
Fiber:

0g
Sugar:

1g
Protein:

3g