Skyr Recipe (Icelandic Yogurt): What Is It and How Do I Make It?
Sneak Preview: This Skyr recipe will show you how to make Icelandic Yogurt at home. Find out what it is and learn how to make it at home. Detailed pictures included.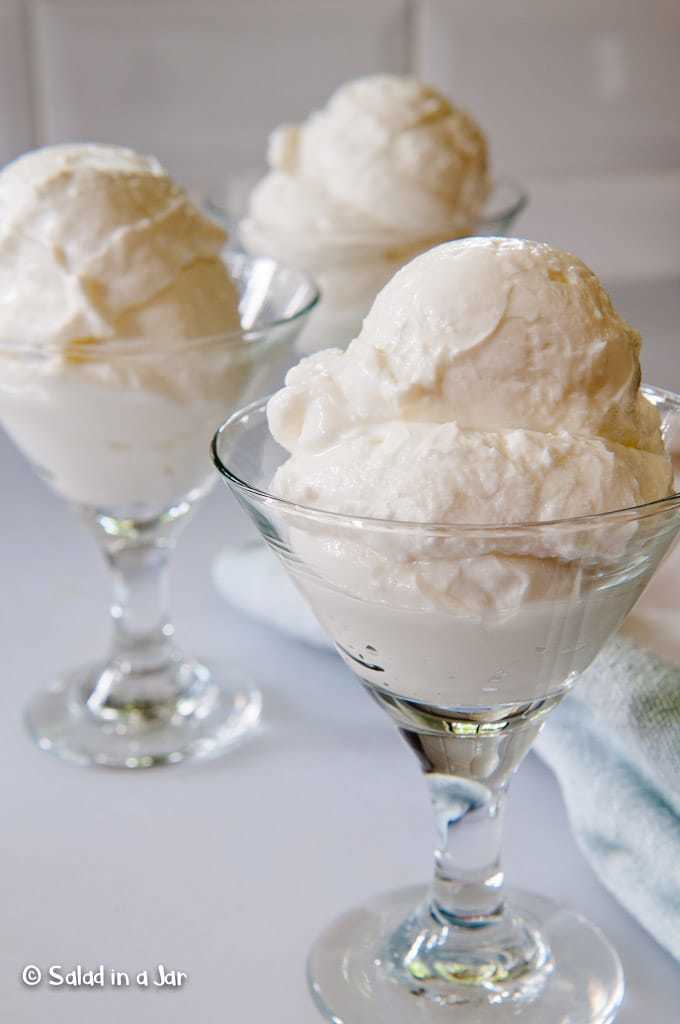 As an Amazon Associate, I earn from qualifying purchases.
Do you like to have something a little sweet to signal the end of your meal? Me, too. If I don't have a satisfying dessert, well, I start nibbling on dark chocolate. From there, I spiral down.
We eat skyr for dessert almost every night at our house to help me avoid spiral-down syndrome. It's rich, creamy, high-protein and so filling. No midnight snack needed!
This guide to Icelandic yogurt includes answers to your questions and instructions for making it yourself at home. If you want to know more about this cousin of Greek yogurt, keep reading.
What is Skyr:
Skyr, also known as Icelandic Yogurt, is a popular style of yogurt originating from Iceland. According to the Icelandic Provisions (a commercial brand available locally) carton, "it has been enjoyed for centuries in Iceland."
They describe it as "a combination of dairy milk and cultures that is rich and creamy…simplicity on a spoon."
On a side note, low-fat milk is listed as the first ingredient on the Icelandic Provisions container.
Another popular brand called Siggi's lists pasteurized skim milk as the first ingredient.
What about rennet?
Neither brand lists rennet, a thickener. Although rennet is advocated by some, I have it on good authority (an email from a company that makes this stuff commercially) that rennet is not necessary if your live cultures are plentiful and active.
Skyr is thicker than Greek yogurt and contains a higher level of protein than other yogurts. This makes sense when you consider it takes 4 cups of milk to make one cup of Skyr.
Traditionally, Greek yogurt requires 2 cups of milk to make one cup of yogurt.
Want to try making it yourself?
Since I love to make yogurt, and I like to save money, I decided to try making skyr at home. (I've been making Greek yogurt and answering your questions about it for the last 13 years on this website.)
If you want to try making it for yourself, check out my method below. Compare it to others online, and I think you'll find this method easier and less complicated than most.
Maybe you're not like me, but I find I won't make something very often if it's too involved. Of course, the first few attempts may take longer until you get your system figured out. But in my opinion, it's so worth it.
Four observations about making skyr:
1. You can use skim, low-fat, or whole milk to make Icelandic yogurt.
The fat adds creaminess. So does whipping the final product (optional) and/or adding a bit of heavy cream.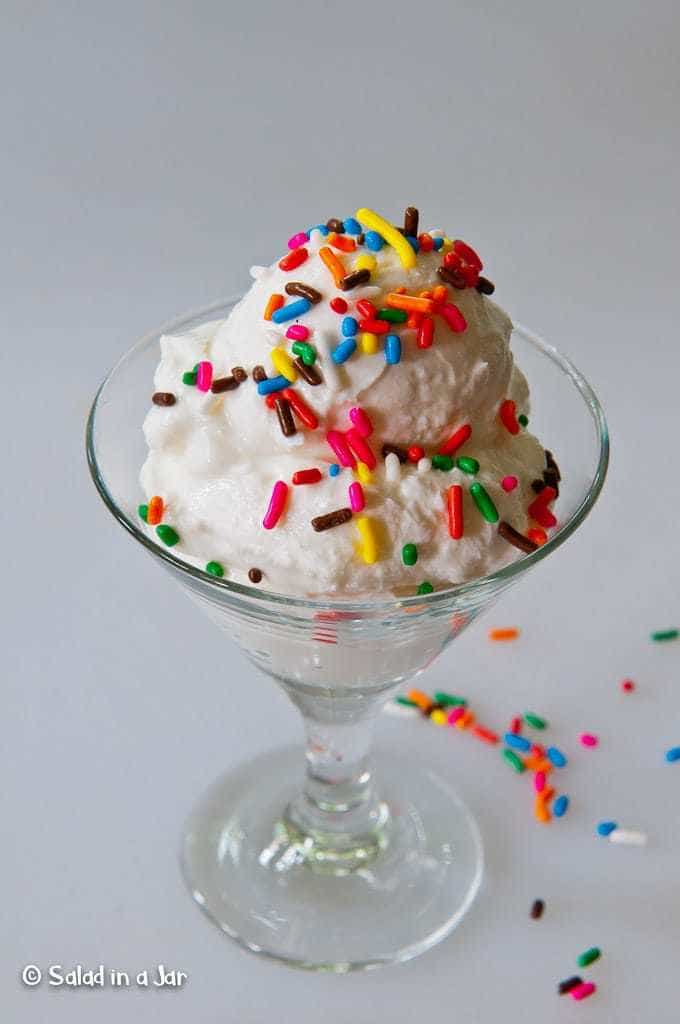 Go ahead and take it into ice-cream-like territory with some sweetness if you want. A few colorful sprinkles might even convert the kids in your life.
2. What is milk with increased solids?
Braums (and probably others I'm not aware of) employs a special evaporative technique to increase the solids in their lower-fat milk. This results in milk with higher protein and better taste right out of the carton.
Consequently, it will be difficult to strain this yogurt down to 1/2 of the original volume because of more solids. No worries.
Even if you get it down to 1/3 of the original volume, it will be very thick and totally delicious.
---
3. Which brand of starter should I use?
I purchased Siggi's plain yogurt as a starter for one batch and Icelandic Provisions Skyr for the other. Both batches turned out similar with only the slightest difference in tartness. The particular strain of cultures used in each brand is listed on their respective cartons. Interestingly, they are different.
Which starter you use is not as important as how fresh it is. That's why the best starter is often the fresh yogurt you make yourself. Of course, you won't have that available in the beginning.
Note: You can use either Greek yogurt or regular yogurt as a starter so long as it is fresh and has no additives.
---
4. Why is my yogurt too tart (or too mild?)
Some people consider Skyr or Icelandic yogurt tarter than Greek yogurt. My experience is that it is milder than Greek or regular yogurt. Although many people prefer a sour taste, I like a milder yogurt with less tartness.
The "tartness" of any homemade yogurt can be affected by the length of incubation and the type of milk used.
I go for the shortest incubation period possible that still produces a firm product. Mine usually takes about 4-5 hours to set.
I strain it on my kitchen counter for about 3-5 hours using a Kleynhuis yogurt bag as seen in the picture below. The yogurt is perfectly safe at room temperature for several hours because of the acid content.
If you don't want to purchase the yogurt bag, see this post about using coffee filters and a cheap colander. It's so much better than using a double layer of cheesecloth.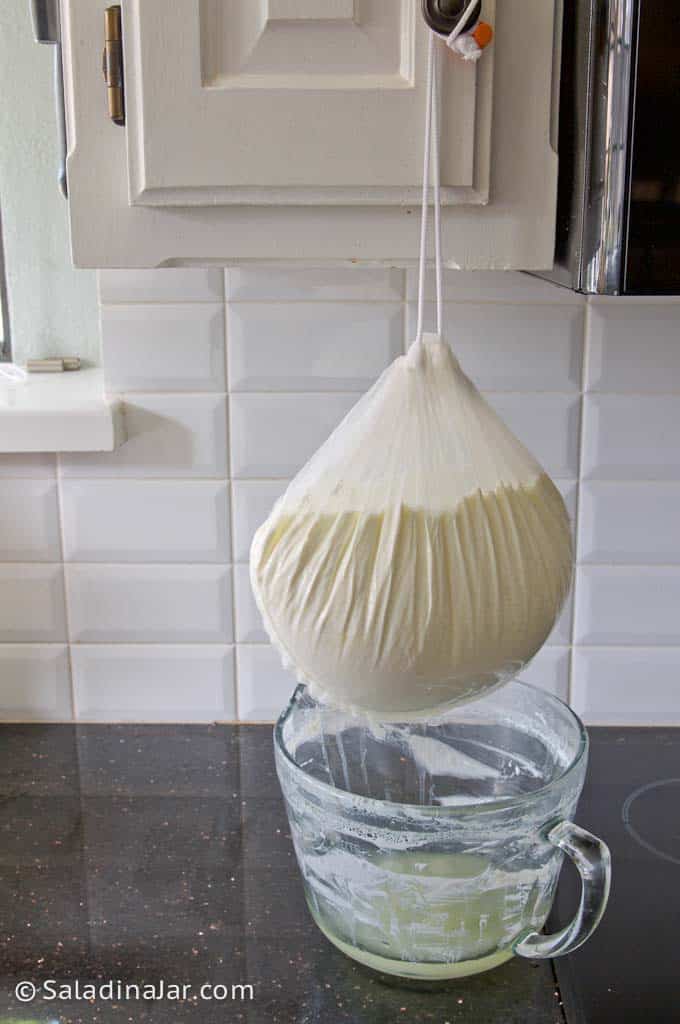 ---
The result?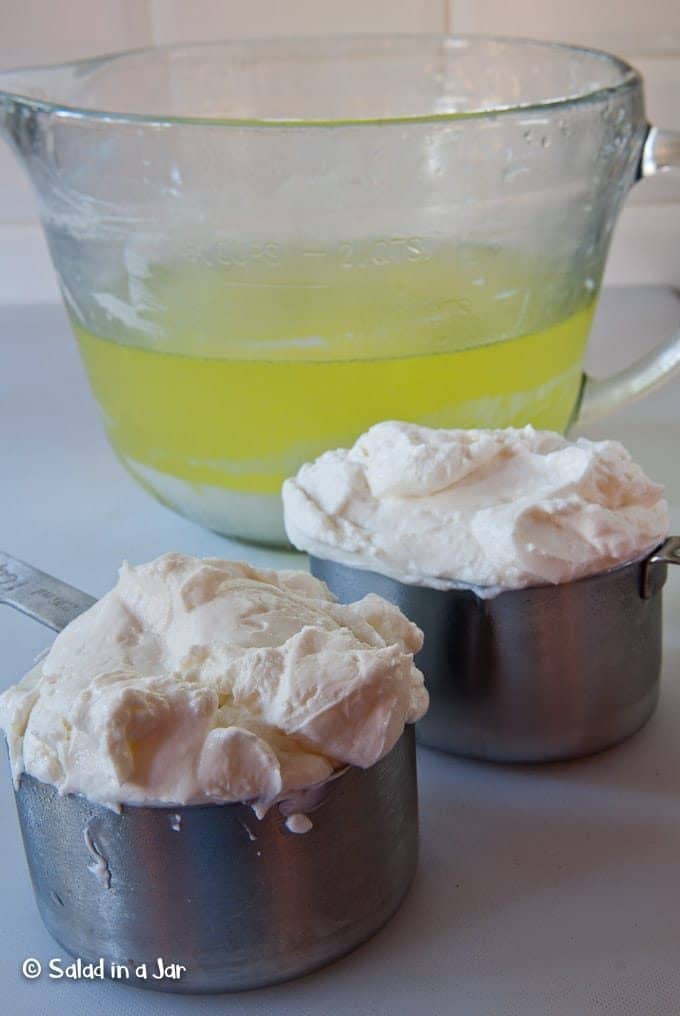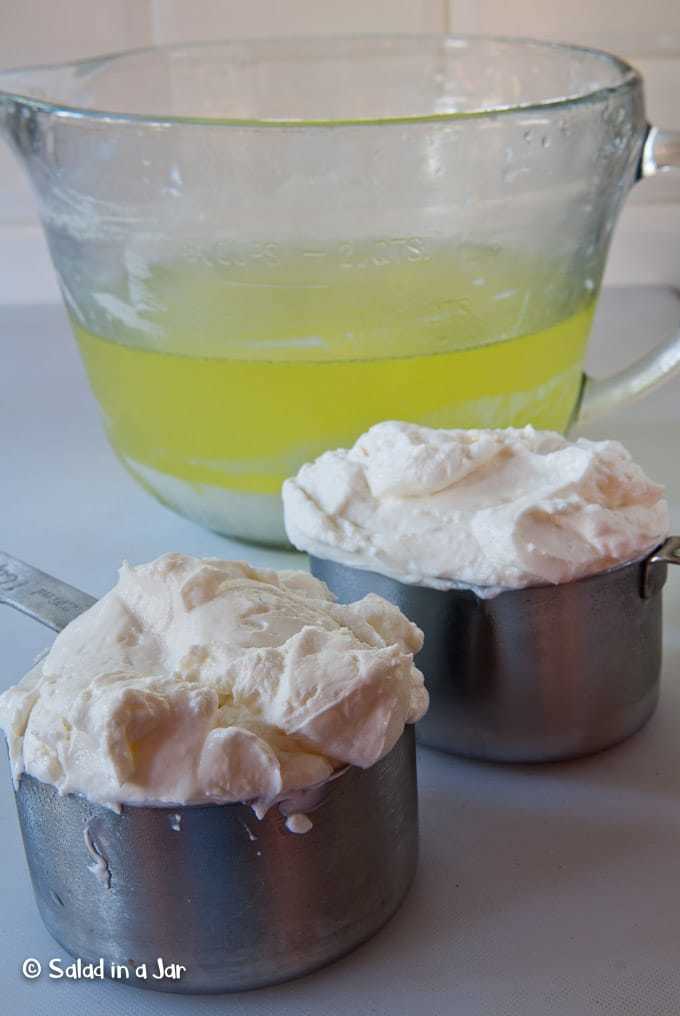 My yogurt turned out similar to what I have always called yogurt cheese. As you can see in the picture above, 2 quarts of milk strained down to a generous 2 cups of yogurt and lots of whey.
If you're wondering what to do with all that whey, see this post for 18 ways to use yogurt whey.

How to make Skyr yogurt at home: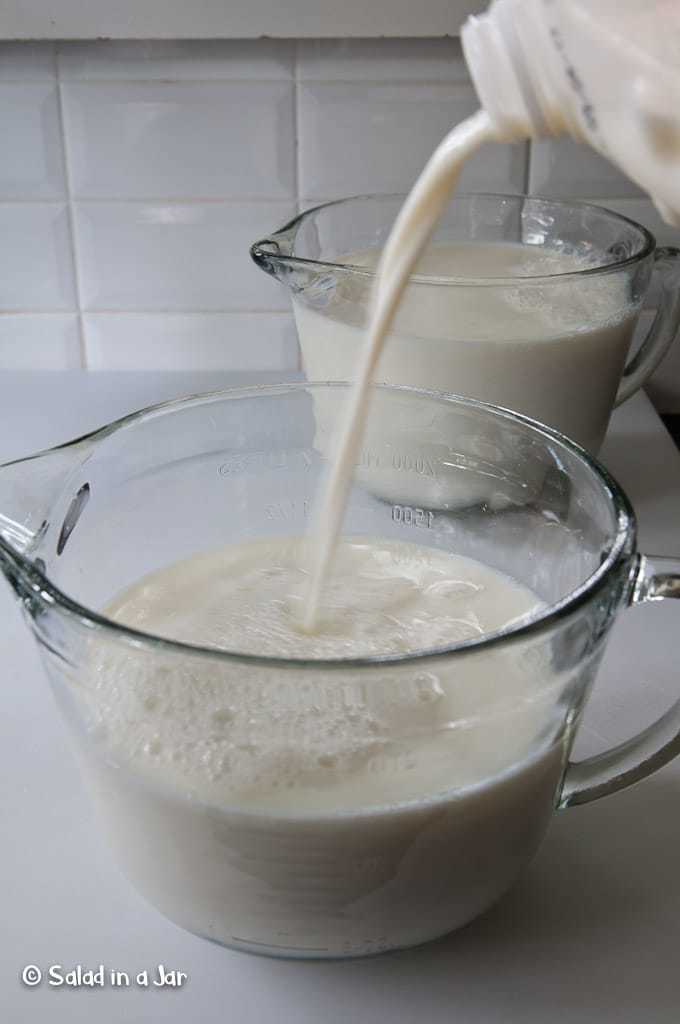 Pour milk into a microwave-safe container.
Heat in a microwave until the temperature reaches 180˚ F. For thicker yogurt even before straining, add 15 minutes in your microwave at 20% power to hold the temperature around 180˚F.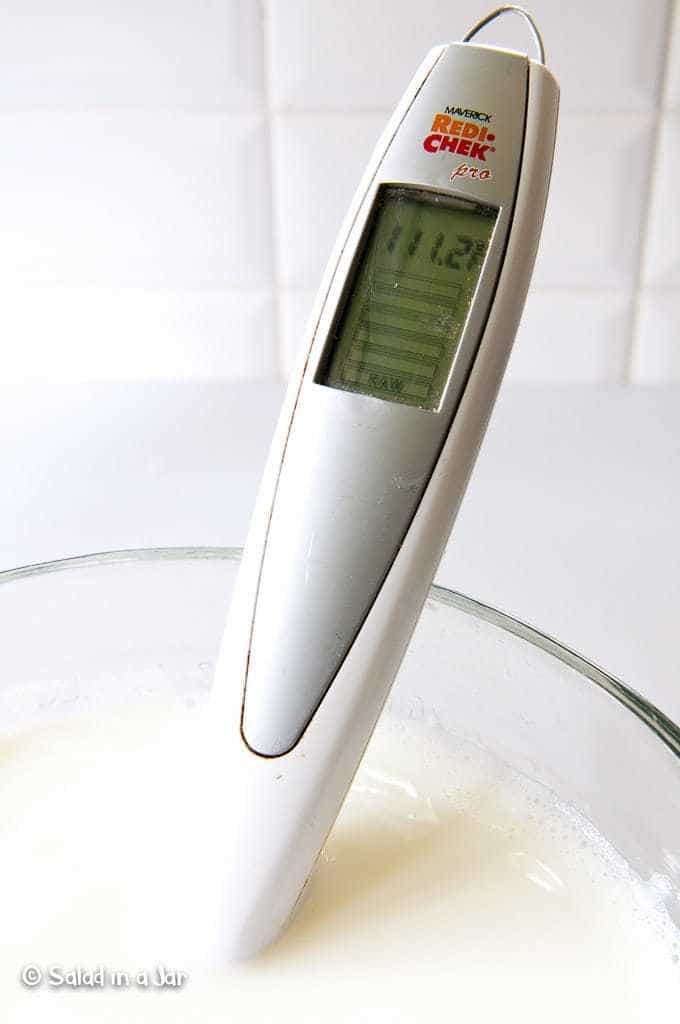 Allow the milk to cool down to 100-110˚F.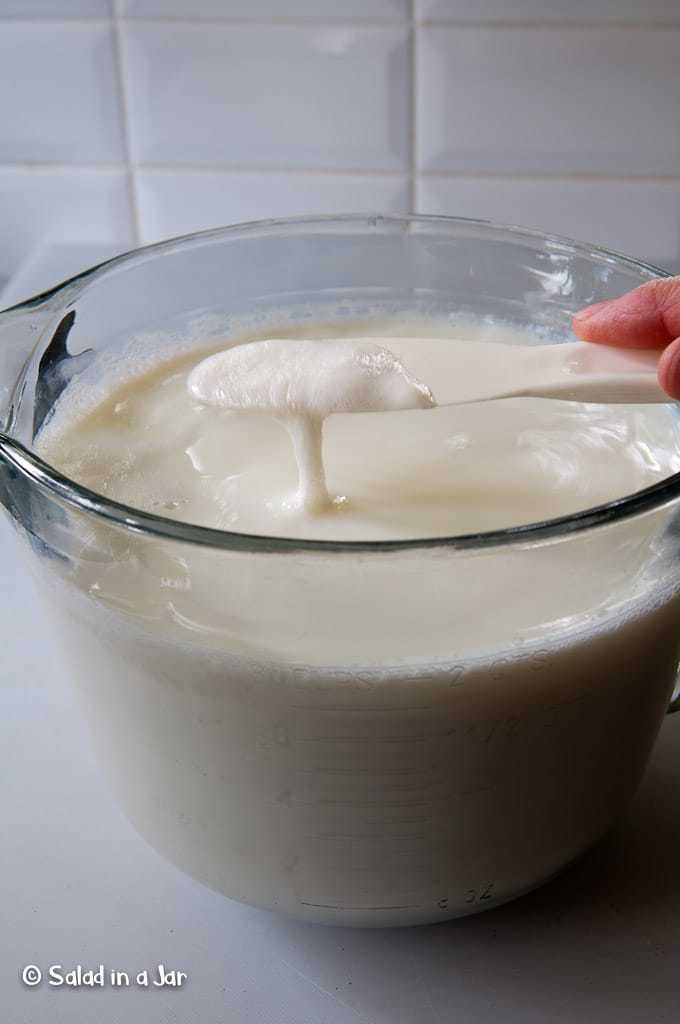 Remove any "skin" formed over the top after the milk cools.
Add approximately 1 tablespoon of starter culture to your warm milk.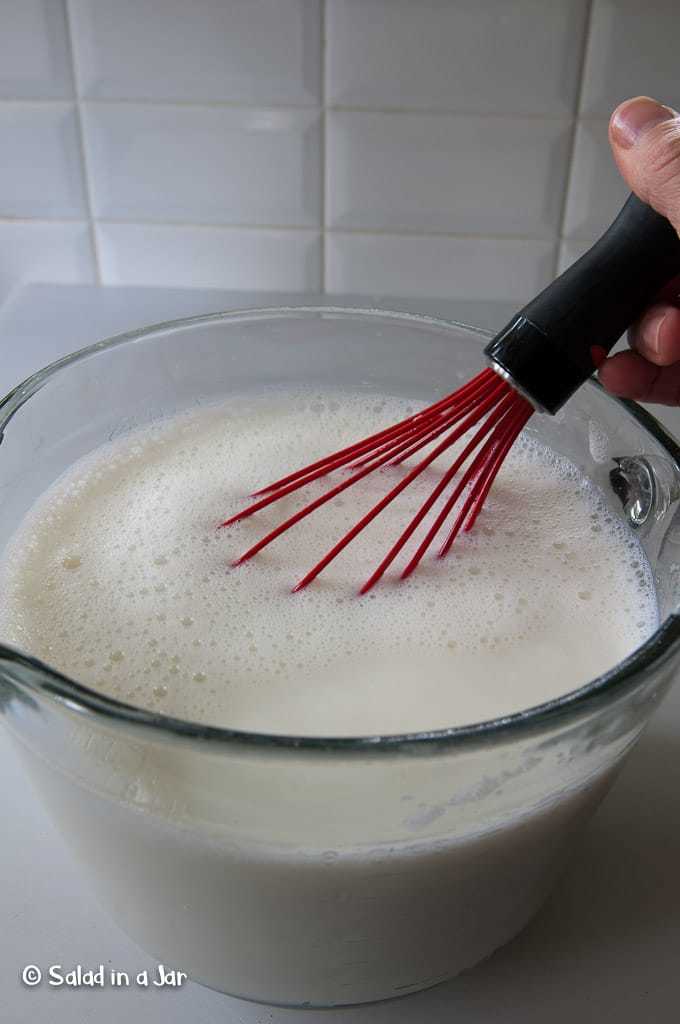 Whisk well to distribute the starter evenly.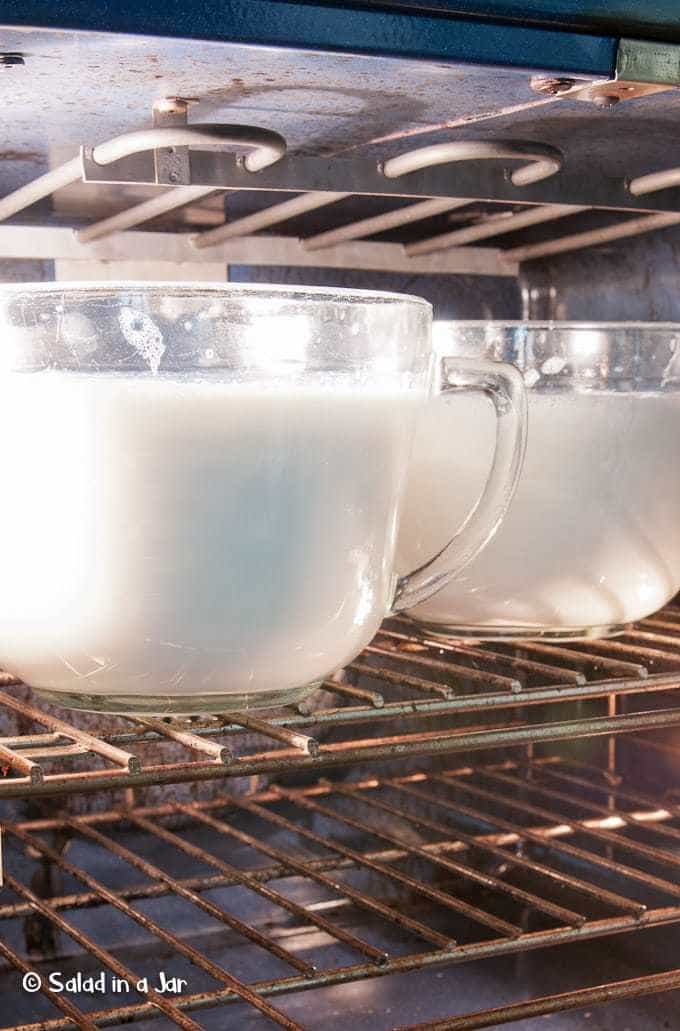 Incubate at 100-110 degrees F. until set. Don't disturb or move the bowls during this period. Cover yogurt with a towel, paper plate, or nothing if the bowls are sitting in an enclosed compartment.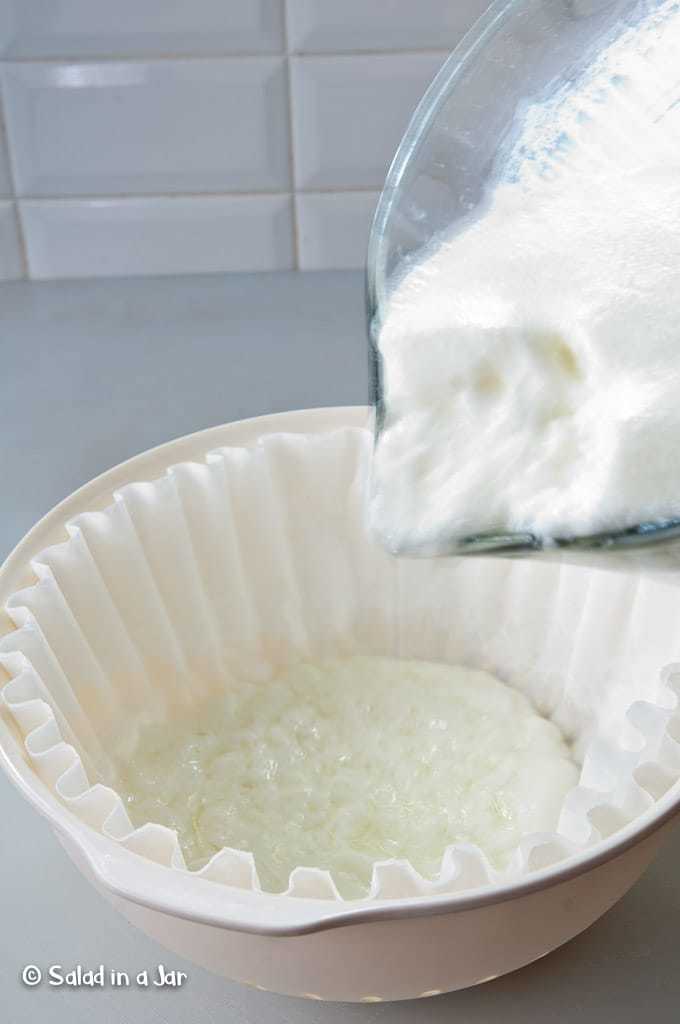 Strain. Check out these posts for different methods for making thick yogurt by straining it: A Yogurt Bag as a Cheesecloth Alternative for Making Greek Yogurt, How To Strain Yogurt with Paper Coffee Filters, or An Easy Way To Strain Yogurt Without Cheesecloth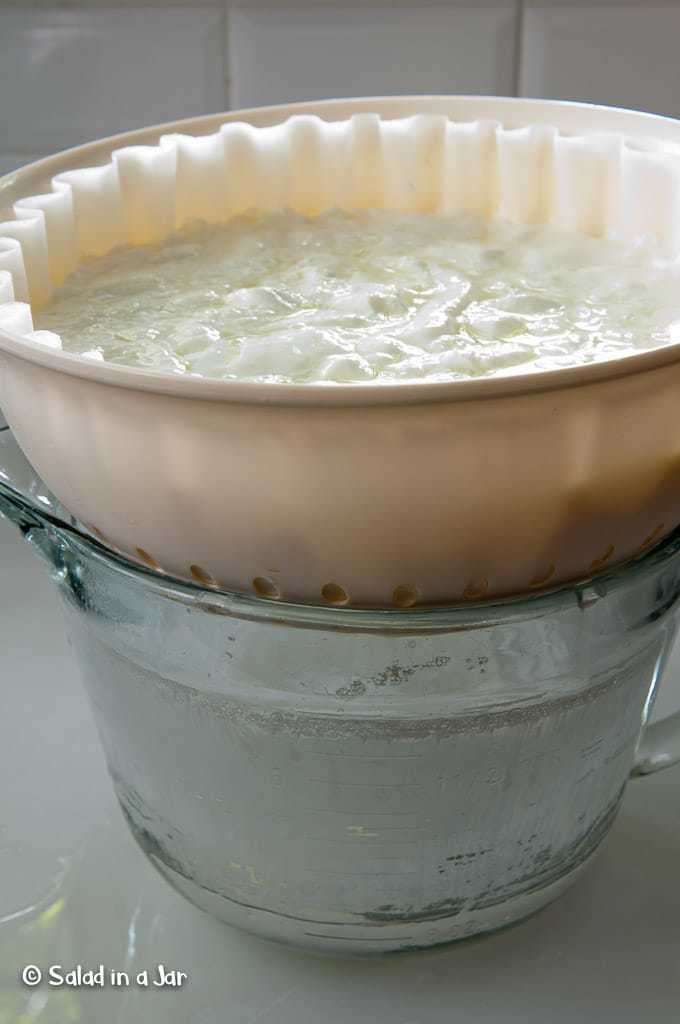 Allow the yogurt to strain until it reaches the thickness desired. Chill before eating for the best flavor.
FAQ about Skyr:
Why is skyr more satisfying?
Because it's more concentrated which means more protein. Protein is usually satisfying.
Is skyr healthy?
For the record, both brands of commercial yogurt I purchased claim 17 grams of protein, 6 carbs, and approximately 100 calories in a 5.3-ounce serving. I'm assuming the stats on my homemade Icelandic yogurt are similar.
Are you new to making yogurt? Start simple with an Instant Pot and the cold start method for making regular yogurt. When you master that, come back and try this Icelandic yogurt.
---
If you have questions or suggestions, email me privately to Paula at saladinajar.com. Hope to see you again soon! Paula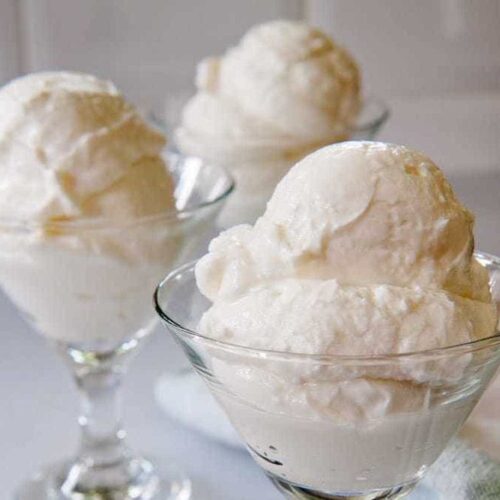 Skyr Recipe
An easy way to make your own protein-rich skyr or Icelandic yogurt at home
Ingredients
2

quarts

skim or low-fat milk

-

or whatever milk you prefer

1-2

tablespoons

generous tablespoon plain

-

non-flavored commercial Icelandic yogurt (once you make your own yogurt, you can use it as a starter)
Instructions
Fill Pyrex batter bowl (my preference) or 2-quart microwave-safe glass container with milk.

Heat on HIGH in microwave until bubbles begin to appear around the edge. Temperature should reach 175-180 degrees after you stir it. (In my microwave, it takes 17 minutes on HIGH). You can also heat milk on the stove if you prefer. It will take a lot longer and be careful not to scorch it.

Allow milk to cool until temperature drops to between 100 and 115 degrees. This is the step (more than any other) where more people ruin their yogurt. In the beginning of your yogurt adventures, get yourself a thermometer and check!! Too hot and the little yogurt bodies will be murdered!

If a skin forms, remove it.

Whisk in 1 tablespoon unflavored commercial Icelandic yogurt as a starter or use yogurt from a previous batch of your own homemade yogurt. No need to heat or warm it ahead of time.

Cover milk and place in a warm environment where the temperature stays around 100 degrees.

Allow to incubate for 5-12 hours. The longer you incubate, the more tart your yogurt will be.

From regular yogurt to Icelandic yogurt

Strain thickened yogurt. (If yogurt has not set, it will not readily strain.) I use this

method

. No cheesecloth required. I highly recommend it.

Let yogurt sit in the strainer till the yogurt is reduced down to a quarter of the original volume. Time to strain may be as long as 8-10 hours. Tip the strainer or stir very gently if whey has pooled on top while straining.

Empty whey from batter bowl and pour yogurt out of strainer back into the original bowl. Use a good whisk or portable mixer to beat until smooth or leave as is. Chill.

I'm told it will stay fresh for 3 weeks. We eat it too fast to know.
Notes
The Nutrition Facts will vary according to how much you strain the yogurt and what kind of milk you use.
Nutrition
Nutrition Facts
Skyr Recipe
Amount per Serving
% Daily Value*
* Percent Daily Values are based on a 2000 calorie diet.
Like this recipe? Thanks for leaving a 5-star rating inside the recipe at the top! 🤩