Sneak Preview: These incredibly cute Pumpkin Pie Mini-Tarts are essentially miniature pumpkin pies with the filling tucked into a homemade buttery shortbread crust.
Do you have that person at your holiday dinner that asks for a small piece of every dessert available? They will be excited to see these little tarts and you will be grateful you don't have to cut messy little slivers.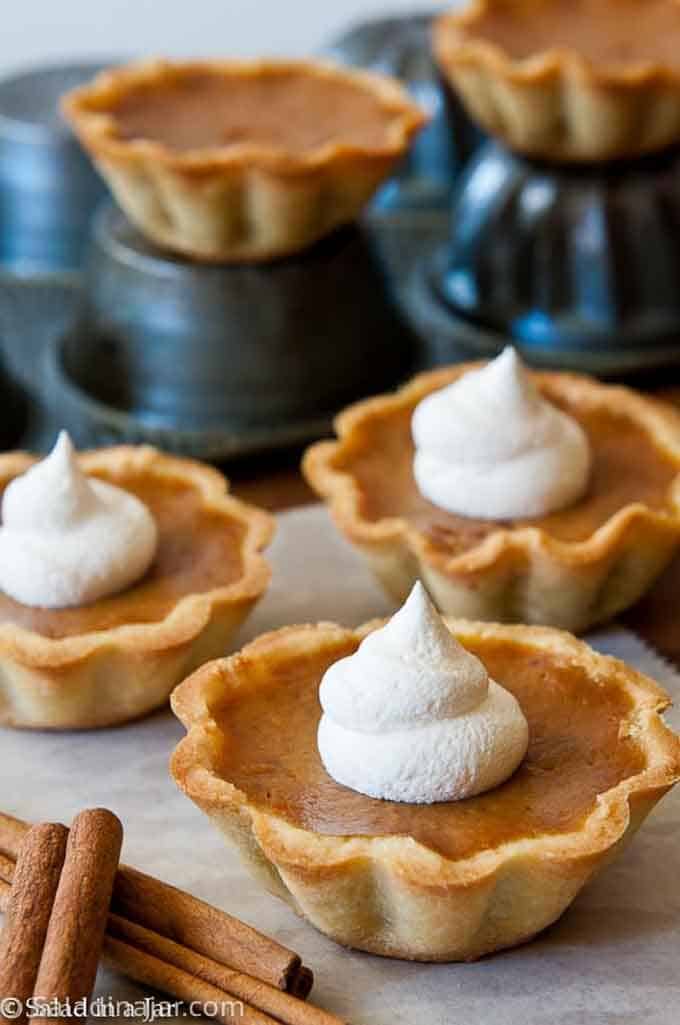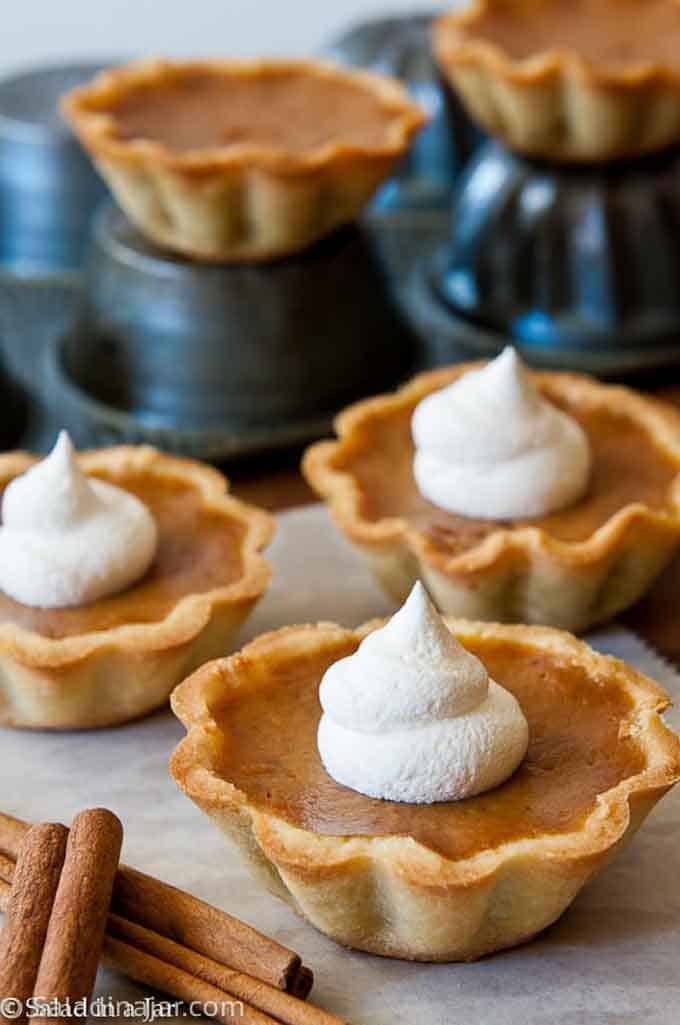 Recipe Inspiration
Think of these Pumpkin Pie Mini-Tarts as the "100-calorie snack" edition of the traditional Thanksgiving pumpkin pie.
I'm not saying each tart is only 100 calories. Calculating calories on desserts seems rude, don't you think?
However, each tart is a lot less than an eighth of a piece of a regular 9-inch pumpkin pie. I can get 15-16 tarts out of the same ingredients with some filling leftover.
The pie filling is my adaptation of Libby's recipe on the back of the pumpkin can.
Kitchen Notes Re: Tart Crusts
If you are an amateur cook, the crusts can be a bit challenging at first. I've been making pie crusts all my life, but still, the first ones I make of every batch look less than perfect. (It may be a subconscious thing. I love eating the rejects.)
You might want to practice making them ahead of time depending on the importance of the occasion. The taste is worth it.
If creating your own crusts scares you, buy mini-tart shells from the grocery store or online. They may not be as fresh as homemade, but they will be beautiful.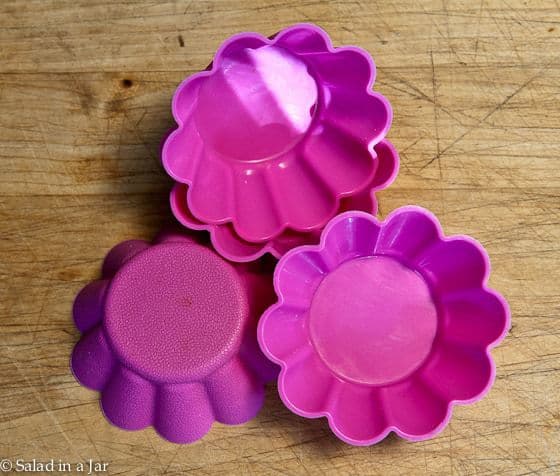 I highly recommend these silicone molds for making mini-tarts. Nothing sticks to them, making it easy to extricate the baked tart from the mold. I prefer the flower shapes over the cupcake-liner look.
Frequently asked questions:
Can I freeze the tart shells ahead of time?
Yes. Make the dough and shape crusts ahead of time. Freeze up to a month. Don't thaw the crusts before you bake them. Straight into the oven from the freezer is best.
Can I use a muffin tin as a mold for the tart shells?
You can. It's more difficult to manipulate the dough to fit down into each cavity. Trimming the dough at the top to make a neat finish is especially challenging.
How do you get mini-tarts out of the pan?
You can avoid the whole issue by using silicone molds. Tip them over and the mini-tart will fall right out.
If using some sort of metal mold or cupcake pans, spray the pan with a flour and oil mixture like "Baker's Joy" before you add the crust. That stuff is magic!
What else can I do with the silicone molds?
Use them for cupcakes or muffins. I think this is the original purpose.
Besides tarts, I use mine to make frozen egg whites. It's so much easier than using an ice cube tray, especially when you only have one or two egg whites to freeze.
This is how I do it: Place one egg white into each silicone mold. Freeze.
When frozen, pop the egg white into a plastic bag and store in the freezer until needed. Beats freezing them in an ice cube tray all day long (or saving them in the fridge where they don't stay fresh for long.)
Why are you wearing gloves when making the crusts?
I always wear gloves when I make any kind of pie crust or flaky biscuits. They protect the dough by providing a barrier between my body heat and the tiny flakes of butter. Of course, you can make the crusts without them, but work fast so as not to warm the dough.
How to shape shortbread crusts:
I hope the following tutorial will give you some confidence, but honestly, nothing substitutes for practice.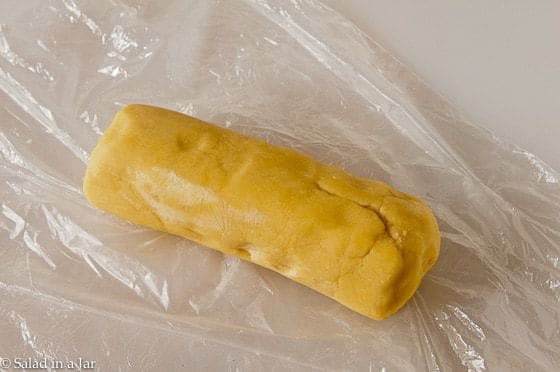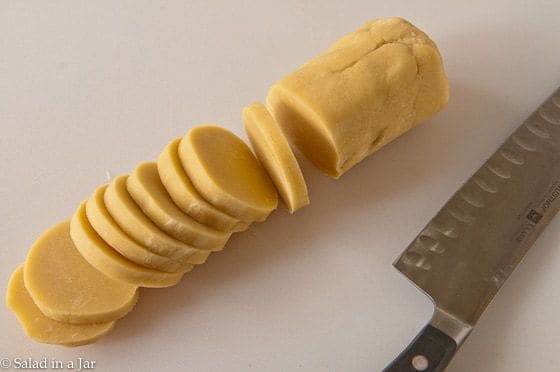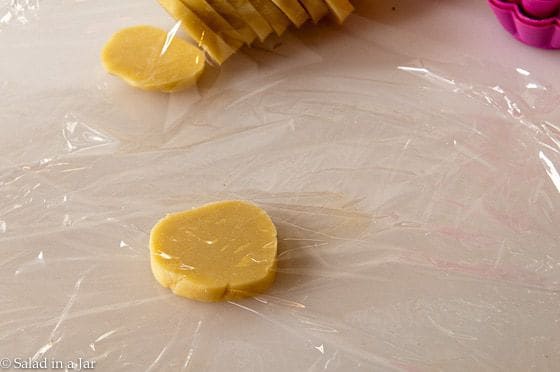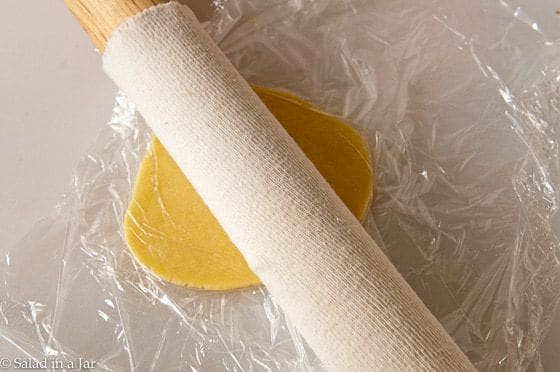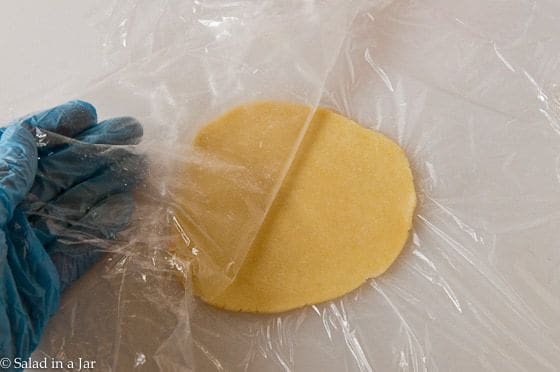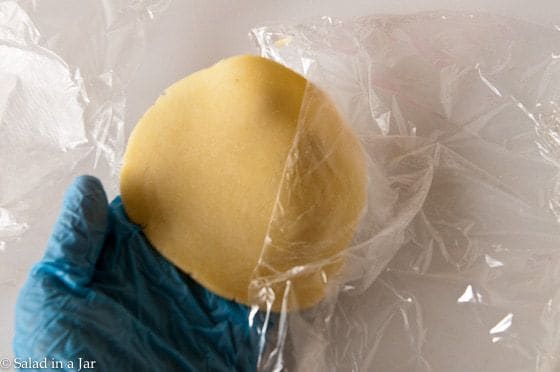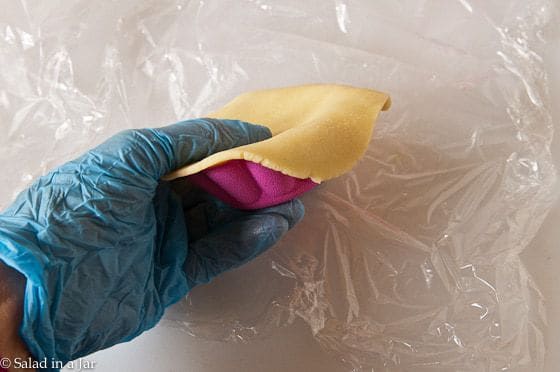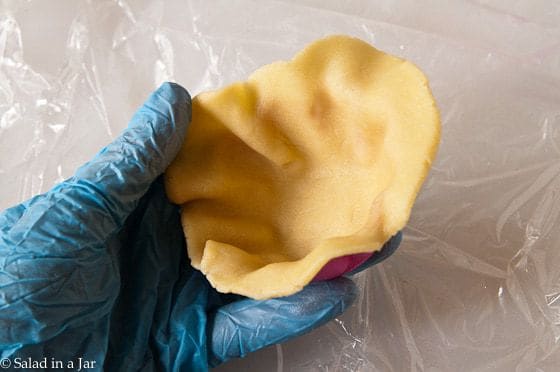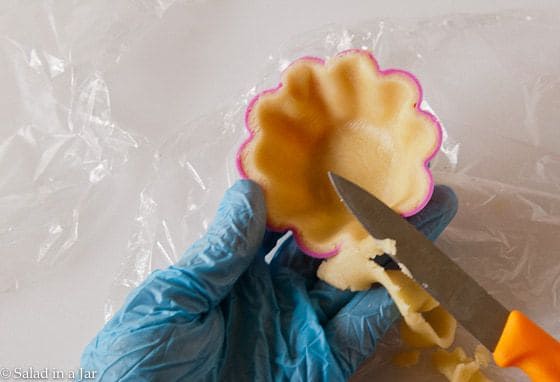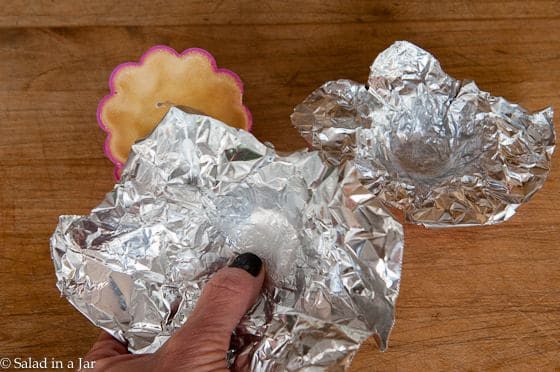 How many Pumpkin Pie Mini Tarts will this recipe make?
How many tarts you get out of this recipe will depend on the size of your tart cups.
I can get 15-16 out of this recipe with some filling to spare. Bake the leftover filling in a small glass dish and add it to yogurt for a yummy treat!
---
More mini-tart recipes
If you enjoyed this recipe, it would help others and me if you gave it a five-star rating inside the recipe card below. 🤩 No comment required. Thank you.

Hope to see you again soon!
Paula
p.s. Questions or suggestions? Please email me: Paula at saladinajar.com.