Sneak Preview: These incredibly cute Pumpkin Pie Mini-Tarts are essentially miniature pumpkin pies with the filling tucked into a homemade buttery shortbread crust.
Do you have that person at your holiday dinner that asks for a small piece of every dessert available? They will be excited to see these little tarts and you will be grateful you don't have to cut messy little slivers.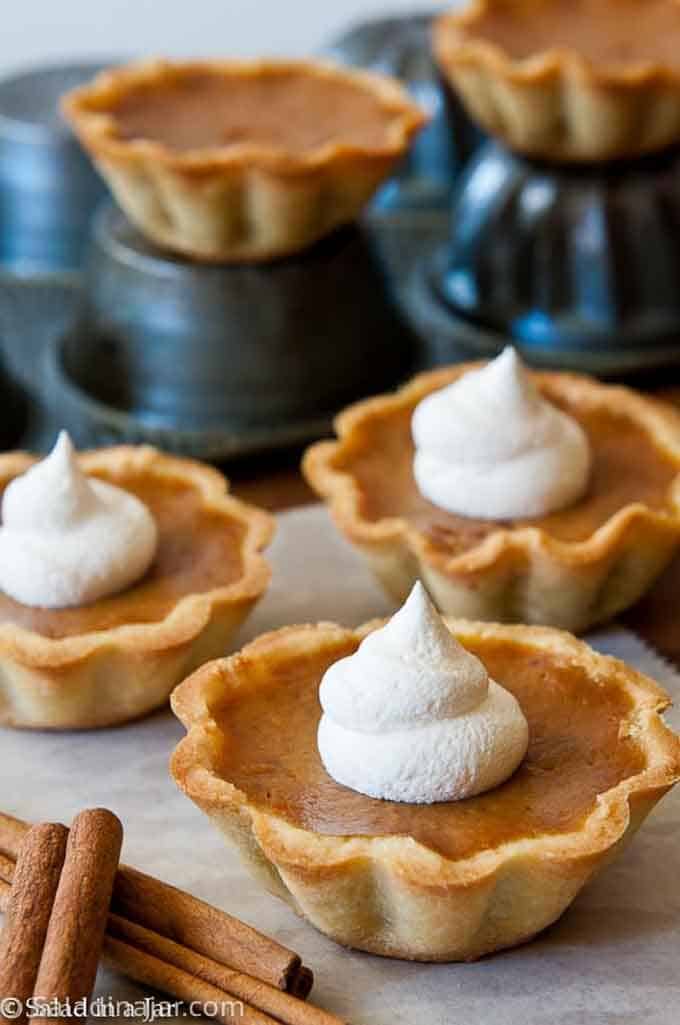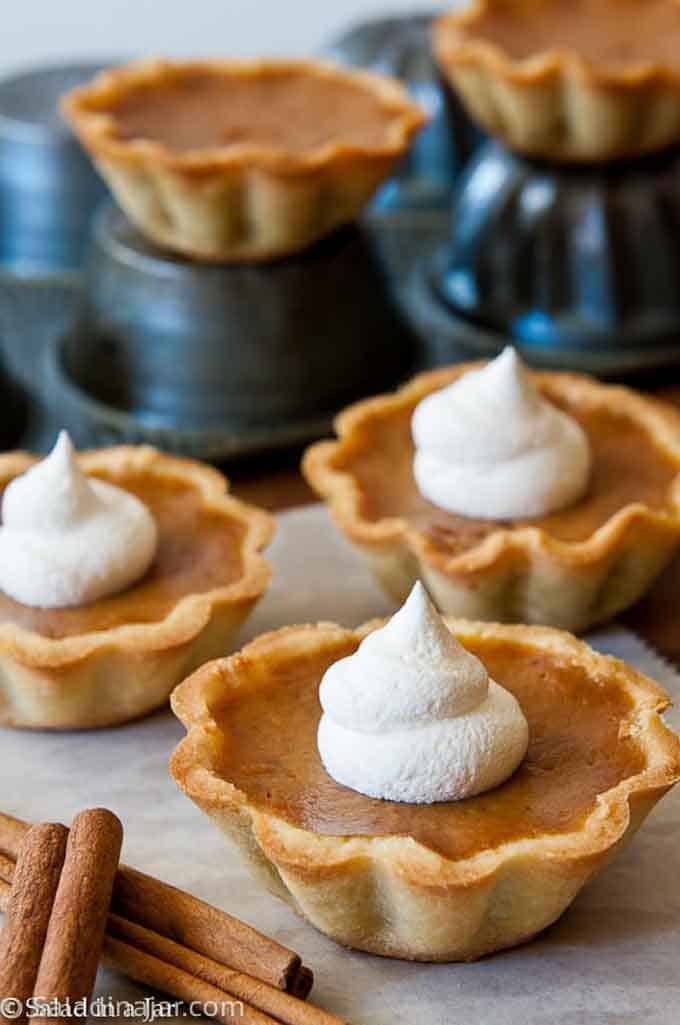 Recipe Inspiration
Think of these Pumpkin Pie Mini-Tarts as the "100-calorie snack" edition of the traditional Thanksgiving pumpkin pie.
I'm not saying each tart is only 100 calories. Calculating calories on desserts seems rude, don't you think?
However, each tart is a lot less than an eighth of a piece of a regular 9-inch pumpkin pie. I can get 15-16 tarts out of the same ingredients with some filling leftover.
The pie filling is my adaptation of Libby's recipe on the back of the pumpkin can.
Kitchen Notes Re: Tart Crusts
If you are an amateur cook, the crusts can be a bit challenging at first. I've been making pie crusts all my life, but still, the first ones I make of every batch look less than perfect. (It may be a subconscious thing. I love eating the rejects.)
You might want to practice making them ahead of time depending on the importance of the occasion. The taste is worth it.
If creating your own crusts scares you, buy mini-tart shells from the grocery store or online. They may not be as fresh as homemade, but they will be beautiful.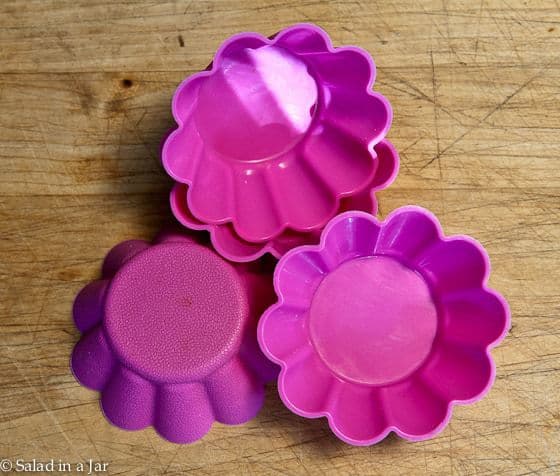 I highly recommend these silicone molds for making mini-tarts. Nothing sticks to them, making it easy to extricate the baked tart from the mold. I prefer the flower shapes over the cupcake-liner look.
FAQ
Can I freeze the tart shells ahead of time?
Yes. Make the dough and shape crusts ahead of time. Freeze up to a month. Don't thaw the crusts before you bake them. Straight into the oven from the freezer is best.
Can I use a muffin tin as a mold for the tart shells?
You can. It's more difficult to manipulate the dough to fit down into each cavity. Trimming the dough at the top to make a neat finish is especially challenging.
How do you get mini-tarts out of the pan?
You can avoid the whole issue by using silicone molds. Tip them over and the mini-tart will fall right out.

If using some some sort of metal mold or cupcake pans, spray the pan with a flour and oil mixture like "Baker's Joy" before you add the crust. That stuff is magic!
What else can I do with the silicone molds?
Use them for cupcakes or muffins. I think this is the original purpose.

Besides tarts, I use mine to make frozen egg whites. It's so much easier than using an ice cube tray, especially when you only have one or two egg whites to freeze.

This is how I do it: Place one egg white into each silicone mold. Freeze.

When frozen, pop the egg white into a plastic bag and store in the freezer until needed. Beats freezing them in an ice cube tray all day long (or saving them in the fridge where they don't stay fresh for long.)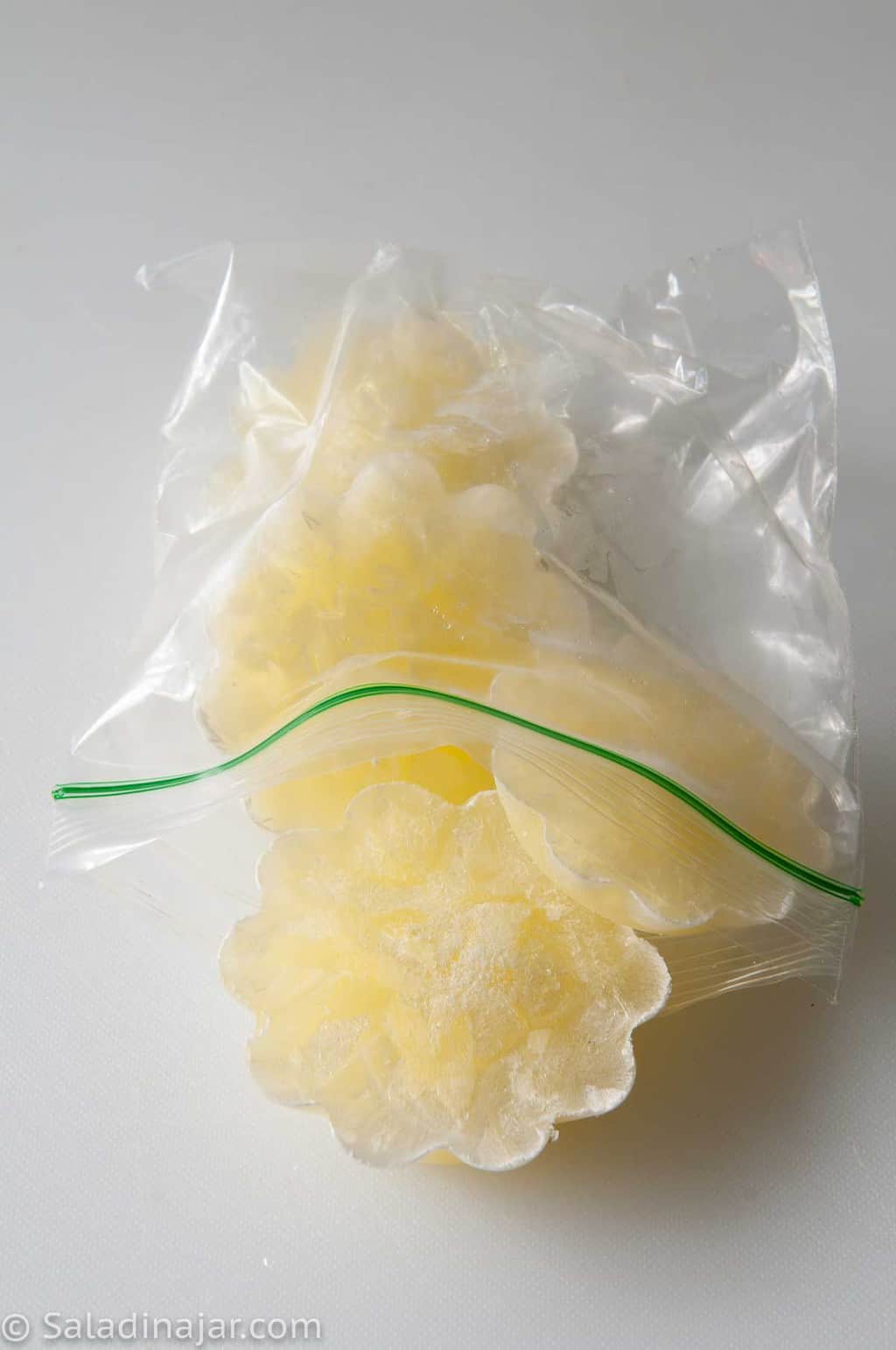 Why are you wearing gloves when making the crusts?
I always wear gloves when I make any kind of pie crust or flaky biscuits. They protect the dough by providing a barrier between my body heat and the tiny flakes of butter. Of course, you can make the crusts without them, but work fast so as not to warm the dough.
How to shape shortbread crusts:
I hope the following tutorial will give you some confidence, but honestly, nothing substitutes for practice.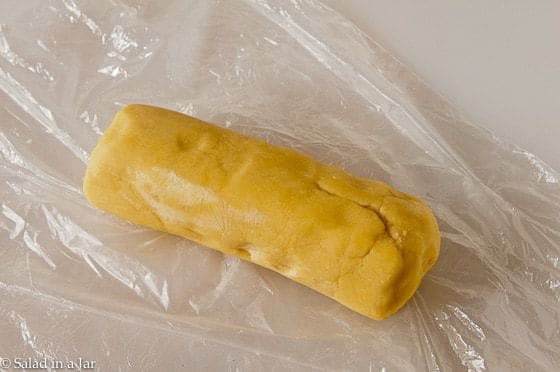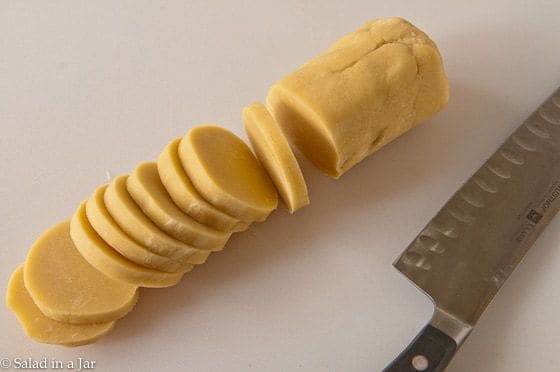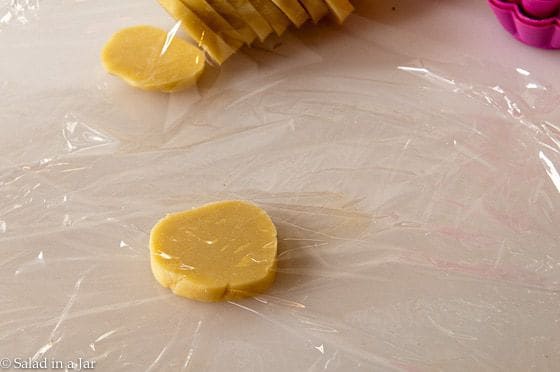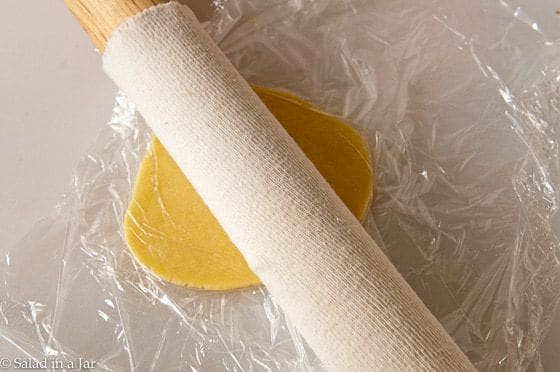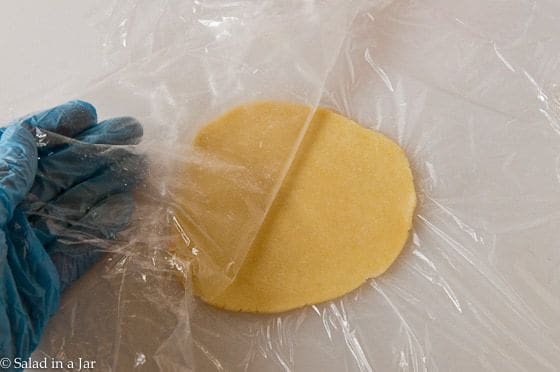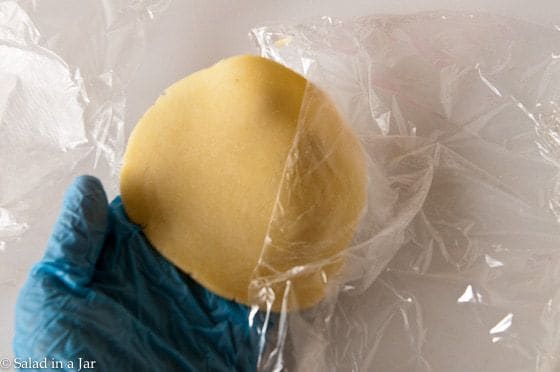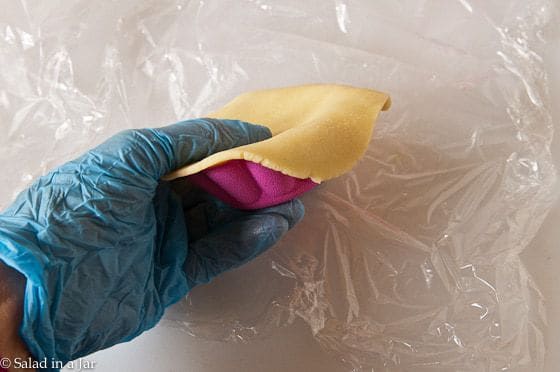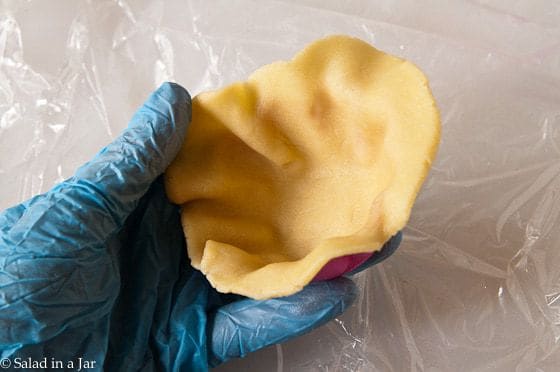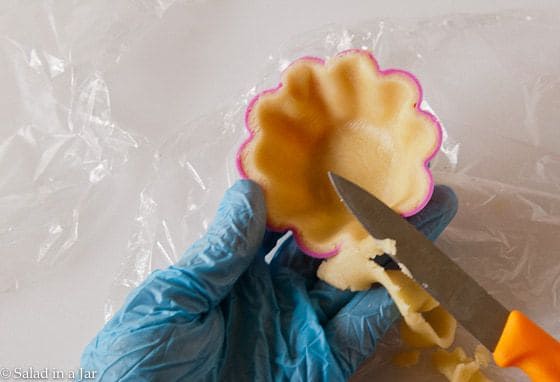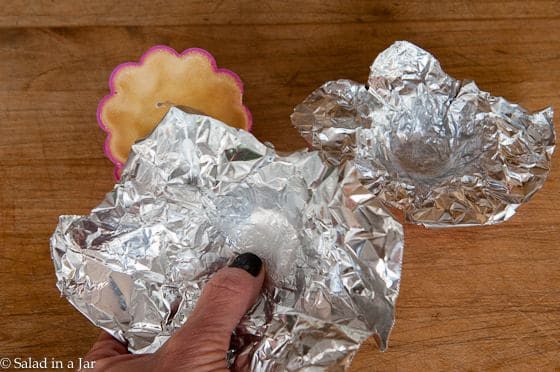 How many Pumpkin Pie Mini Tarts will this recipe make?
How many tarts you get out of this recipe will depend on the size of your tart cups.
I can get 15-16 out of this recipe with some filling to spare. Bake the leftover filling in a small glass dish and add it to yogurt for a yummy treat!
---
More mini-tart recipes
---
---
Did you enjoy this recipe? You can help others (and me) by leaving a rating on the recipe card itself underneath the picture. No comment required. Thank you.

Hope to see you again soon!
Paula
p.s. Questions? Email me: paula at saladinajar.com.
Yield: 15 mini-tarts
Pumpkin Pie Mini Tarts with a Homemade Crust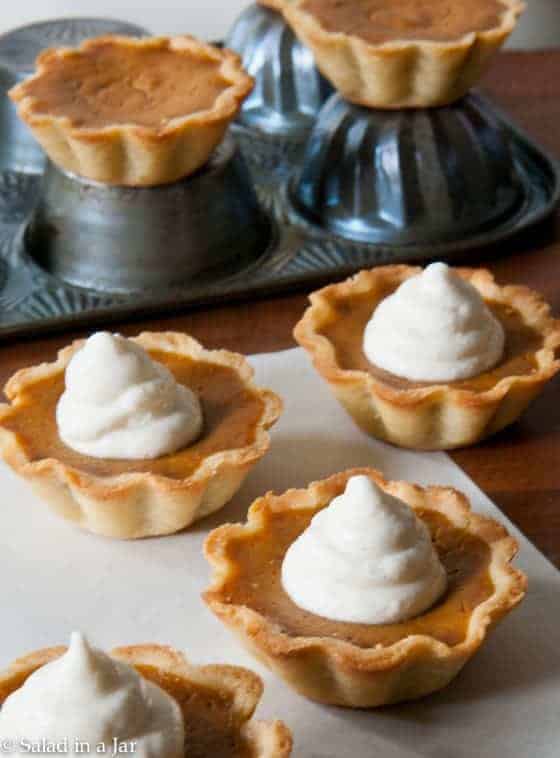 These Pumpkin Pie Mini-Tarts are easy to carry to Grandma's house or put them on your dessert buffet. The small size makes them easy to grab and eat.
Prep Time
1 hour
30 minutes
Total Time
1 hour
50 minutes
Ingredients
Tart Crust:
1-1/2 cups unbleached flour
1/3 cup powdered sugar
1/4 teaspoon salt
1/2 cup butter (1 stick), chilled
1 egg yolk (from a large egg)
1 tablespoon heavy cream
Pie Filling:
3/4 cup brown sugar
1 teaspoon cinnamon
1/8 teaspoon cloves
1/2 teaspoon ginger
1/2 teaspoon salt
1/8 teaspoon allspice
2 eggs + 1 egg yolk
1 (15 ounces) can pure pumpkin
1/2 cup heavy cream
3/4 cup milk
Instructions
Crust:
Combine flour, sugar, and salt in food processor. Cut butter into 8 slices and add to flour, pulsing several times until mixture resembles oatmeal. Add egg yolk mixed with cream. Pulse until all ingredients are moistened. Then allow machine to run a few seconds until dough starts to stick together. (Add additional drops of cream if dough seems too dry.) Press dough into a roll like refrigerated cookie dough. Wrap in plastic and chill 30 minutes.
Spray molds generously with Baker's Secret or something like it. (Baker's Secret is an aerosol spray that mixes flour and oil.) If using silicone molds, no greasing is necessary.
Slice roll of dough into 15-16 pieces. Using a rolling pin, flatten dough between two pieces of plastic wrap into a circle slightly larger than tart molds. Press into mold with fingers, being careful to keep thickness consistent. Use a knife to trim off any extra at the top. I usually have enough scraps to make another tart or two. Freeze for at least 30 minutes, overnight, or up to a month.
Place frozen tart shells onto a cookie sheet and press a small square of foil down into each crust that molds to shape of crust and covers the edge. Bake at 400 degrees for 10 minutes.
Pie Filling:
While crusts are pre-baking, combine first 6 ingredients in medium bowl.
Whisk eggs and pumpkin together in another bowl. Add spice mixture and whisk well. Add cream and milk and whisk until smooth.
Optional: Pour pie filling through a medium sieve for maximum smoothness.
Fill each pre-baked tart taking care to put as much filling into each tart as possible without pouring in too much and making a mess.
Bake in 350-degree oven for 15-20 minutes (depending on the size of your tarts) or until filling is set. Allow to cool on a rack. Chill before serving.
Notes
If using a muffin pan for tarts, you don't need to pre-bake the crust--especially if the pan has a dark coating. Pour filling into frozen crusts and bake for 20 minutes or until filling is set.
Recommended Products
As an Amazon Associate, I earn from qualifying purchases. But don't worry. This doesn't change the price you pay.
Nutrition Information:
Yield:
15 mini-tarts
Serving Size:
1 mini-tart
Amount Per Serving:
Calories:

201
Total Fat:

11g
Saturated Fat:

7g
Trans Fat:

0g
Unsaturated Fat:

4g
Cholesterol:

77mg
Sodium:

177mg
Carbohydrates:

23g
Fiber:

1g
Sugar:

12g
Protein:

3g
---
Like what you've read? Get more exclusive tips and updates in your inbox for FREE. Sign up below.