Preview: These Sweet Mini Cheesecake Tarts contain mascarpone cheese, the luxurious alternative to cream cheese. Easy to make ahead.
Are you planning a shower, reception, or graduation party? These Sweet Mini Cheesecake Tarts with mascarpone cheese are a sweet idea perfect for any celebration–except maybe a kid's birthday party. Give them the grocery store cupcakes while the adults munch on these wonderful mini-tarts.
Change the fruit to suit your tastes and/or color scheme. The combination of fresh fruit, Mascarpone cream in the filling, and a homemade shortbread crust is unbeatable.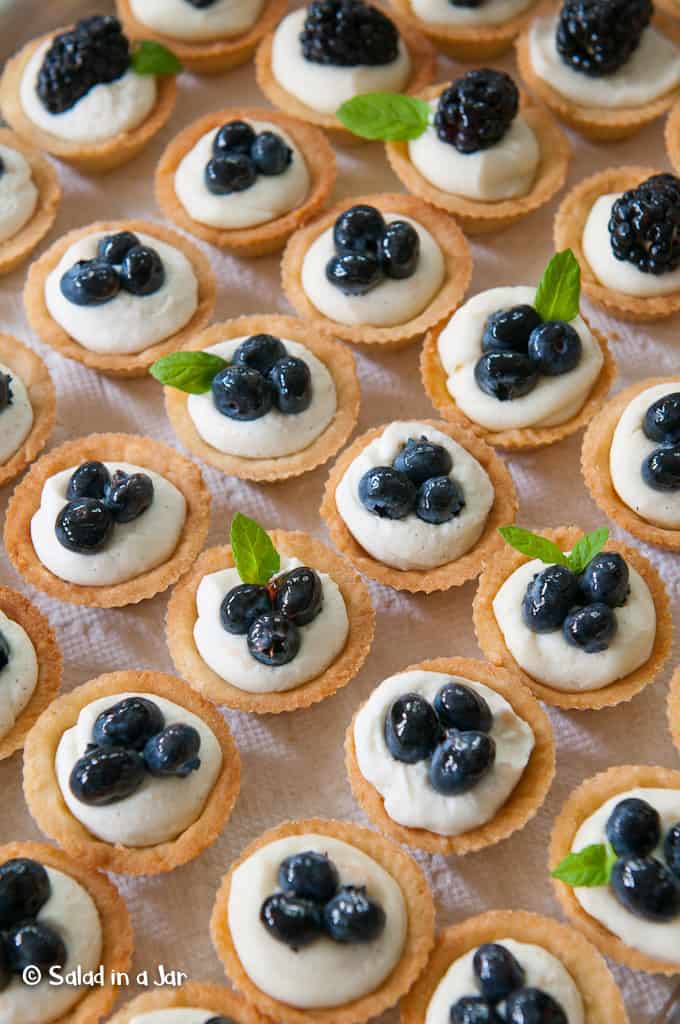 Why these No-Bake Mini Cheesecake Tarts are the best dessert for celebrations:
#1
Easy to serve.
No slicing. You also won't need to transfer a precariously balanced fancy dessert (like a layer cake) to another plate.
Individual servings like these mini-tarts are insurance against a dessert that gets mangled on a buffet.
#2
Easy to eat.
These mini-desserts are easily one bite for most men and not more than two bites for us more delicate types. In casual settings, you may not even need forks.
#3
Easy to make.
Make or buy the crusts ahead of time. The filling is uncooked so it requires only minutes.
The only detail to be completed at the last minute is adding the fruit to the top with a touch of glaze.
#4
Easy to customize for a specific color theme.
Change the fruit to change the color scheme. Change the flavor of the filling from lemon to orange or lime if you like. Or make it plain vanilla.
---
The crust for these mini tarts:
Because I enjoy shortbread more than graham crackers, I wanted to use my favorite shortbread crust recipe for the tart shells. However, store-bought shells are perfectly acceptable.
If you want to make them yourself, these are the tart shells I purchased and recommend.
Whether homemade or store-bought, the mini-tart shells are pre-baked. Therefore, an uncooked filling seemed preferable to the traditional baked cheesecake filling with eggs.
The mascarpone cheese filling:
One of my coworkers put me on to mascarpone cheese, the secret ingredient in these tarts. It's the fancy, more expensive, creamier, and Italian cousin of cream cheese. If you can't find mascarpone at your grocery store, substitute cream cheese.
Did you know you can make your own mascarpone cheese? I just tried it myself last night. Wow! That stuff is dangerous!
Back to the tart filling…mascarpone cheese combined with melted white chocolate chips and sour cream create a little bit of heaven in your mouth. Fold in some frozen whipped topping (sorry, I know–not the healthiest ingredient, but you won't be getting that much unless you eat the whole batch) to lighten the mixture.
Finishing touches:
A touch of vanilla bean paste adds sophistication. That's it.
Spoon or pipe the slightly-chilled filling into your tart shells for a two-bite dessert just rich enough and sweet enough to enhance whatever fruit you choose to put on top.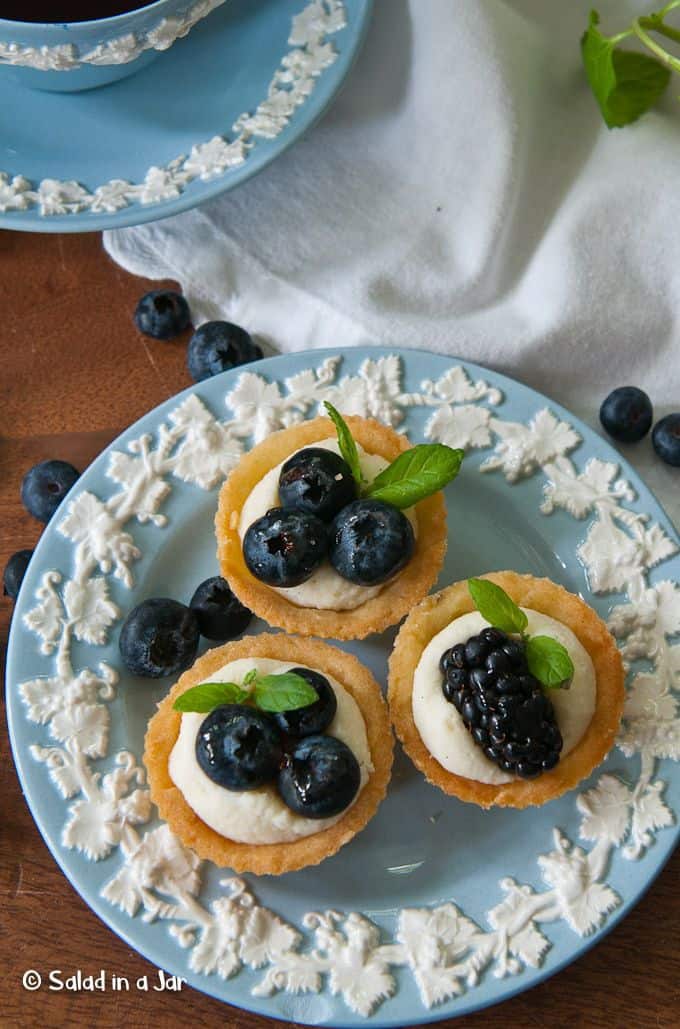 Here's the best news of all. You can prepare these little jewels at least 2-3 days ahead of time except for placing the fruit on top which should wait until you are almost ready to serve.
---
The best tip for this recipe I learned the hard way:
When you make the filling, it's VERY IMPORTANT the mascarpone cheese be at room temperature. If it is still cold when you add the warm white chocolate, the chocolate will harden as soon as it hits the cold cheese, leaving you with a lumpy filling. 🙁
---
---
More recipes for mini tarts
---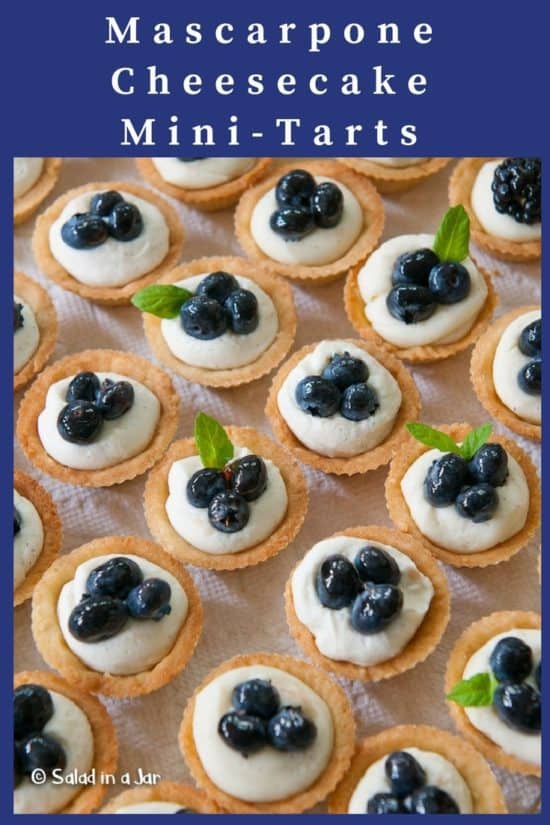 ---
If you enjoyed this recipe, it would help others and me if you gave it a five-star rating inside the recipe card below. 🤩 No comment required. Thank you.

Hope to see you again soon!
Paula
p.s. Questions or suggestions? Please email me: Paula at saladinajar.com.