Preview: Make Easy Mini Lemon Tarts with lemon curd and crème fraîche (optional). Pile the filling into homemade shortbread crusts and decorate with fruit. This is the perfect size for satisfying an after-dinner sweet tooth.
Looking for a memorable dessert you can serve for a brunch, shower, or holiday? Whip up these melt-in-your-mouth lemon mini-tarts made with the BEST shortbread crusts.
Garnish the tarts with fresh fruit for colorful treat lemon lovers will be unable to resist.
Why you'll love this recipe:
Mini-tarts are my signature dessert, so I'm biased. I love them because they are:
Easy to serve (pre-portioned)
Easy to eat (serve on a napkin)
Whip up the filling in a minute with store-bought ingredients.
Or make the filling from scratch to save money and get the freshest flavor.
The shortbread crusts taste so fresh and buttery. Prepared ahead of time if you want.
---
Ingredients and substitutions:
LEMON CURD: Lemon curd is available in most supermarkets. Look in the jelly aisle. It's super easy to make lemon curd in the microwave.

CRÈME FRAîCHE: In case you're wondering, crème fraîche originated in France. They traditionally make it with unpasteurized heavy cream. The cream is naturally inoculated with the right bacteria to make it thick.

Because our cream is pasteurized or ultra-pasteurized, we have to add bacteria back to the cream. This process makes a thick and slightly tangy cream.

Crème fraîche is not always easy to find, but it's always easy to make crème fraîche yourself. You only need heavy whipping cream and some plain, unflavored yogurt (Greek or regular). It takes about 8-16 hours for it to set.

Other options? Substitute sour cream or Greek yogurt for the crème fraîche. Greek yogurt will make a softer filling, but it's still delicious. You can always use straight lemon curd for the filling for a super lemony taste and more tartness.
SHORTBREAD CRUST: Make these tarts with a scratch shortbread crust. It makes these mini-tarts a fancy dessert people will remember.

Of course, you can use store-bought tart shells. But they will never be as fresh or tasty as the ones you make in your own kitchen.

The crusts are MUCH easier to make with silicone tart molds. I recommend you order these tart forms immediately. You'll find lots of other uses for them, and they require minimal storage.
RASPBERRIES: Raspberries are my favorite fruit with lemon. Blueberries would be good, too. Even sliced strawberries have promise. I have a fresh mint plant outside my back door that provides extra color.
---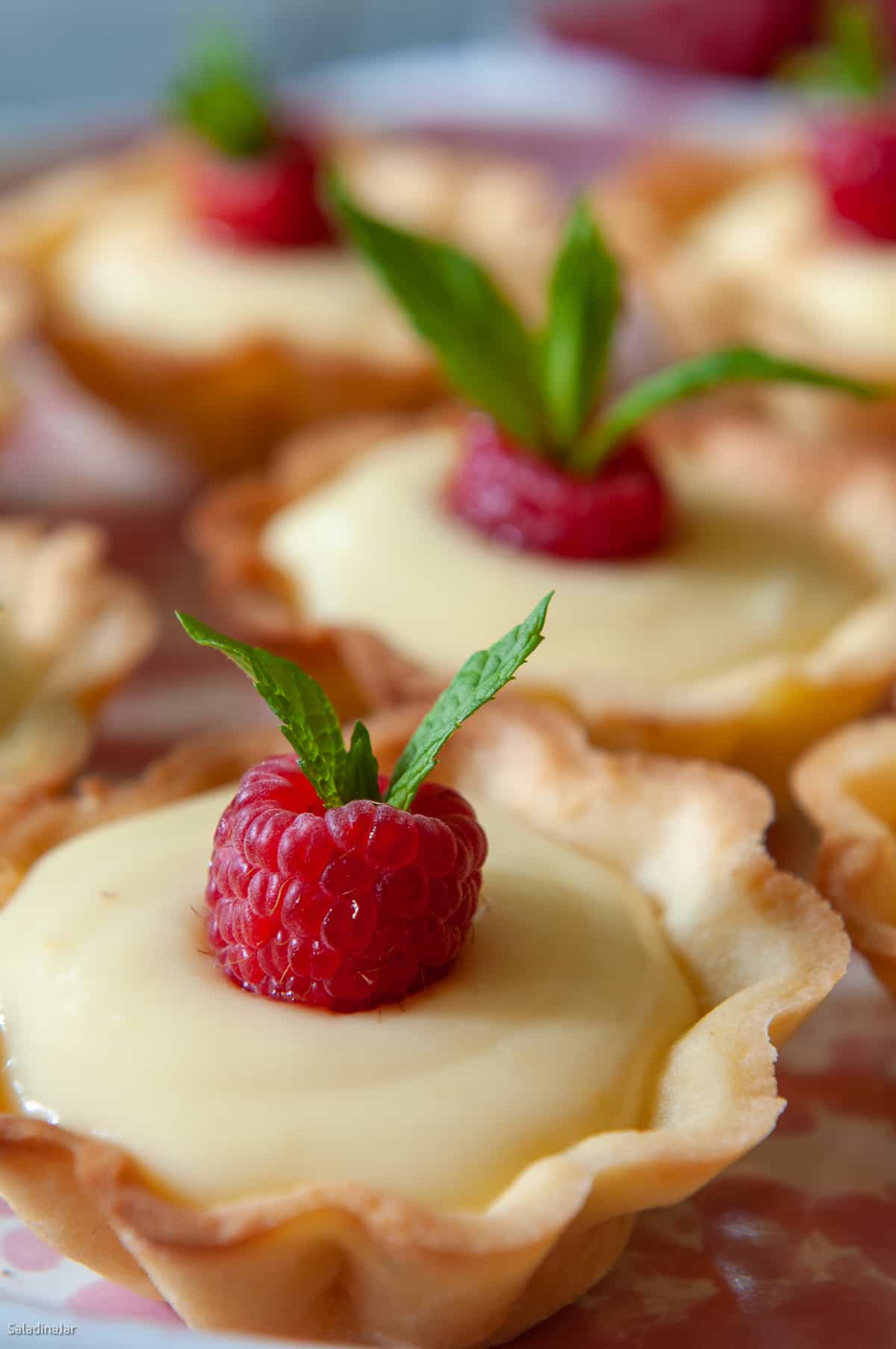 ---
FAQ for Lemon Mini-Tarts:
Can I make mini lemon tarts ahead of time?
You can make the shells and freeze them unbaked 2-3 months ahead of time. Bake them up to 3 days ahead of time. Stir the filling together and store it in the fridge for a week. Once you add the filling to the tart, it's best to serve them the same day. The crust will begin to soften after 24 hours. This doesn't deter me from eating them the next day, but I wouldn't serve them to guests.
How long does it take to make these mini-tarts?
The crusts are a bit time-consuming, especially the first time you make them. But like any recipe, practice makes perfect. Practice ahead of time and enjoy eating your mistakes. The crusts are basically shaped shortbread cookies.

The filling can be made with store-bought lemon curd and store-bought crème fraîche (or sour cream) if you don't want to cook. Stir them together for an instant tart filling. After baking the crusts and filling the tarts, allow 2-3 hours for the tarts to chill. Decorate and serve.
Is there an alternative to making lemon curd in the microwave?
Yes. You can make it on top of the stove using a small saucepan or double boiler. Of course, you can buy it if you don't want to make it.
I'm not a lemon lover. Can I make these orange or lime tarts?
Yes. See this microwave lemon curd recipe for orange and lime variations. I think mini orange tarts would be fabulous with strawberries on top.
Any ideas for transporting these mini lemon tarts?
Use a cupcake carrier. This little red container only cost $1 from the dollar store. Works perfectly for mini-tarts.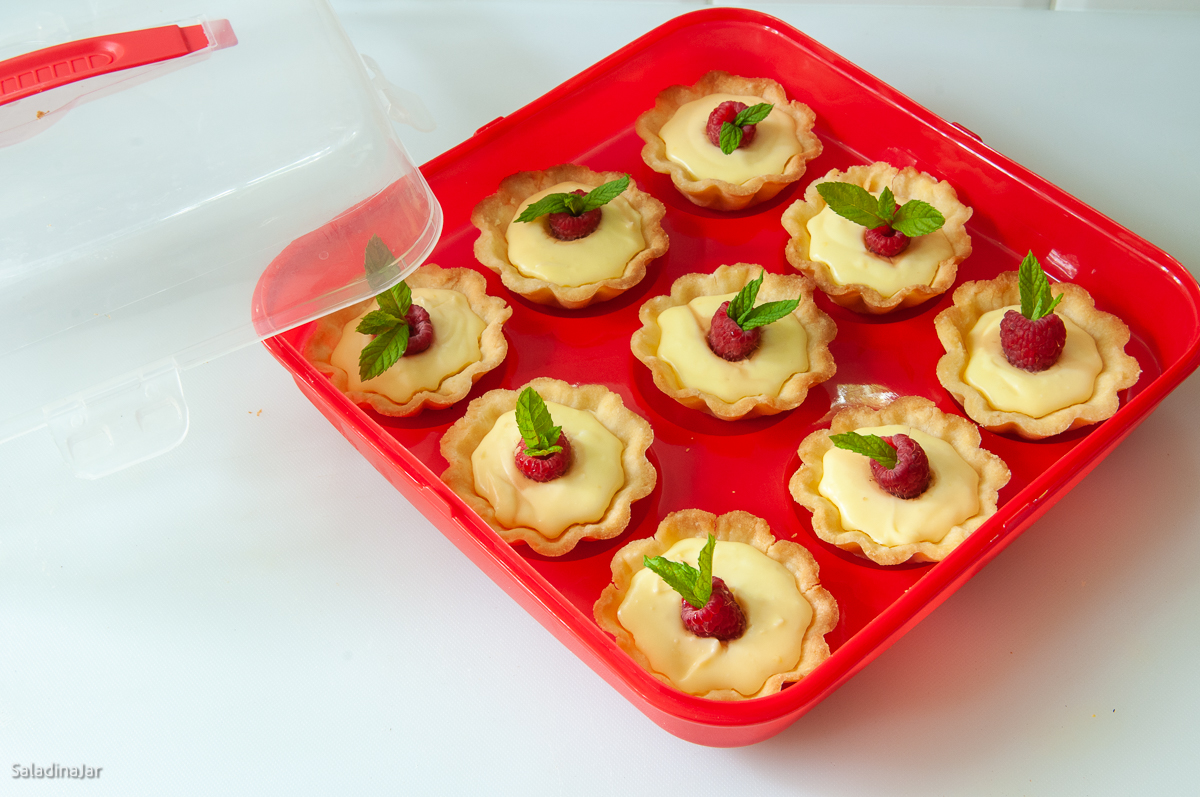 ---
HOW TO SHAPE SHORTBREAD CRUSTS
You may notice I'm wearing exam gloves. I always wear gloves when I make any kind of pie crust or flaky biscuits. They protect the dough by providing a barrier between my body heat and the tiny flakes of butter. Of course, you can make the crusts without them, but work fast so as not to warm the dough.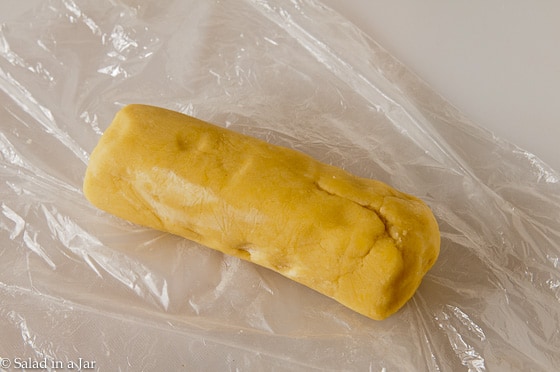 ---
How to make Mini Lemon Tarts: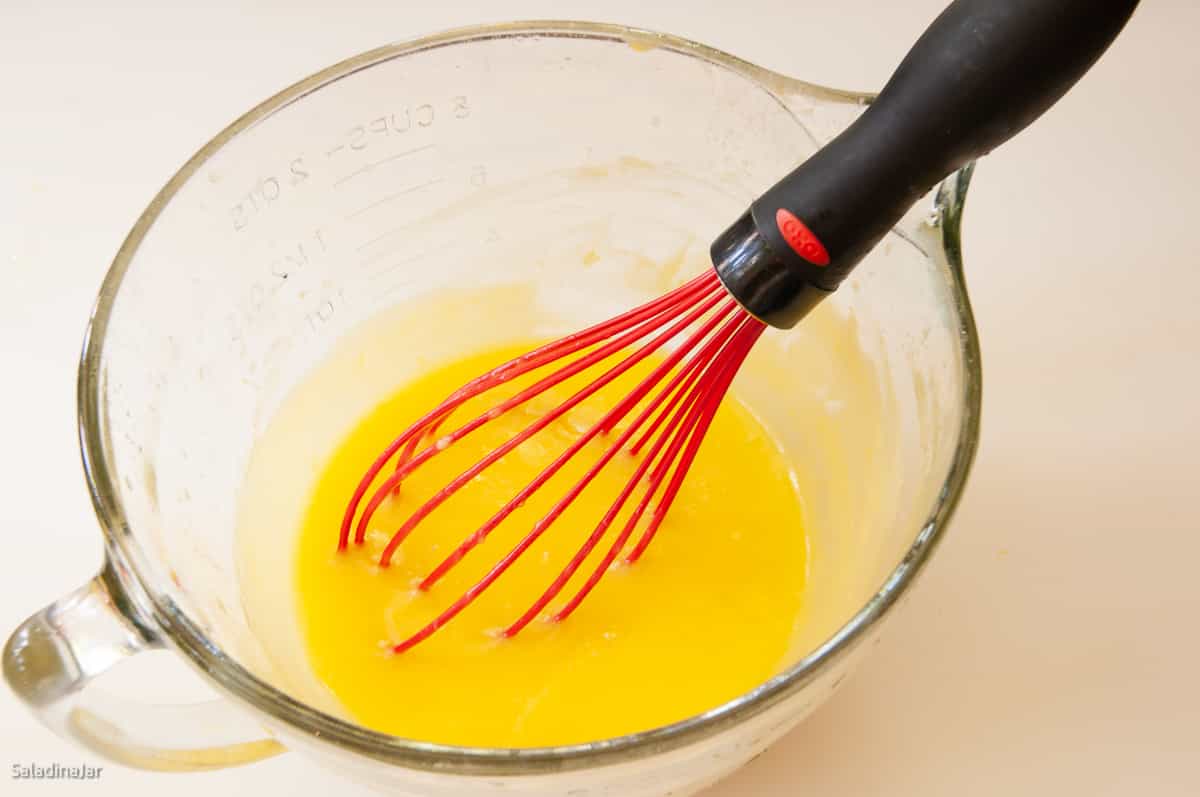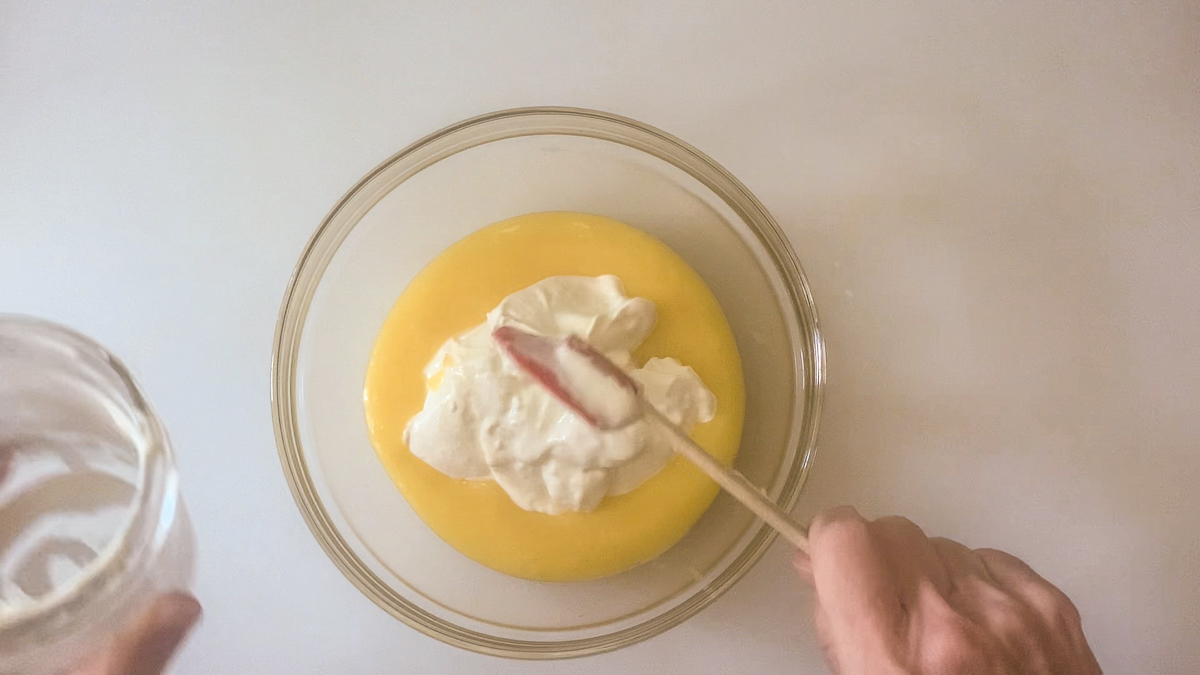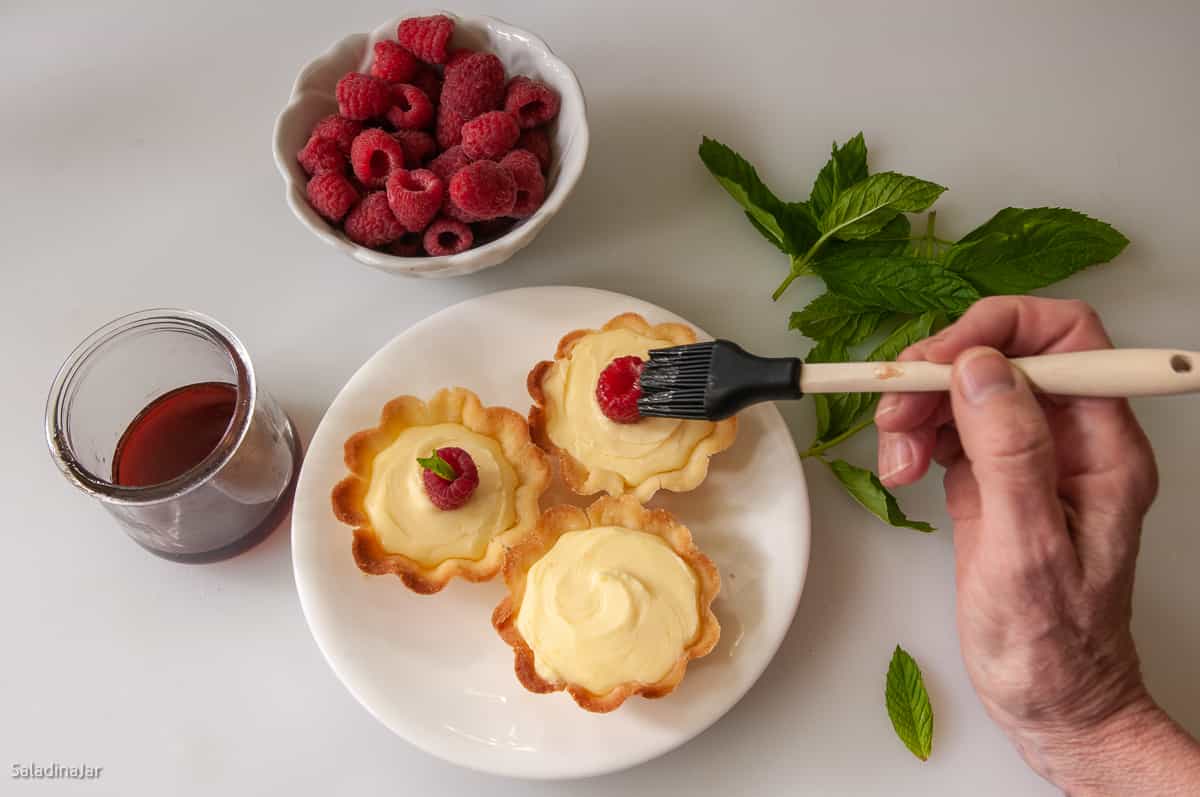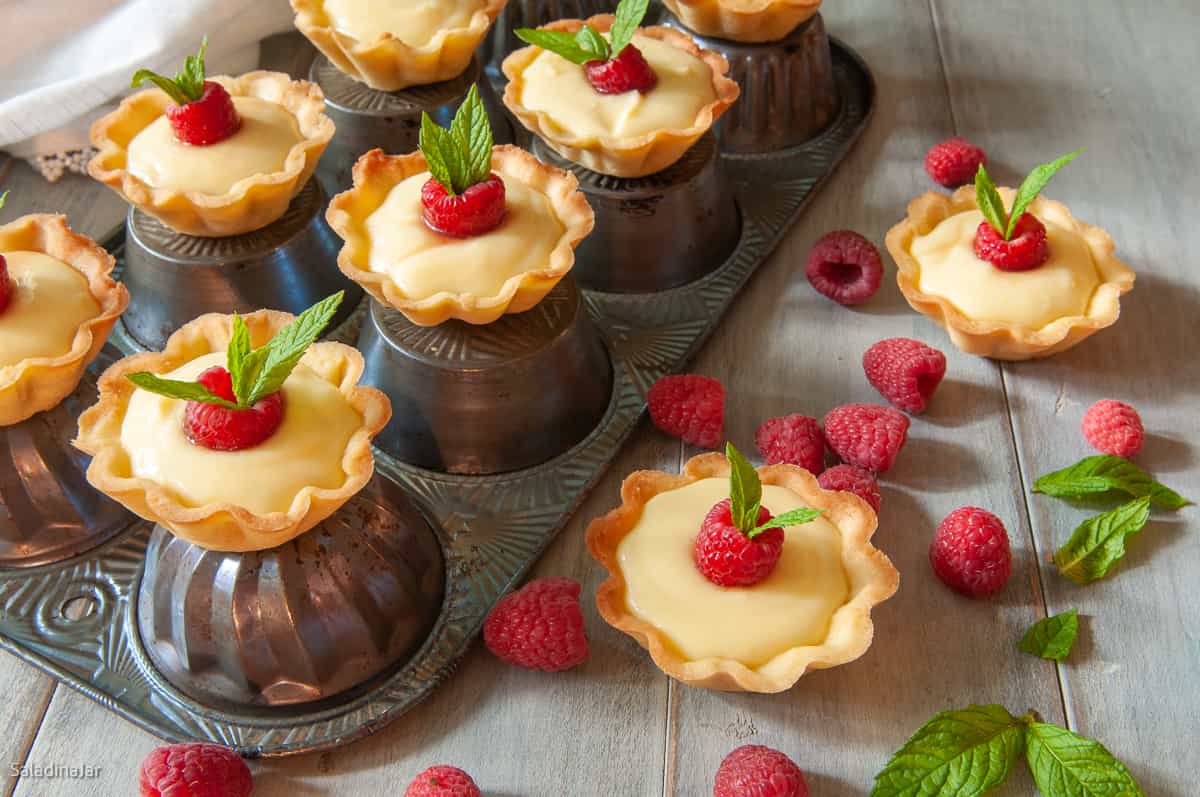 ---
Did you enjoy this recipe? If so, you can help others and myself by leaving a 5-star 🤩 rating in the recipe below. No comments are required.
Hope to see you again soon!
Paula
p.s. If you have any questions or suggestions, you can email me privately: paula at saladinajar.com.
---