Preview: Dig into this Texas Tamale Pie with a Cornmeal and Cheese Topping. The pie includes a layer of ground beef, corn, tomato sauce, and beans with a layer of cornbread over the top. No special occasion is required.
Do you love Tex-Mex food? If so, you're going to go crazy for this Texas Tamale Pie with a scratch cornmeal crust. Serve it with avocados or guacamole, chopped tomatoes, and chips if you want to go all out.
You might expect this casserole to taste like tamales judging by the name. However, it's not exactly like that. It's more of a chili-flavored meat mixture with corn, beans, and olives added. Top it with a cornmeal crust (like cornbread) and cheese, and you've got a treat!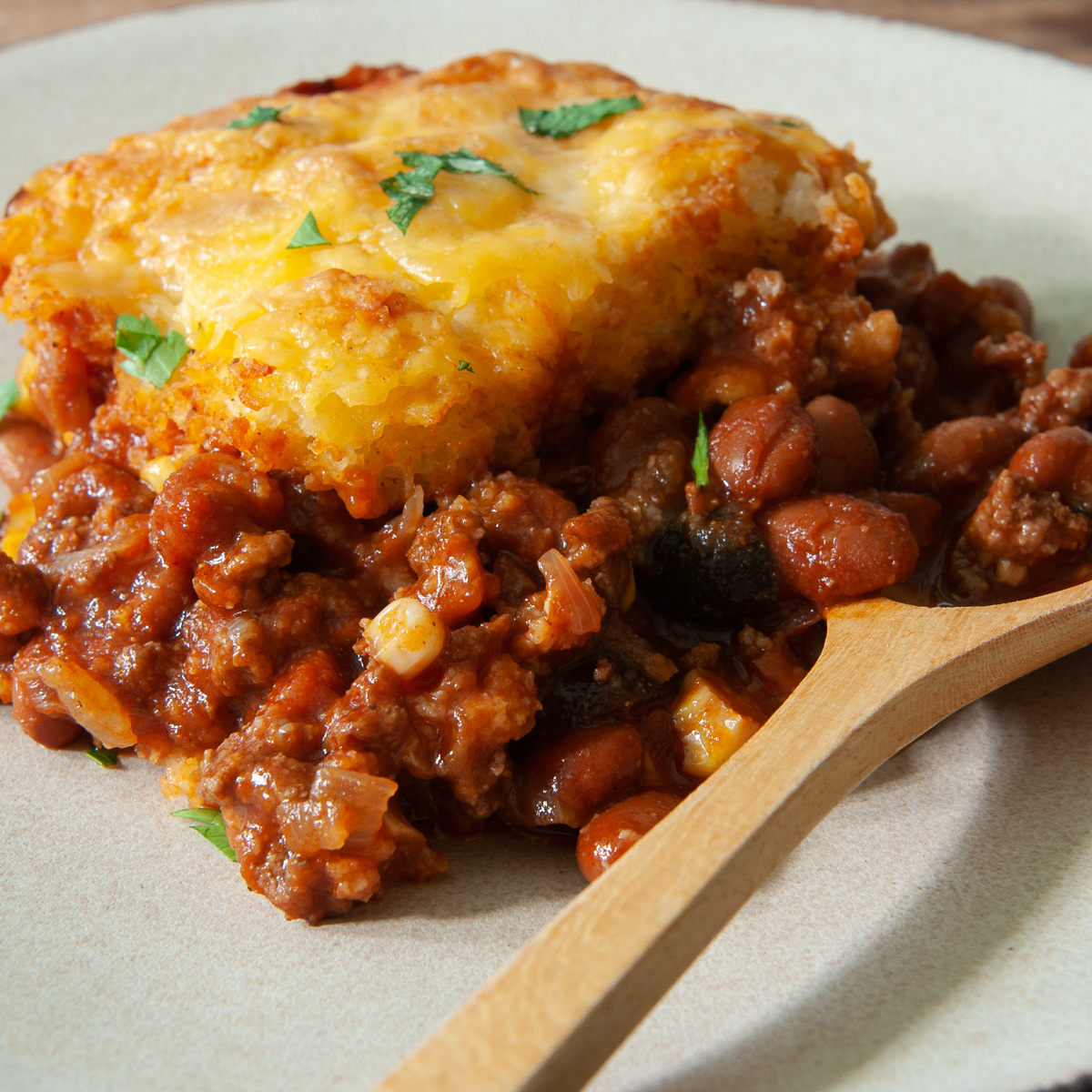 The recipe makes a lot (2 pounds of ground beef), but it's easy to cut in half, which is how I usually make it.
I'm not much for processed foods, but there are exceptions. For example, making Tamale Pie is a lot easier if you use canned beans.
Even though cans of tomato sauce and canned beans are involved, the cornbread topping is from scratch. Compared to using a mix, this makes for a fresher taste in my book.
The cornbread layer is also not as thick as in many tamale pie recipes. I like it that way–it keeps the whole creation from becoming too dry.
I'm constantly tweaking my recipes because I frequently make what I publish on this website for my family. Over the years, I've added cheese on top and sour cream to the cornmeal topping. I also use tomato sauce instead of tomato soup. I hope you like it.
---
Ingredients and substitutions:
GROUND BEEF: My ground beef of choice is an 85/15 blend. This ratio translates to only 15% fat, so I rarely have to drain it after browning.

Substitute hot ground breakfast sausage for the beef to add more flavor.

TOMATO SAUCE: I used to use tomato soup. However, I've found that using tomato sauce makes the whole casserole moister with no change in flavor.

SEASONINGS: Adjust the seasonings to your tastes, especially the chili powder. I like to substitute smoky chipotle powder for some of the chili powder.

OLIVES: The olives add personality and salt to the party in this casserole. Olive haters can leave them out.

Substituting green olives for black olives will change the character of this recipe and is not recommended.

CORN: Use fresh, frozen, or canned corn.

BEANS: My favorite beans for this recipe are Ranch-Style beans, pinto beans, black beans, or kidney beans, in that order.

CORNMEAL: Either yellow cornmeal or white cormeal is fine.

BUTTERMILK, SOUR CREAM, or MILK: You have choices. 100% buttermilk or yogurt, 50% sour cream and 50% milk, or 50 % buttermilk and 50% sour cream.

CHEESE: The cheese is for sprinkling on top if you desire. A good melty cheese like Colby, Monterrey Jack, or sharp Cheddar would work. I use a combination of whatever I can find in the fridge. If you aren't a cheese lover, leave the cheese off.
---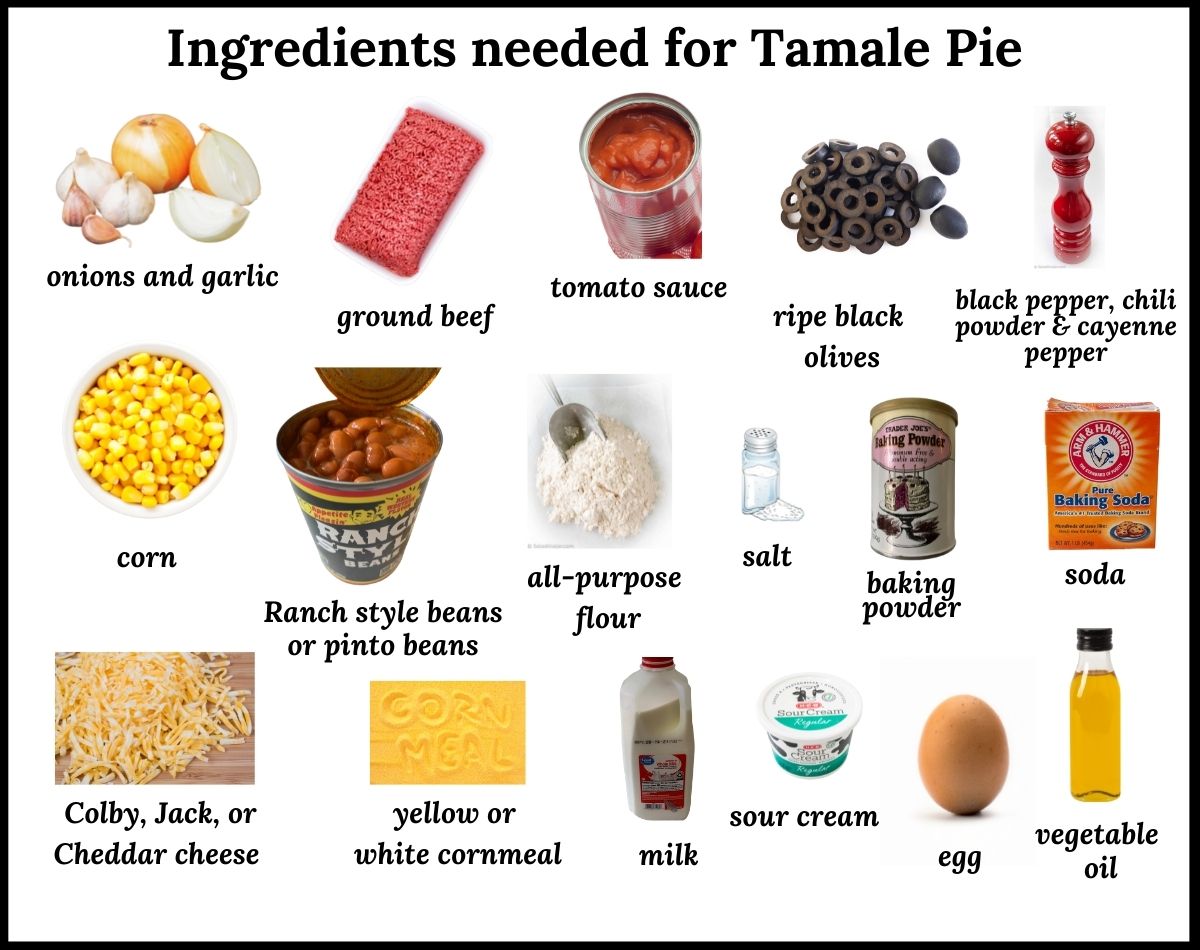 ---
FAQ for Tamale Pie with a Cornmeal Crust
What can I serve with this recipe?
Chips, salsa, guacamole or avocados, and sour cream are all good. A green salad on the side completes the meal.
Can I make Tamale Pie ahead of time and freeze it?
You can freeze the prepared meat layer for 1-3 months. When you want to serve it, heat the meat mixture until bubbly. Meanwhile, mix up the cornmeal layer and pour it over the top layer when it comes to a simmer. Bake according to the directions.
Is this a spicy recipe?
It can be. If you don't like "spicy," cut back on the chili powder and red pepper.
---
How to make a Tamale Pie with a Cornmeal and Cheese Crust: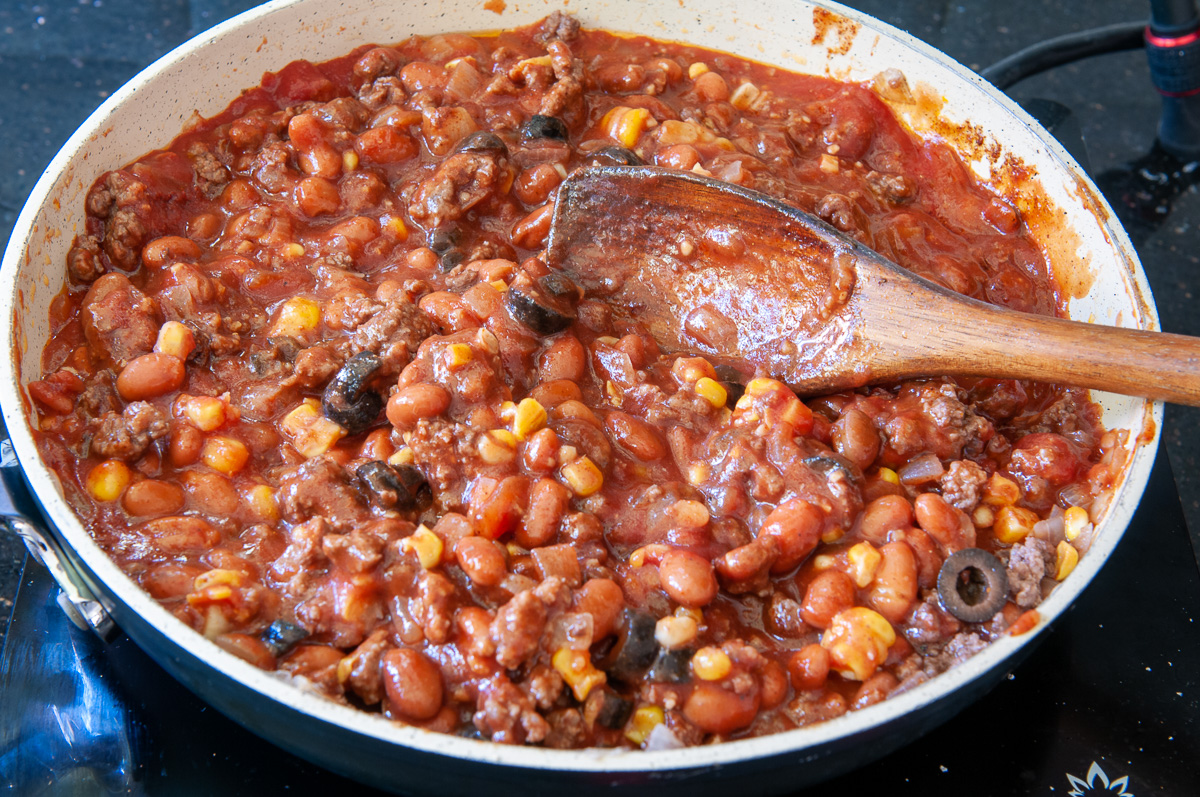 How to assemble the cornmeal layer:
---
---
If you enjoyed this recipe, it would help others and me if you gave it a five-star rating inside the recipe card below. 🤩 No comment required. Thank you.

Hope to see you again soon!
Paula
p.s. Questions or suggestions? Please email me: Paula at saladinajar.com.