Easy Hamburger Goulash with Ketchup: Only One Pot To Clean
Sneak Preview: This easy Hamburger Goulash with Ketchup combines ground beef, macaroni, tomato sauce, cheese, and ketchup. Only one pot is needed to make this American goulash recipe.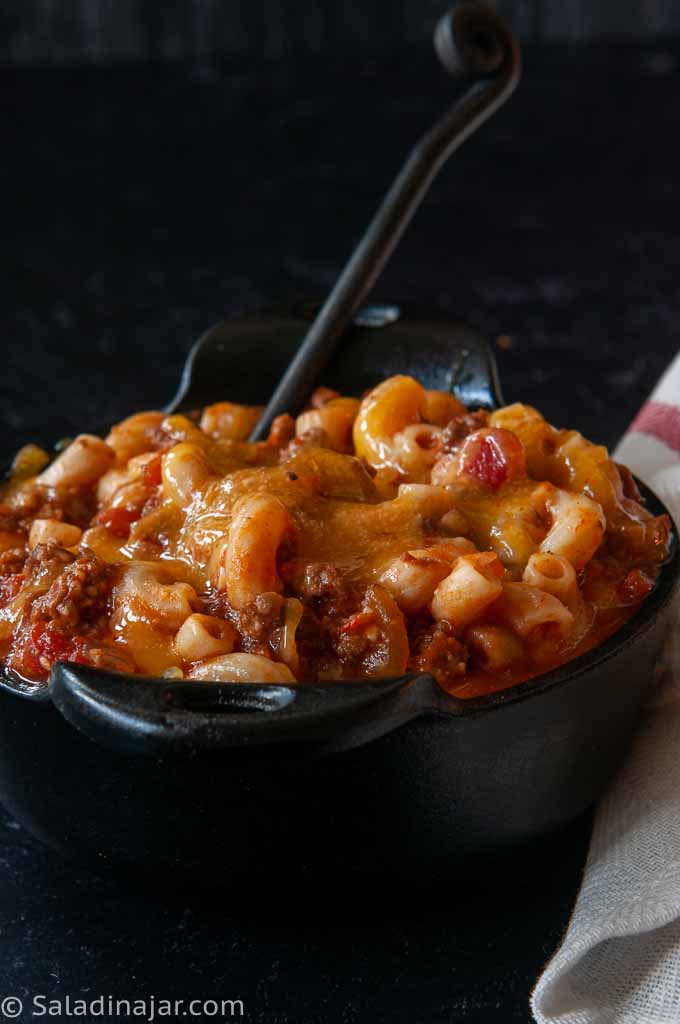 As an Amazon Associate, I earn from qualifying purchases.
This Hamburger Goulash recipe (as opposed to Hungarian Beef Goulash) is not exactly gourmet. It's more of a what-can-I-throw-together-that's-quick,-filling,-and-something-everybody-likes kind of dish.
Try it tonight. You will only have to wash one pot.
Is it Goulash or Chop Suey?
My mother-in-law used to make a dish she called Beef Goulash. She told me she cooked the macaroni and hamburger then added ketchup and Cheddar. That's it!
I was puzzled by the title when I recently saw a recipe for "American Chop Suey" in Cook's Illustrated. Then, I recognized the food in the magazine picture as a first cousin to my husband's beloved goulash.
Never before had I heard of a mixture of ground beef (hamburger), tomatoes, sauce, and macaroni called "Chop Suey." Sounds Chinese, doesn't it?
I've learned this dish is known as Chop Suey in the northeast. They traditionally add soy sauce to add umami.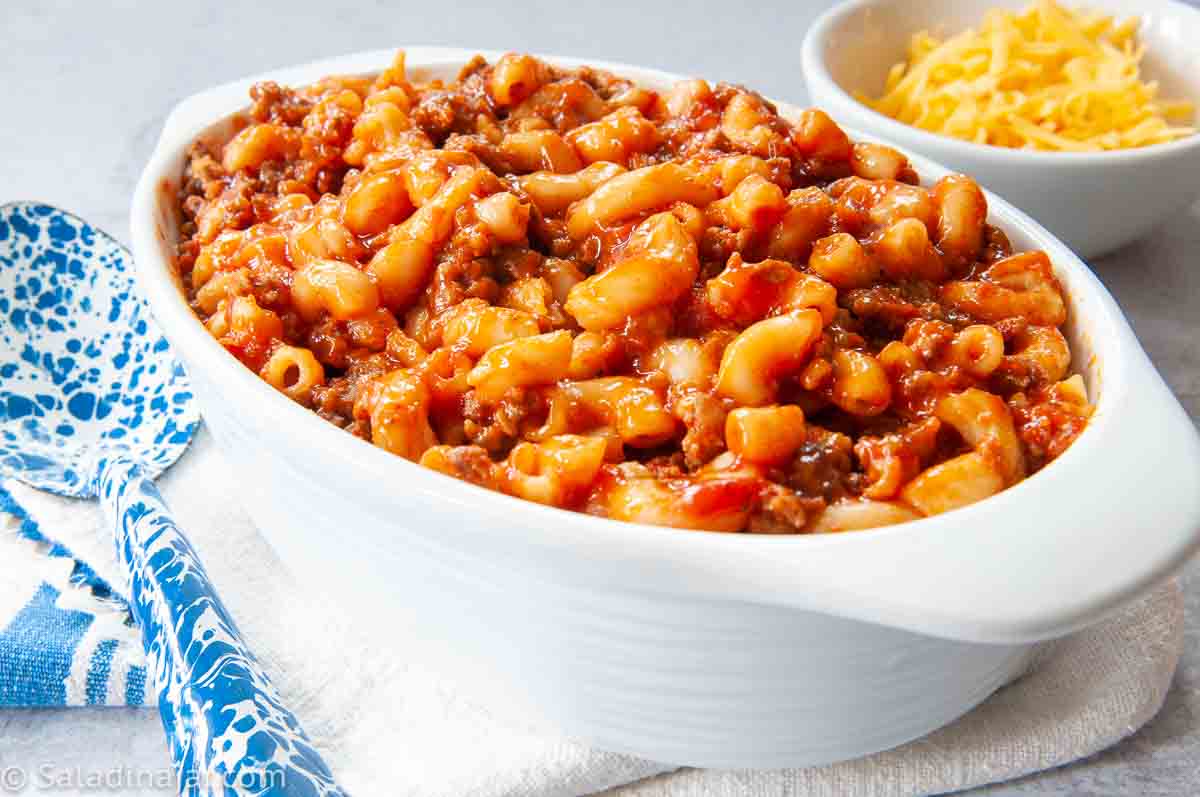 Instant Pot vs. slow cooker vs. stovetop
Using the Instant Pot takes about the same time as cooking on the stove. The advantage of using the Instant Pot is that you can make this casserole beforehand.
When the cooking time ends, the pot will automatically switch to "warm." So your goulash will be warm and ready to eat whenever you come home.
The slow cooker will take all day using the "Low" setting. Then, again, dinner will be ready and waiting for you at the end of the day. (My slow cooker allows me to brown the meat on the stove in the slow cooker pot. If yours doesn't, you'll need an extra frying pan for that step.)
No matter which method you chose, this is a one-pot meal. Winner!!
What is the difference between hamburger and ground beef?
The USDA has certain standards for hamburger and ground beef regarding the fat and where it comes from. Most Americans use the terms interchangeably in real life. Interesting note: According to the Food Lover's Companion, The name "hamburger" comes from the seaport town of Hamburg, Germany, where it is thought that 19th-century sailors brought back the idea of raw shredded beef (known today as beef tartare) after trading with the Baltic provinces of Russia. Some anonymous German chef decided to cook the beef.
---
Ingredients and substitutions:
Hamburger or ground beef: This is the perfect place to customize your goulash. Substitute sausage for the hamburger or go half beef and half sausage. Use leftover roast beef instead of ground beef. Cut the amount of beef in half if you prefer. Vegetarians can leave it out altogether. If you are avoiding red meat, substitute ground turkey for beef. Ground pork is another option.
Pasta: Macaroni is traditional. Ditalini (sometimes called salad pasta) is fun. If you only have spaghetti in the house, break it into small pieces and use that if you want to.
Tomato sauce: I called for tomato sauce because I wanted this recipe to be something you could make without going to the grocery store. Substitute pasta sauce, spaghetti sauce, or even pizza sauce.
Water: Amp up the flavor by substituting 1/2 cup of red or white wine for 1/2 cup of water.
Worcestershire sauce: This magic brown liquid adds umami flavor to anything. If you prefer, substitute soy sauce or coconut aminos. Another way to add umami is with a dry mushroom seasoning like the one sold at Trader Joe's. Alternatively, you can make your mushroom seasoning mix with this recipe for mushroom seasoning mix.
Ketchup: Ketchup (or catsup, if you prefer the defining feature of this recipe as we know and love to eat it. If you're not a catsup lover, you might want to add an extra can of tomato sauce for sauciness.
Cheese: We like LOTS of Cheddar. Mozzarella or Velveeta would also be delicious and melty. Parmesan cheese is another option, especially if you substitute spaghetti sauce.
Onions and Garlic: Feel free to chop fresh onions and garlic instead of powdered ones. I often opt for "easy" with this recipe. After all, this is not intended to be a gourmet recipe. Instead, it's first-degree comfort food.
Miscellaneous seasonings: We like a little kick, so I add red pepper flakes and a quick squeeze of Sriacha. Leave this out if you prefer your food milder or if you are serving kids.
If you don't have Italian seasoning, improvise with oregano, basil, and a touch of thyme.
---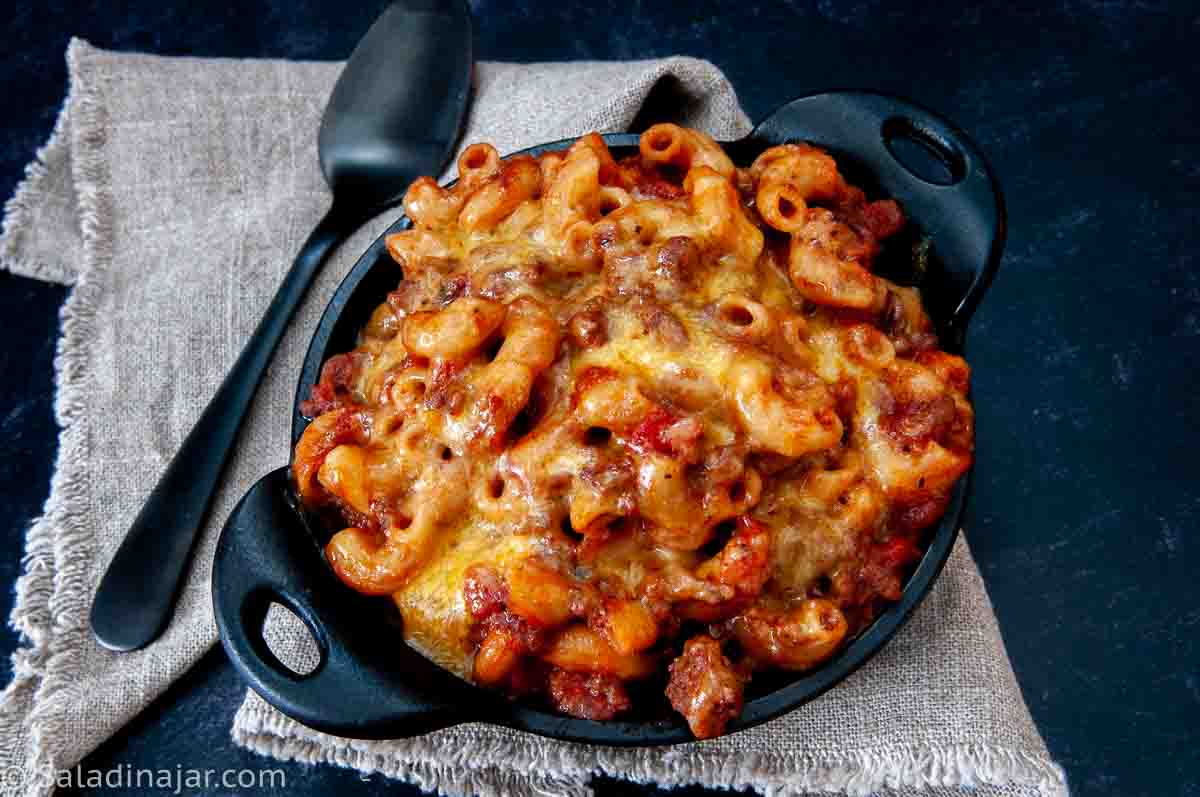 ---
How to make Easy Beef Goulash with Ketchup (stove top directions)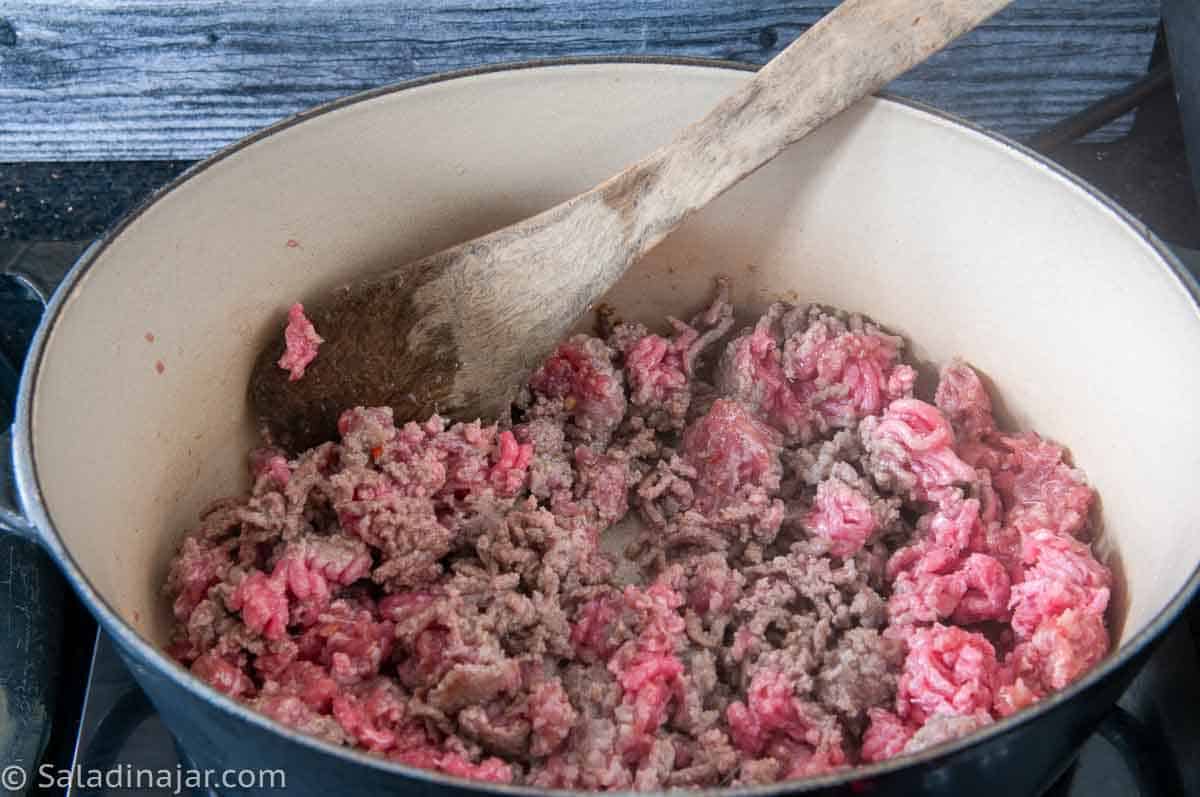 Brown ground beef in a large saucepan or heavy pot over medium-high heat. Break up the meat with a wooden spoon.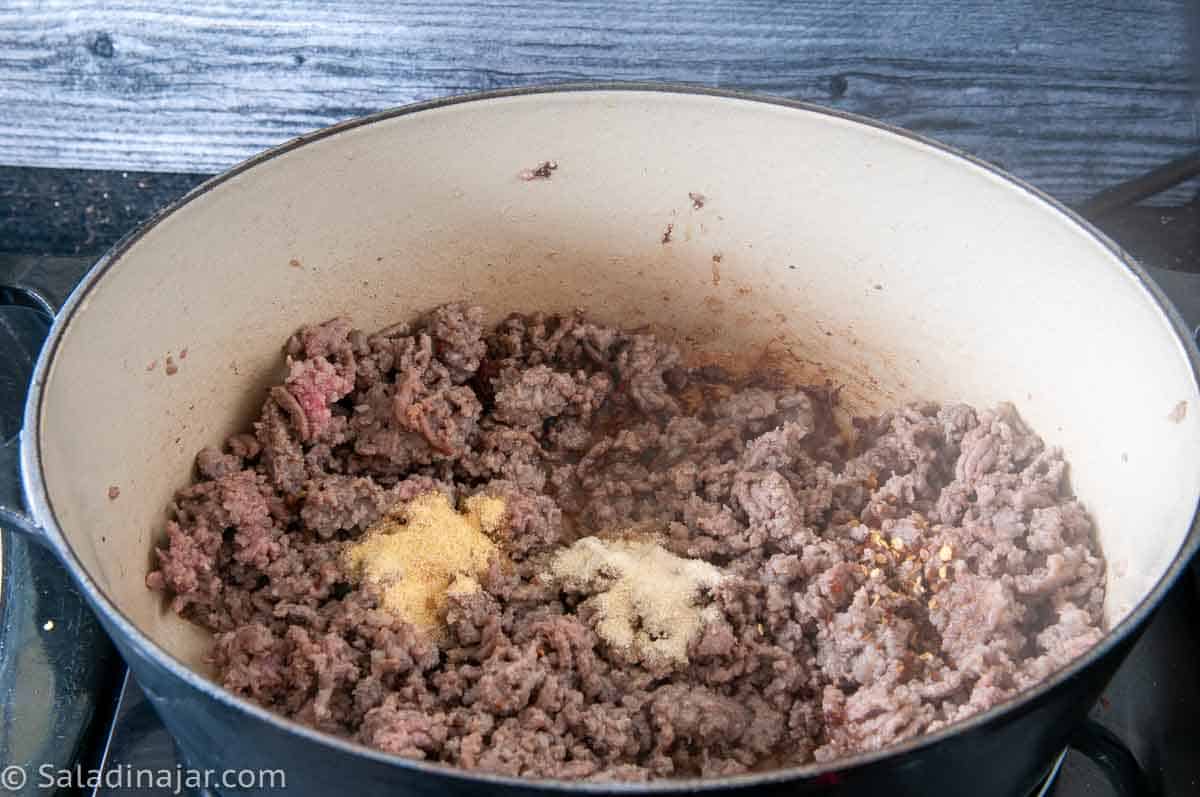 Add onion powder, garlic powder, Italian seasoning, and red chili flakes.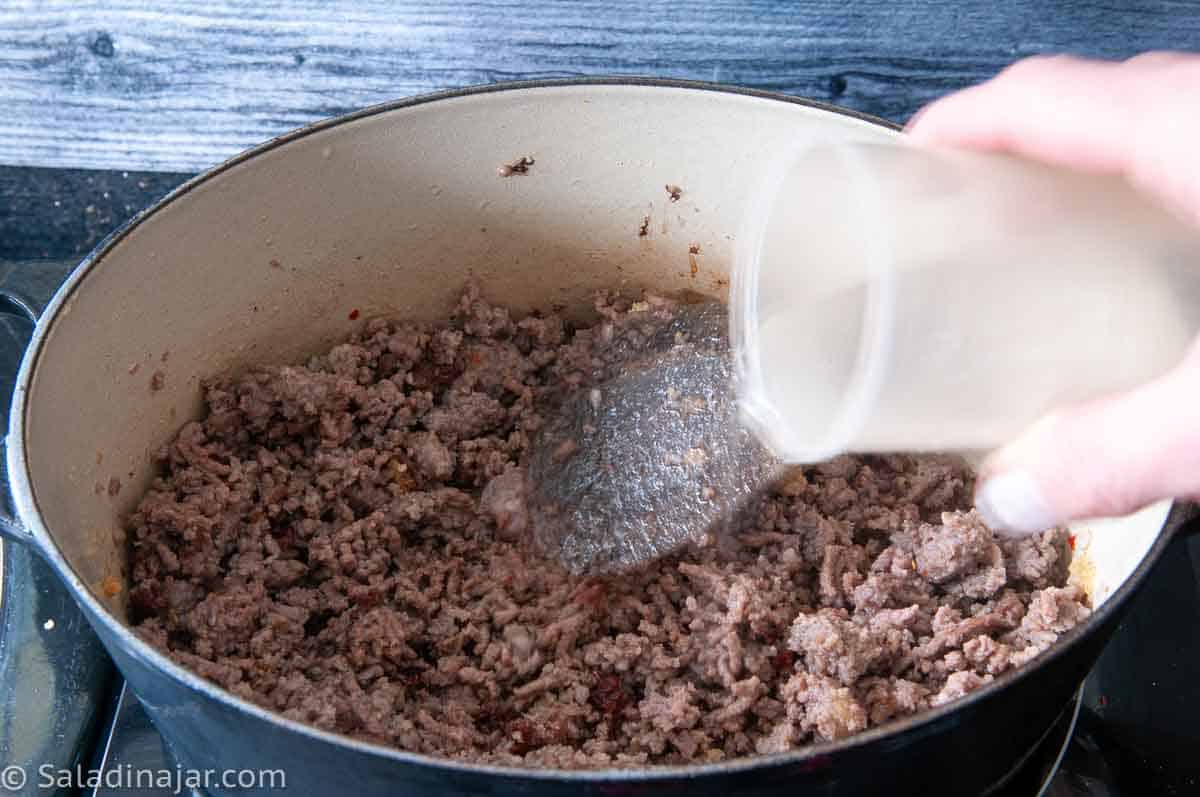 Add 1/2 cup water and scrape the brown bits off the bottom of the pan.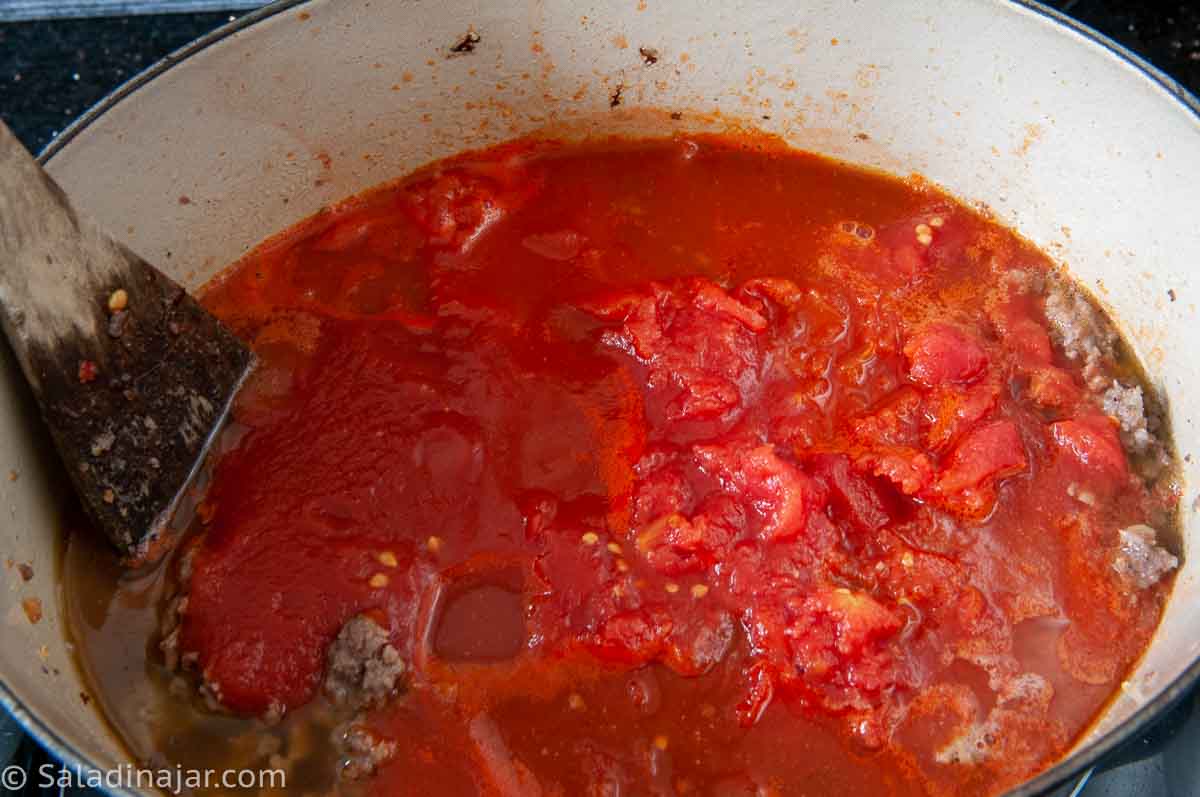 Stir in tomato sauce, tomatoes, and remaining water.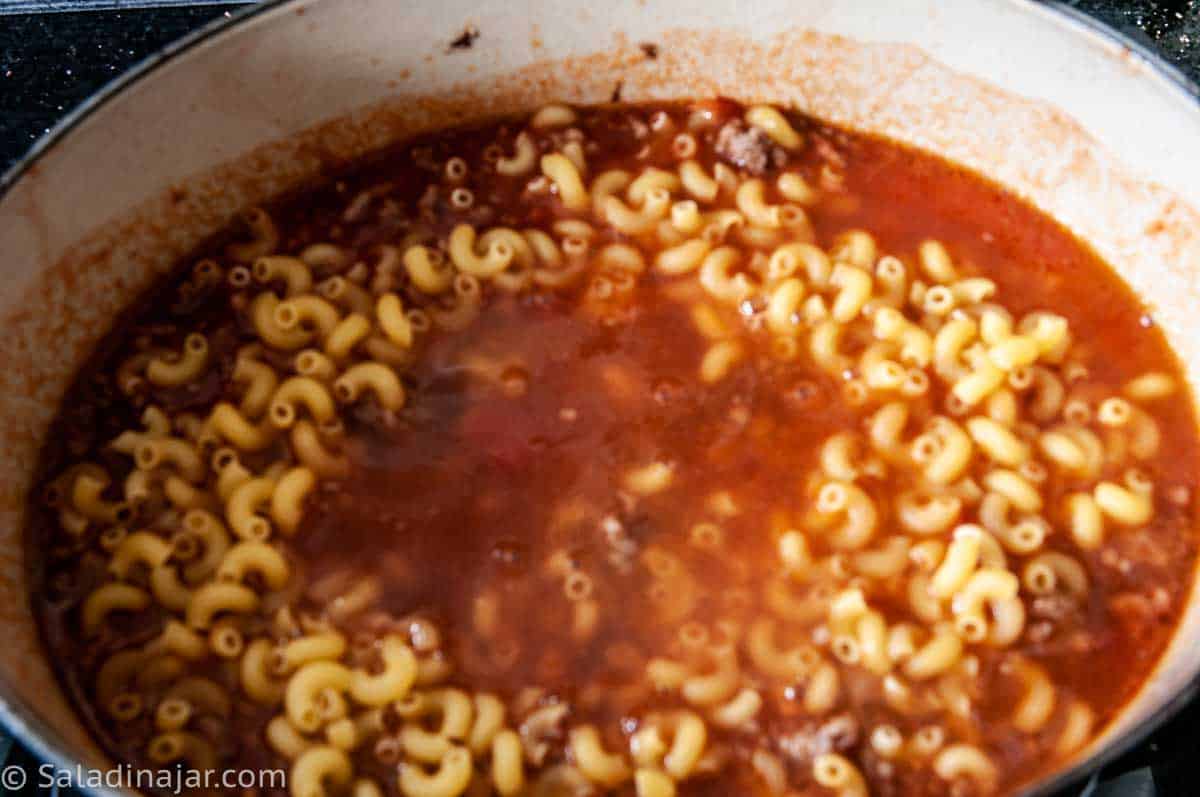 Add uncooked macaroni noodles and stir. Cover and simmer over medium-low heat for 20-30 minutes or until the macaroni is soft.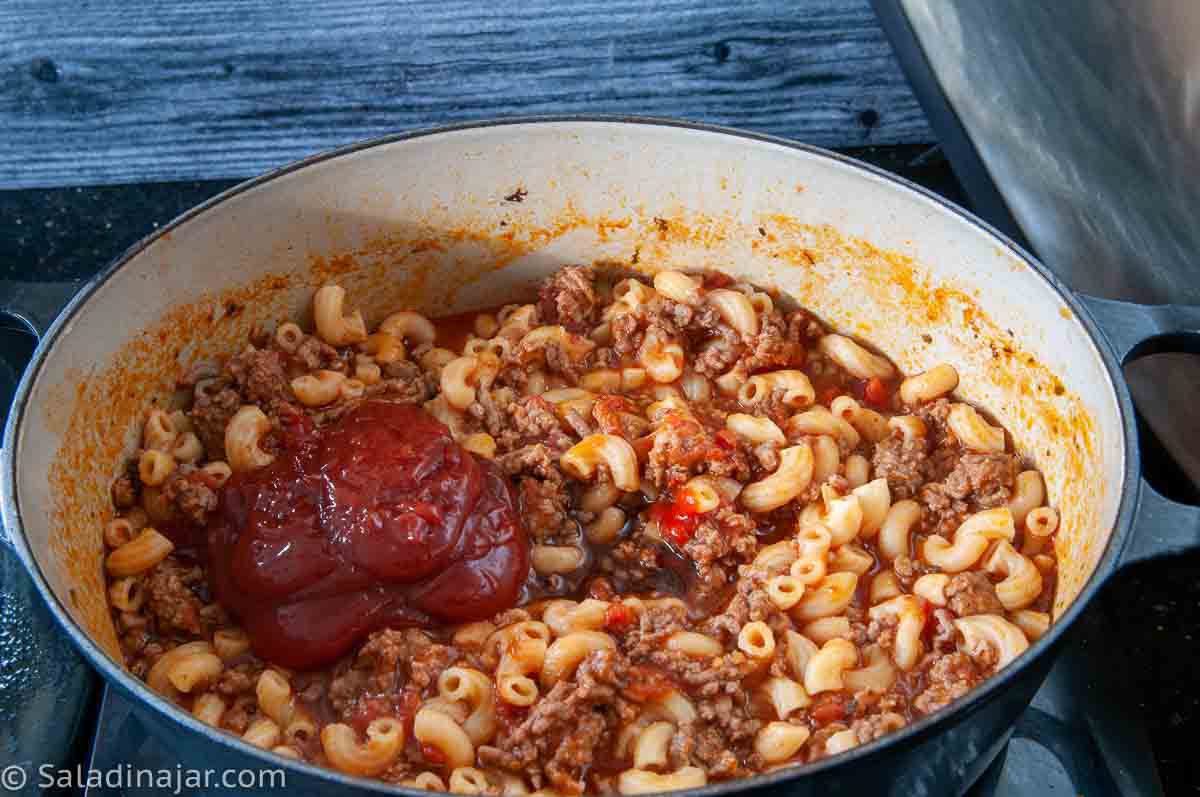 Add ketchup, Worcestershire sauce, and Sriracha if using. Stir.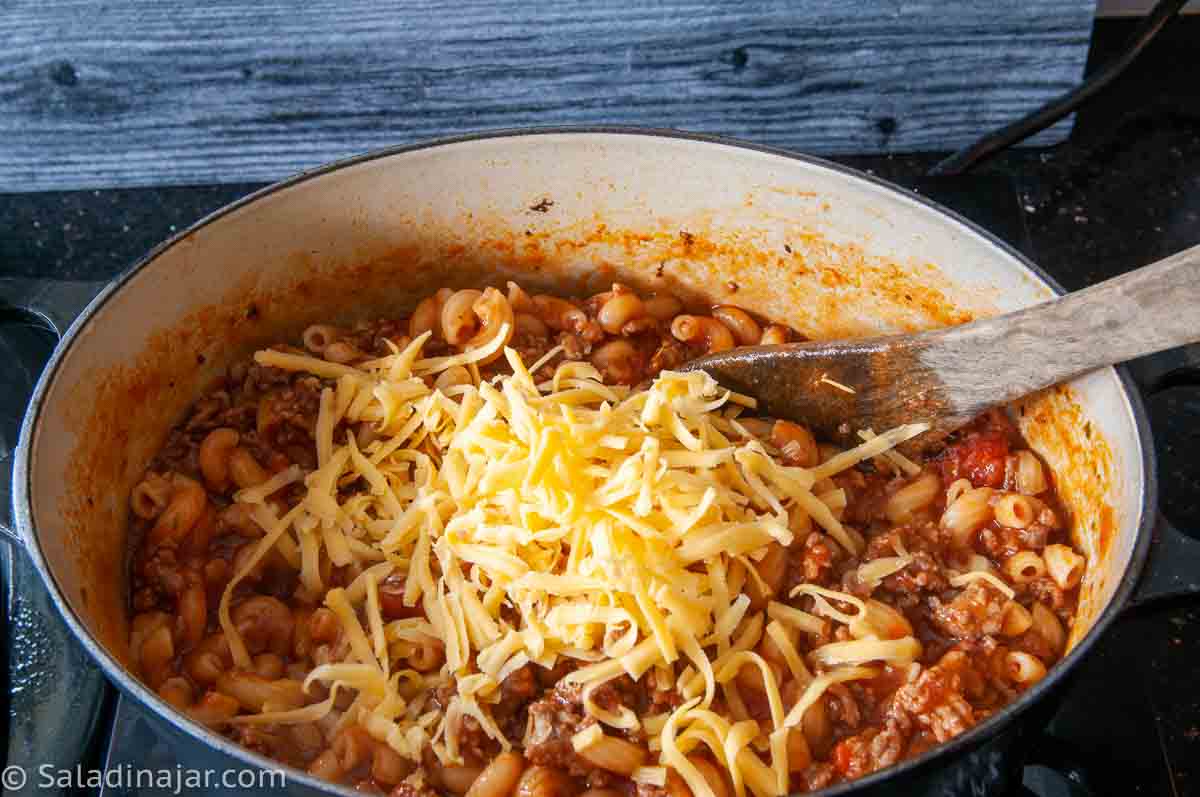 Stir in half of the Cheddar.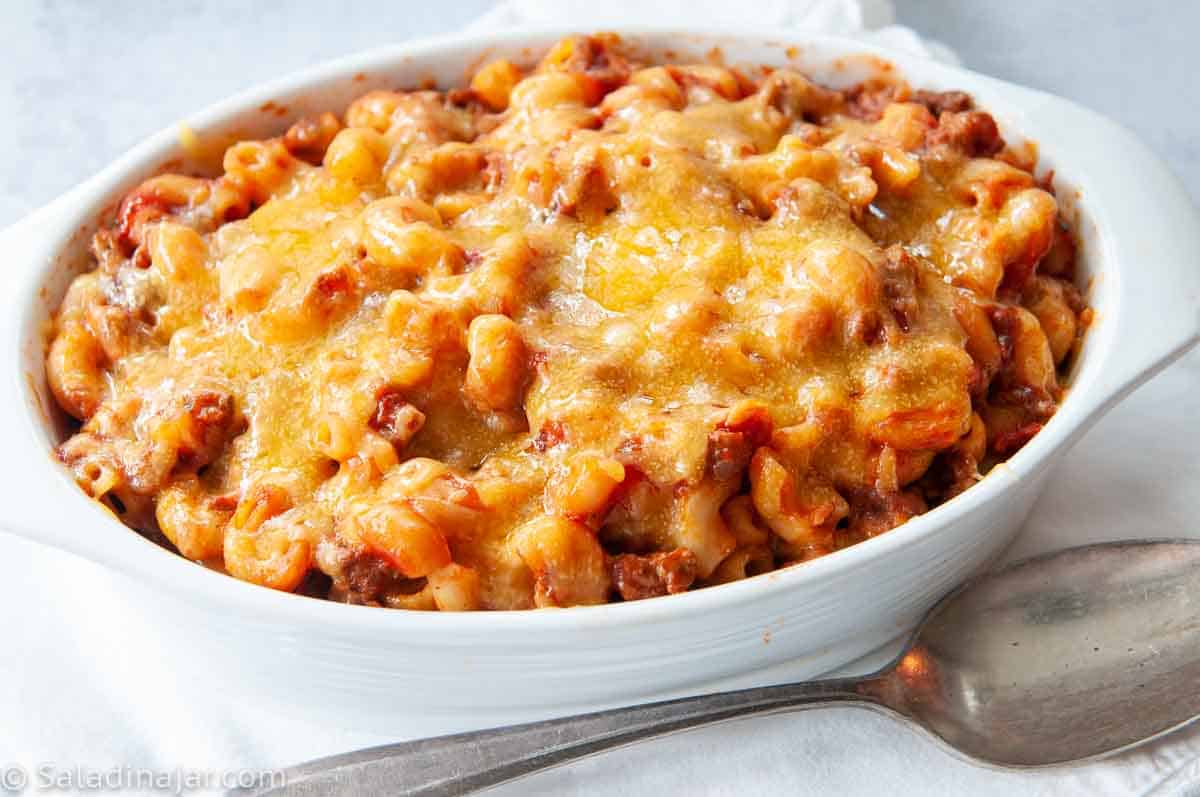 Sprinkle remaining Cheddar over the top when ready to serve. (If the goulash has cooled off, pop it back into the microwave to melt the cheese on top.)
---
FAQ for Goulash recipes:
How is American Beef Goulash different from Hungarian Goulash?
A typical recipe for Hungarian Goulash is a paprika-flavored broth full of meat and other vegetables such as carrots, potatoes, tomatoes, and peppers. The consistency is more of a cross between a soup and a stew. This recipe is a variation of American Beef Goulash.
Can I freeze Beef Goulash?
Let the prepared goulash cool completely in the refrigerator. Then, double-wrap it and keep it in the freezer for three months. Thaw in the fridge overnight before reheating.
How can I make this ahead of time?
Prepare the recipe entirely except for the final sprinkling of Cheddar. Wrap and keep it in the fridge for up to 3 days.
When ready to eat, stir the casserole and microwave or heat in the oven until hot. (If the pasta has absorbed all the moisture, stir in some water or more catsup to make it saucy again. Sprinkle the final cheese over the top and let it melt.
---
Parting Thoughts: Eating Hamburger Goulash made with ketchup brings back so many memories for us. I'm hoping this recipe will be the beginning of new memories at your house, too.
If you have questions or suggestions, email me privately for a quick answer: Paula at saladinajar.com. Hope to see you again soon!
---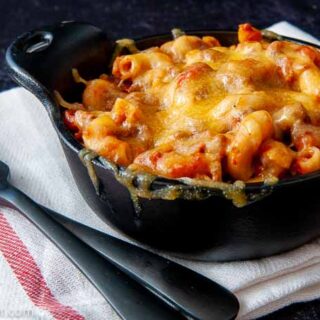 Easy Hamburger Goulash Recipe with Ketchup
This easy recipe can be made in one pot in about 45 minutes on the stove. An Instant Pot version and a slow cooker version is included in the notes below.
Ingredients
1

pound

ground beef

Salt and pepper

½

teaspoon

Kosher salt

Freshly ground black pepper

1

teaspoon

onion powder

½

teaspoon

garlic powder

1

teaspoon

Italian seasoning

¼

teaspoon

red pepper flakes

1

8-oz can

tomato sauce

1

14.5-ounce can

diced tomatoes

1 ½

cup

water

1½

cup

elbow macaroni

-

6 oz.

¼

cup

catsup

1

teaspoon

Worcestershire sauce

1

squirt

Sriracha

1

cup

Cheddar cheese

-

grated (mild or medium)
Instructions
Brown 1 lb ground beef in a large, heavy pot. Season with salt and pepper. Drain off excess grease.

Stir in 1 t onion powder, ½ t garlic powder, 1 t Italian seasoning, and ¼ t red pepper flakes.

Add ½ cup water to the meat and scrape the bottom of the pan.

Stir in 1½ c elbow macaroni and the remaining 1 c water, 8-oz can of tomato sauce, and 1 14.5 oz can of tomatoes. Cover and simmer for 20-30 minutes until the macaroni is tender.

Stir in ¼ c catsup, 1 t Worcestershire sauce, 1 squirt Sriracha, and ½ c Cheddar.

Add salt and pepper as needed after tasting. Move to a serving dish for a fancier presentation and sprinkle with the remaining ½ c Cheddar, letting it melt before serving.

If you are not eating this dish immediately, you may need to add some extra water and sauce as the pasta absorbs moisture, especially for leftovers the next day or two.
Notes
Instant Pot Version: (Illustrated in the video)
Cook ground beef on the Sauté setting. Proceed through step 3.
In step 4, add the tomato sauce and tomatoes. Sprinkle macaroni evenly over the top. Pour remaining water over the top WITHOUT STIRRING.
Seal pot and set to high-pressure cook for 8 minutes. (It could take 10-12 minutes for the IP to come to pressure.)
When the IP beeps, do a quick release and proceed to step 5 above. Stir everything together. If not eating right away, you can leave it in the Instant Pot on warm for 5-6 hours. When ready to eat, go to step 6.
Slow Cooker Version:
Cook ground beef in a skillet on the stove. Add to a slow cooker and the rest of the ingredients except for cheese. Stir and allow to cook for 8 hours. When ready to eat, stir in half of the cheese. Sprinkle the remaining half of the cheese over the top and allow it to melt before serving.
Nutrition
Serving:
1
|
Calories:
253
kcal
|
Carbohydrates:
11
g
|
Protein:
15
g
|
Fat:
16
g
|
Saturated Fat:
7
g
|
Polyunsaturated Fat:
1
g
|
Monounsaturated Fat:
6
g
|
Trans Fat:
1
g
|
Cholesterol:
55
mg
|
Sodium:
710
mg
|
Potassium:
316
mg
|
Fiber:
1
g
|
Sugar:
3
g
|
Vitamin A:
264
IU
|
Vitamin C:
5
mg
|
Calcium:
137
mg
|
Iron:
2
mg