In this post, you'll find guidelines and pictures illustrating how to adapt a yeast bread recipe for use in a bread machine. It's not hard.
Don't miss the recipe for Soft Garlic Sticks at the end of this post. They taste similar to the breadsticks at Olive Garden.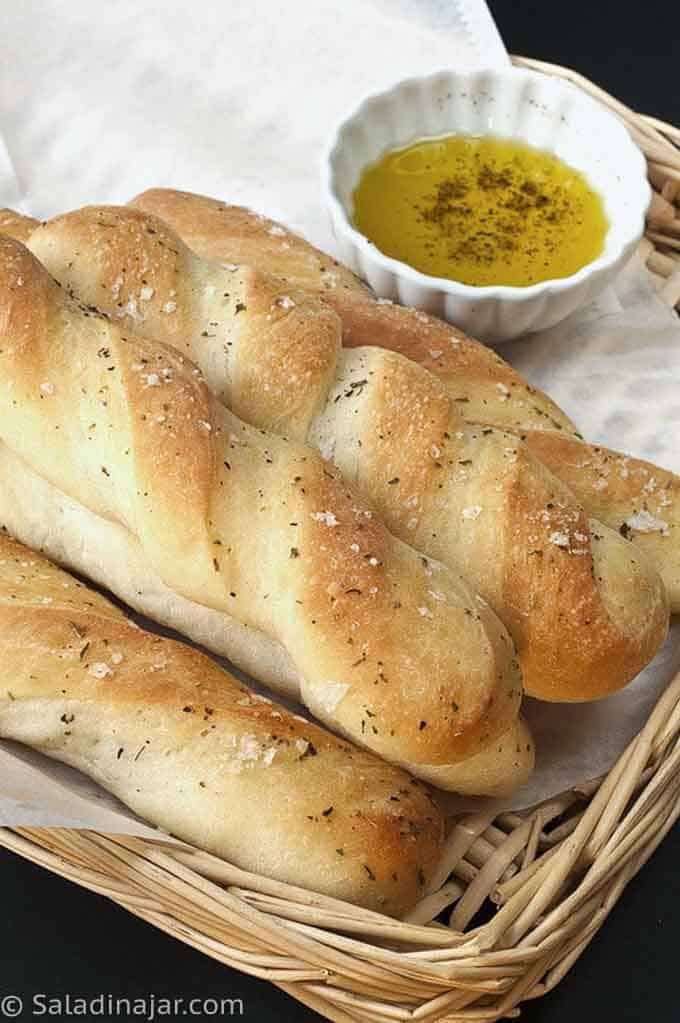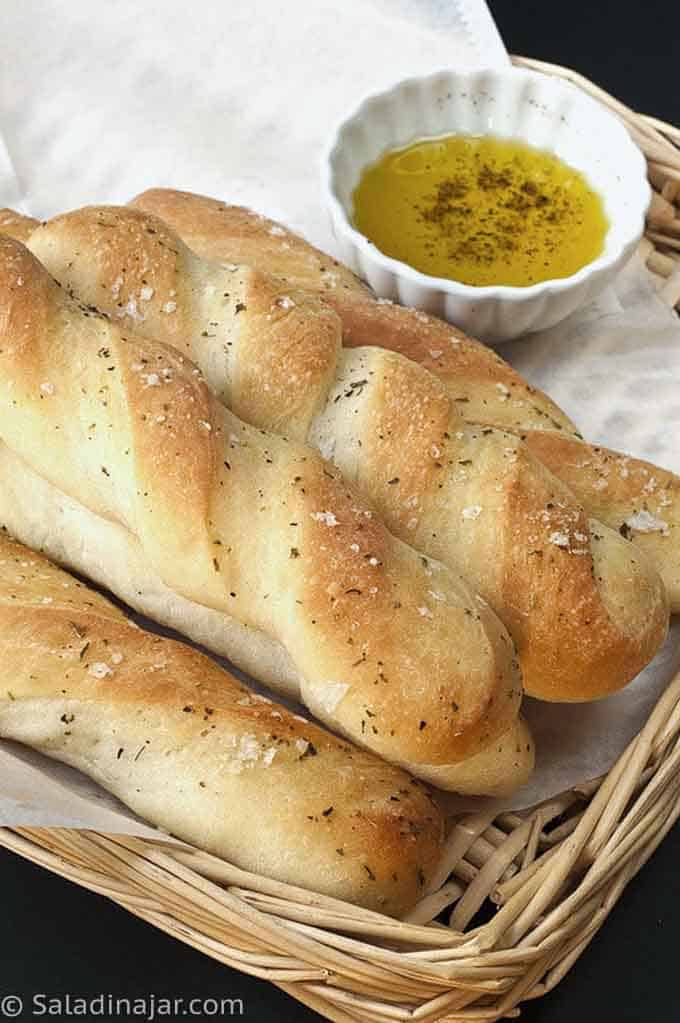 These soft and chewy breadsticks remind me of the ones at Olive Garden with one big difference.
They will be hot and fresh when I eat them because I can bake them myself.
However, I wouldn't go to the trouble very often if I didn't have a bread maker machine.
By now, I hope you have been convinced to try mixing and kneading bread dough in a bread machine. If you have purchased or somehow obtained a machine, it's time to master a few simple recipes.
Four Rules for Converting Most Traditional Bread Recipes
#1
You may need to reduce the amount of flour.
If the original recipe contains more than 3-4 cups of flour, you must reduce the entire recipe to the amount your machine can handle (average is 3 to 3-1/2 cups but could go as high as 4 to 4-1/2cups). Check the manual if you aren't sure.
#2
For every 3-4 cups of flour, you will need 1-1/8 to 1-1/4 cups liquid.
This comes out to roughly 3/8 cup liquid per 1 cup flour.
If eggs are included in the recipe, one large egg is equal to a scant 1/4 cup liquid. If other wet ingredients are called for such as yogurt, mashed potatoes, sour cream, etc. regard them as half liquid.
#3
Put all wet ingredients in the pan first.
Follow liquid ingredients with the flour, and then yeast (which should be instant or bread machine yeast.) You can use regular active-dry yeast if that's what you have, but it can be a little slow to rise, so allow for more time to make your bread.
#4
The first few times you try a recipe, hold back at least 1/4 of the liquid and add it only as needed.
The dough should make a tacky ball that sticks to the side briefly, then pulls away. Make a note of how much liquid you actually used for future reference.
The amount needed can change slightly according to the level of humidity in your kitchen. If you have already added too much liquid, add flour one tablespoon at a time until dough reaches the proper consistency.
Your dough should look like the picture on the bottom. This step is actually the most important thing you can do when using a bread machine to ensure success.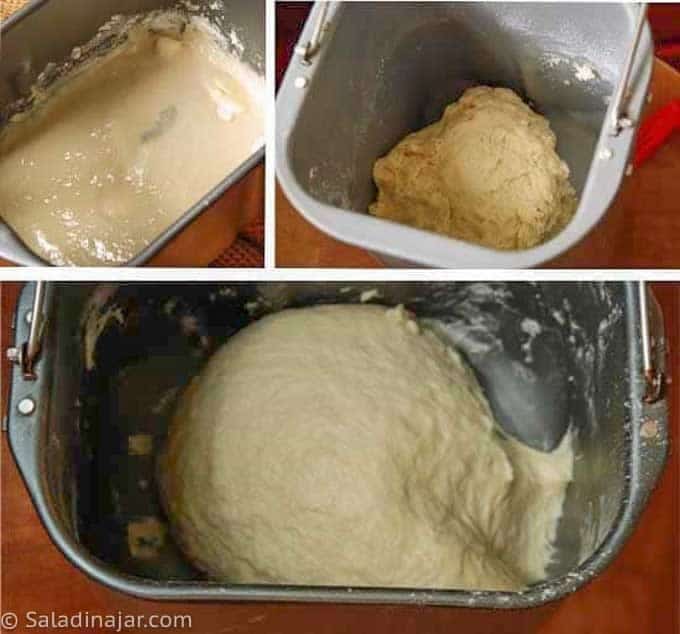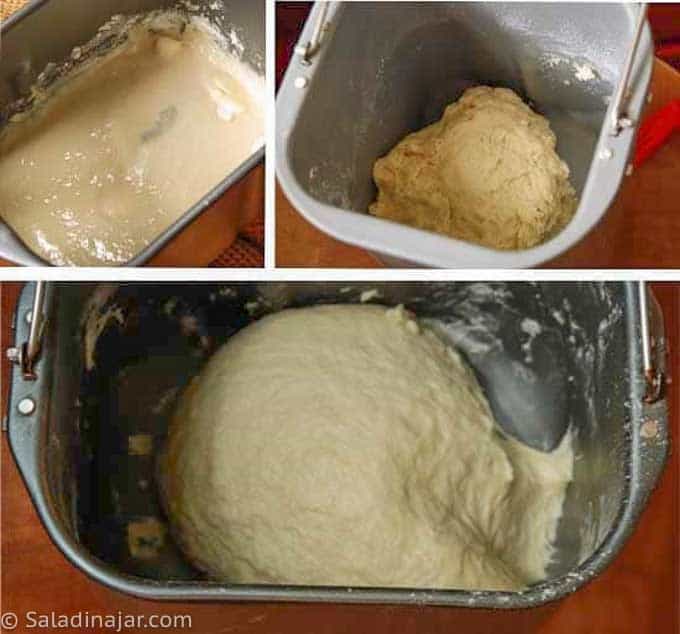 There is an exception…
Refrigerator rolls or bread where you mix the dough and put it in the refrigerator to rise don't seem to work so well in a bread machine.
The dough is extremely sticky and is "kneaded" or mixed better in a stand mixer such as a Kitchen Aid.
Shall we try it?
A few weeks ago, I saw a recipe for Soft Garlic Rolls on Annie's Eats. A commenter asked Annie if they could be made in a bread machine.
I knew it would be an easy recipe to adapt, so I tried it.
The adaptation worked perfectly. This is the original ingredient list given by Annie as adapted from a recipe from King Arthur Flour.
---
Soft Garlic Knots–Original Recipe
Ingredients:
3 cups bread flour
1 tablespoon sugar
2 teaspoons instant yeast
1-1/4 teaspoon salt,
2 tablespoons olive oil
1/4 cup milk
1 cup plus 2 tablespoons lukewarm water.
Glaze:
2 cloves garlic
3 tablespoons melted butter
1/2 teaspoon Italian seasoning
(To see Annie's instructions for making in a stand mixer and her excellent photo tutorial for forming the dough into knots, click here. I am usually in too big of a hurry for the fancy rolls and prefer these quicker breadsticks for everyday eating.)
---
How I Adapted the Recipe for Soft Garlic Knots
#1
Reverse the order of ingredients, so water is first.
The flour will be next to last with yeast being the final ingredient added.
#2
No need to reduce the flour in this particular recipe.
My machine will handle 3 cups of flour just fine. Yours probably will too.
#3
Add up the liquid in the original recipe.
In this recipe, you will get 1-1/4 cup plus 2 tablespoons.
That's likely too much for a bread machine. I cut the milk in half and subtracted 2 tablespoons water leaving me with 1-1/8 cup liquid-theoretically perfect according to rule #2. (Oil and butter are not included in liquid measurement)
---
How to shape garlic breadsticks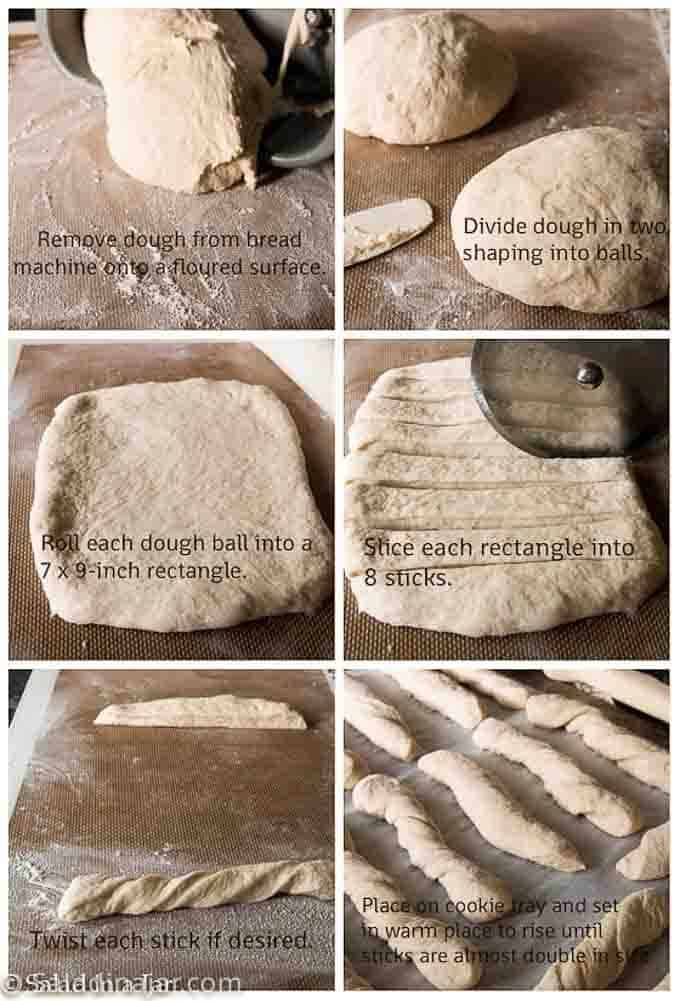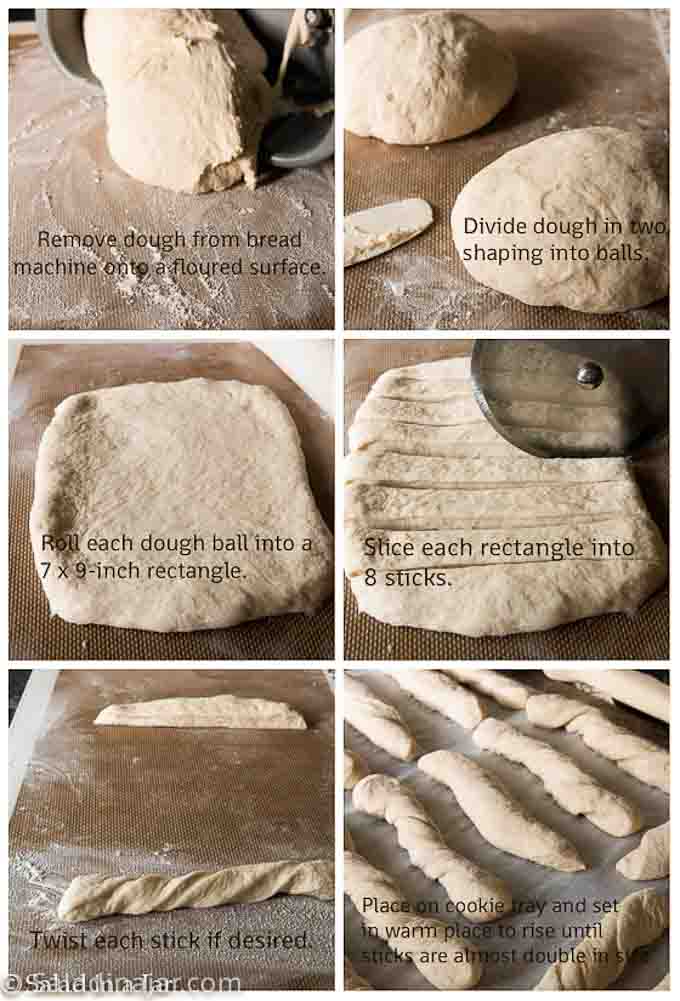 Substitutions

:

This is a beginner's guide–an excellent place to start.

I don't recommend you substitute different kinds of flour at first. It can make your recipe more complicated with less predictable results until you have some experience.
---
What would you like to read next?
---
Pin the picture below to save for later.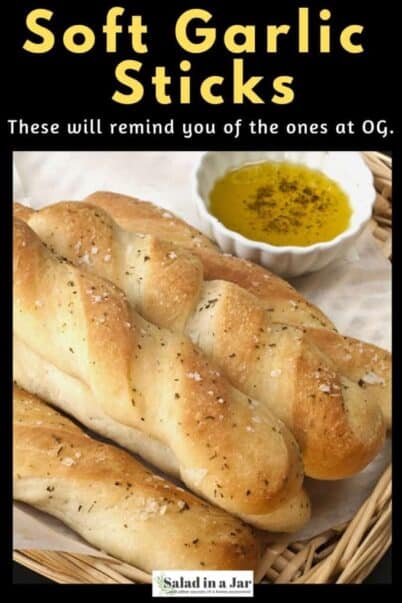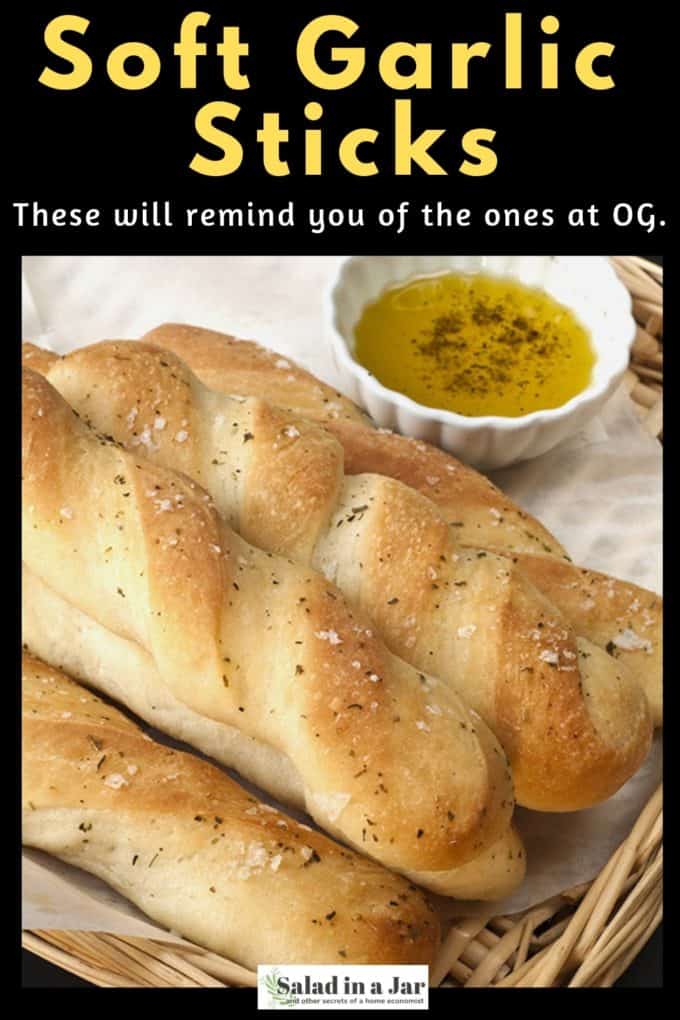 ---
---
---
Did you try this recipe and enjoy it? Consider helping other readers (and me) by returning to this post. Leave a rating on the recipe card itself underneath the picture. Although always appreciated, comments aren't required.
If you have a question or tip to share, please leave it in the regular comments after the recipe so I can answer back. Or, email me privately: paula at saladinajar.com.

Thank you for visiting!
Paula
---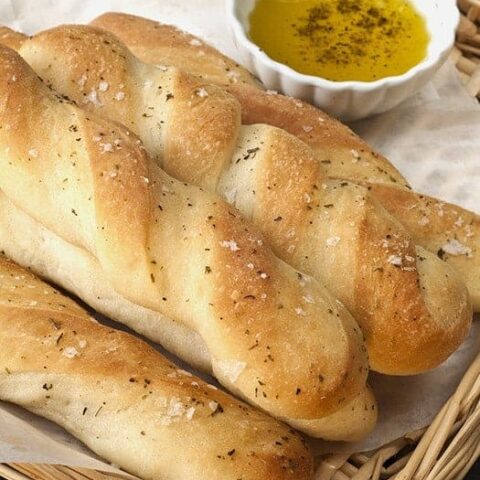 Soft Garlic Sticks
Prep Time:
2 hours
45 minutes
This is a bread machine recipe for yeasted garlic bread sticks that taste similar to the ones at Olive Garden.
Ingredients
1 cup lukewarm water (hold back 1/4 cup to use only if needed)
2 tablespoons milk
2 tablespoons olive oil
1-1/4 teaspoon salt
1 tablespoon sugar
3 cups bread flour
2 teaspoons instant yeast
BUTTERY GLAZE:
1 clove of garlic (reduced from original recipe)
3 tablespoons melted butter
1/2 teaspoon Italian seasoning
Sprinkle of sea salt
Instructions
Place ingredients in order listed into bread machine pan saving back 1/4 cup of the water. Select the dough cycle.
After about 10 minutes, lift the lid as the machine continues to knead and add water 1 tablespoon at a time, as necessary, until dough forms into a ball but remains tacky. When the cycle is completed and the dough has risen, remove from the bread pan.
Divide dough in half and shape into two balls. Roll out each ball into a 7 x 9-inch rectangle. Use a pizza cutter or large sharp knife to cut each rectangle into 8 strips. See the picture above. Twist each strip to disguise imperfections and place side-by-side on a greased baking sheet or one covered with baking paper or a silicone mat. (See the notes if your breadsticks try to unravel.)
Allow breadsticks to rise until almost double.
Brush with buttery glaze, sprinkle with sea salt and bake in an oven preheated to 400˚F for 15-16 minutes or until golden brown. Serve warm.
Notes
Here's what I have found. Better not to twist too many times or two tightly. Only 2-3 twists at the most, are needed. Also, if the dough is too thick, they will most certainly unravel as they rise. Sometimes when they are stubborn, I press down on the whole twist with the palm of my hand to sort of "imprint" the shape.
Recommended Products
As an Amazon Associate, I earn from qualifying purchases. But don't worry. This doesn't change the price you pay.
Nutrition Information:
Yield:

16
Serving Size:

1 stick
Amount Per Serving:
Calories:

133
Total Fat:

4g
Saturated Fat:

2g
Trans Fat:

0g
Unsaturated Fat:

2g
Cholesterol:

6mg
Sodium:

221mg
Carbohydrates:

20g
Fiber:

1g
Sugar:

1g
Protein:

3g