These easy Bread Machine Cinnamon Rolls are traditional cinnamon rolls with a cream cheese icing. You might be surprised at the secret ingredient that will remind you of pecan twirls.
Written for mixing and kneading in a bread machine, but you can also use a stand mixer or do it by hand. See the recipe notes.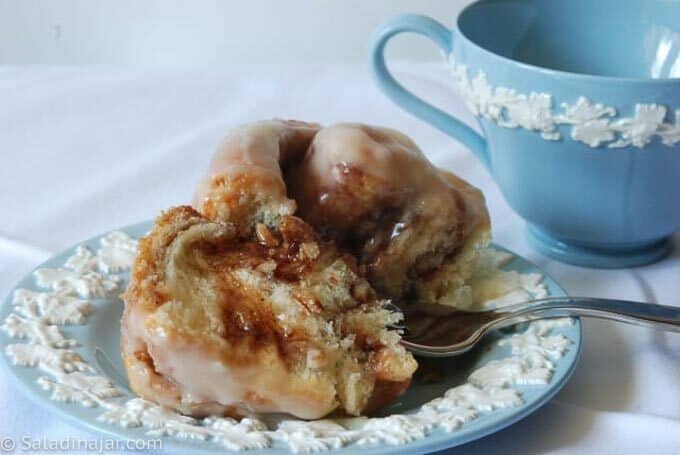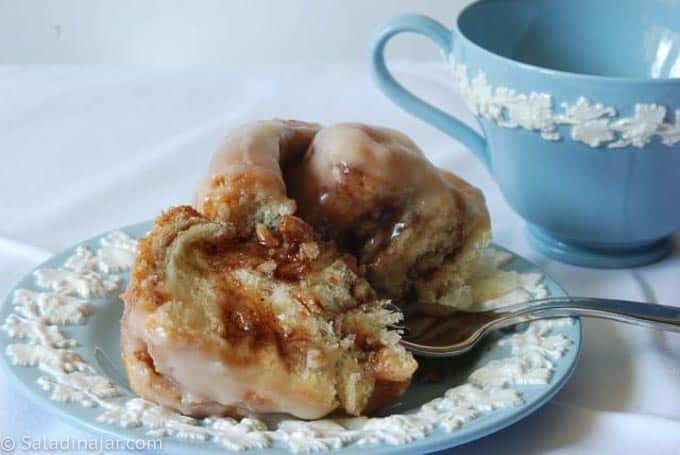 Recipe inspiration
Do you remember the pecan twirls we used to have for breakfast sometimes as kids?
They come in a foil pan with round molded places for each roll. As you slowly unroll them, the pecans fall out everywhere. What fun! (Unless you are the person who gets to sweep the floor.)
Kitchen Secret for these sweet rolls
I think I figured it out. Read on to find out how I incorporated the tiniest bit of ground cloves into my cinnamon rolls.
These are actually a variation on the dinner rolls I posted a few days ago. I ALWAYS make them in my bread machine but NEVER bake in it. That would be pretty hard to do with cinnamon rolls anyway.
How to roll out "My Cinnamon Rolls"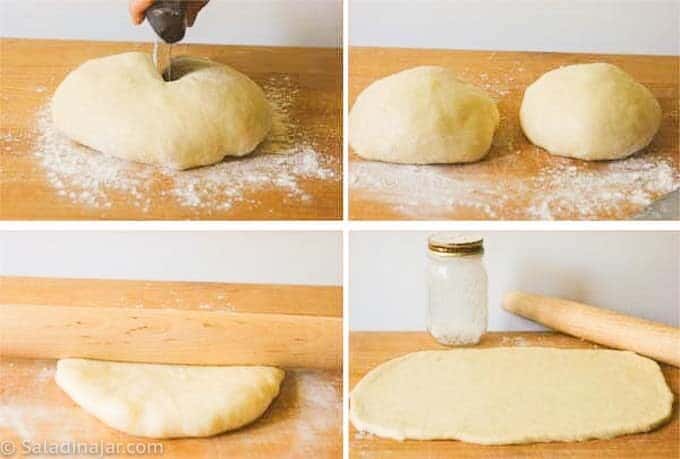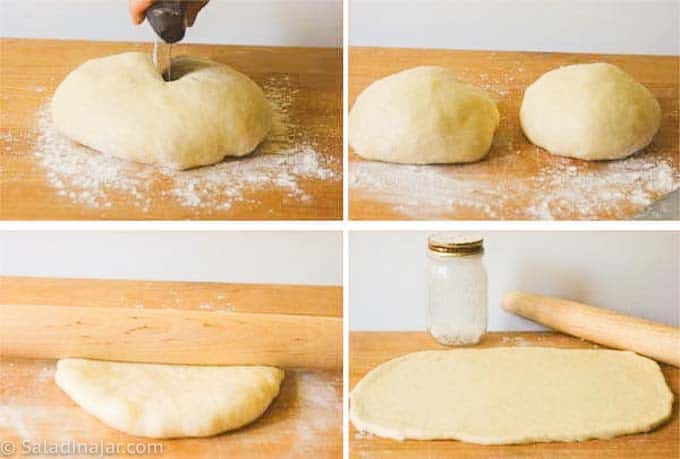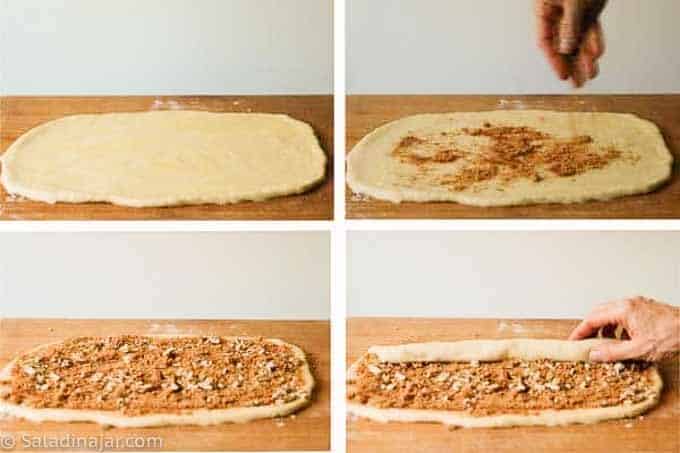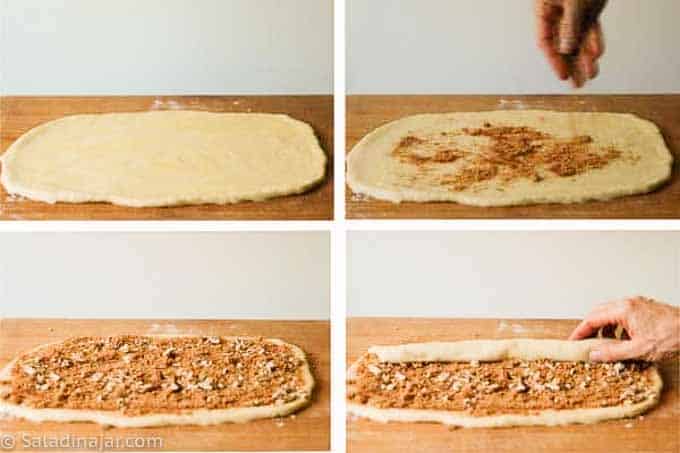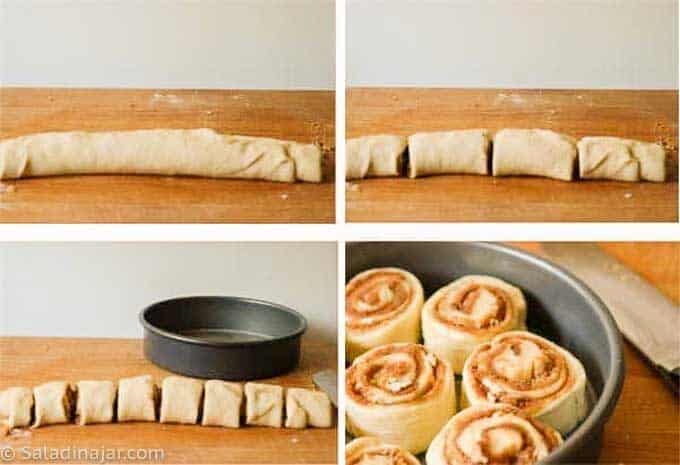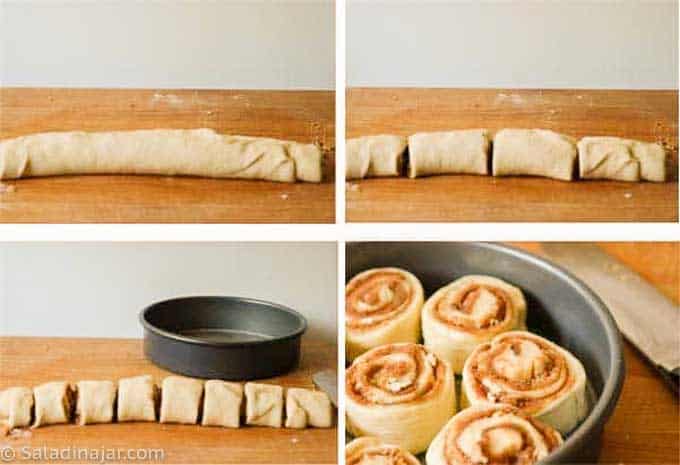 Best eaten the day they are baked. However, they can be frozen and are pretty tasty when zapped very briefly in the microwave and eaten immediately.
p.s. A cheap kitchen secret you can make yourself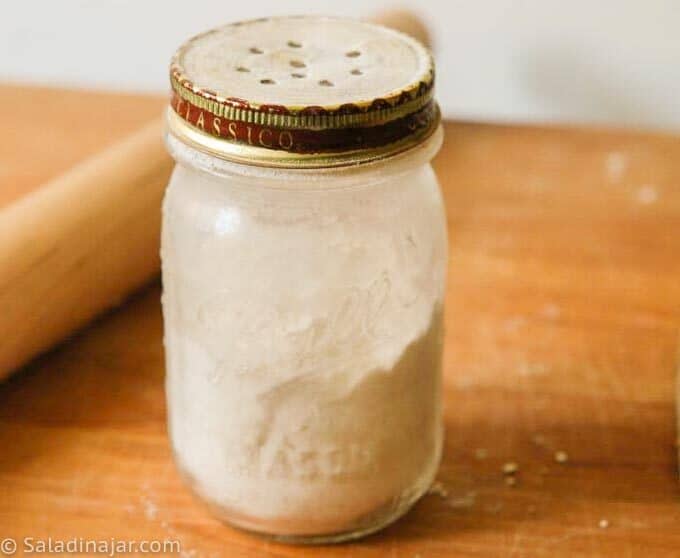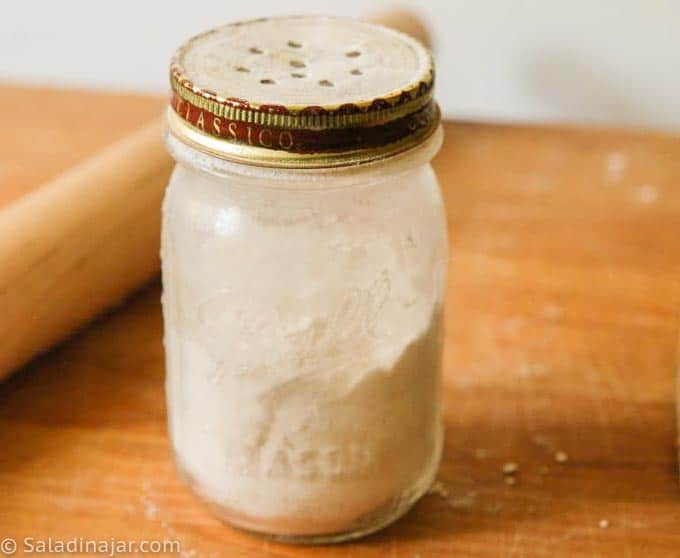 It's a homemade flour shaker–or at least that's what I call it. The next time you have an empty glass leftover with a secure lid, poke holes in the top.
I used an awl (think that's what it's called– Tim the tool man I'm not.) This is more than handy whenever you make bread, pie crusts or rolled cookies.
If you love your sweets to come with a little bit of cinnamon, check out these posts...
---
---
Did you enjoy this recipe? You can help others (and me) by leaving a rating on the recipe card itself underneath the picture. No comment required. Thank you.

Hope to see you again soon!
Paula
p.s. Questions? Email me: paula at saladinajar.com.
Yield: 16 rolls
Bread Machine Cinnamon Rolls: Inspired by Pecan Twirls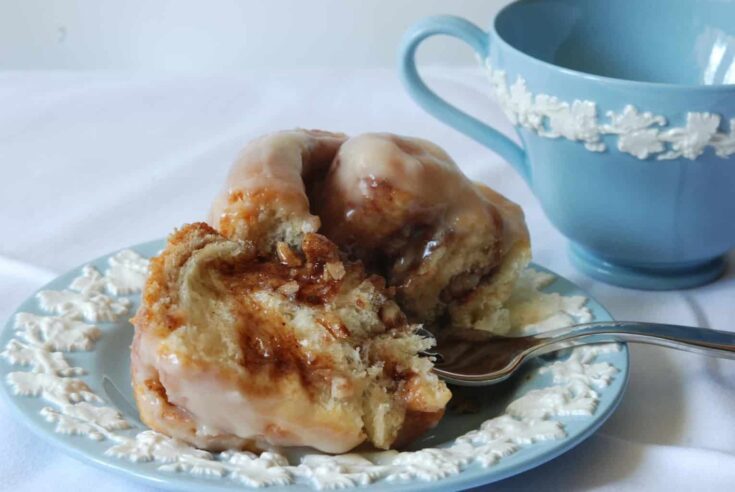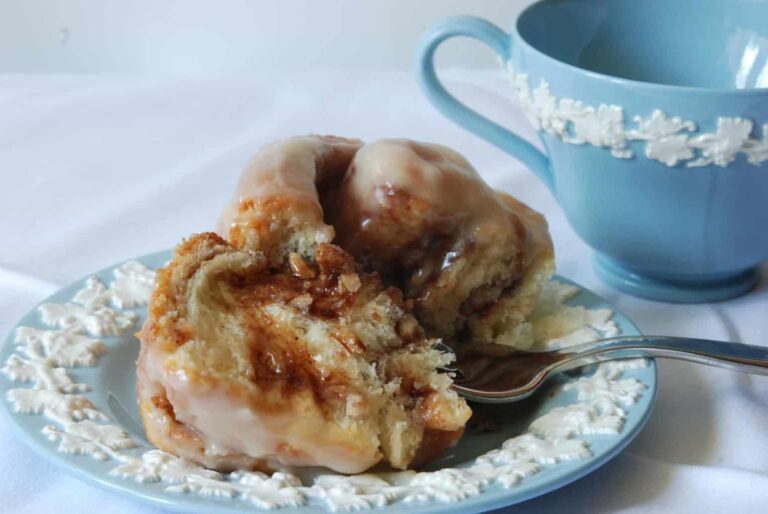 My Best Cinnamon Rolls are traditional cinnamon rolls with cream cheese --includes a secret ingredient. Written for mixing in a bread machine.
Prep Time
2 hours
30 minutes
Total Time
2 hours
45 minutes
Ingredients
1 cup warm milk (if using skim milk which is usually all I have, replace 2 Tablespoons of milk with heavy cream)
1 teaspoon salt
1 egg
3 tablespoons sugar
1/4 cup butter + 2 tablespoons softened butter for filling
3 cups (360 grams or 13 oz) unbleached all-purpose flour
2 1/4 teaspoons bread or instant yeast
Filling
1 cup brown sugar
2 teaspoon cinnamon
A pinch of ground cloves (the secret ingredient).
Instructions
Place ingredients into bread machine in order listed. Select dough cycle. After about 5 minutes, check dough. It should barely stick to sides and then pull away. If too wet, add flour 1 tablespoon at a time. If too dry, add water or milk one tablespoon at a time. See pictures of what dough should look like here. When finished, dough should be doubled in size and light. If not, allow to stay in bread machine a few more minutes till risen. (This may happen if the house is cold.)
After the dough has risen, remove from the bread pan, punch down gently and divide dough in half. On a generously floured surface, roll each half into a rectangle size. The bigger the better--gives more surface to layer the good stuff, like butter, sugar, and cinnamon. Don't roll it too thin, however, or it will tear and cause you all kinds of frustration.
Spread each rectangle with approximately 2 tablespoons of softened or melted butter.
Filling
Mix brown sugar, cinnamon, and cloves.
Distribute half of this mixture over first rectangle and half over the second. Sprinkle about 1/4 c. chopped, toasted, pecans over the brown sugar-cinnamon layer.
Roll up dough the long way. Slice into 8 equal pieces. Place cut side down in greased 8 or 9-inch pan or glass dish.
Cover and let rise till double in a warm, moist place.
Preheat oven to 375 degrees. Bake rolls for about 20 minutes or until golden brown.
Frosting
Ice with 2 cups powdered sugar mixed with 1/4 cup cream cheese and 2 tablespoons coffee. May need more or less coffee depending on how thick you like your icing. Milk will substitute for coffee.
Notes
Alternate Mixing Instructions:
Directions for making bread with a stand mixer or by hand:
To make this recipe in a heavy-duty stand mixer, add ingredients to the bowl in the same order. Turn on low to mix until all ingredients are moistened. Using a dough hook, turn speed to 2 or 3 and continue beating/kneading until dough becomes smooth and elastic (about 5-10 minutes). Cover and allow to rise in a warm place. Deflate dough gently and shape as indicated in the recipe.
If making by hand, combine all ingredients into a shaggy ball in a large bowl. Turn dough out onto a floured surface and knead with your hands until dough becomes smooth and elastic, a process that will likely take 10-20 minutes depending on your experience. Place the dough ball into a greased bowl. Cover and allow to rise until double. Deflate dough gently and shape as indicated in the recipe.
How to substitute active dry yeast for bread-machine yeast or instant yeast:
If you substitute regular yeast for instant or bread-machine yeast, you must dissolve it first before adding to the dry ingredients. Stir it into about 1/4 cup of the lukewarm liquid called for in the recipe. Let sit for about 10 minutes. Add to other wet ingredients and then add dry ingredients. Proceed as directed to knead and shape the dough.
Nutrition Information:
Yield:
16
Serving Size:
1
Amount Per Serving:
Calories:

196
Total Fat:

5g
Saturated Fat:

3g
Trans Fat:

0g
Unsaturated Fat:

2g
Cholesterol:

25mg
Sodium:

191mg
Carbohydrates:

34g
Fiber:

1g
Sugar:

14g
Protein:

4g