Preview: These iced shortbread cookies are simple and irresistible. Check out the super-cool method for rolling out the dough and cutting it into shapes.
What if you could make cut-out Shortbread Cookies that didn't make a big mess on your kitchen counter? Try out this neat-as-a-pin method for rolling out the shortbread and cutting it into shapes such as these butterflies.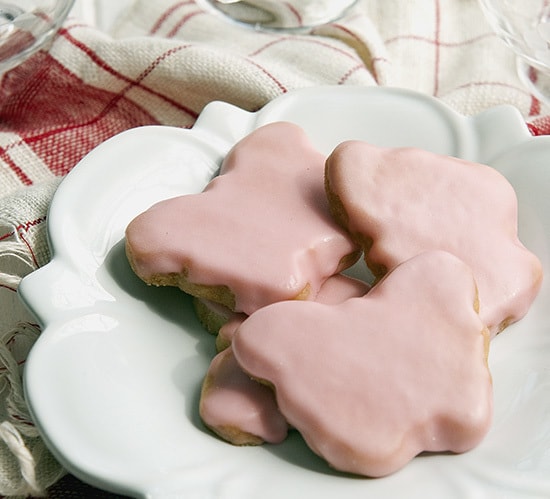 For most people, myself included, cut-out cookies are reserved for holidays. They seem like a lot of trouble, don't you think?
Sticky dough, cleaning up the sticky dough, getting the shaped sticky dough unstuck from whatever you're rolling them on and transferring the cookie to a cookie sheet, etc. Ugh!
On top of that, they need to be frosted. Furthermore, the kids usually want to decorate them, too. Just thinking about the potential mess is a "Calgon" moment.
How long will these cookies stay fresh?
If you keep them in an air-tight container, they are good up to two weeks.
Can I freeze shortbread cookies?
Double wrap them to store in the freezer up to two months.
What can I substitute for unsalted butter?
Salted butter is the best substitute. Butter is what makes these cookies special. Margarine or shortening would be a compromise.
Check out this shortcut…
The other day, I ran across a great idea in Dorie Greenspan's Baking cookbook. It's so easy!
A simple roll-our secret for Iced Shortbread Cookies: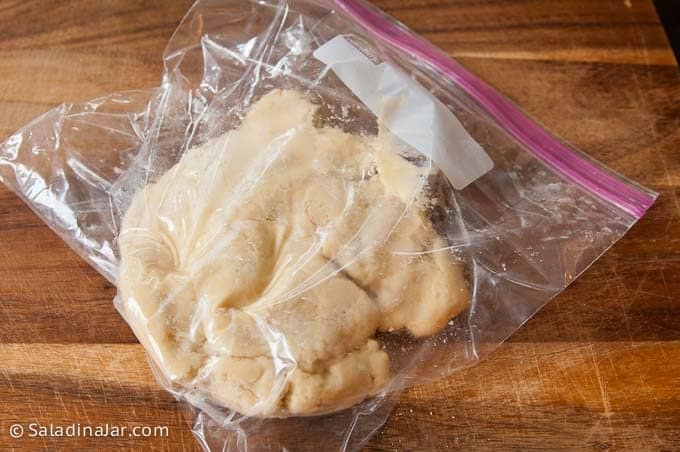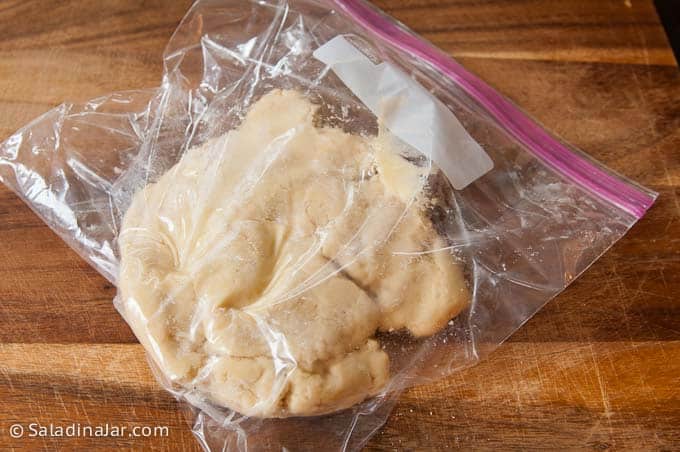 Simply put the dough in a gallon-size Ziplock bag and seal.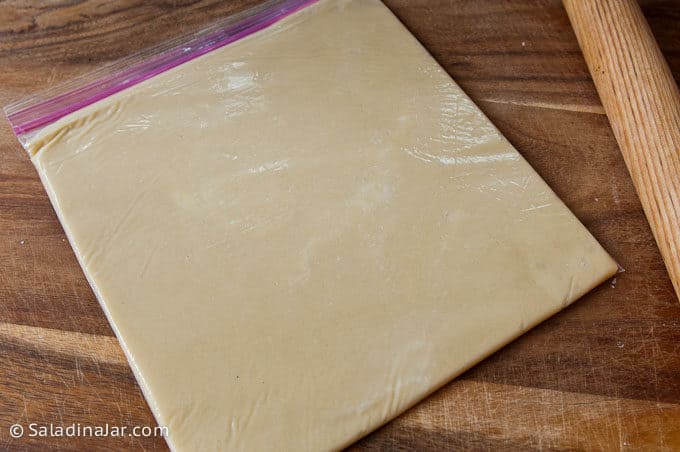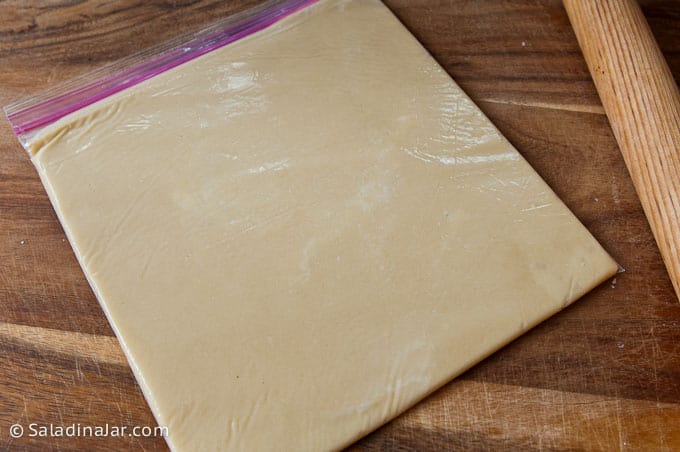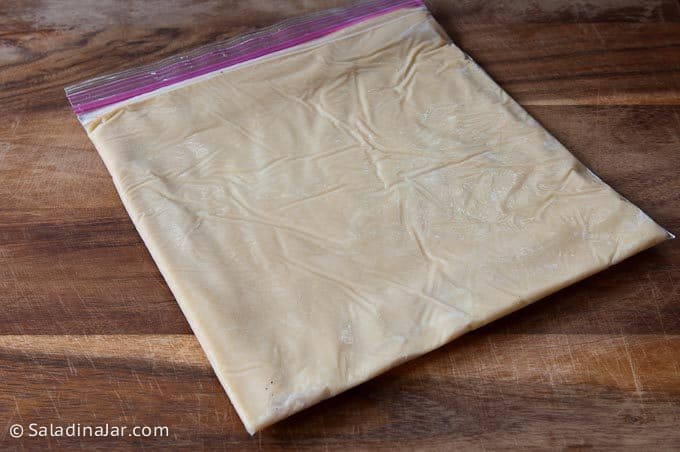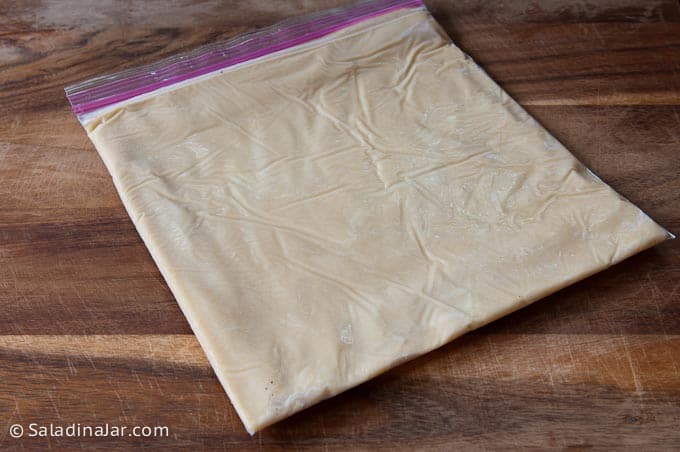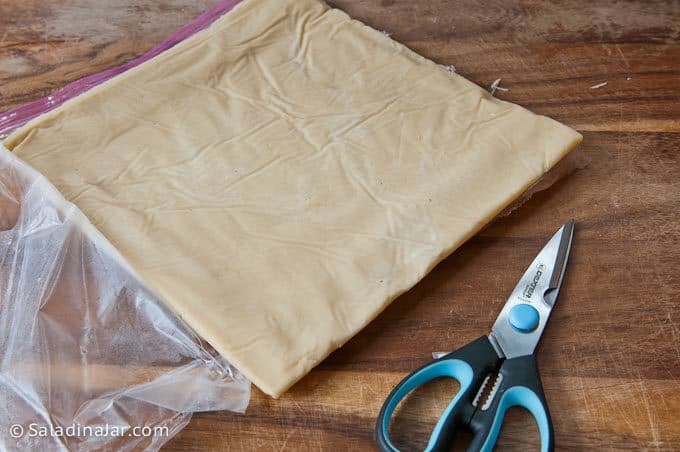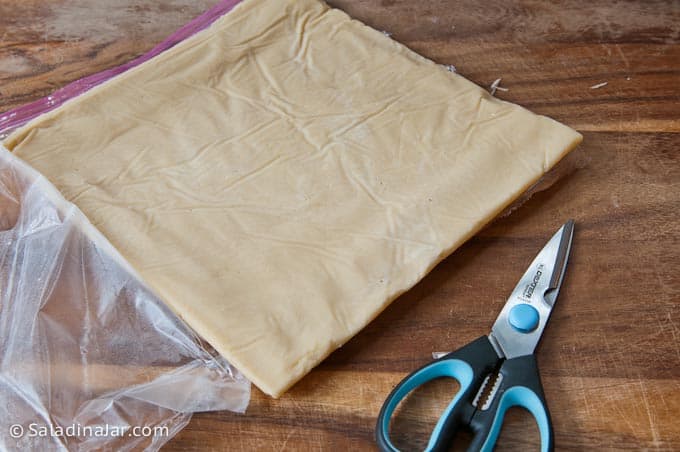 Open the bag on 3 sides and let your cookie-cutter go wild. Because the dough has been thoroughly chilled, the cut-out cookies are easy to pick up with your hands or peel off the plastic before transferring to a cookie sheet, ready to bake.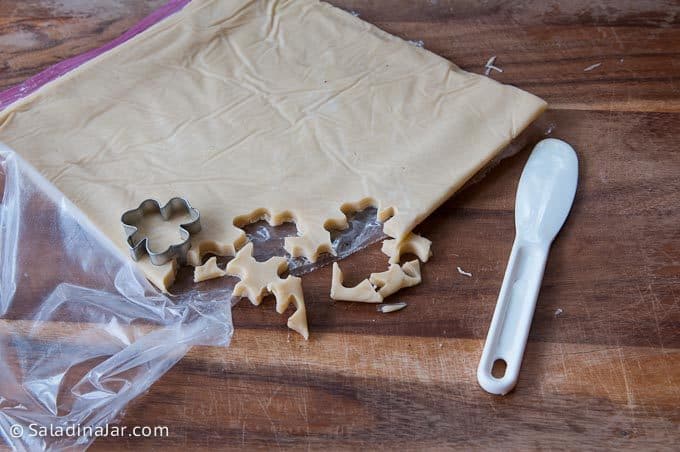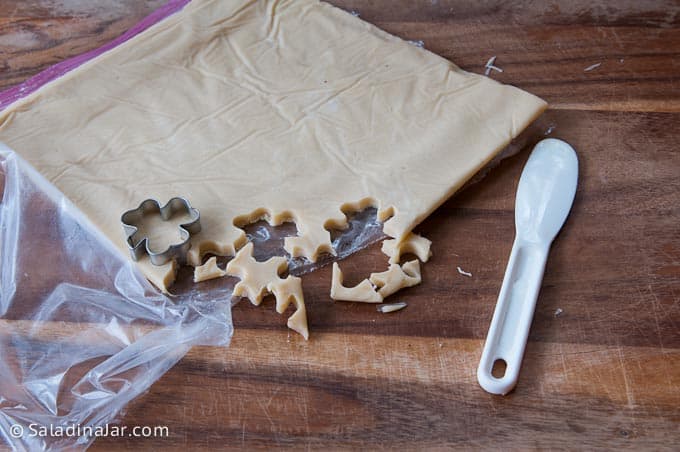 Here's the best part…
Clean-up is as simple as throwing the bag away. No flour to sweep up. No sticky dough to scrape from your counter or cutting board.
Dorie's technique is adaptable to most any roll-out-the-dough-and-cut-into-a shape recipe. Give it a try!
A Valentine's Day Variation:
Try these valentine-shaped shortbread cookies for Valentine's party or as a special gift. I guarantee the recipient will be thrilled.
If you enjoy these on Valentines, try these Irish Shortbread Cookies with green icing.
Kitchen tip:
Small cookie cutters are recommended for this recipe. Not only are small cookies more appealing to eat at parties, but they're easier to handle before they're baked.
---
Did you enjoy this recipe? If so, you can help others and me by leaving a 5-star 🤩 rating inside the recipe below. No comments required.
Hope to see you again soon!
Paula
p.s. If you have any questions or suggestions, you can email me privately: paula at saladinajar.com.
Yield: 72 bite-sized cookies
Iced Shortbread Cookie Recipe
A simple but delicious shortbread cookie with a smooth butter icing. Kids and adults alike love these.
Ingredients
COOKIE DOUGH
1 cup (2 sticks) unsalted butter, at room temperature (226 gr)
3/4 cup powdered sugar (85 gr)
1 tablespoon vanilla extract (14 gr)
1 teaspoon baking powder (2 gr)
2 cups flour, all-purpose (240 gr)
ICING
2 cups powdered sugar, sifted (227 gr)
3-4 tablespoon milk (42-50 gr)
1/2 teaspoon vanilla or almond extract (optional) (7 gr)
pink food coloring (1-2 drops)
Instructions
Combine butter and sugar in large bowl. Beat on medium-high speed until fluffy. Add vanilla and beat until combined.
Combine flour and baking powder in a separate bowl. Add mixture slowly to the butter mixture, stirring on low speed. Stop beating as soon as the flour mixture is completely incorporated. Over beating will result in toughness.
Form the dough into a slightly flattened ball and chill about 30 minutes. Place chilled dough into plastic zipper storage bag. With bag slightly open to allow air to escape, begin to roll out dough until it is evenly distributed in flat shape throughout bag. Place back into refrigerator until firm--at least 30 minutes--up to 2 days. Can also freeze at this point.
Preheat oven to 350 degrees. Line baking sheets with parchment paper, silicone mats, or grease generously with cooking spray.
Remove cookie dough from fridge and carefully cut three sides of bag with kitchen shears or scissors leaving one side intact. Open up and use cookie cutters to cut out cookies. Because the dough is cold and firm, they should peel off the plastic easily. Place on prepared cookie sheet. Re-roll scraps after replacing plastic over top of new ball and refrigerate a few minutes until firm again. Repeat as needed until all dough is used.
Bake cookies for 10 to 12 minutes, until light brown around the edges. Cool the cookies for 10 minutes on the baking sheet. Remove and cool completely before icing.
Frosting
Whisk together the powdered sugar, milk, and extract. If too thick, add more milk a few drops at a time. If too thin, add more powdered sugar or let sit for awhile. Use food coloring to tint the icing. Ice cookies and allow to sit until icing is dry. Store cookies in an airtight container at room temperature up to 1 week or tightly wrapped in aluminum foil or plastic wrap for 1 month in the freezer.
Recommended Products
As an Amazon Associate, I earn from qualifying purchases. But don't worry. This doesn't change the price you pay.
Nutrition Information:
Yield:
72 cookies
Serving Size:
3 cookies
Amount Per Serving:
Calories:

53
Total Fat:

3g
Saturated Fat:

2g
Trans Fat:

0g
Unsaturated Fat:

1g
Cholesterol:

7mg
Sodium:

8mg
Carbohydrates:

7g
Fiber:

0g
Sugar:

4g
Protein:

0g
Did you make this recipe?
Please leave a comment on the blog or share a photo on Pinterest