Preview: Irish Shortbread Cookies are classic shortbread cookies cut into shamrock shapes and glazed with green icing. Includes an easy roll-out tip for the dough.
Do you celebrate holidays at your office with food? Somebody at my work decided we should all bring green food for a potluck in March. I threatened to bring a green salad. Then I remembered my favorite shortbread cookies.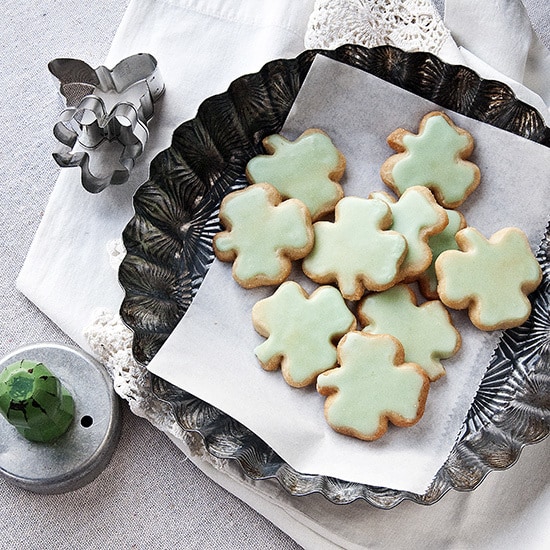 What do I need to make these cookies?
You will need only a few ingredients and even less talent. A miniature shamrock cookie cutter, green food coloring, shortbread cookie dough, and a simple frosting. That's it!
The best thing about these cookies?
NO DECORATING!
Wait! There's more…
If you haven't tried these cookies in any of the various forms I've already blogged about (Pink Shortbread Cookies,) you may not realize how easy they are to make. Luckily, rolling out the dough doesn't have to a sticky mess.
That's where this secret I learned from Dorie Greenspan comes into play.
How to roll out Irish Shortbread Cookies using a zippered plastic bag: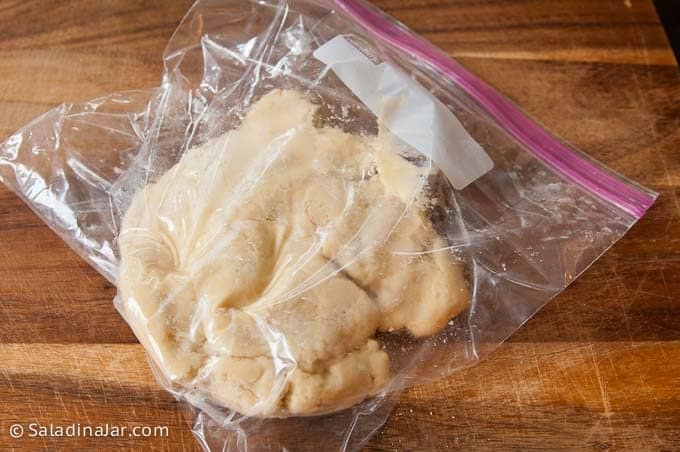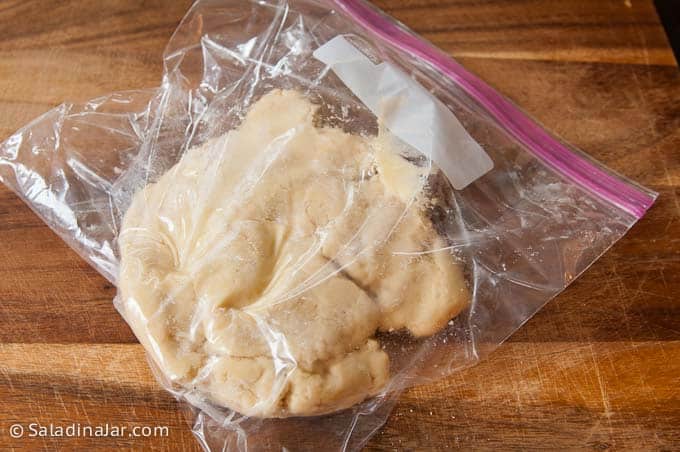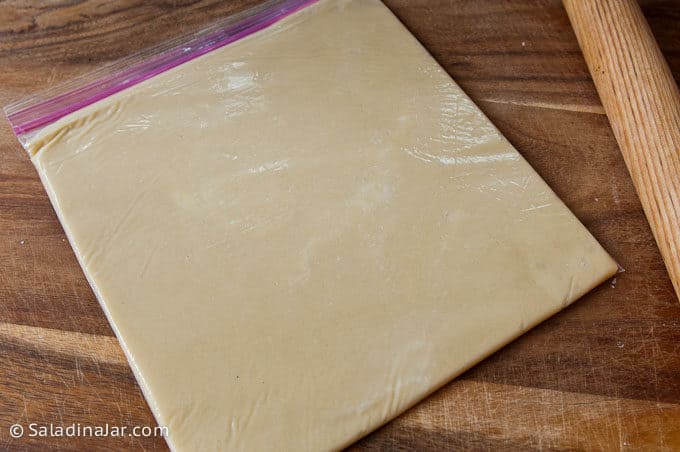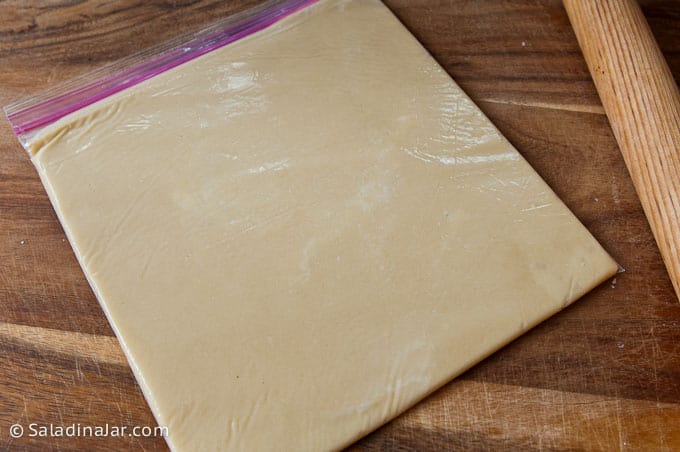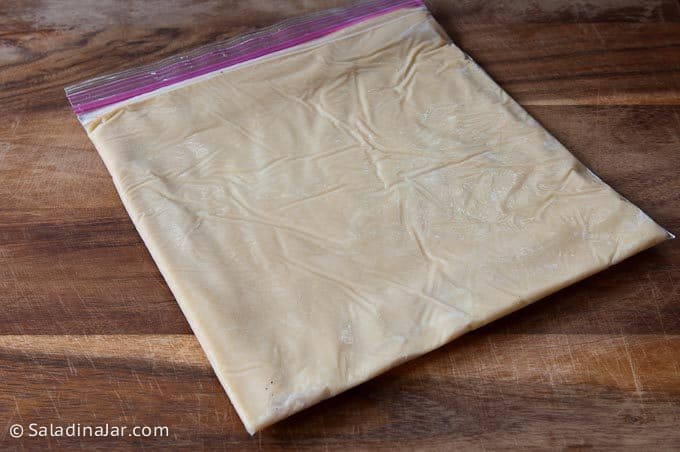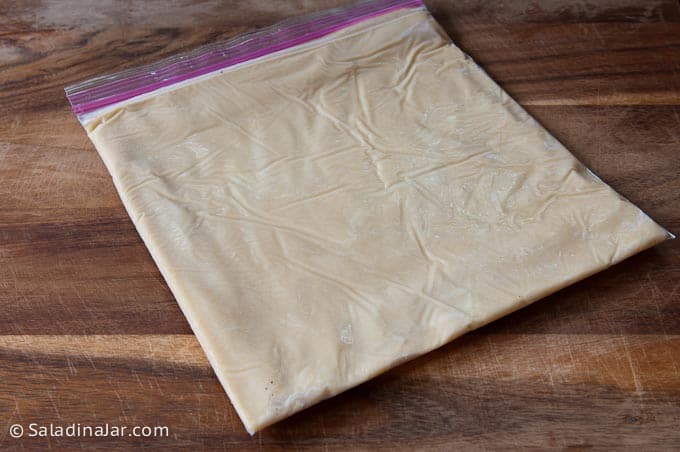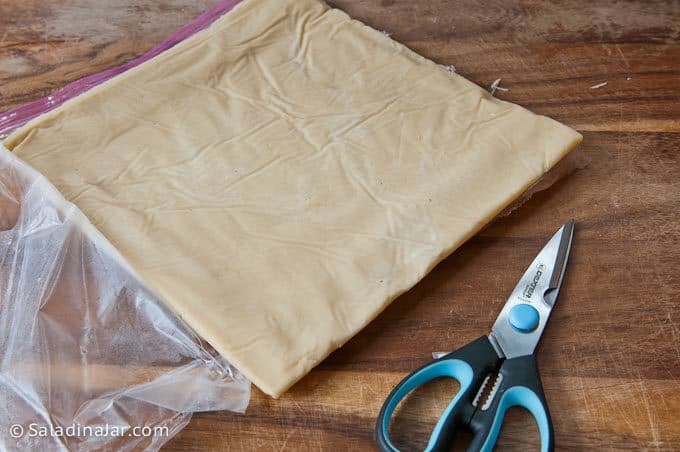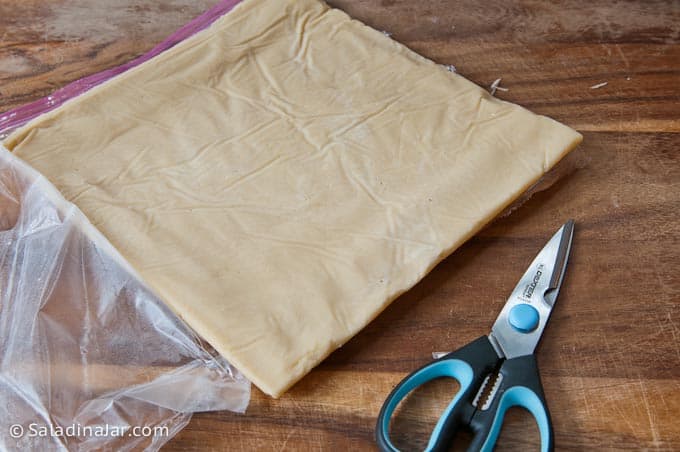 Open the bag on 3 sides and let your cookie-cutter go wild. Because the dough has been thoroughly chilled, the cut-out cookies are easy to pick up with your hands or peel off the plastic before transferring to a cookie sheet, ready to bake.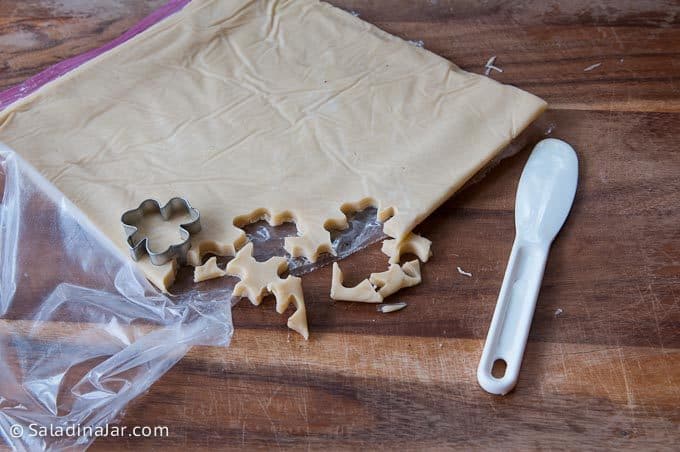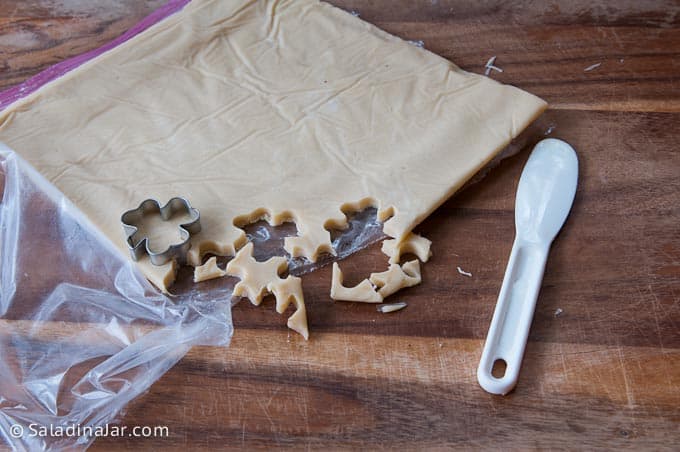 Here's the best part…
Clean-up is as simple as throwing the bag away. No flour to sweep up. No sticky dough to scrape from your counter or cutting board.
Dorie's technique is adaptable to almost any roll-out-the-dough-and-cut-into-a shape recipe. Give it a try!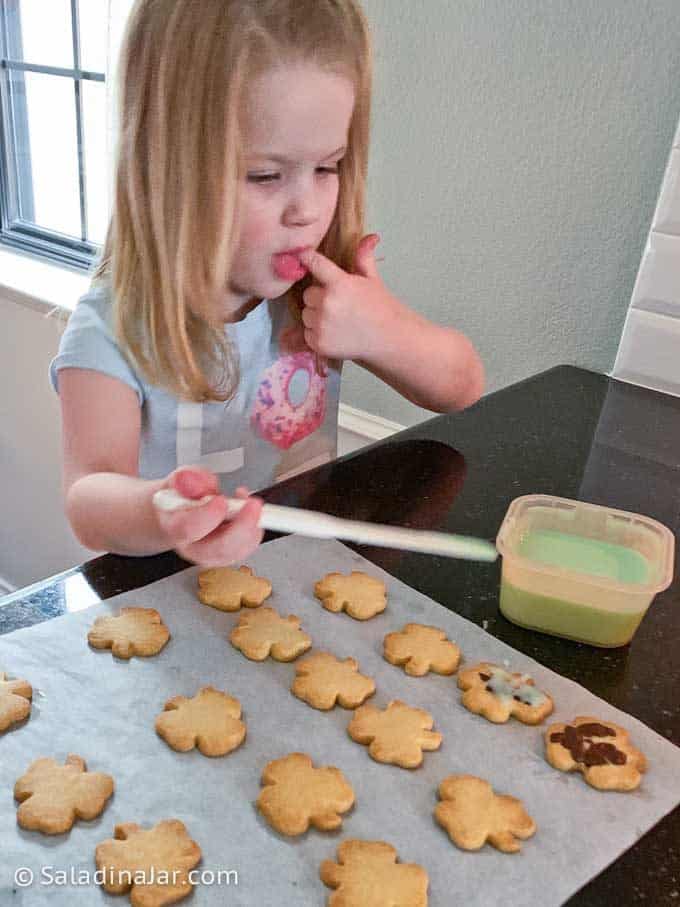 WARNING: These shortbread cookies taste fantastic straight out of the freezer. I suggest you double wrap and hide if you have freezer moles at your house.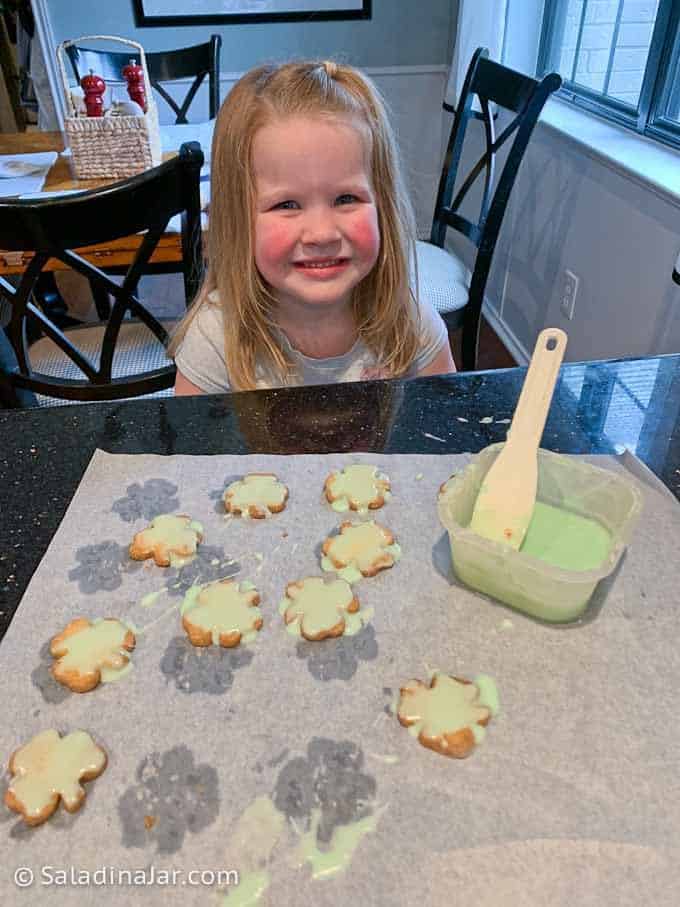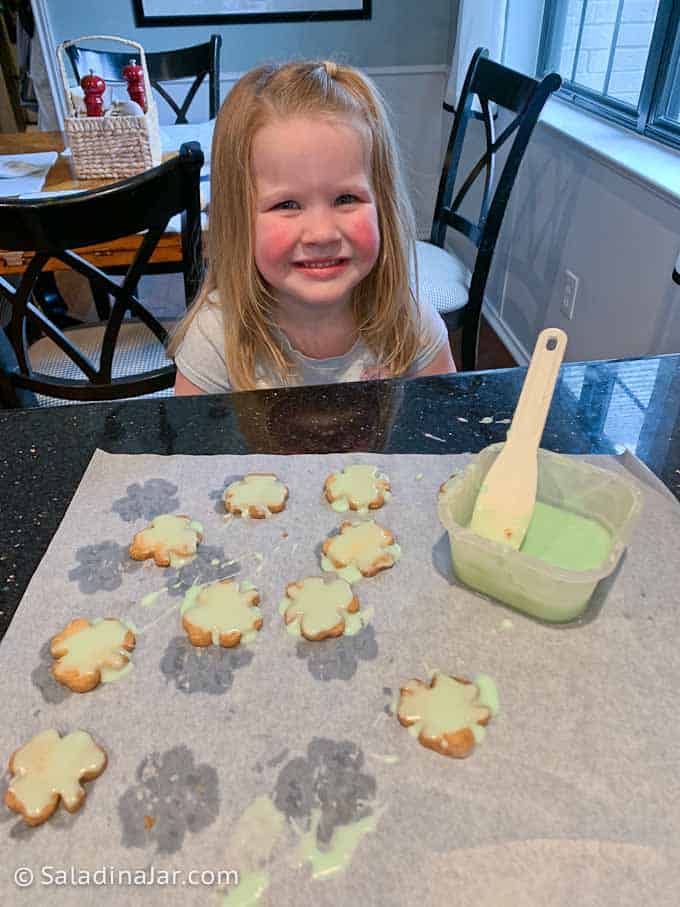 More recipes for the cookie monster in your tribe
---
Pin the picture below to save for later.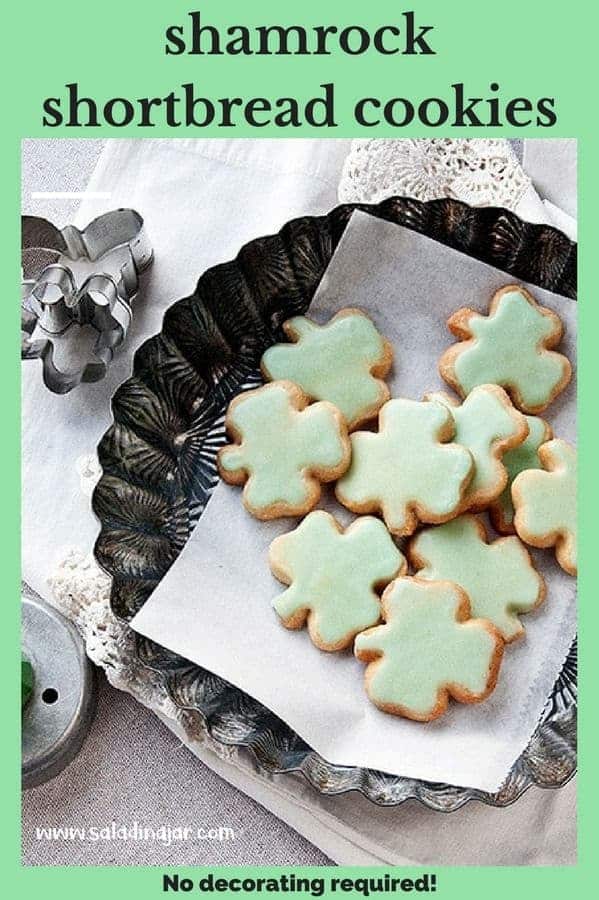 ---
Did you enjoy this recipe? If so, you can help others and me by leaving a 5-star 🤩 rating inside the recipe below. No comments required.
Hope to see you again soon!
Paula
p.s. If you have any questions or suggestions, you can email me privately: paula at saladinajar.com.
Yield: 72 bite-sized cookies
Irish Shortbread Cookies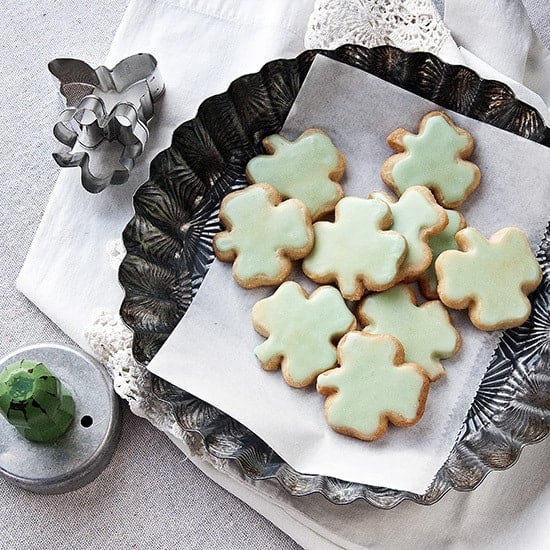 Irish Shortbread Cookies are classic shortbread cookies cut into shamrock shapes and glazed with green icing. Use a Ziploc bag to roll out dough for easy clean-up.
Total Time
1 hour
15 minutes
Ingredients
1 cup (2 sticks) unsalted butter, room temperature
3/4 cup powdered sugar
1 tablespoon vanilla extract
1 teaspoon baking powder
2 cups flour, all-purpose
2 cups powdered sugar, sifted
3 tablespoons milk
1/2 teaspoon vanilla or almond extract (optional)
2 + drops green food coloring
Instructions
Combine butter and sugar into a large bowl. Beat on medium-high speed until fluffy. Add vanilla and beat until combined.
Combine flour and baking powder separately. Add slowly to butter using low speed. Stop beating as soon as the flour mixture is incorporated. Over-beating will result in toughness.
Form the dough into a slightly-flattened ball. Place into a zippered plastic bag. Chill about 30 minutes. With bag cracked open slightly to allow air to escape, roll dough until evenly distributed throughout bag. Place back into refrigerator until firm--at least another 30 minutes or up to 2 days. Can be frozen at this point.
Preheat oven to 350 degrees. Line baking sheets with parchment paper or silicone mats.
Remove cookie dough from fridge and carefully cut two sides of bag with kitchen shears or scissors, leaving one side intact. Lay top layer of plastic back and use cookie cutter to make cookies. Because the dough is cold and firm, they should peel off the plastic easily. Place onto prepared cookie sheet. Re-roll scraps after replacing plastic over top of new ball and refrigerate a few minutes until firm again. Repeat as needed until all dough is used.
Bake 10 to 12 minutes, until light brown around the edges. Time will vary greatly depending on the size and shape of cookies. Check early and often. Cool 5 minutes before removing to cooling rack and wait until cold before icing.
Icing:
Whisk together the powdered sugar, milk, and extract. If too thick, add more milk a few drops at a time. If too thin, add more powdered sugar or let sit for awhile. Tint with food coloring. Ice cookies and allow to rest until dry. I prefer to turn cookies upside down and dip into icing just enough to cover surface. Goes faster, although a little messy, until you get the hang of it. Store cookies in an airtight container at room temperature up to 1 week or tightly wrapped in aluminum foil or plastic wrap for 1 month in the freezer.
Recommended Products
As an Amazon Associate, I earn from qualifying purchases. But don't worry. This doesn't change the price you pay.
Nutrition Information:
Yield:
36
Serving Size:
2 cookies
Amount Per Serving:
Calories:

105
Total Fat:

5g
Saturated Fat:

3g
Trans Fat:

0g
Unsaturated Fat:

2g
Cholesterol:

14mg
Sodium:

15mg
Carbohydrates:

14g
Fiber:

0g
Sugar:

8g
Protein:

1g
Did you make this recipe?
Please leave a comment on the blog or share a photo on Pinterest
Recipe adapted from The Pastry Queen by Rebecca Rather Technique inspired by Dorie Greenspan.
Updated and republished in March 2019.