Bread Machine Pumpkin Brioche Twist to Share with Friends
Sneak Preview: Your friends will be thrilled when you share this Pumpkin Brioche Twist recipe made with the help of your bread machine. Ingredients include pumpkin puree, all-purpose flour, eggs, pumpkin pie spice, and, of course, ample butter. This makes a small loaf, so it's perfect for compact bread machines as well as 2-pound machines.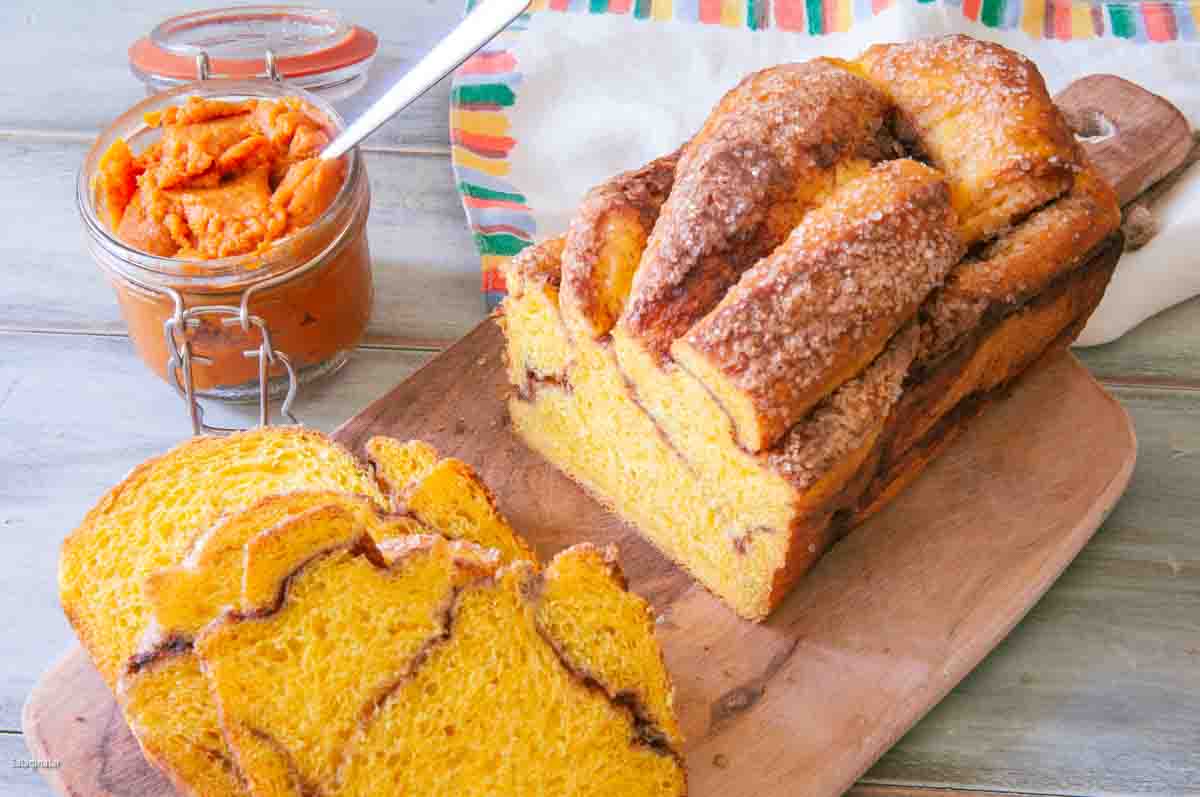 As an Amazon Associate, I earn from qualifying purchases.
Do you ever gaze at artisanal bread in the display case at a good bakery and wish you could replicate it? I used to dream of making brioche with a bread machine but not anymore.
When it comes to brioche, I want the real thing with lots of eggs and even more butter. That's what makes a rich and tender crumb. This recipe is in the 45% range when you figure the percentage of fat compared to the total weight of the flour. Brioche epitomizes enriched bread.
When I saw Trader Joe's pumpkin brioche, I became obsessed with creating my own recipe using a bread machine. Since I already have a bread machine recipe for brioche, it was just a matter of adding pumpkin and some spices–sorta.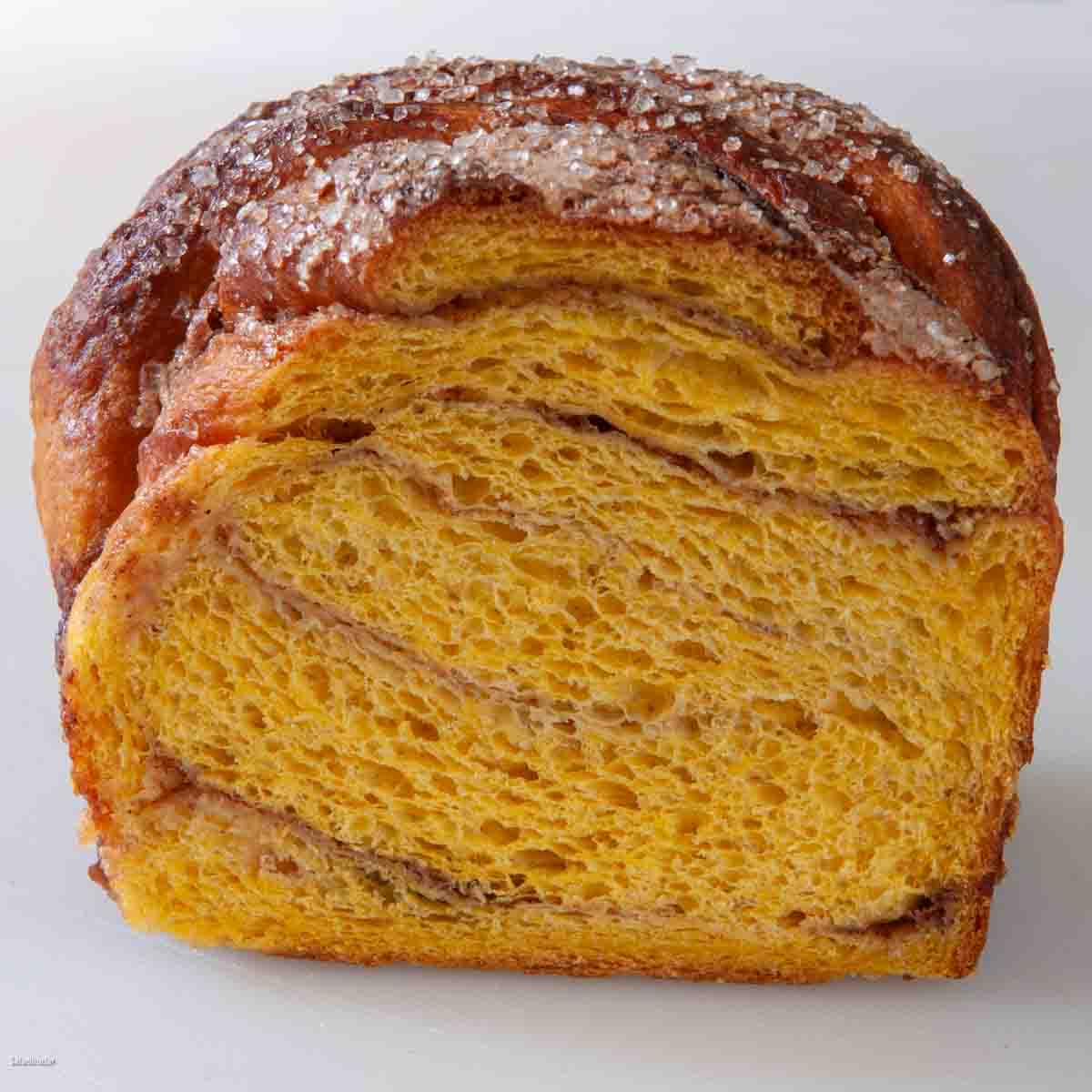 I've lost count, but at least 9-10 batches later, I finally nailed it! Now I'm excited for you to try it.
Dust off your bread machine(paid link). You'll need it to handle the super sticky dough.
Following an overnight stay in the refrigerator, I'll show you how to shape the dough without losing your mind. After a final rise, bake this twisted loaf in your conventional oven. Bread machines aren't ideal when it comes to baking this delicate, decadent, and beautifully sparkly (thanks to coarse sugar on top) bread.
Happy Bakers Speak Up:
"Paula! That bread is wonderful! 😱 Bill and I had some after lunch and then called it dessert after dinner. No need to freeze it! Sounds like a delicious breakfast. Even though I don't eat in the morning, I will force myself. So yummy! Thank you so much!"–P.C.
---
Ingredients and substitutions: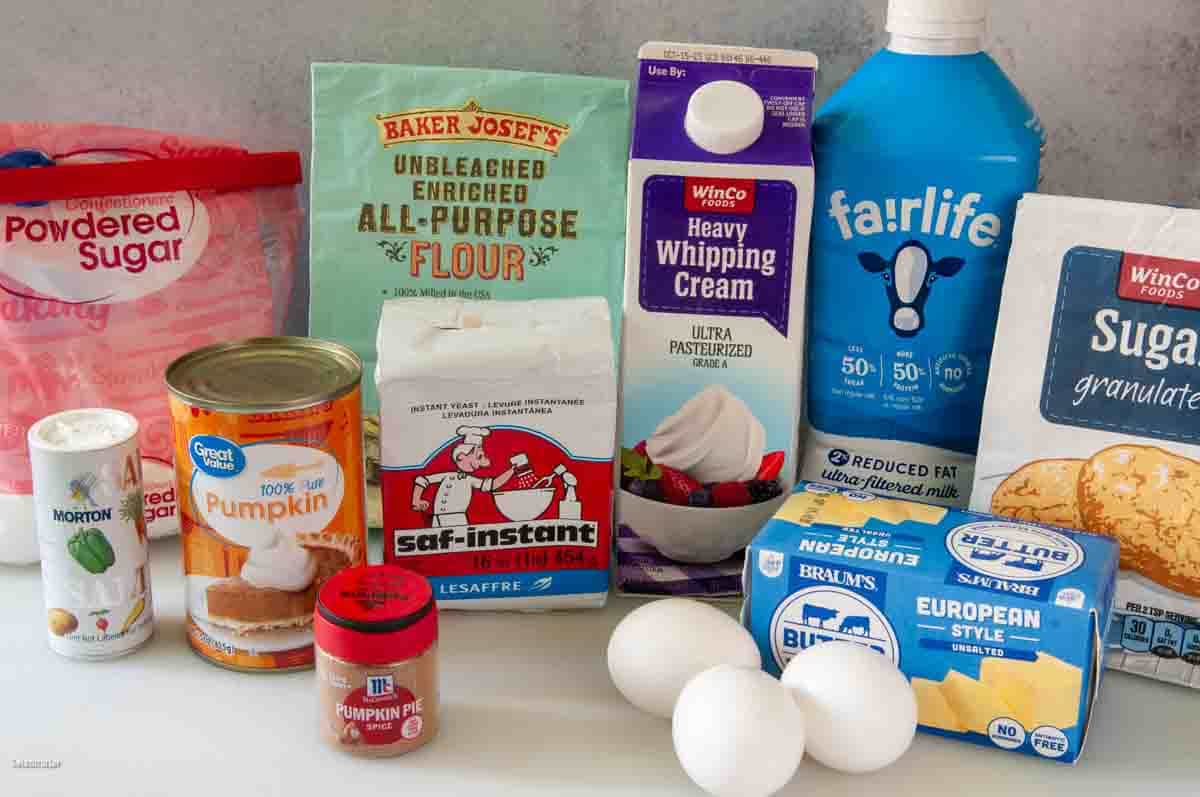 BUTTER: Use unsalted butter. Substitutes may yield unpredictable results. Because of the amount of butter needed, using salted butter makes the bread too salty.
MILK: Use dairy milk with any fat content. You will only use ¼ cup, so it won't make much difference. There's no need to warm the milk.
FLOUR: Stick to all-purpose unbleached flour; avoid bread flour to prevent excessive chewiness.
PUMPKIN: I tested the recipe with commercially canned pumpkin puree. If you want to make your own pumpkin puree, be diligent to drain it of all excess water. Substitute pureed winter squash.
EGGS: This recipe uses two large eggs (not three, as shown in the picture above). The weight of a large egg can vary. You may have to adjust your dough during the kneading phase if the eggs deviate significantly from 50 grams each.
SUGAR: Opt for granulated or light brown sugar; halve the amount if you prefer less sweetness.
SALT: Sea salt or table salt is fine. For Kosher salt, add an extra ¼ teaspoon.
YEAST: Use instant or bread machine yeast. If you want to substitute active-dry yeast, see this post for more information.
CONFECTIONERS' SUGAR: Powdered sugar works wonders as a filling inside bread with my Cinnamon-Raisin loaf. The layers don't separate as easily. It works the same way with this brioche twist.
PUMPKIN PIE SPICE: Use your favorite brand, make it yourself, or substitute plain cinnamon. Omit if preferred.
HEAVY CREAM: Heavy cream works as a "glue" to help the filling stick to the dough, glaze the bread, and attach the coarse sugar to the top of the bread. Milk can substitute for cream.
COARSE SUGAR: Coarse or sanding sugar masks imperfections in the shaping process, imparts sweetness, and contributes a shimmering quality. Substitute granulated or raw sugar if necessary, but you won't get the same sparkling effect.
---
Kitchen secrets for success when making brioche with a bread machine:
Keeping the ingredients and resulting dough from getting too warm is key. Start with chilled eggs, pumpkin, and butter. Cool the Tangzhong paste by mixing it with cold pumpkin. If your kitchen is very warm, chill the bread machine pan and consider chilling the flour, too.
Brioche dough doesn't become smooth and shiny in the bread machine like regular bread dough. Look at the video, process pictures, and the directions. Be cautious about adding more flour during the DOUGH cycle as it may change the character of this bread.
Avoid salted butter unless you prefer salty bread.
Refrigerate the dough after the conclusion of the DOUGH cycle to make it easier to handle and develop the flavor.
Prep the filling and gather equipment before shaping the dough; work swiftly to prevent stickiness.
Use a cheap silicone baking mat for an easier roll-out and clean-up.
Use an 8½ x 4½-inch loaf pan for this recipe for the prettiest loaf. I love and use USA pans because nothing sticks to them, and they produce an evenly browned but tender crust. Otherwise, cut a piece of parchment paper the size of the bottom of your pan or make a paper sling; when the filling leaks out of the bread while baking, it turns into super glue!
This recipe utilizes the Tanghzong technique, which results in a flakier loaf that stays fresh a bit longer. It's not difficult and only takes an extra minute. My Tangzhong dinner rolls and cinnamon rolls also use this technique to great advantage.
---
---
How to make Bread Machine Pumpkin Brioche with a Twist: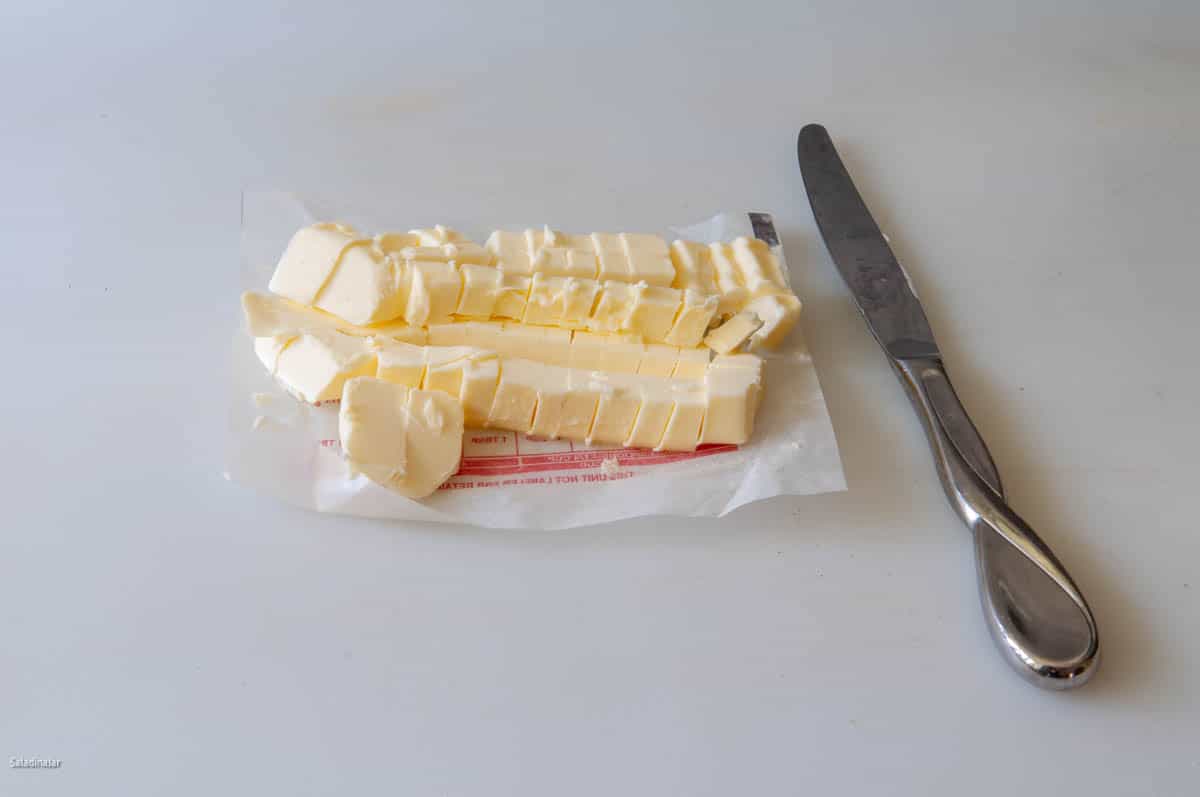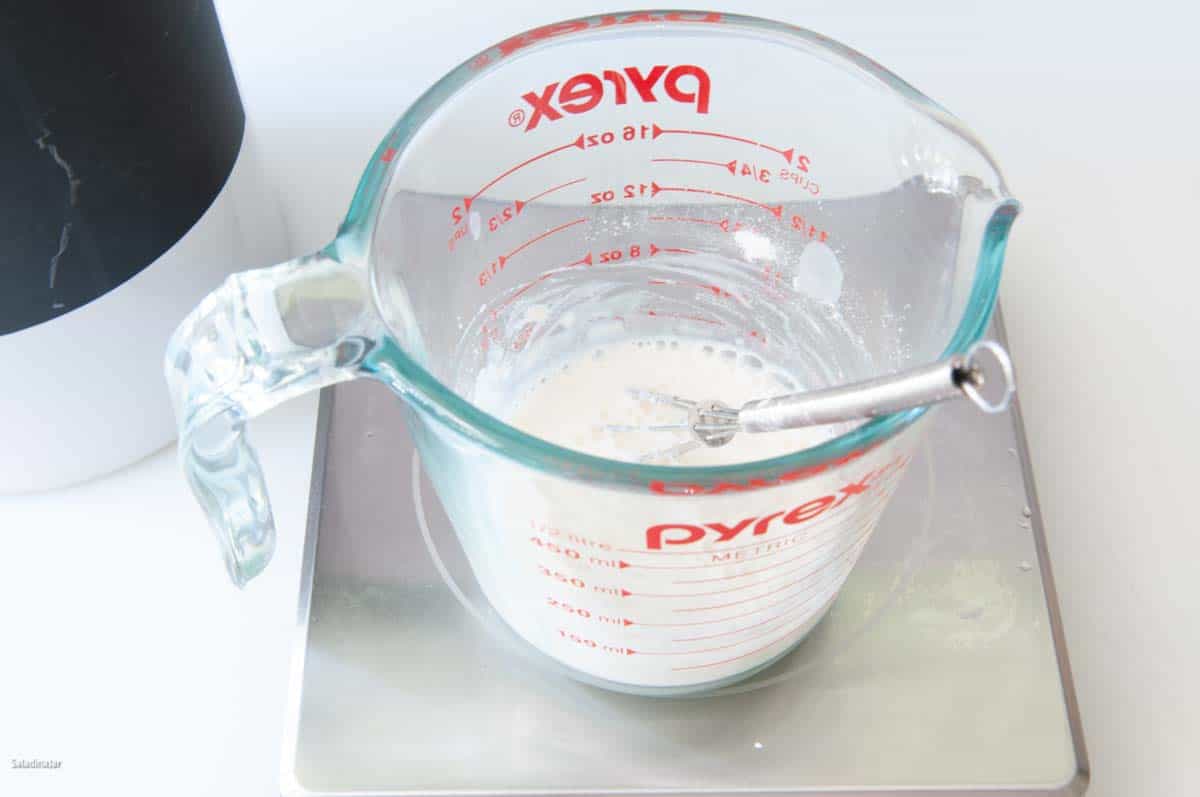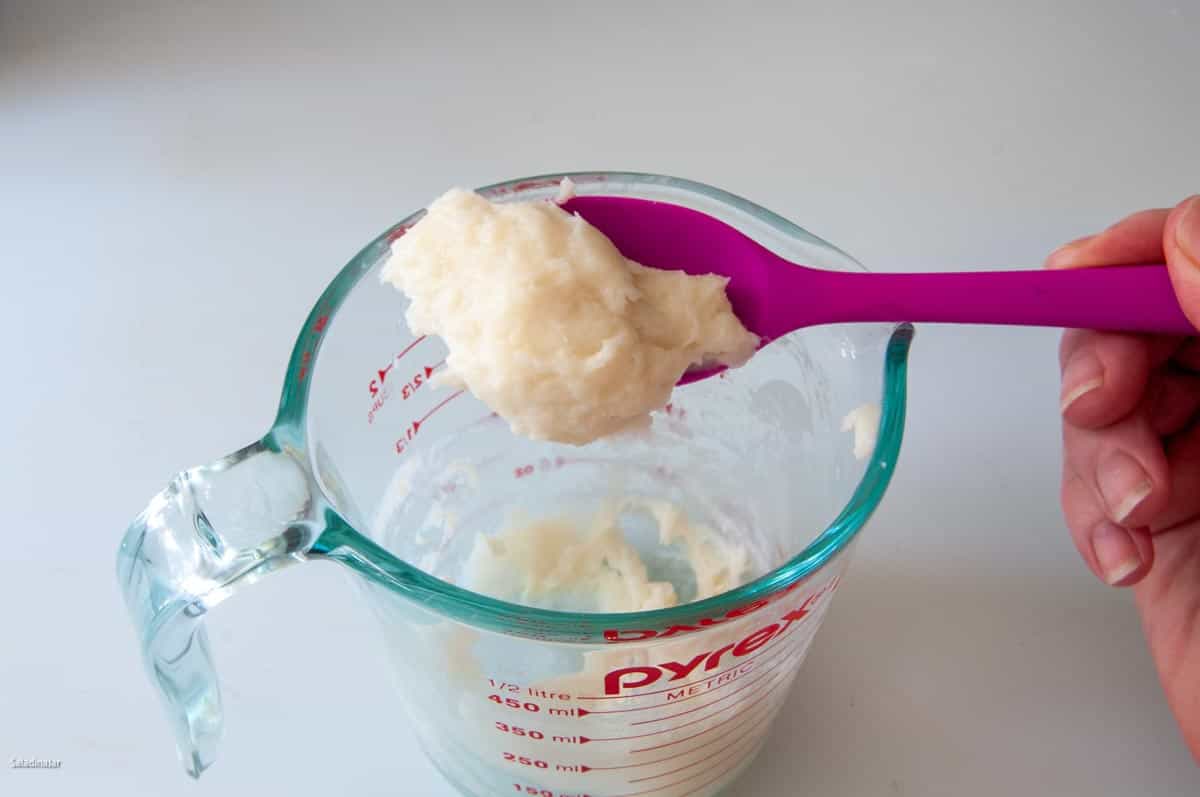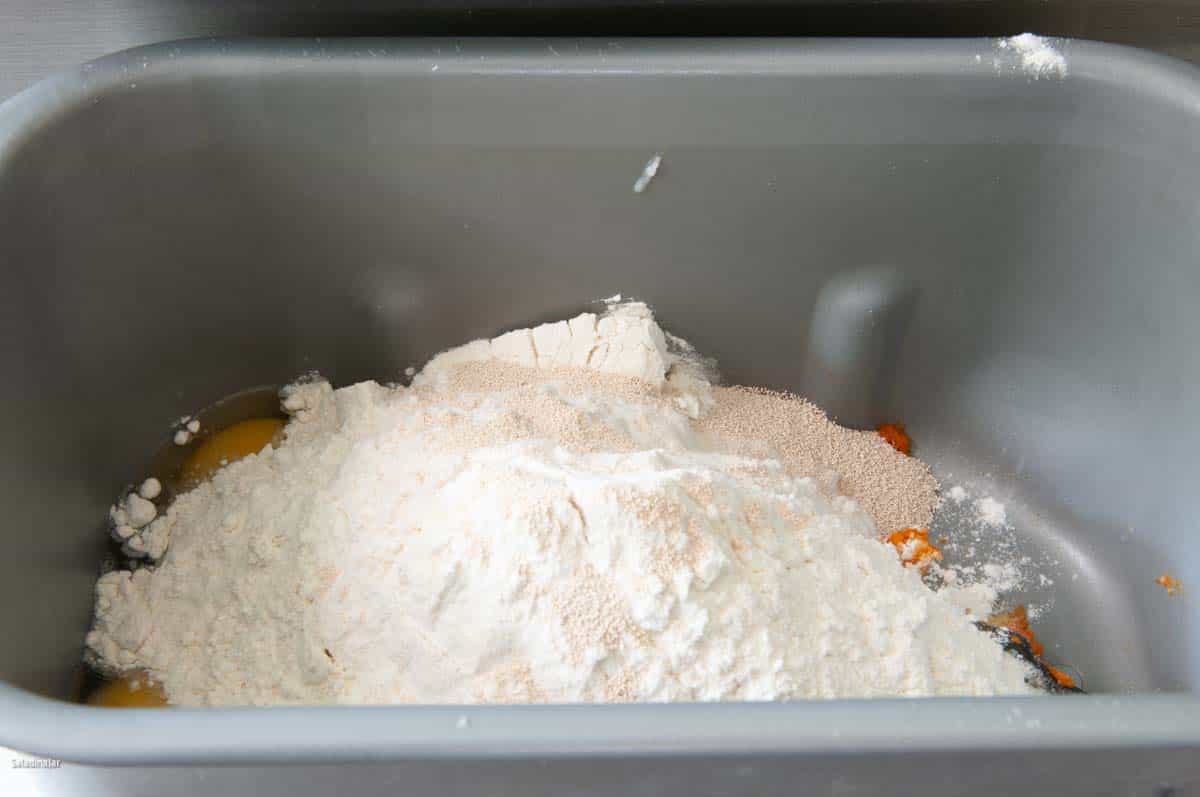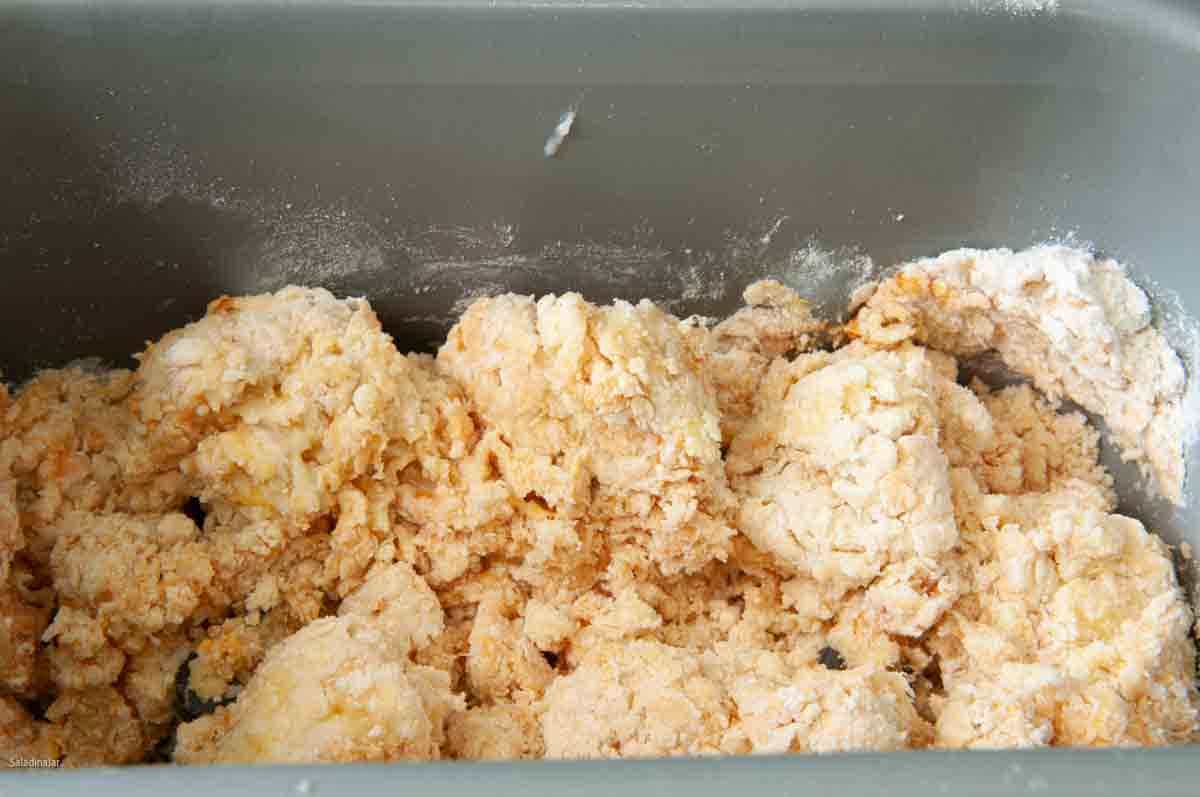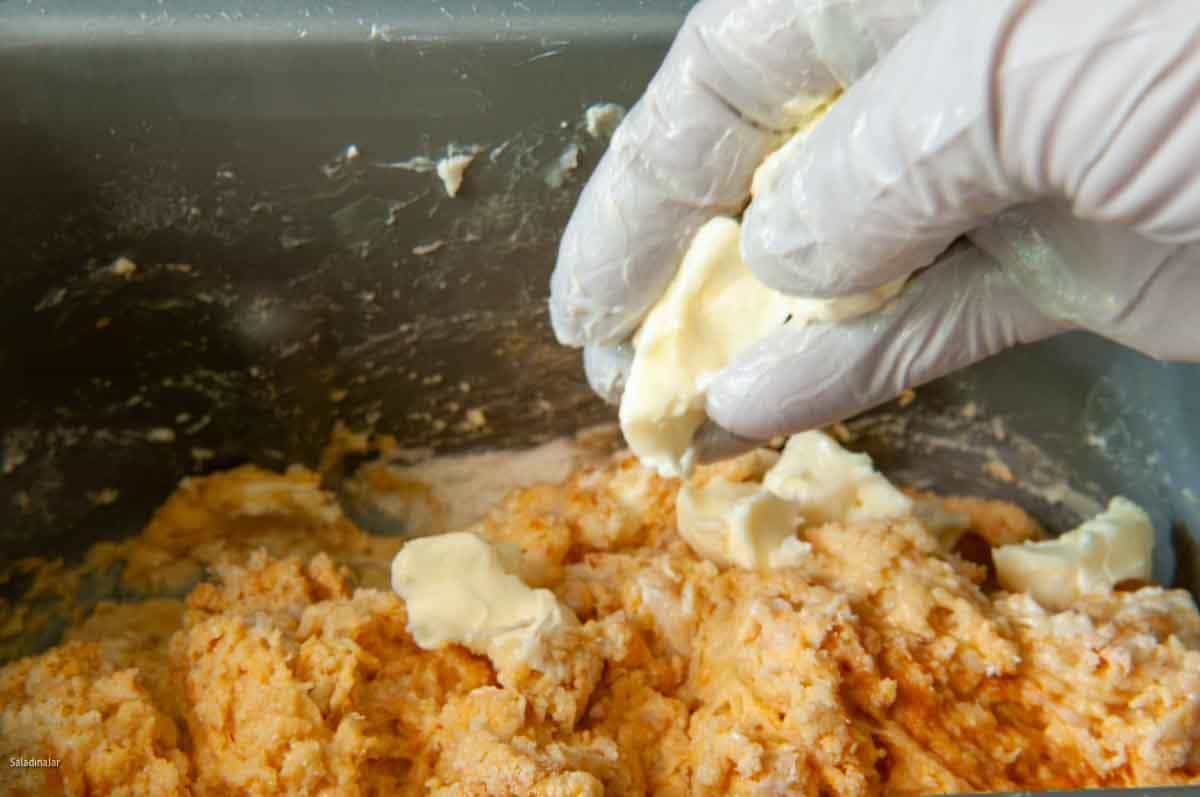 Squish the butter through your fingers, about two tablespoons at a time, to make sure it readily blends with the dough. As Grandma would say, don't be lollygaggin' around with this step–do it quickly, without dumping all the butter in at once. You don't want the butter to get too soft, nor do you want to overwhelm the dough, causing the butter to leak out later.
I love wearing surgical gloves to do this. They make playing with butter more fun.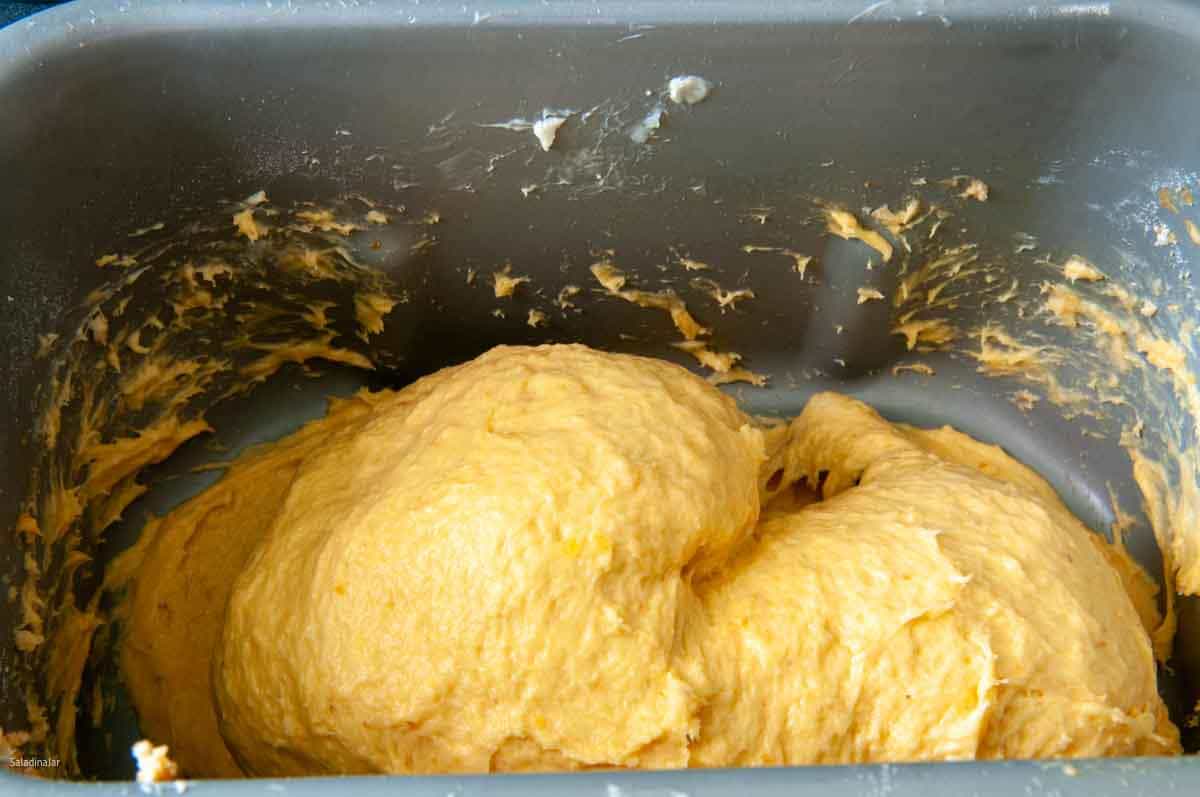 Do you see how sticky this dough appears? Brioche dough doesn't follow the rules of traditional yeast bread dough.
If you add too much flour to eliminate stickiness, your bread will not be light and airy with a texture characteristic of brioche. Conversely, if the dough doesn't pull away from the sides at all, the dough will not knead properly, hindering gluten development needed to support the other ingredients.
This is a crucial time in the bread-making process. Gauging whether your dough requires more flour or water requires some experience to refine your judgment for each specific recipe.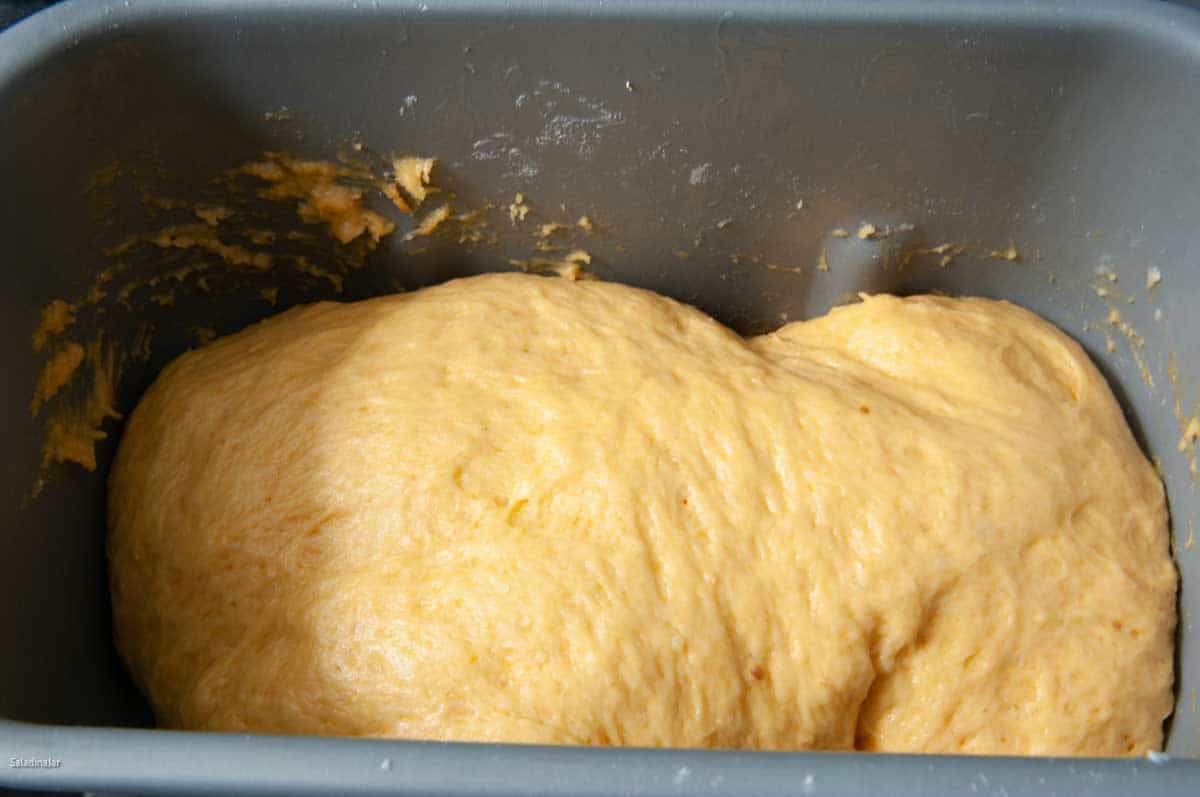 Once the DOUGH cycle concludes, transfer the dough to a large bowl. Use a spatula to gently fold the dough over, releasing any trapped air and working around the dough's edges. Cover the bowl and refrigerate the dough for a minimum of four hours, up to twenty-four hours.
📌KITCHEN TIP📌 If you're pressed for time and can supervise, you can accelerate the chilling process in the freezer. However, be vigilant not to allow the dough to freeze. Every 30 minutes, rotate the dough within the bowl until it reaches a cold, firm state, typically taking about an hour, depending on the temperature of your freezer.
---
Shaping the Pumpkin Brioche Twist: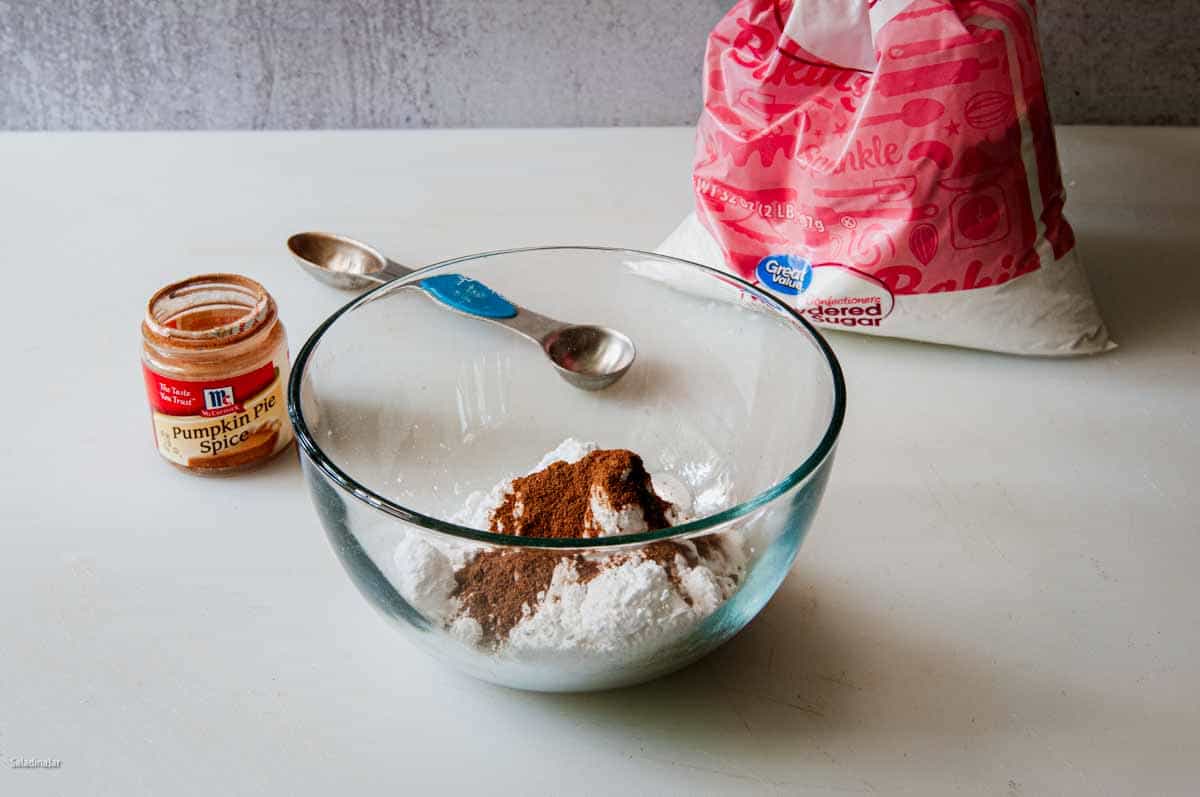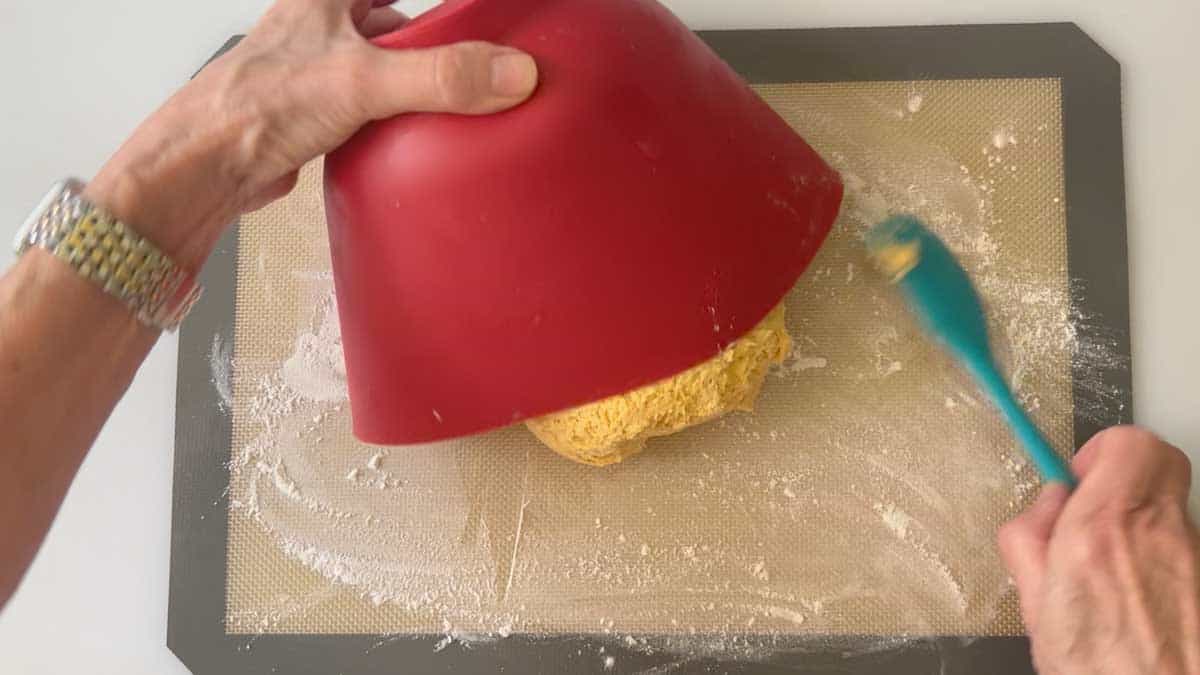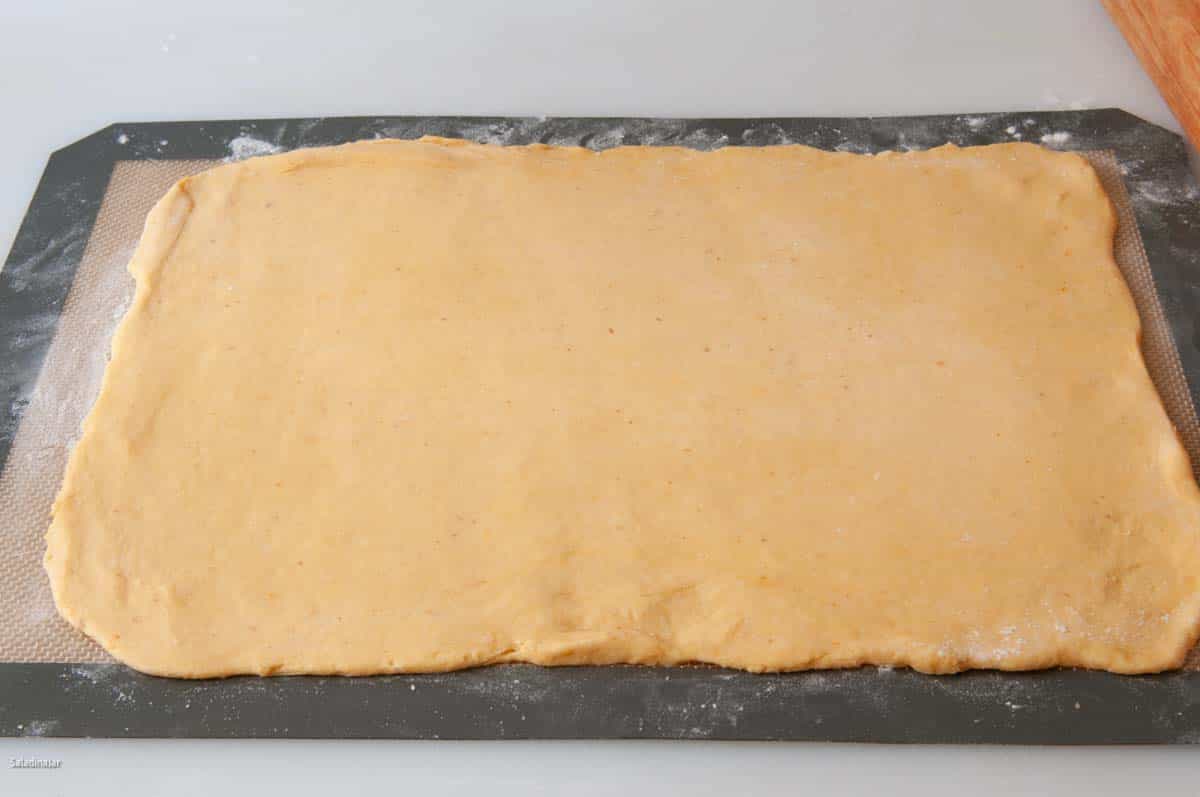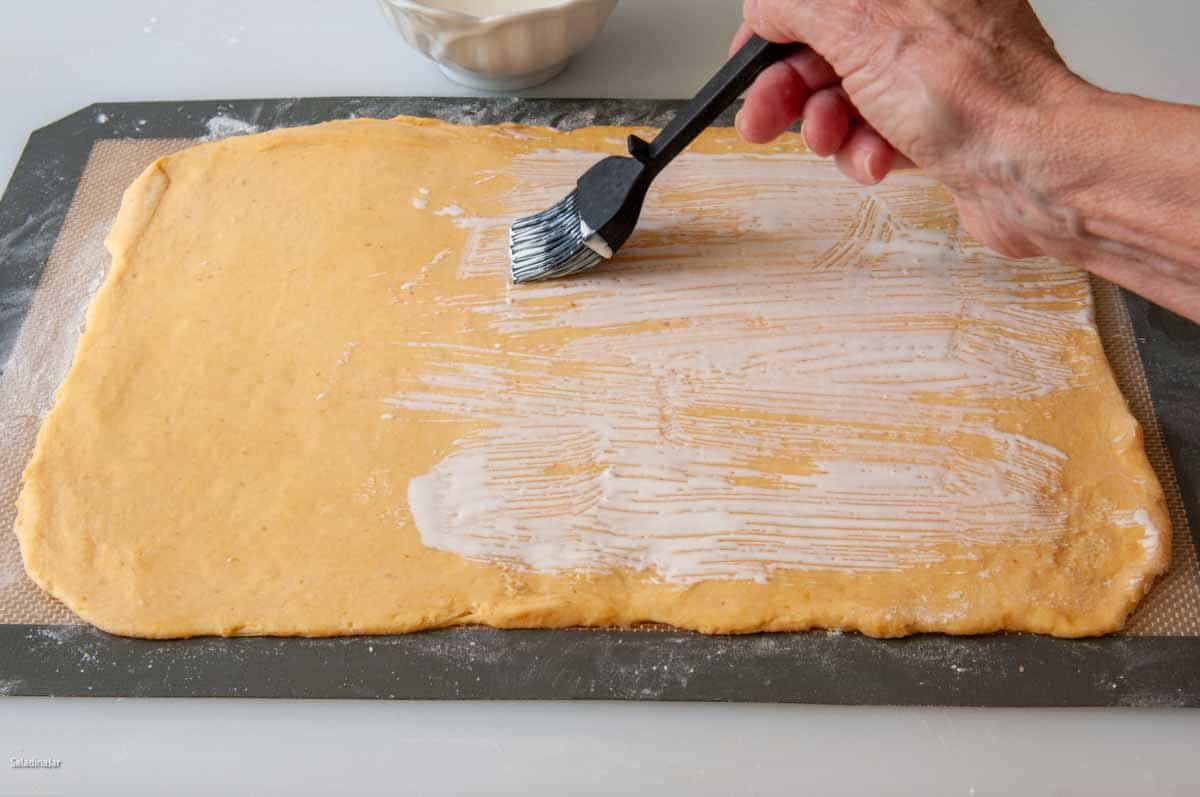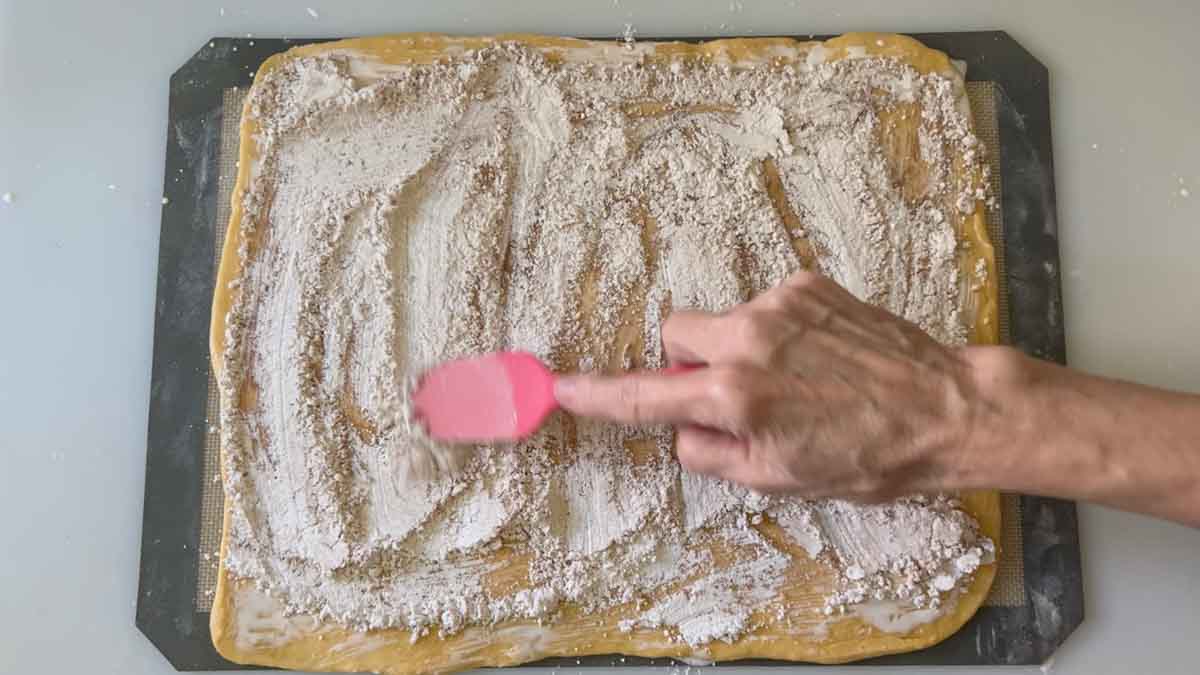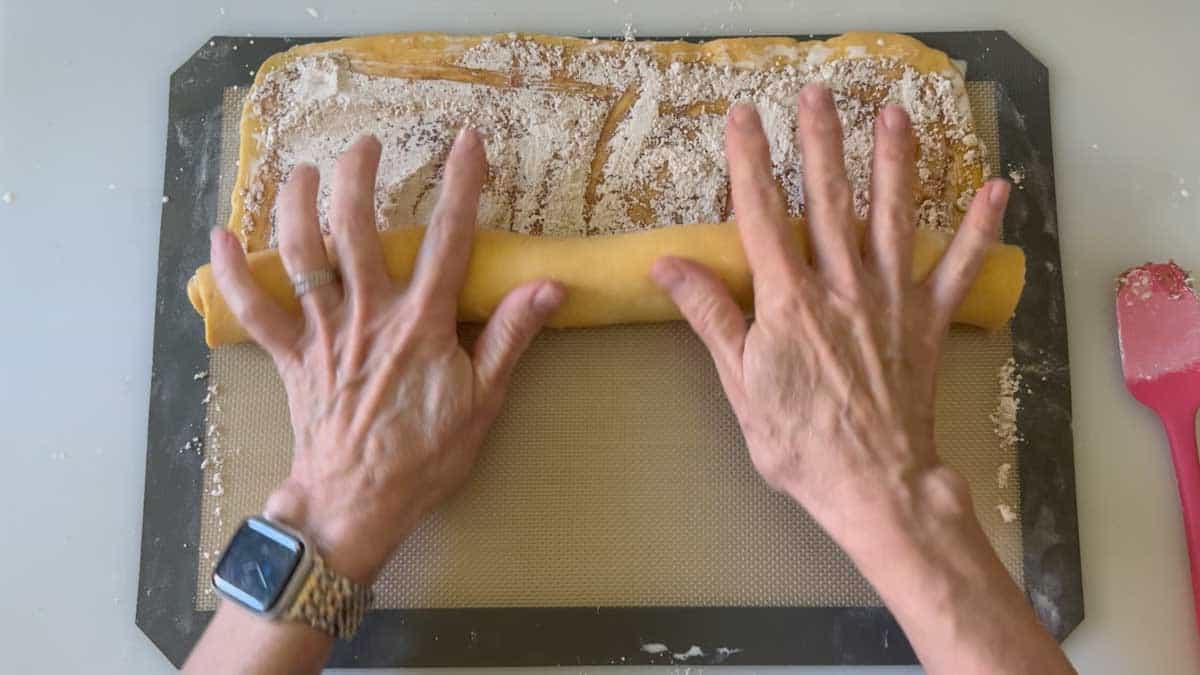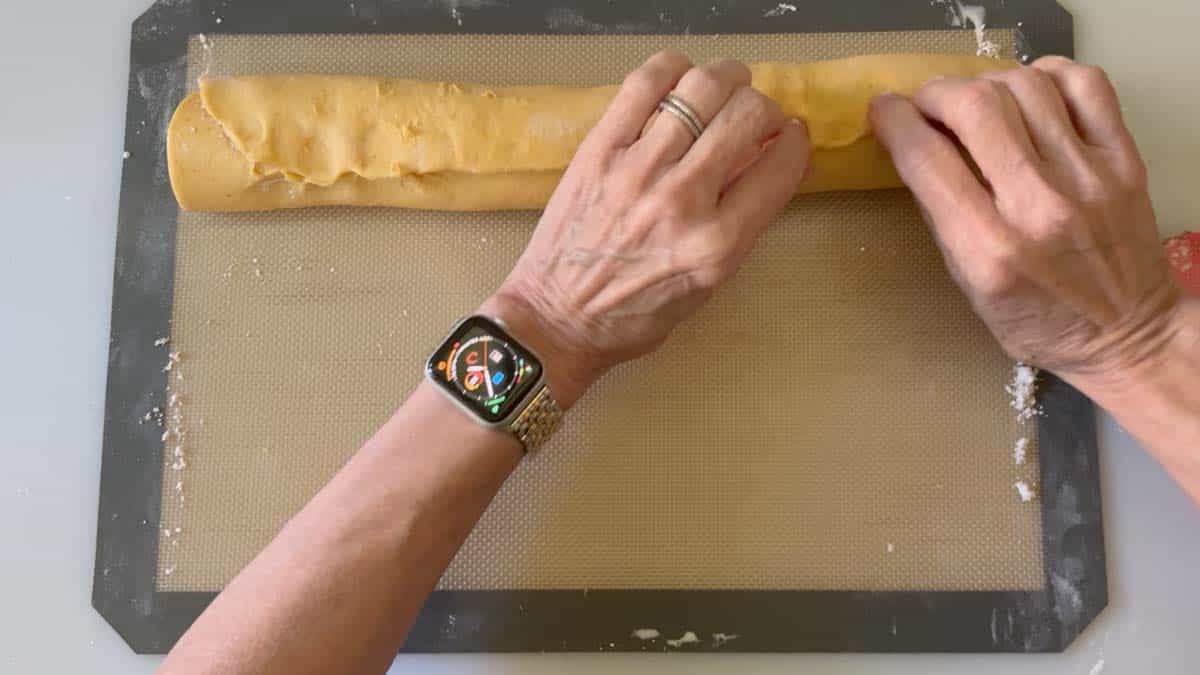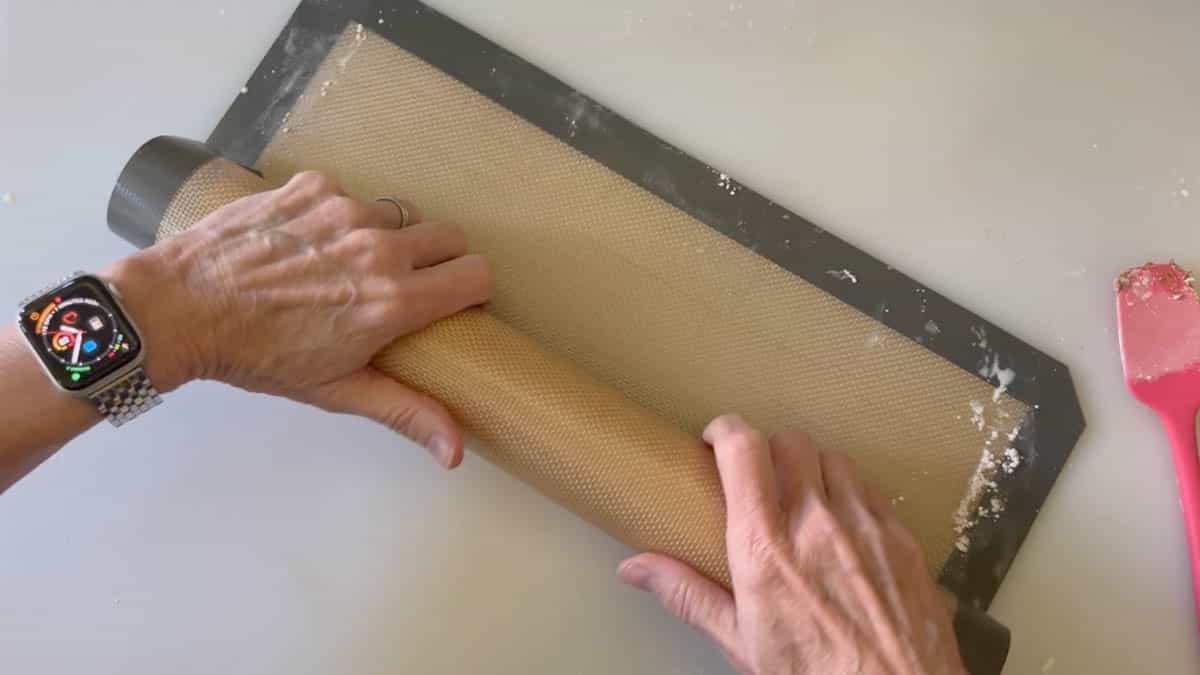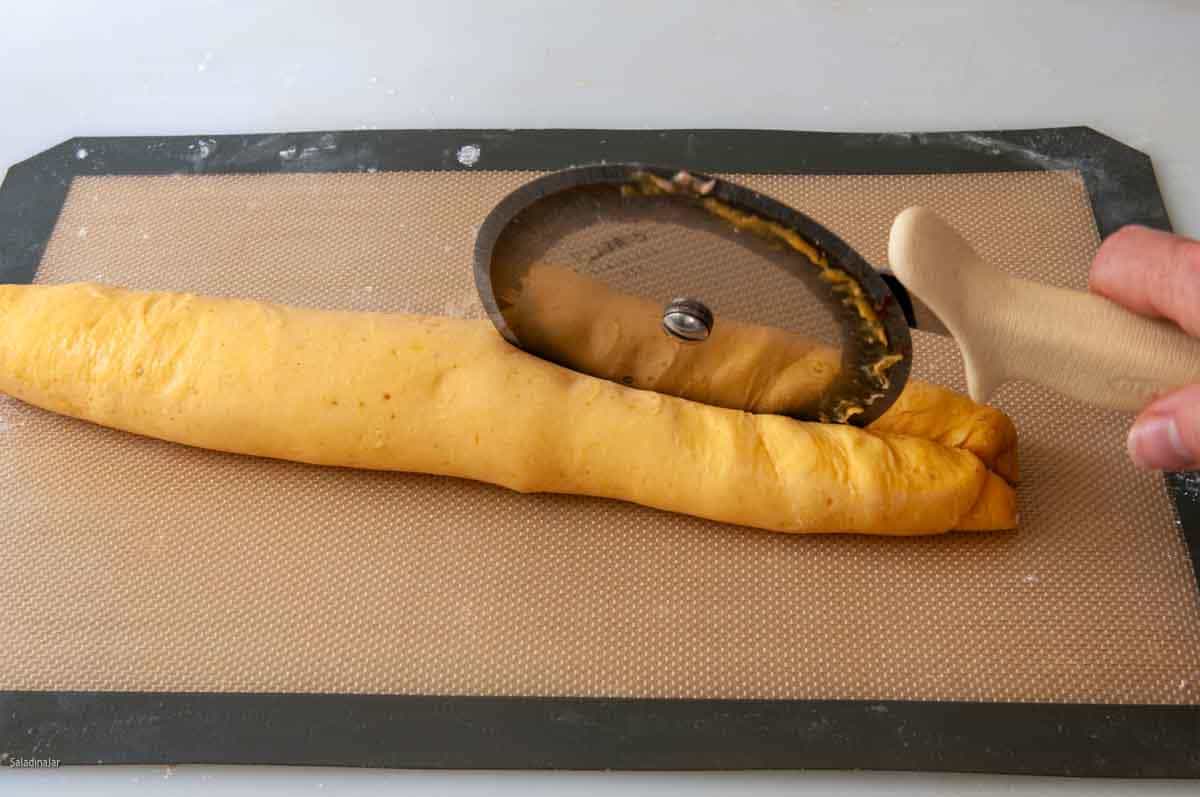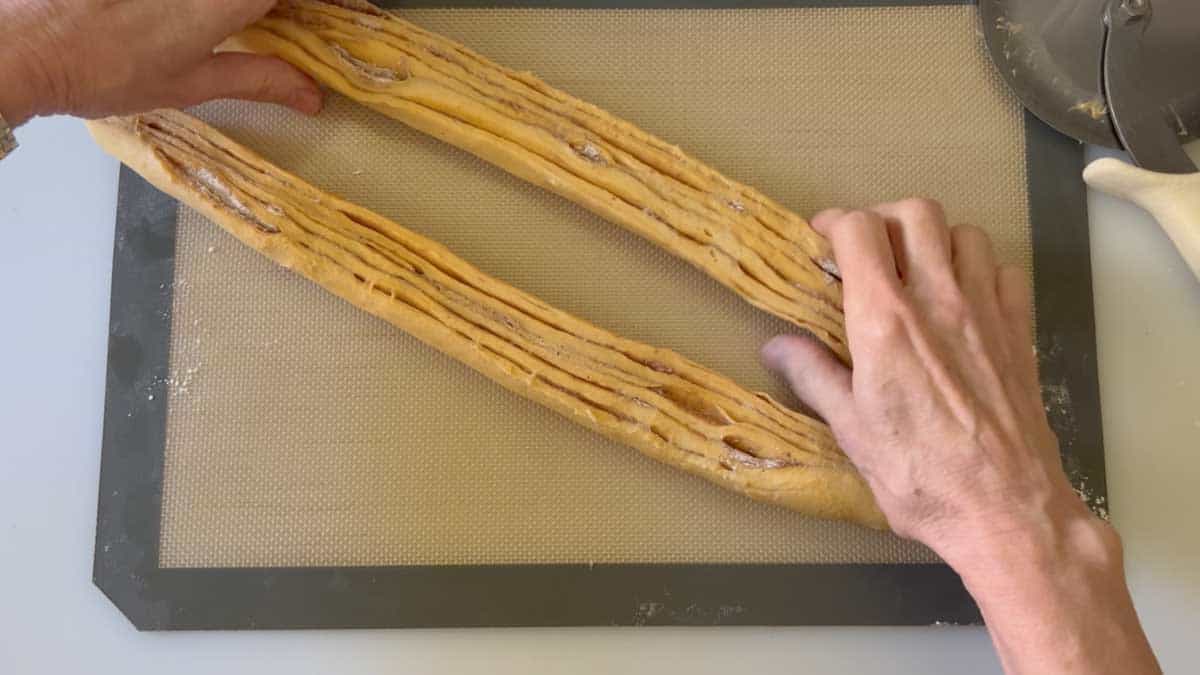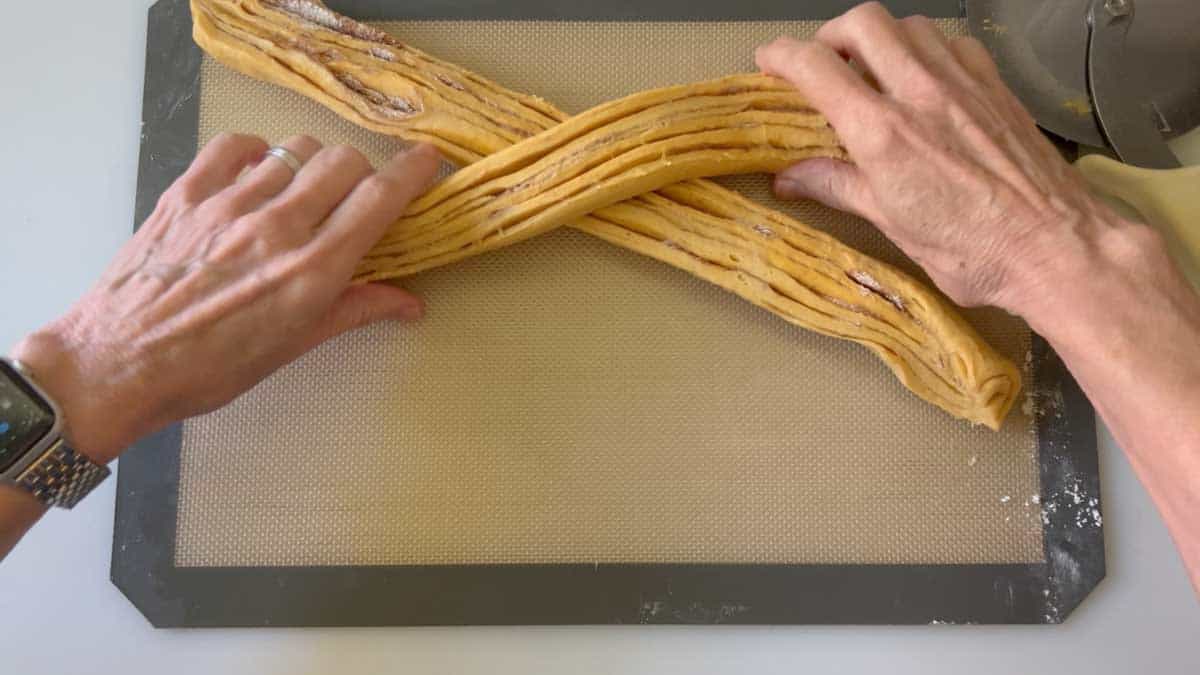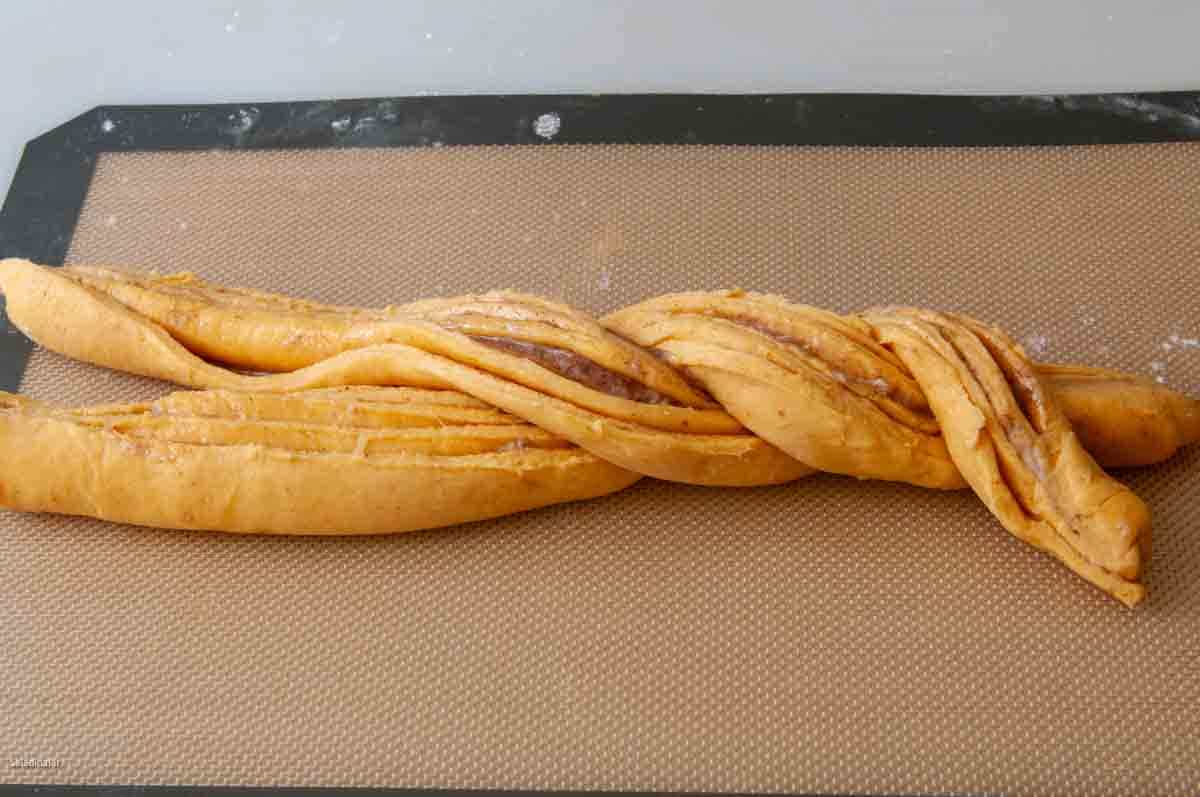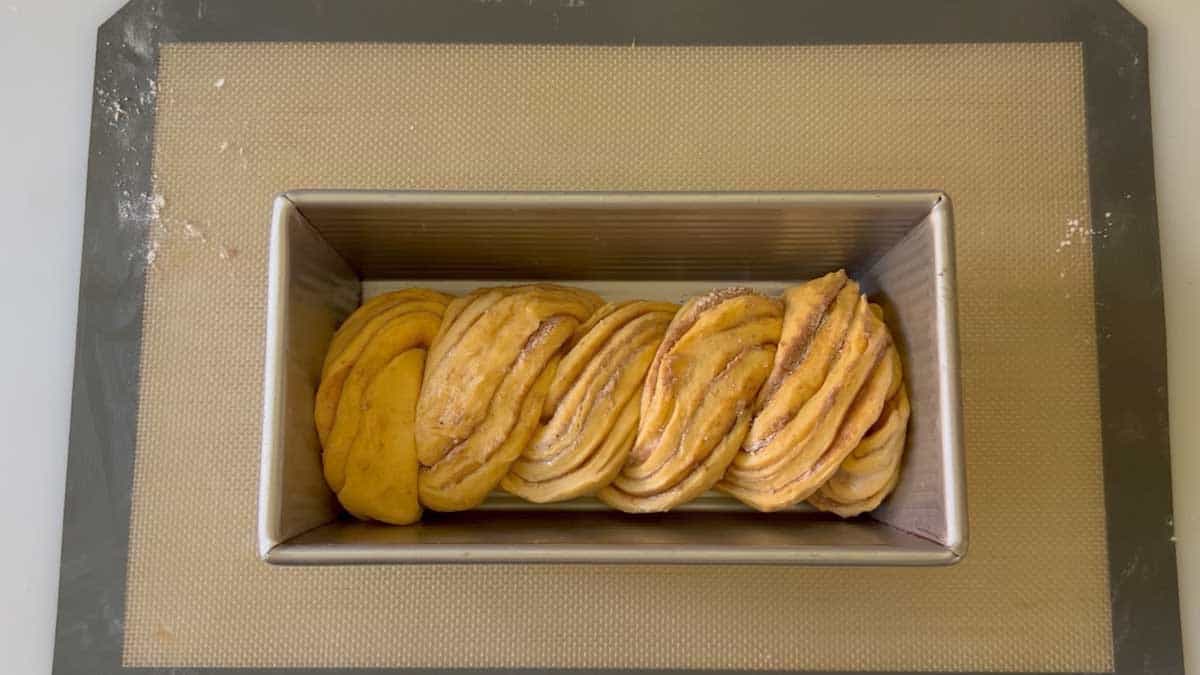 Use your hands to gently press the dough to achieve an even level throughout the pan. Don't fret if it doesn't appear flawless; the coarse sugar will conceal imperfections. Then, cover it with an inexpensive shower cap or a tea towel and let the dough undergo one more rise. The final rise is crucial, so avoid skipping it, as it ensures your bread won't turn out dense and doughy.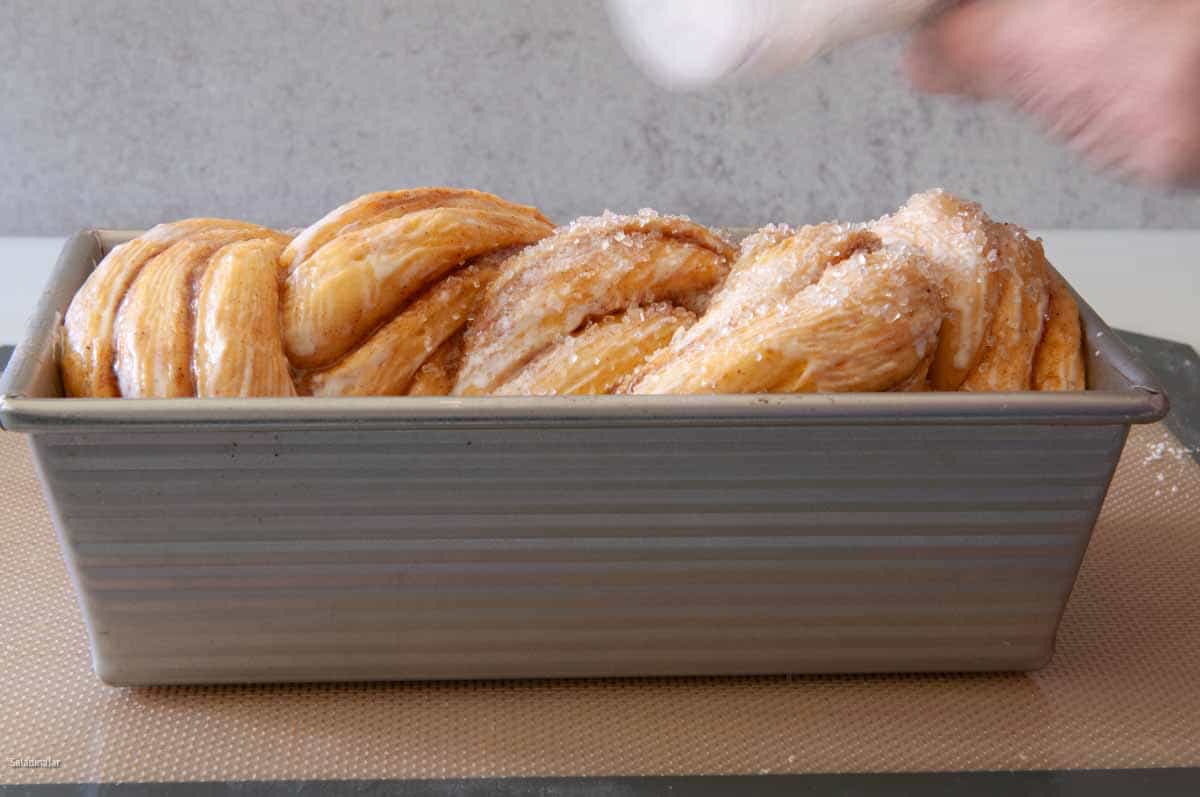 You could also sprinkle with regular sugar, but the coarse sugar is delicious, impressive, and a camouflage for shaping mistakes.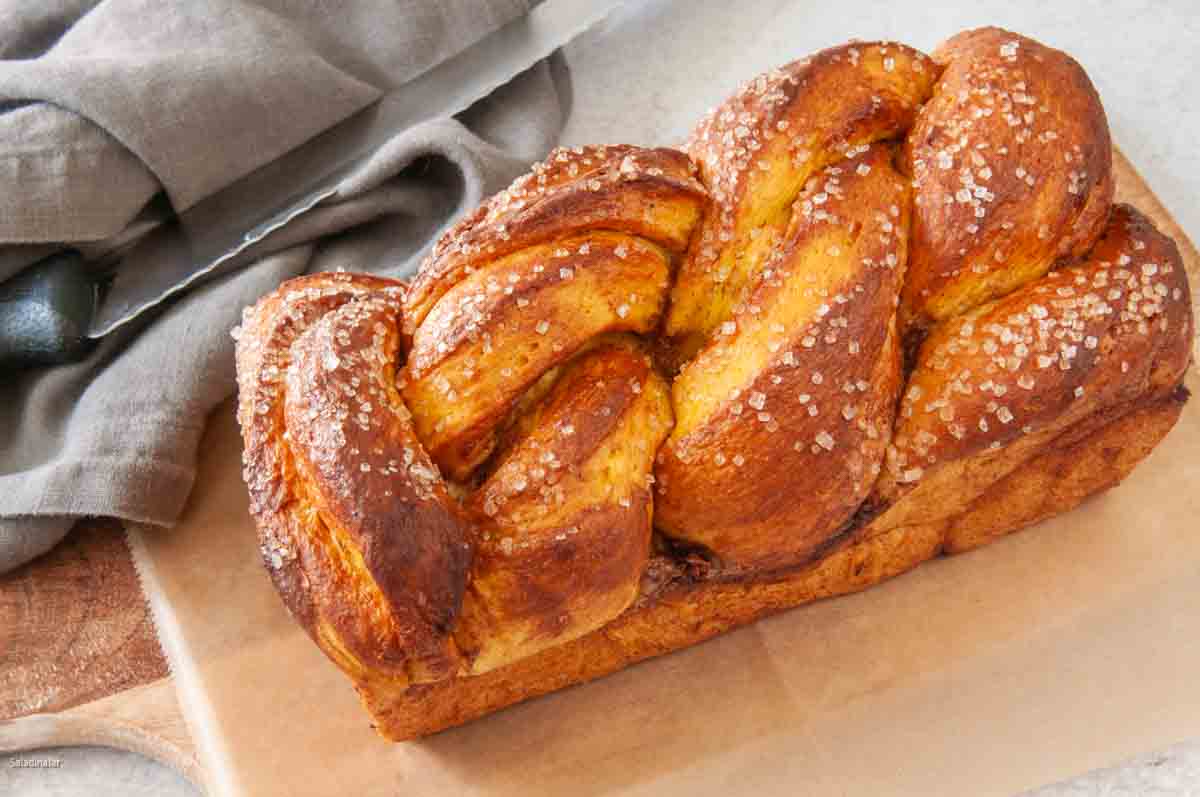 Bake at 375˚F (190˚C) for 30-35 minutes or until the internal temperature reaches 190-195˚F (88-91˚C). If the top is over-browning, cover it with foil halfway through the baking time.
---
FAQs for Pumpkin Brioche Bread with a Twist:
How long does this bread stay fresh?
It remains fresh for 2-3 days. Store it in a sealed plastic bag at room temperature, not in the refrigerator. This bread makes a superb bread pudding, especially if you lightly toast the slices first.
Can I freeze this bread?
Yes, you can, but it's best to do so by day two or not at all. Always double-wrap the bread when storing it in the freezer.
What pairs well with pumpkin brioche?
It's delicious on its own, but if you enjoy condiments, try spreading some pumpkin or apple butter on a slice of toasted or untoasted bread. You can also elevate it with a dollop of creme fraiche or whipped cream.

Can I actually bake this recipe in a bread machine? I don't recommend it. The rising times can vary greatly, making it challenging for a computer to get it right, especially with this delicate dough.
Why does my dough appear greasy?
The dough likely became too warm at some point. To prevent this, use cool or cold ingredients when assembling the dough (but avoid using frozen ones). During proofing, maintain a temperature below 80˚F (27˚C). Leaking is more common in warmer weather, especially during the summertime.
Is there any way to save this dough if the butter leaks out?
You can try adding more flour to absorb the liquid butter, but don't expect the tender and buttery texture that brioche is famous for.
How do I prevent the bread from browning too much in the oven?
Ovens vary, so consider moving the oven rack down a notch and covering the loaf with foil halfway through the baking time to control browning.
Can I double this recipe?
A standard 2-pound bread machine should handle a double batch without issue, but it's advisable to divide the dough in half and make two loaves for a lighter texture.

What pan can I use instead of a 1-pound loaf pan?
Opt for a 9 x 4 x 4 inch Pullman pan or create mini loaves. While a 9 x 5-inch pan can be used, the resulting loaf may appear squat. Aesthetics matter, especially when sharing.
---
Parting Thoughts: Don't let this recipe intimidate you, even if you're a beginner. While this unique dough may demand some practice, you're more than capable of mastering it. The sense of accomplishment from achieving something not everyone can do makes the effort worthwhile.
Alternatively, for a simpler pumpkin yeast bread, consider my Glazed Sweet Potato Dinner Rolls recipe. Just swap out the mashed sweet potatoes with pumpkin and add pumpkin pie spice. Shape the dough to your liking, allow it to rise once more, and bake in your oven. That same dough would be perfect for crafting delectable cinnamon rolls.
Recipe Help at Your Fingertips: For questions or suggestions, email Paula at saladinajar.com. If you need help, I'm happy to troubleshoot via email (faster than leaving a comment). Attach pictures and as many details as possible for the best advice.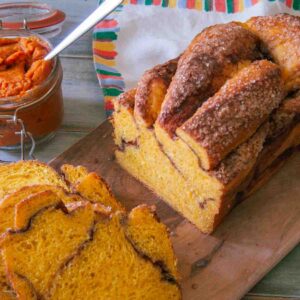 Bread Machine Pumpkin Brioche Twist Recipe
Celebrate fall flavors with this amazing recipe for Pumpkin Brioche Twist made with the help of a bread machine. Don't miss the helpful recipe secrets inside the post. Yield: one delightful loaf.
Share recipe love here. ⬇
Ingredients
½

cup

(

114

g

)

unsalted butter (1 stick)

–

cold but pliable
Tangzhong Paste
⅓

cup

(

76

g

)

milk

2

tablespoons

all-purpose unbleached flour

¼

cup

(

57

g

)

pumpkin puree
Dough:
2

large

(

100

g

)

eggs

–

cold

2

tablespoons

granulated sugar

¾

teaspoon

table or sea salt

2

cups

(

240

g

)

all-purpose unbleached flour

1¾

teaspoons

instant yeast
Filling:
1

tablespoon

water, heavy cream, or milk

⅓

cup

(

75

g

)

powdered sugar

1½

teaspoons

pumpkin pie spice
Instructions
Preparing the butter:
Chop

½ cup

(

114

g

) unsalted butter (1 stick) from the refrigerator. Set aside to warm slightly while you make the Tangzhong paste and assemble the dough.
Making the Tangzhong Paste:
Combine

⅓ cup

(

76

g

) milk and

2 tablespoons

all-purpose unbleached flour in a microwave-safe container. Whisk until smooth. Microwave this mixture for 30 seconds on HIGH, stopping at 20 seconds to whisk well. The mixture should turn into a thick "gravy" consistency. As it cools, it should look like mashed potatoes. (A few lumps are OK–they'll disappear as the dough is kneaded. If the paste is more like play dough, throw it out and try again.) Add

¼ cup

(

57

g

) pumpkin puree to the paste and stir. This quickly cools down the paste. Add this mixture to the bread machine pan.
Completing the Dough:
Add

2 large

(

100

g

) eggs,

2 tablespoons

granulated sugar,

¾ teaspoon

table or sea salt,

2 cups

(

240

g

) all-purpose unbleached flour, and

1¾ teaspoons

instant yeast to the bread maker pan.

Choose the DOUGH cycle and press the "START" button. Mix and knead the dough for 2 minutes. If necessary, use a small spatula to ensure all the flour is incorporated into the dough. The dough will look sticky and wet, like crumbly cookie dough batter.

Open the lid and quickly squish the butter through your fingers into the dough as it kneads. If necessary, use a small spatula to push the butter into the dough so it will mix in quickly.

Don't answer the phone while you do this. You don't want the butter to get too warm.

As the dough kneads, the gluten will build strength, and the dough will begin to hold its shape. However, the dough will still stick to the sides and not pull away cleanly, wait until the last 5 minutes of kneading to add any flour.

IMPORTANT: The dough will not be shiny, but it should hold its shape. The dough should pull away from the sides but not cleanly. There will be dough underneath the paddles. Only add flour if the dough will not pull away from the sides at all.

When the kneading phase ends, leave the dough in the bread machine pan to rise. Hint: If my kitchen is warm, I prefer to remove the pan from the machine so the bread machine doesn't warm the dough and cause the butter to leak. Cover and let it rise on the counter until it doubles in size.
Chilling the Dough Before Shaping:
Drop the dough into a large greased bowl and cover. Refrigerate at least 4 hours, up to 24 hours. Do not skip this step. If you don't have time for the chill, you might want to make a different bread recipe or see my kitchen tip in the post above about using a freezer to quick-chill the dough.
Shaping the Dough
Prepare the filling: Combine

⅓ cup

(

75

g

) powdered sugar and

1½ teaspoons

pumpkin pie spice in a small bowl.

Review the shaping instructions beforehand, as you'll need to move quickly before the dough warms and becomes too sticky to handle. Ready to begin? Remove the dough from the fridge and transfer it to a floured surface. I recommend using a silicone mat for effortless cleanup and hassle-free dough handling.

Roll the dough ball into a rectangle approximately 12 x 18 inches. Brush with one

1 tablespoon

water, heavy cream, or milk. Sprinkle half of the filling over the cream.

Starting with the long side, roll the dough without stretching it but tightly enough that there is no slack. Seal the seam by pinching the edge to the dough next to it.

Place this cylinder of dough into the freezer for 15 minutes. It will make the next step a lot easier. (I like to wrap the silicone mat around the dough cylinder for protection and stick it into the freezer.)

While the dough is in the freezer, prepare your pan. Unless you will be using a USA pan or a pan that has the same superior non-stick qualities, I suggest you line the bottom of the pan with parchment paper for easier removal of the baked loaf.

Remove the dough from the freezer. Slice the cylinder of dough the long way with a pizza cutter (my preference) or a large knife. You should have two half-pipes. Line them up side by side with the cut edges facing up. Carefully twist the half pipes, keeping the cut side up at all times. See the video for what this looks like.

Place into an 8½ x 4½-inch loaf pan or a 9×4-inch Pullman pan. Fold under the ends. Gently press the braid down into the pan with your fingertips to distribute the dough throughout the pan. Cover and allow to rise until it reaches the edge of the pan. Depending on the ambient temperature, this final rise may take one and a half hours to three hours.

Preheat a conventional oven to 425 F (220 C)

When the twist has risen to the top of the pan, paint the top with

1 tablespoon

heavy cream or milk. Sprinkle with

1 tablespoon

coarse sparkling sugar. Turn oven temperature back to 375˚F (180˚C) and bake for 30-35 minutes or until the internal temperature reaches 190-195˚F (88-91˚C). If necessary, use foil to protect the top from over-browning about halfway through the bake time.

Remove the bread from the bread pan within 5 minutes before the sugar cools. Let cool on a wire rack for at least an hour before slicing.
Notes
See the notes in the post for substitutions and the FAQ for answers to common questions about making brioche in a bread machine.
Nutrition
Serving:
1
slice
|
Calories:
204
kcal
|
Carbohydrates:
21
g
|
Protein:
4
g
|
Fat:
12
g
|
Saturated Fat:
7
g
|
Polyunsaturated Fat:
1
g
|
Monounsaturated Fat:
3
g
|
Trans Fat:
0.4
g
|
Cholesterol:
55
mg
|
Sodium:
140
mg
|
Potassium:
66
mg
|
Fiber:
1
g
|
Sugar:
6
g
|
Vitamin A:
1060
IU
|
Vitamin C:
0.2
mg
|
Calcium:
19
mg
|
Iron:
1
mg
HELP OTHERS find this recipe. Leave a 5 🌟🌟🌟🌟🌟 rating at the top of the recipe card if you enjoyed it. No comment is required.