Best Chicken and Rolled Dumplings with Egg Recipe (Instant Pot)
Preview: The Best Chicken and Rolled Dumplings with Egg Recipe will show you how to prepare a whole chicken with deliciously flavored broth to go with homemade flat dumplings.
Is it cold where you are? If so, you must give these scratch Chicken and Flat Dumplings a try.  I can think of no better way to chase away goosebumps, colds, or whatever else is ailing you.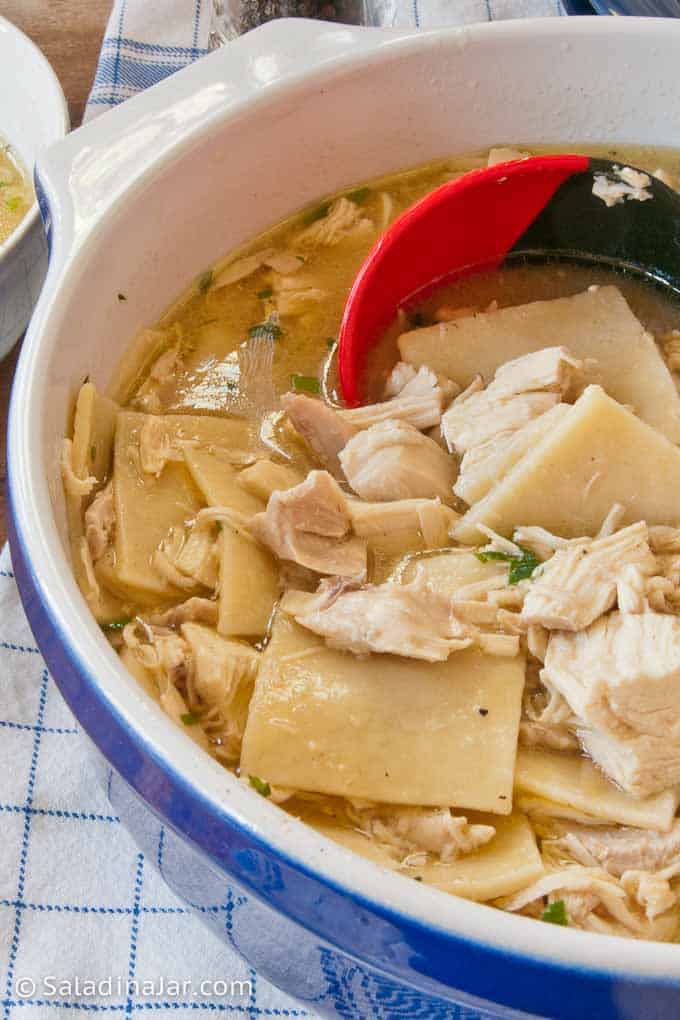 As an Amazon Associate, I earn from qualifying purchases.
If you like to make your chicken and dumplings from scratch, beginning to end, this recipe is your ticket to happiness. I've included easy directions for mixing the rolled dumplings in a food processor and rolling them out by hand. Don't miss my easy trick for cutting them up.
If this recipe seems like too much trouble, don't worry.  The noodles don't have to be perfect. Handmade equals character!
The broth is easy to prepare with an Instant Pot. You can also fix the broth ahead of time. It's better that way so you can easily remove the fat layer from the chilled stock.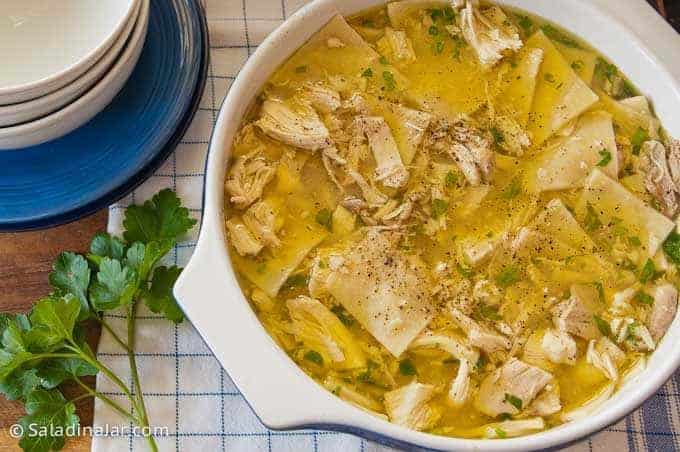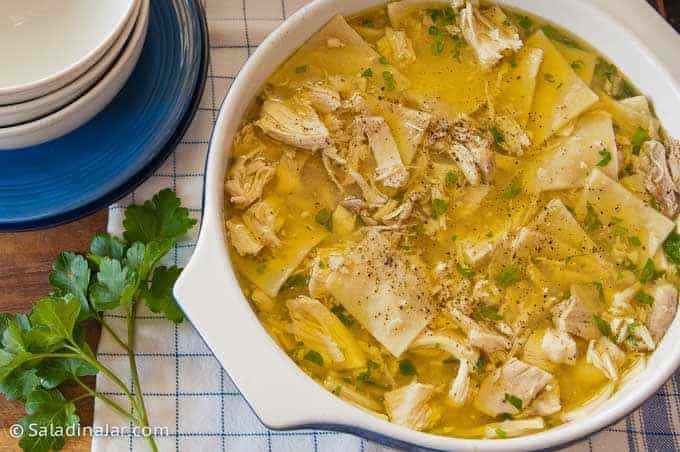 Ingredients and substitutions:
CHICKEN: A whole chicken is specified in the recipe. Substitute 3-4 cups of torn leftover chicken or rotisserie chicken if you prefer. However, I recommend the whole chicken because the recipe for cooking the chicken makes perfectly seasoned and extremely tender meat to go along with the flat dumplings.

CHICKEN BOUILLON: I prefer bouillon paste over the cubes. It tastes fresher in my opinion. Use either one.

LEMON JUICE: Fresh lemon juice tastes better to me than a bottle of lemon juice. Lemon juice is added to the broth when cooking the chicken, so it's not worth an extra trip to the store. That's why I keep fresh lemons in my crisper at all times.

LEMON PEPPER SEASONING: If you don't have this, it's worth buying. Try it on fresh broccoli when you're in a hurry.

ONION FLAKES: Toasted onion flakes are one of my favorite ingredients in the spice cabinet. Try adding them to the dough the next time you make dinner rolls. Substitute fresh or frozen onions that have been sautéed to make them soft.

CELERY SEED: This spice is the secret to the savory broth created by this recipe. It's also good to add to potato salad.

FLOUR: Use all-purpose flour, bleached or unbleached.

EGG: All my recipes are written to use large-sized eggs. If you use a different size than "large," use more or less liquid to compensate.

BUTTER: Use salted or unsalted butter, margarine, or shortening.

PARSLEY: Fresh parsley adds freshness and color. Use dried parsley if you must, or leave it out.
How to cook a whole chicken with an Instant Pot: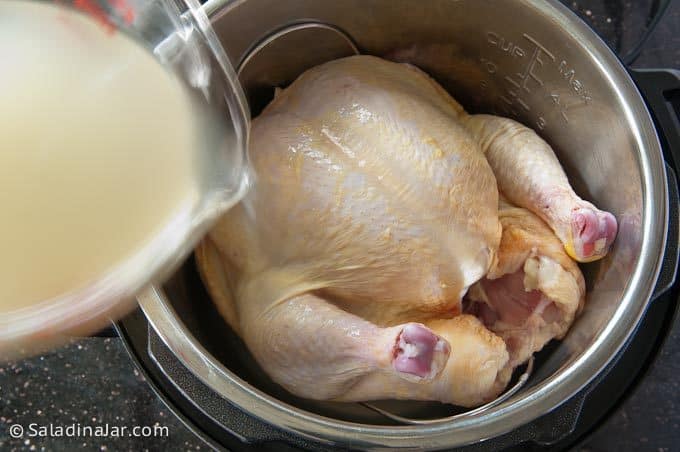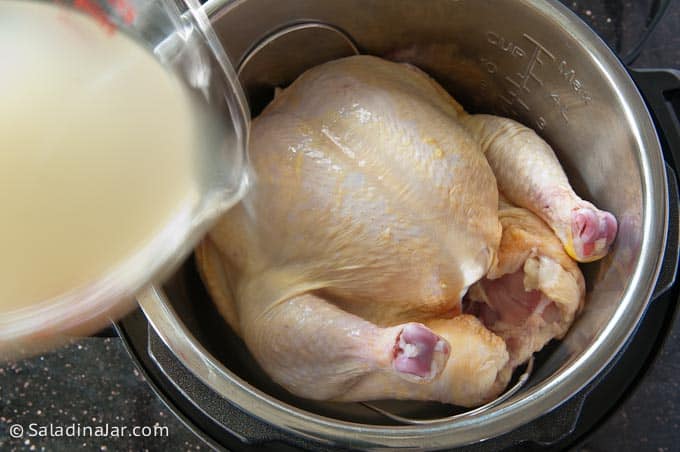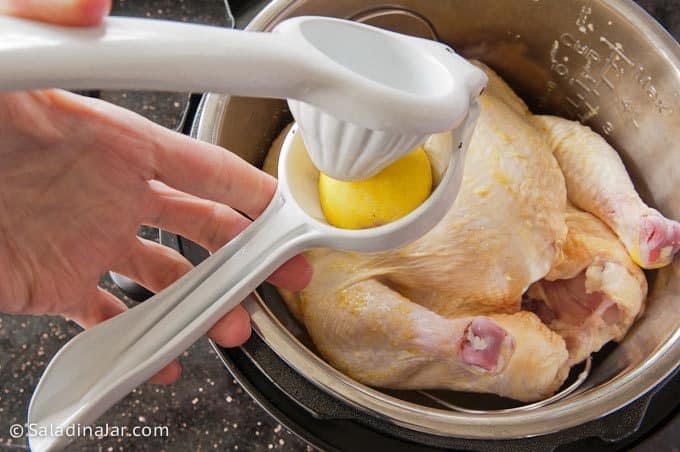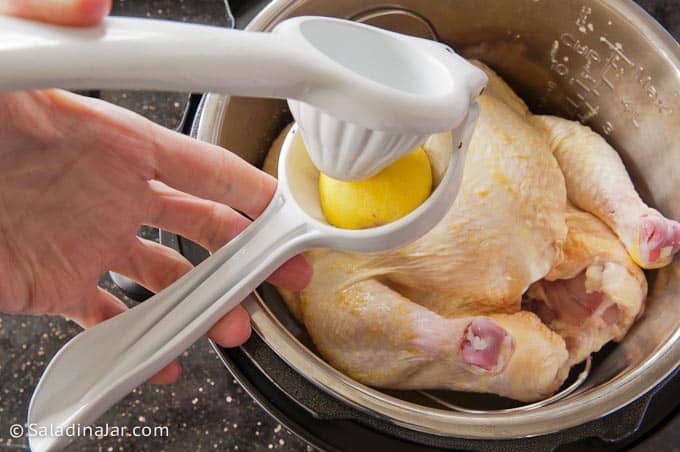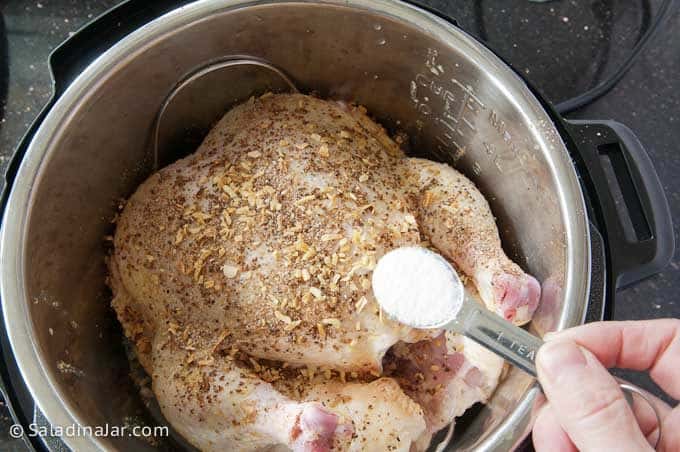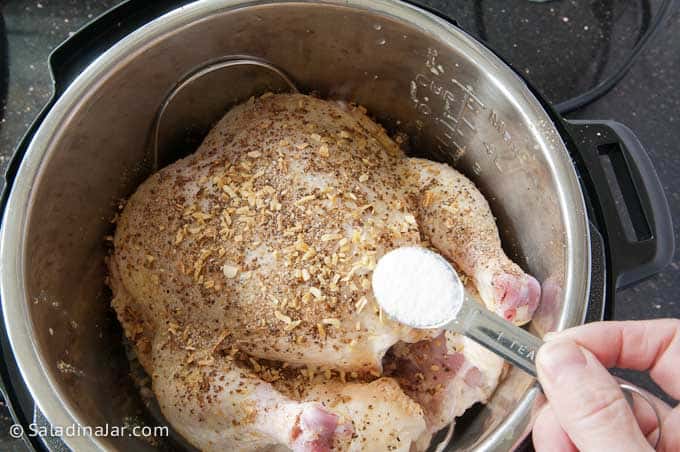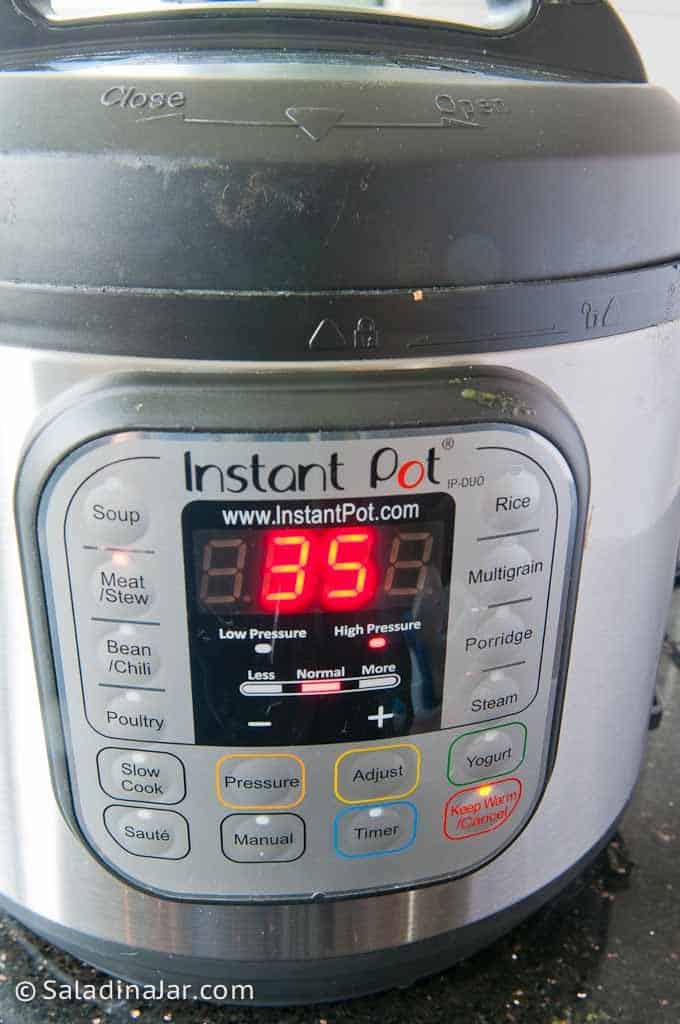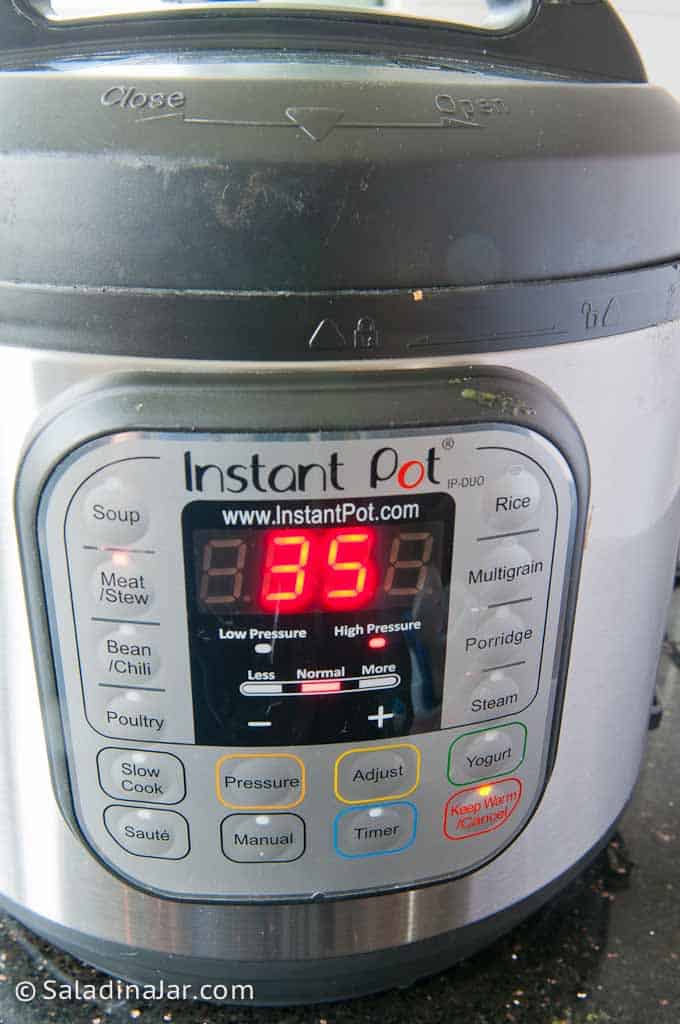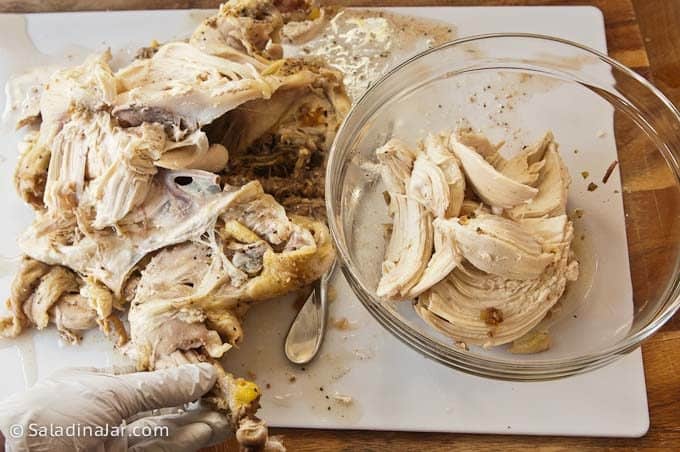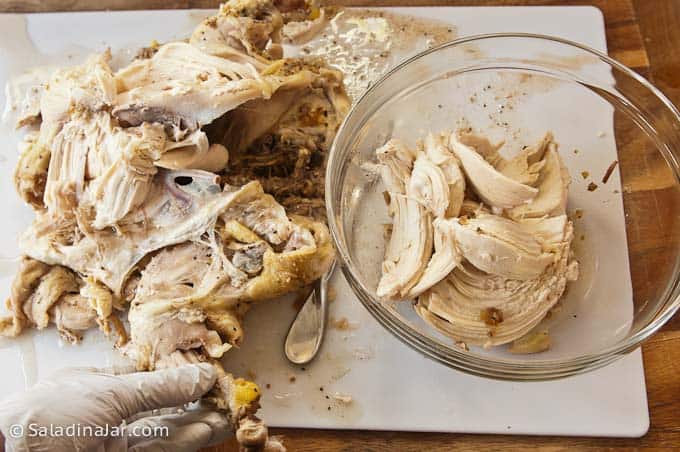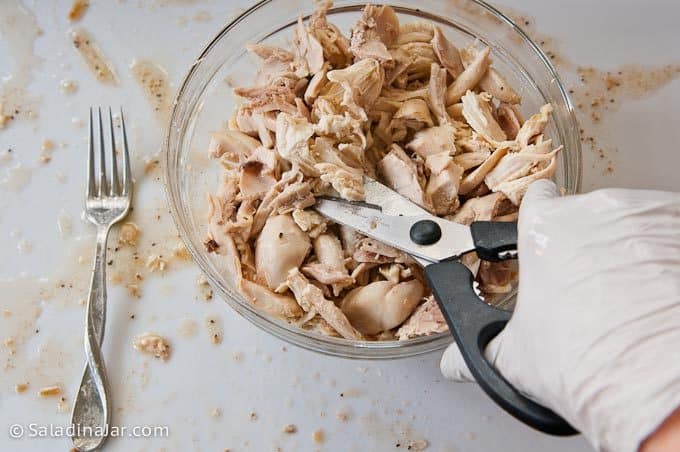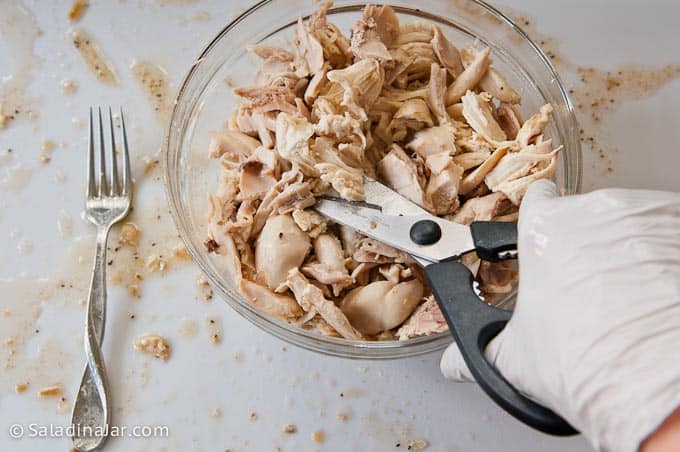 How to mix dumpling dough in a food processor: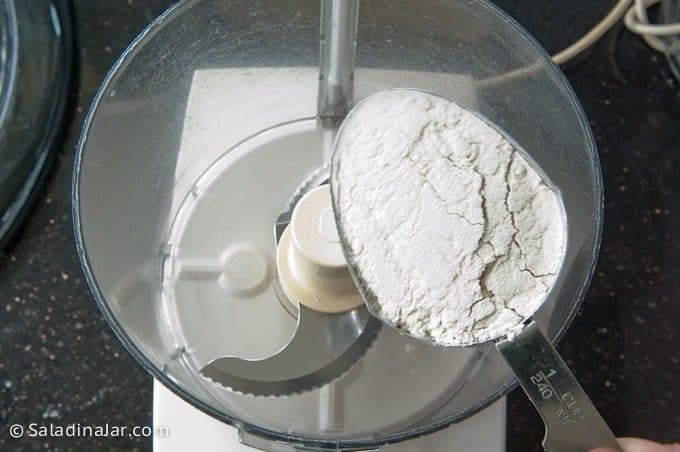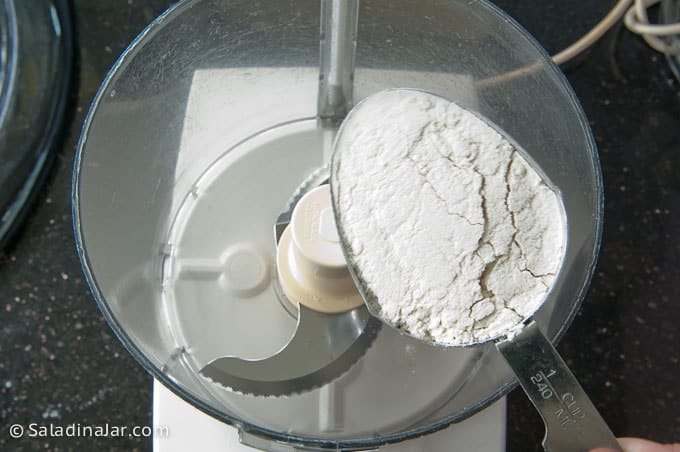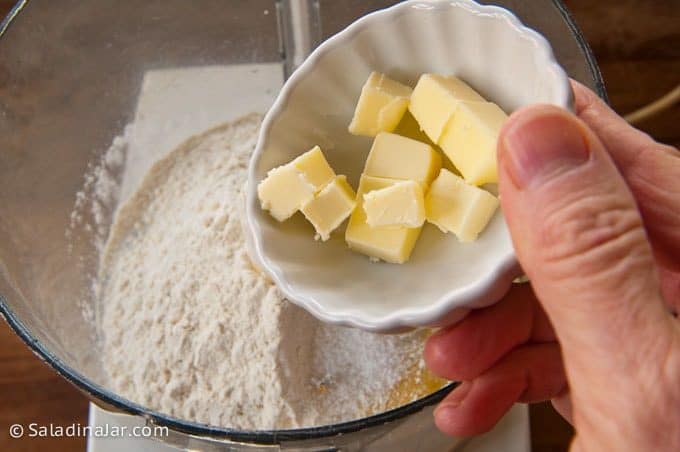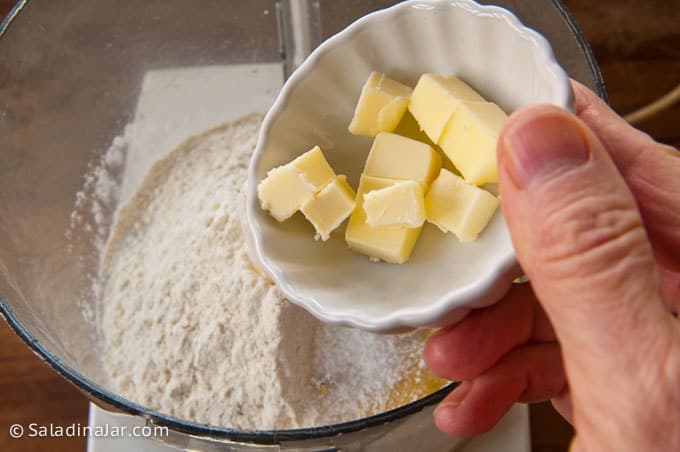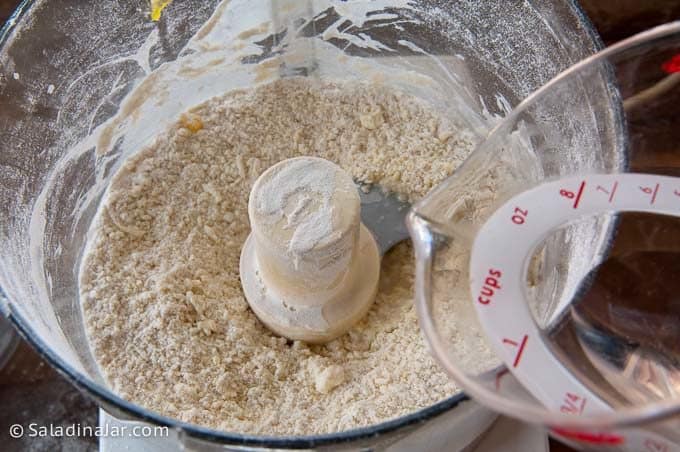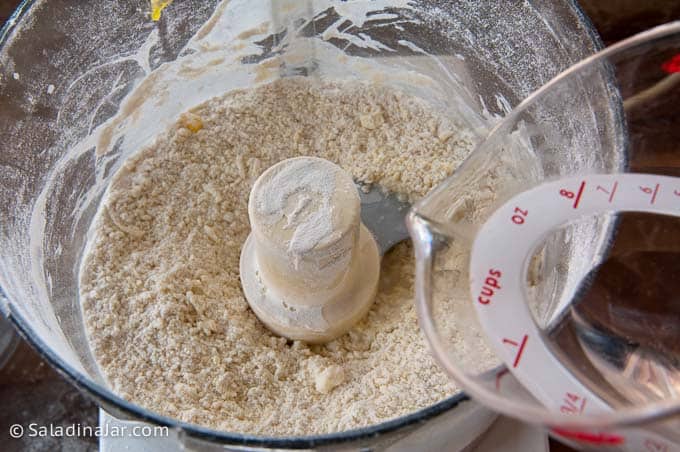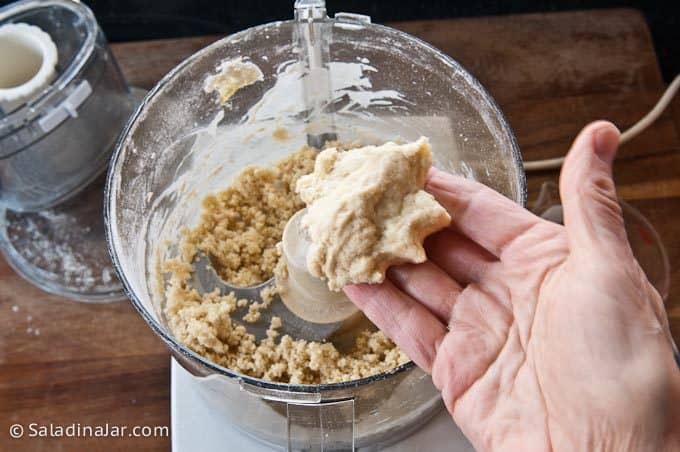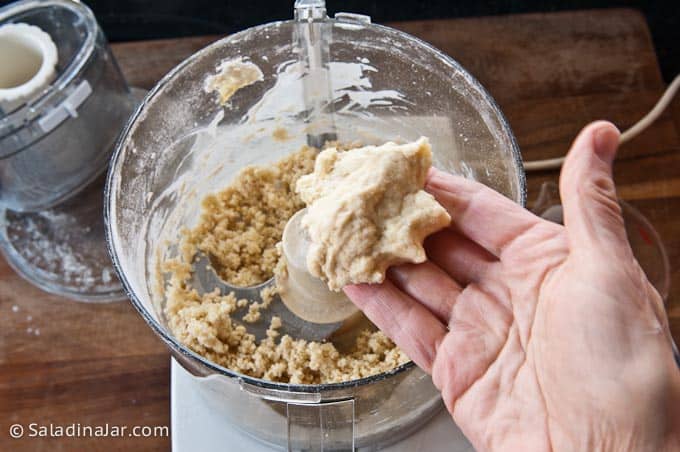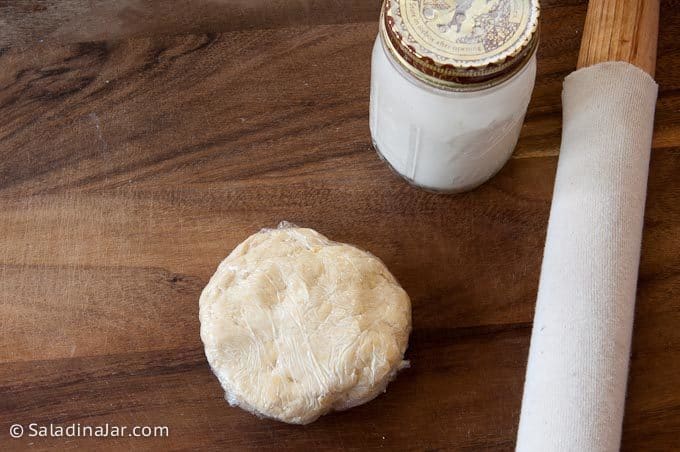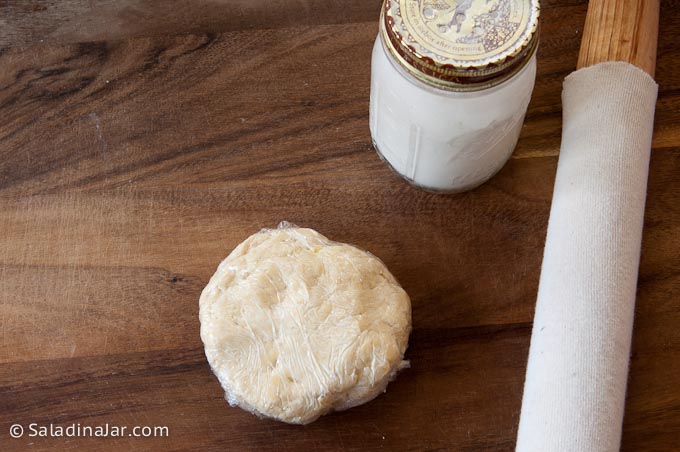 How to cut rolled dumplings with egg: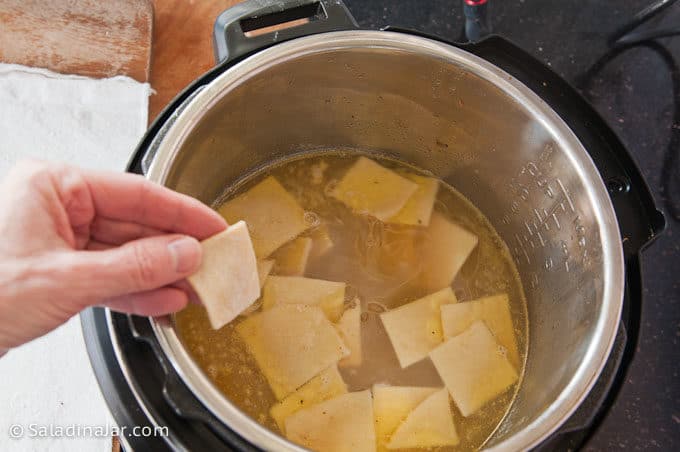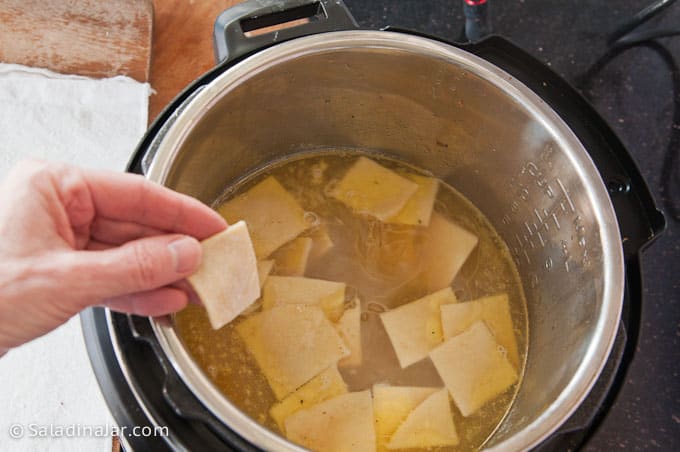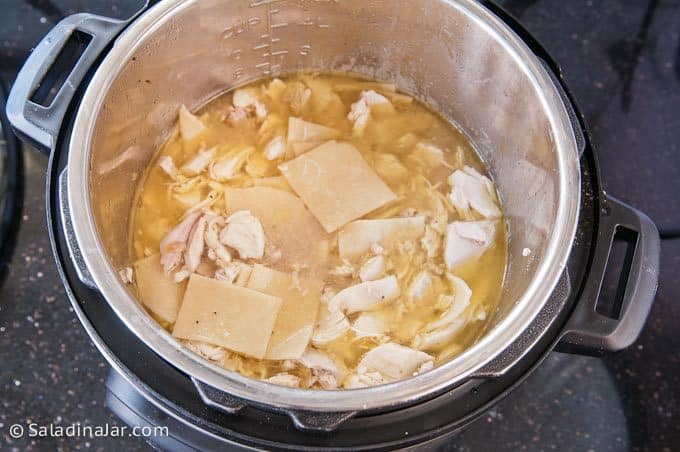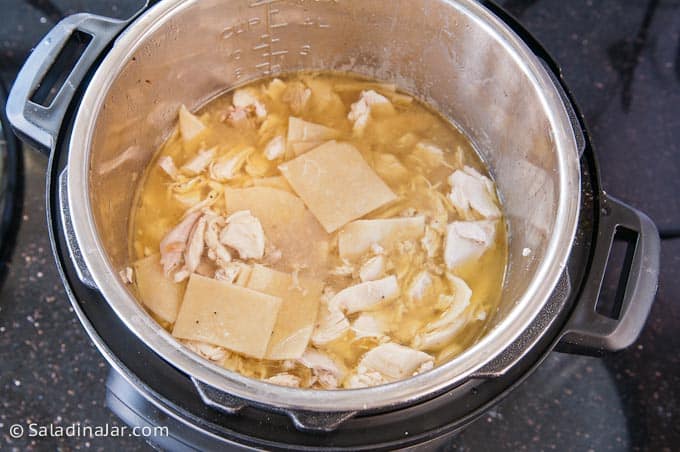 FAQ about Chicken and Dumplings:
Is it worth the trouble to cook a whole chicken?
Even if you prefer fluffy biscuit-type dumplings or the ease of cut-up flour tortillas, you must try this method for cooking a whole chicken.  The seasoning is simple but divine.

This recipe for cooking a whole chicken will work for any recipe calling for cooked chicken such as this Rotisserie Chicken and Mushroom Chowder or casseroles such as Cheese-Crusted Creamed Chicken and Chips. The broth is perfect for egg noodles.
I don't have a food processor. Can I make the noodles by hand?
Yes. Making noodles by hand is more time-consuming but just as tasty.
---
More recipes for an Instant Pot:
If you have questions or suggestions, email me privately to Paula at saladinajar.com. Hope to see you again soon! Paula
Chicken with Rolled Dumplings (Instant Pot) Recipe
Perfect chicken and broth for homemade dumplings you can make in an Instant Pot
Ingredients
Chicken and Broth
1 4-5

pounds

whole chicken

3

cups

water

1

tablespoon

chicken bouillon paste

1

tablespoon

lemon juice

2

teaspoons

lemon pepper seasoning

1

teaspoon

dried onion flakes

1

teaspoon

celery seed

1

teaspoon

salt
Noodles
1 ½

cups

all-purpose flour

1

large egg

-

beaten

1

tablespoon

unsalted butter

½

teaspoon

salt

5

tablespoons

water
Garnish
1

tablespoon

fresh parsley

-

chopped
Instructions 
Cooking a Whole Chicken and the Broth
Clean chicken inside and out thoroughly.

Place rack with handles into the bottom of Instant Pot. Then place chicken onto rack.

Stir warm water and bouillon together. Pour over chicken.

Sprinkle remaining ingredients over the chicken and set to cook on HIGH pressure for 35-40 minutes. (Use 40 minutes if chicken is 5 pounds.)

Allow pressure to release naturally for 15 minutes.

Open pot and remove chicken to cool. As soon as you can handle chicken, take the meat off the bones and tear in bite-size pieces. (Optional: If you have time, chill the chicken broth and remove excess fat.)
Dumplings
Add all ingredients to a food processor (my preference) or use an electric mixer. Mixture may look like coarse cornmeal or could be soft dough depending on weather conditions, humidity, size of egg you used, etc. If dough does not come together, press it into a ball with your hands. If it still will not stick together add water a few drops at a time. Once you can press it into a ball, you're good.

Form ball of dough into a flat disc, cover and allow to rest for 10 minutes.

Roll out dough very thin (12 x 14″ rectangle or larger) on a floured surface and let the dough dry for about 20 minutes. (Hint: I use a pastry cloth or tea towel covered generously with flour instead of the counter to roll out my noodles. Clean-up is easier when you can throw the pastry cloth in the washer and the dough doesn't stick as easily.)

Turn on the Sauté function on the Instant Pot and bring broth to a rolling boil.

Cut dough into small strips and drop in boiling, rich chicken broth. Cover pot and simmer about 10 minutes. Add chicken and continue cooking until hot.
Notes
If you are not planning to eat your chicken and dumplings immediately, you will need to add water to make a soupy consistency. Just like any pasta dish, the pasta absorbs the liquid as sits in the broth.
Nutrition
Nutrition Facts
Chicken with Rolled Dumplings (Instant Pot) Recipe
Amount per Serving
% Daily Value*
* Percent Daily Values are based on a 2000 calorie diet.
Essentials
French Wooden Rolling Pin 18" x 1.55" for Baking Pizza Pastry Dough, Pie Crust & Cookie – Kitchen Cuisine Utensil Smooth Tools Gift Ideas for Professional Bakers, Restaurants, Grandmas – MR. WOODWARE
Like this recipe? Thanks for leaving a 5-star rating inside the recipe at the top! 🤩