Preview: Grandma's Homemade Thin Egg Noodles recipe is made with a food processor and a simple hand-crank pasta machine. Even though Grandma made hers by hand, these are every bit as delicious, and much simpler.
My grandma made her famous thin noodles by hand. I can still picture her wearing a full-length apron over a simple cotton dress with her long gray hair twisted into a bun. Her work area was an aqua-colored Formica-topped breakfast table.
Grandma's hand-mixed dough submitted to her silver-handled rolling pin with little resistance. After the noodle sheets dried, she cut wide strips and stacked them. Finally, she cut each stack crosswise into slivers she described as "thin as frog's hair."
When asked her secret to great noodles, I remember her saying, "It's all in the broth."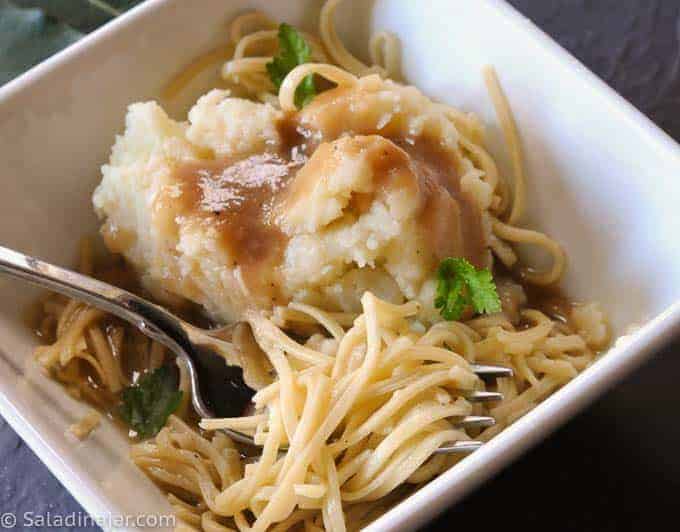 Why make skinny or fine egg yolk noodles?
TRADITION!
And they taste outstanding, too.
Here's the problem:
In our family, the noodle recipe is controversial. I asked around but could find no consensus.
Aunt Marg says the best noodles come from using only egg yolks, cake flour, a dab of cream, and salt. That formula would result in some very tender noodles indeed, but she didn't specify amounts.
---
Ingredients and substitutions:
FLOUR: The recipe specifies all-purpose flour. My aunt used cake flour which produces the tenderest noodles known to man. Please note that you are not going for chewy noodles such as you would serve with spaghetti. A high-protein flour (such as bread flour or whole wheat) would make chewier noodles.

SALT: Any kind of salt if fine. You don't need much. However, the broth should be well-seasoned with salt.

BAKING POWDER: The baking powder is an obscure detail I sem to remember copying from my best friend's recipe book. Maybe Gran gave her some insider information or perhaps it was her own mother's recipe. I'm not sure. At any rate, it can be omitted if you prefer. I think it give the noodles a touch of lightness.

EGG YOLKS: Using egg yolks only will make rich and deeply colored noodles. If you prefer, use one egg and one yolk for lighter colored noodles that aren't quite as rich.

HEAVY CREAM: Substitute whole milk for cream if you don't have it. Your noodles won't be as rich, that they will still taste fabulous.

STOCK: My first choice would be freshly-made turkey or chicken broth. Substitute canned broth, buoillon paste, or buoillon cubes if nothing else is available.
---
How to serve thin egg noodles:
One thing we agree about is how to eat these noodles. Serve and eat skinny egg noodles with mashed potatoes and gravy. If that doesn't sound good to you, I'm guessing you aren't a Midwesterner. No problem. Add some chicken or beef and plenty of quality broth. You'll love them.
Since I've moved to Texas, I like to throw some cornbread dressing and buttered corn into the mix too. I'll spare you a picture of that concoction.
If chicken stock isn't your favorite, try cooking these noodles in beef stock. That's the way my sister-in-law always does it. Her grown grandkids go crazy for them.
---
What you should know about making homemade Thin Egg Noodles:
#1
You can mix, roll and cut these by hand, but I prefer a simple noodle machine.
A pasta machine will produce noodles much skinnier than I can cut. With that in mind, the directions on this post are for a noodle machine. Grandma would have nothing to do with a machine.
#2
Your noodles will be no better than your stock. Grandma said so.
My favorite way to prepare chicken stock is to put the bones of a rotisserie chicken into a slow cooker overnight. If you prefer, you could try the recipe I use for my Chicken and Dumplings, but I would leave out the lemon juice.
#3
Don't be deceived by the small amount of dough produced by this recipe.
It has a way of birthing babies, and you will begin to think you won't finish cutting noodles before Santa drops down the chimney.
This recipe makes enough for 4-5 people or even more if there's a lot of other food, such as Thanksgiving. I usually double the recipe for a big family gathering.
#4
Don't throw out the egg whites with the shells.
Grandma and my sister-in-law, Susan, always make angel food cake with the leftover egg whites. If you like that idea, here are a few ideas: Espresso Angel Food Cake, Chocolate and Vanilla Angel Food Cake with Dipped Cone Ising, Snowball Cake
---
Mixing up the dough in a food processor:
Add flour to the food processor bowl along with salt and baking powder. Pulse several times to mix. Add egg yolks and half of the cream to dry ingredients and process until the texture of cornmeal.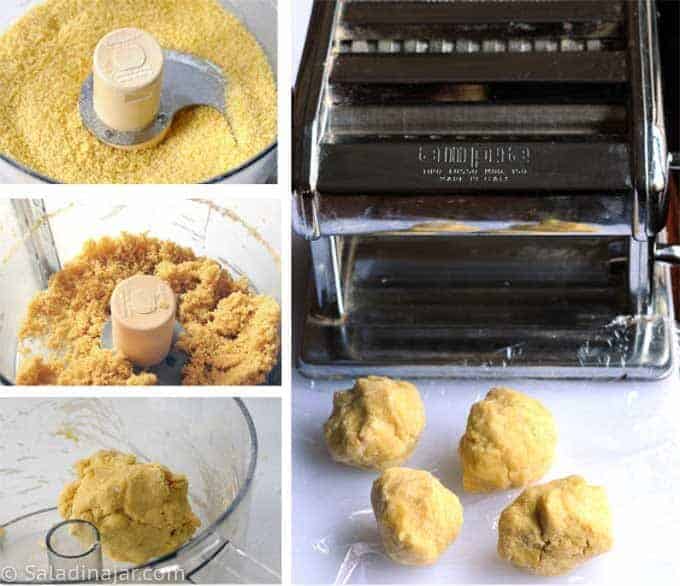 Gradually add the rest of the cream by dripping it until the mixture is just damp enough to stick together when pressed with your hand. It should not be wet or excessively sticky.
Knowing when you've added the right amount of liquid takes some experience best learned from your own mistakes or while watching over Grandma's shoulder. If necessary, add more flour or cream/milk if needed.
---
How to roll out skinny noodle dough:
First: Use your fingers to press the dough into a ball and remove it from the bowl. Cover and allow to rest 10+ minutes. Next, divide the dough into four sections. Smash each section into a flat pancake with the palm of your hand on a floured board. It's OK, even advisable, to be liberal with the flour.
Kneading the dough
Second: Set noodle machine thickness to 1 and roll one dough patty between the smooth rollers. Fold over and put through the machine again.
Repeat the process at least 4-5 times until the sheet of dough is smooth and shiny. Do this with each patty.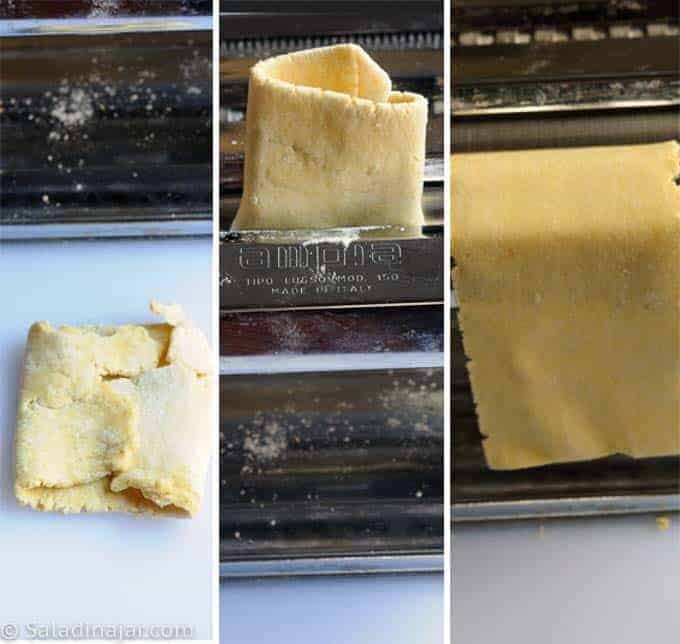 Although this sounds time-consuming, it goes fast once you get the hang of it.
Set the thickness of the smooth rollers on #2 and roll each sheet through once or twice, tugging slightly on the dough as you pull it through. Keep moving the roller thickness up a notch and repeat the process. I like my noodles as thin as possible, so I go all the way to 5 or 6 on my machine.
Along the way, use flour whenever necessary to keep the dough from sticking. As dough strips get thinner, they get longer. Cut in half crosswise as needed.
---
Cutting the noodles:
Third: When noodles reach your desired thinness, lay them out to rest and dry. There should be no overlap between the strips. After the noodles are dry enough (again, experience is the best teacher), cut strips as long as you want your noodles to be. I usually make mine 3-4 inches.
Feed strips through the fine noodle cutter. Noodles should NOT stick together as they come out of the cutter. If they do, allow the dough to dry longer or dust with more flour.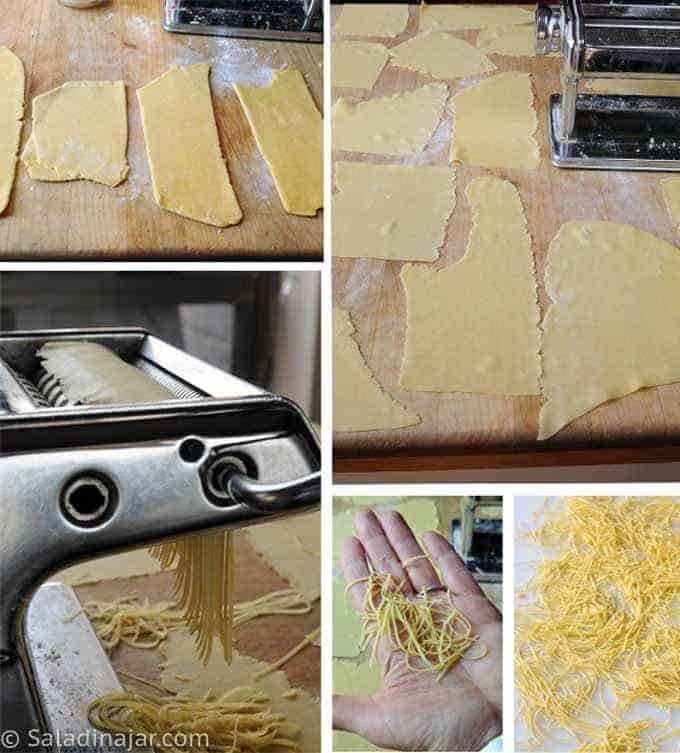 Cook freshly-cut noodles immediately. Otherwise, allow the noodles to dry for several hours.
---
When you're hanging out in the kitchen:
Occasionally, walk over to the noodles and give them a quick toss with your fingers to encourage even drying. When brittle, place noodles in a zippered plastic bag and store them in a cool, dry place for up to a week or freeze.
---
How to cook egg yolk noodles:
Pour 3 cups of rich chicken or turkey stock into a medium saucepan and boil. Save back 1 cup of chicken or turkey stock to the side. Drop noodles into boiling broth and cook until tender–about 1 minute if noodles are fresh and undried. If dried, cook longer–5-6 minutes.
Turn off the heat but do not drain. As the cooked noodles sit in the hot broth, they absorb moisture, and the mixture will thicken slightly. That's exactly what you want for serving over or next to mashed potatoes.
Add the remaining broth, if necessary, to keep your noodles moist. Like all pasta, they will absorb more liquid the longer they marinate in broth.
p.s. Did I mention this recipe is not for beginners unless you have a grandma beside you?
---
Posts related to Thin Egg Noodles:
---
Did you enjoy this recipe? If so, you can help others and me by leaving a 5-star 🤩 rating in the recipe below. No comment is required.
p.s. If you have any questions or suggestions, you can email me privately: Paula at saladinajar.com.
Hope to see you again soon!
Paula
---