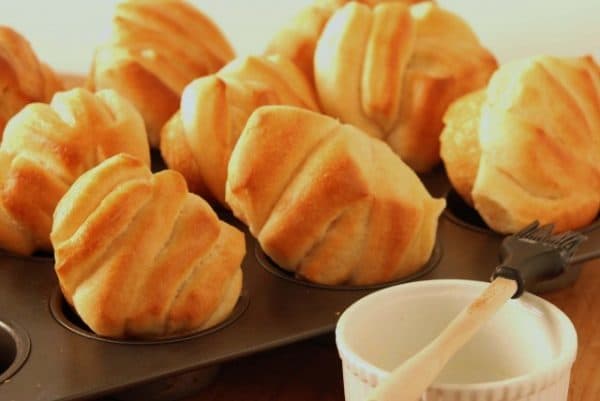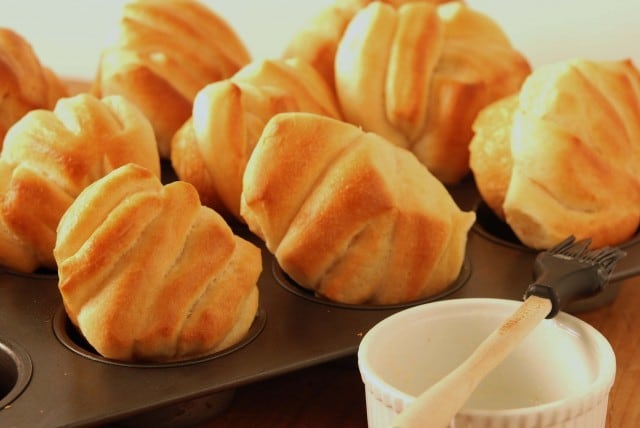 My husband's family always had "Brown and Serve"  rolls for holidays.  He got excited when he saw these because they remind him of those inexpensive grocery store rolls (which were made better by a big chunk of melted butter).  Oh my!
I'm going to encourage you to pull out your bread machine again today.  It really is a miracle worker.  If you don't have one, they are available for cheap at lots of thrift stores , garage sales and on E-bay.  A stray remark about bread machines might even uncover one in somebody's cupboard they never use. It doesn't need to be fancy. I don't recommend baking in them anyway so only a dough cycle is required.
Although bread machines can vary, most of them instruct you to put wet ingredients in first followed by dry. Check the manual if you aren't sure.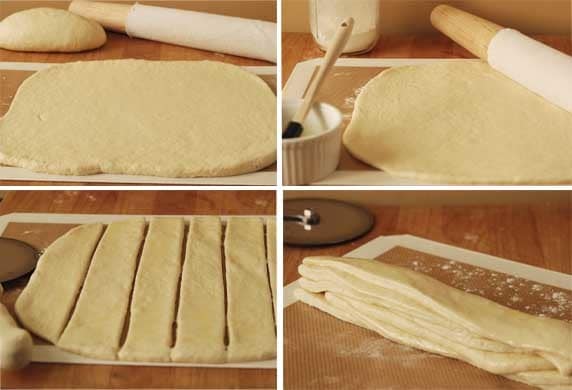 Yogurt Fantans (made in a bread machine)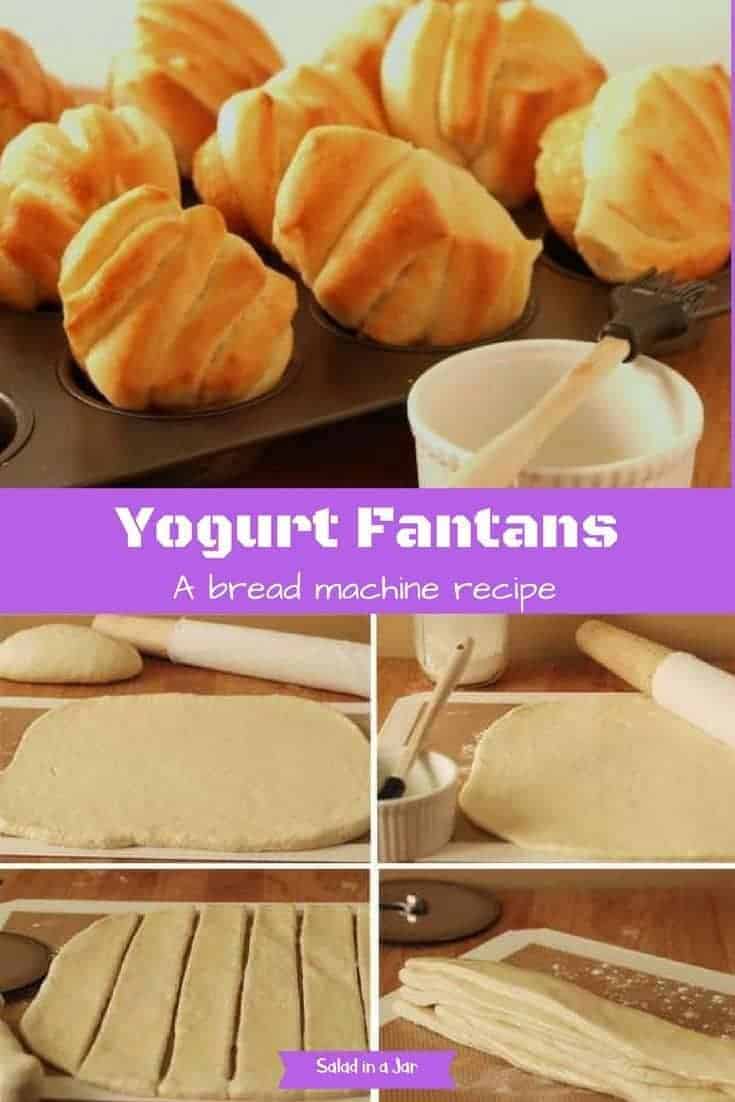 Yeast bread with yogurt mixed and kneaded in a bread machine. Shaped like peel-apart Brown 'n' Serves.
Ingredients
6 tablespoons butter, sliced
¼ cup warm water (may need to add 1-2 tablespoons of additional water if dough seems dry)
1 tablespoon mild honey or sugar
¾ cup plain yogurt or buttermilk (I use my homemade Greek yogurt--see note)
1-1/2 teaspoons salt
3 cups all-purpose unbleached flour
2 teaspoons bread machine or instant yeast
Instructions
Place all ingredients into pan of bread machine in order given. Select dough cycle. After machine has been running about 10 minutes, check the dough. If dough is a very firm ball, add a tablespoon of water. Dough should be starting to clean off the sides of the pan but not "bouncing" against the walls. If dough is very sticky and gooey, add a tablespoon of flour until it begins to take shape.
At the end of the dough cycle, remove dough from pan and divide in half. Form in to two smooth, round balls and let rest for 5 minutes.
Roll out half of dough on a lightly floured surface with a floured rolling pin into a 12-inch square (about ⅛ inch thick; keep remaining half covered with plastic wrap). Brush dough with ½ tablespoon butter and cut into 6 equal strips. Stack strips, buttered sides up, and cut crosswise into 6 equal pieces.
Turn each piece on a side and put into a muffin cup. Make more rolls with remaining dough in same manner. Cover rolls with a kitchen towel (not terry cloth) and let rise in a draft-free place at warm rom temperature until doubled and dough fills cups. Usually takes 30-45 minutes.
Bake rolls at 375 degrees until golden brown for 20-25 minutes. Brush tops with 1 tablespoon melted butter, if desired.
Notes
If using thick or Greek yogurt, add milk to thin it closer to consistency of buttermilk. Then measure out ¾ cup.