Preview: Fantans are a buttery pull-apart dinner roll mixed in a bread machine–a better version of grocery store brown-and-serve rolls. Yogurt is the secret ingredient.
My husband's family always had "Brown and Serve" rolls for holidays. He got excited when I pulled these golden brown fantans out of the oven.
They remind him of the inexpensive grocery store rolls his mom served every year with a big pat of butter melted in the middle. They were good when hot. But leftover rolls with cold melted butter were soggy, greasy, and and looked like something the baby had been teething on. Ahem.
If you don't have a bread machine, you can still make these rolls by hand or with a stand mixer. See the notes at the bottom of the recipe.
Why use a bread machine to make rolls:
When making dinner rolls with a bread machine, use the DOUGH cycle to mix, knead and proof the dough. At the end of the DOUGH cycle, remove the dough, shape it, and let it rise again. Bake the rolls in your conventional oven.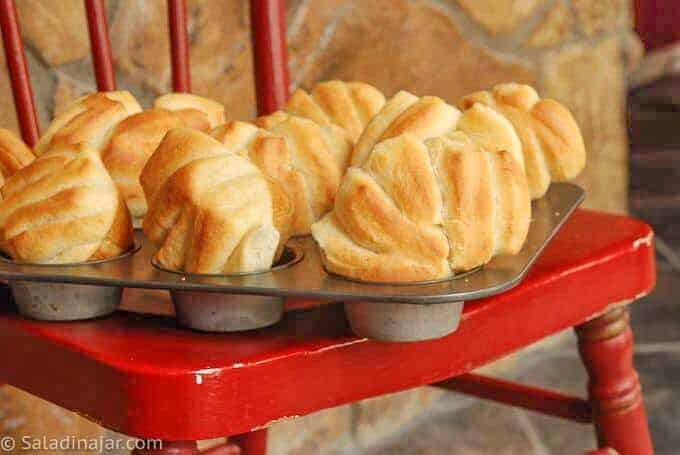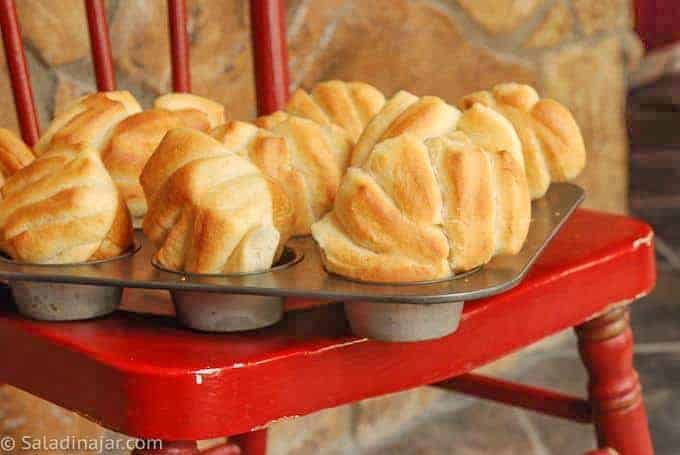 Go pull out your bread machine. It's a miracle worker if you know how to use it. If you don't have one, they are available for cheap at lots of thrift stores, garage sales and on E-bay.
A stray remark about bread machines might even uncover one in somebody's cupboard they never use. It doesn't need to be fancy. I don't recommend baking in them anyway so only a dough cycle is required.
If you haven't fallen in love with bread machines yet, read about the 5 reasons I really love my bread machine.
Yogurt is the secret ingredient in this bread:
How does yogurt help bread?
Yogurt tenderizes bread dough and will help your rolls rise a bit higher and a little faster. 3 wins!
What can I substitute for yogurt?
If you don't have yogurt, substitute sour cream. Buttermilk is another option. Because it generally has a thinner consistency than yogurt, you may need to compensate with a little more flour. Check your dough after it has been mixing for 10-15 minutes before adding extra flour. If you only have Greek yogurt, use a little milk to thin it until it's more like regular yogurt.
Can I make these rolls ahead of time?
Make the dough a day ahead of time using the DOUGH cycle on your bread machine. Deflate the dough. Use a container double the size of the volume of your dough. Cover tightly and store in the fridge overnight.
Two to three hours before you want to bake the rolls, remove the chilled dough from the fridge and shape the rolls. If you prefer, allow the dough to come to room temperature before shaping. I think it's easier to do it while the dough is cold.
Let the rolls rise until almost double. Bake in preheated oven.
---
How to roll out and cut dough for Fantans: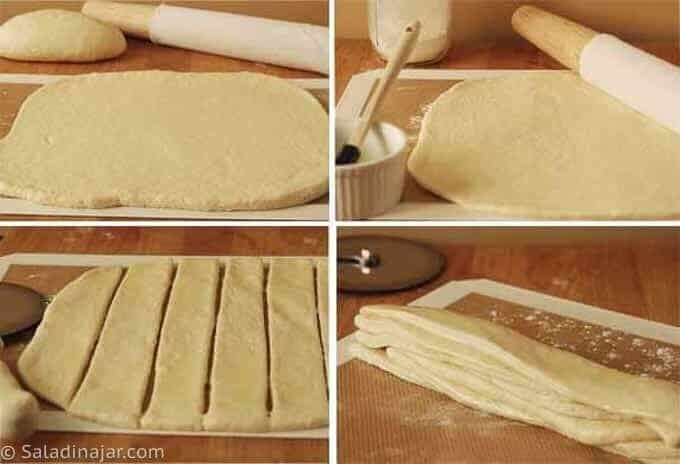 ---
If you enjoyed this recipe, it would help others and me if you gave it a five-star rating inside the recipe card below. 🤩 No comment required. Thank you.

Hope to see you again soon!
Paula
p.s. Questions or suggestions? Please email me: Paula at saladinajar.com.
---