Sweet Potato Dinner Rolls with Honey Butter Glaze are light and fluffy dinner rolls made with a small number of sweet potatoes added to the dough and baked with a honey-butter glaze on top.
Although the recipe is written to be mixed and kneaded in a bread machine, you can do it by hand or use a stand mixer. See directions end the notes at the end of the recipe.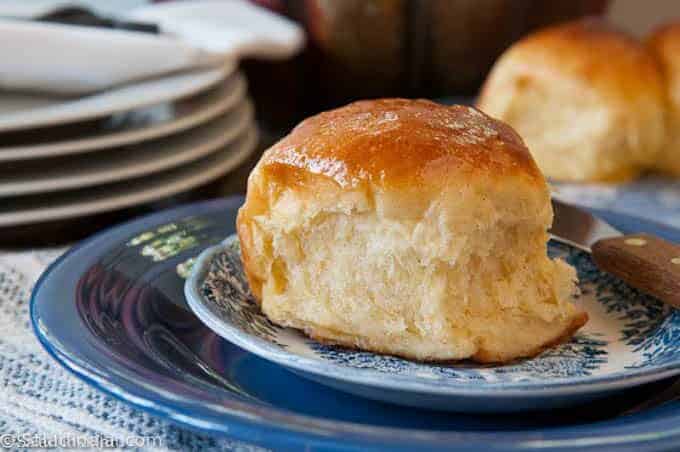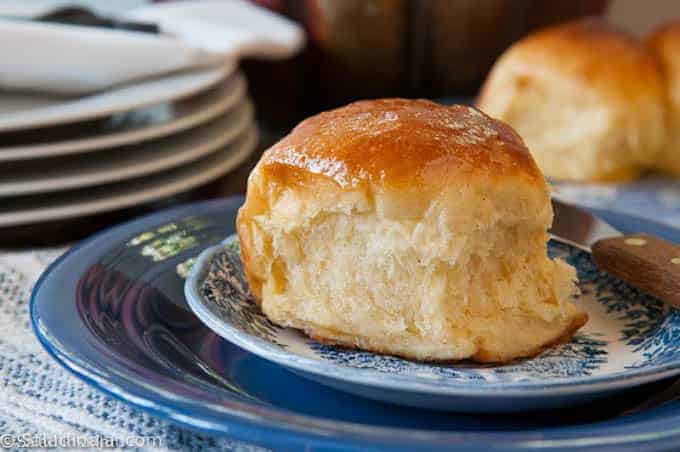 These rolls are on our Thanksgiving menu…and I can't wait!
The secret to their tenderness, Hawaiian-bread-like color, and lasting freshness, is the sweet potatoes. Don't worry. No one will ever guess it because you can't taste the potatoes.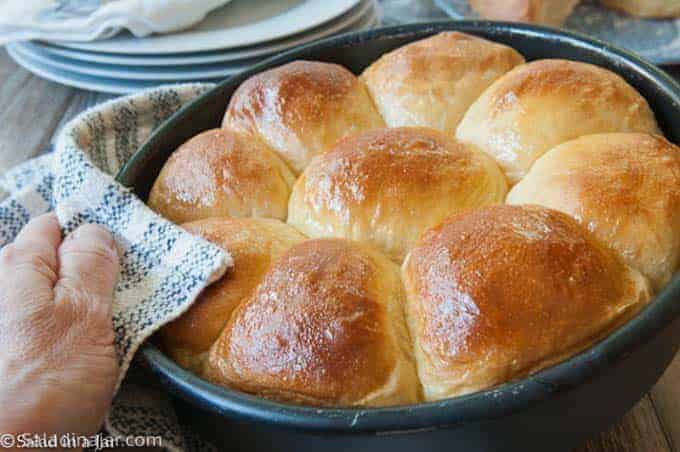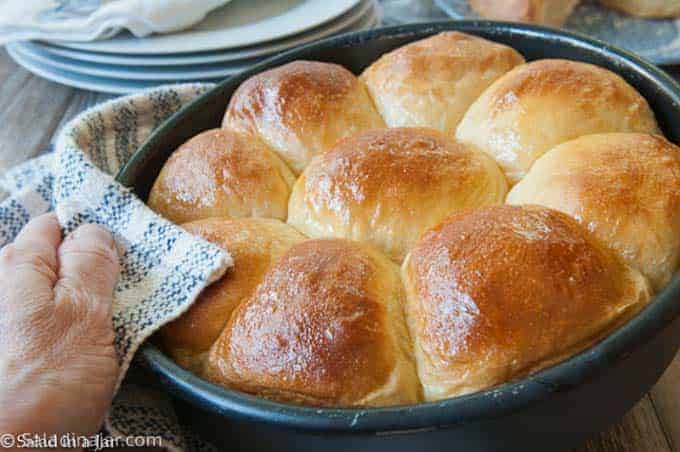 Check out the video to see how to make perfectly round rolls.
Make them into balls or go all fancy and make crescents.
How to make crescent-shaped rolls: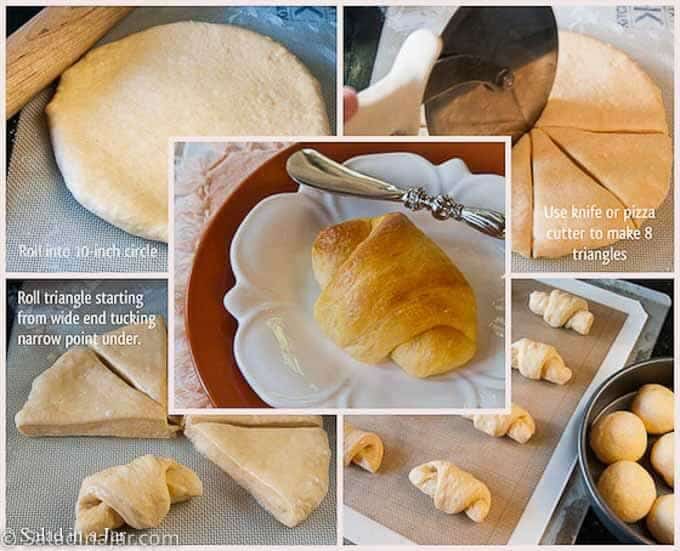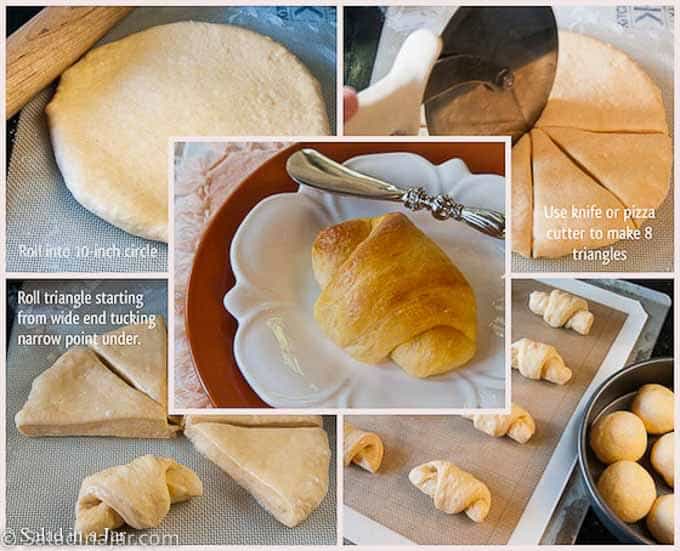 A note about the Honey Butter Glaze:
The sticky sweetness of the Honey Butter Glaze makes these rolls completely irresistible. However, I recommend glazing only those you think will be eaten straight out of the oven as they will become even stickier after sitting a few hours. Sugar attracts moisture. A quick pass of butter when hot out of the oven, or just plain naked still makes a scrumptious roll.
One more thing…
Cinnamon in a dinner roll?
That dash of cinnamon called for in the recipe? It's optional, but I implore you to try it. Your tastebuds won't be able to call it by name, but they will recognize something special. It all just goes together.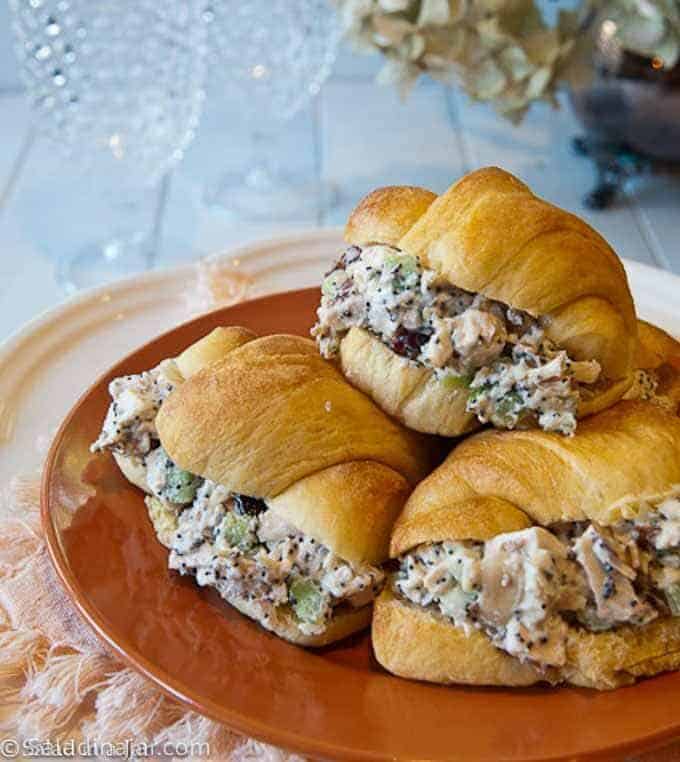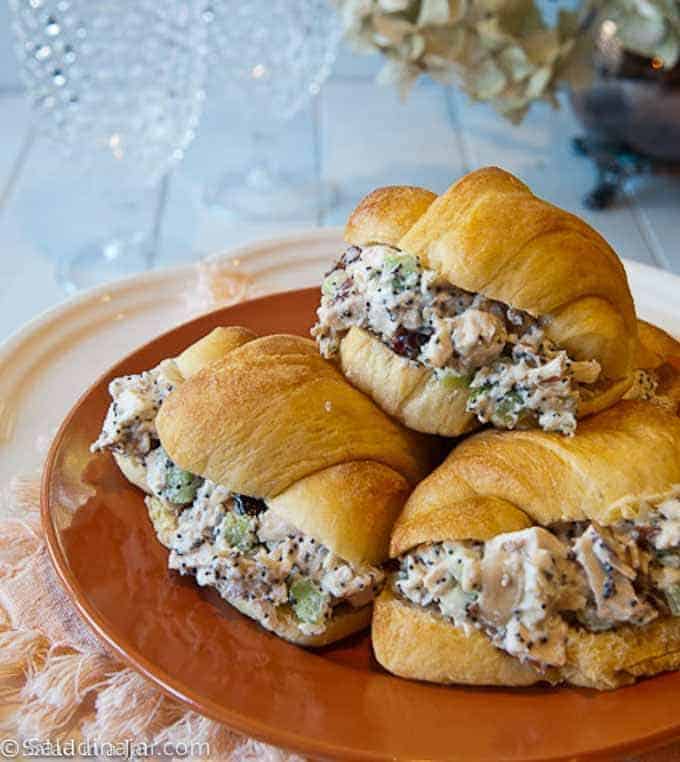 IF… you have any leftover rolls, they make perfect slider buns or containers for my Poppy Seed Chicken Salad. Better make a bunch if that's your plan because it's easy to eat a whole pan of these without even realizing it.
---
Pin the picture below to save for later.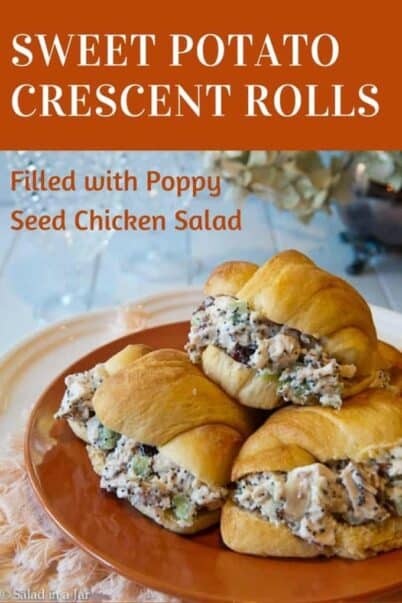 ---
---
Did you try this recipe and enjoy it? Consider helping other readers (and me) by returning to this post. Leave a rating on the recipe card itself underneath the picture. Although always appreciated, comments aren't required.
If you have a question or tip to share, please leave it in the regular comments after the recipe so I can answer back. Or, email me privately: paula at saladinajar.com.

Thank you for visiting!
Paula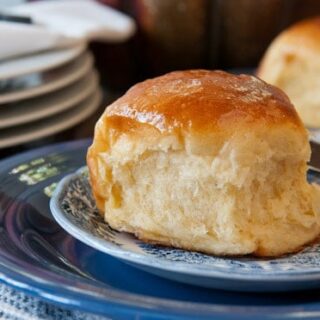 Sweet Potato Dinner Rolls with Honey Butter Glaze
Prep Time:
2 hours
45 minutes
Light and fluffy dinner rolls made with sweet potatoes and baked with a honey-butter glaze. Great slider buns without glaze.
Ingredients
Dough
1 egg
1/2 cup mashed sweet potato (see notes)
1/4 cup sugar
1 teaspoon salt
1/4 cup butter
2/3 cup warm milk
Dash of cinnamon
3 cups bread flour
2 teaspoons bread machine or instant yeast
Honey Butter Glaze
1 egg white, stirred with a fork
2 tablespoons honey
1 tablespoon butter
3 tablespoons sugar
Instructions
Add ingredients listed to bread machine pan in order listed.
Run dough cycle.
Remove dough from bread machine to floured surface.
See below to form dough into shape of your choice. Cover with a tea towel.
After rolls have almost doubled in size, brush with honey butter glaze, if using.
Bake at 350 degrees F for 12-15 minutes or until rolls are golden brown.
Remove from pan or cookie sheet to allow cooling. (If you leave them in the pan too long, they will get soggy on the bottom.)
To Make Balls
Divide dough in half, then half again making four sections. Divide each of these sections into 4 pieces of dough which should leave you with 16 little doughballs. Form into round balls.
Arrange balls into two round (or square) 8 or 9-inch greased pans.
Cover rolls loosely with tea towel to rise.
To Make Crescents
Divide dough in half and form each half into a ball. Roll to approximately 10 inches in diameter. Use a knife or pizza cutter to create 8 triangles (see picture). Roll each triangle starting from the wide end and finally, tucking small end under so it will not pop out when baked. Place on greased cookie sheet.
Cover rolls loosely with tea towel to rise.
Honey Butter Glaze
Combine all ingredients and brush carefully over each roll just before popping them in the preheated oven. Try not to let the glaze touch the cookie sheet.
Notes
Preparing Sweet Potatoes:
Boil or bake fresh sweet potatoes, or reserve 1/2 cup portions from your leftover Thanksgiving sweet potato casserole as long as it hasn't been adulterated by extras like pineapple or other fruit. Just be sure the sweet potatoes are mashed to a silky smooth texture so they won't be recognized in the rolls.
Alternate Mixing Instructions:
Directions for making bread with a stand mixer or by hand:
To make this recipe in a heavy-duty stand mixer, add ingredients to the bowl in the same order. Turn on low to mix until all ingredients are moistened. Using a dough hook, turn speed to 2 or 3 and continue beating/kneading until dough becomes smooth and elastic (about 5-10 minutes). Cover and allow to rise in a warm place. Deflate dough gently and shape as indicated in the recipe.
If making by hand, combine all ingredients into a shaggy ball in a large bowl. Turn dough out onto a floured surface and knead with your hands until dough becomes smooth and elastic, a process that will likely take 10-20 minutes depending on your experience. Place the dough ball into a greased bowl. Cover and allow to rise until double. Deflate dough gently and shape as indicated in the recipe.
How to substitute active dry yeast for bread-machine yeast or instant yeast:
If you substitute regular yeast for instant or bread-machine yeast, you must dissolve it first before adding to the dry ingredients. Stir it into about 1/4 cup of the lukewarm liquid called for in the recipe. Let sit for about 10 minutes. Add to other wet ingredients and then add dry ingredients. Proceed as directed to knead and shape the dough.
Recommended Products
As an Amazon Associate, I earn from qualifying purchases. But don't worry. This doesn't change the price you pay.
Nutrition Information:
Yield:

16
Serving Size:

1
Amount Per Serving:
Calories:

177
Total Fat:

5g
Saturated Fat:

3g
Trans Fat:

0g
Unsaturated Fat:

2g
Cholesterol:

23mg
Sodium:

181mg
Carbohydrates:

29g
Fiber:

1g
Sugar:

9g
Protein:

4g