Preview: These Bread Machine Sweet Potato Rolls are mixed on the DOUGH cycle, then baked in your oven. The glaze is scrumptious but optional.
Sweet potato lovers listen up! Adding sweet potatoes to this bread machine dough will make you a rock star at Thanksgiving. Top with an optional honey-butter glaze for some of the best dinner rolls you've ever eaten.
Directions for making these rolls by hand or with a stand mixer are listed in the notes at the end of the recipe.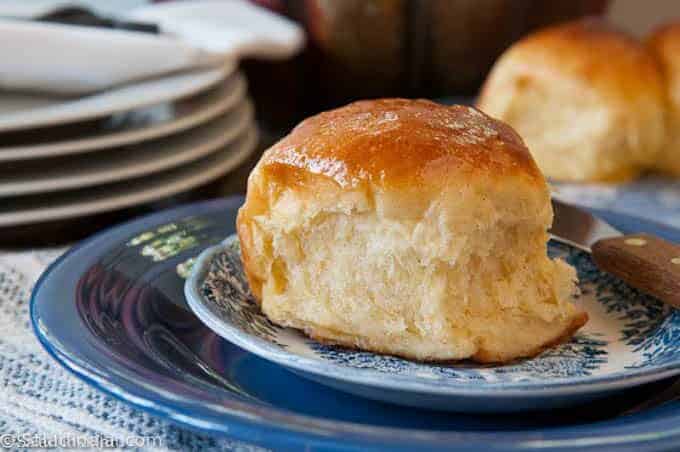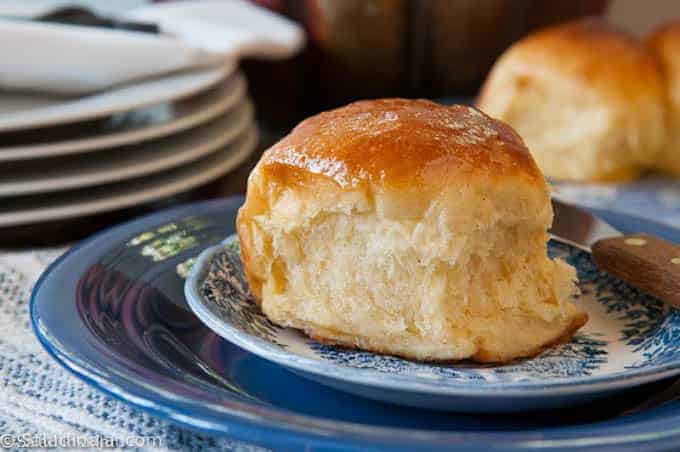 These rolls are on our Thanksgiving menu…and I can't wait!
The secret to their tenderness, Hawaiian-bread-like color, and lasting freshness, is the sweet potatoes. Don't worry. No one will ever guess it because you can't taste the potatoes.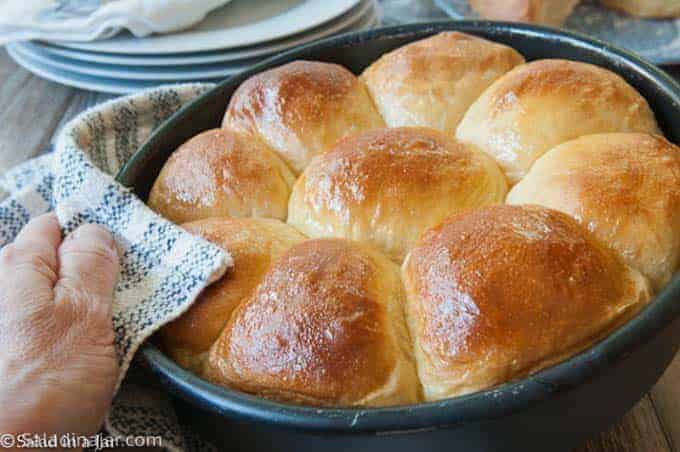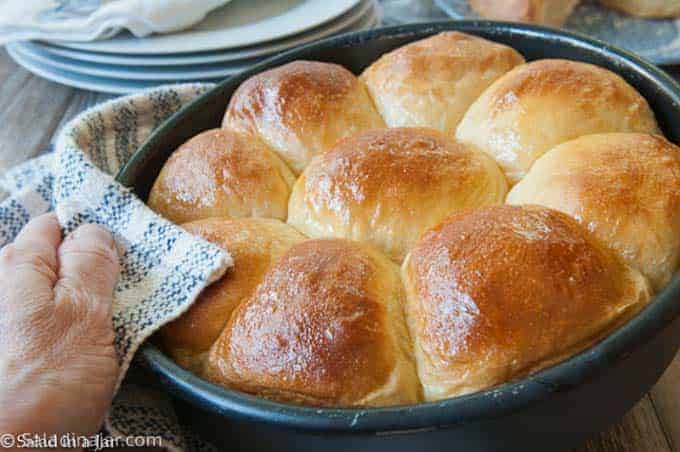 Check out the video to see how to make perfectly round rolls.
Make them into balls or go all fancy and make crescents.
Ingredients and substitutions:
EGGS: I use large-sized eggs in all my bread recipes.

SWEET POTATO: Microwave or bake a medium-sized sweet potato and peel. Smash the potato before adding it to the pan. Leftover mashed sweet potatoes work perfectly as long as there are no conflicting flavors added.

SUGAR: Use granulated sugar (not powdered sugar). Brown sugar could be substituted.

SALT: Table salt or sea salt is recommended. Use 1/4 teaspoon more if using Kosher salt

BUTTER: Be sure to use room-temperature butter, not melted or icy-cold butter. Substitutes include shortening and margarine although I wouldn't recommend either.

MILK: Milk contributes to a tender crumb. The more fat in the milk, the richer the roll. Whole milk would be my first choice. 2% is my second choice and what I usually use since that's what I keep on hand.

CINNAMON: It's optional, but I implore you to try it. Your tastebuds won't be able to call it by name, but they will recognize something special. It all just goes together.

BREAD FLOUR: You can substitute all-purpose flour if that's what you have. Bread flour will give you a better rise.

BREAD MACHINE OR INSTANT YEAST: Yes, you can use active dry yeast instead of instant yeast but it is slower acting. Give the dough more time to rise or add 1/4 teaspoon of extra yeast.

HONEY: Maple syrup is a possible substitute. It will change the flavor slightly.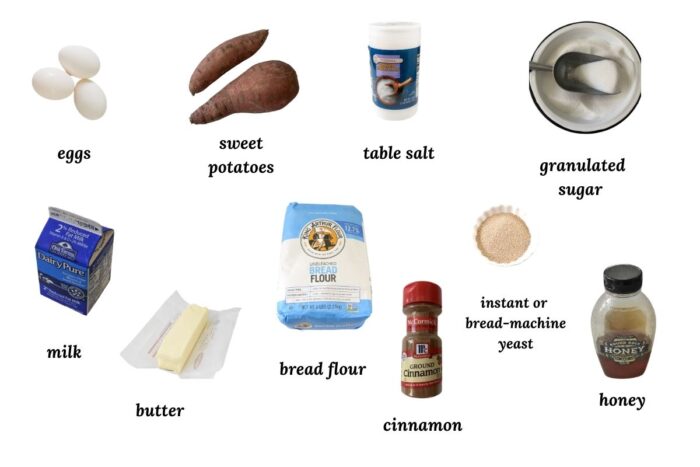 ---
How to make crescent-shaped Sweet Potato rolls: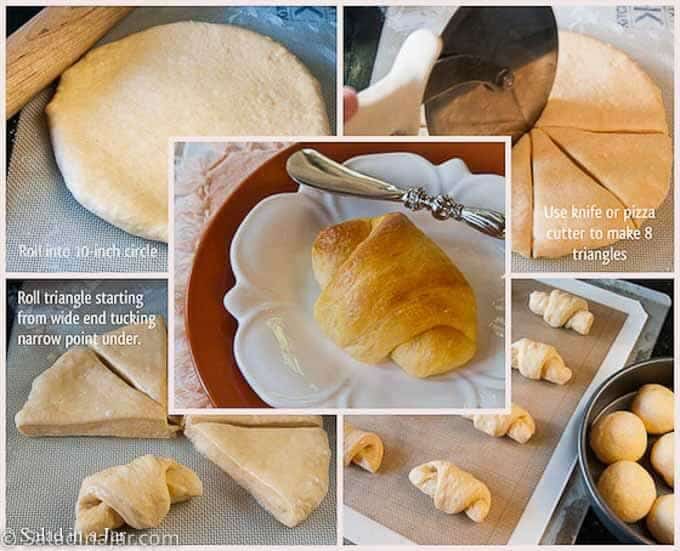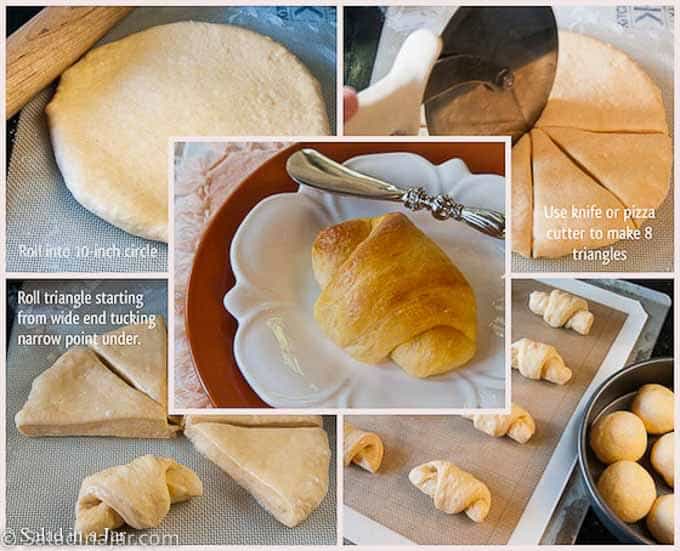 ---
A note about the Honey Butter Glaze:
The sticky sweetness of the Honey Butter Glaze makes these rolls totally irresistible. However, I recommend glazing only those that will be eaten straight out of the oven as they will become even stickier after sitting a few hours.
Sugar attracts moisture. A quick pass of butter when hot out of the oven, or just plain naked still makes a scrumptious roll.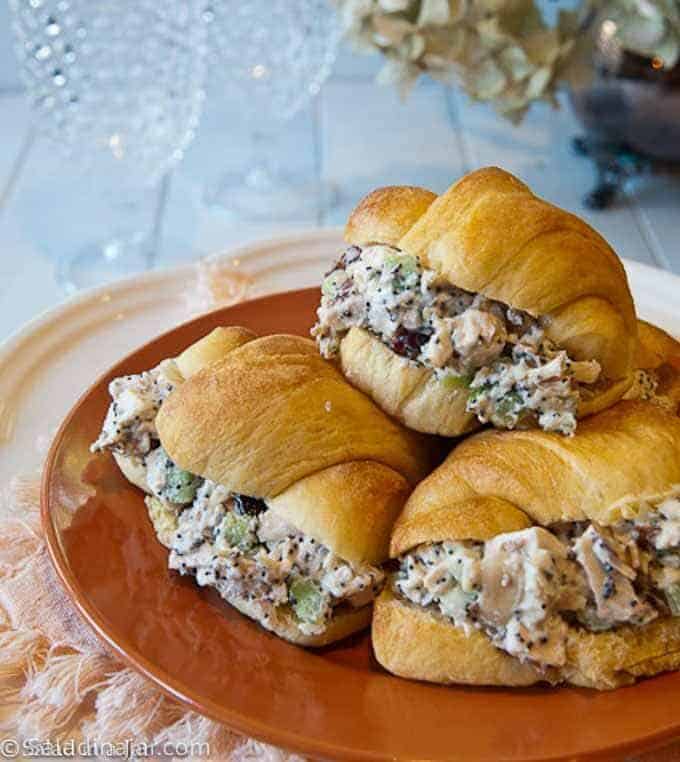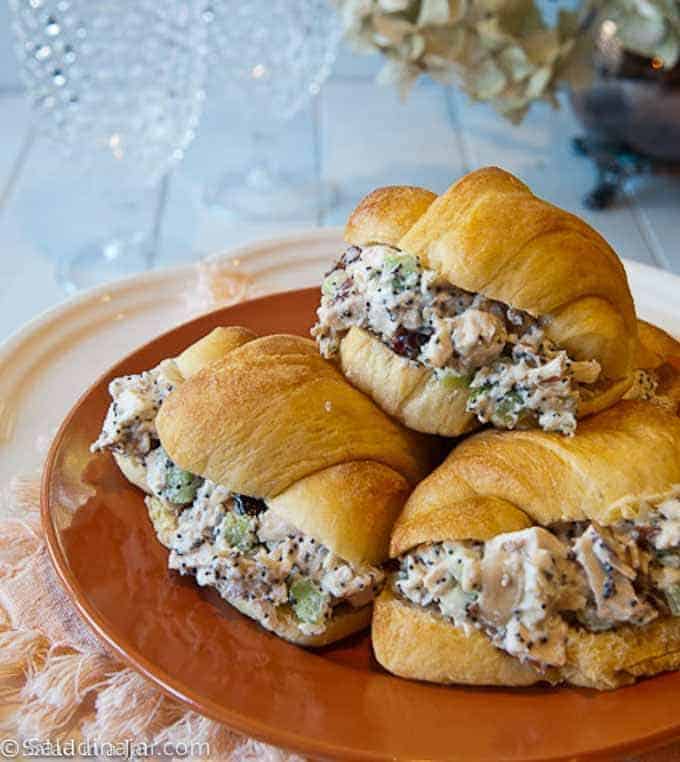 IF… you have any leftover rolls, they make perfect slider buns or containers for my Poppy Seed Chicken Salad. Better make a bunch if that's your plan because it's easy to eat a whole pan of these without even realizing it.
---
Would you like to see more Bread Machine Tips and Recipes?
---
---