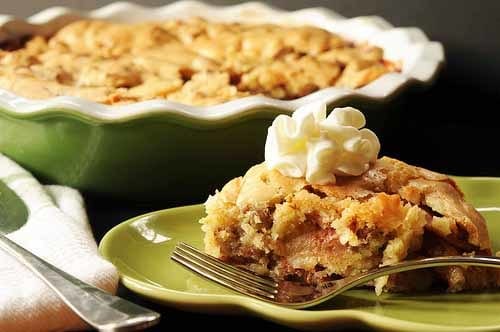 Attention all pie crust-a-phobes.  Have I got a pie for you.  No crust!!!
It's sweet, it's cinnamony and it's Swedish. Actually, I have no idea about the country of origin. It's written in the title on the handwritten recipe I received. That's all I know.
Besides being my daughter-in-law's favorite dessert, this recipe is all the more special because I got it from Amanda's mother, Sandy.  I've enjoyed it at her house.  Which reminds me, Sandy is a hostess extraordinaire and I'm so thankful we get to share some birthdays and holidays together, often at her and Bob's house along with the rest of the family.
Now get to baking and make your next company or celebration meal extra special.
Swedish Apple Pie
Recipe type:
Pies, Dessert
Ingredients
2½ cups cooking apples, peeled and sliced
1 teaspoon lemon juice
1 teaspoon cinnamon
3 teaspoons sugar
¾ cup sugar
10 tablespoons butter, melted
½ cup chopped toasted pecans
1 egg, slightly beaten
1 cup flour
½ teaspoon salt
Instructions
Lightly grease pie plate. Fill with sliced apples mixed with lemon juice. Pie pan should be about ⅔ full.
Sprinkle cinnamon and 3 teaspoons sugar over apples.
Mix sugar, melted butter, and pecans in a separate bowl. Stir in beaten egg, flour and salt. Spread over apples. Bake at 350 degrees for 45-60 minutes or until golden brown.
Sandy, thanks for an easy recipe. Tastes fabulous! I'll think of you and Amanda every time I make it–which is the cool thing about sharing recipes. Usually makes lifetime memories.