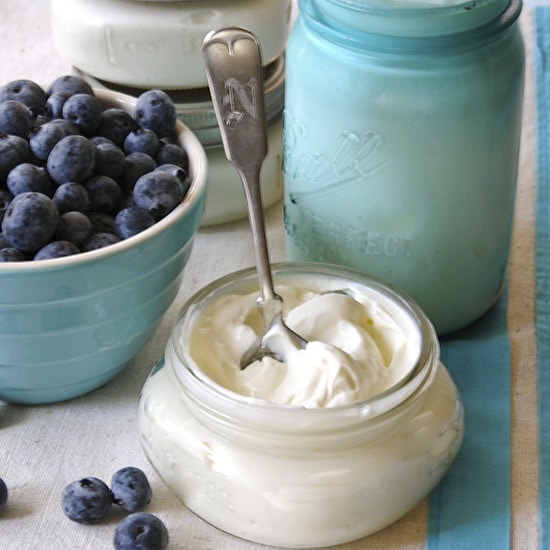 Making your own yogurt is so much fun, I hope you'll give it a try. However, it's not an exact science because it involves living organisms. Translation: things don't always turn out like you hope. But once you get your system figured out, it's fairly predictable. Just remember, "The yogurt gods can be fickle" (a quote from one of my readers who I cannot remember), so don't get discouraged. Start with my video or check out the posts listed below for help.
Note: If you are looking for instructions to make regular yogurt or Greek yogurt, the post entitled Healthy Homemade Greek Yogurt will show you how to do both.
Still have a question?  Shoot me an e-mail. I'll try to answer back quickly.
Greek Yogurt 101
5 Things You Should Not Do When Making Homemade Yogurt
A Cheap Way To Strain Yogurt Without Using Cheesecloth
Healthy Homemade Greek Yogurt (Fat-Free)
Can I Use Whey Left Over From Straining Yogurt to Make More Yogurt?
Cheat Sheet for Making Homemade Yogurt?
Don't Fear the Homemade Yogurt
How Much Starter Do You Really Need to Make Yogurt
How to Strain Yogurt the Easy Way
Answers to Your Questions About Making Homemade Yogurt
More Than Six Ways to Incubate Yogurt Without a Yogurt Maker
A Discussion About Protein in Greek Yogurt
18 Ways to Use Whey–a By-Product of Greek Yogurt
Homemade Greek Yogurt: A Cheat Sheet
Why Is My Homemade Yogurt Grainy?
Recipes Containing Yogurt on Salad in a Jar