Preview: This Sweet Jalapeño Cornbread recipe is packed full of fresh corn, Cheddar cheese, jalapeños, and sour cream. It's moist, spicy, and sweet with a buttery and crispy crust.
This cornbread recipe is for those of you who are drawn to "cornbread cake." That includes me. If the cornbread I'm eating doesn't have enough sweetness, I grab a bottle of honey. Even the jalapenos can be sweet if you buy candied jalapeños in a jar.
Southerners like to argue about the rightness or wrongness of adding sugar. Some say it should never happen. Well, it does happen at my house and it's the only kind I want to eat.
Try this extravagant, over-the-top treat that will make you want to eat soup (so you can have cornbread) every night of the week. Don't miss the video!
Updated 1/10/2020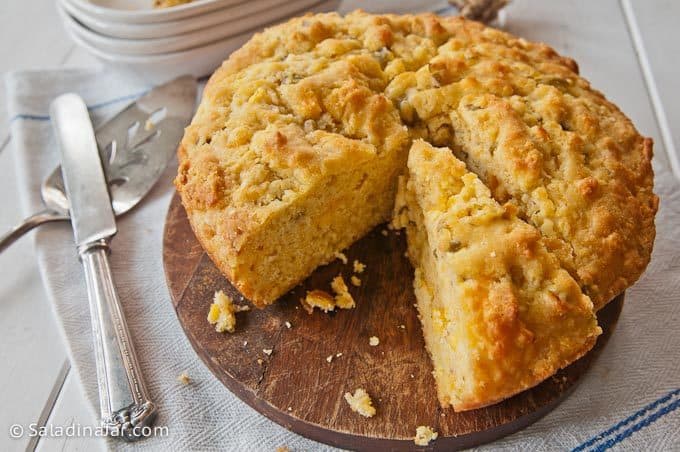 Recipe Inspiration
To come up with this Jalapeño Cornbread recipe, I started with a cornbread recipe from "Flour" by Joanne Chang.
From there, I went crazy with substitutions and additions in my quest to duplicate the cornbread served as an appetizer at one of my favorite restaurants (The Tavern in Ft Worth).
Ingredients and Substitutions
Cornmeal:
Regular yellow or white cornmeal is suitable for this recipe. In my opinion, stoneground cornmeal is not a good substitute.
Sour Cream:
Use Greek yogurt instead of sour cream if you like.
If you make your own Greek yogurt, use yogurt-whey instead of milk. Since you will want to make this recipe over and over, it's a welcome way to make good use of all that whey.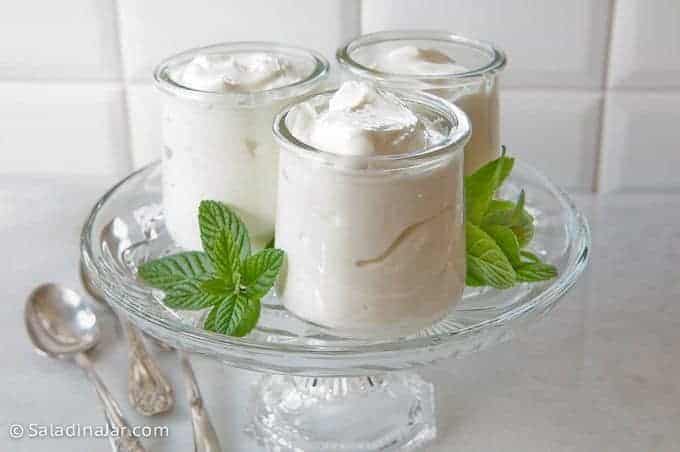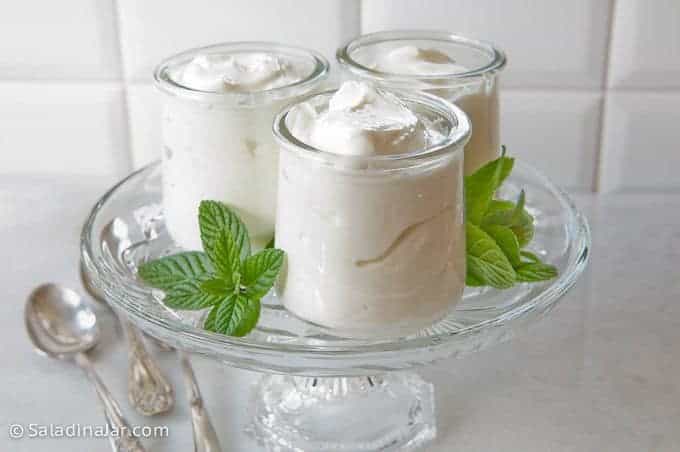 Jalapeños:
I am infatuated with sweet pickled or candied jalapeños here lately. The sweet and spicy flavors together are ridiculously addictive.
Not all brands are hot, like the ones pictured here. Some brands are mild. Pay attention when buying them if that matters to you.
Alternatively, use regular pickled jalapeños, or leave them out entirely, but in my opinion, they are the star of the show.
No, wait…
The buttery crust ON TOP is the star of the show. There are just too many things to like about this cornbread.
Butter:
I know. There's a little much. Just try it once.
Margarine is not recommended.
Corn:
Fresh corn is so tender and suits the soft texture of this cornbread. My second choice would be fresh corn you have frozen yourself. The third choice would be commercially-frozen corn. Canned corn comes in last.
Sugar:
The recipe calls for brown sugar. I like the flavor. You could try white sugar or even honey or maple syrup.
If you want to go crazy, sprinkle the smallest amount of white granulated sugar over the top. Do this after you spread the batter in the pan with melted butter.
The sugar idea is entirely optional, and I promise not to tell if you try it.
My favorite skillet for cornbread: a carbon steel fry pan
This recipe is a skillet cornbread from start to finish. But I'm not a big cast-iron-skillet fan. Not only are they heavy, but I think I can taste the skillet if the cornbread is left in there too long after baking. Maybe it's just my skillet.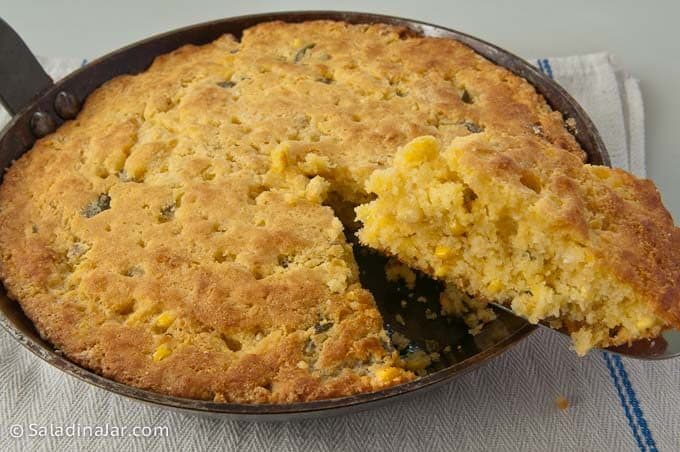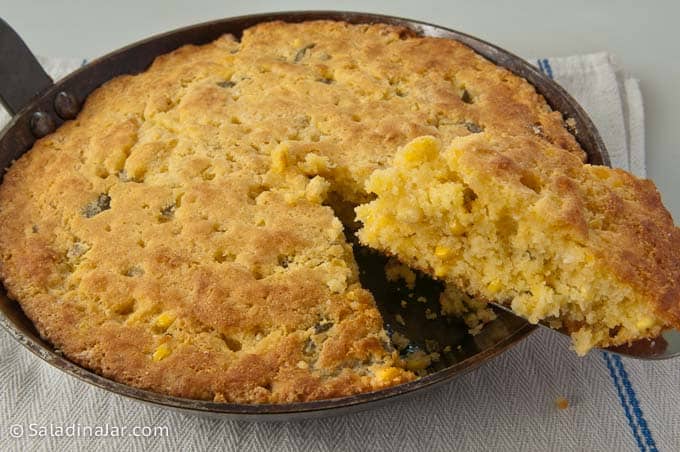 Nevertheless, I'll take a carbon steel fry pan any day over a cast-iron skillet.
It's lighter in weight but holds the heat like an iron skillet. Carbon steel fry pans make the crispiest golden-brown crust.
If you don't have one, use your cast iron skillet with confidence. This cornbread recipe will still turn out perfectly.
And it's not just for cornbread…
Anytime I want a nice crust, whether it's on a piece of meat, fish, or some veggies, I pull out this pan.
Just like cast iron, it develops a virtually non-stick dark-colored patina with use. (See the picture below of melted butter.) Since the definition of "patina" includes "a long time," you shouldn't be surprised to hear it takes a while to build that highly-desired patina.
How to assemble Sweet Jalapeño Cheese Cornbread: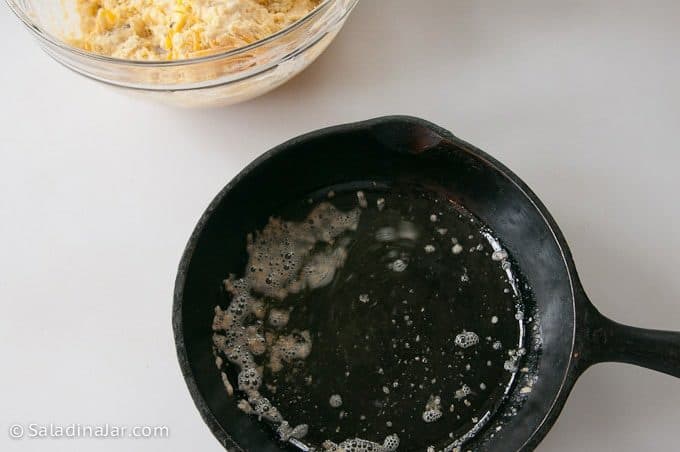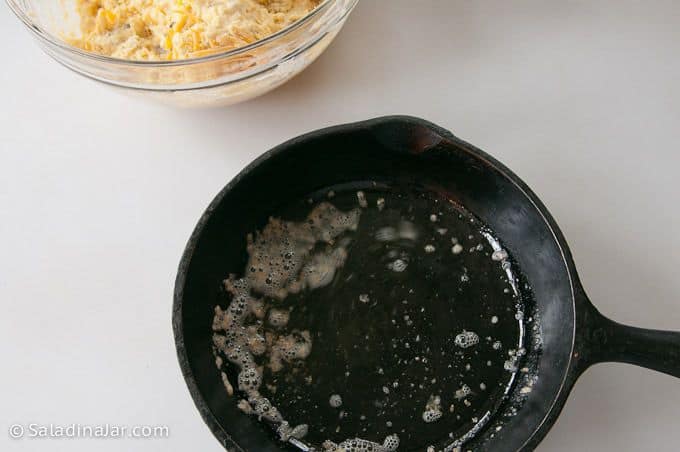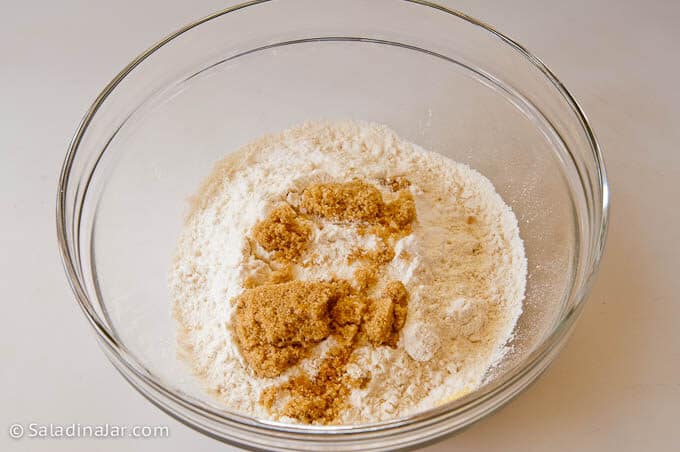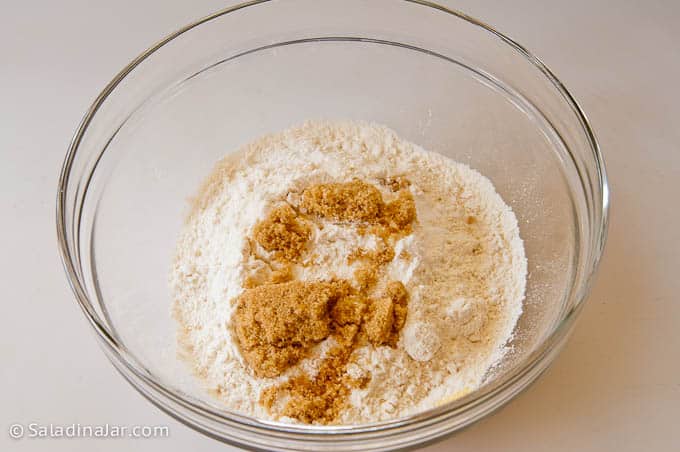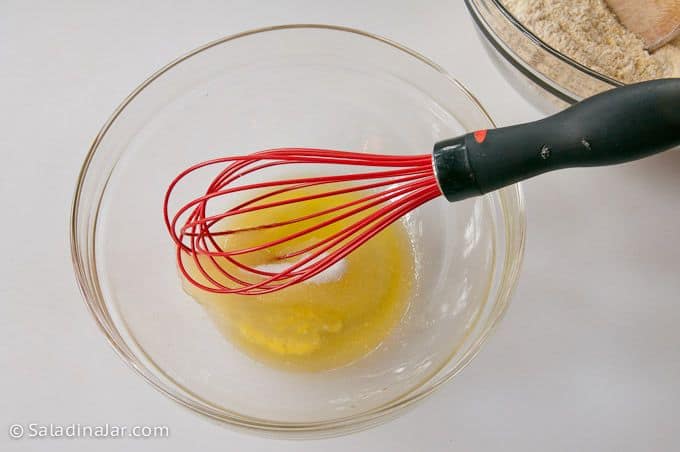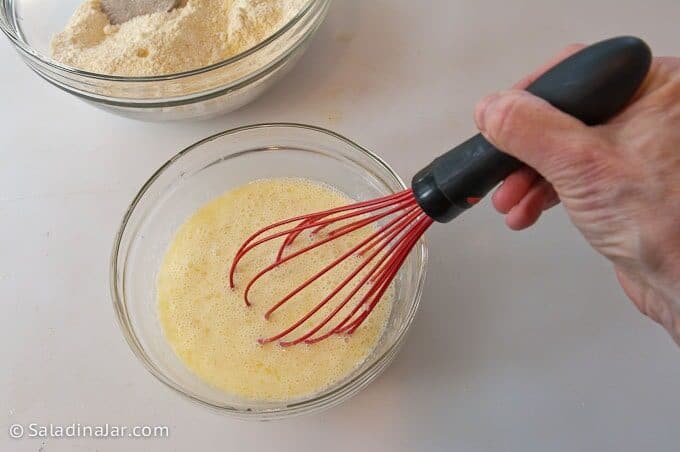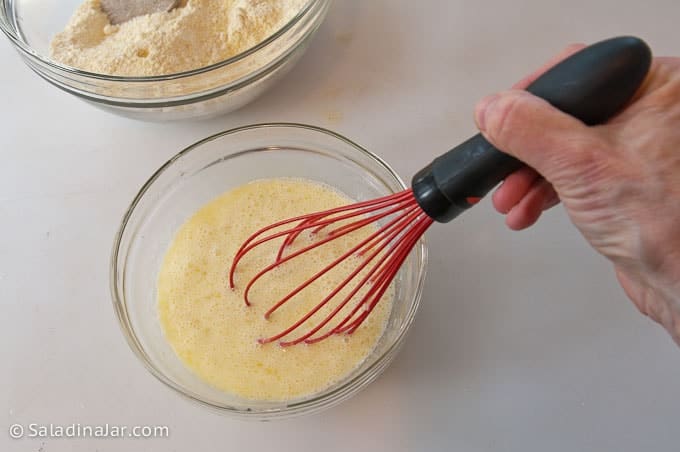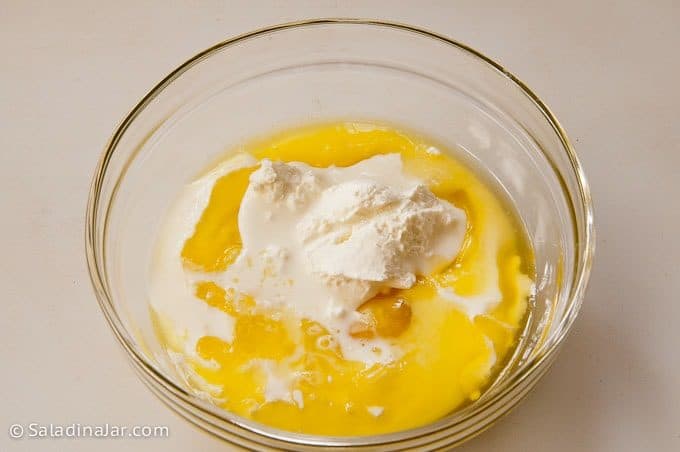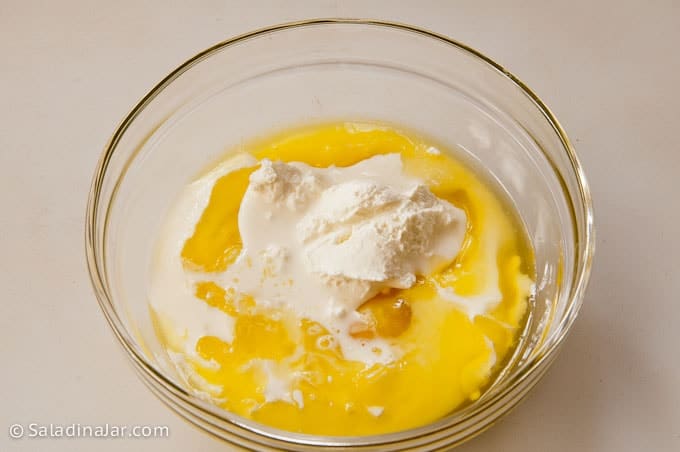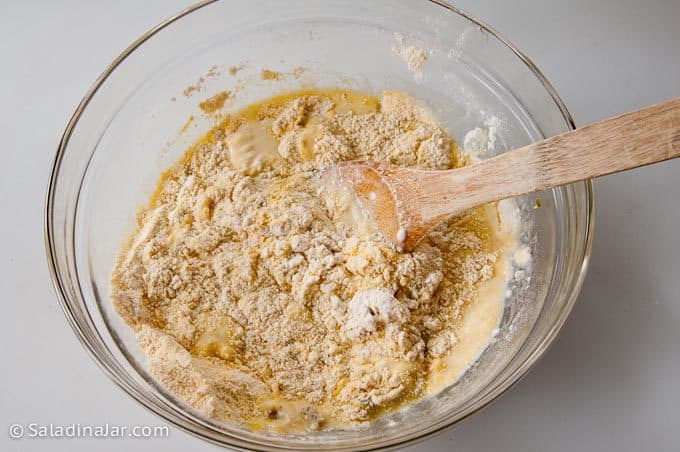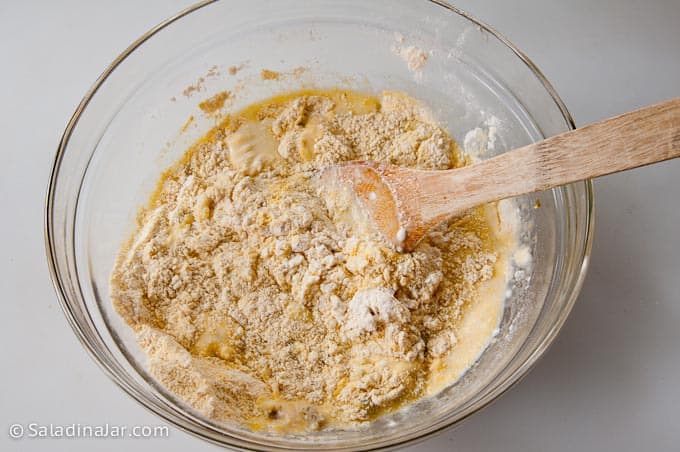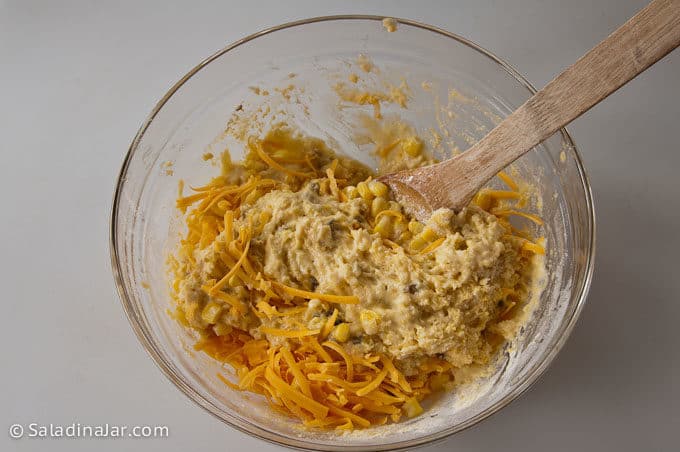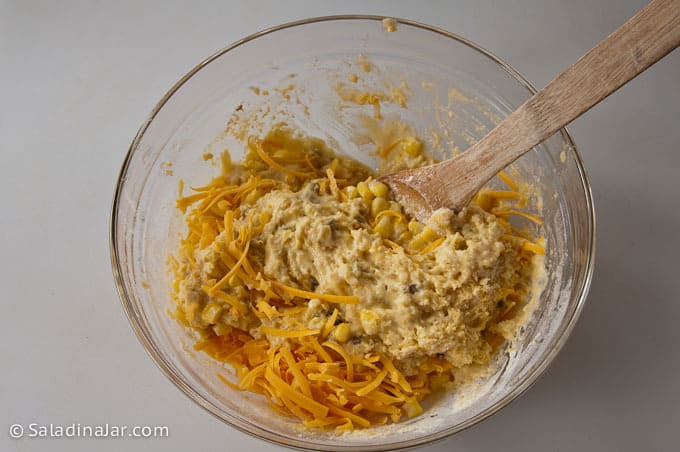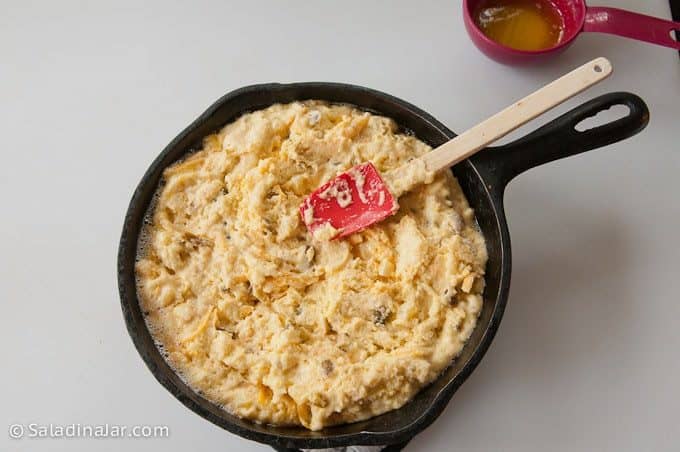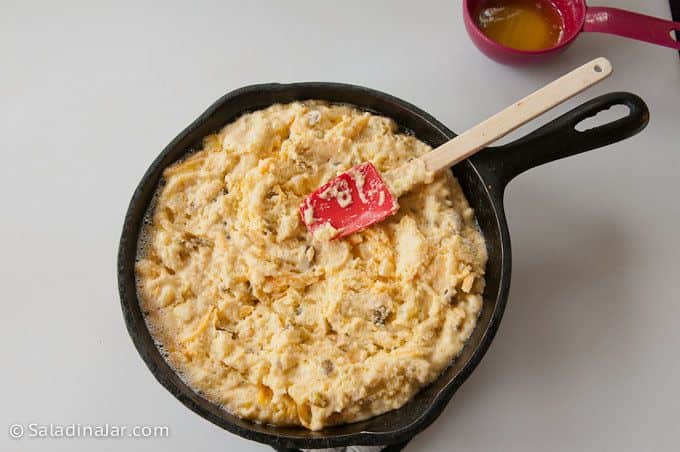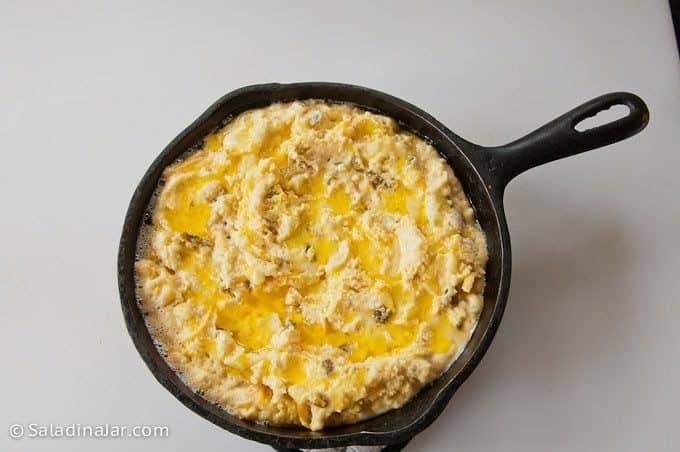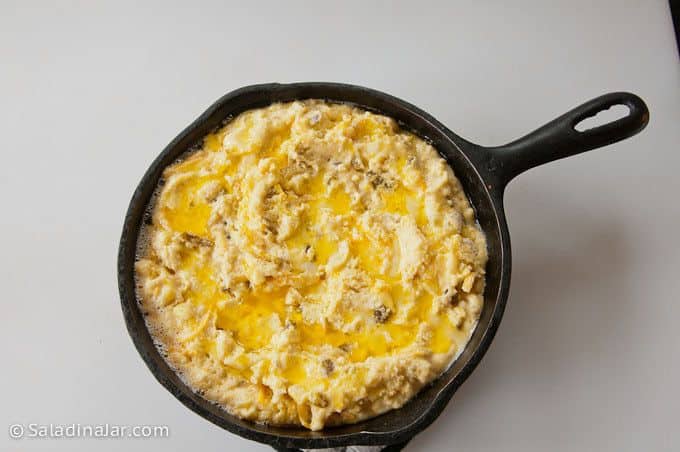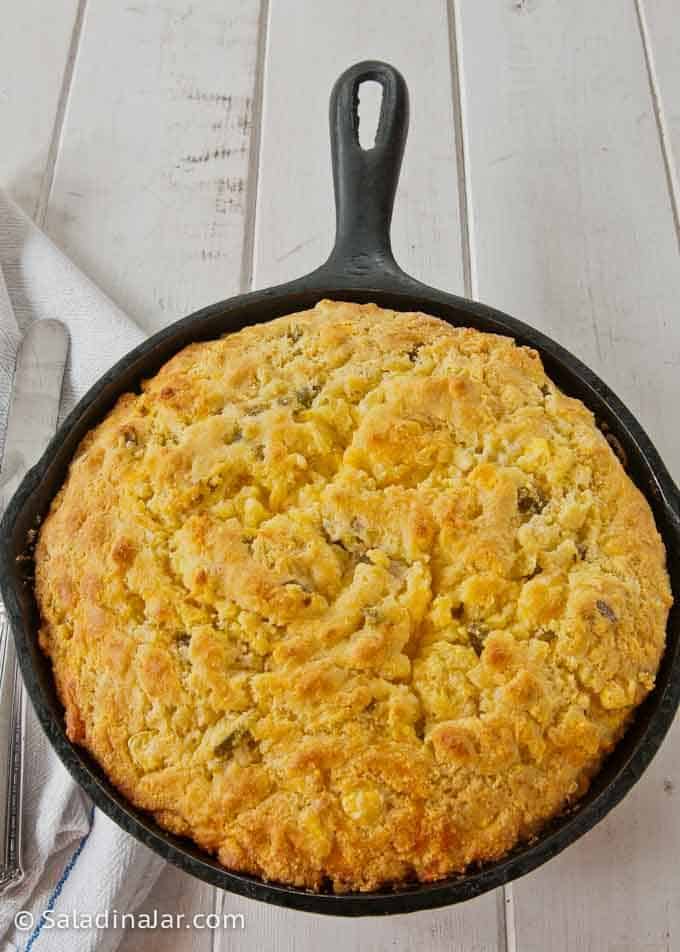 Leftovers are delicious but way too tempting. So, we wrap individual servings and freeze them. When ready to eat, we like to split the cornbread and sauté in a buttery skillet until golden brown.
Speaking of leftovers…
This particular recipe makes tasty cornbread croutons or cornbread crumbles as you would use in dressing as you would serve at Thanksgiving. Love them in this Green Chili and Squash Dressing.
---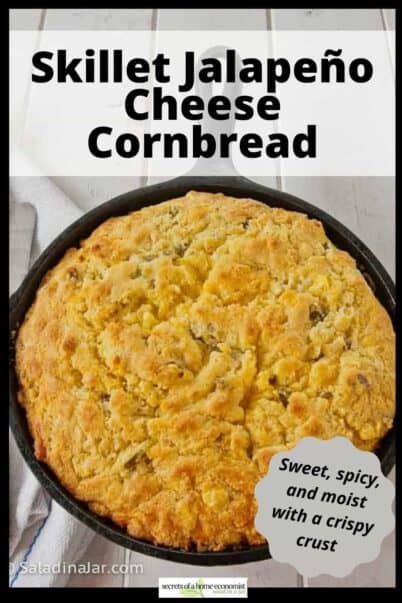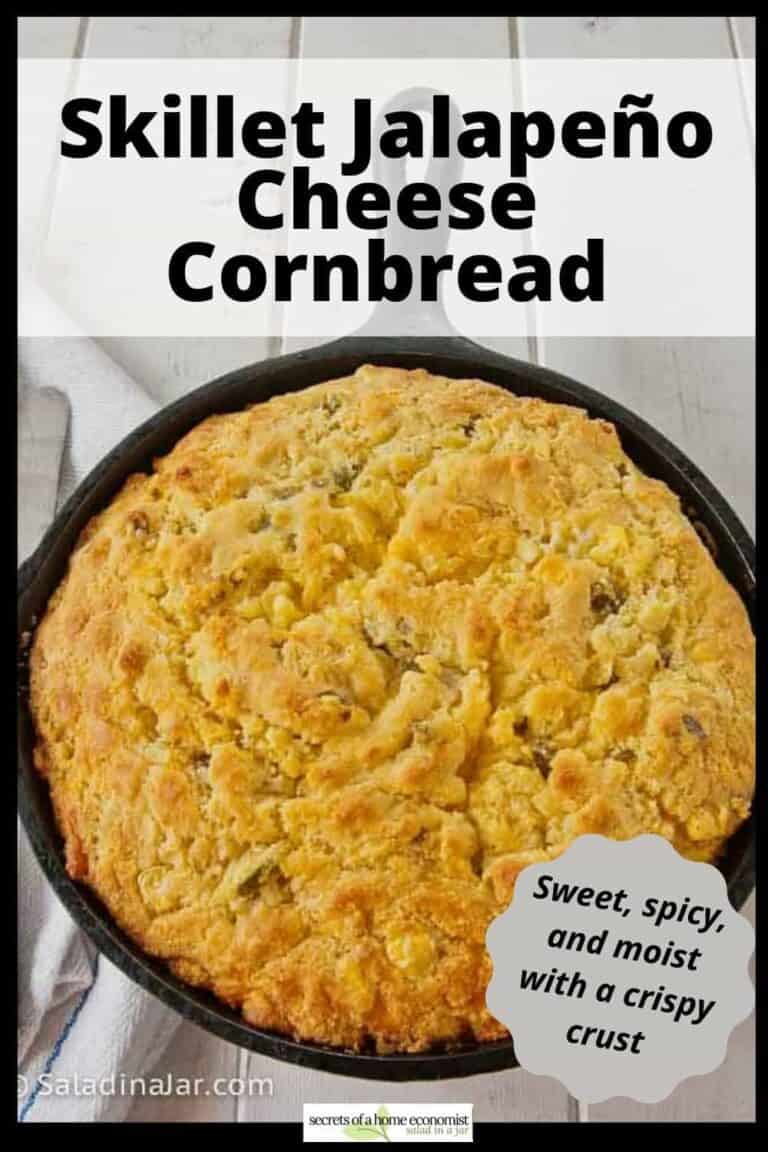 ---
If you enjoyed this recipe, it would help others and me if you gave it a five-star rating inside the recipe card below. 🤩 No comment required. Thank you.

Hope to see you again soon!
Paula
p.s. Questions or suggestions? Please email me: Paula at saladinajar.com.