Oatmeal Rolls Kissed with Honey To Make Dinner Special
Sneak Preview: Oatmeal Rolls kissed with honey are mixed with a bread machine, shaped by hand, and baked in the oven for the best of all worlds.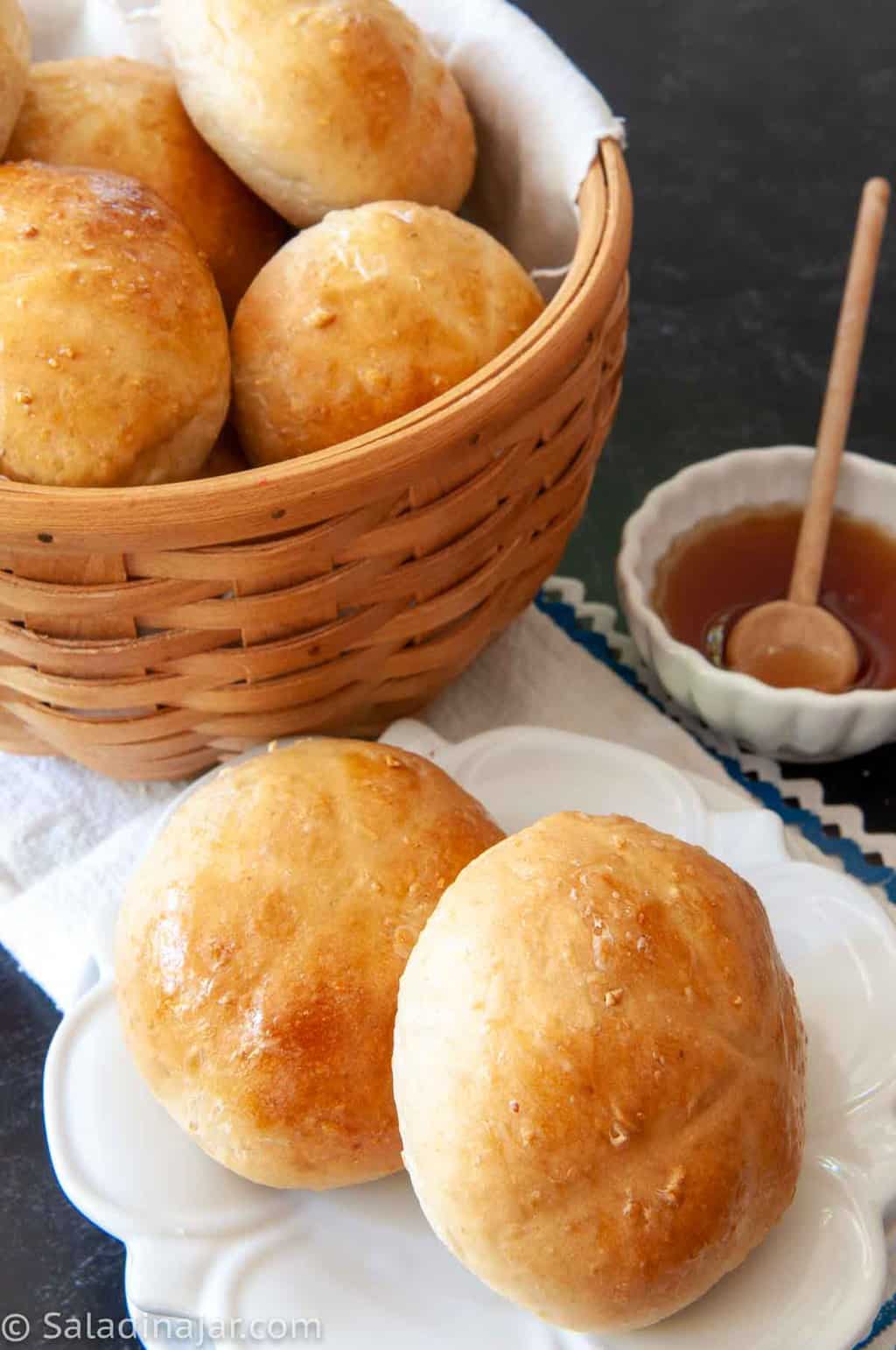 As an Amazon Associate, I earn from qualifying purchases.
Wait until you smell these homemade Oatmeal Rolls (aka Oat Rolls) with honey baking in your kitchen! The heady fragrance of yeast will make your mouth water. Bite into them, and you'll find a fluffy roll with chewy bits of oatmeal and the sweetness of honey.
The directions are for a bread machine because it produces the best bread. But you can make it with a stand mixer or by hand. See the recipe notes for details.
Why you should try these Oat Rolls:
Some would call this an "enriched" dough with eggs, sugar, and plenty of butter.
You can see that the texture is rather close and uniform but soft. These rolls make good buns for chicken salad, sloppy joes, or, my favorite, a BLT. Make them smaller for slider buns.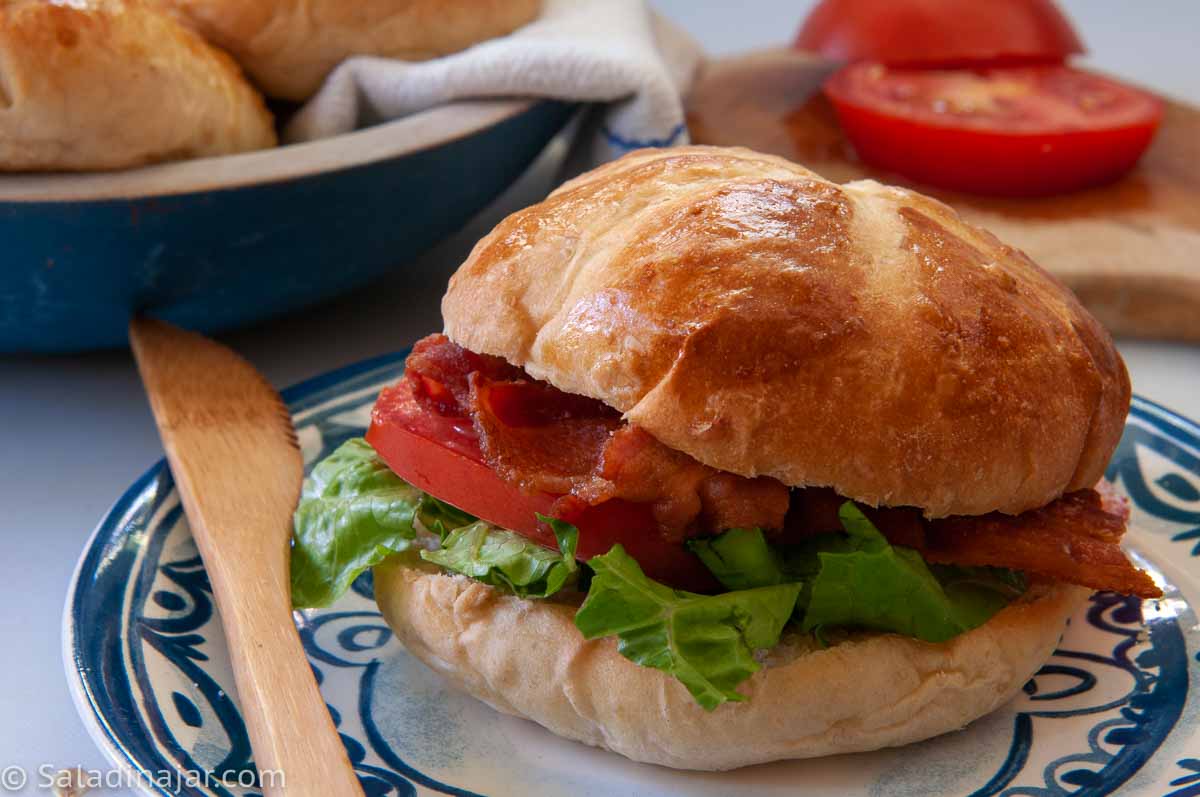 The crust is rustic because of the oatmeal bits, but the shiny egg glaze adds sophistication. I like the markings on top. If you want deeper indentations, use the handle of a small wooden spoon to press down the dough in a decorative design.
---
---
Ingredients and substitutions:
FLOUR: Substitute unbleached all-purpose flour if you don't have bread flour. If you do that, I highly recommend adding vital wheat gluten.

VITAL WHEAT GLUTEN: These rolls can be slow risers. Adding one tablespoon of vital wheat gluten will speed up the rising process and make them a bit softer and lighter in texture. You can leave this out but allow extra time for the rolls to rise.

OATMEAL: Old-fashioned rolled oats are better in this recipe. They add some chew. You could substitute the quick-cooking variety if you prefer. One way to intensify oatmeal's sweet and nutty flavor is to toast it first. Do this before adding it to the bread machine pan.

YEAST: Instant yeast or bread-machine yeast works best in a bread machine. You can substitute active-dry yeast; see the recipe notes for details.

HONEY: The recipe specifies 1/4 cup, but you could cut the amount in half if you don't want as much sweetness in your dinner rolls.
Frequently asked questions about Oat Rolls:
How long will these rolls stay fresh?
Because they have no preservatives, these rolls will only stay fresh 2-3 days. However, oatmeal has an antioxidant that helps.
"Breads containing oats stay fresher longer due to the natural antioxidant found in the oat's endosperm."—The Bread Machine Magic Book of Helpful Hints
What is the best way to store oatmeal rolls?
A bread box is good. A plastic bag is better than a paper bag.
How can I intensify the oatmeal flavor?
Toast your oatmeal before adding it to the other ingredients in the bread machine pan.
Why don't you use quick oatmeal in this recipe?
Quick oatmeal will dissolve faster than old-fashioned oats. I avoid it because I don't want any gooey clumps of oatmeal in my rolls.
Why is the time to make any bread only an estimate?
The room's ambient temperature, where the bread rises, makes a huge difference. If your kitchen is quite cool, your dough can take much longer to proof.
Substitutions like the type of flour you use can also affect the time needed.
Kitchen Tips:
This is not a big deal. But I wanted you to see what happens when you get slap-happy with the glaze since I had a picture.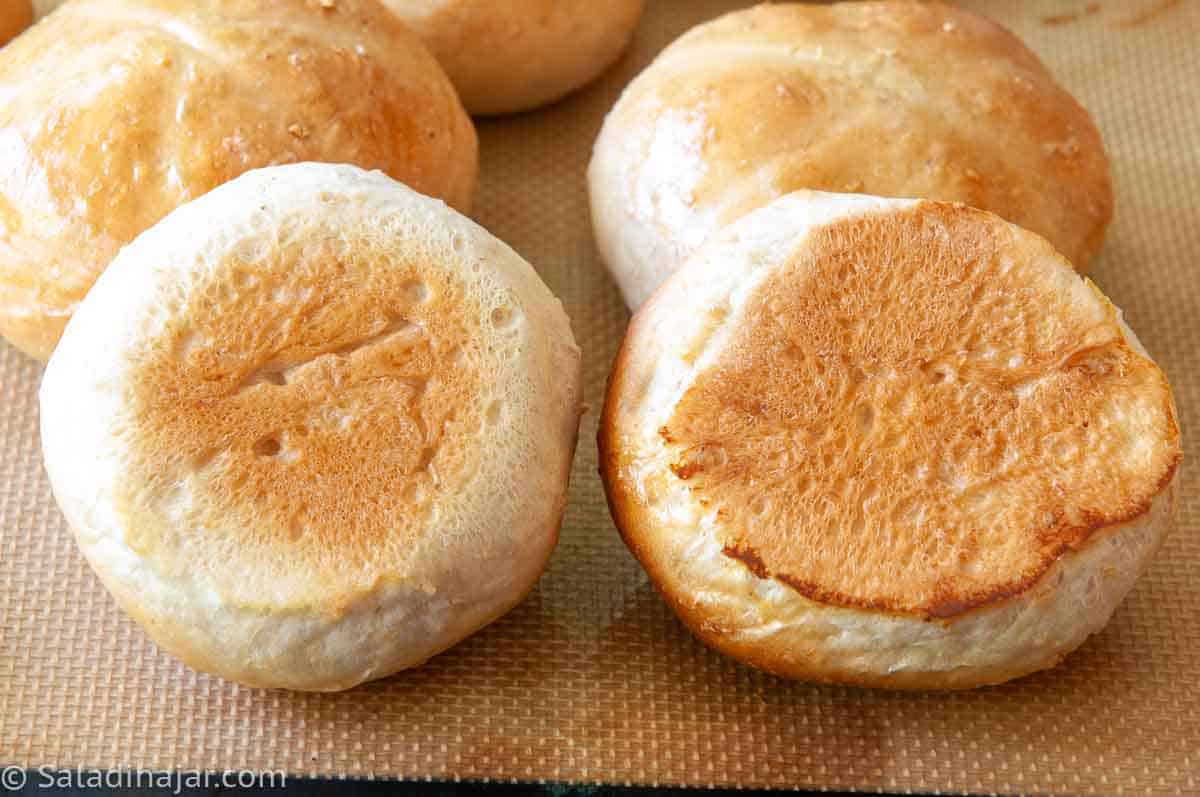 The roll on the right had some excess glaze that dripped and gathered around the bottom. Not all that appealing. However, it didn't keep me from eating that roll.
2. Apply the glaze after making the design on top of the rolls if you want it to be more prominent.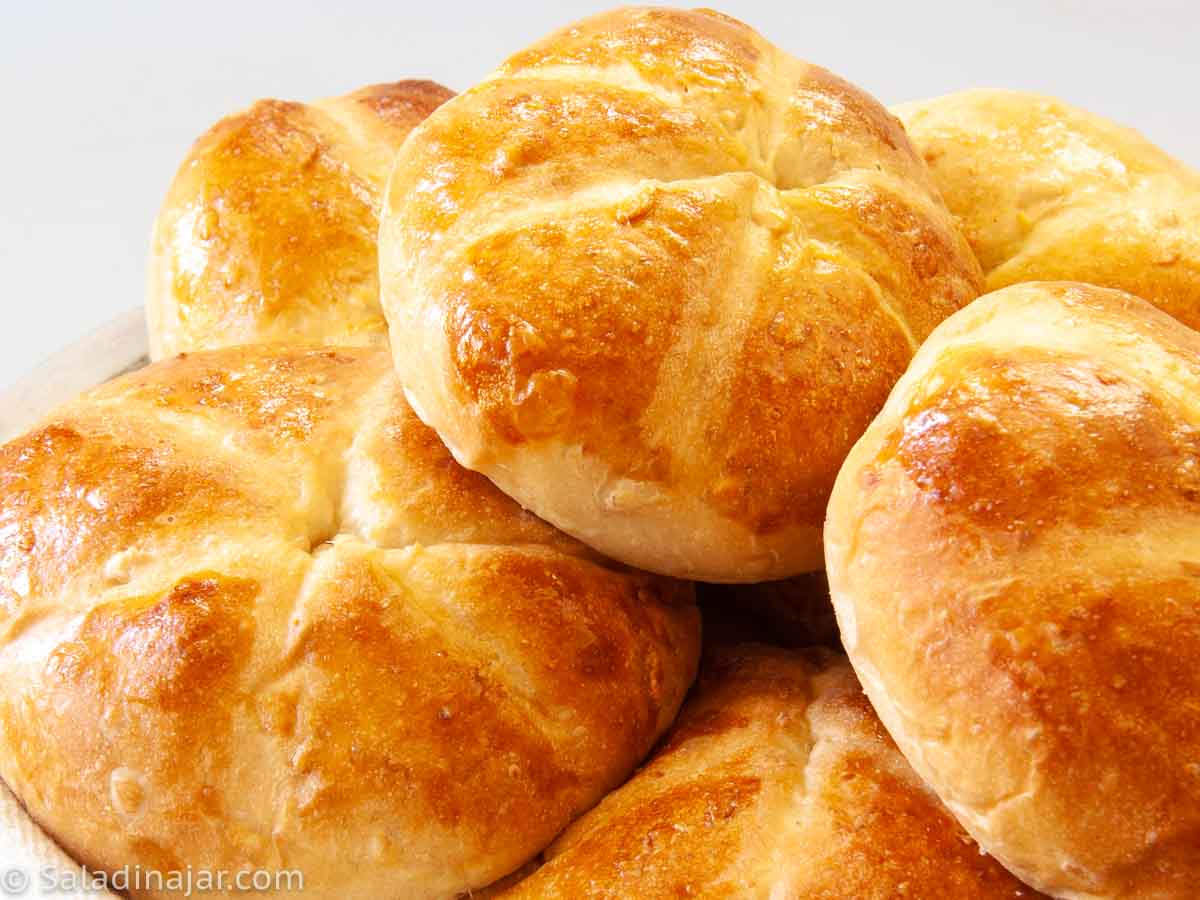 How to shape Oatmeal Buns: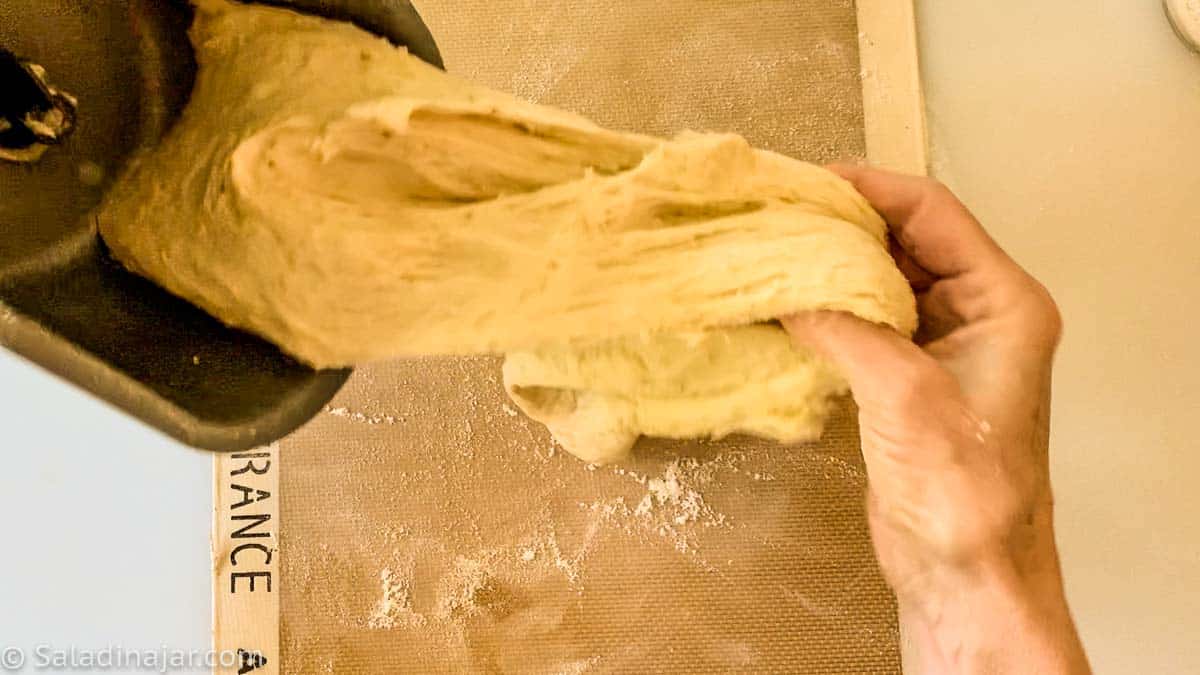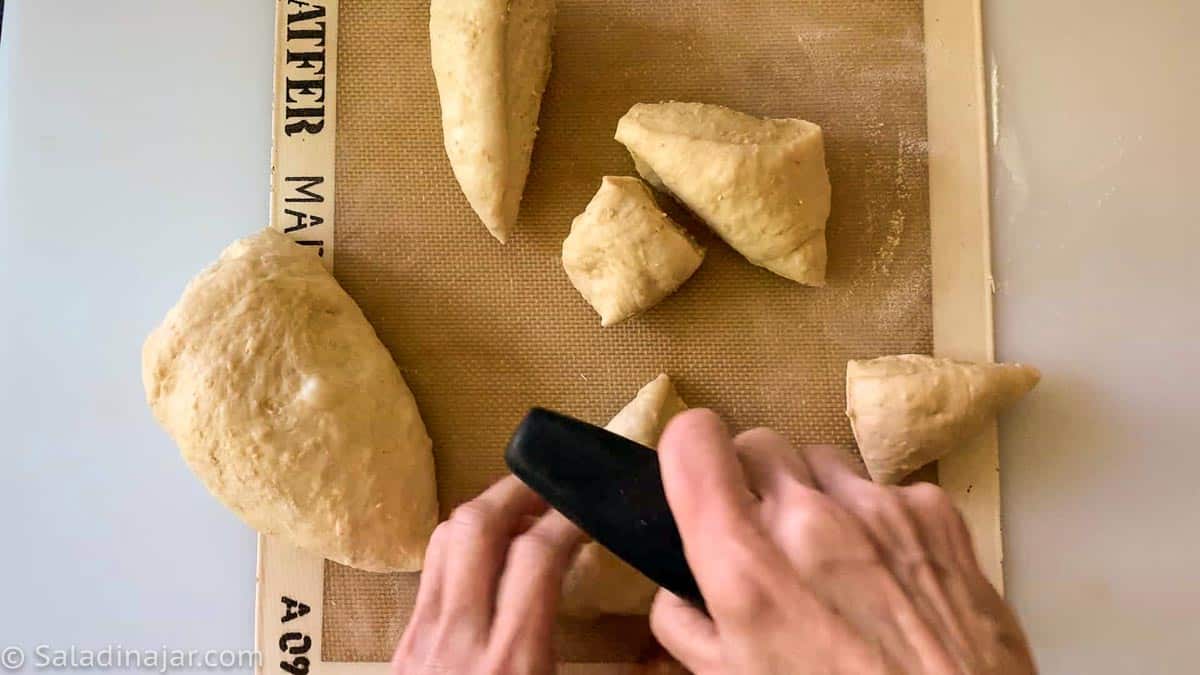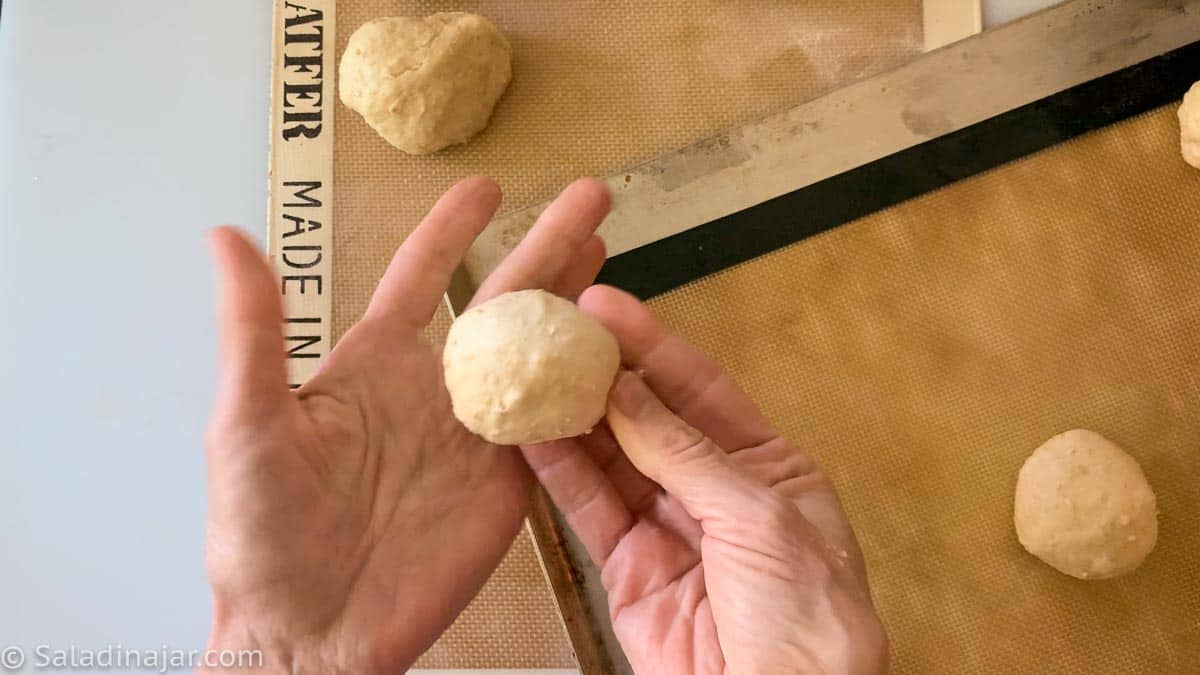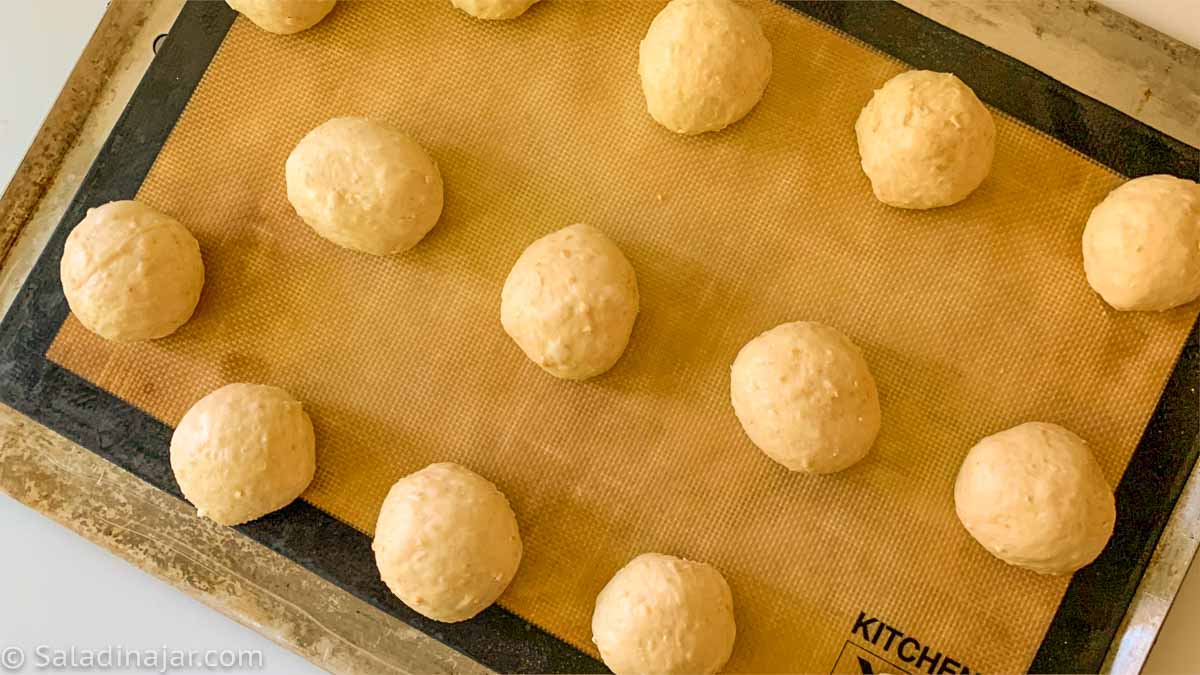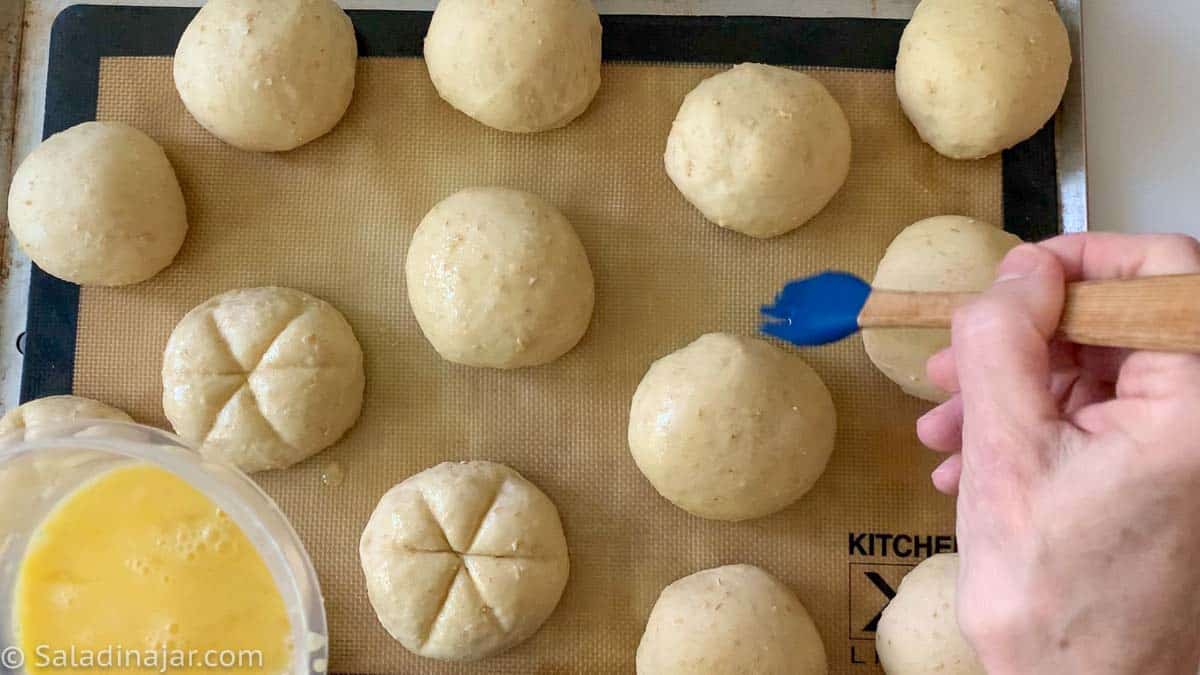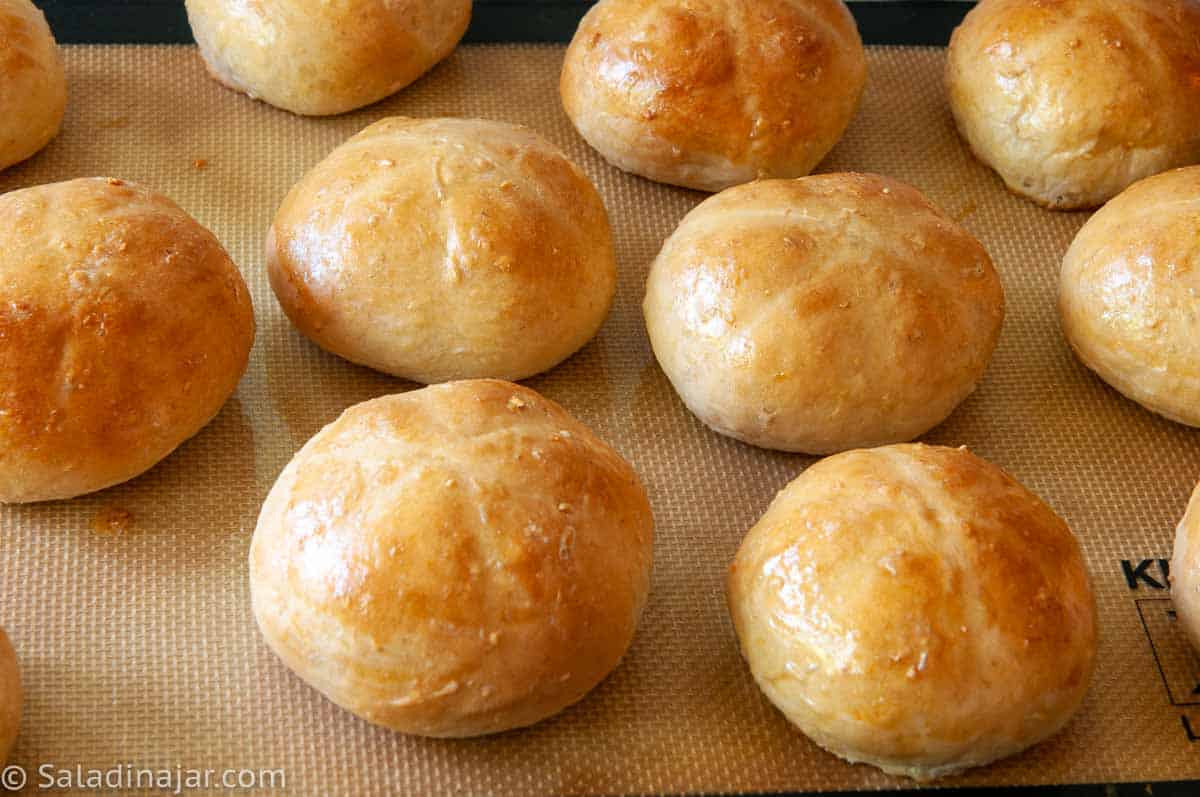 ---
Parting Thoughts: The picture below is an old one taken when I first published this recipe. I no longer sprinkle the rolls with oatmeal because my grandkids didn't take to the idea very well. I like it because it is pretty and gives you a clue about the flavors and what's to come. Suit yourself.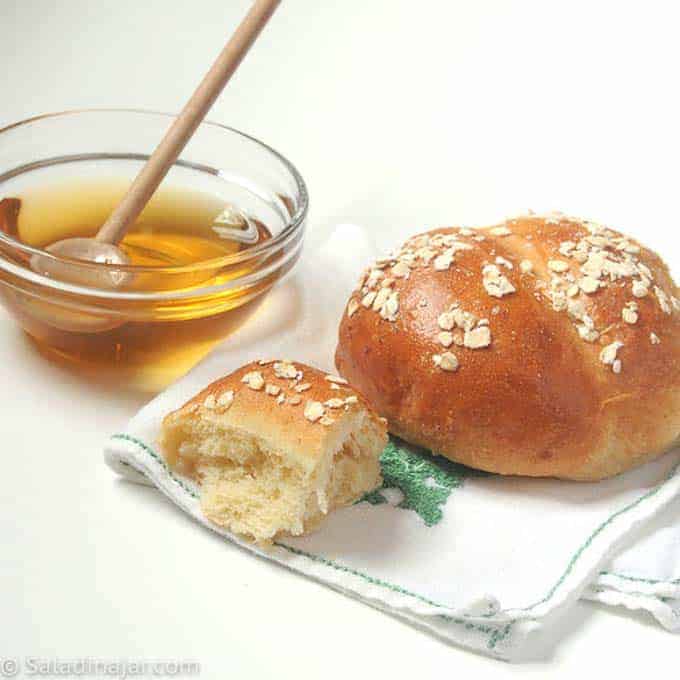 ---
What would you like to read next?
---
If you have questions or suggestions, email me privately for a quick answer: Paula at saladinajar.com. Hope to see you again soon!
---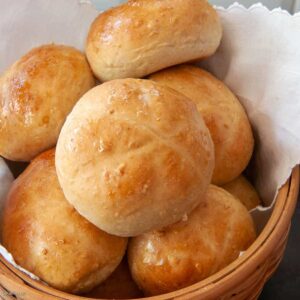 Oatmeal Rolls with Honey Recipe (Bread Machine)
These Oatmeal Rolls are soft, light, and fluffy with just enough oatmeal to give a little chew and make them interesting. Honey adds the right amount of sweetness.
Rate this recipe here
Ingredients
¾

cup

milk

-

lukewarm (170 gr)

¼

cup

honey

-

84 gr

1

large egg

-

50 gr

1

teaspoon

salt

-

6 gr

¼

cup

unsalted butter

-

57 gr

⅔

cup

old-fashioned oats

-

60 gr

2 ½

cups

bread flour

-

300 grams

1

tablespoon

vital wheat gluten

-

optional (see note in the post) (9 gr)

2 ¼

teaspoons

bread-machine yeast or instant yeast

-

7 gr
Glaze:
1

egg

-

50 gr

1

tablespoon

water

-

14 gr
Instructions
Add all dough ingredients to the bread machine pan in the order listed.

Set your bread maker on the DOUGH cycle and start.

Check the dough at least twice by lifting the lid to take a peek. The first time, look immediately after the machine starts to ensure the paddles are engaged correctly.

Look again 15 minutes into the DOUGH cycle to assess the consistency of the dough. For most recipes, The dough should stick to the side, then pull away cleanly.

If your dough is too wet, add flour one tablespoon at a time.

Conversely, if the dough is too dry, add one tablespoon of liquid at a time until the dough looks just right. Read more about this surprising secret to success with a bread machine here.

When the dough cycle completes, turn the dough out onto a floured surface. Divide dough in half. Divide each half into 7 rolls for a total of 14. Use fingers to make each portion into a smooth ball.

Place dough balls onto a greased cookie sheet. Allow to rise until almost double.

Turn on the oven about 15 minutes before you anticipate the rolls will be ready to bake. Use the dull side of a thin knife or a wooden skewer to gently press down 1-3 times in the middle of each roll to make a decorative pattern.
Glaze:
Whisk eggs and water together for glaze and gently coat rolls.

Bake at 350˚F for 10-13 minutes. Allow to cool on a rack for a few minutes or eat as soon as they don't burn your fingers.
Notes
Directions for making bread with a stand mixer or by hand:
To make this recipe in a heavy-duty stand mixer: Add ingredients to the bowl in the same order. Turn on LOW to mix until all ingredients are moistened. Then, using a dough hook, turn the speed to 2 or 3. Continue beating/kneading until dough becomes smooth and elastic (about 5-10 minutes). Cover and allow to rise in a warm place. Deflate dough gently and shape as indicated in the recipe.
If making by hand: Combine all ingredients into a shaggy ball in a large bowl. Turn dough out onto a floured surface. Knead with your hands until the dough becomes smooth and elastic. Kneading will likely take 10-20 minutes, depending on your experience. Place the dough ball into a greased bowl. Cover and allow to rise until double. Deflate the dough gently and shape as indicated in the recipe.
Please note: If you only have active dry yeast, use 1/4 teaspoon more than called for in the recipe.

It no longer needs to be dissolved first

, but you can if you prefer.
Nutrition
Serving:
1
roll
|
Calories:
167
kcal
|
Carbohydrates:
25
g
|
Protein:
6
g
|
Fat:
5
g
|
Saturated Fat:
3
g
|
Polyunsaturated Fat:
1
g
|
Monounsaturated Fat:
1
g
|
Trans Fat:
1
g
|
Cholesterol:
33
mg
|
Sodium:
184
mg
|
Potassium:
86
mg
|
Fiber:
1
g
|
Sugar:
6
g
|
Vitamin A:
149
IU
|
Vitamin C:
1
mg
|
Calcium:
27
mg
|
Iron:
1
mg
Did you try this recipe?
If you loved it, don't forget to leave a 5-star rating 🌟🌟🌟🌟🌟 at the top of the recipe card. Thanks so much for taking the time to do that!