Sneak Preview: Keep these slice-and-bake Chocolate Icebox Cookies with oatmeal in the freezer at all times. Optional chocolate chips and pecans add flavor to this easy recipe.
That moment when you're kids, grandkids, or Eddie Haskell-like neighbor kids start going through your pantry looking for something to eat: Will they find a) a nearly-empty bag of crumbled corn chips, b)some stale saltines, or c) leftover marshmallows from last Christmas?
Maybe you are fully stocked, but I can't handle the temptation. That list above came from my own pantry.
My solution is to make these rich and fudgy Slice-and-Bake Chocolate Icebox Cookies. Store them in the freezer for up to three months. You'll be deemed the "baker of the year" when that fresh-baked-cookie aroma permeates the house.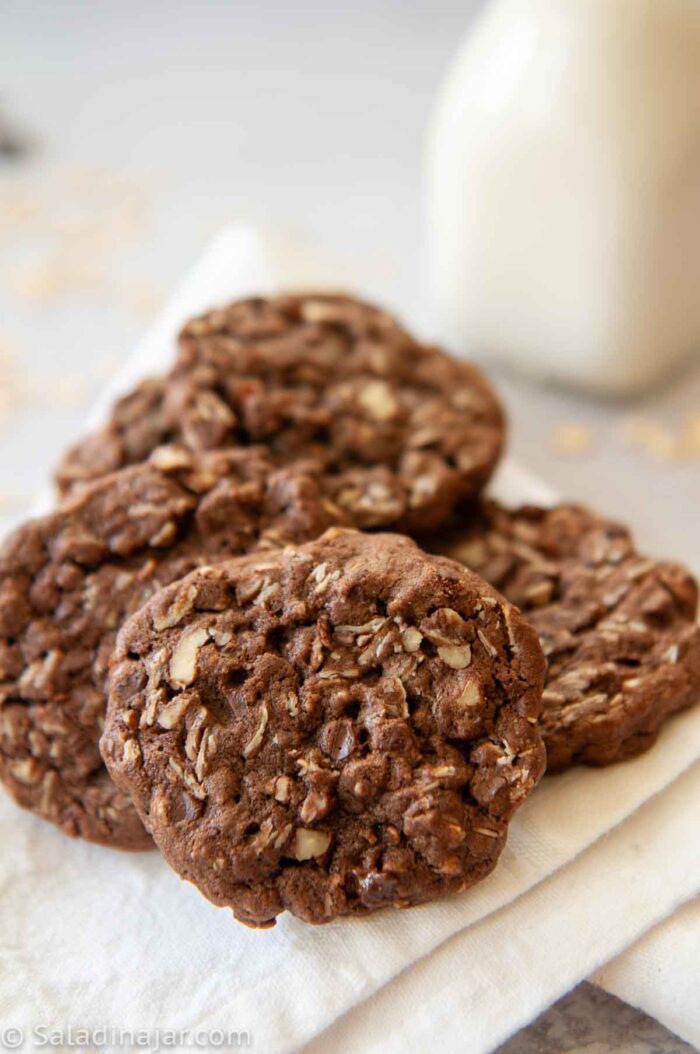 Recipe Inspiration
Thanks to my friend Beth P. for putting me on to these cookies many years and memories ago. The subtle almond flavor makes them especially tasty.
This recipe is slightly adapted from a similar recipe in Betty Crocker's Cooky Book for Chocolate Oatmeal Refrigerator cookies.
Do you secretly eat raw cookie dough? (I'll never tell.)
This particular cookie tastes kinda like fudge before it's baked. Although the raw slices appear to contain coconut, it's actually oatmeal which gives a wonderful chewy texture to the baked cookies.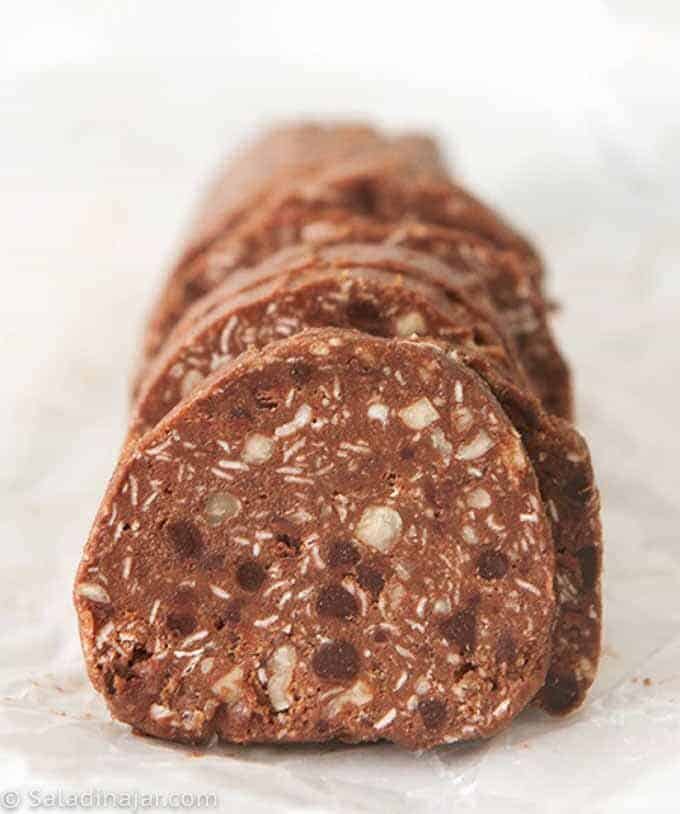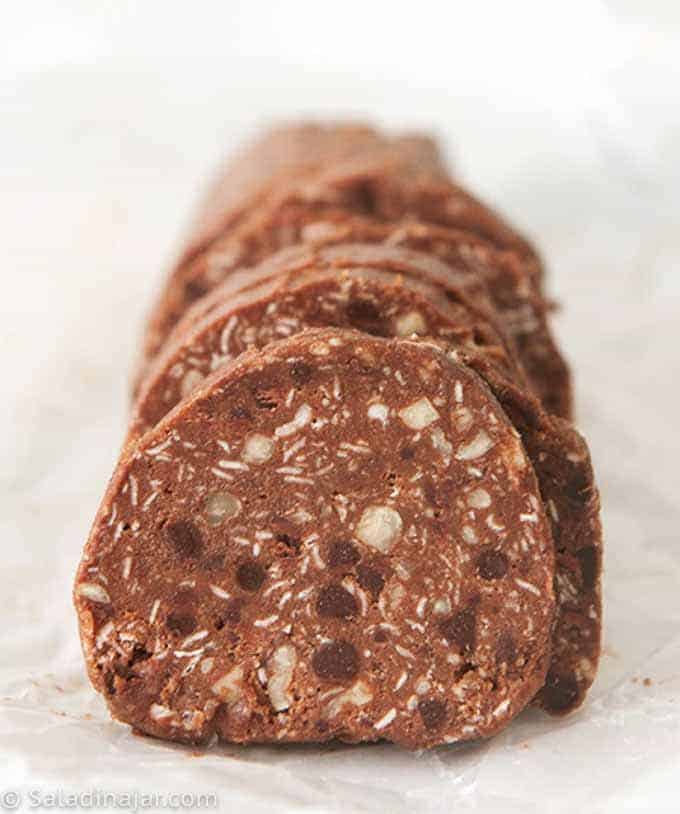 Ingredients and Substitutions
UNSWEETENED CHOCOLATE: To substitute for this important ingredient, Cooks Illustrated recommends you combine 6 tablespoons of unsweetened powdered cocoa with 2 tablespoons of oil or melted butter. Stir together. I've tried it. Works great.

BUTTER: I can't recommend substituting margarine for the butter, but it will probably work. The original recipe called for shortening, so that's another option.

BROWN SUGAR: Be sure to pack your measuring cup to accurately measure brown sugar.

EGG: I always bake with "large" eggs.

VANILLA AND ALMOND EXTRACT: You don't need much, but the almond extract is the secret ingredient in this recipe.

FLOUR: Bleached or unbleached all-purpose flour is fine.

SALT: Kosher salt is what I use, but table salt is a good substitute.

OATMEAL: Quick oats or old-fashioned oats are both acceptable. Instant oatmeal with added sugar and flavorings are not suitable.

PECANS: These are optional, but not for me. I always toast pecans in any recipe where they won't be toasted in the baking process. Try toasting nuts in the microwave. It only takes a couple of minutes.

MINI CHOCOLATE CHIPS: You don't have to use the mini chips, but when frozen inside the dough, they are easier to slice than regular chips.
Frequently Asked Questions
Why are they called icebox cookies?
Refrigerators used to be called iceboxes before there was electricity. Icebox cookies are the homemade version of slice and bake cookies.
How long can I keep the dough in the freezer?
If you keep them double wrapped, the logs of dough will keep for up to 3 months. Don't slice them until you are ready to bake.
How can I slice frozen chocolate oatmeal cookies without destroying them?
Don't substitute regular-sized chocolate chips for the miniature chips. They are REALLY hard to slice.
Use a sharp knife.
Try a serrated knife. Although a cheap serrated knife will make it worse. A Victorinox serrated knife is my favorite. It doesn't tear cookies or bread if you saw it patiently with a steady hand.
The frozen dough will slice cleaner than refrigerated dough.
How to make Chocolate Icebox Cookies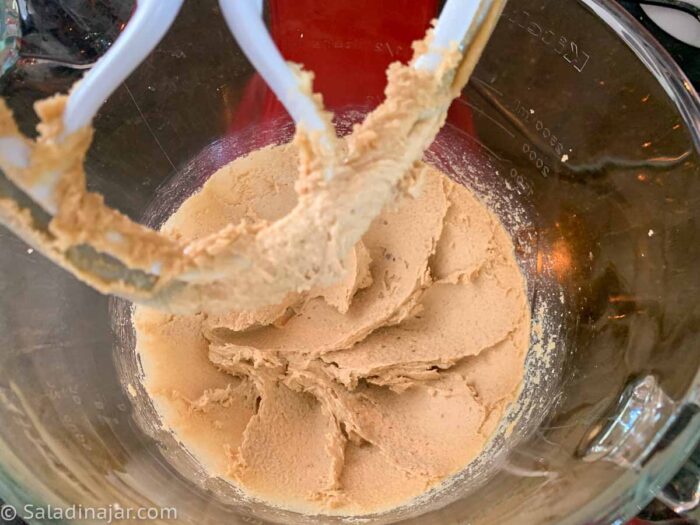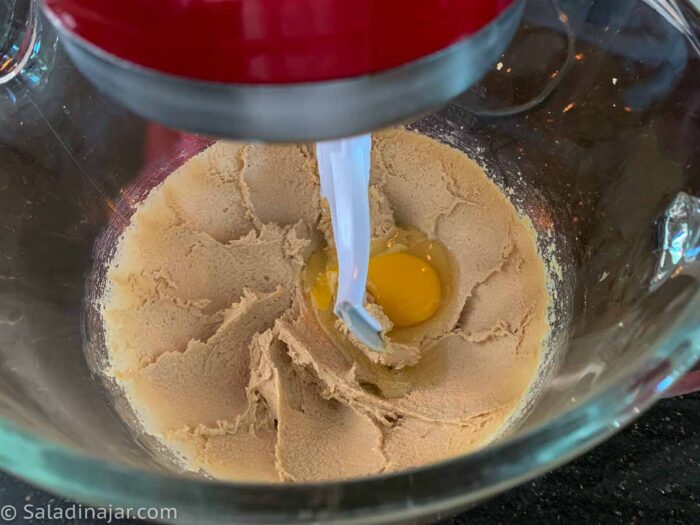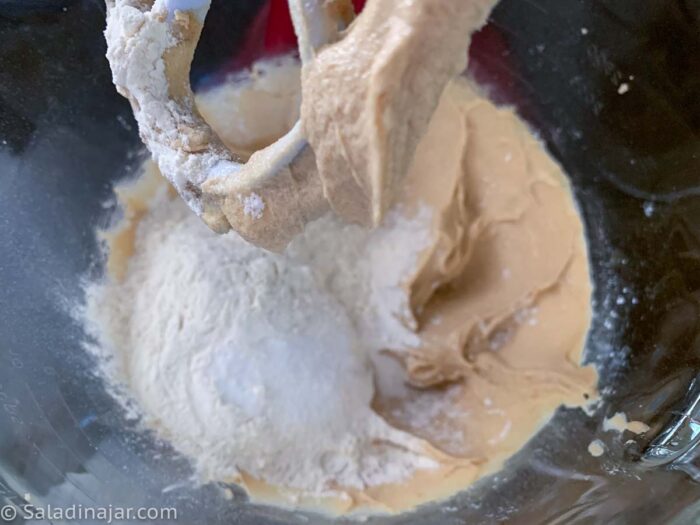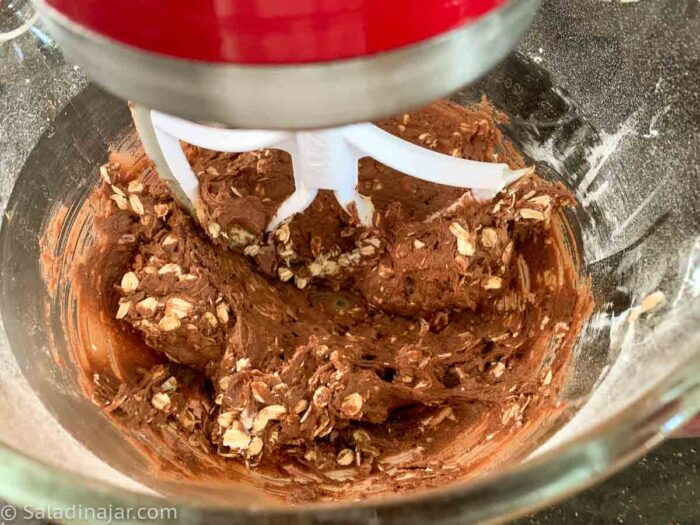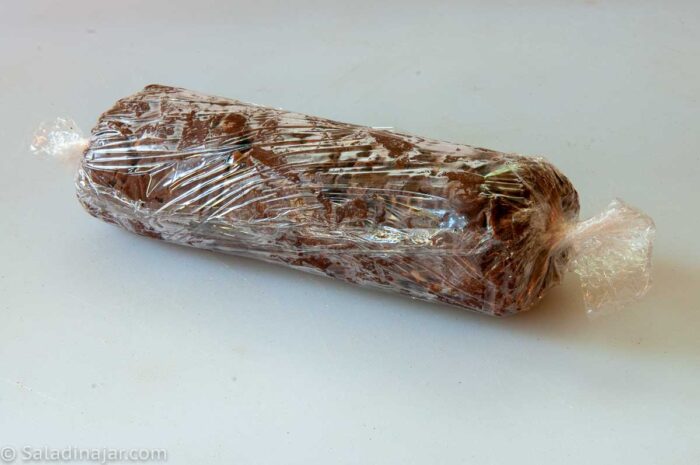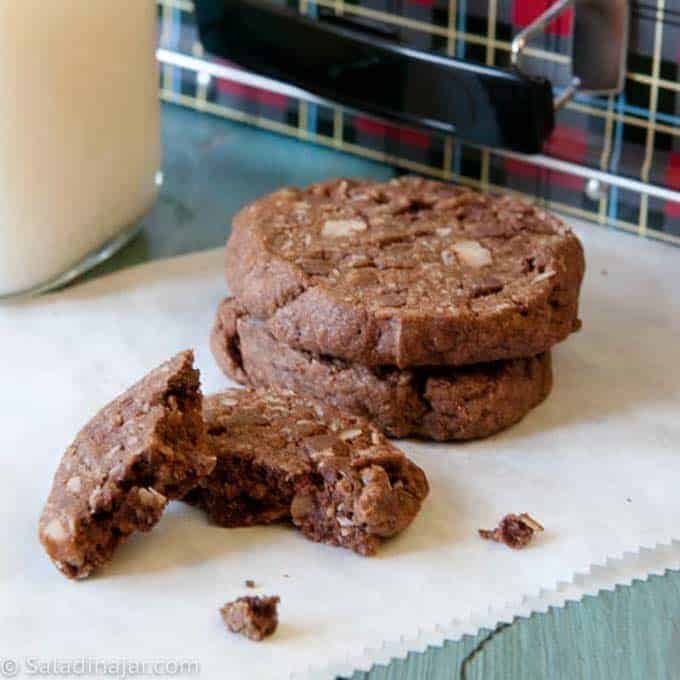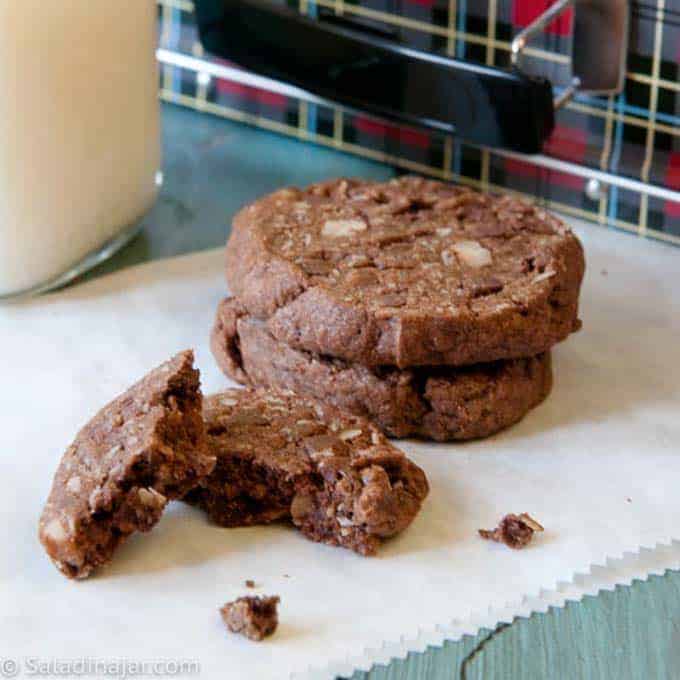 ---
More Recipes for Oatmeal Lovers
---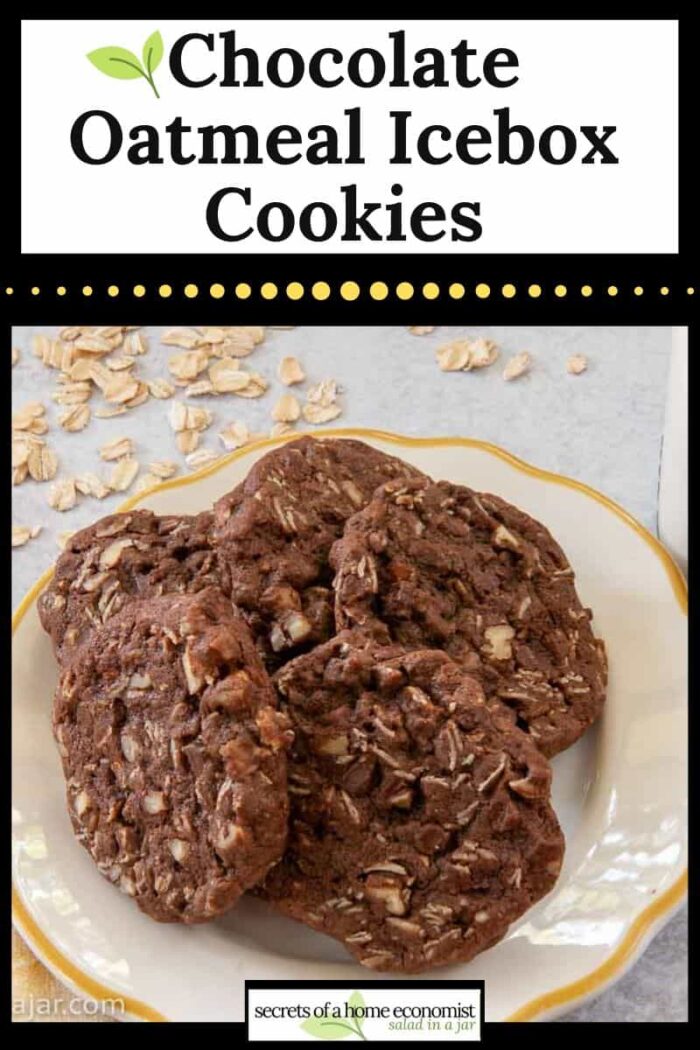 ---
If you enjoyed this recipe, it would help others and me if you gave it a five-star rating inside the recipe card below. 🤩 No comment required. Thank you.

Hope to see you again soon!
Paula
p.s. Questions or suggestions? Please email me: Paula at saladinajar.com.
---
This recipe is slightly adapted from a similar recipe in Betty Crocker's Cooky Book.