Steakhouse Dark Brown Bread Rolls without Rye
Preview: These dark brown bread rolls are soft and darkly colored dinner rolls with no rye flour. I wrote this recipe for a bread machine, including directions for a stand mixer if you prefer.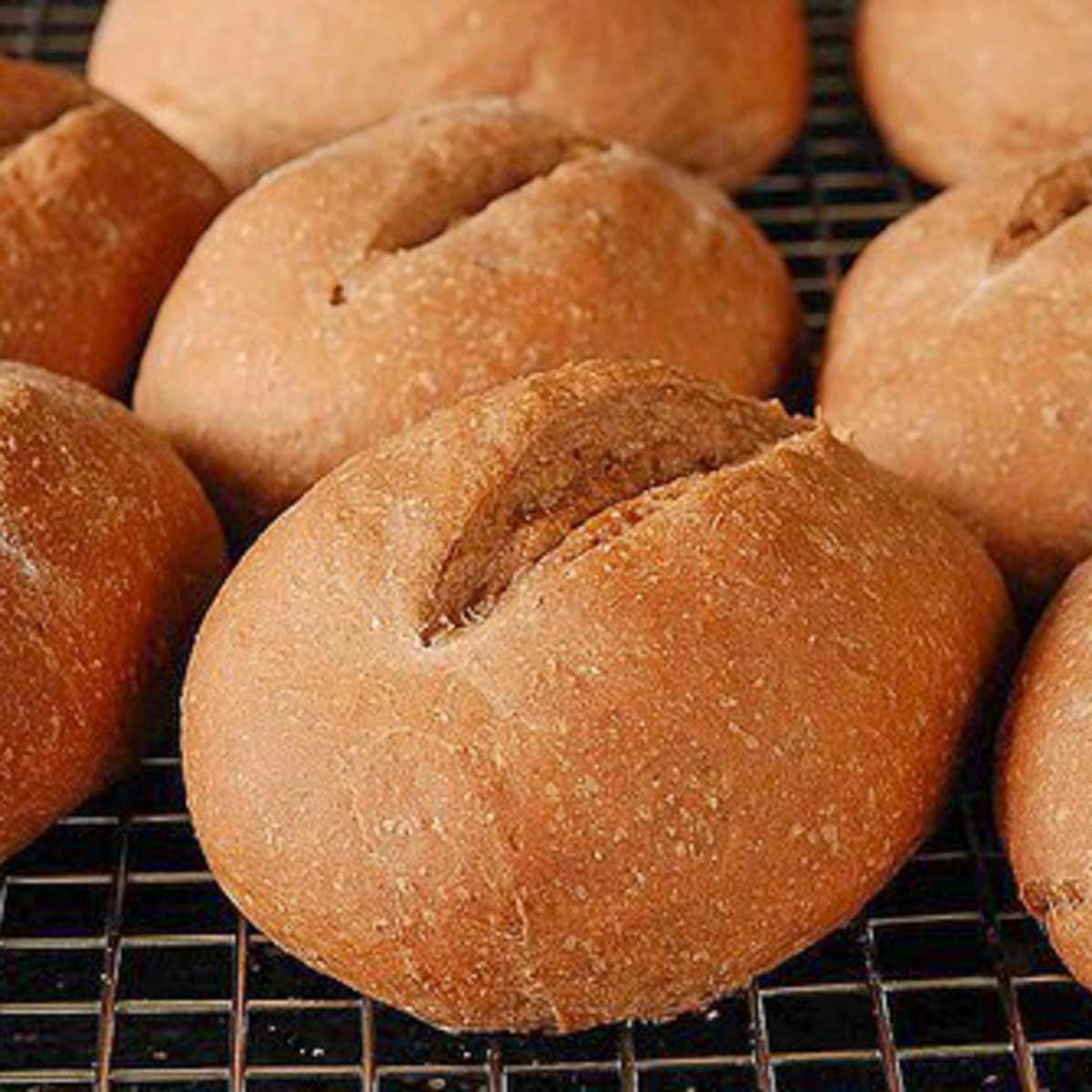 As an Amazon Associate, I earn from qualifying purchases.
These big rolls remind me of the dark brown bread mini-loaves we used to get at Steak and Ale–the kind brought out on a wooden board with a serrated knife and garnished with whipped butter. You may find yourself looking for a white tablecloth and candles to complete the mood.
Dark bread is mysterious to me. Names like pumpernickel and Russian rye don't help.
The more robust flavors aren't exactly what this midwest farmer's daughter grew up eating in her lunch box.  Bologna and pumpernickel?? Nope.
But in this recipe, there are no strange flours, no hard-to-find additives or flavoring, and no rye. There is not even whole wheat flour.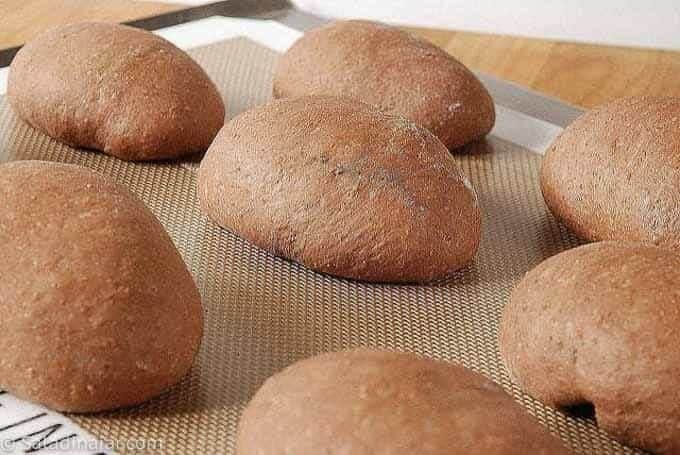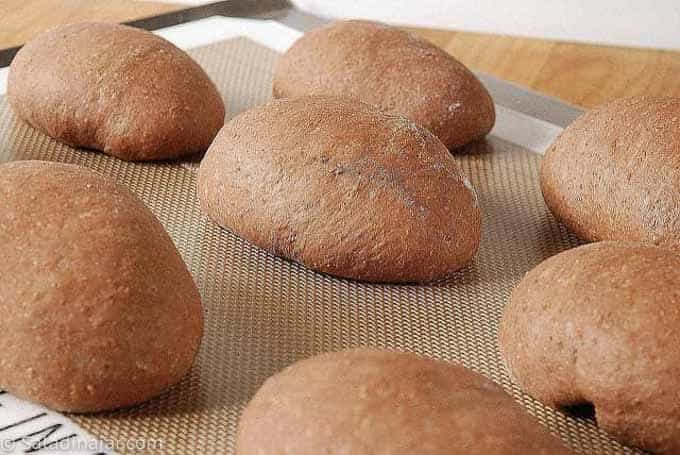 What is the secret ingredient that makes these dark brown bread rolls dark?
The dark color comes from a spoonful of cocoa. But don't worry. They don't taste like chocolate. (Although chocolate in bread can be fabulous!)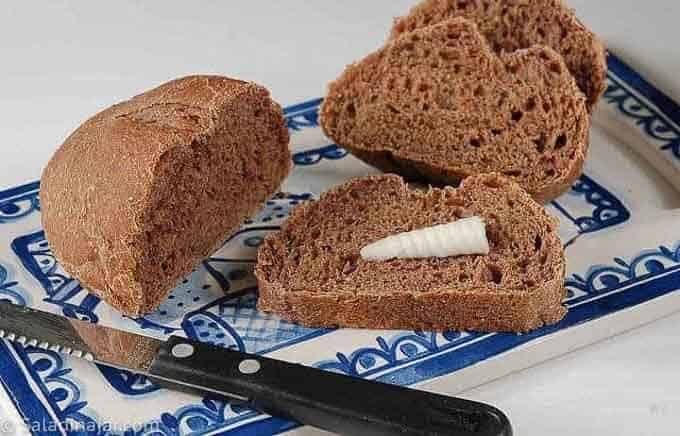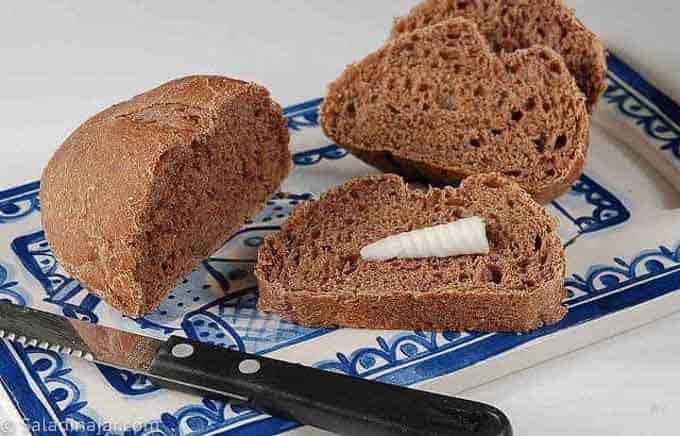 Most of my bread recipes are mixed in a bread machine, then baked in a conventional oven.  The bread machine does the mixing, kneading, and proofing.  All you have to do is form the rolls into a pretty shape, let them rise again, then bake in a conventional oven.
---
If you have questions or suggestions, email me privately to Paula at saladinajar.com. Hope to see you again soon! Paula
---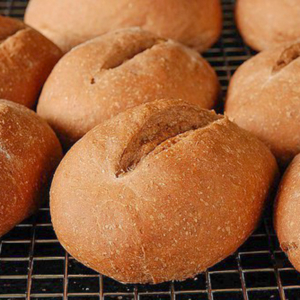 Dark Brown Bread Rolls without Rye Recipe
Steakhouse Rolls are dark-colored rolls like we used to get at Steak and Ale. Directions for mixing and kneading in a bread machine are included.
Ingredients
⅔

cup

lukewarm water

-

160 gr

¼

cup

orange juice

-

62 gr

3

tablespoons

unsalted butter

-

42 gr

¼

cup

honey

-

84 gr

1 ⅔

cup

whole wheat flour

-

188 gr

1 ⅔

cup

unbleached bread flour

-

200 gr

1 ¼

teaspoon

salt

-

7 gr

2

tablespoons

Dutch-process cocoa

-

11 gr

2 ¼

teaspoons

instant yeast

-

7 gr
Instructions 
Add ingredients to a bread machine pan in order given. Set on the DOUGH cycle and press START.

Stand by for the first 10-15 minutes of the cycle and check the dough. If too sticky, add 1 tablespoon flour at a time. Conversely, if too dry (dough slaps loudly against the side of pan) add 1 or more tablespoon(s) of water.

When the dough cycle finishes and the dough has almost doubled in volume, remove it from the bread-machine pan to a floured board.

Divide dough into 8 pieces and form into oval rolls.

Place on cookie sheet, cover loosely with a tea towel and allow to rise until almost double in a warm place. Use a serrated knife or kitchen shears to make a slash through the middle.

Preheat your oven to 350 degrees F. Bake rolls for approximately 20 to 25 minutes. Their dark color makes these rolls somewhat difficult to assess for doneness. Either look at the bottom for browning or check internal temperature which should be close to 190 degrees F. Serve with butter.
Notes
Directions for making bread with a stand mixer or by hand:
To make this recipe in a heavy-duty stand mixer:  Add ingredients to the bowl in the same order. Turn on LOW to mix until all ingredients are moistened. Then, using a dough hook, turn the speed to 2 or 3. Continue beating/kneading until dough becomes smooth and elastic (about 5-10 minutes). Cover and allow to rise in a warm place. Deflate dough gently and shape as indicated in the recipe.
If making by hand: Combine all ingredients into a shaggy ball in a large bowl. Turn dough out onto a floured surface. Knead with your hands until the dough becomes smooth and elastic. Kneading will likely take 10-20 minutes, depending on your experience. Place the dough ball into a greased bowl. Cover and allow to rise until double. Deflate the dough gently and shape as indicated in the recipe.
Please note: You can substitute active dry yeast for instant yeast. Dissolving it first is optional. Active dry yeast tends to rise slower initially but will catch up eventually.
Nutrition
Nutrition Facts
Dark Brown Bread Rolls without Rye Recipe
Amount per Serving
% Daily Value*
* Percent Daily Values are based on a 2000 calorie diet.
Like this recipe? Thanks for leaving a 5-star rating inside the recipe at the top! 🤩