Easy Bread Machine Brown Bread: Steakhouse Style Without Rye
Sneak Preview: This easy Bread Machine Brown Bread is made steakhouse style with whole wheat flour, bread flour, honey, and powdered cocoa (but it doesn't taste like chocolate)–no rye flour.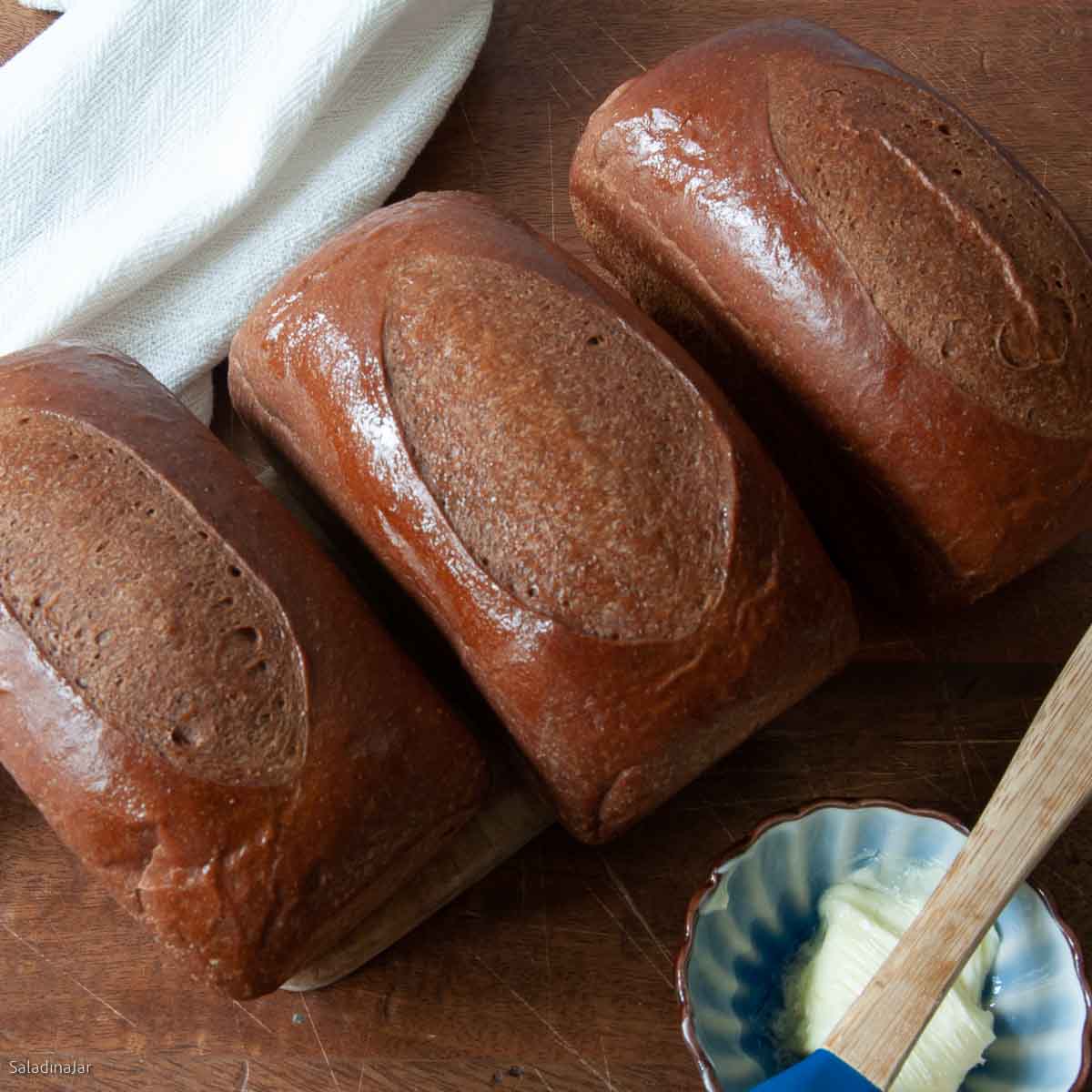 As an Amazon Associate, I earn from qualifying purchases.
This bread machine recipe reminds me of the dark brown bread mini-loaves we used to get at our local Steak and Ale (a now-defunct restaurant chain)–brought out on a wooden board with a serrated knife and garnished with whipped butter. You may find yourself looking for a white tablecloth and candles to complete the mood.
What's funny is that after all these years, the bread was what I remember most about my steak dinner. I'm betting the people you feed will remember this bread the same way.
Happy Bakers Speak Up:
Oh Paula, this is without a doubt the very best bread recipe that I have come upon – well almost. Easy to make (thanks to your tips about bread machine usage). Tastes great and looks fabulous. I really liked that I could make small loaves which I shared with some neighbours and could freeze another loaf. Your recipes and tips are tops. Thanks so much. —Stephen
What is the secret ingredient that makes this bread brown?
The dark color comes from cocoa powder and whole wheat flour. But don't worry. This bread doesn't taste like chocolate. (Although chocolate in bread can be fabulous!) You could even call it honey wheat bread because it's sweetened with honey.
What this homemade bread doesn't have:
No rye flour–although rye bread can be fabulous when made with a bread machine.
No food coloring
No all-purpose flour: Bread flour provides gluten to help this bread rise nice and high.
No preservatives
---
Ingredients and substitutions: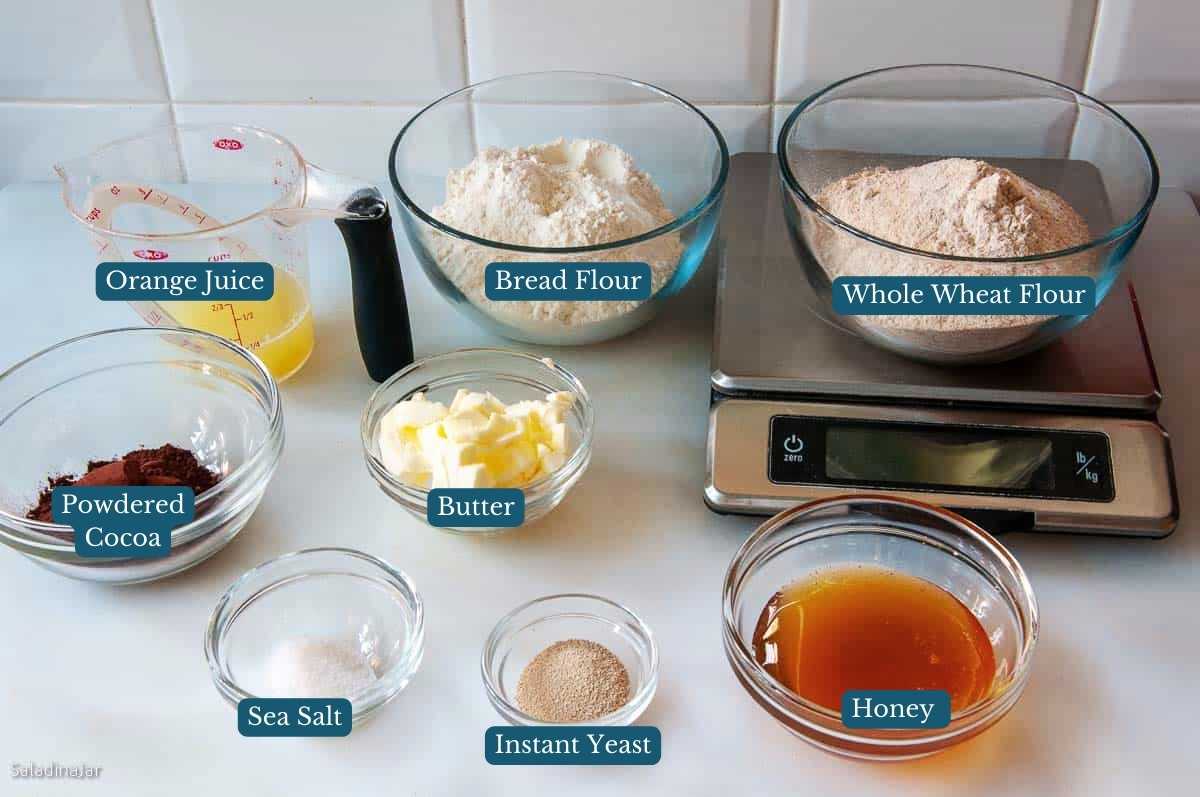 Water: Tap water is good unless your water has high mineral content. In that case, use spring water. It is unnecessary to use warm water, as the friction of the paddles will heat the dough quickly.

Orange Juice: Substitute more water if you don't have orange juice.

Butter: Unsalted butter is my first choice. Substitute margarine or vegan butter.

Honey: Honey and orange juice complement each other. Use maple syrup or molasses to change things up. I tried date syrup, and it was equally delicious.

Flour: Bread flour and whole wheat flour are specified in equal amounts. Using all-purpose flour instead of bread flour may cause your rolls to be dense. Same for using all whole-wheat flour. The combination is perfect.

Salt: I use a table or sea salt. Add ¼ teaspoon extra if you use Kosher salt.

Cocoa: Dutch-processed or regular powdered cocoa will serve the purpose. Using Dutched-processed cocoa makes the bread a touch darker.

Yeast: I only use instant or bread machine yeast in my bread machine recipes. See the notes in the recipe if you only have active dry yeast.
---
Most of my bread recipes are mixed in a bread machine, then baked in a conventional oven. The bread machine does the mixing, kneading, and proofing. All you have to do is form the dough, let it rise again, then bake it in a conventional oven.
Speaking of shapes, I used three mini loaf pans that I can't recommend enough. But you can make dinner rolls, one large loaf, or whatever you can imagine. That choice is your privilege as the baker.
---
How to make this steakhouse-style bread with a bread maker: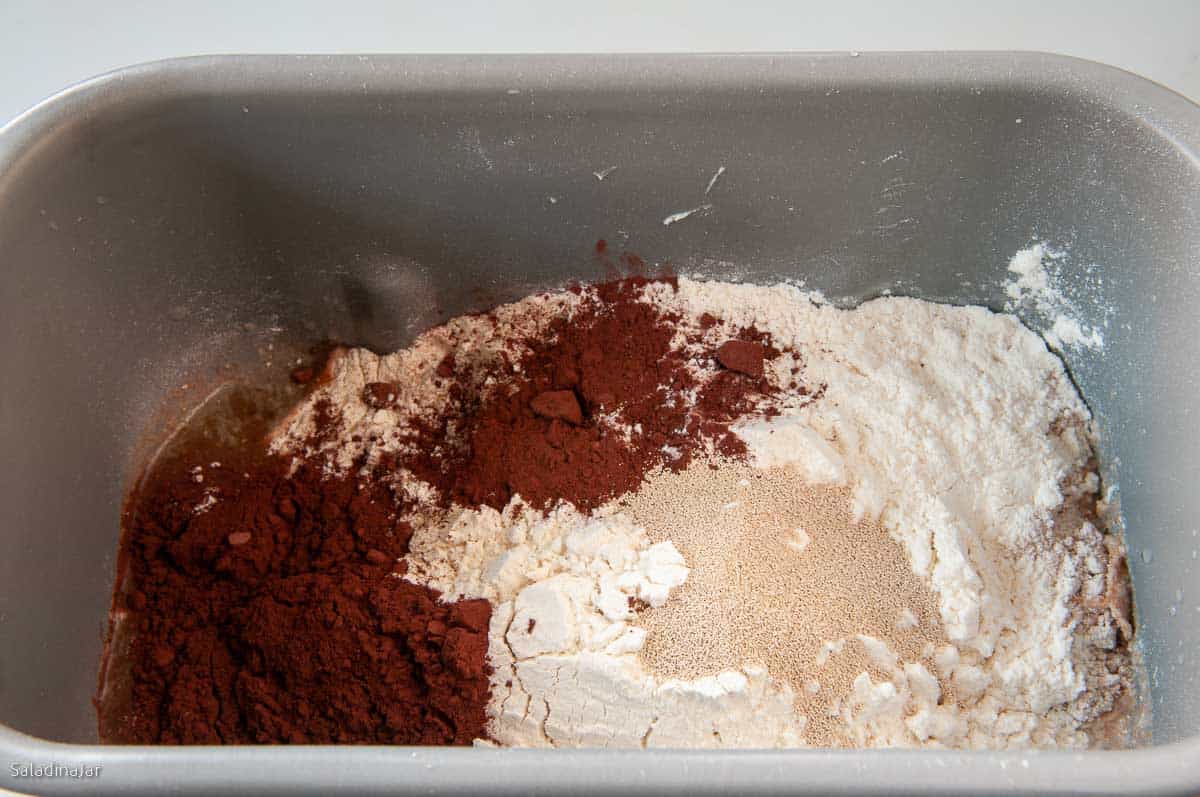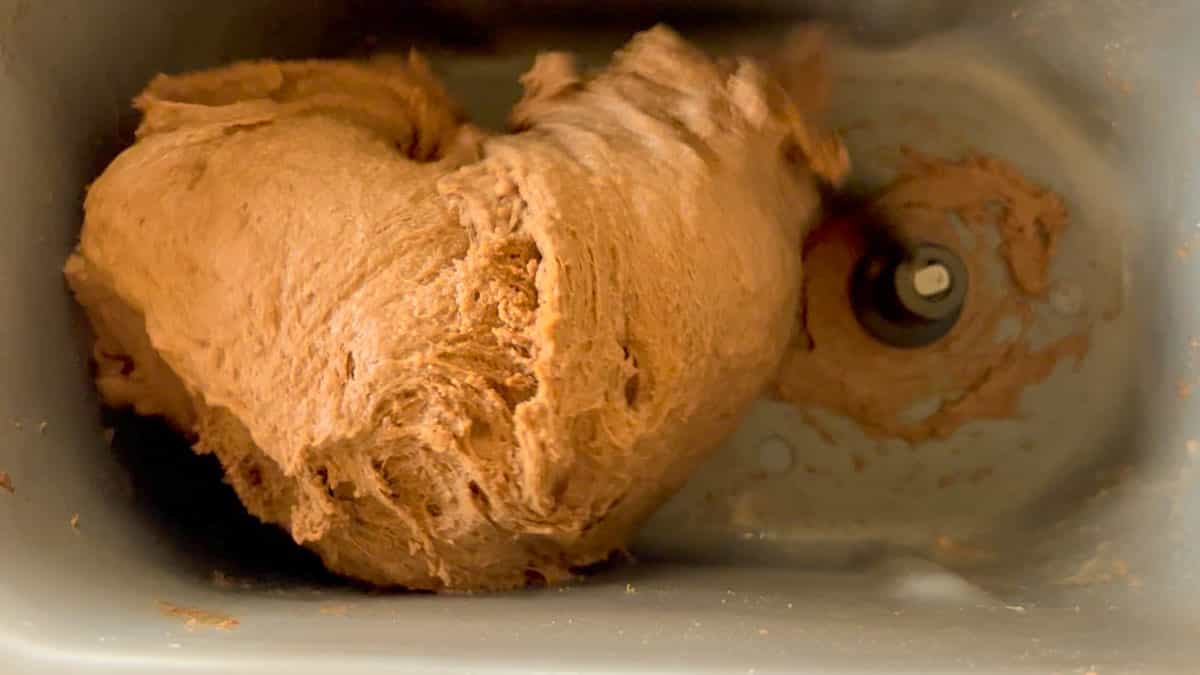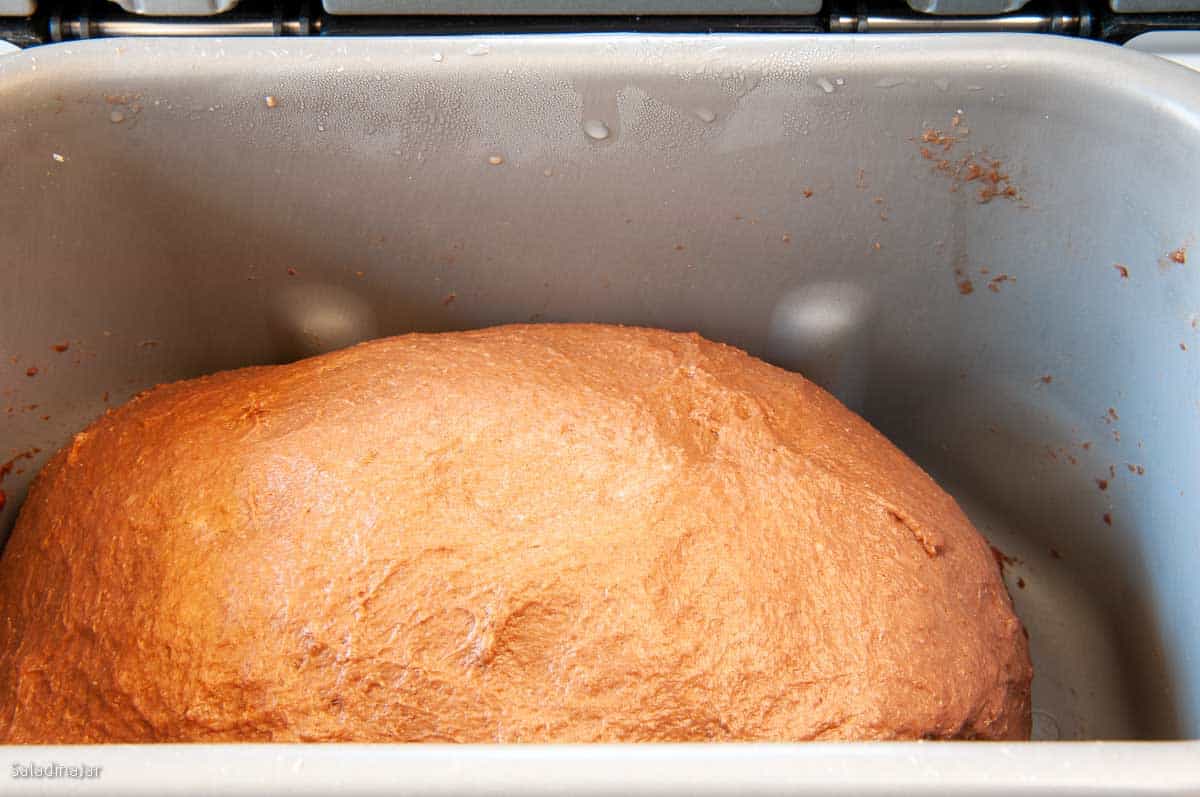 ---
How to shape the dark bread loaves: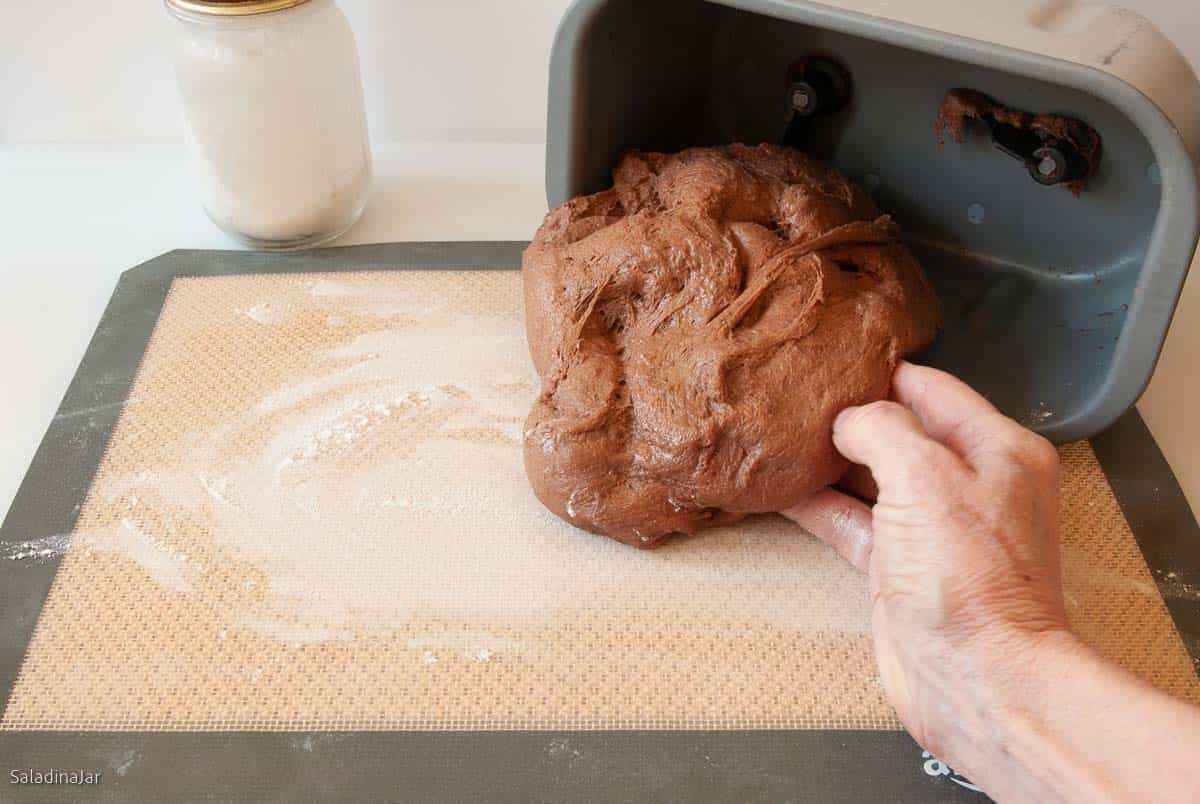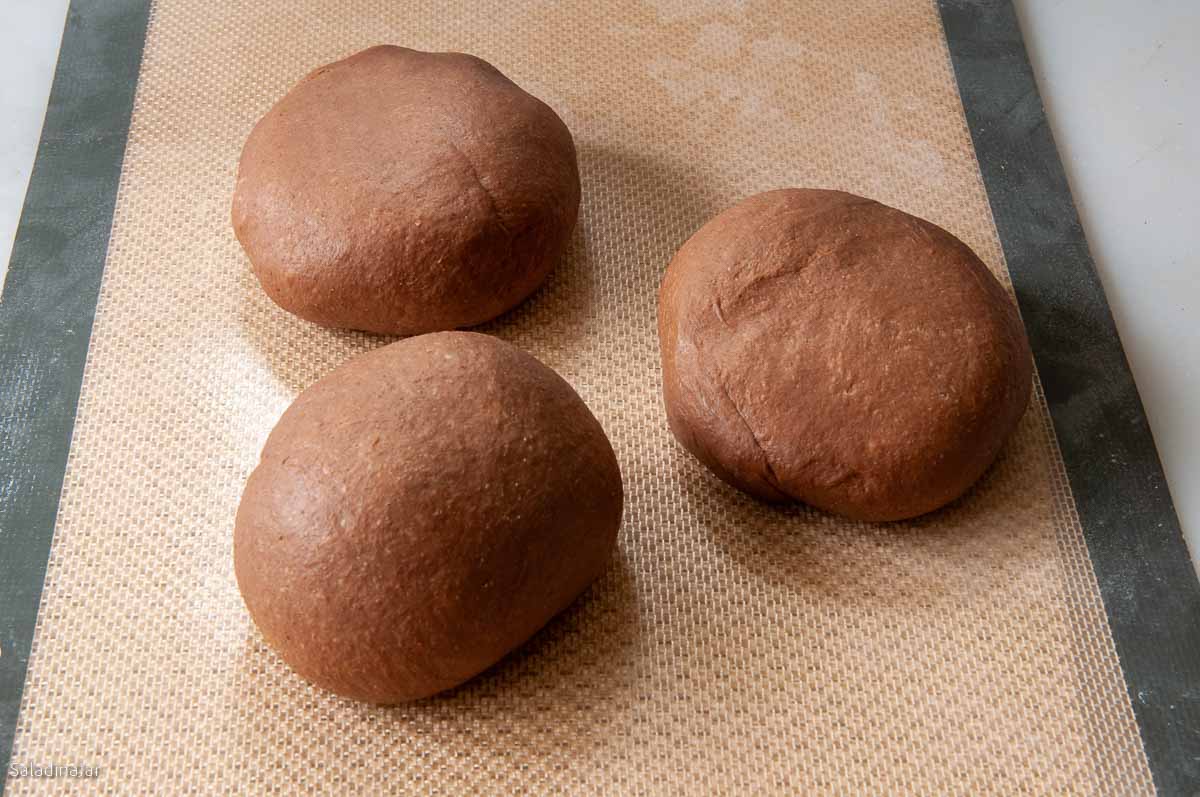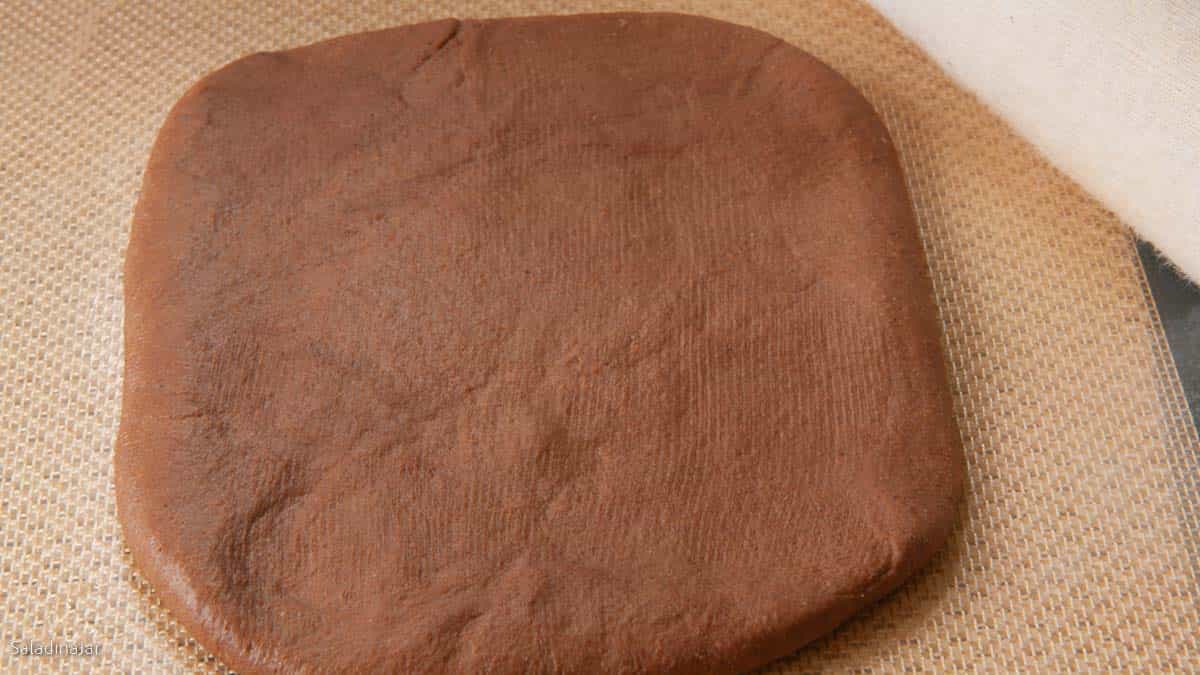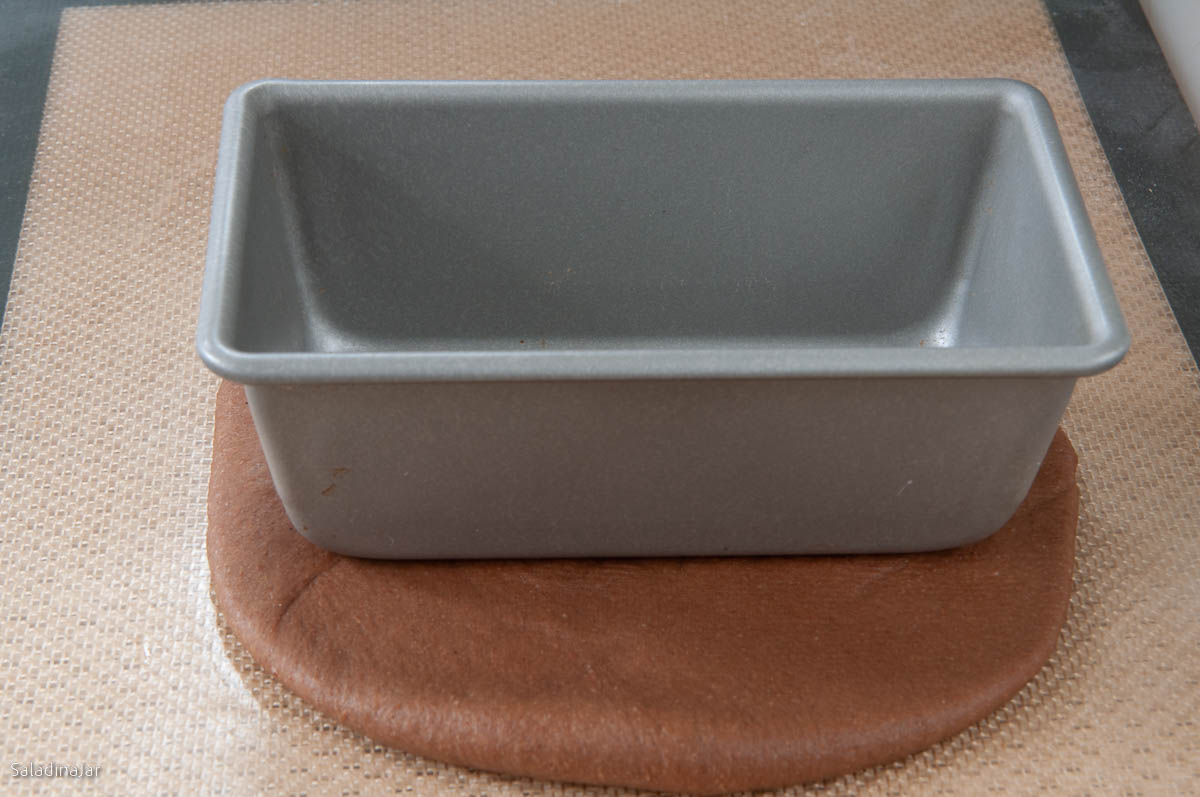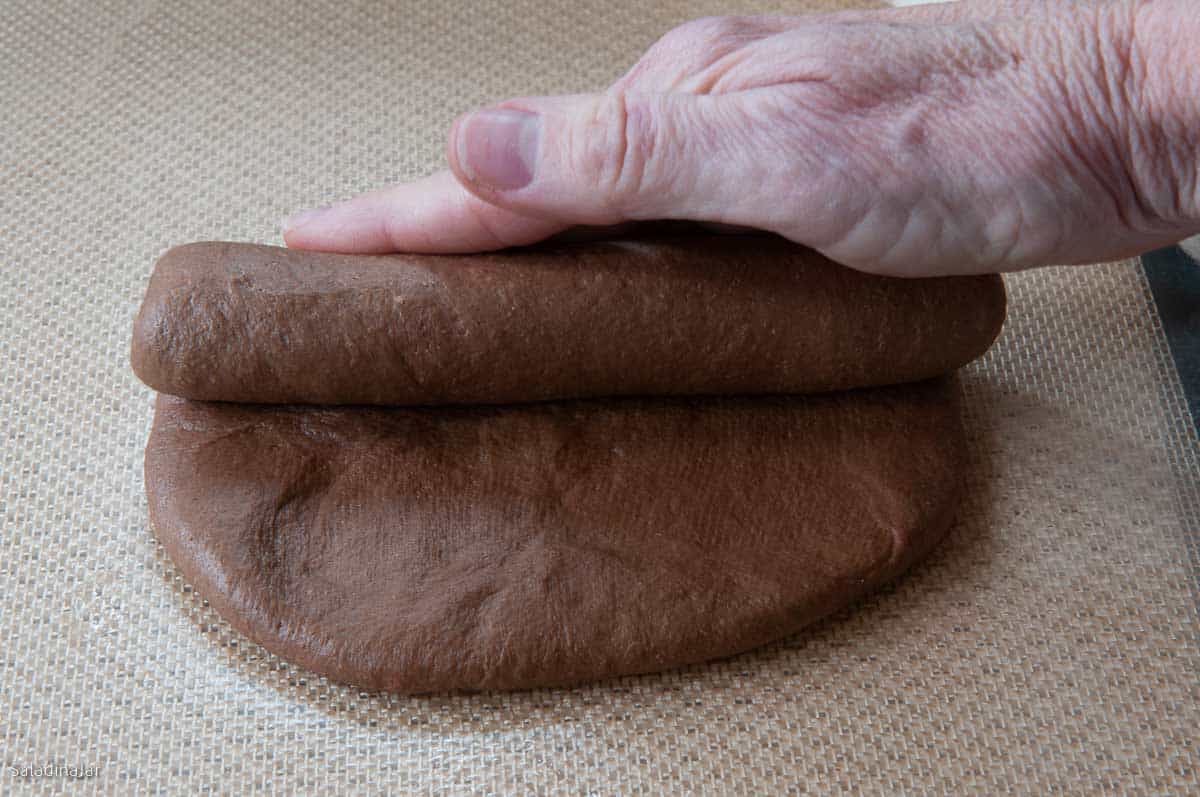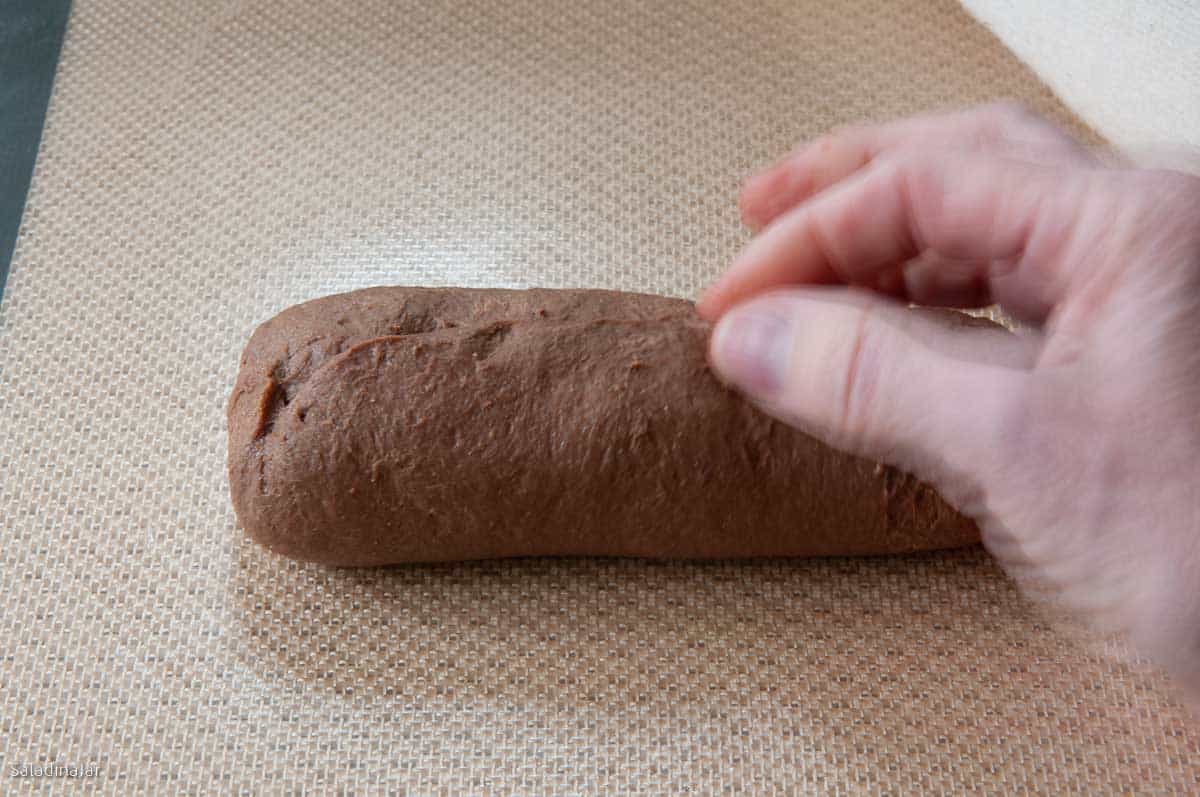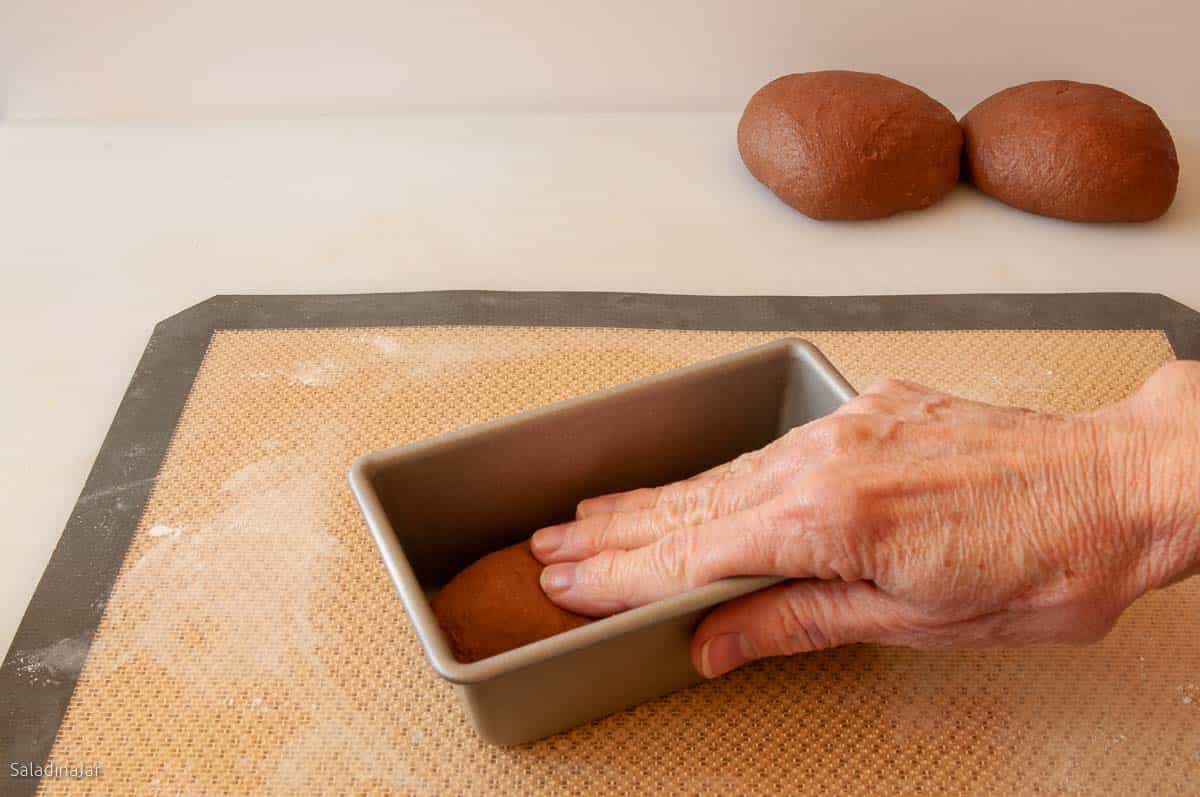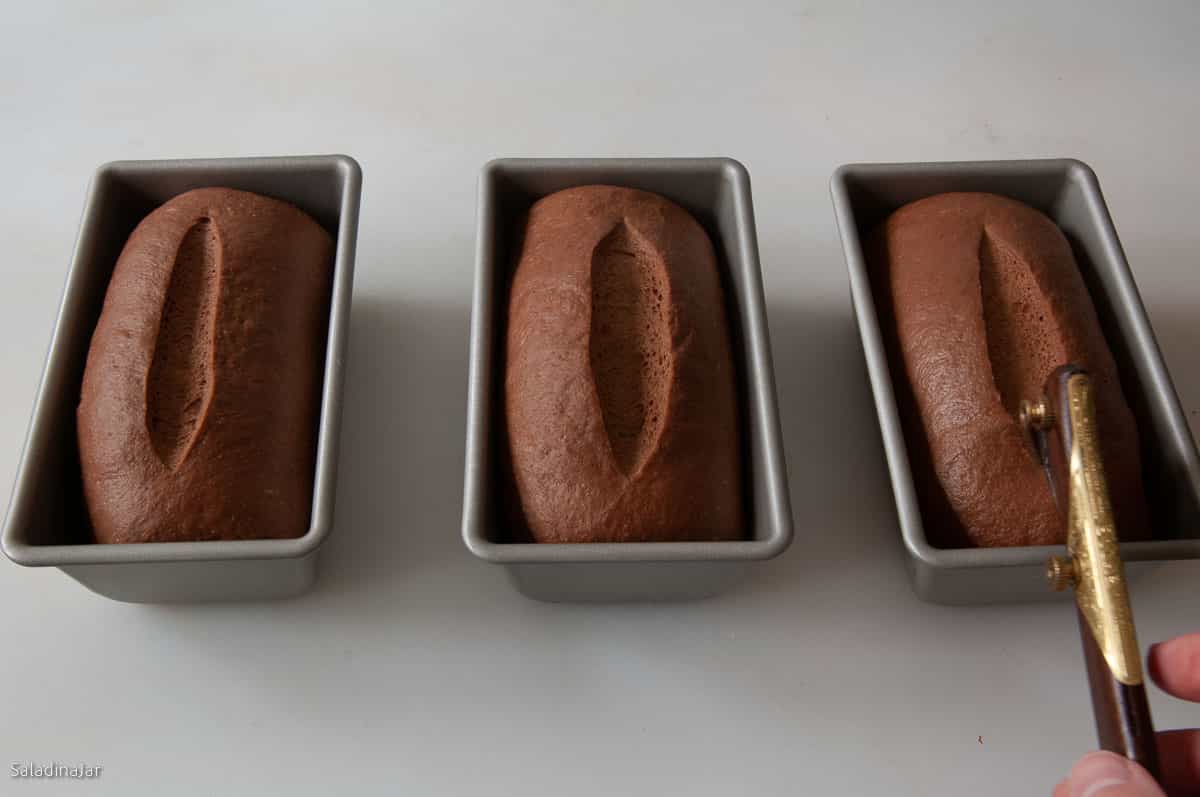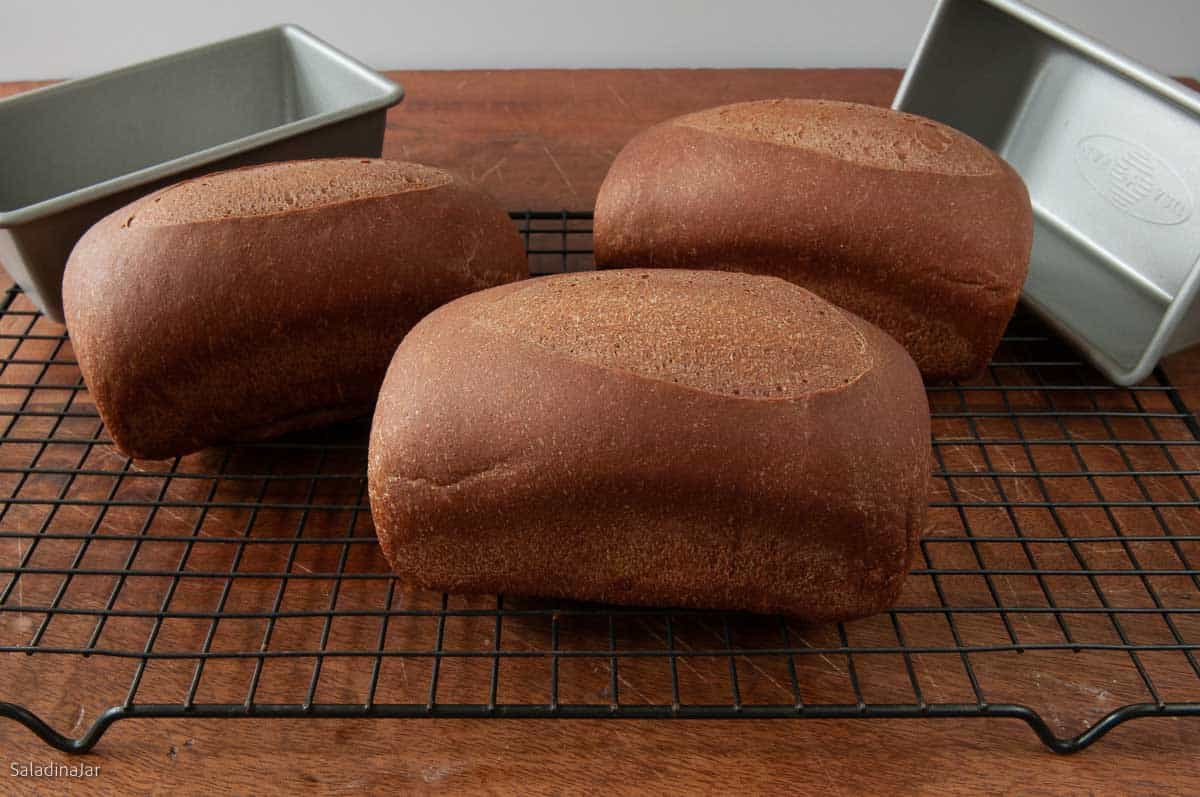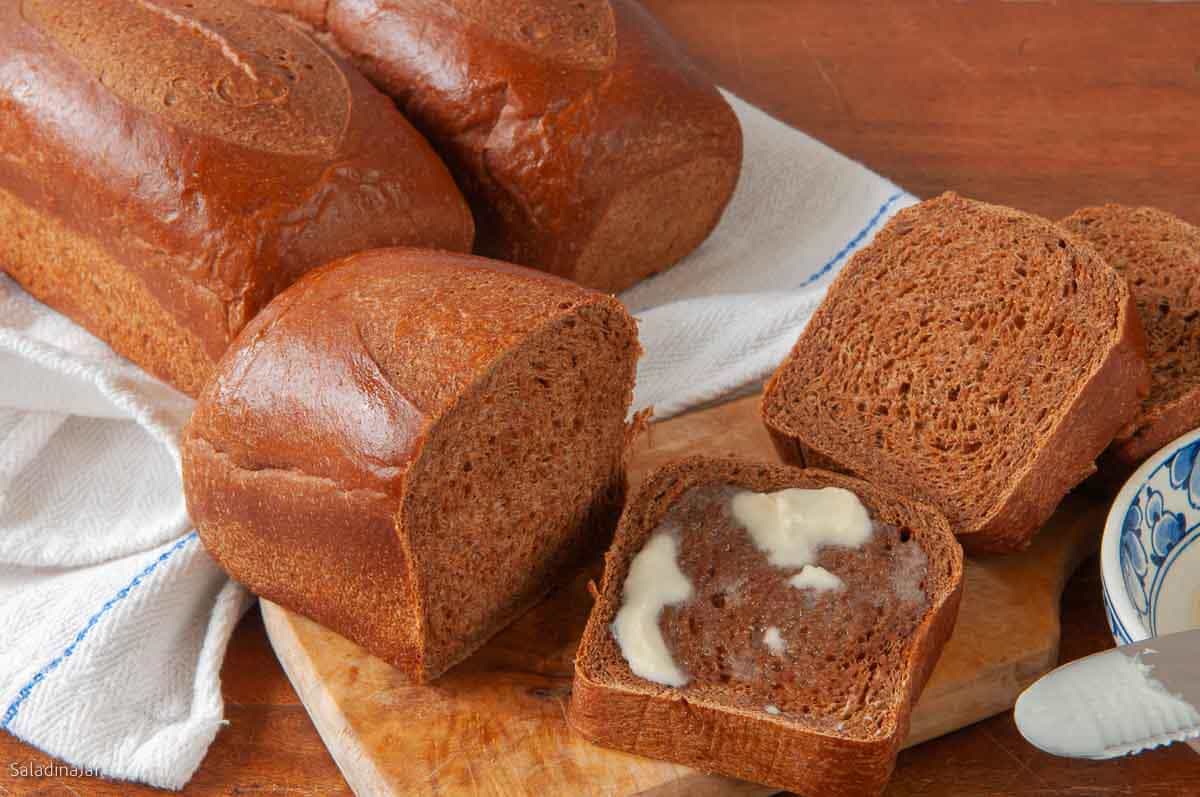 FAQs about Bread Machine Brown Bread:
Is this pumpernickel bread?
No. Authentic pumpernickel contains dark rye flour.
Can I make the dough one day and bake the loaves the next day?
Yes. Make the recipe through step 7 in the recipe. Put the loaves in the refrigerator. The next day, take the loaves out of the fridge 2-3 hours before you want to bake them. When the loaves rise and are puffy, bake as directed.
What can I serve with this bread?
Softened butter is the BEST! Steak on the side would be good, too.
My mini-pans are smaller (or larger). How do I know how much dough should go into each pan?
The dough should fill a third to half of the pan when you place the dough into the pan after shaping. If the pans are too big for the amount of dough, your loaves will look squat. If the pans are too small, the dough may rise too high and tear as it bakes
---
Parting Thoughts: I first published this recipe 12 years ago. Since then, I have revised the recipe and tested some substitutions. Originally, I made dinner rolls, but we like the mini-loaves better. They are more authentic. Speaking of authenticity, you must serve these loaves with softened butter, just like in restaurants. It is the absolute best way to eat this bread. And one more thing…if you should have any of this bread long enough to grow stale, try making this Bread Crumb Pudding.
---
If you like to use a bread machine…
Recipe Help at Your Fingertips: For questions or suggestions, email Paula at saladinajar.com. If you need help, I'm happy to troubleshoot via email (faster than leaving a comment). Attach pictures and as many details as possible for the best advice.
---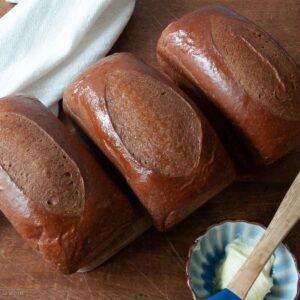 Easy Bread Machine Brown Bread Recipe
This Brown Bread Recipe is dark-colored bread like we used to get at the local Steak and Ale. Directions for mixing and kneading in a bread machine are included.
Share recipe love here. ⬇
Ingredients
⅞

cup + 1 tablespoon

(

212

g

)

water

¼

cup

(

57

g

)

orange juice

¼

cup

(

84

g

)

honey

1 ¼

teaspoon

salt

2

tablespoons

Dutch-process cocoa

–

3

tablespoons

(

42

g

)

unsalted butter (chopped)

1 ⅔

cup

(

200

g

)

whole wheat flour

1 ⅔

cup

(

200

g

)

unbleached bread flour

2

teaspoons

instant yeast
Instructions
Add ingredients to a bread machine pan in the order given:

⅞ cup + 1 tablespoon

(

212

g

) water,

¼ cup

(

57

g

) orange juice,

¼ cup

(

84

g

) honey,

1 ¼ teaspoon

salt,

2 tablespoons

Dutch-process cocoa,

3 tablespoons

(

42

g

) unsalted butter (chopped),

1 ⅔ cup

(

200

g

) whole wheat flour,

1 ⅔ cup

(

200

g

) unbleached bread flour, and

2 teaspoons

instant yeast. Select the DOUGH cycle and press START.

Open the lid in the first minute to ensure the paddles are engaged correctly and the dough starts clumping.

Recheck the dough after 12-15 minutes of kneading. If too sticky, add one tablespoon of flour at a time. Conversely, if too dry (dough slaps loudly against the side of the pan) add one or more tablespoons of water. The goal is for the dough to stick to the sides of the pan, then pull away cleanly.

When the dough cycle finishes and the dough has almost doubled in volume, remove it from the bread-machine pan to a floured board.

Divide dough into three equally sized portions and form each portion into a ball.

Roll each ball into a 7 x 9-inch rectangle (approximately). Roll the dough into a tight cylinder. Pinch the seams and ends together.

Drop the cylinder into a mini-loaf pan seam-side down. Repeat for the remainder of the dough balls. Cover with a tea towel and allow to rise a final time until almost double.

Preheat your oven to 350˚F (180˚C).

When the loaves are ready, bake them for approximately 20 to 25 minutes. Their dark color makes these loaves somewhat challenging to assess for doneness. Look at the bottom for browning or check the internal temperature, which should be 190-195˚F (88˚C).

After five minutes, turn the loaves out onto a cooling rack. Serve warm, with butter, please.
Notes
Directions for making bread with a stand mixer or by hand:
To make this recipe in a heavy-duty stand mixer: Add ingredients to the bowl in the same order. Turn on LOW to mix until all ingredients are moistened. Then, using a dough hook, turn the speed to 2 or 3. Continue beating/kneading until dough becomes smooth and elastic (about 5-10 minutes). Cover and allow to rise in a warm place. Deflate dough gently and shape as indicated in the recipe.
If making by hand: Combine all ingredients into a shaggy ball in a large bowl. Turn dough out onto a floured surface. Knead with your hands until the dough becomes smooth and elastic. Kneading will likely take 10-20 minutes, depending on your experience. Place the dough ball into a greased bowl. Cover and allow to rise until double. Deflate the dough gently and shape as indicated in the recipe.
Please note: You can substitute active dry yeast for instant yeast. Dissolving it first is optional. Active dry yeast tends to rise slower initially but will catch up eventually.
Nutrition
Serving:
1
(1/4 of a loaf)
|
Calories:
176
kcal
|
Carbohydrates:
32
g
|
Protein:
5
g
|
Fat:
4
g
|
Saturated Fat:
1
g
|
Polyunsaturated Fat:
1
g
|
Monounsaturated Fat:
2
g
|
Sodium:
278
mg
|
Potassium:
119
mg
|
Fiber:
3
g
|
Sugar:
6
g
|
Vitamin A:
137
IU
|
Vitamin C:
3
mg
|
Calcium:
12
mg
|
Iron:
1
mg
HELP OTHERS find this recipe. Leave a 5 🌟🌟🌟🌟🌟 rating at the top of the recipe card if you enjoyed it. No comment is required.