Preview: These Orange Sweet Rolls are extremely addicting, especially for orange-lovers. Directions are included for mixing and kneading in a bread machine but you can certainly do it by hand or use a stand mixer. See the recipe notes for details.
I was recently inspired by a food magazine that printed a recipe for the famous orange rolls served at a steak house in Alabama. The first step was to figure out how to use my bread machine to mix and knead it. No problem.
(If you would like to know how to convert most any regular bread recipe to use in your bread machine, see this post.)

Unfortunately, the rolls didn't turn out at all like the famous ones.
Recipe inspiration:
My sister from Alabama has been talking about the famous orange rolls for years. She was often encouraging me to come up with a recipe so she could make them herself at home. Since I had never been to the restaurant that serves these rolls, I could only go by her description.
A few years ago, my sister actually transported the famous rolls to my house. They didn't fare so well after a 12-hour car trip. I was not impressed.
During my annual visit last year, she finally took me to the restaurant. Since it wasn't dinner time, we asked for a half dozen rolls to go. Now I understood what she had tried to describe to me for so long.
The rolls were still hot when we got them and a little bit doughy. They were extremely orangey both in color and taste. The sweet stuff on top was a glaze, not an icing like you might put on traditional cinnamon rolls.
Fast forward…
After converting the magazine recipe, I wasn't happy with the final product because the orange flavor wasn't nearly as prominent as the restaurant variety. I fixed that by using frozen orange juice concentrate in place of fresh orange juice and increasing the amount of orange peel used in the filling.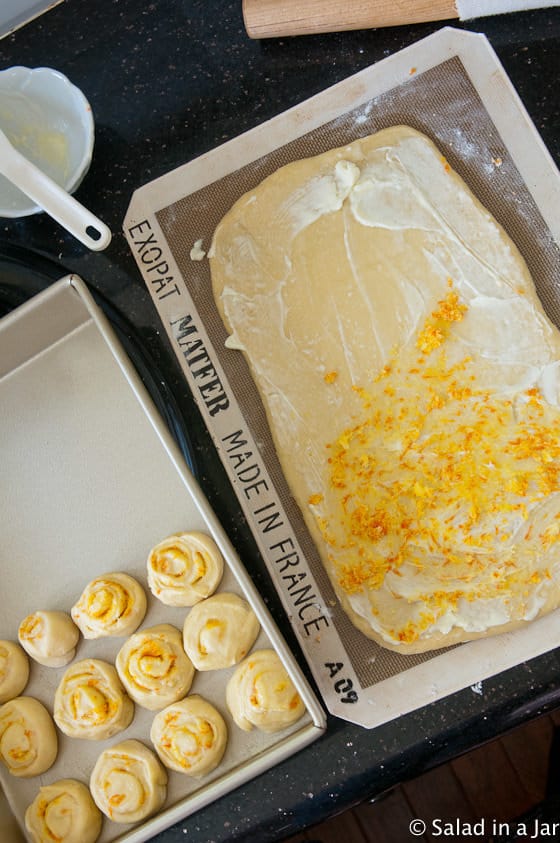 The final analysis…
These rolls are mighty tasty and so fabulous that I want to eat half the pan by myself. Therefore, I'm declaring this experiment–DONE!
These orange sweet rolls aren't really anything like the famous orange rolls from the restaurant but they have earned a space in my bread machine roll collection.
---
Posts related to Orange Sweet Rolls
If you enjoyed this recipe, it would help others and me if you gave it a five-star rating inside the recipe card below. 🤩 No comment required. Thank you.

Hope to see you again soon!
Paula
p.s. Questions or suggestions? Please email me: Paula at saladinajar.com.