The Freshest Broccoli Casserole with Rice and Cheese: No Soup
Sneak Preview: This Fresh Broccoli Casserole with Rice and Cheese, but no soup, starts with a homemade mushroom and vegetable cream sauce. No canned soup (with too much salt) is needed.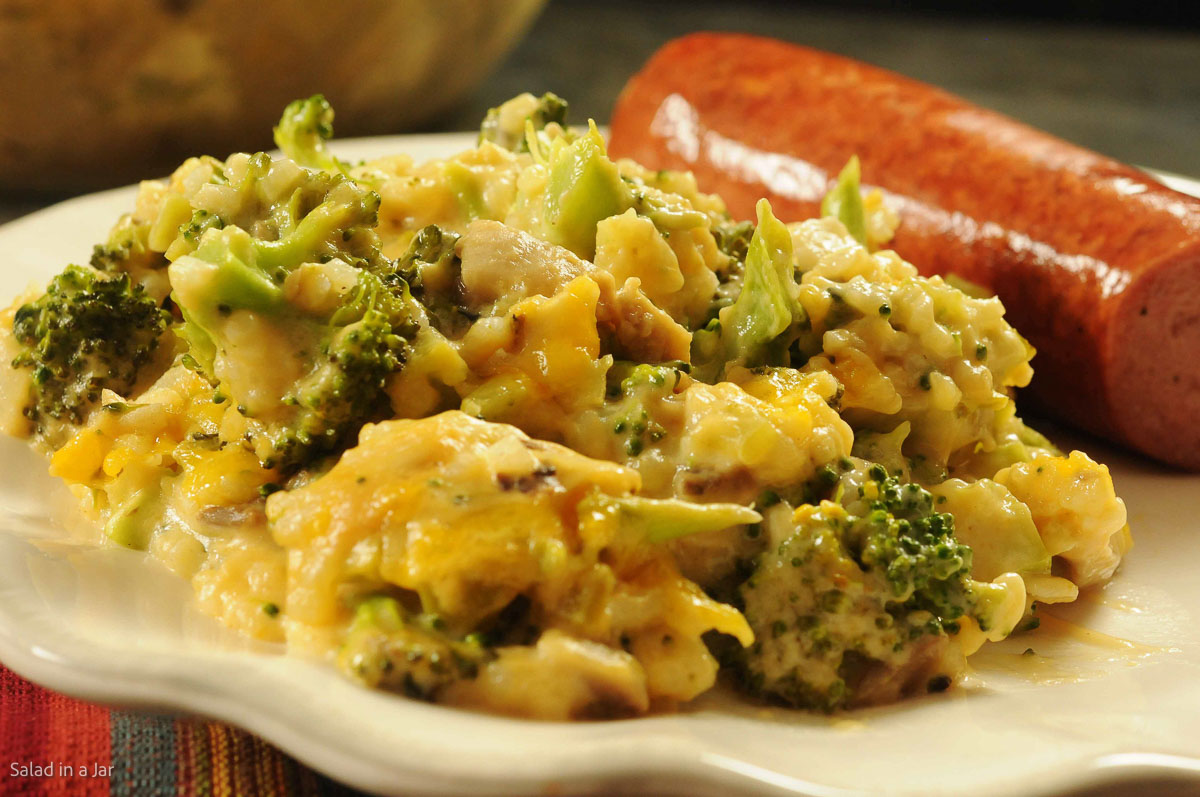 As an Amazon Associate, I earn from qualifying purchases.
Instead of canned soup, this broccoli recipe calls for a simple, do-it-yourself cream sauce. You control the salt and avoid the preservatives. Your reward is a fresher flavor customized to your needs and tastes.
You may be familiar with versions of Broccoli-Rice Casserole that use cream of mushroom, celery, or chicken soup. Some call for Cheese Whiz, too. Yikes! Not my style–although I'm not opposed to keeping a few cans of soup in the pantry for emergencies.
Ingredients and common substitutions:
Broccoli: Fresh broccoli tastes and looks the best, but frozen broccoli is the next best choice.

Lemon: Broccoli and lemon juice always go together nicely. Lemon provides a yin and yang for the mild sauce and rice. In keeping with the fresh theme, fresh (or frozen) lemon juice is superior to bottled lemon juice.

Butter: Butter (salted or unsalted) becomes part of the sauce. Margarine or vegan butter will fill the bill.

Onions: Yellow or white onions are ideal. Frozen chopped onions are convenient. Dried, minced onions are my last resort.

Garlic: Note that one clove is specific. Garlic lovers might want more. Garlic powder will not have the same punch or freshness. Pick your priority.

Celery: One can never eat too many vegetables, right? Celery and broccoli are often buddies and work together here, too. If you don't have celery, use celery salt and cut back on the regular salt.

Mushrooms: I like fresh mushrooms the best (quartered, not sliced). But if all you have are canned mushrooms, drain and rinse them well. Cut or chop them first if the pieces in the can are large.

Flour: Use bleached or unbleached all-purpose flour.

Evaporated Milk: Substitutes include heavy cream, half and half, or whole milk.

Cheese: I like mild shredded Cheddar cheese the best, but medium or sharp Cheddar serves the purpose, too. Leave the cheese out if you are feeding non-cheese-lovers.

Rice: Cook the rice first, or use leftover rice. I use whatever variety I have, usually long-grain rice, Jasmine rice, or Basmati rice. Use white rice or brown rice. Even cooked Minute rice will suffice.

Recipe tips for Broccoli Casserole without Soup:
1. If you feed reluctant broccoli eaters, chop the broccoli finely.
How large or small you chop the broccoli has a pronounced effect on the final product. Larger pieces will keep the broccoli more defined and not as soft. I like larger pieces for textural interest, as seen in the picture above.
You might have more luck pleasing picky eaters or kids if you chop the broccoli finer. The broccoli bits will be softer (less crunchy) and not as well-defined. See the picture below.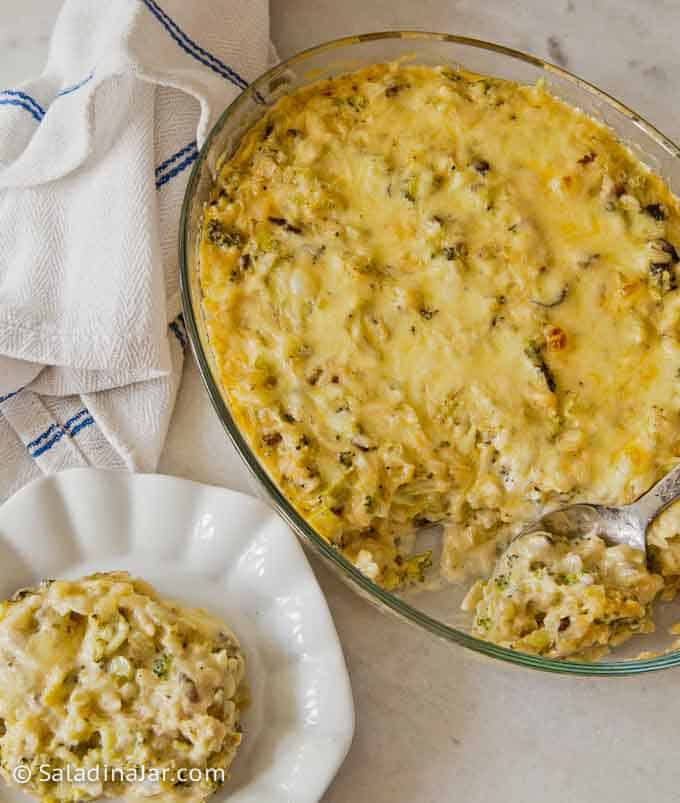 2. What to do if the sauce in the broccoli casserole seems too runny or too thick:
The sauce should be thin when you pour the broccoli-rice mixture into a baking dish. It will thicken as it bakes. If it seems thick enough to hold a shape before baking, stir in another ¼ cup of milk.
Likewise, if the prepared casserole sits long before baking, you might consider adding a ¼ cup of half and half or milk. Rice is a sponge!!!
3. Any variety of rice will work.
Jasmine is my favorite. However, I frequently use long-grain, basmati, or even brown rice.
Whenever I make plain rice, I freeze the leftovers. These leftovers work perfectly in this recipe.
4. Evaporated milk or heavy cream + milk keeps the cream sauce from curdling.
I don't recommend substituting fat-free or low-fat milk. To avoid dairy, try using chicken broth and leaving the cheese out.
5. Don't overcook the broccoli.
6. Using a microwave:
Besides cleaning and chopping the broccoli, the sauce is the most labor-intensive step. Use your microwave to make the sauce, and you'll be amazed.
I make many sauces in my microwave–for example, Condensed Cream of Mushroom Soup, Condensed Cream of Celery Soup, Condensed Cream of Chicken Soup, and cream pie fillings. Consequently, I don't have to worry about burning or sticking. See the microwave instructions in the notes of the recipe.
Regarding using a microwave oven: I know many chefs and restaurants are negative about them. Nevertheless, when used correctly and carefully, they are a modern miracle for the home cook.
Consequently, I have two of them in my kitchen. Microwaves are one of my best kitchen secrets because they help make healthy eating convenient–a priority for me.
How to make this Broccoli Rice Casserole recipe: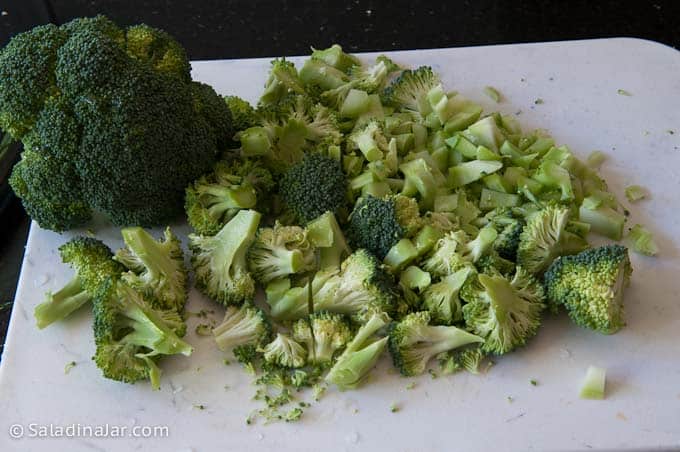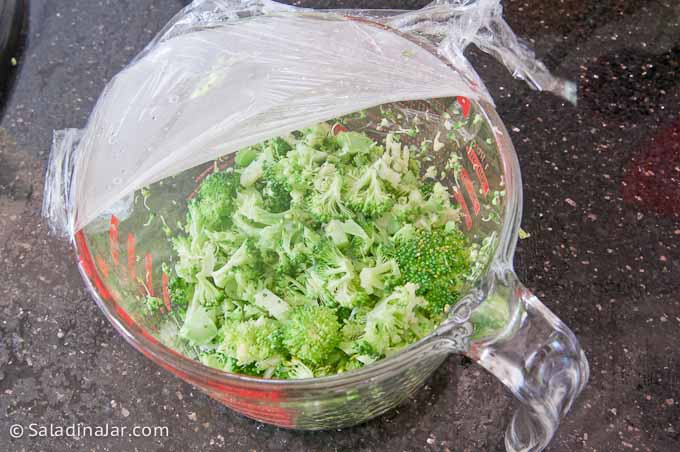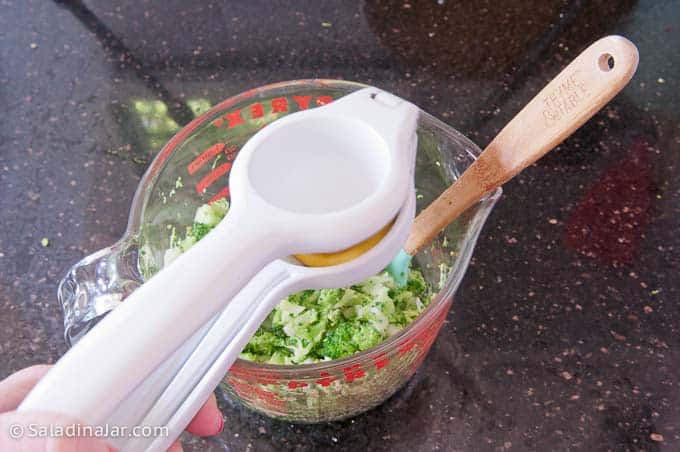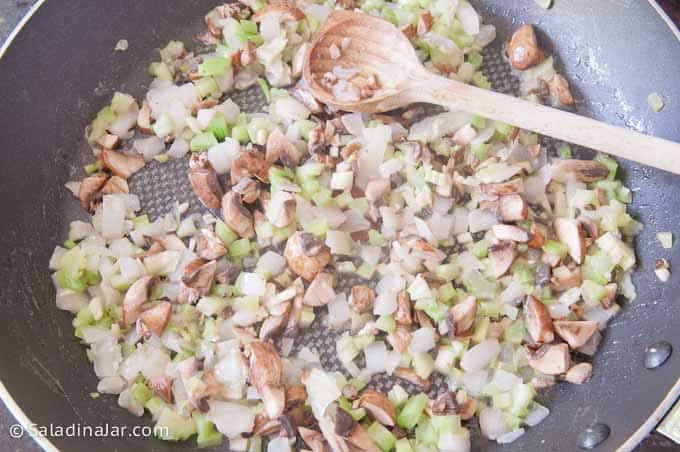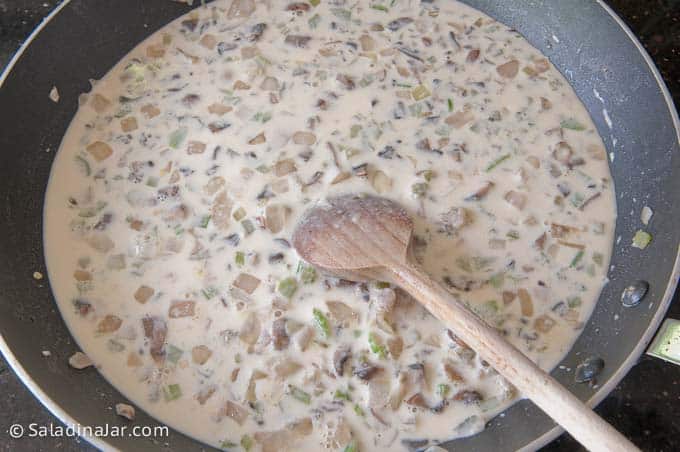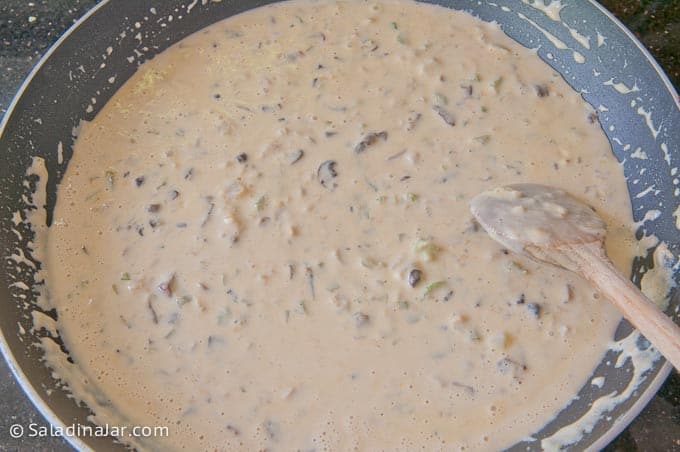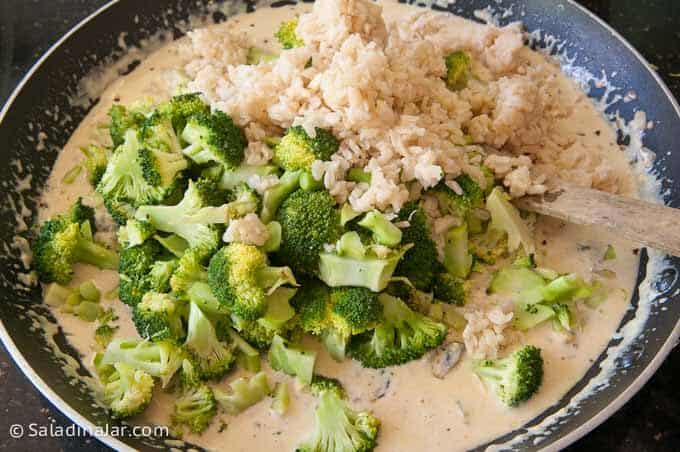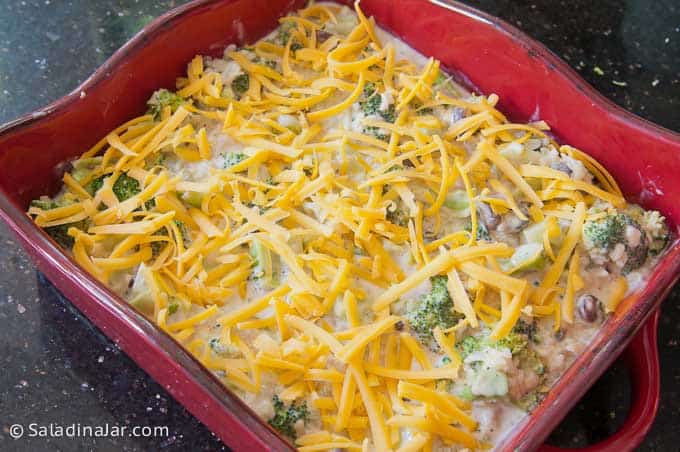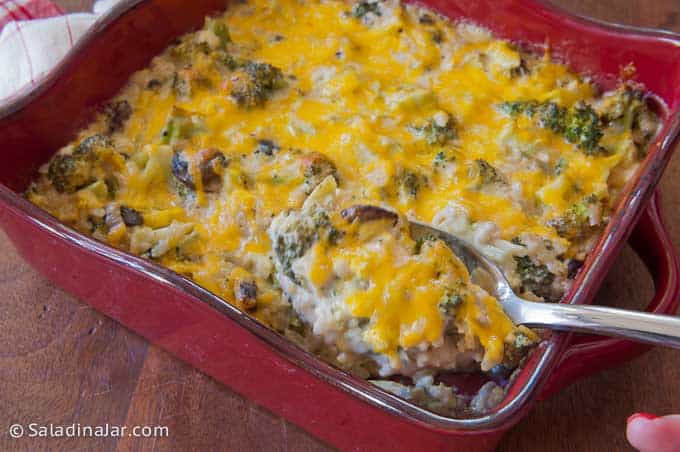 ---
Frequently Asked Questions:
Do you cook broccoli before putting it in a casserole?
Yes. Cooking forces water out of broccoli. If you don't cook it first, this dish may be watery.
Why is my broccoli rice casserole dry?
The rice will absorb moisture like a sponge if your casserole sits long. If you need to make this recipe in advance, add extra liquid to the sauce, knowing that the rice will soak it up.
Can I make the sauce ahead of time and freeze it to save time around the holidays?
Yes! That's a great idea. I make it and fill a small zippered bag to store in the freezer. Don't be alarmed if it looks curdled when you first thaw it. A little milk or cream will fix it.
Parting Thoughts: If you were afraid you would never get to enjoy this casserole again due to dietary restrictions, this is your lucky day. Nearly every ingredient is negotiable. Enjoy!
If you have questions or suggestions, email me privately for a quick answer: Paula at saladinajar.com. Hope to see you again soon!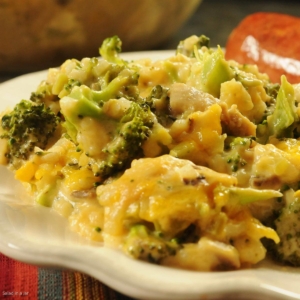 Fresh Broccoli Cheese and Rice Casserole Without Soup Recipe
Traditional Broccoli-Rice Casserole with mushrooms but no canned soup. See microwave directions in the Notes below.
Rate this recipe here
Ingredients
4

cups

fresh broccoli florets and stems, chopped

-

(stems should be finely chopped) 285 gr

Juice of 1/2 lemon

2

tablespoons

butter

-

28 gr

¼

cup

chopped onions

-

36 gr

1

clove

garlic

-

minced

1

stalk celery

-

chopped

¾

cup

minced mushrooms

-

60 gr

1

tablespoon

flour

-

8 gr

½

teaspoon

salt

-

3 gr

⅛

teaspoon

white pepper

-

a pinch

Freshly ground black pepper

Pinch

of red pepper flakes

-

optional

1

12-ounce can regular evaporated milk

-

(or 3/4 cup heavy cream and 3/4 cup whole milk) 340 gr

1 ½

cups

shredded mild Cheddar cheese

-

170 gr

1 ¼

cup

cooked rice

-

250 gr
Instructions
Steam or microwave (about 3 minutes on HIGH) chopped broccoli and stems until tender but still bright green. Squeeze lemon over broccoli.

Melt butter in a large skillet. Add onions, garlic, celery, and mushrooms and saute until softened. Stir in flour and cook for about one minute to take away the raw flour taste. Whisk in milk and continue whisking until slightly thickened. Season with salt and pepper. Add 1-1/2 cup cheese and stir to melt.

Combine broccoli, rice, and cheese sauce. Turn into 1 1/2 quart greased casserole dish. Sprinkle with remaining 1/2 cup cheese. Bake at 350˚ F until bubbly (around 30 minutes).
Notes
If not baking immediately, add 1/4 cup of milk (maybe more) to compensate for the moisture the rice absorbs while it sits.
We like 1-2 tablespoons of chopped jalapeños added to the cream sauce.
Microwave directions:
Steam or microwave (about 3 minutes on HIGH) chopped broccoli and stems until tender but still bright green. Squeeze lemon over broccoli.
Add butter, onions, garlic, celery, and mushrooms to a 2-quart batter bowl. Cover and microwave on HIGH for 5 minutes. Add flour to vegetables and stir. Whisk in milk and cook uncovered on HIGH for 6-7 minutes. Whisk after 4 minutes and once a minute after that to even out the cooking. Season with salt and pepper. Add 1 1/2 cup cheese and stir to melt. The sauce will thicken more as it sits.
Combine broccoli, rice, and cheese sauce, then pour the mixture into a 1-1/2 quart greased casserole dish. Sprinkle with the remaining 1/2 cup cheese. Bake at 350˚F until bubbly (around 30 minutes).
Nutrition
Serving:
1
|
Calories:
133
kcal
|
Carbohydrates:
10
g
|
Protein:
6
g
|
Fat:
8
g
|
Saturated Fat:
5
g
|
Polyunsaturated Fat:
1
g
|
Monounsaturated Fat:
2
g
|
Trans Fat:
1
g
|
Cholesterol:
24
mg
|
Sodium:
255
mg
|
Potassium:
171
mg
|
Fiber:
1
g
|
Sugar:
1
g
|
Vitamin A:
469
IU
|
Vitamin C:
33
mg
|
Calcium:
144
mg
|
Iron:
1
mg
Did you try this recipe?
If you loved it, don't forget to leave a 5-star rating 🌟🌟🌟🌟🌟 at the top of the recipe card. Thanks so much for taking the time to do that!