Sneak Preview: Yes. You can make a microwave pastry cream for your next pie or pudding in minutes. No worries about scorching. Lump-free texture!
Learn how to make a silky smooth microwave pastry cream or cream-pie filling in a microwave as good or better than making it on top of the stove. No worries about scorching, tempering eggs, lumps, etc.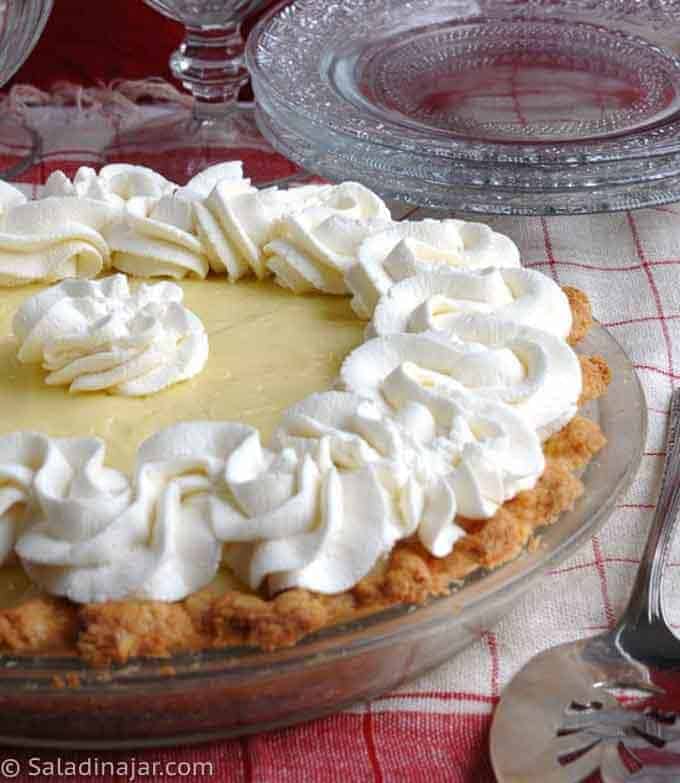 Try it out for yourself with a tasty banana cream pie or a coconut cream pie.
Why use a microwave?
In only 7 minutes (or less), you can make the smoothest, tastiest cream-pie filling your taste buds have ever encountered. Here's why:
It's faster. Cook one batch of pie filling in 7 minutes. Add 5 more to put the ingredients together.
No need for a double boiler
Constant stirring and babysitting are unnecessary. But you will have to stir a few times when using a microwave to even out the cooking.
No worries about scorching
No need to temper the eggs
No need to strain pudding if you started using a blender or food processor to mix everything.
Admittedly, microwave ovens aren't efficient for large quantities. So it's completely understandable why restaurants and bakeries might not use them. But for home cooks making one or two pies, it's the best and easiest way.
One thing is for sure. It's no longer tempting to use a mix (questionable taste and ingredients) or a grocery-store pie (where's the love and homemade flavor in that?) when I can make a cream-pie filling in a microwave. It's just too quick and effortless.
What is the difference between pudding and custard and cream-pie filling and pastry cream?
They all begin with milk and sugar. From there, it depends on how you choose to thicken the mixture. It also matters where you live as to how these terms are understood.
Some people describe pudding as having no eggs, as you see in the definition below.
"Pudding is made by cooking the milk and sugar base and adding cornstarch to thicken the mixture. This leads to a semisolid consistency and creamy texture. It is usually served chilled, but it can be served warm or at room temperature."

The Delicious Differences Between Custard, Pudding, and Mousse Jessica Levinson, MS, RDN, CDN
Others define custard as milk, sugar, and eggs with no other thickener.
"Custard is made by cooking the milk and sugar base and adding whole eggs to thicken the mixture. When cooled, the mixture solidifies, leaving you with the jiggly consistency and silky texture."

The Delicious Differences Between Custard, Pudding, and Mousse Jessica Levinson, MS, RDN, CDN
We're not talking about that kind of custard today. Never mind that some people use the term interchangeably with pudding or pie filling.
According to Leaf.TV, Custard refers to any dish thickened with eggs. Often called Creme Patissiere, pastry cream is a rich and creamy custard filling in eclairs and cream puffs.
I would add cream pie filling to that last sentence.
The recipe I'm giving you uses cornstarch and eggs (yolks, specifically) to thicken the filling. I have another recipe for pudding/pie filling that calls for flour. The end result is a little more sturdy and not quite as delicate but still irresistibly tasty (and easy to make in a microwave.)
Ingredients and substitutions:
MILK: Whole milk will result in the richest and creamiest pudding. Using 2% and non-fat milk is acceptable and will also result in a thick consistency.

SUGAR: I use granulated sugar for the best taste. If you want fewer calories, try Swerve. It's a 1-1 ratio when you substitute for sugar.

THICKENER: Cornstarch is my thickener of choice in this recipe. However, flour works, too. Cornstarch makes a lighter-tasting product with a more delicate texture. There is a time and place for either one.

EGGS: You only need the yolks for this recipe. Freeze the whites and save for meringue, angel food cake, or egg white omelets.
How do you freeze egg whites?
Here's a nifty hack if you already own silicone tart molds or muffin cups.
How to make Microwave Pastry Cream: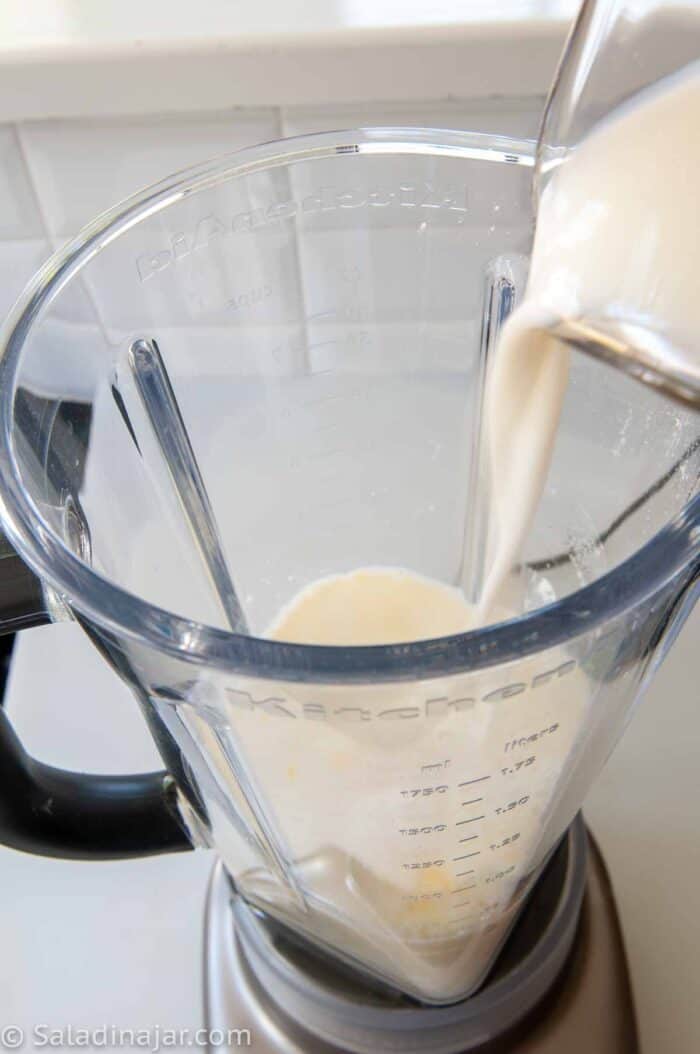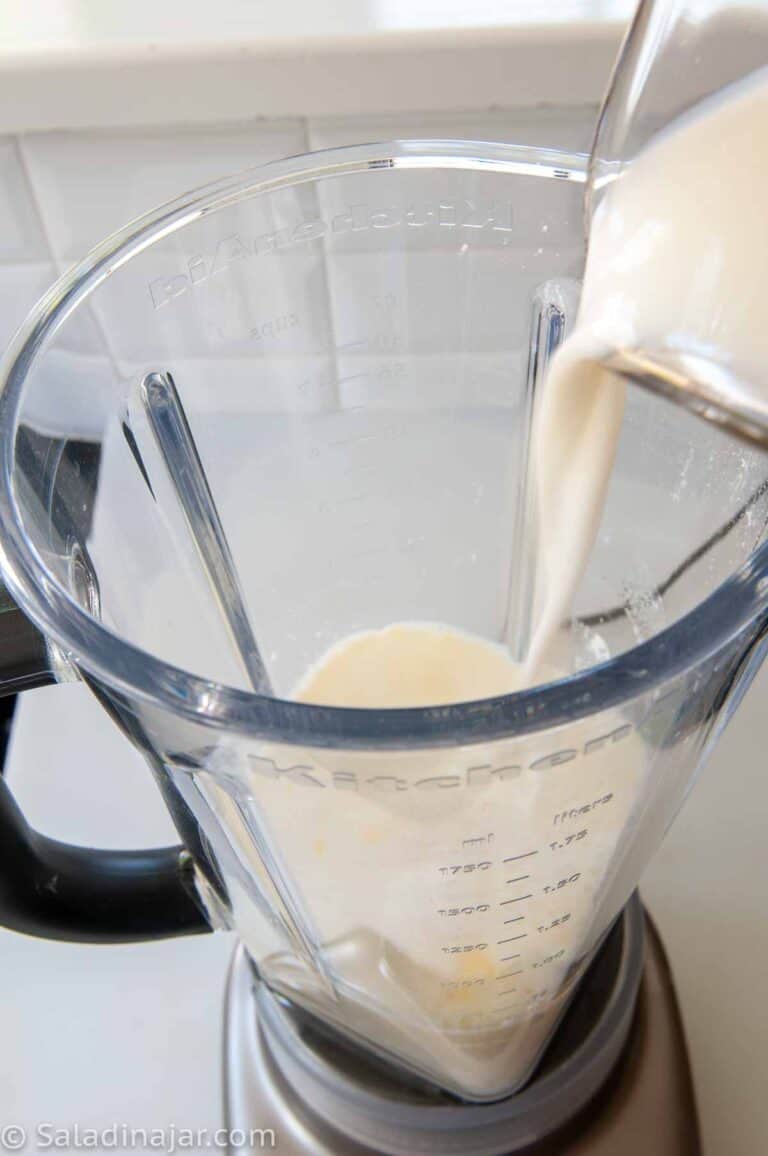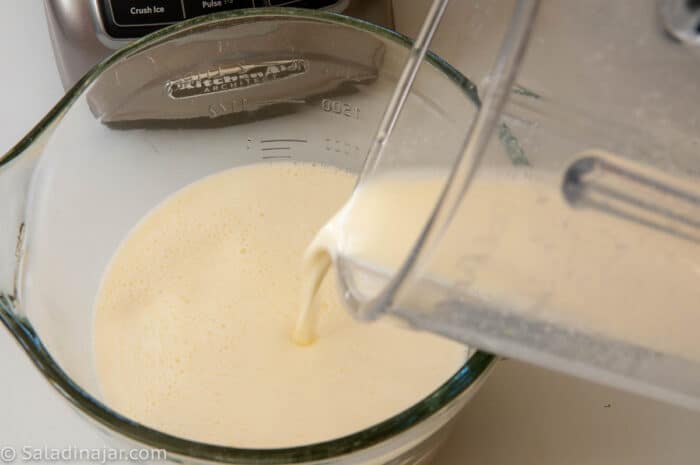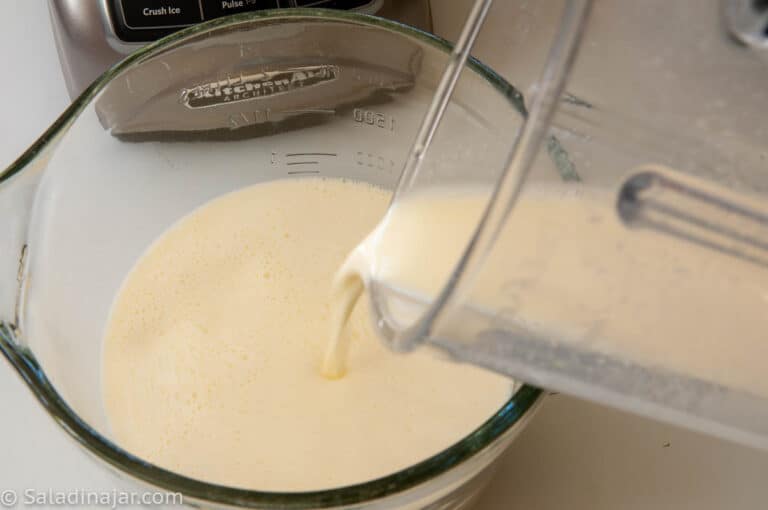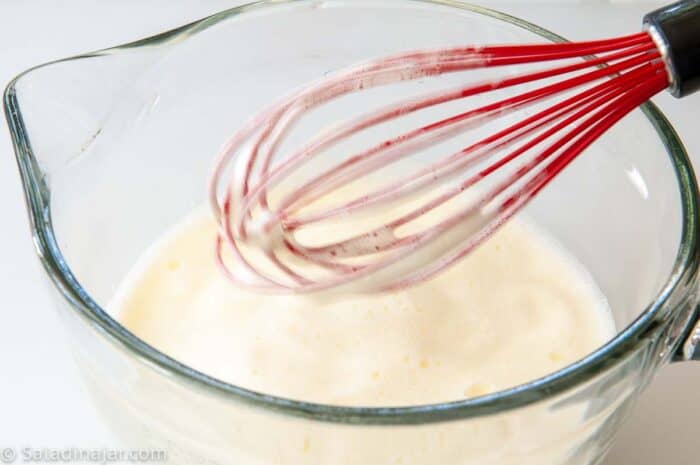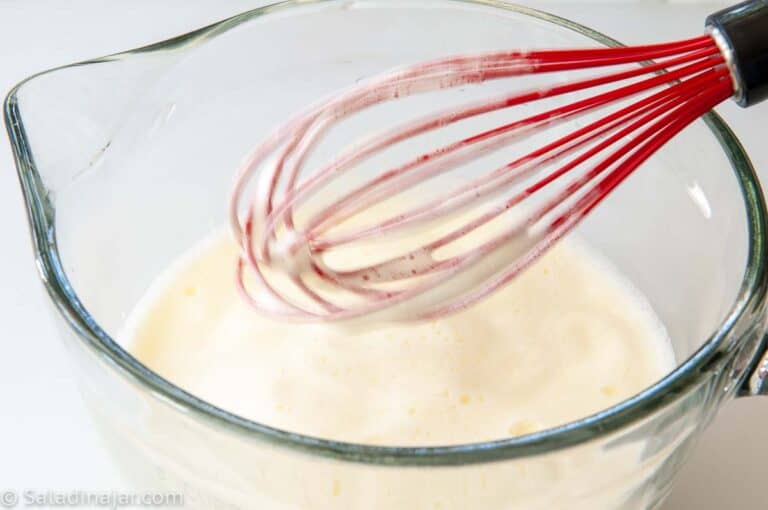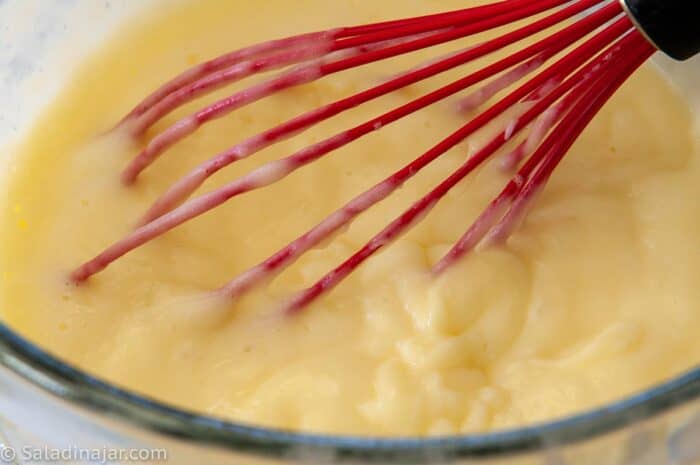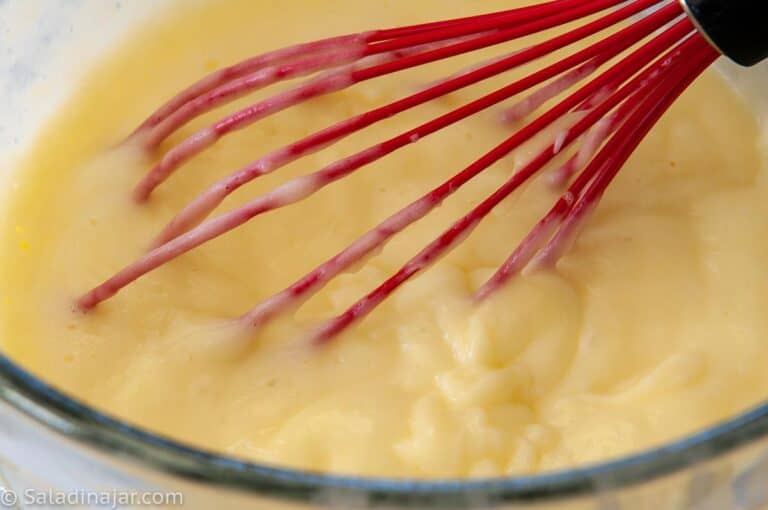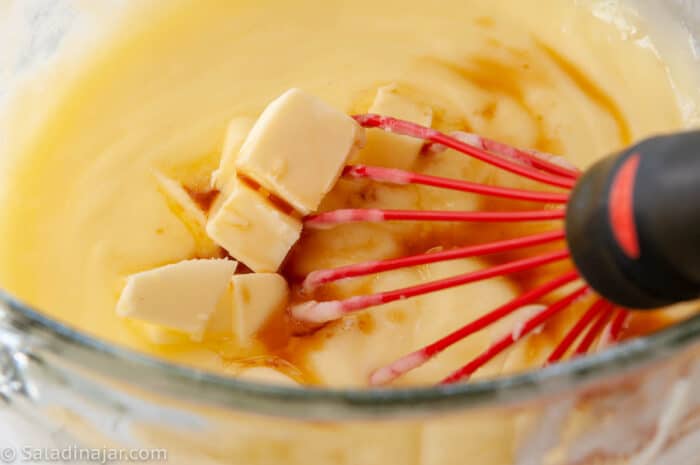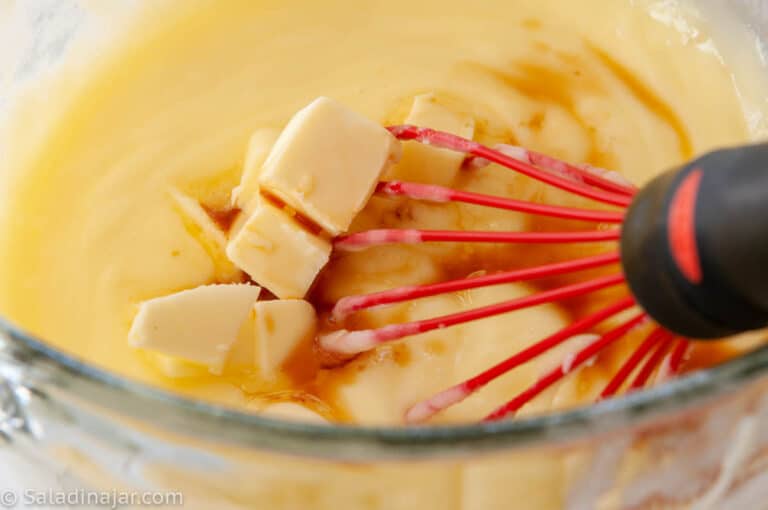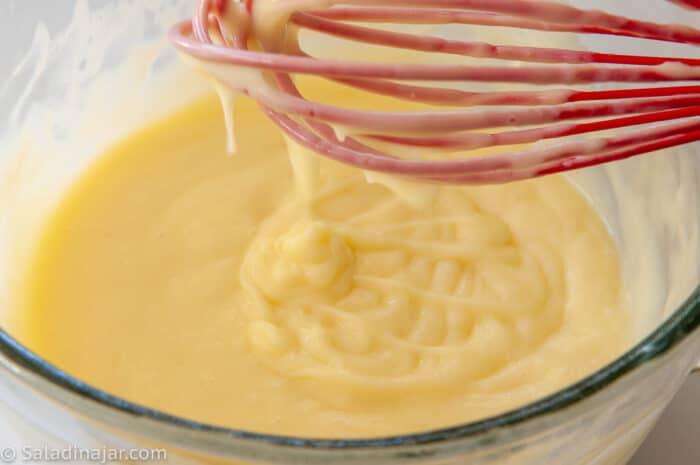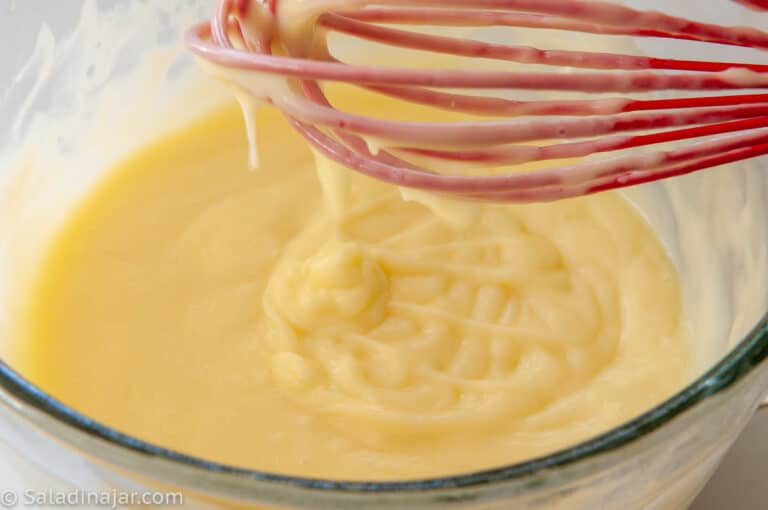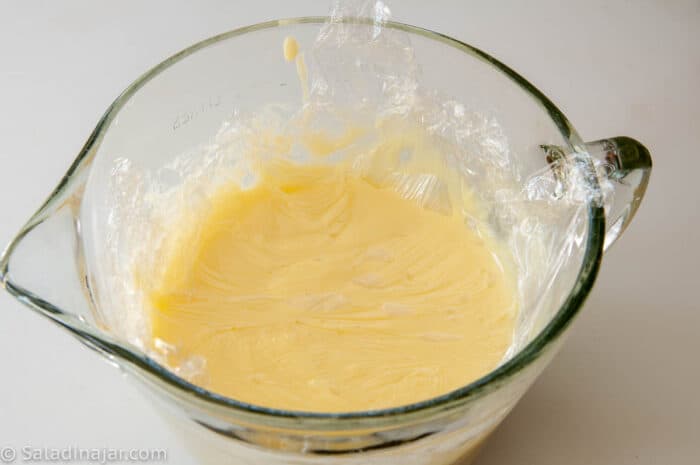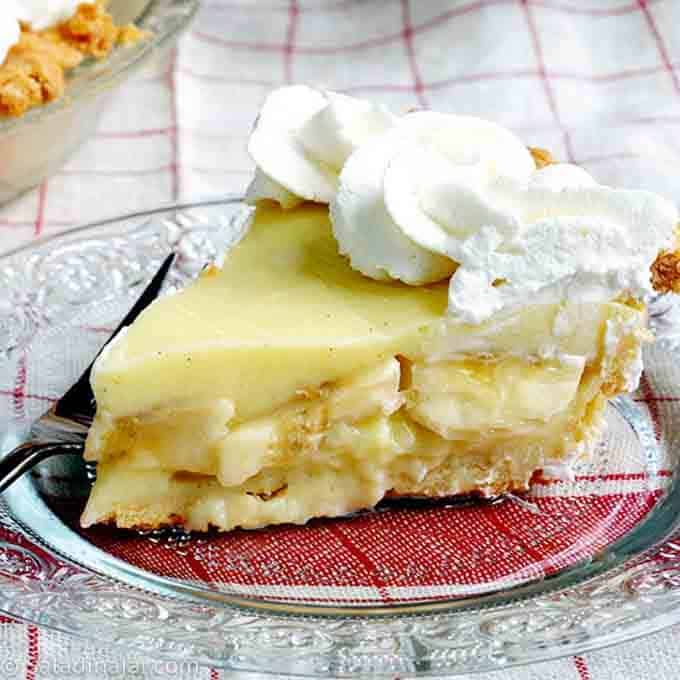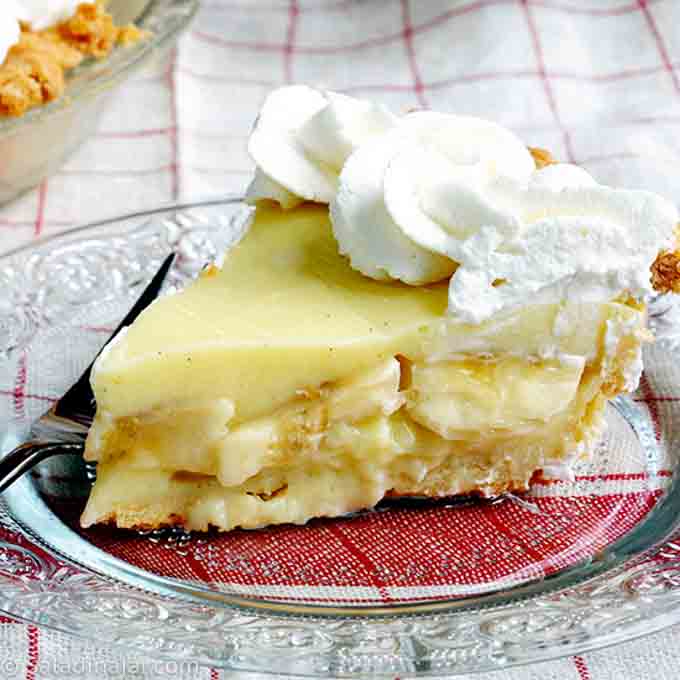 I made a banana cream pie with this vanilla pastry cream by simply layering in a couple of bananas. See notes in the recipe for more details.
---
Posts Related to Microwave Pastry Cream:
---
Did you enjoy this recipe? If so, you can help others and me by leaving a 5-star 🤩 rating in the comment section below. No comment is required.
p.s. If you have any questions or suggestions, you can email me privately: Paula at saladinajar.com.
Hope to see you again soon!
Paula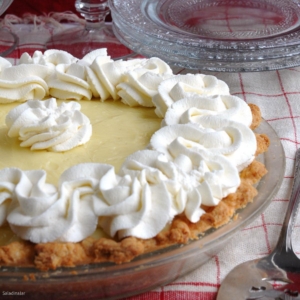 Microwave Pastry Cream for a Cream Pie Filling
Use a microwave to make this super quick, super easy cream pie filling from scratch.
Ingredients
2 ¼

cups

milk

4

egg yolks

⅔

cup

sugar

¼

cup

cornstarch

⅛

teaspoon

salt

1

teaspoon

vanilla bean paste or vanilla extract

2

tablespoons

butter
Instructions
Dump milk, egg yolks, sugar, cornstarch and salt into blender or food processor. (See notes if you need to do this by hand.)

Blend for about 10 seconds. There may be a lot of foam. That's OK–it will disappear when cooked.

Pour into a 2-quart glass batter bowl. (DO NOT USE A SMALLER CONTAINER–it could boil over and make a mess.)

Cook in a microwave on HIGH for 5-7 minutes. Whisk well after 3 minutes and every minute thereafter. Microwaves vary wildly. If the pudding mixture is not thick after 7 minutes, keep cooking and stirring until the custard looks like pudding. It should heavily coat a spoon.

Stir vanilla and butter into the thickened custard.

Press plastic wrap over the surface to prevent a skin from forming. Let cool on the counter (or in an ice bath if you are short on time) until lukewarm, then pour filling into prepared crust. Again press plastic wrap against the surface and refrigerate until filling is cold and firm.
Notes
Variation:
Banana Cream Pie:
Whisk cream filling and pour a thin layer into the pie shell. Slice and add a single layer of bananas, then cover with another layer of cream. Repeat. In the end, you should have three layers of cream with two layers of bananas, ending with the cream on top. Cover with plastic wrap pressed down to the surface of the filling.
No blender or food processor?
Use a whisk and some arm power instead of a blender. If you end up with any lumps, force the pudding through a strainer. It will be as smooth as silk
Nutrition
Serving:
1
g
Calories:
167
kcal
Carbohydrates:
24
g
Protein:
4
g
Fat:
7
g
Saturated Fat:
3
g
Polyunsaturated Fat:
1
g
Monounsaturated Fat:
2
g
Trans Fat:
1
g
Cholesterol:
110
mg
Sodium:
97
mg
Potassium:
104
mg
Fiber:
1
g
Sugar:
20
g
Vitamin A:
285
IU
Vitamin C:
1
mg
Calcium:
92
mg
Iron:
1
mg