Nothing beats this Chocolate-Almond Mini Torte for topping off a celebration. Whipped cream and chocolate ganache fill the layers and cover the top.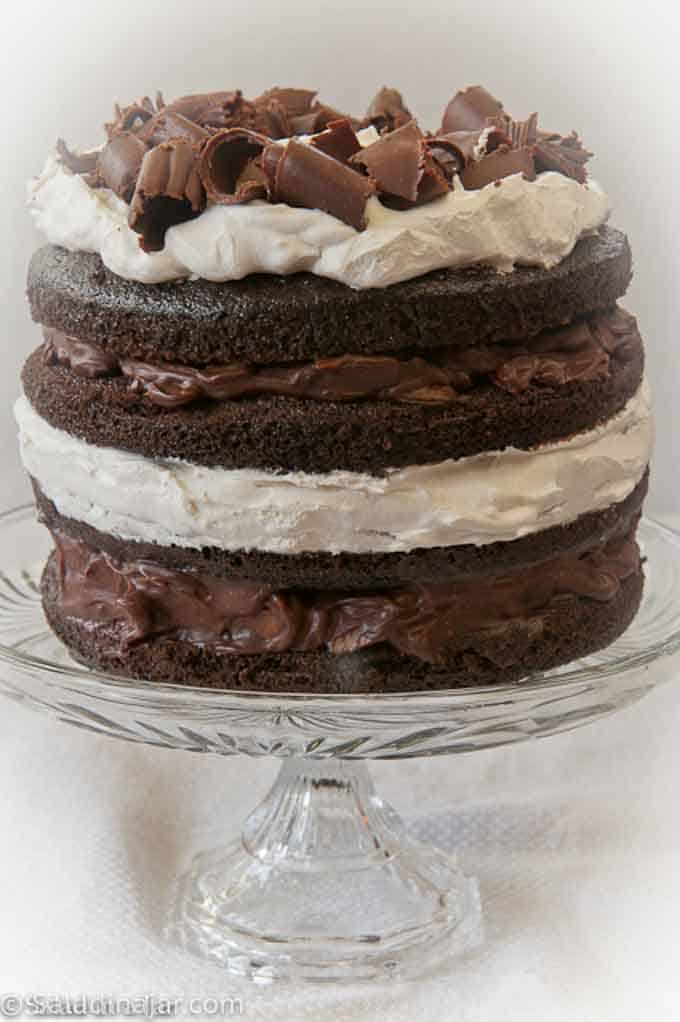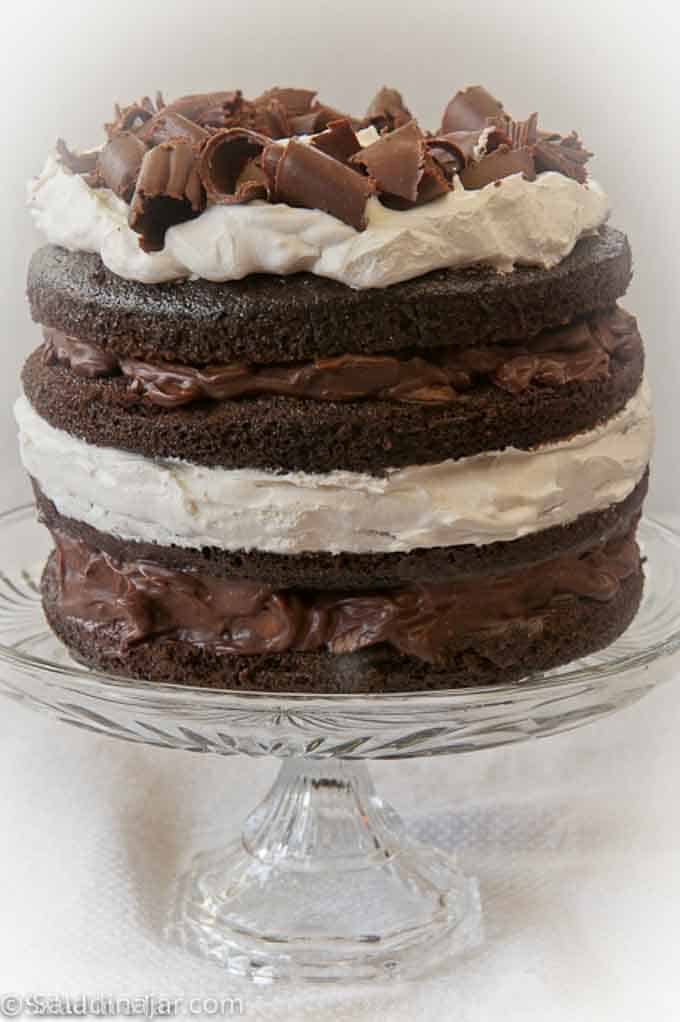 I made this torte during our first year of marriage when I was anxious to impress and willing to try baking anything we could afford. It was a winner and has always been one of my mom's favorites.
My philosophy about cutting recipes in half:
In the past, I used four 8-inch cake pans. It produced a cake big enough to feed 47 and 1/2 people, or if you really want to know, 8 people and me–for 10 days afterward. Not good.
Then I discovered 6-inch cake pans, and I started cutting my cake recipes in half. It's a new philosophy you can read about here.
So this is half the original recipe, adapted from an old Southern Living cookbook I gave away long ago. If you don't already have the smaller pans, check the internet, a restaurant supply or a crafts store in the cake-baking section.
If you are thinking they are too expensive, consider how much you would pay to lose 5 or 10 pounds.  (I ask myself this question often when considering the financial aspect of buying something that will help me stay healthy, e.g. a gym membership or a vacuum-pack machine so I can pack salad in a jar ).
Are you sure it's not worth it?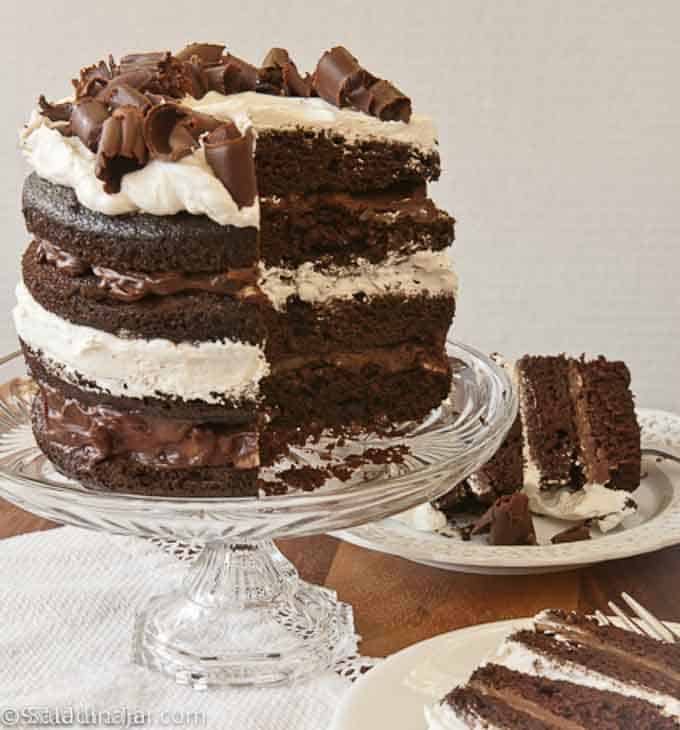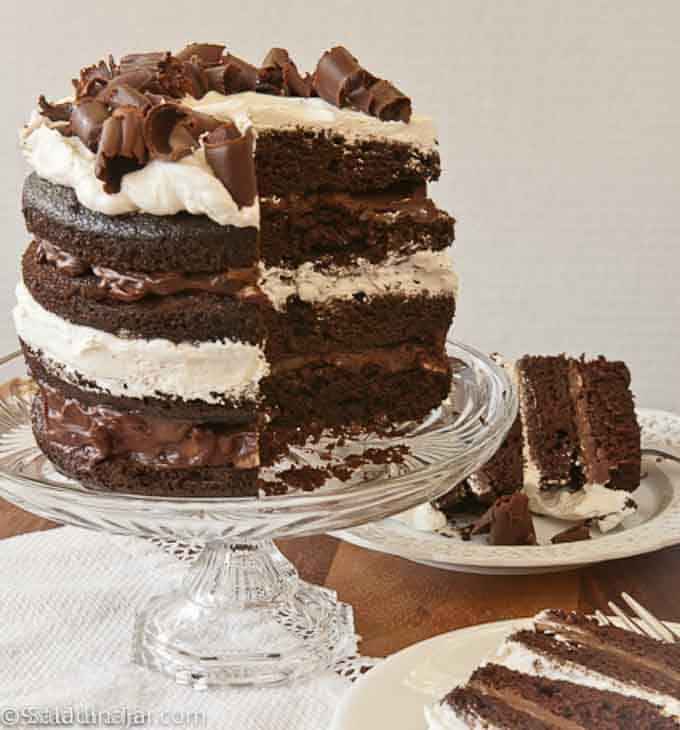 The cake itself requires only one bowl to mix the batter. I use a portable mixer since it's quick to pull out and easy to wash.
When chilled, the texture is rather fudge-like.
The chocolate ganache is a recipe I borrowed from Dorie Greenspan's Baking.  Please note the amount of ganache is probably more than you need unless you substitute the ganache for the whipped cream between the second and third layers. That's not a bad idea since the layers with cream in between want to shift when you try to slice it.
Regarding the cream layer: fresh, sweetened whipping cream is the best, but frozen whipped topping such as Cool Whip holds up better if you want to make it a day ahead–which I recommend.
If you make this recipe and enjoy it, consider helping other readers and me by returning to this post. Leave a rating on the recipe card itself underneath the picture. Although always appreciated, comments aren't required. Thank you for visiting! Paula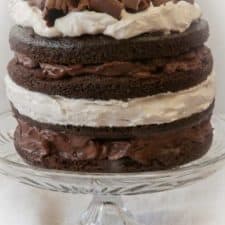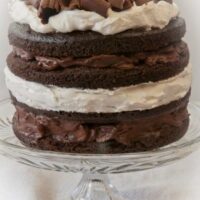 Chocolate-Almond Mini Torte
Chocolate ganache and sweetened whip cream between the layers of this chocolate cake make this a special cake for a special occasion.
Ingredients
2 1-ounce squares unsweetened chocolate
2/3 cup water
1/3 cup butter
3/4 cup flour
2 tablespoons Dutch cocoa
3/4 cup sugar
1/2 teaspoon soda
1/4 teaspoon baking powder
1/2 teaspoon salt
1/2 teaspoon vanilla
2 eggs
Chocolate Ganache
Sweetened Whipped Cream or Whipped Topping (such as Cool Whip)
4 ounces semi-sweet chocolate
1/2 cup whipping cream
2 tablespoons unsalted butter, room temperature
1/2 cup sliced almonds
Instructions
Preheat oven to 350 degrees. Prepare 4 pans by cutting waxed paper to fit into the bottom of each 6-inch cake pan.
Break chocolate into small pieces and place in a medium-size mixing bowl. Heat water and butter in a 2-cup pyrex cup for 1 minute, 30 seconds in the microwave or until it starts to boil. Pour over chocolate pieces and allow to sit until chocolate is melted.
Sift flour, cocoa, sugar, soda, baking powder, and salt together.
Use a hand mixer or whisk to mix melted chocolate mixture until smooth. Add sifted dry ingredients and continue mixing.
Add vanilla and then eggs--one egg at a time, mixing well between each egg.
Pour 3/4 cup batter into each pan.
Bake in 350 degree oven 12 minutes or until a toothpick comes out clean. Allow to cool about 10 minutes, then turn cake out onto cooling rack. Pull waxed paper off the bottom.
Chocolate Ganache
Break chocolate into small pieces and place in heatproof bowl.
Heat whipping cream to a boil and pour half over the chocolate. Allow to sit 30 seconds to melt chocolate. Stir in small circles, slowly, starting in the middle and make bigger and bigger circles.
Pour in the rest of the cream and stir until mixed in.
Stir in soft butter (divided into 4 pieces) one piece at a time.
Add almonds and stir until mixed.
Refrigerate until thickened--approximately 15-20 minutes.
This will likely make more than you need, but I trust you have some spare graham crackers around that could use a little something extra. 🙂
Assembling the torte
Spread ganache on top of the first layer.
Place second layer of cake next and cover with whipped cream (or ganache if you prefer).
Now place third layer, more ganache, and finally, the fourth layer. Cover top layer with whipping cream and garnish with chocolate curls, if desired.
Chill at least a couple hours before serving.
Nutrition Information:
Yield:

10
Serving Size:

1
Amount Per Serving:
Calories:

356
Total Fat:

23g
Saturated Fat:

13g
Trans Fat:

0g
Unsaturated Fat:

9g
Cholesterol:

74mg
Sodium:

188mg
Carbohydrates:

34g
Fiber:

3g
Sugar:

23g
Protein:

5g