Melba Toast from Stale Bread: Like Corner Bakery Sweet Crisps
Sneak Preview: Make this Melba Toast from stale unsliced bread. Sprinkle with cinnamon and sugar before baking. These are similar to the sweet crisps sold at Corner Bakery Cafe.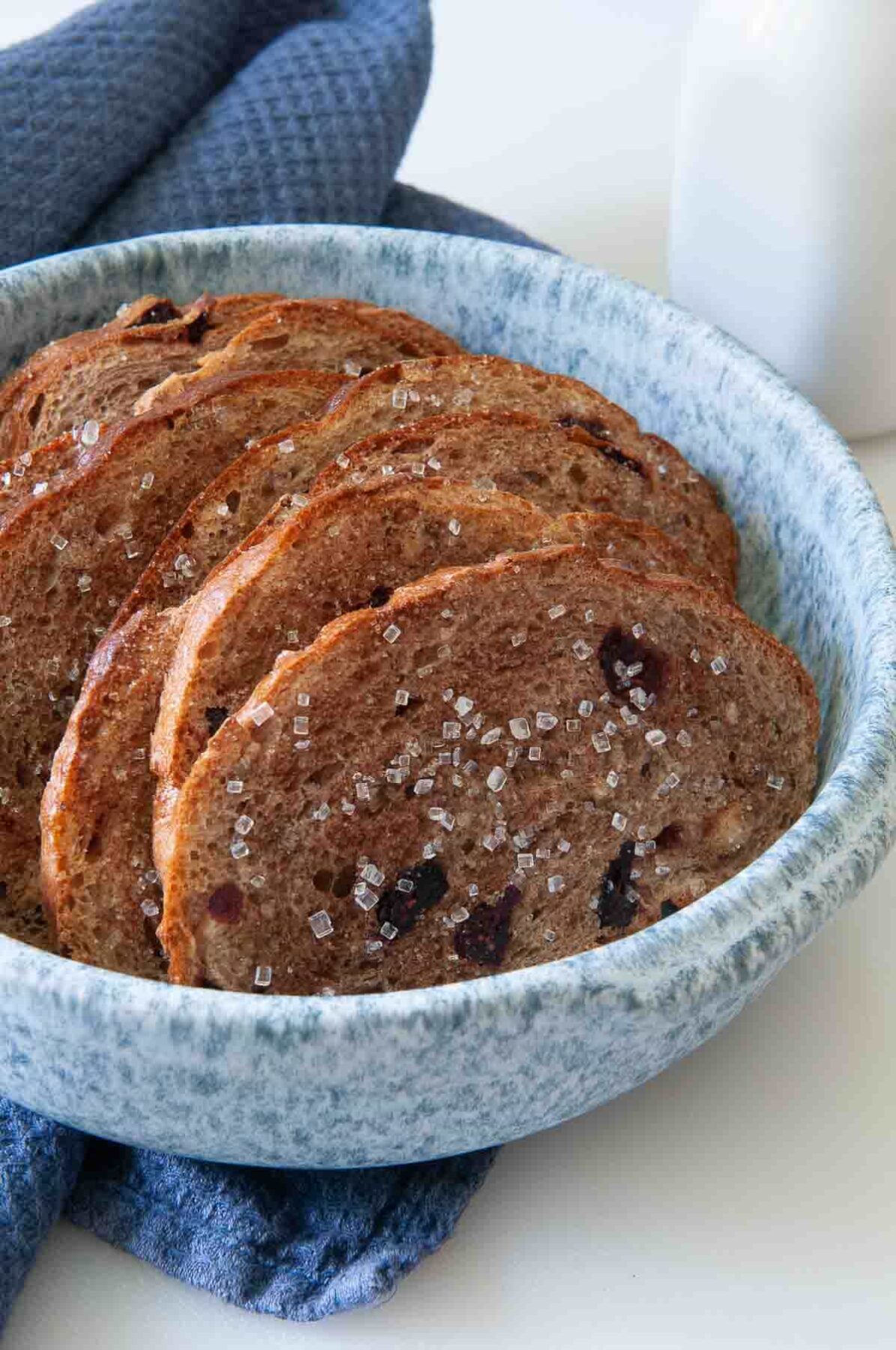 As an Amazon Associate, I earn from qualifying purchases.
Have you ever noticed how quickly homemade yeast bread goes stale? When comparing homemade to store-bought, do you ever wonder what they put in commercially-made bread to make it last so long?
Here's an excellent solution for whatever bread you don't eat in the first 24 hours. (We like this solution, too: Bread Crumb Pudding: A Delicious Solution for Stale Bread.)
I did this with my Rosemary Bread Machine Recipe with Cranberries and Pecans made with my bread machine. Do it with any un-sliced loaf, either plain or sweet.
---
Four reasons to try this Melba Toast Recipe:
Making toast prevents waste when a loaf of bread is too stale to eat but not moldy.
It makes the bread seem to go further when sliced thin.
Melba toast lasts for days.
Each slice contains fewer calories than a regular slice of bread–even less if you skip the butter and sugar on top.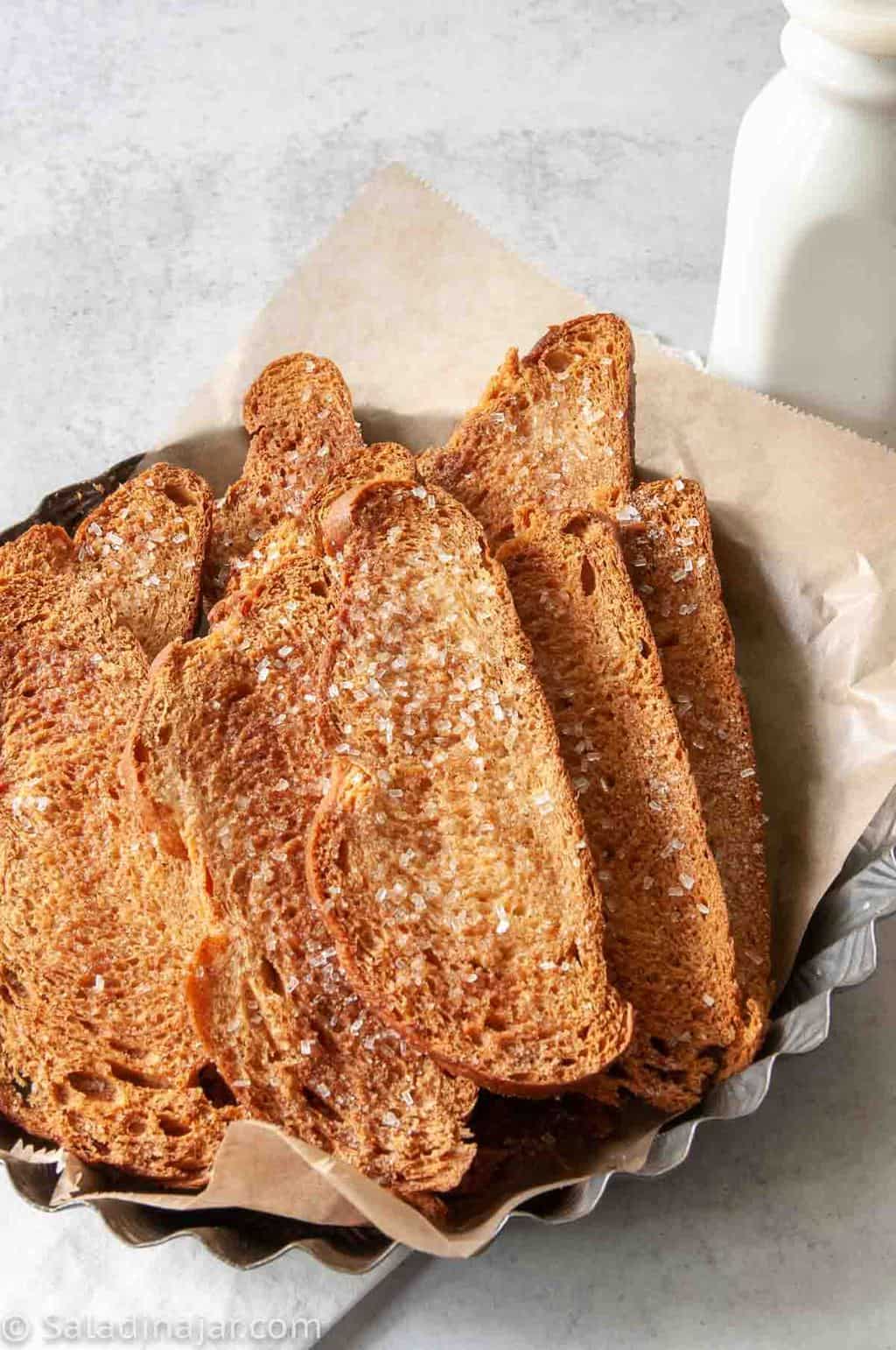 Want to know a secret? I hid half of this loaf to have some left to make sweet melba toasts. (Don't tell on me, please.) They are as good as a cookie!
---
How to make this Melba Toast recipe using leftover bread: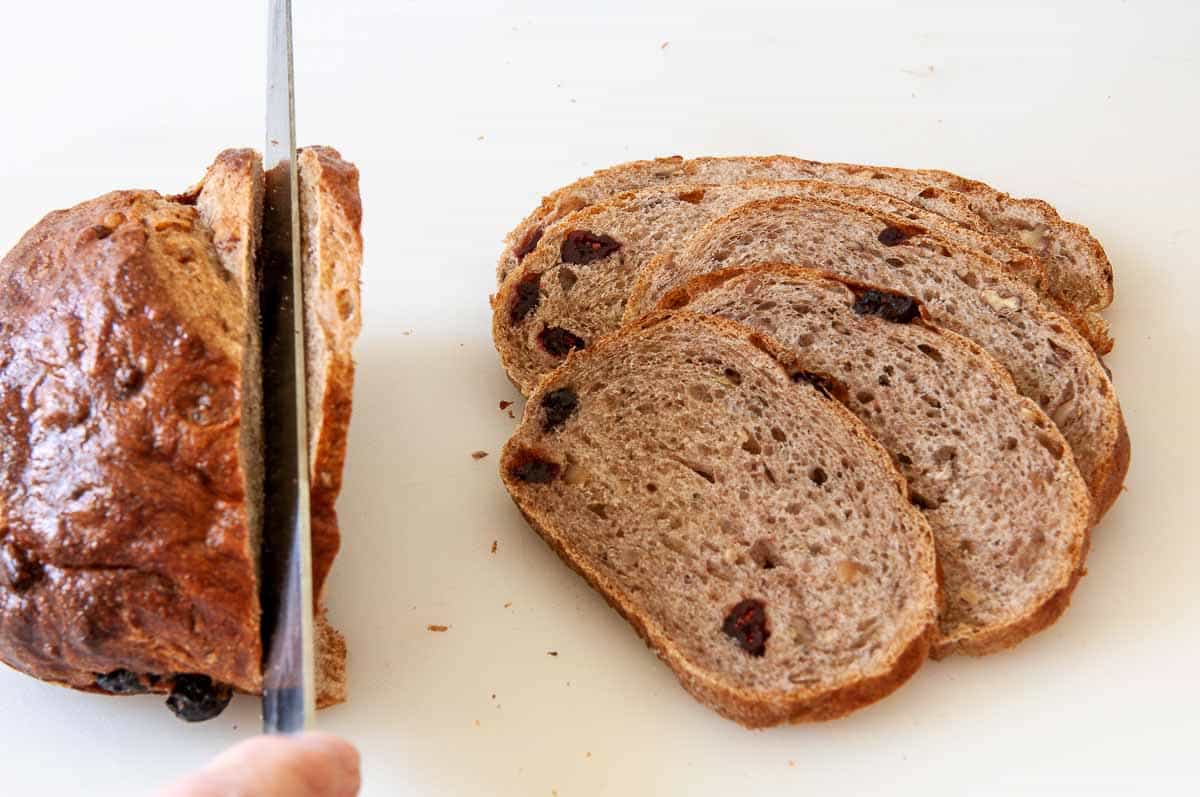 In other words, cut the bread as thinly as you can without turning the bread into crumbles. (I leave the crusts on the bread. However, if you don't want a crust, it is quicker to cut the crust off of the entire loaf before you slice the bread.)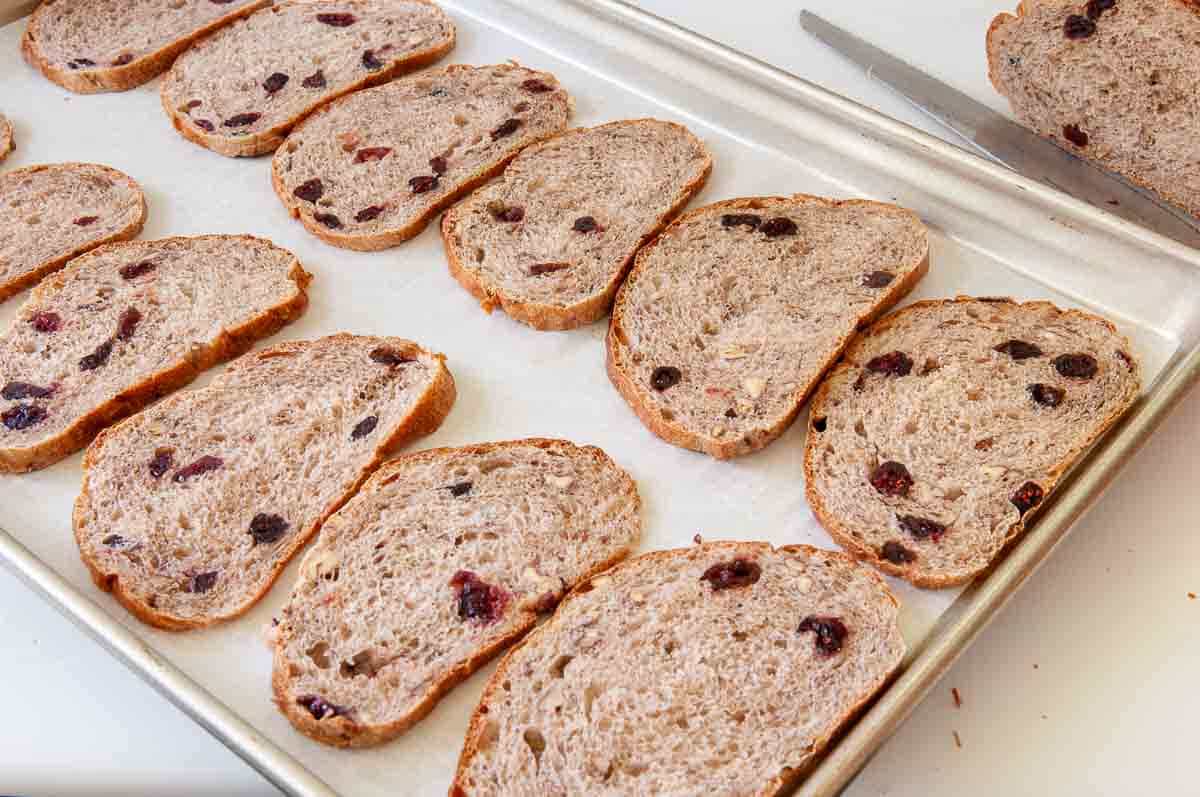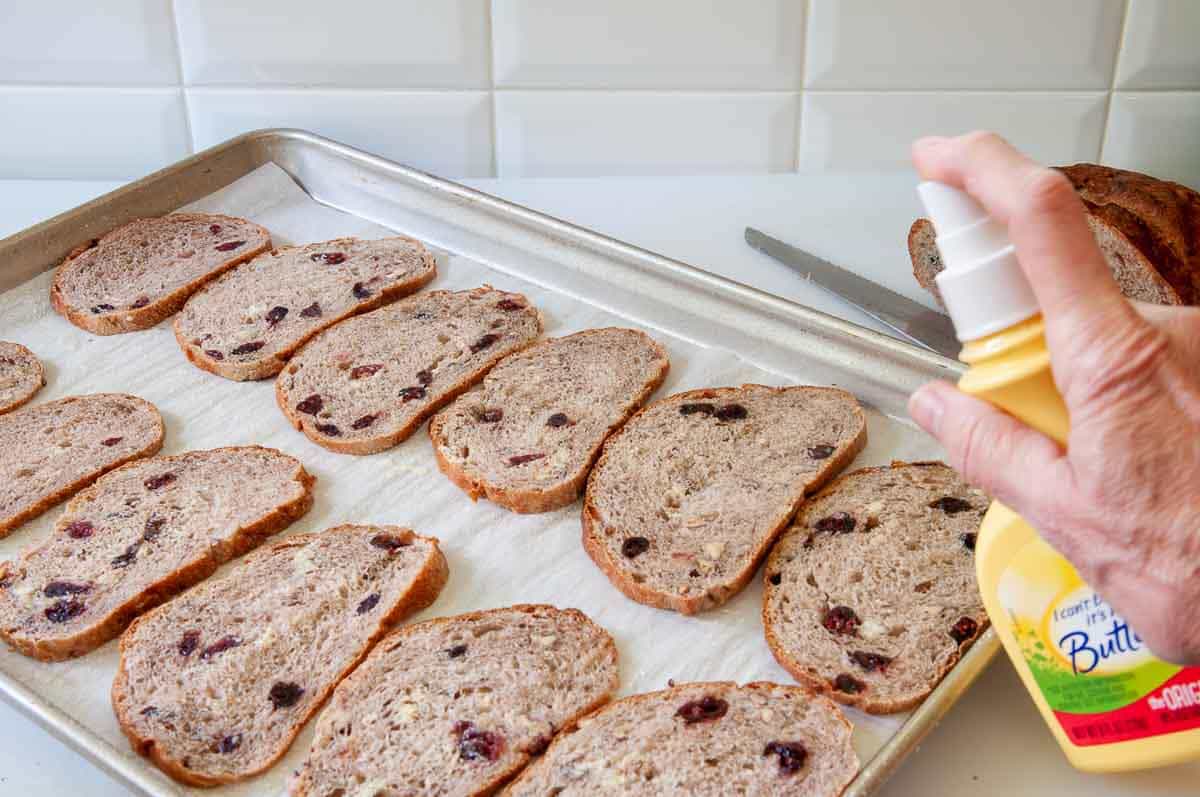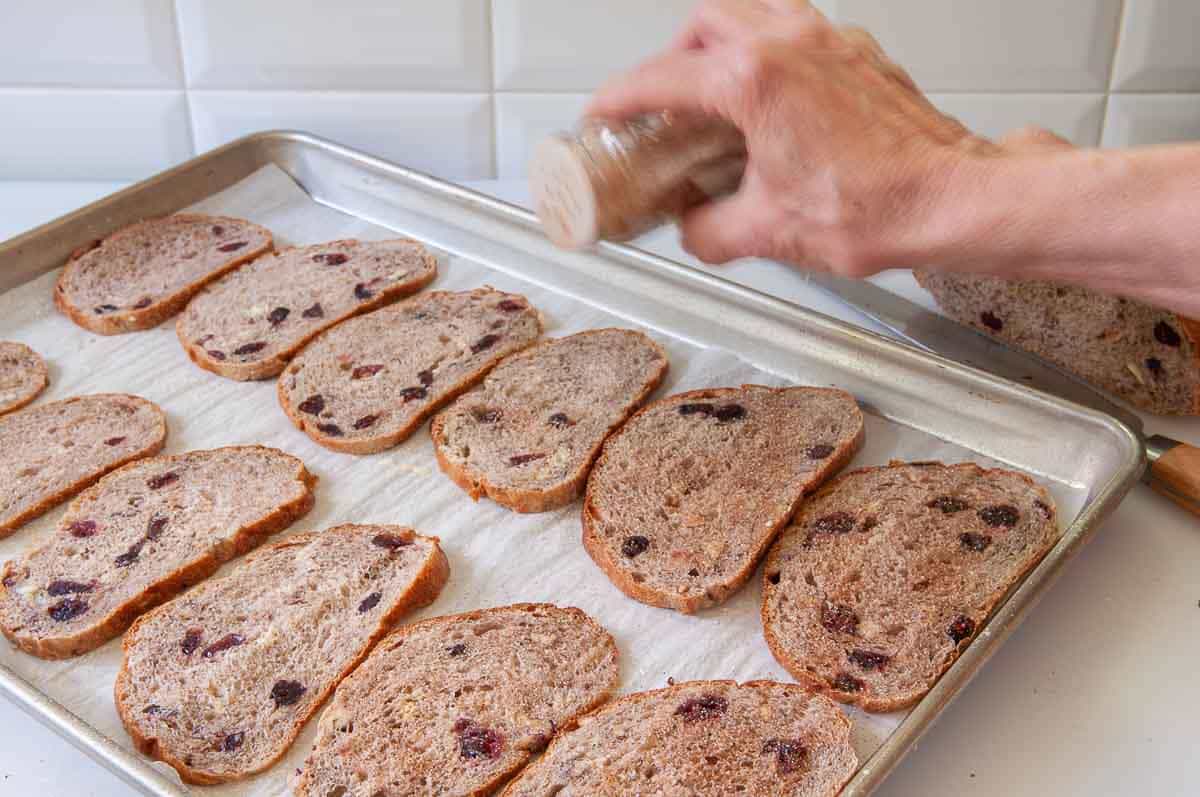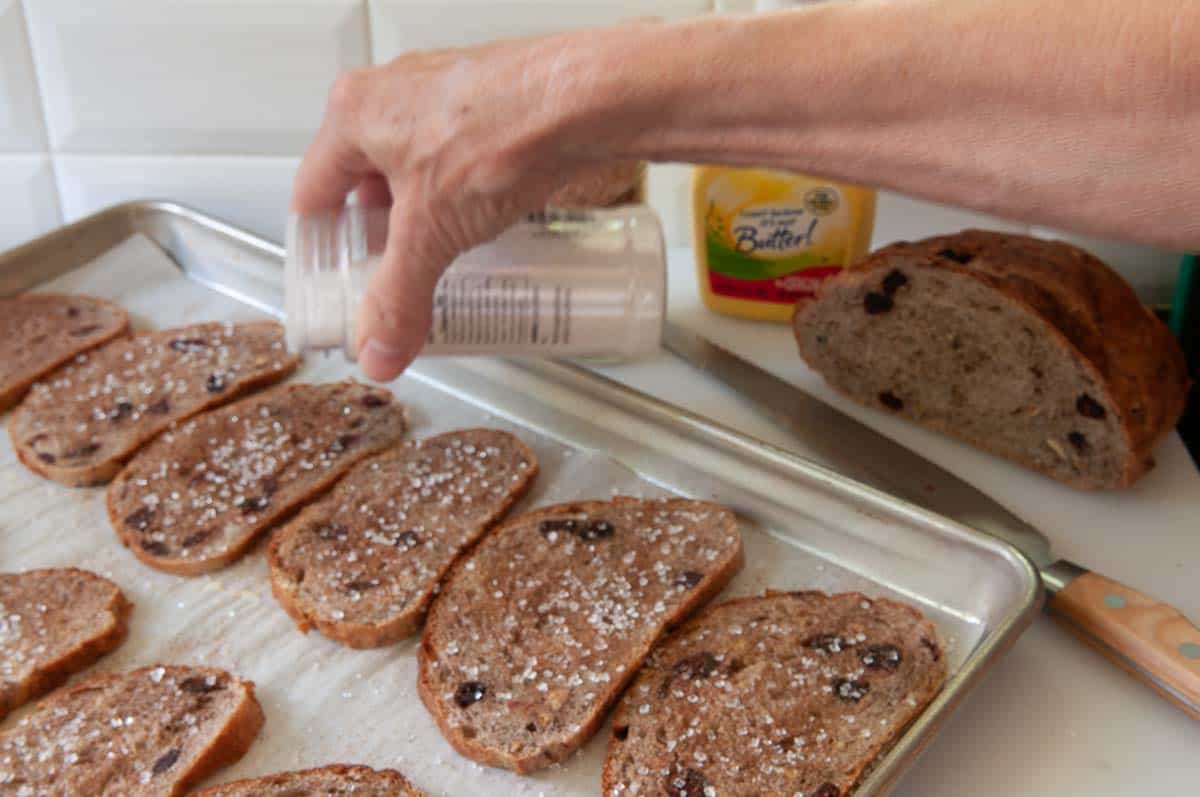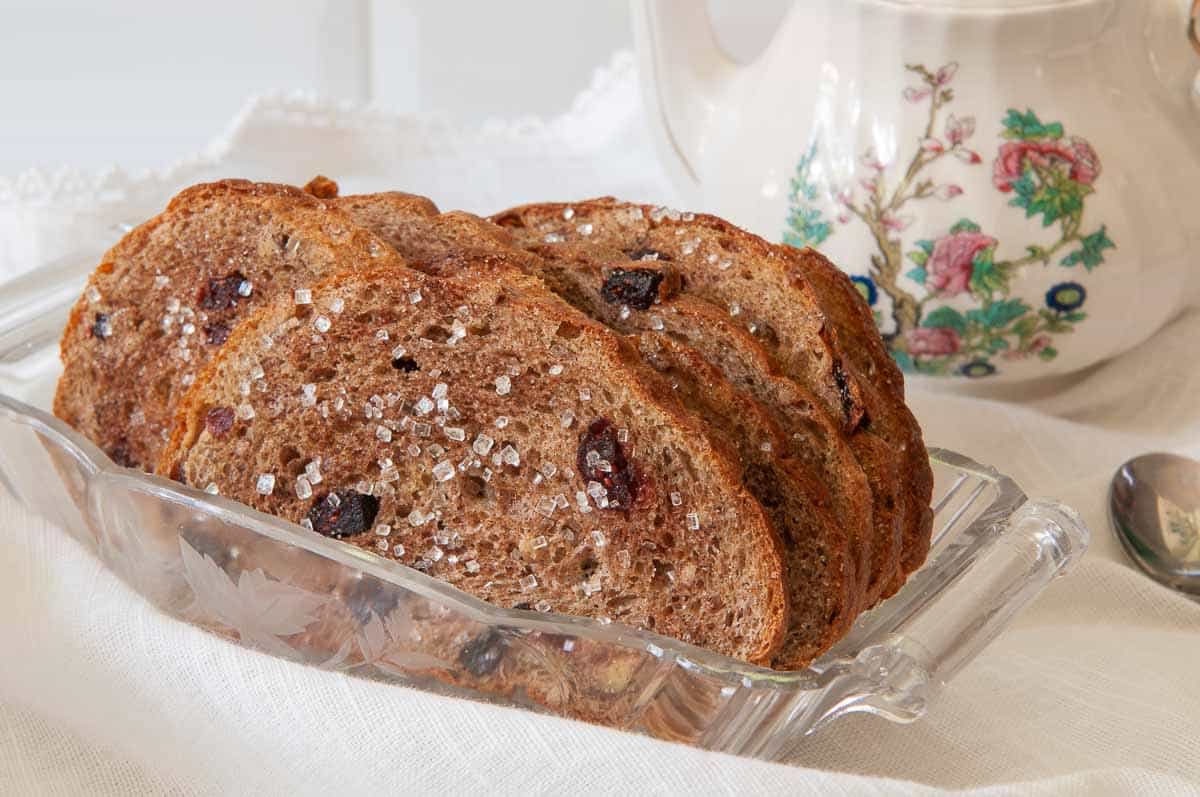 Since it's impossible to slice the bread evenly by hand, you can expect some slices to brown more quickly than others. Watch closely when the bread starts to brown so you can pull out the ones that are done.
---
Frequently Asked Questions:
What is the best type of bread to use?
Use this recipe with white or whole wheat bread with a close crumb.
What is the secret to cutting even slices?
It gets easier with practice. A sharp knife (serrated) and stale bread are imperative.
Can I bake these in my toaster oven or air fryer?
Yes. Although you can't bake as many toasts at once, they will bake faster.
How do I store melba toasts?
Store what you can eat in 2-3 days in a plastic bag on the counter. Otherwise, they freeze well for a month.
How do I make melba toast without sugar and cinnamon?
Follow the directions and leave out the cinnamon and sugar. Delicious with jelly, cream cheese, or regular cheese.
Parting thoughts: I don't know about you, but I can't stand to waste good bread. So try this delicious way to salvage leftover or stale bread.
---
Help at Your Fingertips: For questions or suggestions, email Paula at saladinajar.com. If you need help, I'm happy to troubleshoot via email (faster than leaving a comment). Attach pictures and as many details as possible for the best advice.
Melba Toast Recipe with Sugar and Cinnamon
These melba toasts resemble the cinnamon toast crisps sold at the Corner Bakery.
Share recipe love here. ⬇
Ingredients
Slightly stale loaf of uncut sandwich or sweet bread

1

squirt

spray butter per slice

2

tablespoons

sugar

1

teaspoon

cinnamon or cardamom

Sprinkle of coarse-textured sanding sugar
Instructions
Preheat your oven to 325˚F.

Slice a stale loaf of bread (because it is firmer) as thin as possible. Try for 1/8 inch.

Arrange slices on a cookie sheet so they don't overlap. Save time. Use a silicone mat or parchment paper on the tray so you won't have to wash it.

Spray each slice with one or two squirts of spray butter.

Sprinkle lightly with the cinnamon-sugar mixture.

To make them sweeter, sprinkle with sanding or coarse sugar on top.

Bake at 325˚F for about 15+ minutes.
Notes
The time to bake will vary greatly depending on the thickness of each slice. Some may be ready before others, so keep an eye on them. They should be dry, crisp, and golden brown. Press on them with your finger. If they bounce back under pressure, they need a bit more time. If they start to get browner than golden, they are getting too done and will begin to taste a bit burned.
Nutrition
Serving:
2
slices
|
Calories:
99
kcal
|
Carbohydrates:
19
g
|
Protein:
4
g
|
Fat:
1
g
|
Saturated Fat:
1
g
|
Polyunsaturated Fat:
1
g
|
Monounsaturated Fat:
1
g
|
Trans Fat:
1
g
|
Sodium:
177
mg
|
Potassium:
62
mg
|
Fiber:
1
g
|
Sugar:
4
g
|
Vitamin A:
1
IU
|
Vitamin C:
1
mg
|
Calcium:
48
mg
|
Iron:
1
mg
HELP OTHERS find this recipe. Leave a 5 🌟🌟🌟🌟🌟 rating at the top of the recipe card if you enjoyed it. No comment is required.