Cinnamon Crispy Toasts are thinly sliced homemade Melba-like toast sprinkled with cinnamon and sugar. They taste a lot like the cinnamon crisps sold at The Corner Bakery.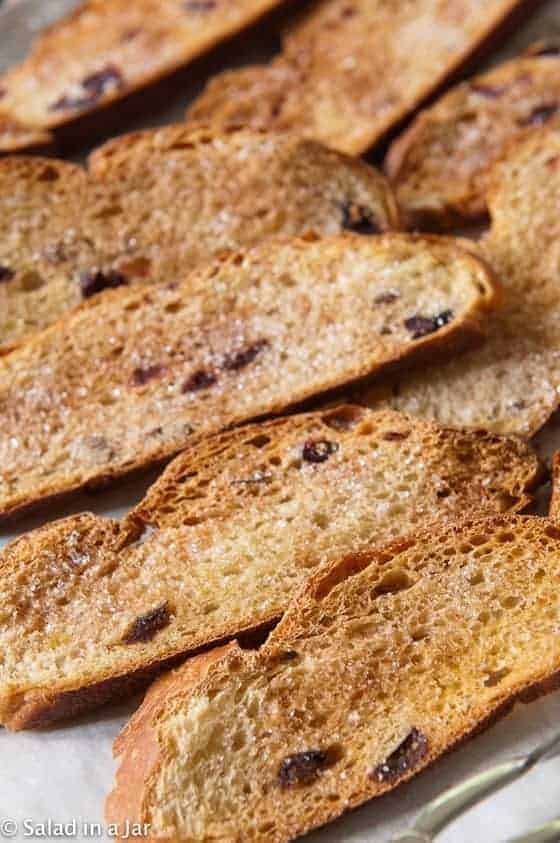 Have you ever noticed how fast homemade yeast bread goes stale? When compared to store-bought bread, it makes one wonder what they put in it.
Back to homemade bread. I have a great solution for whatever you don't eat in the first 24 hours. I did this with the Banana Yeast Braid with Dates I made in my bread machine, but it can be done with other un-sliced loaves, either plain or sweet.
Three reasons why you should try Cinnamon Crispy Toasts:
1. It makes the bread seem to go further when sliced thin.
2. Cinnamon Crispy Toasts last for days.
3. Each slice contains much fewer calories than a regular slice of bread and even less if you skip the butter and sugar on top. (SKINNY SECRET)
Want to know a secret? I hid half of the banana yeast bread loaf just so I would have some to make these cinnamon crispy toasts. They are as good as a cookie!
If you make this recipe and enjoy it, consider helping other readers and me by returning to this post. Leave a rating on the recipe card itself underneath the picture. Although always appreciated, comments aren't required. Thank you for visiting! Paula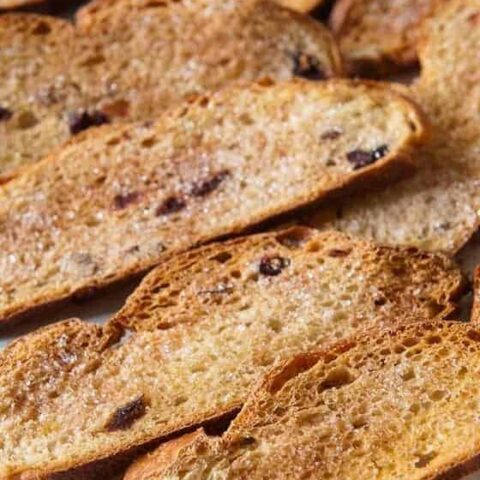 Cinnamon Crispy Toasts
In taste and appearance, these resemble the cinnamon toast crisps sold at the Corner Bakery.
Ingredients
Slightly stale loaf of uncut sandwich or sweet bread
One squirt of spray butter per slice
2 tablespoons sugar
1/2 teaspoon cinnamon or cardamom
Sprinkle of coarse-textured sanding sugar
Instructions
Preheat oven to 325 degrees Fahrenheit.
Slice slightly stale loaf of bread (because it is firmer) as thin as you can. Try for 1/8 inch.
Arrange slices on a cookie sheet so they don't overlap. Save time by using a silicone baking sheet or parchment paper on the tray so you won't have to wash it.
Spray each slice with one squirt of spray butter.
Sprinkle lightly with the cinnamon-sugar mixture.
To make them really special, sprinkle with some sanding sugar (coarse texture).
Bake at 325 degrees for about 15+ minutes.
Notes
The time to bake will vary greatly depending on the thickness of each slice. Some may be ready before others so keep an eye on them. They should be dry, crisp and golden brown. Press on them with your finger. If they bounce back under pressure, they need a bit more time. It they start to get browner than golden, they are getting too done and will begin to taste a bit burned.
Recommended Products
As an Amazon Associate, I earn from qualifying purchases. But don't worry. This doesn't change the price you pay.
Nutrition Information:
Yield:

24
Serving Size:

2
Amount Per Serving:
Calories:

27
Total Fat:

0g
Saturated Fat:

0g
Trans Fat:

0g
Unsaturated Fat:

0g
Cholesterol:

1mg
Sodium:

21mg
Carbohydrates:

6g
Fiber:

0g
Sugar:

3g
Protein:

1g
Related Posts: