Preview: This recipe for Coconut Icebox Cookies makes a thin, crispy, and chewy shortbread-type cookie. Keep a roll of dough in the freezer at all times for emergencies.
Icebox cookies sound like something your grandma would make, don't they? Think of them as the original slice-and-bakes, but fresher and tastier.
Thankfully, you can store the dough in your fridge or freezer instead of an icebox. Shaped logs of cookie dough are handy for "sweet" emergencies like unexpected company, a last-minute cookie tray, or a sneaky sugar attack.
Come a little closer 'cause I need to whisper this little secret. Even the raw dough satisfies, but you didn't hear it from me. Keep reading to the end of this post for my story about cookie dough.
Homemade slice-and-bake coconut cookies are guaranteed to wake up any coconut cravings you've neglected lately. The fragrance of toasted coconut combined with rich and buttery shortbread will make your house smell better than any scented candle.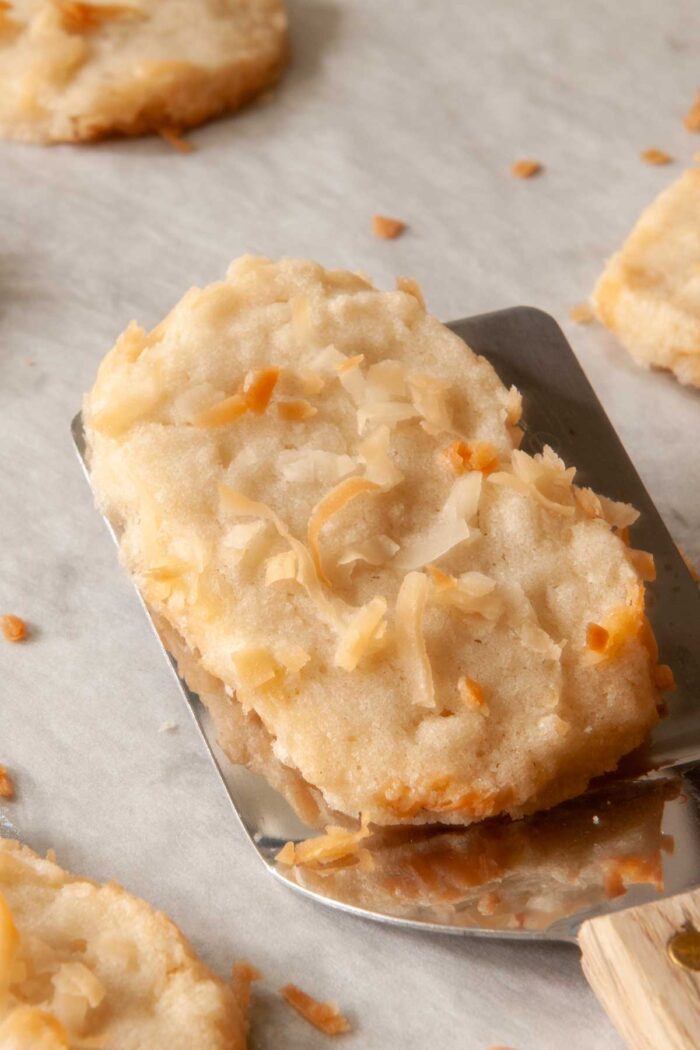 Why these coconut cookies should be in your freezer right now:
When you keep logs of prepared cookie dough in your freezer, you can have fresh warm cookies in the time it takes to preheat your oven and bake them.
With only 5 ingredients, you can throw the dough together in a hurry. However, the prepared dough MUST be refrigerated (or frozen) before baking, so plan ahead.
If you are a coconut lover, add this super simple cookie to your collection. They're great on their own, but they also play nicely with a simple dessert like ice cream, pudding, or creme brulée. We like to crumble them to sprinkle on our homemade yogurt.
Ingredients and substitutions:
BUTTER: Next to coconut, butter is the star ingredient. No substitutes exist.

SUGAR: Granulated sugar is best here. Anything else will change the texture and taste which isn't all bad. Just different.

VANILLA EXTRACT: Try almond extract if you prefer or don't have vanilla on hand. Use half as much almond as you would vanilla.

FLOUR: All-purpose flour is recommended. Bleached or unbleached–it doesn't matter.

COCONUT: This recipe was formulated for flaky sweetened coconut. Substitute unsweetened coconut if your sweet tooth is better controlled than mine.
---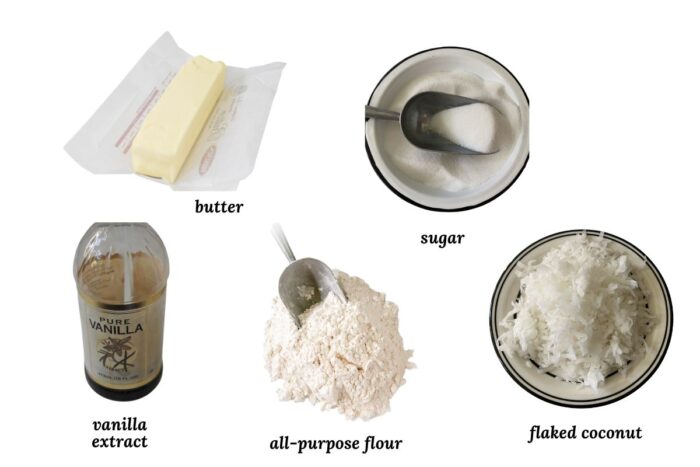 ---
Frequently Asked Questions:
Are these cookies good to mail?
These lovely but delicate cookies are not good travelers. That is to say, no US Mail or UPS. On the other hand, they are perfect for a party, shower, a Christmas cookie tray, or tea time snack.
How long can I store the dough in the freezer?
The dough will keep in the freezer for 2-3 months. Double wrap the dough to avoid freezer burn.
How long will baked shortbread cookies stay fresh?
Store them in an air-tight container for up to a week. Store in the freezer for 2-3 weeks.
How can I keep the shortbread dough from spreading too much while baking?
1. The cookie dough must be well-chilled. Either freeze for two hours before baking or chill the dough in the refrigerator overnight.
2. Cover your cookie sheet with parchment paper. It helps to prevent spreading.

Since there is no baking powder in these cookies and they are not confined to a pan, they will spread some. You won't have to wait very long for the cookies to cool and get crispy.
The dough is hard to slice when it's frozen. Any suggestions?
1. When you turn the oven on to preheat it, set the dough out on the counter to warm up for a few minutes. Makes a big difference.
2. Warm your knife (serrated works best) by running it under hot water or dipping it in a container of hot water.
3. Put the log of dough in the microwave and use the DEFROST cycle to soften it–less than a minute. It doesn't take long so stand by.
How to make Coconut Icebox Cookies: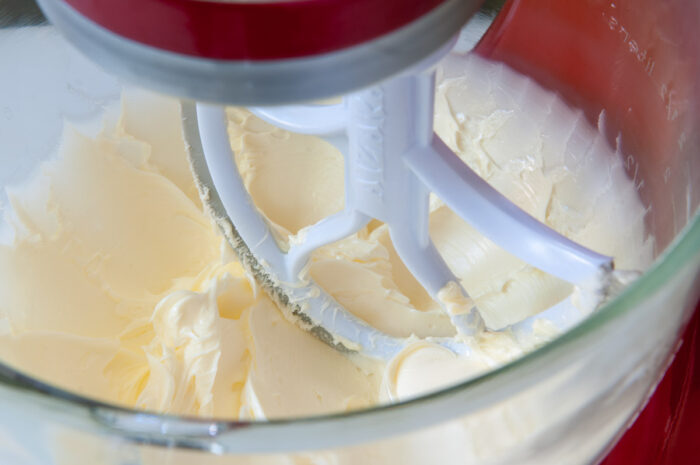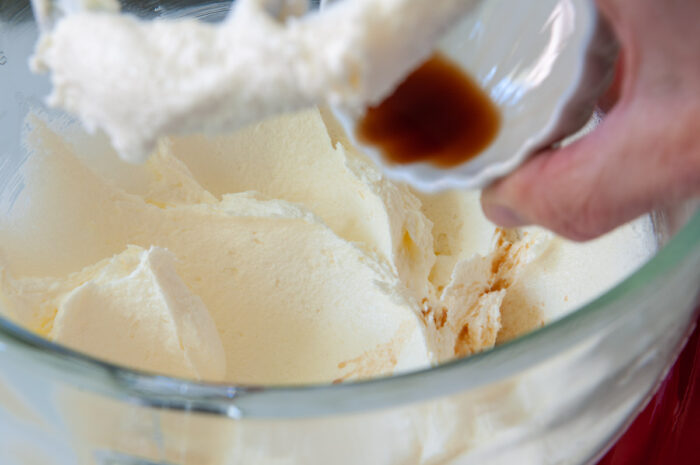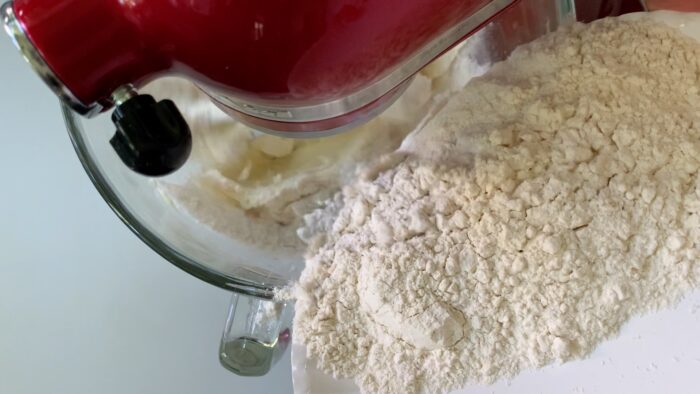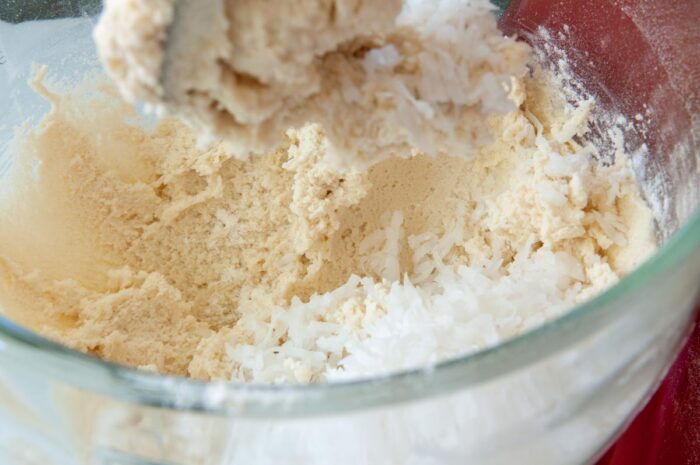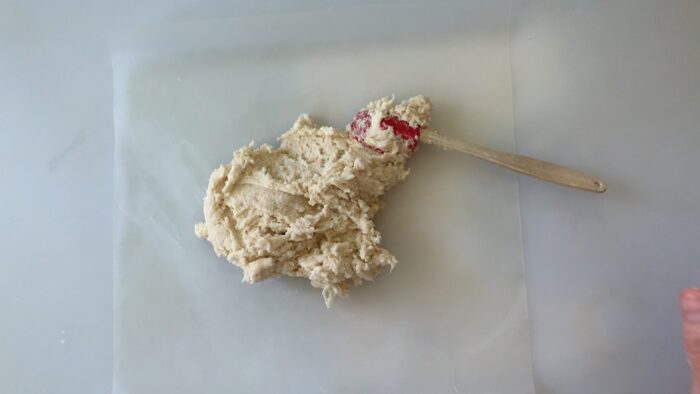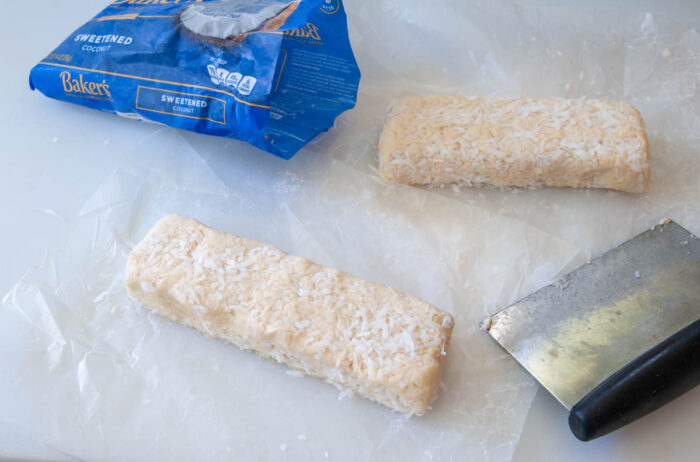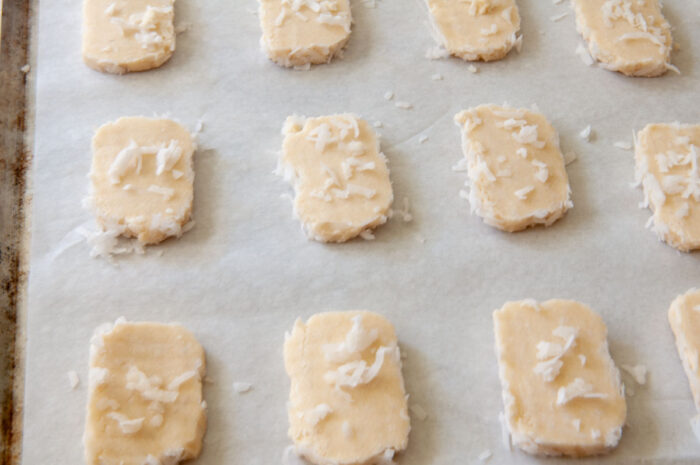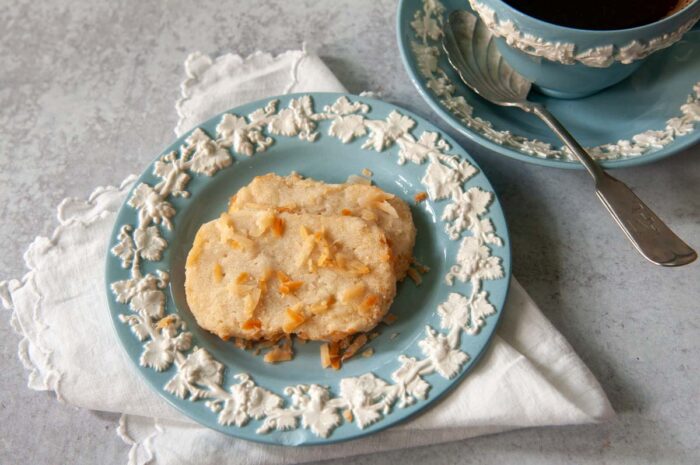 Oh yes, my cookie dough story...
My mom was ahead of her time when she engaged in some aversion therapy with my pre-teen self.
I asked her if I could make an entire recipe of Butterscotch Refrigerator Cookies for the sole purpose of eating the dough.
She said, "yes." I did. Never made that recipe again.
More recipes for coconut or shortbread lovers
If you enjoyed this recipe, it would help others and me if you gave it a five-star rating inside the recipe card below. 🤩 No comment required. Thank you.

Hope to see you again soon!
Paula
p.s. Questions or suggestions? Please email me: Paula at saladinajar.com.