A Crustless Apple Pie for People Who Don't Like Making Crusts
Sneak Preview: This Crustless Apple Pie recipe couldn't be simpler. Bake batter-covered apples in a pie plate with no crust (aka Swedish Apple Pie).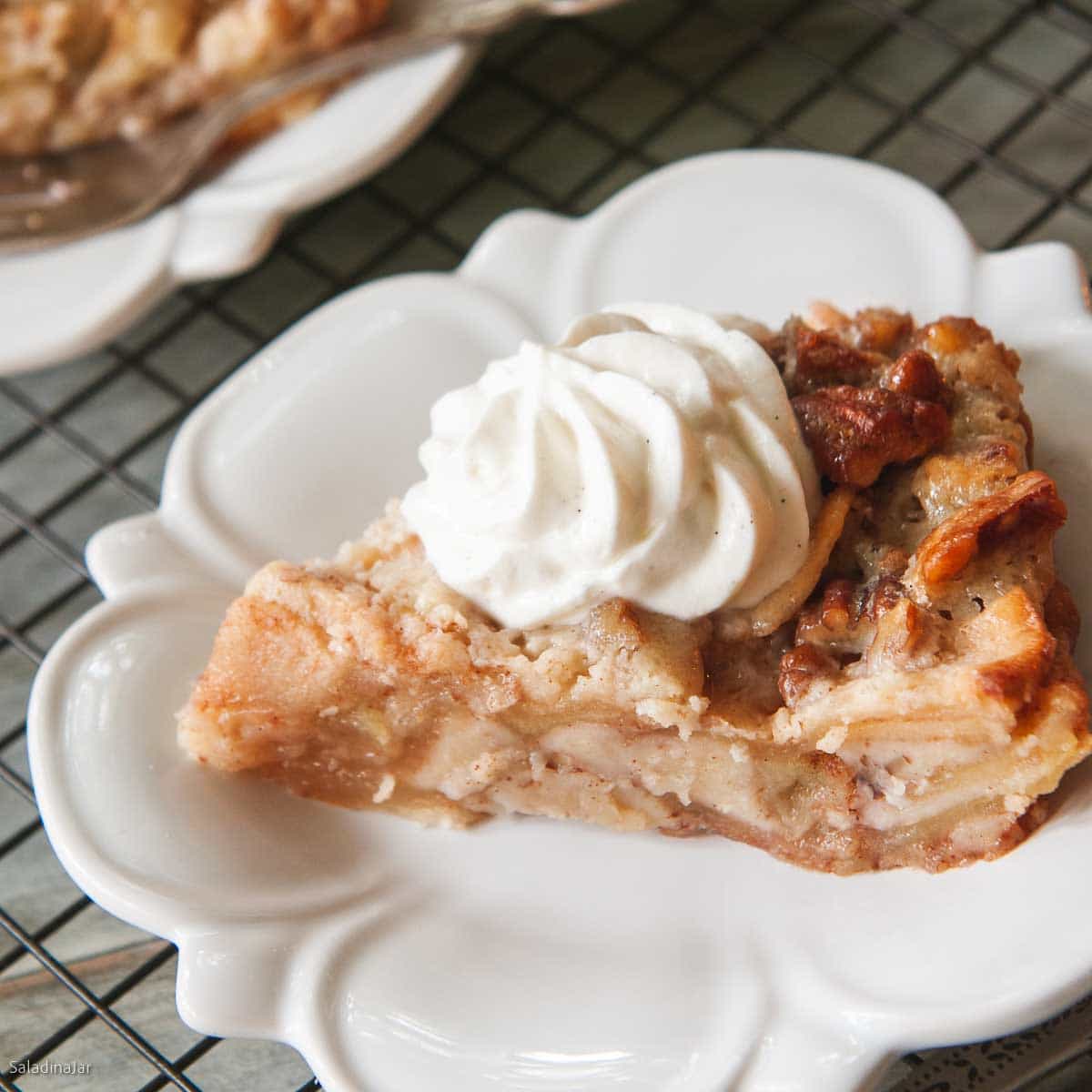 As an Amazon Associate, I earn from qualifying purchases.
What if you could have the cinnamony goodness of juicy baked apples without messing with a separate crust? This popular Swedish Apple Pie makes its own crust.
A crustless apple pie is a perfect recipe for stressed-out cooks or beginners. The batter is simple enough for kids to stir together.
If you don't have time for a crust or want to mess with it, this pie is for you.
Cover cinnamon-spiced apples with a sweet batter, then bake. Serve with ice cream or whipped cream.
Happy bakers speak up:
"I just popped another pie in the oven! This will be the fourth pie for us in about three months. It's perfection. I use slightly less sugar in the batter. It's way to0 important to have it in order for the crust to form it's killer crispy cheweyness, so don't reduce it too much. I also add a wee bit of freshly grated nutmeg because we love it. Be sure to bake it until there is a lovely golden crust on top. It's winter and we keep our home pretty chilly, so the batter is a bit stiff and for that reason we put dollops of batter evenly over the top and spread it out. It smells so good in here right now I can't stand it! This pie gets better each day, if it lasts that long. Cheers!" –Sheila A.
Frequently Asked Questions:
Why is there no crust?
The "crust" is on top–sort of.
The sweetened batter you spread over the sliced apples will seep down between the apples in the oven. As a result, the part left on top turns golden brown and crunchy.
What kind of apples should I use?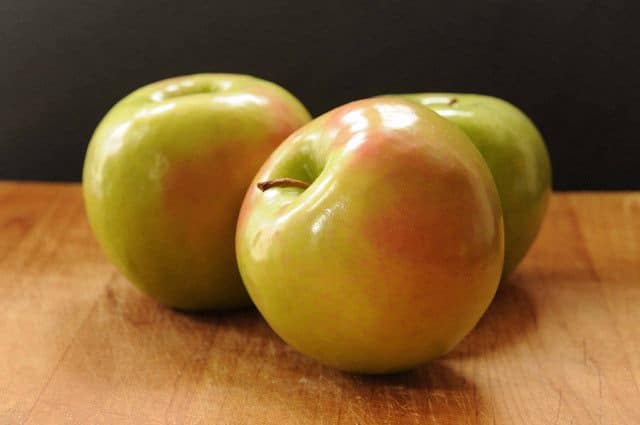 I've tried several different apples and settled on a combination of two large Granny Smith apples and one large Golden Delicious. They will give your pie the right amount of sweetness, and the best texture, and release some liquid without getting mushy.
Can I make substitutions?
Replace pecans with walnuts. Either way, toasting them before you add them to your batter will bring out the flavor.
Bleached flour can be used in place of unbleached flour.
Ground cardamom can be used in place of or in addition to cinnamon.
What is the best way to core apples?
Kitchen Secret:
To keep the tips from breaking off your apple quarters, remove the core starting from the bottom instead of the top. This technique will make your slices more uniform.
It's not a big deal in this recipe. I just wanted you to know.
---
How should I serve this no-crust apple pie?
Hot out of the oven?
If you serve the pie hot out of the oven, it will probably be a little messy as you try to cut it into slices. But, of course, it will taste fabulous as the warm pie melts your ice cream on top.
Making it ahead of time?
If you want to make the pie ahead of time, bake it, then allow it to cool for several hours. Refrigerate.
When it's time to eat it, slice the pie. Put individual slices in the microwave for a few seconds to warm them and bring out the cinnamon fragrance. By the way, if you like cinnamon apples, don't miss these Microwave Cinnamon Apples.
Top with ice cream or whipped cream.
---
How to make Crustless Apple Pie: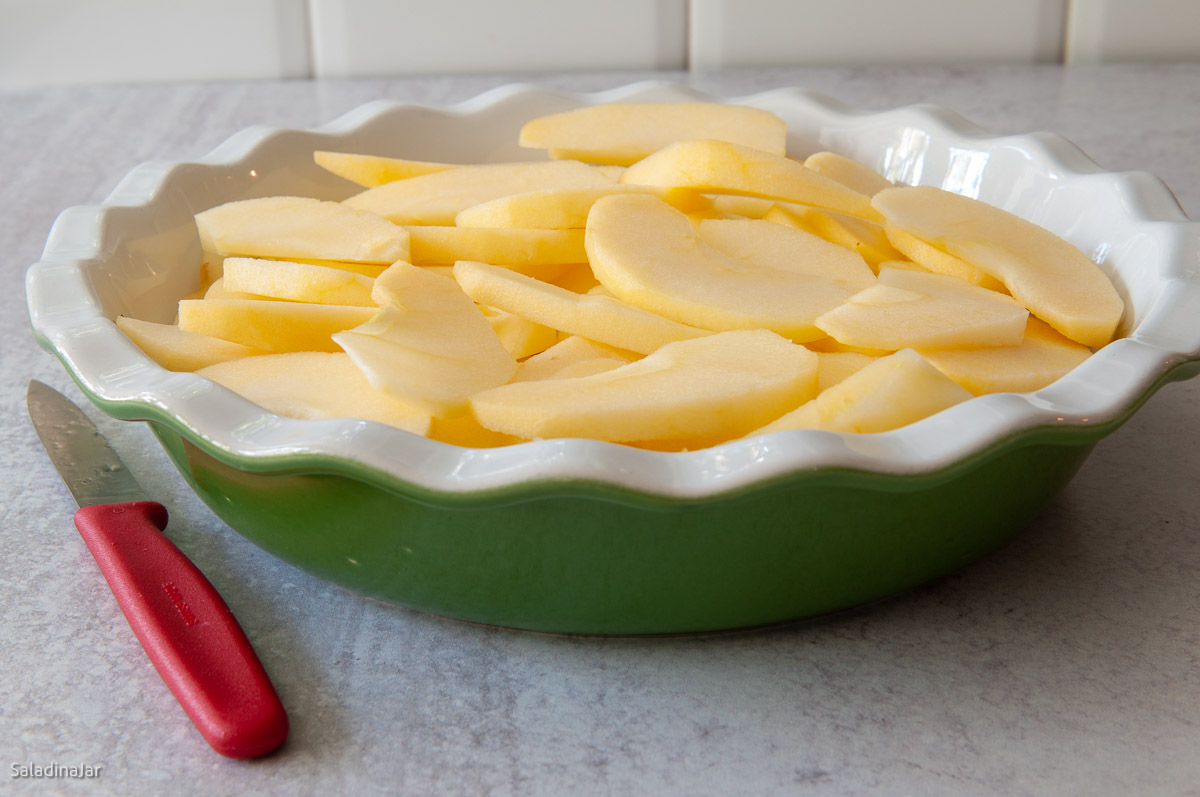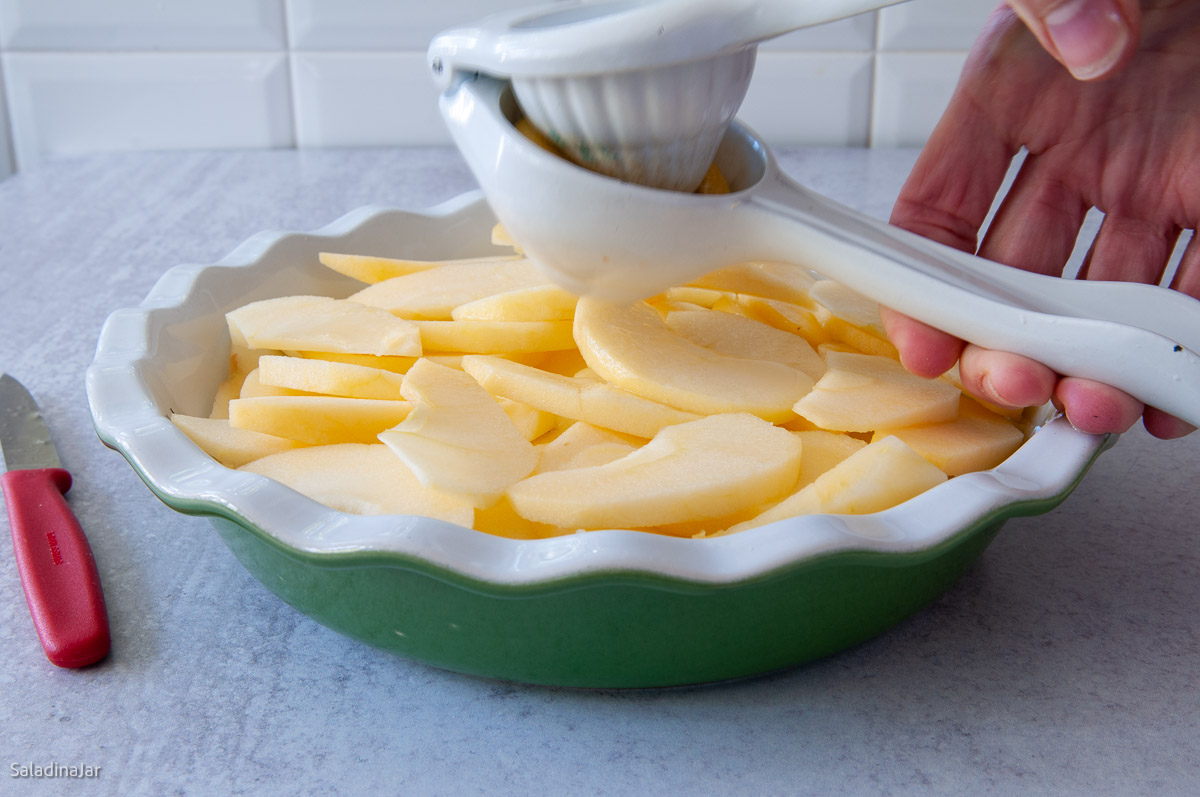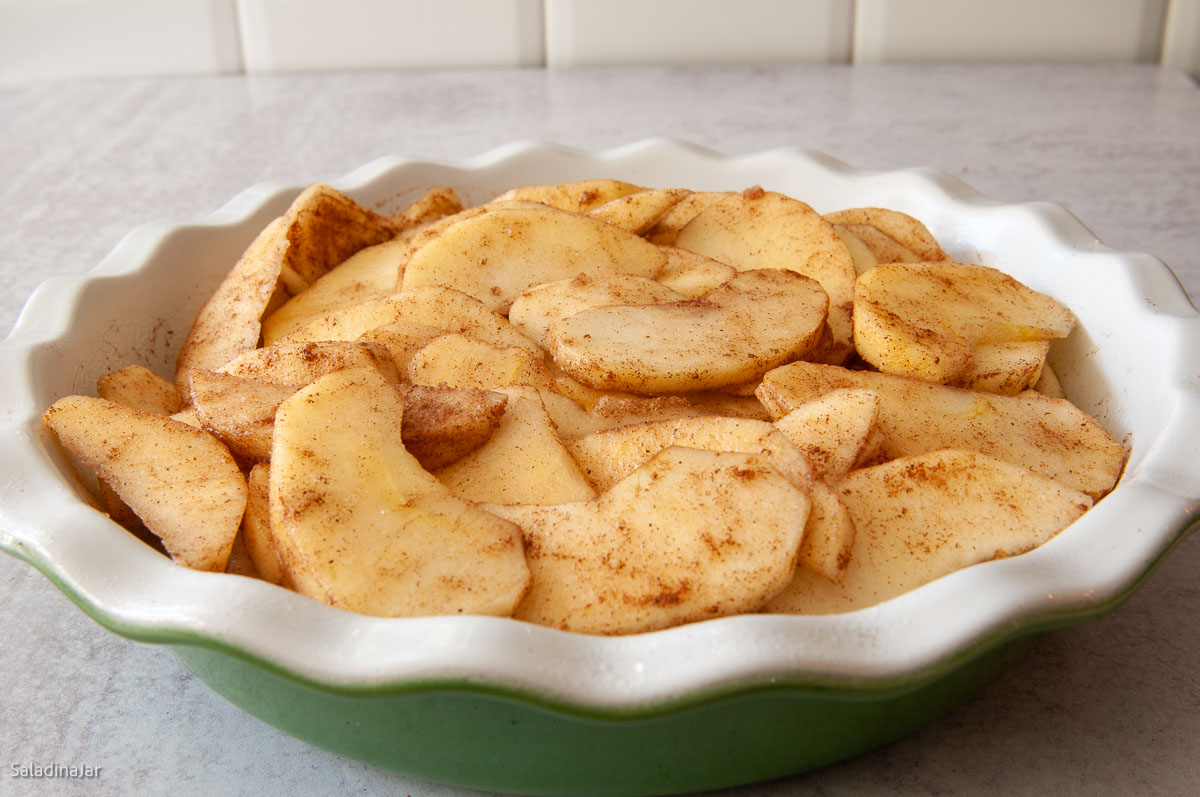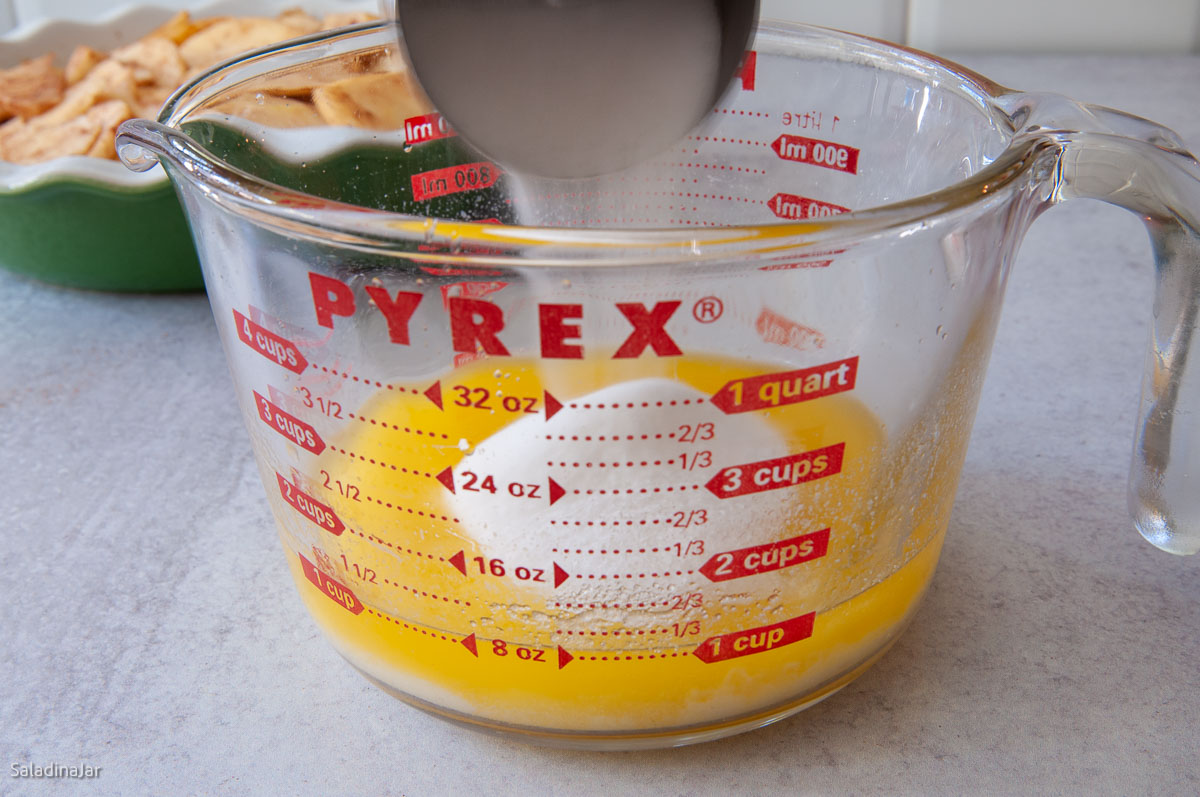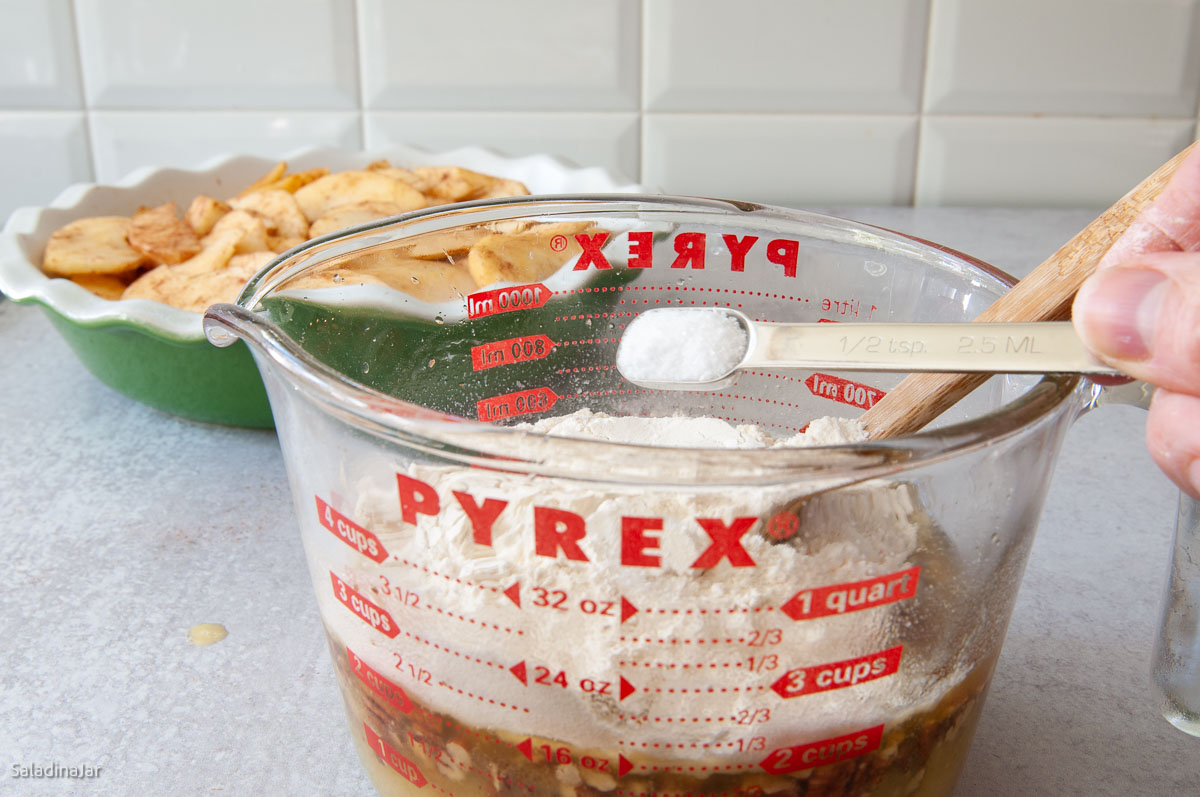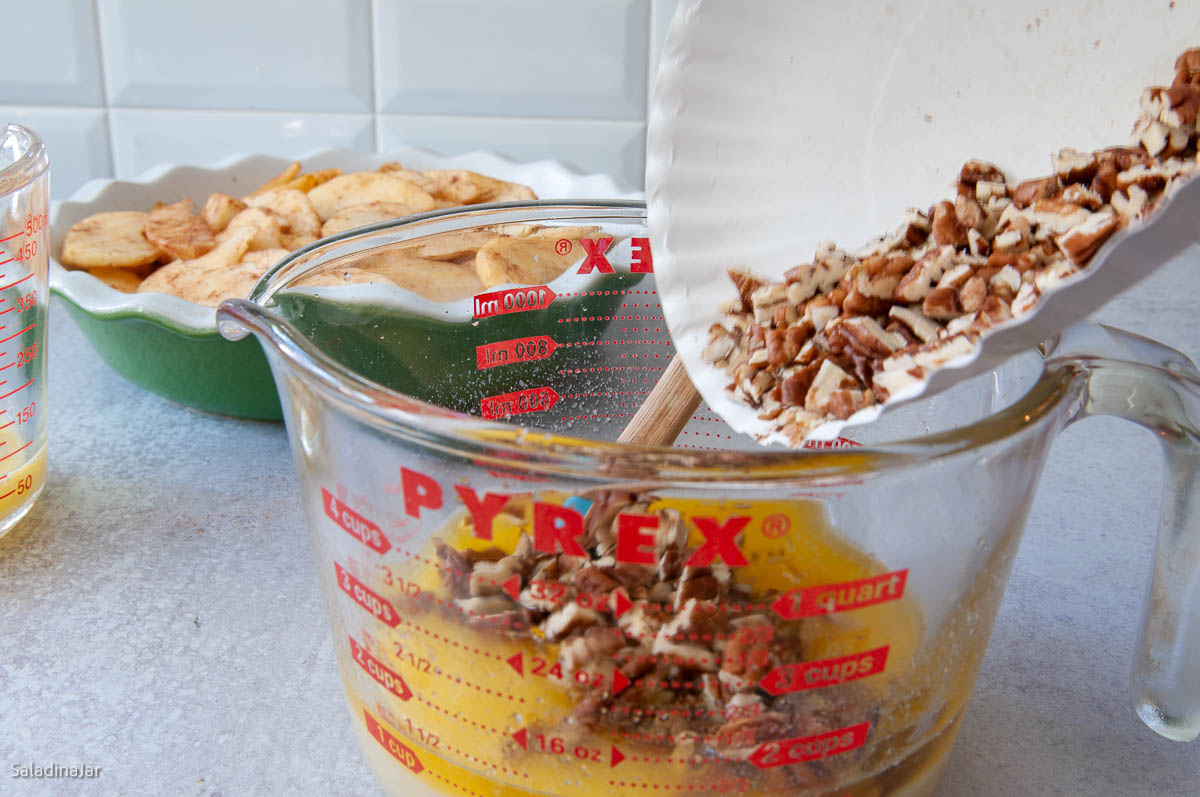 ---
Parting thoughts: This dessert begs to be served with ice cream or whipped cream. It's even better if you warm slices in a microwave oven for a few seconds before serving. If you're a pie person like me, be sure to check out this Fresh Strawberry Pie, and my Fresh Nectarine Pie. If you like a pie with a non-traditional crust, this French Silk Chocolate Pie is worth all the calories.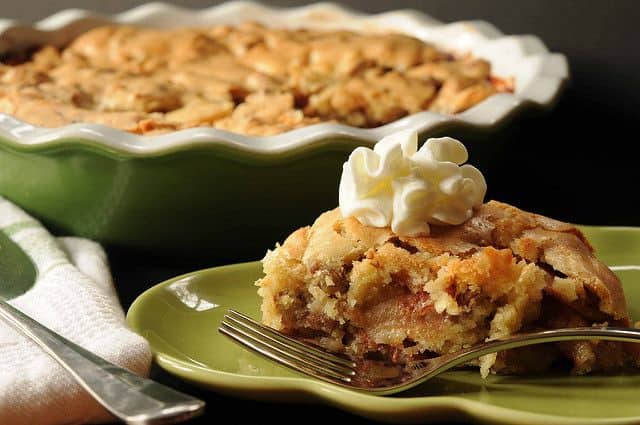 ---
Recipe Help at Your Fingertips: For questions or suggestions, email Paula at saladinajar.com. If you need help, I'm happy to troubleshoot via email (faster than leaving a comment). Attach pictures and as many details as possible for the best advice.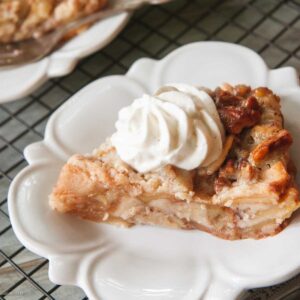 Crustless Apple Pie
Bake this Crustless Apple Pie in a standard pie crust dish. A sweet batter spread over the apples turns into a crust on top. Serve with ice cream or whipped cream along-side it.
Share recipe love here. ⬇
Ingredients
2 ½

cups

(

312

g

)

cooking apples

–

(2 large Granny Smith and 1 large Golden Delicious peeled and sliced, 1.5 lb)

1

teaspoon

lemon juice

1

teaspoon

cinnamon

1

tablespoon

granulated sugar

10

tablespoons

(

142

g

)

butter

–

melted

¾

cup

(

149

g

)

sugar

1

(

50

g

)

egg

–

slightly beaten

¾

cup + 1 tablespoon

(

98

g

)

unbleached all-purpose flour

½

teaspoon

salt

½

cup

(

57

g

)

chopped pecans

–

toasted
Instructions
Lightly grease a 9-inch pie plate. Fill the pie plate with

2 1/2 cups

(

312

g

) cooking apples. The pie pan should be about 2/3 full. Sprinkle with

1 teaspoon

lemon juice and stir to coat apples.

Sprinkle

1 teaspoon

cinnamon and

1 tablespoon

granulated sugar over the apples and combine.

Mix

10 tablespoons

(

142

g

) butter, and

3/4 cup

(

149

g

) sugar in a separate bowl. Stir in

1

(

50

g

) egg (beaten),

3/4 cup + 1 tablespoon

(

98

g

) unbleached all-purpose flour, and

1/2 teaspoon

(

½

teaspoon

) salt. Add

1/2 cup

(

57

g

) chopped pecans.

Spread the batter over apples.

Bake at 350˚F (18˚C)for 45-50 minutes or until golden brown.

If you want neat slices, chill the pie for 2-3 hours. Slice the pie when ready to serve and reheat individual slices in the microwave for 20-30 seconds before serving with ice cream or whipped cream.
Nutrition
Serving:
1
slice
|
Calories:
347
kcal
|
Carbohydrates:
40
g
|
Protein:
4
g
|
Fat:
20
g
|
Saturated Fat:
10
g
|
Polyunsaturated Fat:
2
g
|
Monounsaturated Fat:
7
g
|
Trans Fat:
1
g
|
Cholesterol:
58
mg
|
Sodium:
279
mg
|
Potassium:
68
mg
|
Fiber:
1
g
|
Sugar:
21
g
|
Vitamin A:
472
IU
|
Vitamin C:
1
mg
|
Calcium:
18
mg
|
Iron:
1
mg
HELP OTHERS find this recipe. Leave a 5 🌟🌟🌟🌟🌟 rating at the top of the recipe card if you enjoyed it. No comment is required.