Preview: Espinaca combines spinach, corn, and mushrooms with cream cheese and green chilies. It's a spicy side dish or dip similar to Abuelo's version.
Try this recipe for Espinaca, a tasty spinach casserole with a Tex-Mex spin. Take a look at these fabulous ingredients –mushrooms, red bell peppers, spinach, and corn, mixed together and spiced with a chipotle cheese sauce.
Top off this party with plenty of gooey cheese to make a spicy and savory dip or side dish.
Guaranteed to draw a crowd!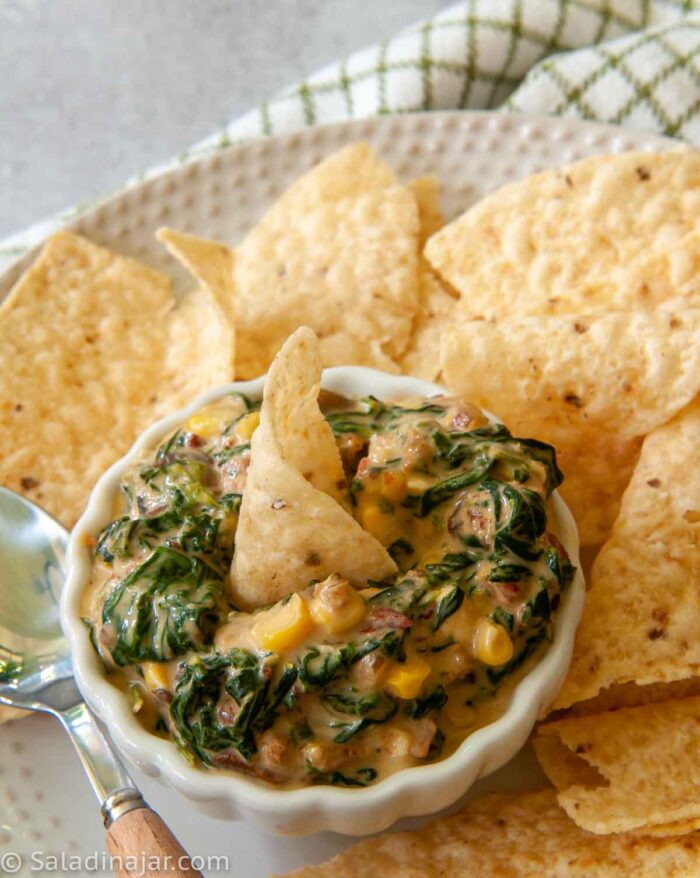 Recipe Inspiration
Abuelo's was the first restaurant we visited when businesses began to open up after the lockdown. My favorite items on the menu are side dishes. This recipe is one I've duplicated along with another one for their Cheesy Jalapeño Mashed Potatoes.
Because espinaca is rather rich, it makes a tasty spinach dip, too. Serve with tortilla chips.
Ingredients and Substitutions:
SPINACH: Frozen spinach is the easiest way to go but fresh is also good. Try to get as much moisture out of it as you can

MUSHROOMS: Fresh sliced button mushrooms are my first choice. Fresh Baby Bellas would be just as good. Substitute canned mushroom pieces if you don't have fresh. They will be cheaper and easier.

BACON: 2 slices of bacon is no big deal if you keep cooked bacon in your freezer. Microwaving two pieces of bacon doesn't take long either.

Costco sells bags of cooked bacon pieces that are shelf-stable until you open them. They would be the perfect solution for this recipe as well as for your next pizza.

CHIPOTLE PEPPERS IN ADOBO SAUCE: Buy these in a small can. They add a lot of heat and interest to this recipe. Freeze the remaining peppers for future use. (See directions below.)

If you aren't much for spicy food, I would cut back a little on these peppers.

ONION: White or yellow onions are best.

RED BELL PEPPERS: If you don't have red bell peppers, use yellow or orange peppers. Green peppers will give your recipe a different flavor vibe since they are not as sweet.

CORN: Fresh would be fabulous, but I generally use frozen corn for convenience.

PROCESSED CHEESE: Velveeta is my processed cheese of choice.

CREAM CHEESE: This recipe is spicy enough that you can use low-fat cream cheese if you prefer.

JACK OR CHEDDAR CHEESE: You could leave this out if you don't have it. Personally, I like to double the cheese.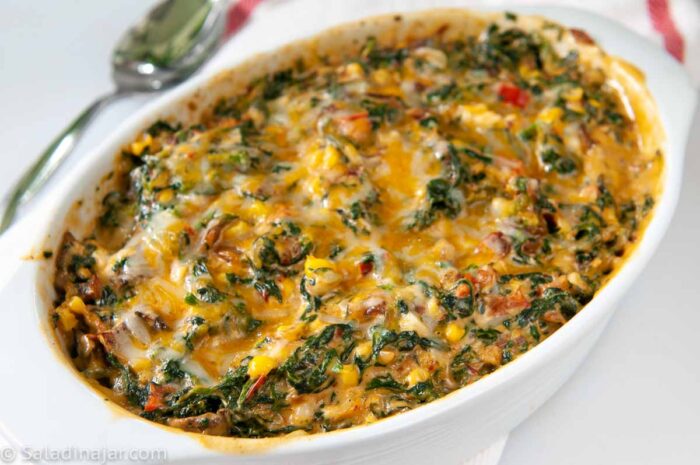 ---
***Kitchen Secret for Chipotle Chilies
Chipotle chiles are smoked, dried jalapeños. They can be purchased in a can packed in adobo sauce.
Since this stuff is potent and powerful, I drop each individual whole pepper with a portion of sauce onto a cookie sheet covered with waxed paper.
Freeze, then remove frozen pepper portions to a zippered plastic bag and return to the freezer. Take out only the portion you need and chop finely for this recipe.
What do I serve with Espinaca?
Pita chips or tortilla chips are ideal if you are using this as a dip. Abuelos serves it as a side dish or casserole with Cheesy Jalapeño Mashed Potatoes.
Since it is plenty spicy on its own, I like to serve it with rice or plain mashed potatoes.
Can I make this recipe ahead of time?
Yes–up to 24 hours ahead of time. Mix it all together up until the last step. Refrigerate.
Sprinkle shredded cheese on top and place the prepared spinach into a preheated oven about 20 minutes before serving.
---
How To Make Espinaca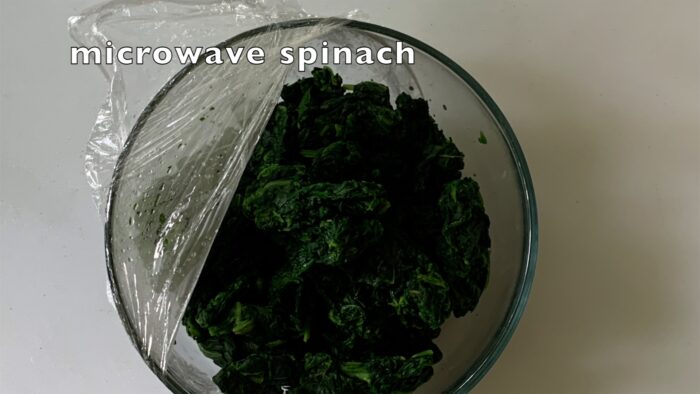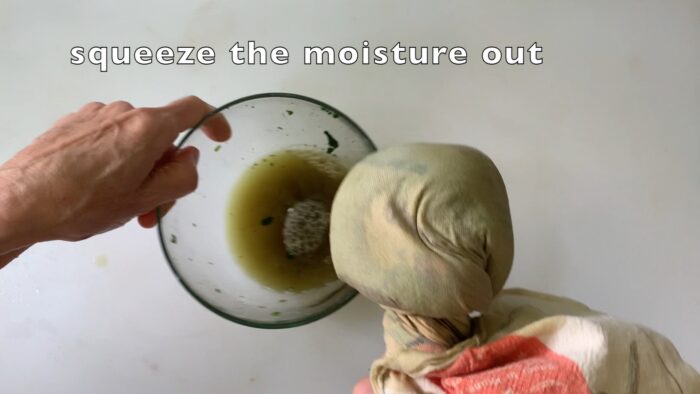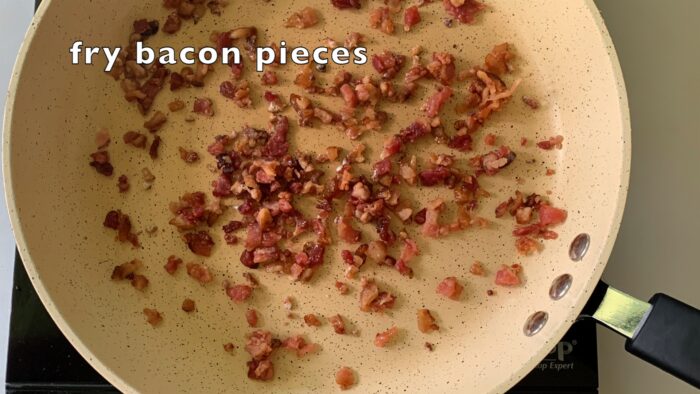 ---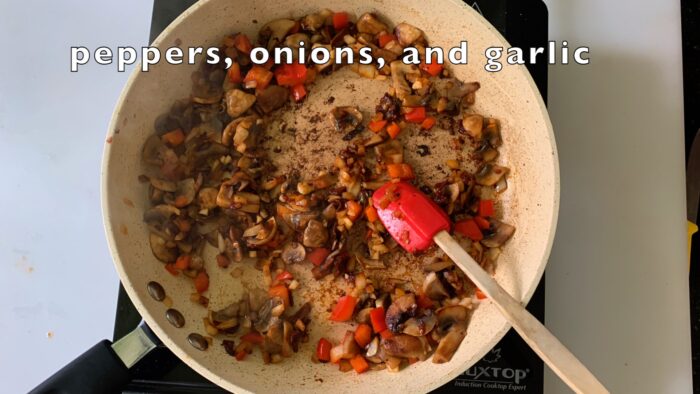 ---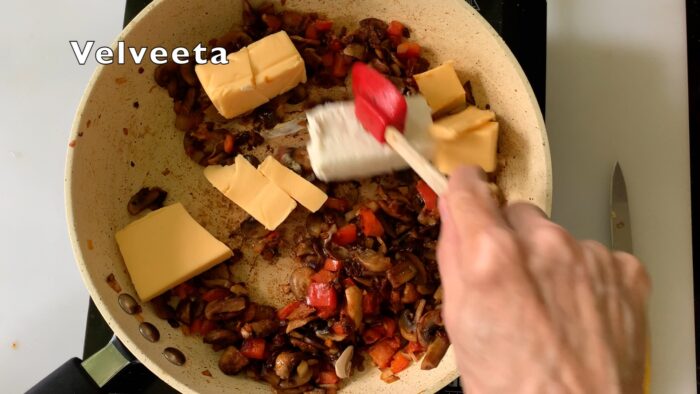 ---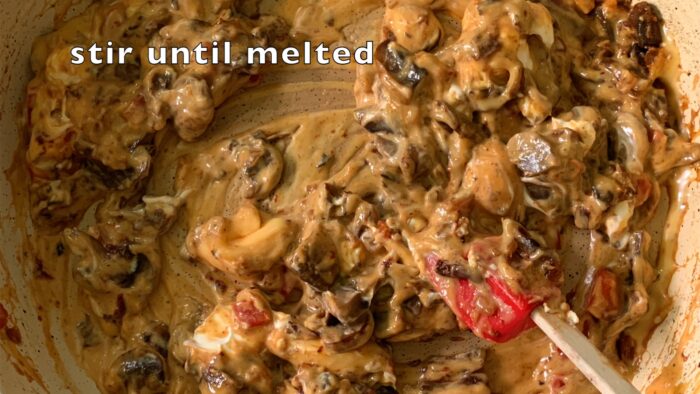 ---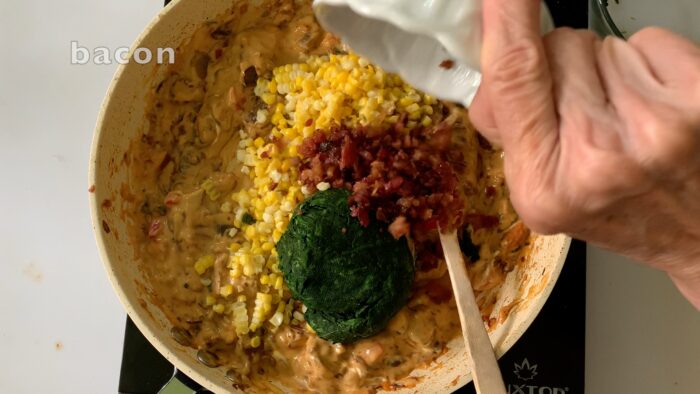 ---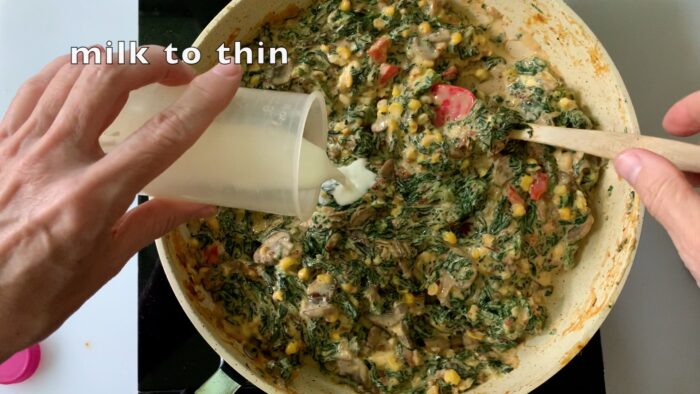 ---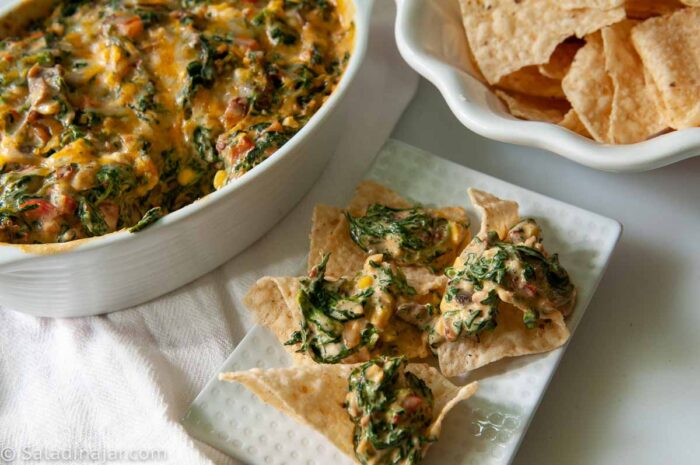 ---
Need more snack ideas for a get-together?
---
---
Did you enjoy this recipe? Help others (and me) by leaving a rating on the recipe card itself underneath the picture. No comment required. Thank you.

Hope to see you again soon!
Paula
p.s. Questions or suggestions? Email me: paula at saladinajar.com.
---
Yield: 6 servings
Espinaca like Abuelo's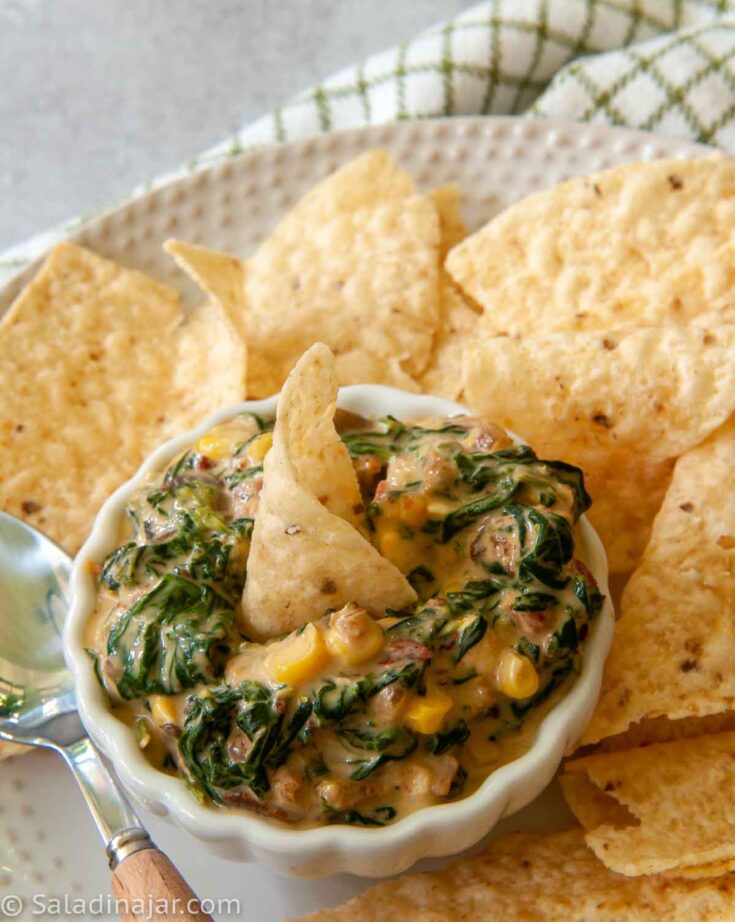 Spinach, corn, and mushrooms combine with cream cheese and green chilies to make a spicy and savory dip or side dish.
Ingredients
10 oz. bag chopped, frozen spinach
8 oz. fresh mushrooms, sliced or coarsely chopped
2 slices bacon, 1/4-inch pieces
1-2 teaspoons chipotle in adobo sauce, finely chopped (Go with the lesser amount if you don't like spicy food.)
1/2 onion, finely chopped (approximately 1/2 cup)
1/4 cup red bell pepper, chopped
1 teaspoon garlic, minced
1-1/2 teaspoons seasoning salt
5 ounces processed cheese like Velveeta, cubed
3 ounces cream cheese
1 cup frozen (thawed) or fresh whole kernel corn,
1/2 cup (2 oz) grated Monterey Jack or Cheddar Cheese
Instructions
Snip a small corner of the bag of frozen spinach. Place onto a plate and microwave (still in the bag) 3 minutes to thaw. Spinach should still be bright green. Pour into a strainer and mash with a spoon to get as much liquid out as you can. Set aside.
Sauté bacon pieces in a medium skillet until crispy. Remove the bacon and pour off all but a tablespoon of grease.
Sauté mushrooms in the same skillet. When brown, add chipotle, onion, bell pepper, and garlic, cooking until vegetables are softened. Season with salt.
Over low heat, add cream cheese and processed cheese to the veggies. Stir to melt and combine.
Stir in corn, spinach, and bacon.
If using this recipe as a dip, add 1/4 to 1/2 cup or more of milk and stir to make it more "dippable." Pour into a 1-1/2 quart baking dish. (See the notes below.)
Sprinkle grated cheese on top and heat in a microwave for 2-4 minutes on HIGH or a conventional oven at 350˚F for about 10 minutes or until heated through and cheese melts.
Notes
If this recipe is too thick, add milk. Start with about 1/4 cup and keep adding until it seems right. If you are serving this as a dip, you may need to add a half a cup or even more. Likewise, if you chill this before serving, you will likely want to stir in some additional milk.
Leftover idea: Fill a flour tortilla with 2-3 tablespoons of espinaca and sprinkle with cheese. A quick trip to the microwave makes a very tasty lunch or snack.
Recommended Products
As an Amazon Associate, I earn from qualifying purchases. But don't worry. This doesn't change the price you pay.
Nutrition Information:
Yield:
6
Serving Size:
1
Amount Per Serving:
Calories:

260
Total Fat:

18g
Saturated Fat:

10g
Trans Fat:

0g
Unsaturated Fat:

6g
Cholesterol:

50mg
Sodium:

955mg
Carbohydrates:

15g
Fiber:

4g
Sugar:

5g
Protein:

14g