Speedy Blackberry Cobbler with an Easy Shortbread Crust is a quick-to-prepare dessert for two. Serve with whipped cream, ice cream, or yogurt for maximum enjoyment.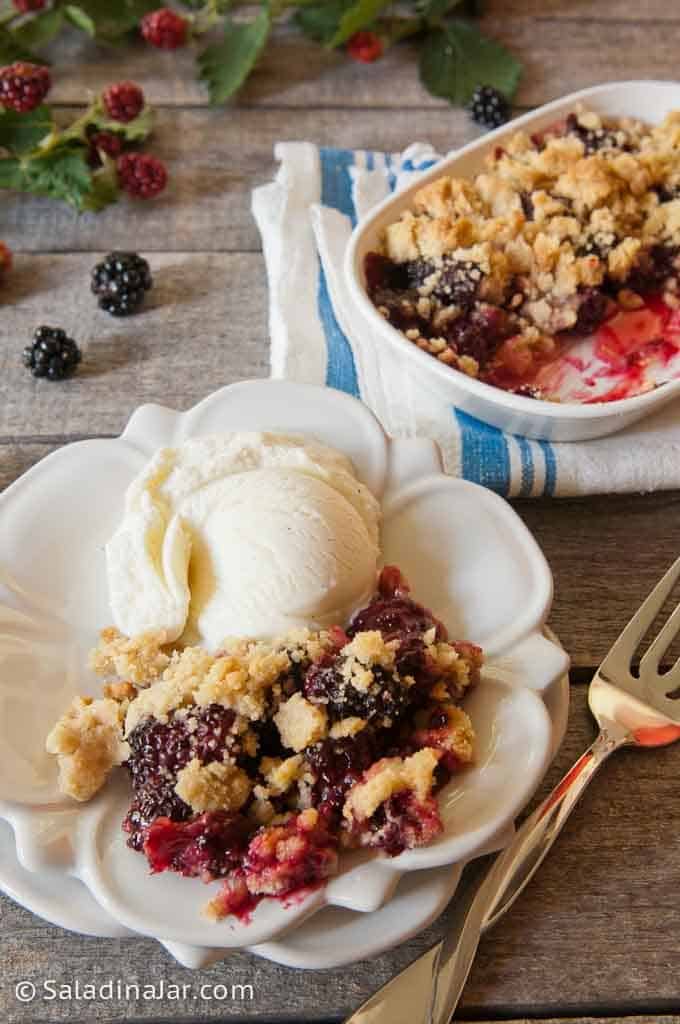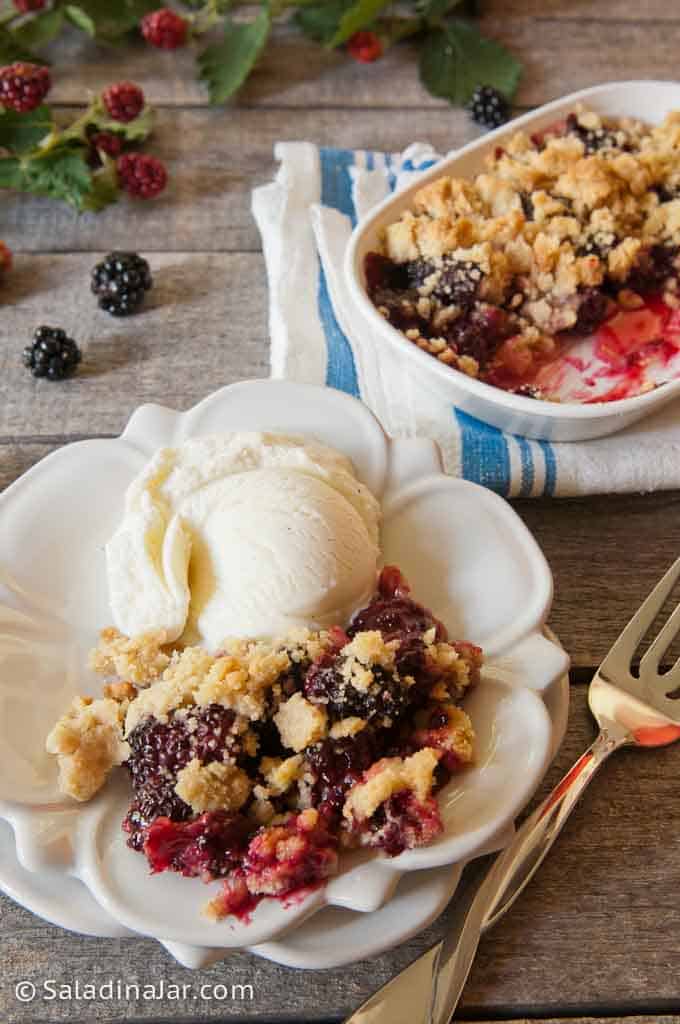 Have you ever picked berries? Do you grow them? Or maybe you go to a place that will let you pay and pick. Nothing better than fresh berries!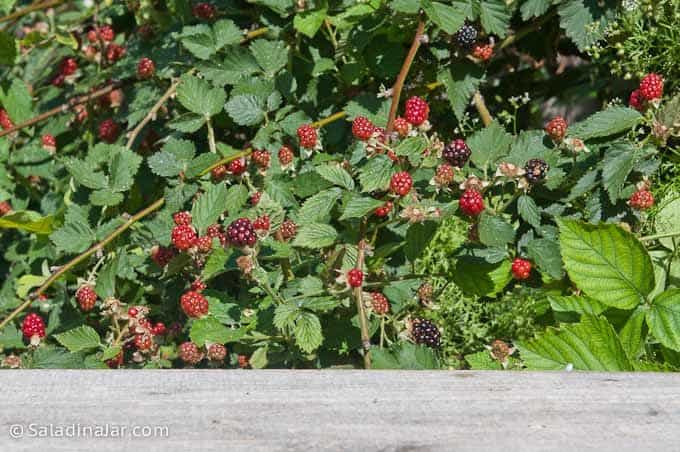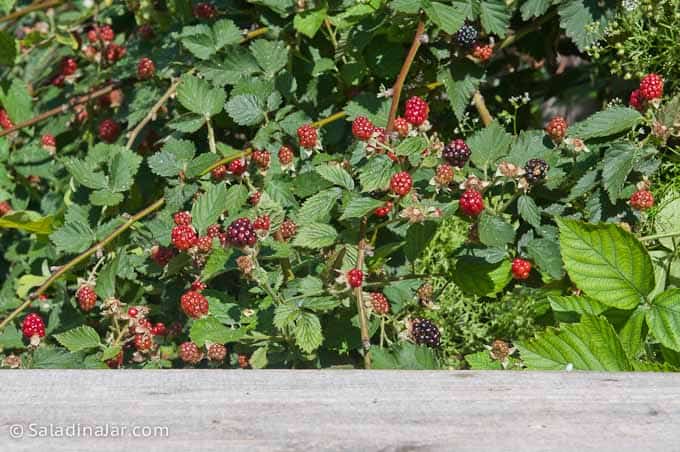 We have a blackberry patch that is currently in full production mode next to our driveway. I collect every day hoping to beat the birds to the berries. Last year I got cleaned out in one night. So far, so good this year.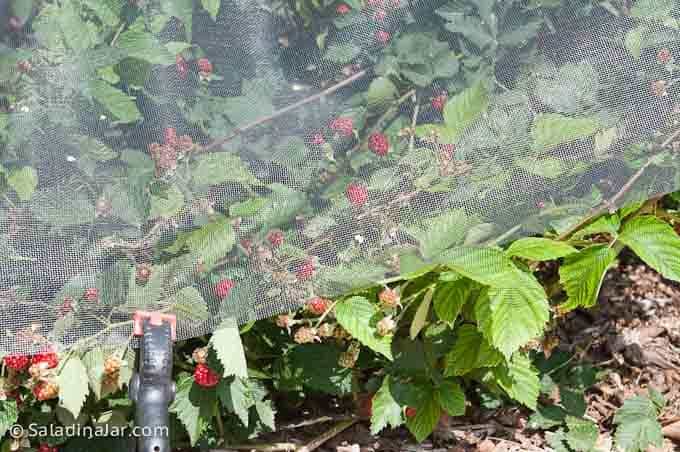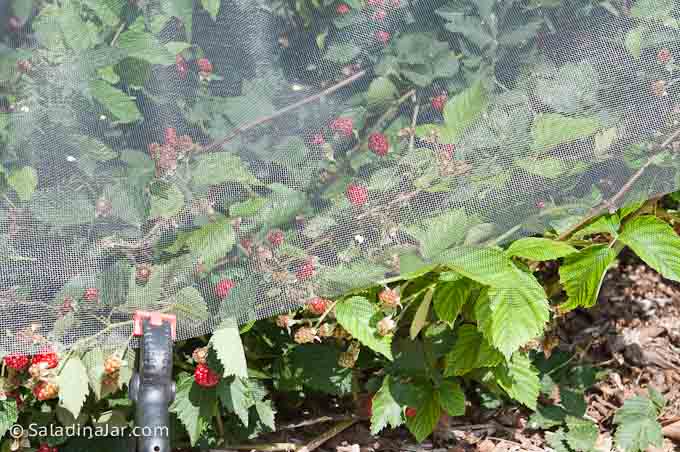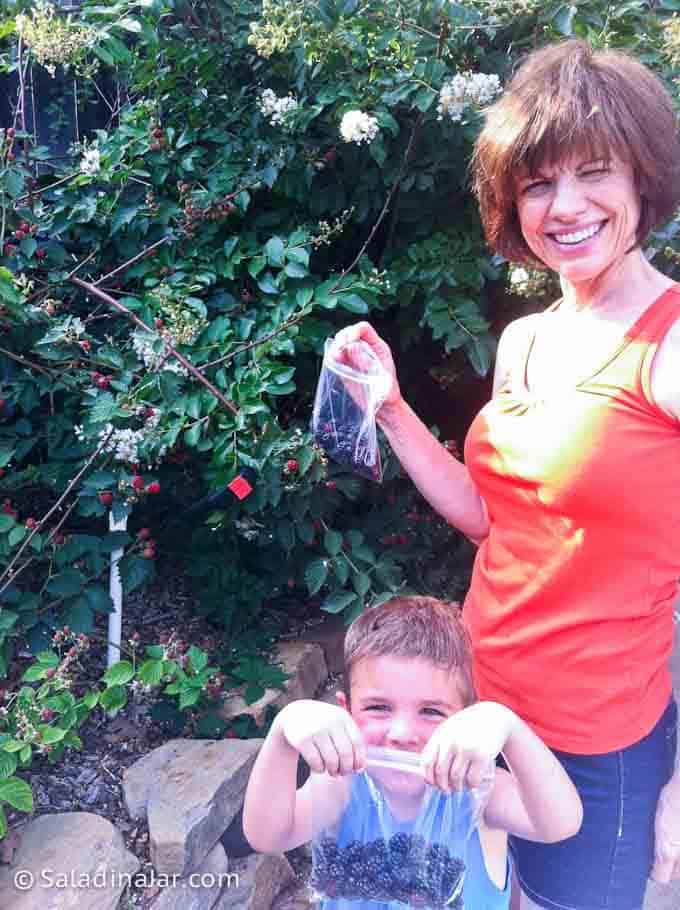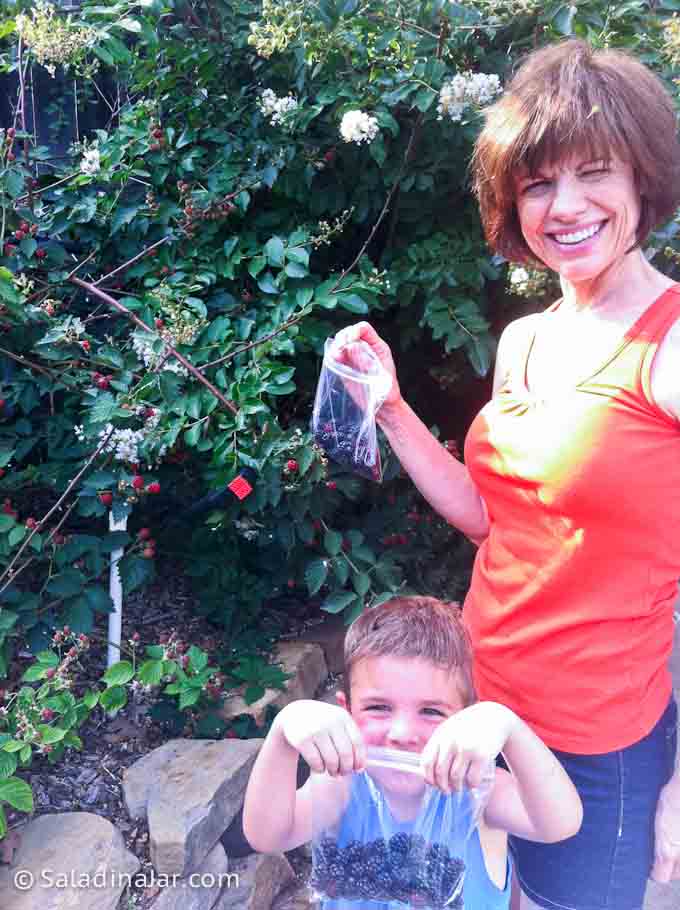 If you grow blackberries yourself, I have a question:
What causes the brown, dried-up berries in the picture below?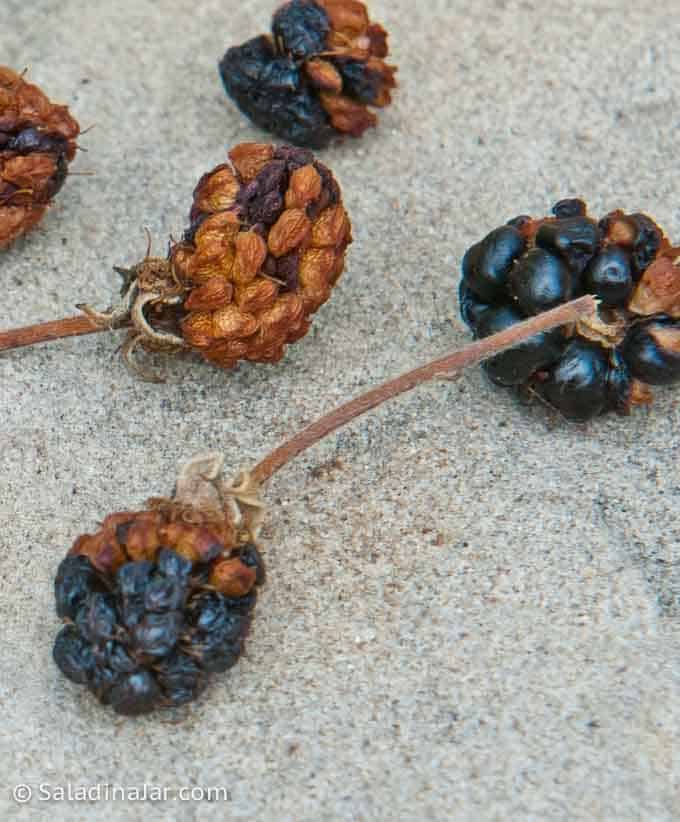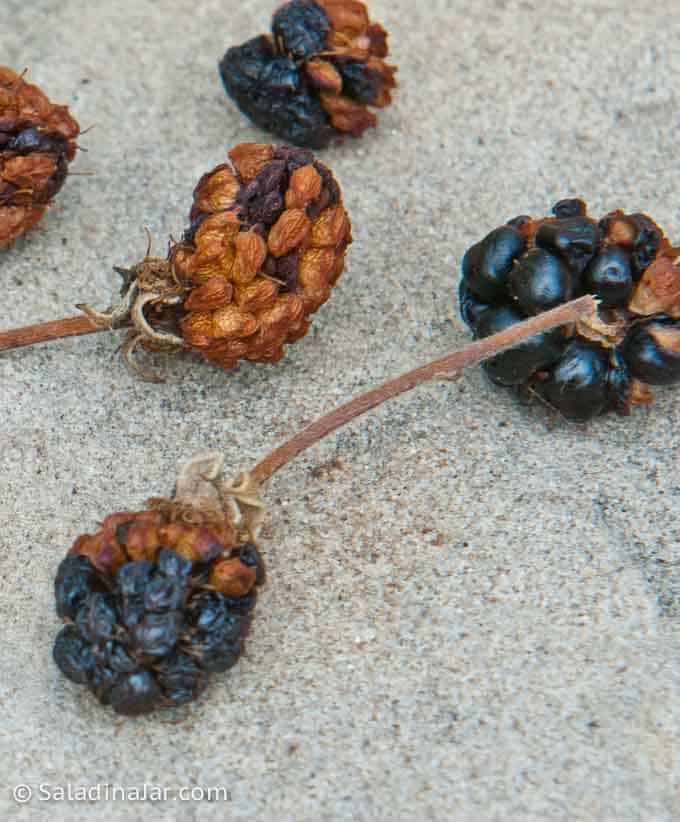 As soon as the red berries begin to turn black, my husband starts talking cobbler.
However, I have a hard time getting excited about cobbler–up until now.
---
Three reasons I love this recipe:
Soggy pie crust is not my thing.
Soggy cake toppings aren't much better.
It's hard to collect enough berries from my three bushes to make most traditional cobbler recipes.
So, I created this recipe using only one 6-ounce container of berries from the grocery store or about 1-1/4 cup if you are picking them yourself.
The shortbread topping:
I slightly adapted the shortbread base from some of my favorite cookies (Lemon Yogurt Squares and Toffee Bars) to use as a topping. The result is a fruity, cobbler-like concoction with a crumbly and crispy shortbread cookie-like topping. Goes oh-so-perfectly with ice cream or Greek yogurt.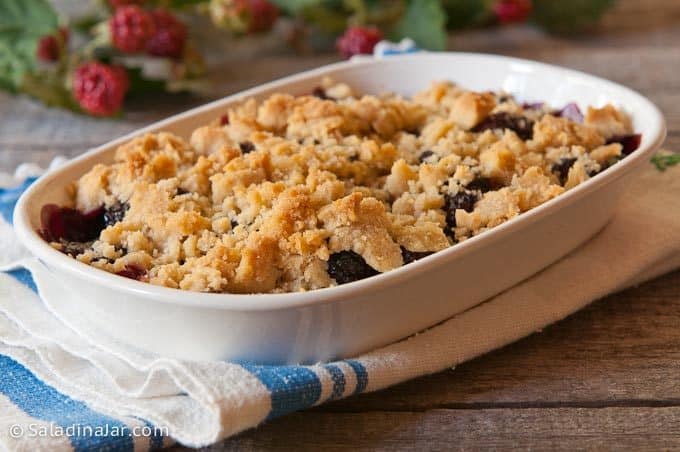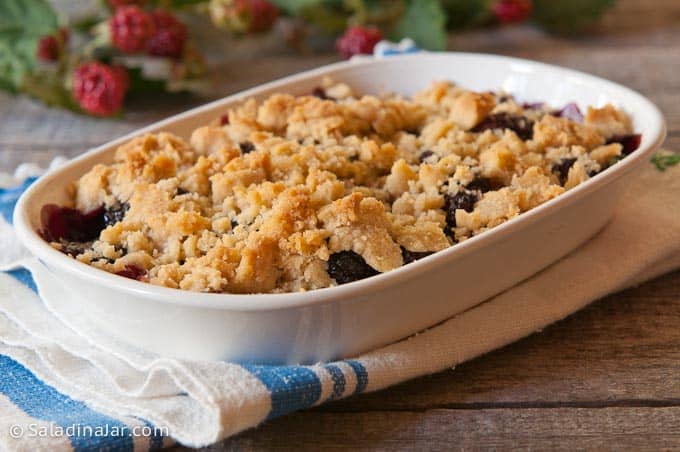 Will this ruin my diet?
Here's my favorite part. Based on 3 servings there are only 122 calories per serving. Then again, if you make it 2 servings, there are still only 182 calories per serving.
Of course, if you add ice cream, yogurt (my favorite), or whipped cream, you will need to recalculate. When I add it to my daily yogurt snack, I can get stretch the yield to about 6 servings.
Looking forward to this dessert at the end of the day always makes my day better and I hope it will do the same for you.
Posts Related to Speedy Blackberry Cobbler:
---
---
---
Did you enjoy this recipe? You can help others (and me) by leaving a rating on the recipe card itself underneath the picture. No comment required. Thank you.

Hope to see you again soon!
Paula
p.s. Questions? Email me: paula at saladinajar.com.
---
Yield: 2-3
Speedy Blackberry Cobbler
A quick-to-prepare berry cobbler that bakes in the time it takes to eat dinner.
Ingredients
6 ounces blackberries (approximately 1-1/4 cup)
1-2 tablespoons water (see the notes)
1/4 teaspoon vanilla
1/4 cup flour
1 to 2 tablespoons brown sugar (see notes below)
Cinnamon, dash
1/4 teaspoon salt
1 tablespoon butter (melted)
Instructions
Place berries into a small oven-proof casserole dish small enough that you have two layers of berries. I use a 4 x 6 inch dish.
Pour water and vanilla over berries.
Combine flour, brown sugar, cinnamon, salt, and melted butter. After stirring it together, use your fingers to smush it into crumbles.
Sprinkle crumbles evenly over blackberries.
Bake at 350 degrees F for 20 minutes.
Serve with ice cream, yogurt, or whipped cream.
Notes
1. The amount of sugar I use depends on what I'm going to serve with it and how sweet the berries are naturally. Also, consider the intensity of your sweet tooth. Some people may like even more than 2 tablespoons. Your choice.
2. Vary the amount of water according to how juicy you want your cobbler and how juicy the fruit already is. If using frozen fruit, you won't need any.
Nutrition Information:
Yield:
3
Serving Size:
1
Amount Per Serving:
Calories:

330
Total Fat:

9g
Saturated Fat:

5g
Trans Fat:

0g
Unsaturated Fat:

3g
Cholesterol:

30mg
Sodium:

301mg
Carbohydrates:

62g
Fiber:

6g
Sugar:

41g
Protein:

4g
---
Sign up for occasional updates and exclusive tips to help you in the kitchen.
---