Pan-Fried Breaded Chicken Tenders with Rosemary and Parmesan
Sneak Preview: Make these Pan-Fried Breaded Chicken Tenders with fresh rosemary and parmesan. They are so flavorful and crispy. You won't miss the gravy or the Colonel. Pan-frying yields maximum flavor without heating the kitchen.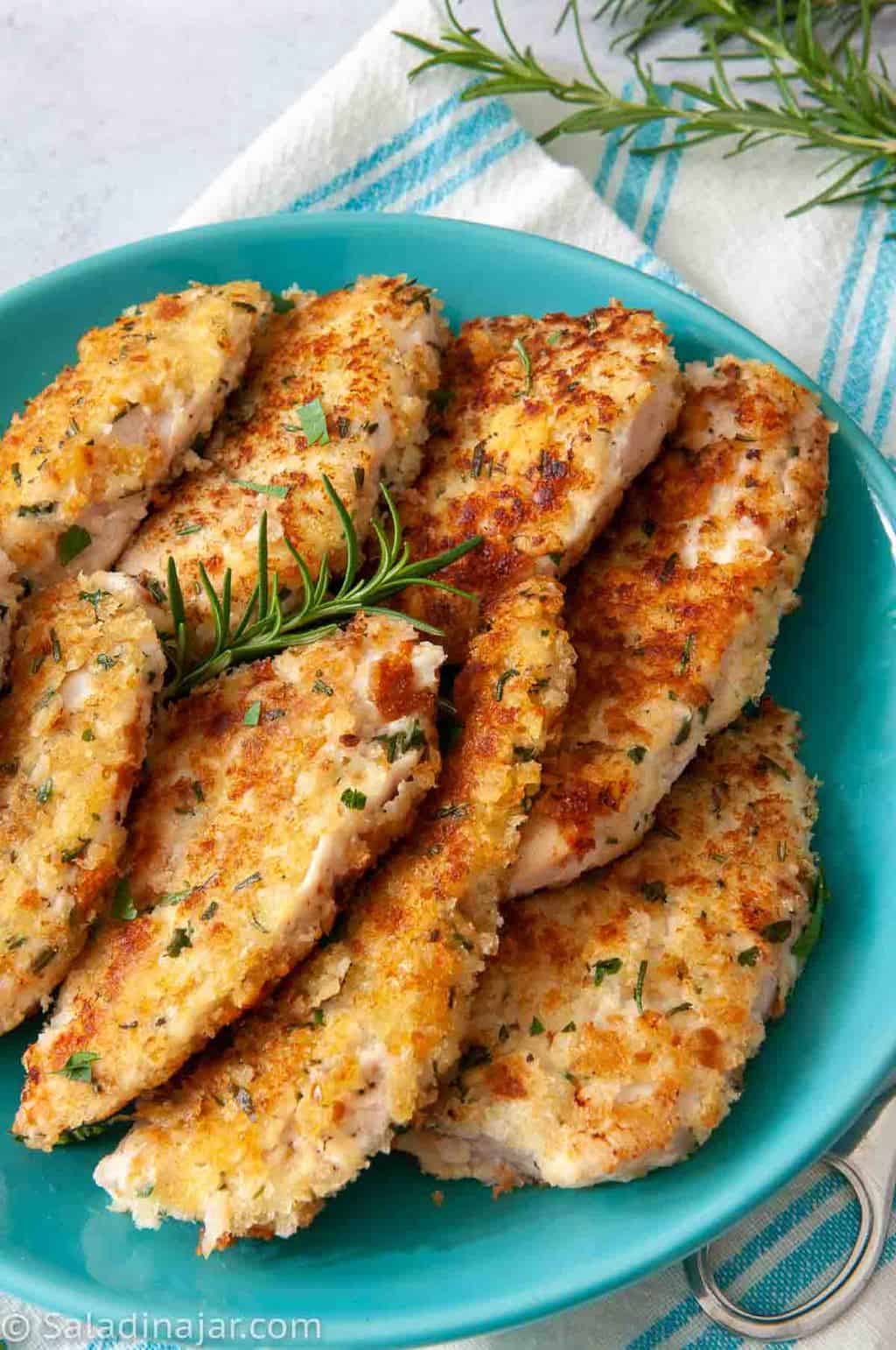 As an Amazon Associate, I earn from qualifying purchases.
Do you have some raw chicken filets or tenders in your refrigerator staring you in the face? Are they daring you to create something exciting without another trip to the grocery store?
You can't miss with this recipe for chicken cutlets when you add fresh rosemary and parmesan cheese to the breading.
And there's one more reason to try this breaded chicken filet recipe. You don't have to turn on the oven. Use a pan on top of the stove. Easy cooking and clean-up!
---
Recipe highlights:
Who doesn't love a tender chicken filet breaded with flavorful crumbs? Fresh rosemary and grated Parmesan cheese set these tenders apart from the norm. Serve with Hominy and Cilantro Rice and these Oven-Roasted Baby Carrots.
It's best to cook these Breaded Chicken Tenders at the last minute. But if you prepare your crumb mixture beforehand, it won't take much longer than 10-12 minutes from start to finish. If more convenient, you can always put the chicken in a warm oven to hold it for a few minutes before serving.
---
Are chicken cutlets and chicken tenders the same thing?
According to EATER, "Chicken cutlets are boneless, skinless chicken breasts sliced in half horizontally, creating a thinner piece of meat. These cutlets are then often pounded even thinner before cooking." That would describe what I am showing you in the pictures for this recipe.
If you want to get technical, tenders are limited to "the pectoralis minor, a small muscle that runs directly under the chicken breast."
In real life, I think most people use these terms interchangeably. However, these days, more people use "chicken tenders" than "chicken cutlet" when referring to any flat and relatively thin cut and boneless chicken breast meat. So, that's what I'm going with here.
---
Ingredients and substitutions:
CHICKEN: Use chicken tenders or chicken breasts cut into smaller pieces. Pound until they are at least 1/2-inch thick or less. You could substitute fish. See more below.

BREAD CRUMBS: The recipe specifies fresh bread crumbs. That means you will need to use a food processor or blender to make crumbs out of slices of bread. If you use dried bread crumbs, use a lot more oil. The end product won't be quite the same.

ROSEMARY: The original recipe warned NOT to make any substitutions for the fresh rosemary. I concur. It seems like a great excuse to plant your own rosemary bush if you haven't already.

PARMESAN: Freshly grated Parmesan will give the best flavor. I don't recommend the powdery kind that comes in a can.

OLIVE OIL: If you don't have olive oil, go with a mildly flavored oil like avocado oil.
---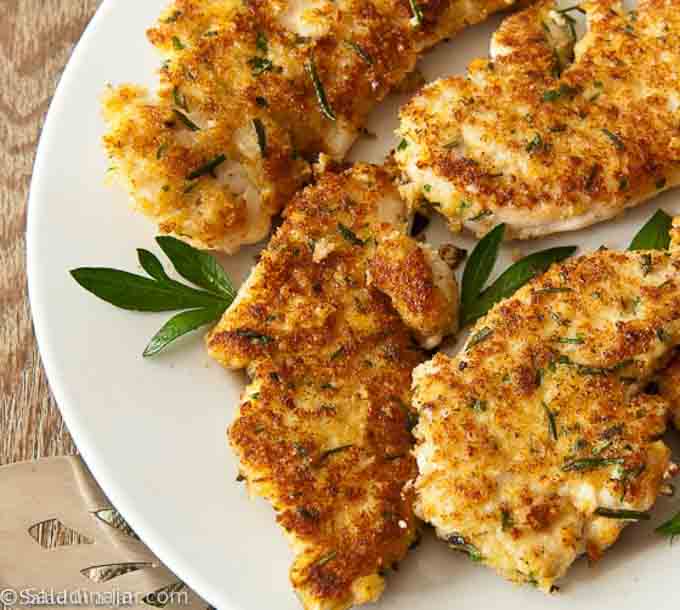 Variations:
Swap tilapia for chicken
Try this with tilapia. My sister discovered this variation. My family loves it, too. Because the fish is relatively thin already, there's no need to pound it first like the chicken. But in every other way, follow the directions as written.
How to make Pan-Fried Breaded Chicken Tenders with Rosemary and Parmesan: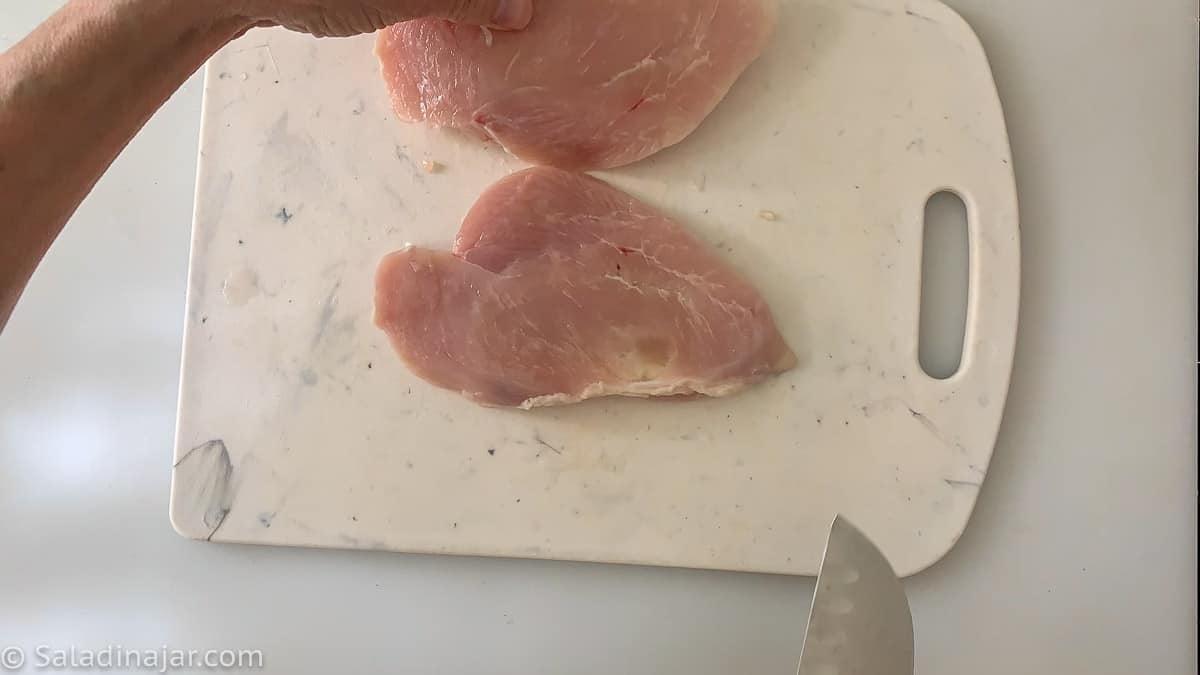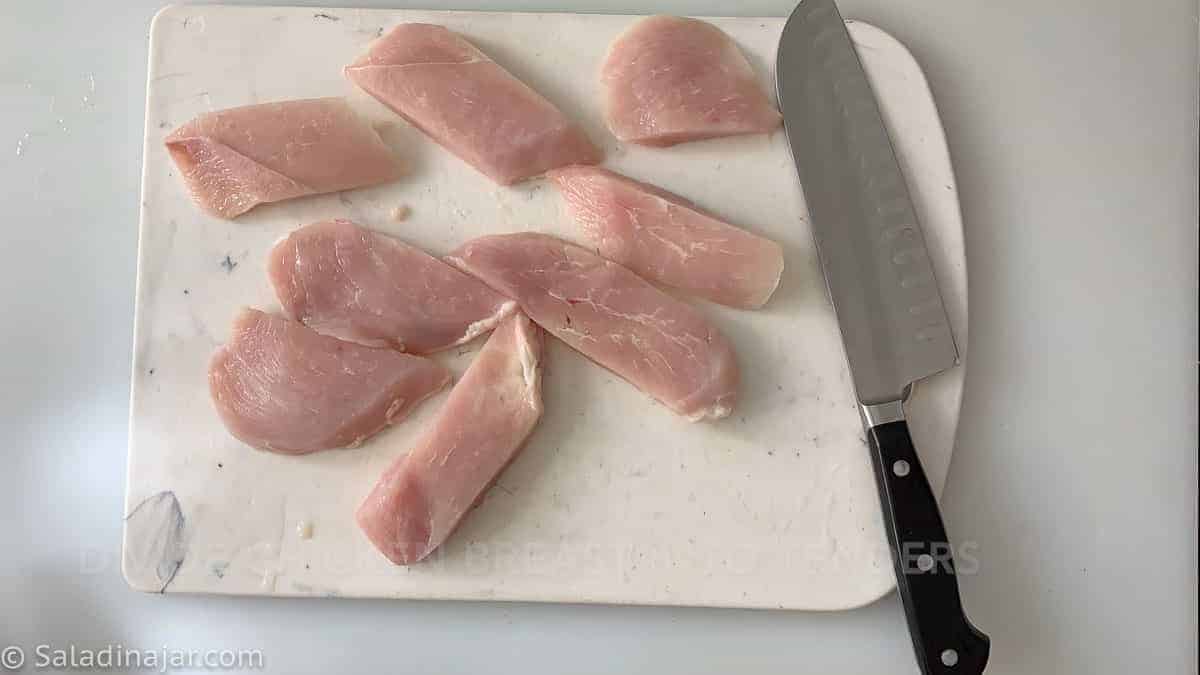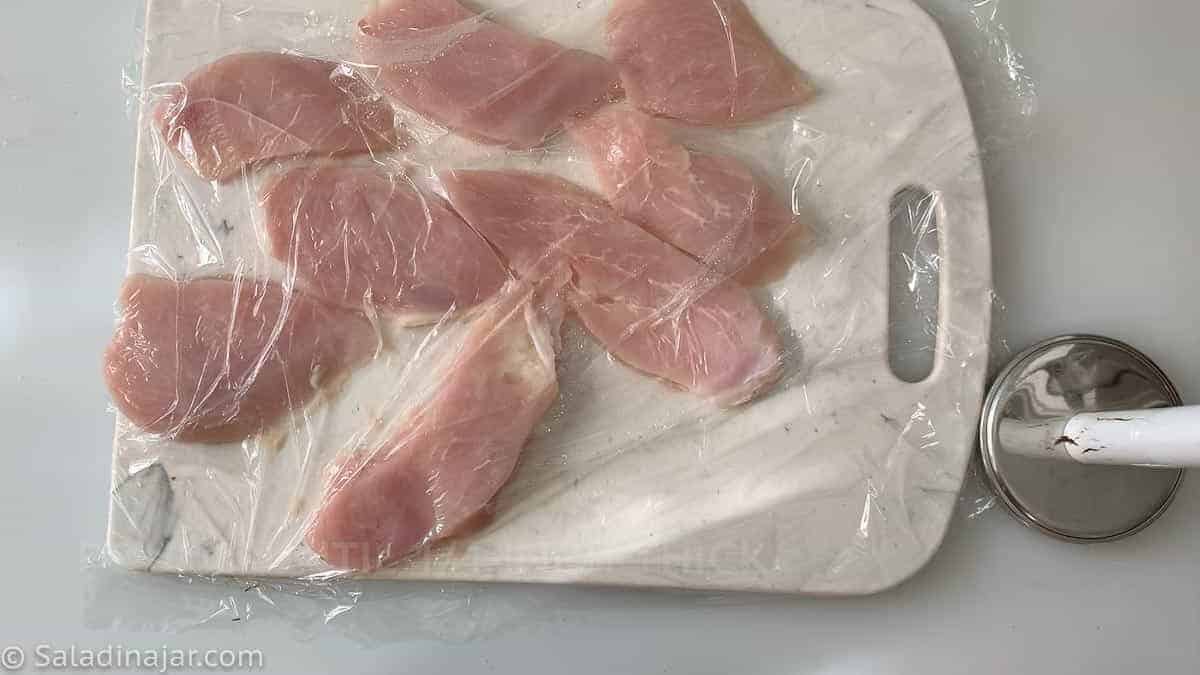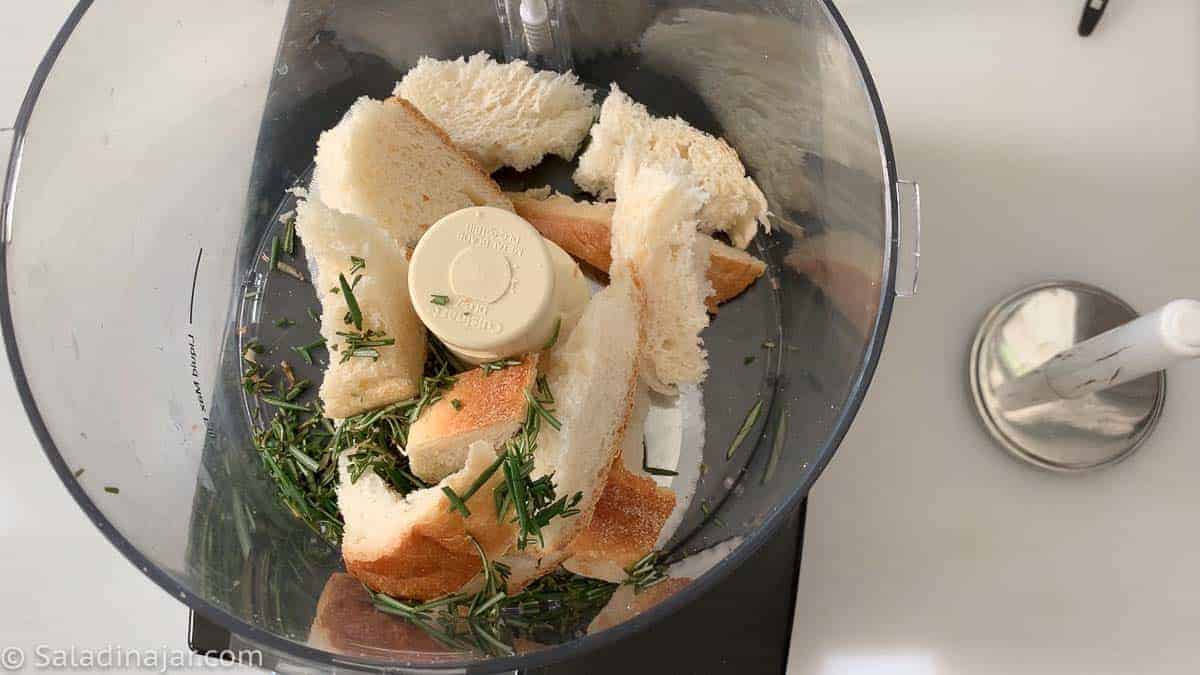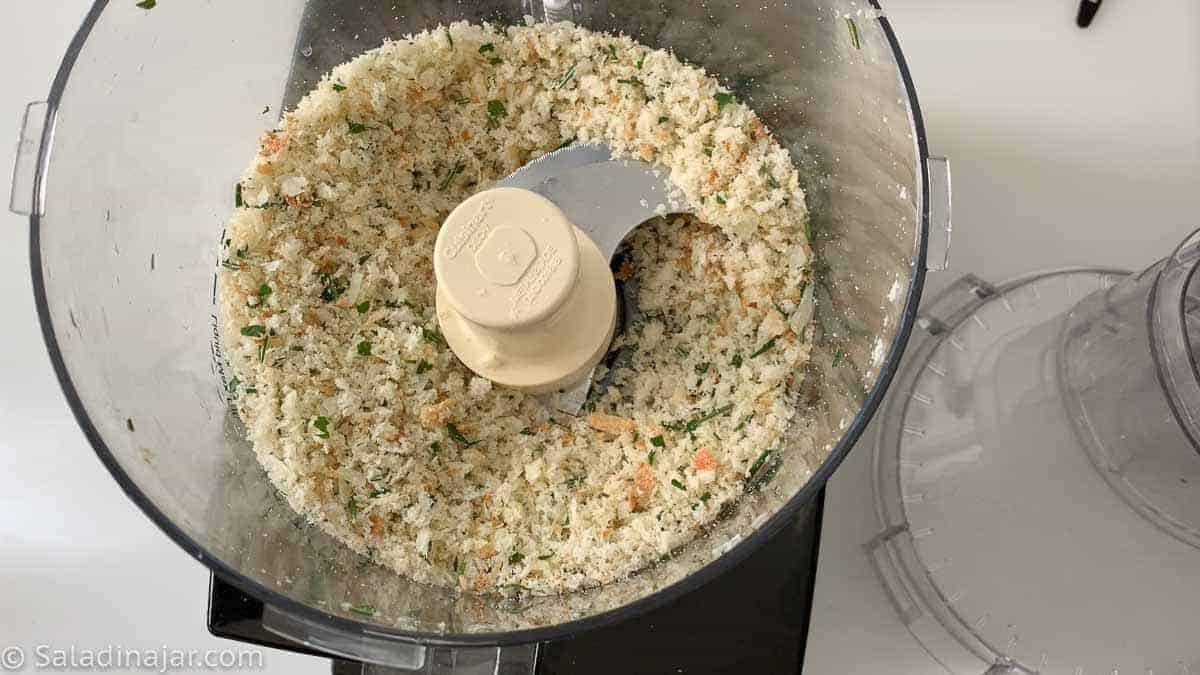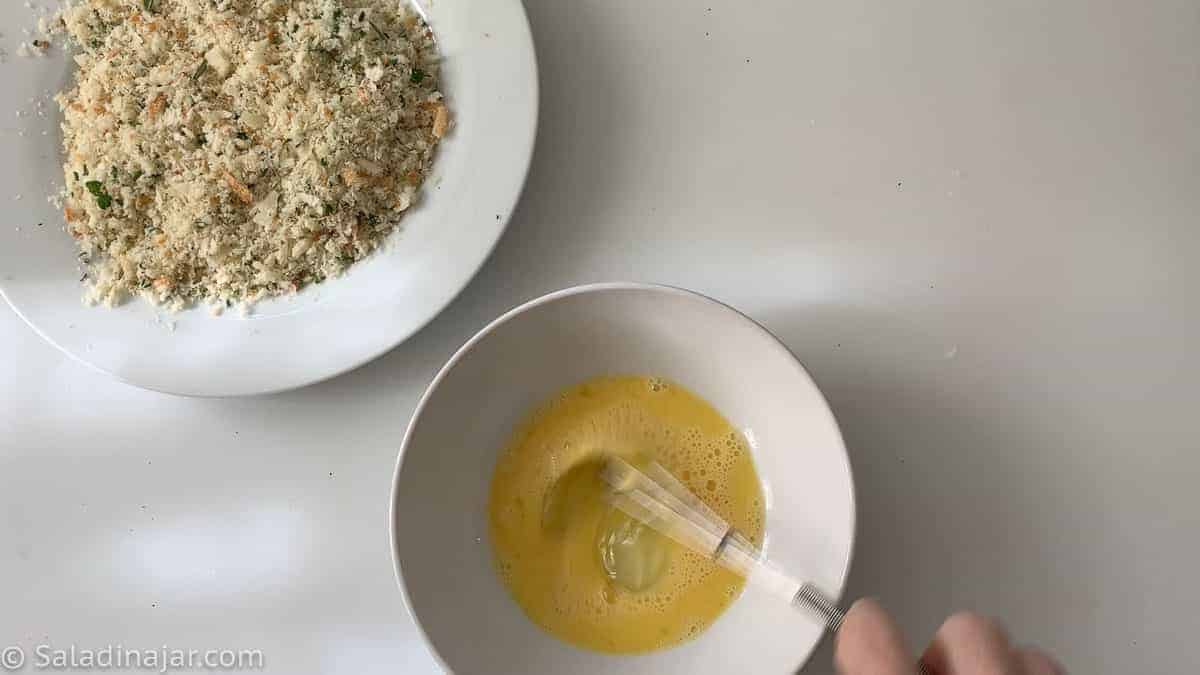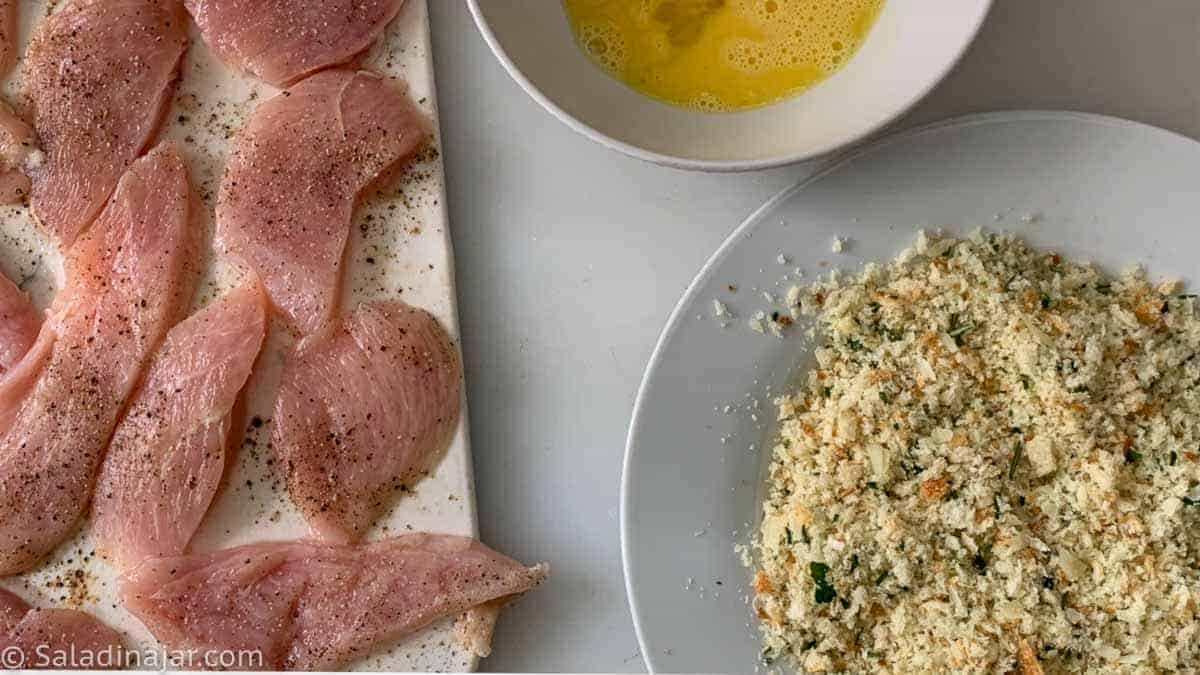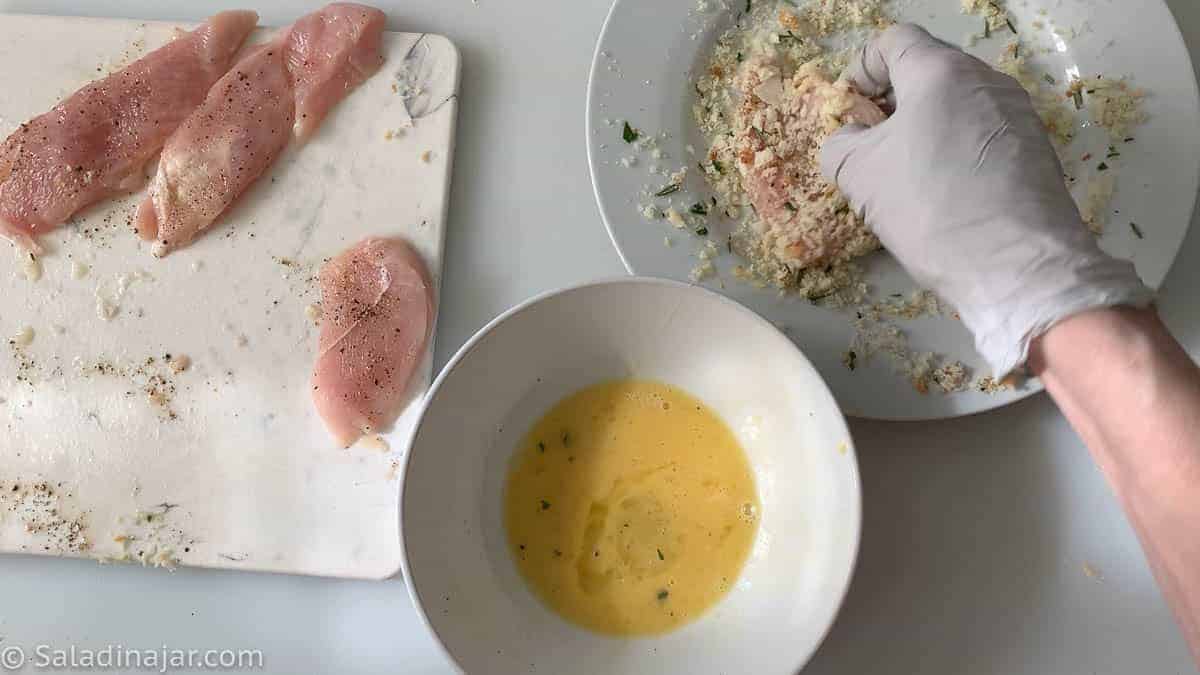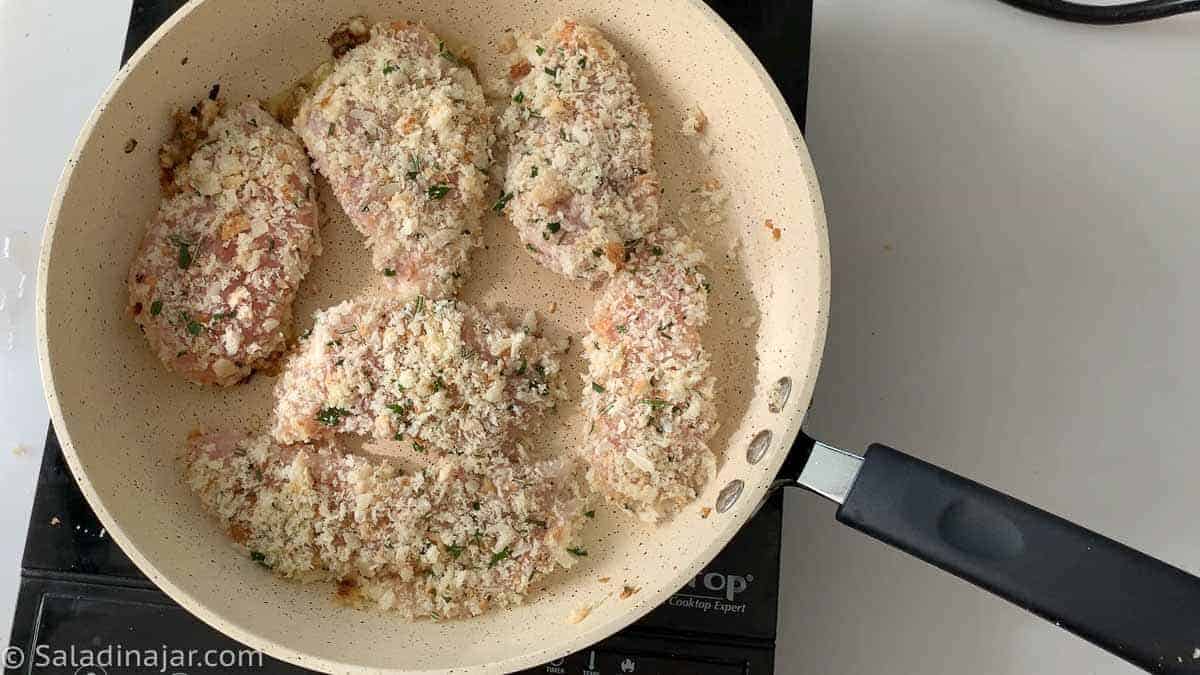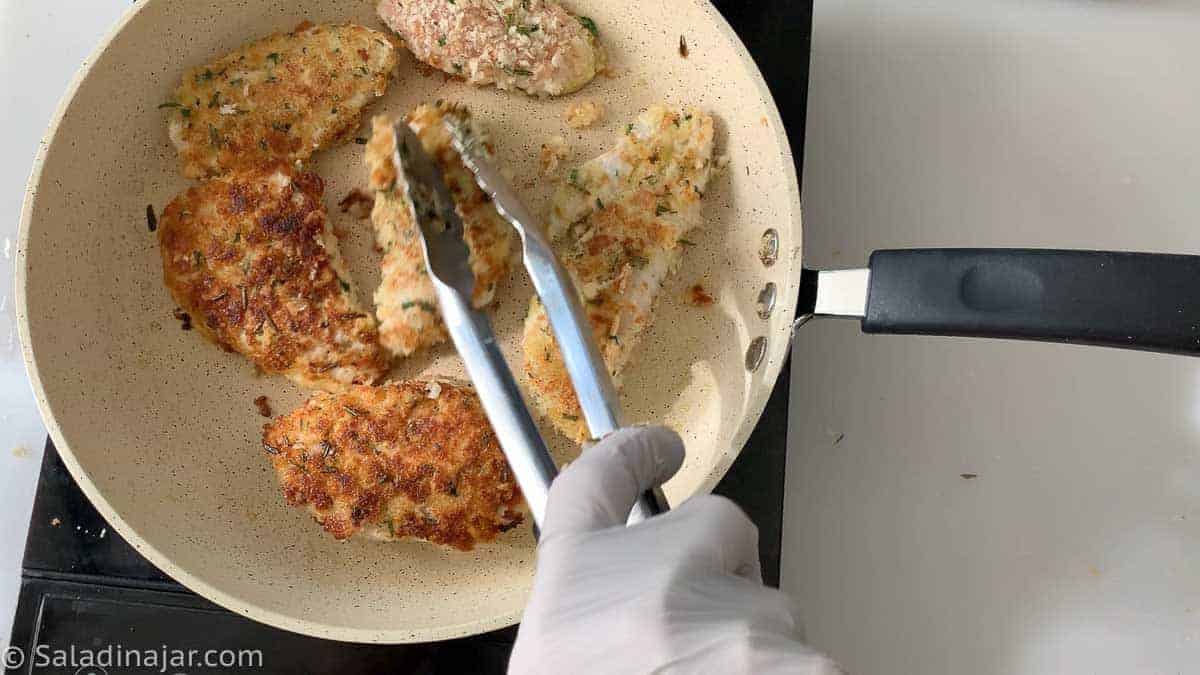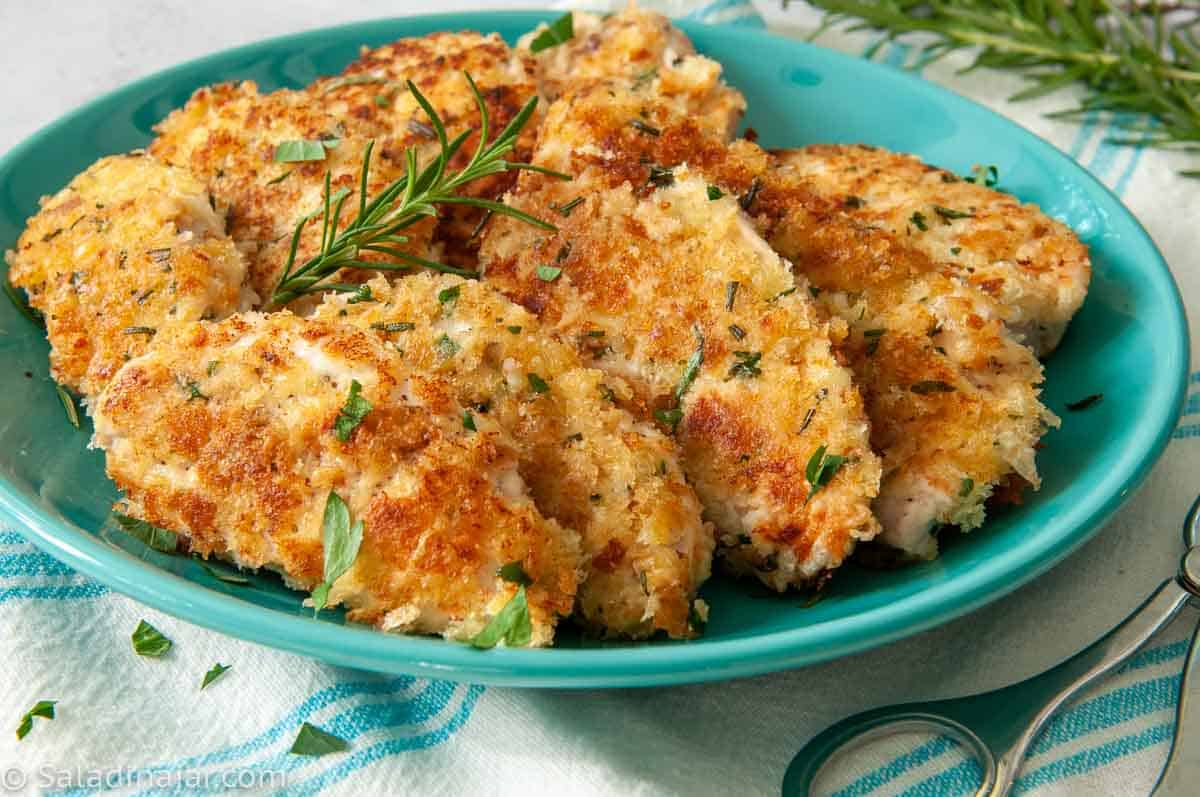 ---
If you have questions or suggestions, email me privately for a quick answer: Paula at saladinajar.com. Hope to see you again soon!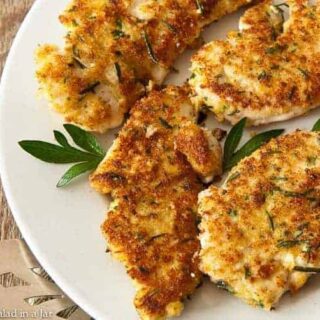 Pan-Fried Breaded Chicken Tender Recipe with Rosemary and Parmesan
Speedy, breaded, chicken tenders with maximum flavor – try it with fish, too.
Ingredients
1

pound

boneless skinless chicken breast or tenderloins

¾

teaspoon

salt

Freshly ground pepper

2

thick slices of bread

2

tablespoons

freshly-grated Parmesan cheese

1

tablespoon

chopped fresh flat-leaf parsley

1

teaspoon

chopped fresh rosemary

1

large egg

1

large egg white

3

tablespoons

olive oil
Instructions
Place chicken pieces into a plastic bag one at a time to prevent any splatter or flying pieces; press the air out and seal. Pound chicken with a mallet or palm of your hand until approximately 1/2 inch thick.

Season chicken pieces with salt and pepper.

Tear up bread and place into the bowl of a food processor or blender along with cheese, parsley, and rosemary. Pulse until finely chopped. Pour crumbs onto a flat plate.

Beat egg and egg white with a fork and pour it into a pie plate.

Preheat a large skillet and add half of the oil. Oil is ready when it glistens.

Dip each chicken piece into the egg mixture, then coat both sides with crumb mixture, pressing lightly to make sure the surface is completely covered. Shake gently to release any excess crumbs.

Lay in hot skillet being careful not to crowd pieces. Cook for 2-3 minutes until golden brown. Flip and cook the other side until it is also golden brown.

Remove cooked chicken to a serving platter and add remaining oil to skillet. When the oil is ready, cook the remaining chicken. Serve immediately.
Notes
Keep these in a warm oven up to 30 minutes before serving.
Nutrition
Serving:
1
serving
|
Calories:
291
kcal
|
Carbohydrates:
7
g
|
Protein:
29
g
|
Fat:
16
g
|
Saturated Fat:
3
g
|
Polyunsaturated Fat:
2
g
|
Monounsaturated Fat:
9
g
|
Trans Fat:
1
g
|
Cholesterol:
116
mg
|
Sodium:
707
mg
|
Potassium:
481
mg
|
Fiber:
1
g
|
Sugar:
1
g
|
Vitamin A:
200
IU
|
Vitamin C:
3
mg
|
Calcium:
61
mg
|
Iron:
1
mg