Preview: This Herb Bread Machine Recipe with Garlic makes a soft and slightly chewy dinner roll that begs to be served with roasted chicken.
If you like to order in your Thanksgiving meal, I suggest you try these herb and garlic-flavored rolls just to make the house smell like you've been busy. The aroma of the herbs and onion sautéed in butter will magically transport you to a little café in Paris.
No worries if you don't have a bread machine, make them by hand or use a stand mixer.
Continuing a tradition
Every year around Thanksgiving, I like to share a new dinner roll recipe with you. It must be special without being fussy.
Most important? They must taste good with leftover turkey.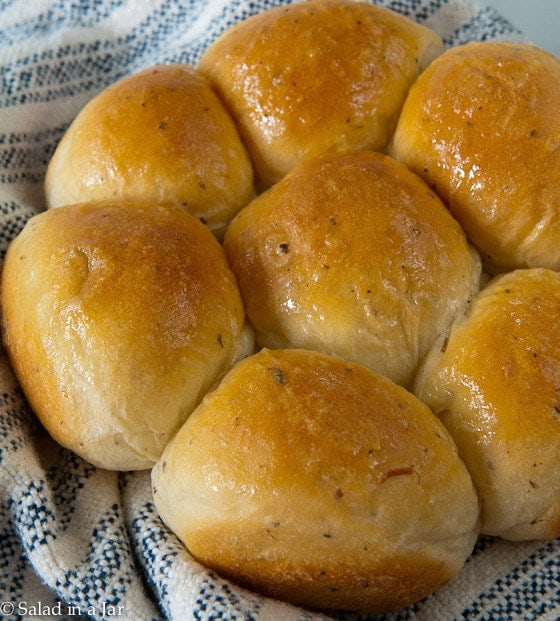 ---
Ingredients and Substitutions
BUTTER: In my book, there is no substitution for butter. I always use salted butter. Substitute unsalted butter if that's what you have.

ONION: Fresh or frozen onion are equally good.

GARLIC: For the best flavor and fragrance, fresh garlic is best.

DRIED OREGANO, BASIL, AND TARRAGON: The combination of all these herbs is amazing. But if there's one you don't have, it won't ruin the recipe to leave it out.

WHEY or WATER: Whey is the yellowish liquid strained from yogurt. If you happen to have some, it works great in this recipe. Otherwise, water is good.

SALT: My recipes are all tested with Kosher salt. Use whatever salt you have.

BREAD FLOUR: Substitute all-purpose unbleached flour for bread flour. As a last resort, use all-purpose bleached flour.

YEAST: Any bread recipe can be made with with bread machine yeast, instant yeast, or active-dry yeast because it doesn't need to be dissolved first. Be aware that active-dry yeast may take longer to rise.
---
Check out these recipes from past Thanksgiving meals
In all these recipes except for the Monkey Bread, I make simple round balls out of the dough and place them into round pans. Check out my video for an easy way to do this.
Note to my yogurt-making friends
Got some extra whey in your fridge saved from straining yogurt? You are in luck! Try using whey instead of water in this recipe. Don't fret if you don't have whey. These rolls are equally good using water as the liquid.
---
What would you like to make next?
Did you enjoy this recipe? If so, you can help others and me by leaving a 5-star 🤩 rating inside the recipe below. No comments are required.
Hope to see you again soon!
Paula
p.s. If you have any questions or suggestions, you can email me privately: Paula at saladinajar.com.
---