Herb and Garlic Yeast Rolls are a soft but slightly chewy dinner roll full of garlic and herbs. Your house will smell like a chic little Parisian cafe as they bake.
No worries if you don't have a bread machine, make them by hand or use a stand mixer.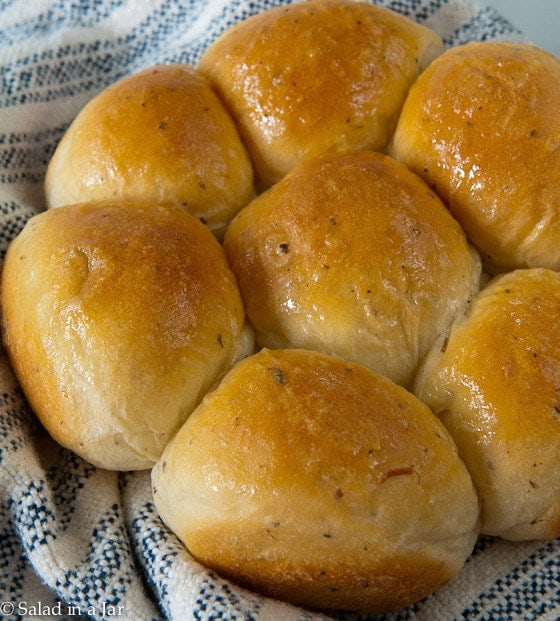 One year my mom invited the preacher and his family to join us for Thanksgiving dinner. They were from Texas with no family nearby.
A break from tradition
My mother decided we would have Chop Suey instead of the traditional turkey. At the time, my 12 yr. old self was only thinking how much I would miss our usual mashed potatoes and homemade noodles. I can only imagine how surprised Mr. and Mrs. Preacher were when they showed up to celebrate with us that day.
The food at Thanksgiving is all about tradition for most of us. With that in mind, I have adopted my own Thanksgiving tradition on this blog.
Continuing a tradition
Every year around Thanksgiving, my intention is to share a new dinner roll recipe with you. It must be special without being fussy. The recipe must go well with a varied menu.
Most important? They must taste good with leftover turkey.
Check out these recipes from past Thanksgiving meals
If you happen to be one of those people who have your Thanksgiving meal brought in, I suggest you try these rolls just to make the house smell like you've been busy.
The aroma of the herbs and onion sautéed in butter will magically transport you to a little café in Paris. As a matter of fact, I promise you everybody will be asking what smells so good!
Note to my yogurt-making friends
Got some extra whey in your fridge saved from straining yogurt? You are in luck! Try using whey instead of water in this recipe. Don't fret if you don't have whey. These rolls are equally good using water as the liquid.
---
What would you like to make next?
---
Pin the picture below to save for later.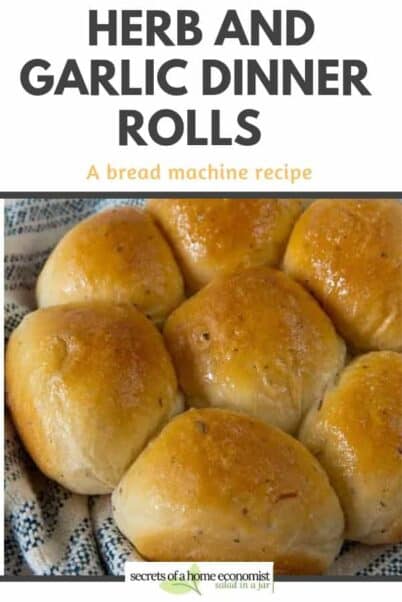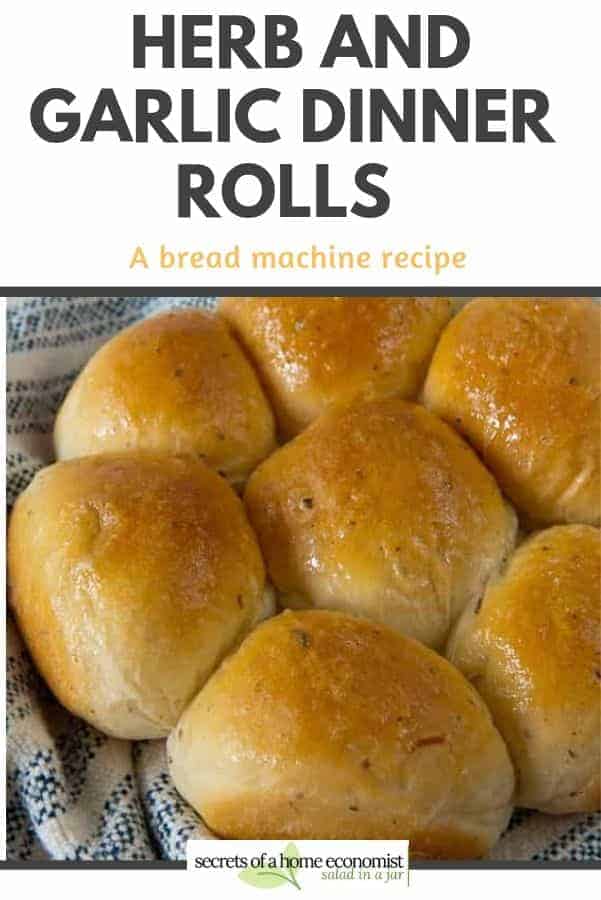 ---
Did you try this recipe and enjoy it? Consider helping other readers (and me) by returning to this post. Leave a rating on the recipe card itself underneath the picture. Although always appreciated, comments aren't required.

If you have a question or tip to share, please leave it in the regular comments after the recipe so I can answer back. Or, email me privately: paula at saladinajar.com.

Thank you for visiting!
Paula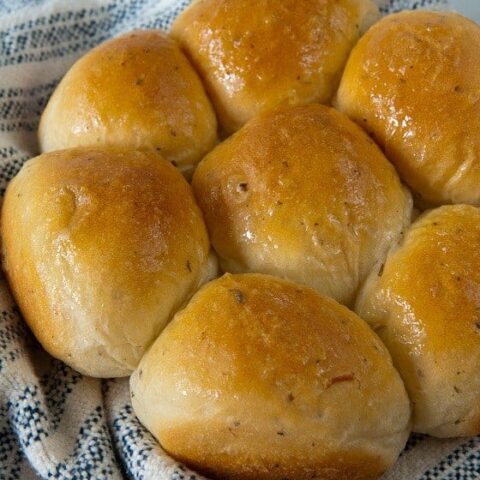 Herb and Garlic Yeast Rolls
Total Time:
3 hours
13 minutes
These rolls are a soft but slightly chewy dinner roll that will make your house smell like a chic little Parisian cafe as they bake. Wonderful with a Thanksgiving turkey.
Ingredients
4 tablespoons butter
3 tablespoons finely chopped onion
1 clove garlic, minced
3/4 teaspoon dried oregano
3/4 teaspoon dried basil
3/4 teaspoon dried tarragon
1 teaspoon salt
1-1/2 teaspoons sugar
3 cups bread flour
1-1/2 teaspoon bread machine yeast
Instructions
Melt butter in a small skillet and saute onions, garlic and herbs over medium/low heat until onions are soft. Pour into bread machine.
Add water, salt, sugar and bread flour. Add yeast last so it does not contact hot butter. (However, adding all the other ingredients should have cooled the butter/spice mixture down by the time you get to the yeast.)
Select the dough cycle. After about 10 minutes, lift the lid and check the dough. If too wet, add flour one tablespoon at a time. If too dry, add one tablespoon of water. Dough should stick to sides and then pull away cleanly.
At the end of the dough cycle, remove dough from your bread machine pan onto a floured surface.
Divide dough into 16 equal pieces and make into round balls.See tutorial here for easy method. Place 8 balls into each of 2 8 or 9-inch round pans that have been sprayed with Baker's Joy or a similar aerosol flour/oil mixture.
Cover pans with tea towels or my favorite, hotel shower caps. Set in a warm place to rise until rolls are almost double in size.
Bake in preheated 375 degree oven for 12-15 minutes until brown. (Internal temperature should be about 190 degrees F if you are a bread-making newbie and like to use a thermometer.)
Turn out on a rack to cool or bottoms will get soggy.
Notes
Directions for making bread with a stand mixer or by hand:
To make this recipe in a heavy-duty stand mixer, add ingredients to the bowl in the same order. Turn on low to mix until all ingredients are moistened. Using dough hook, turn speed to 2 or 3 and continue kneading until dough becomes smooth and elastic--about 5-10 minutes. Cover and allow to rise in a warm place. Deflate dough gently and shape as indicated in the recipe.
If making by hand, combine all ingredients into a shaggy ball in a large bowl. Turn dough out on a floured surface and knead with your hands until dough becomes smooth and elastic, a process that will likely take 10-20 minutes depending on your experience. Place the dough ball into a greased bowl. Cover and allow to rise until double. Deflate dough gently and shape as indicated in the recipe.
Please note: If you substitute regular yeast for instant or bread machine yeast, you must dissolve it first before adding to the dry ingredients. Stir it into about 1/4 cup of the lukewarm liquid called for in the recipe. Let sit for about 10 minutes. Add to other wet ingredients and then add dry ingredients. Proceed as directed to knead and shape the dough.
Recommended Products
As an Amazon Associate, I earn from qualifying purchases. But don't worry. This doesn't change the price you pay.
Nutrition Information:
Yield:

16
Serving Size:

1
Amount Per Serving:
Calories:

144
Total Fat:

3g
Saturated Fat:

2g
Trans Fat:

0g
Unsaturated Fat:

1g
Cholesterol:

9mg
Sodium:

166mg
Carbohydrates:

20g
Fiber:

1g
Sugar:

1g
Protein:

8g