How to make Herb Dinner Rolls with Garlic (Bread Machine)
Sneak Preview: These Herb Dinner Rolls with Garlic are a soft and slightly chewy dinner roll that pairs perfectly with roast chicken or turkey. Mix and knead with a bread machine, stand mixer, or your hands.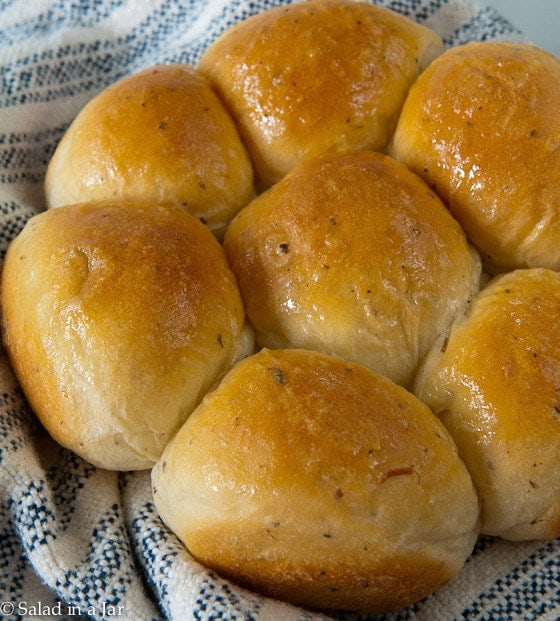 As an Amazon Associate, I earn from qualifying purchases.
If you like to have your holiday meals brought in, I suggest you try these herb and garlic rolls to make the house smell like you've been busy. The aroma of the herbs and onion sautéed in butter will magically transport you to a little café in Paris.
No eggs or milk are in these rolls, but the texture is light, and the crust is a bit chewy. Try these if you like a dinner roll with substance and an assertive personality.
No worries if you don't have a bread machine; make them by hand or use a stand mixer. See the notes at the end of the recipe.
Continuing a tradition:
Every year around Thanksgiving, I share a new dinner roll recipe with you. It must be memorable without being fussy. Some recipes I've introduced include Sweet Potato Dinner Rolls, Browned Butter and Rosemary Dinner Rolls, and Helen Corbitt's Monkey Bread (this one is savory).
Most important? My holiday rolls must taste good with leftover turkey or ham.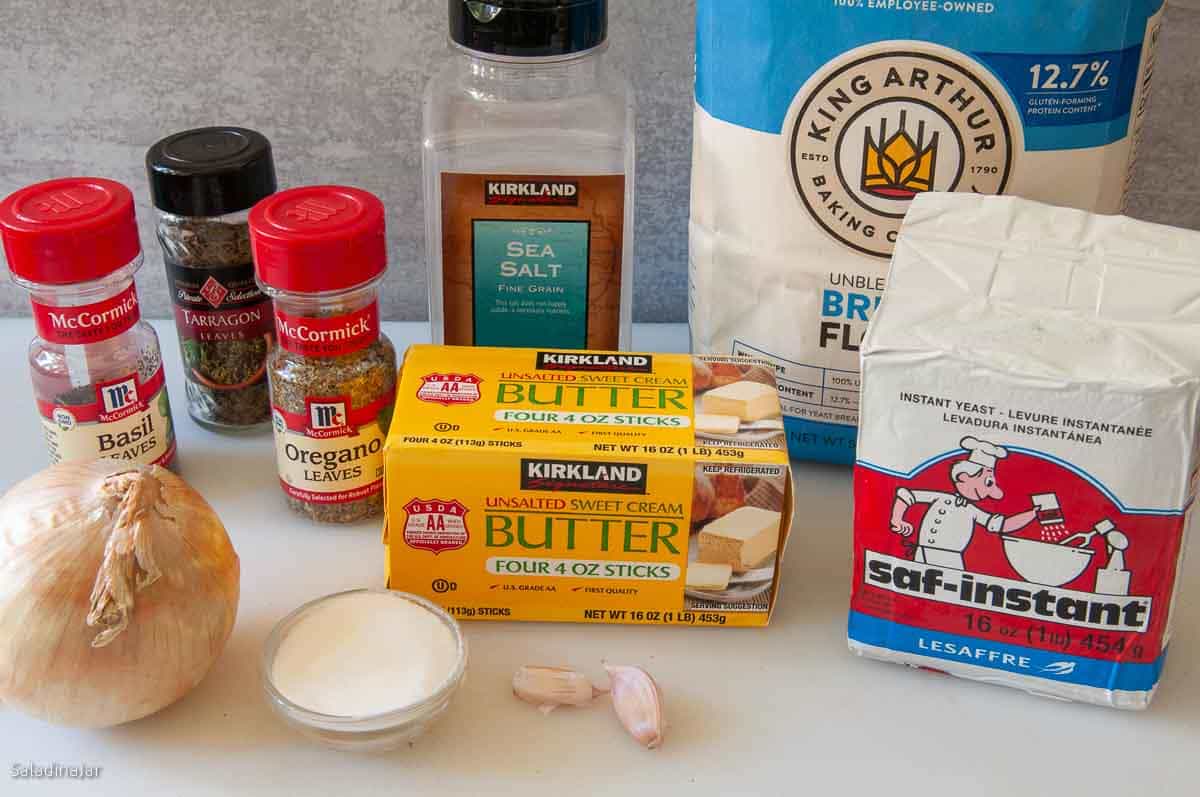 Ingredients and substitutions:
BUTTER: I always use salted butter. Substitute unsalted butter if that's what you have. I haven't tested this recipe with olive oil, but I suspect it would also work.

ONION: Fresh or frozen onions are equally good. Substitute dried minced onions if it's more convenient, or leave out the onions.

GARLIC: Use one clove (not the whole bulb) of fresh chopped garlic or one teaspoon of bottled minced garlic. Only use the powdered garlic if you're desperate. You can always leave it out if preferred.

DRIED OREGANO, BASIL, and TARRAGON: Combining all these herbs is amazing. But if there's one you don't have, it won't ruin the recipe to leave it out.

WATER: Tap water is fine. Use spring water if your water has lots of minerals and you've found it to be problematic in the past.

SALT: I usually use table salt or sea salt. If you want to use Kosher salt, add ¼ teaspoon of salt.

FLOUR: I usually use unbleached all-purpose flour in this recipe, but bread flour also works. Substitute bleached all-purpose flour if that's what you have available.

YEAST: Any bread recipe can be made in a bread machine with bread machine yeast, or instant yeast. Due to modern formulations, you can also use active dry yeast because it doesn't need to be dissolved first. Be aware that active-dry yeast may take longer to rise.
---
---
How to make garlic herb rolls with a bread machine: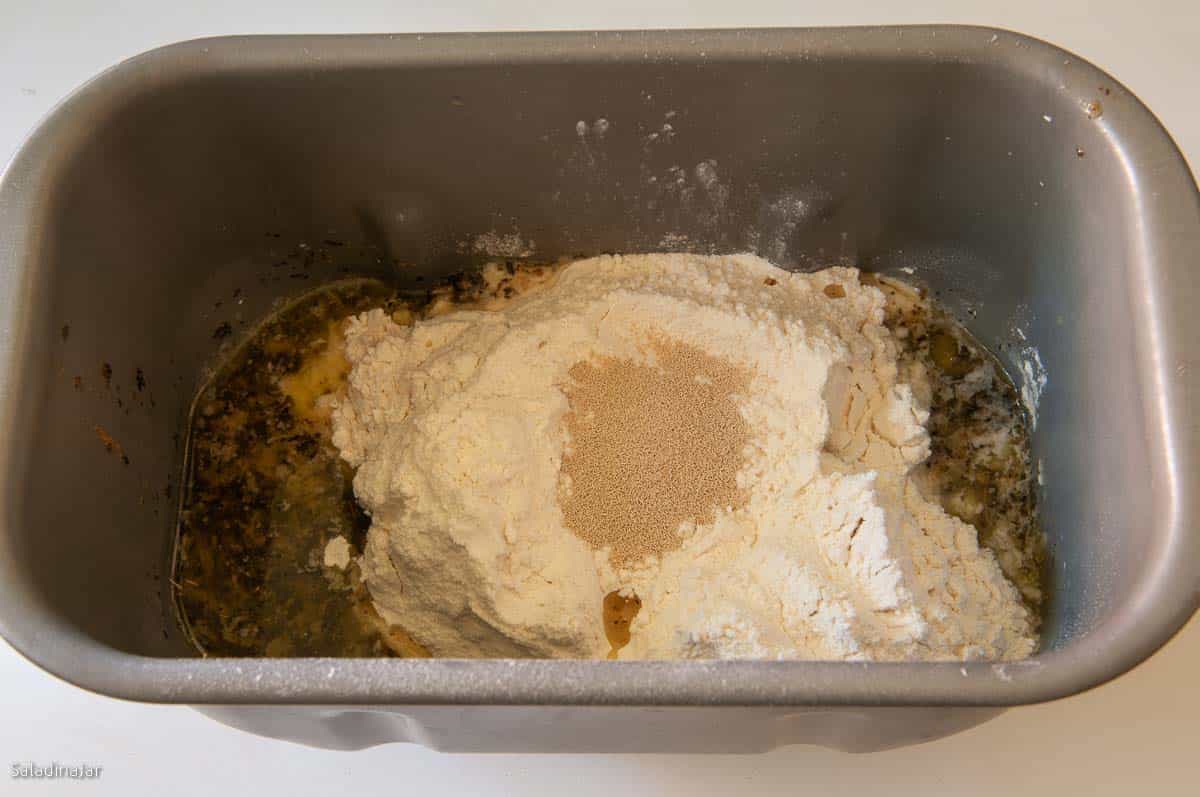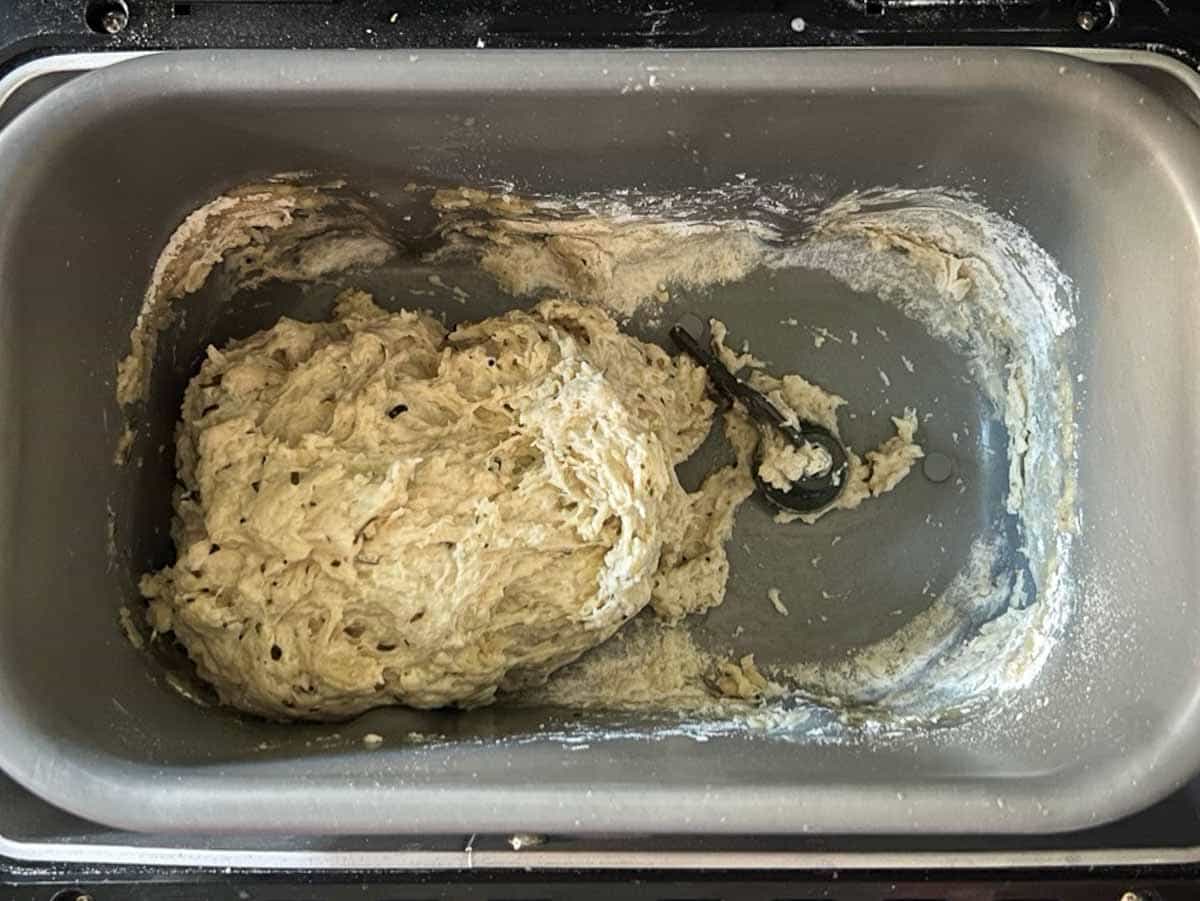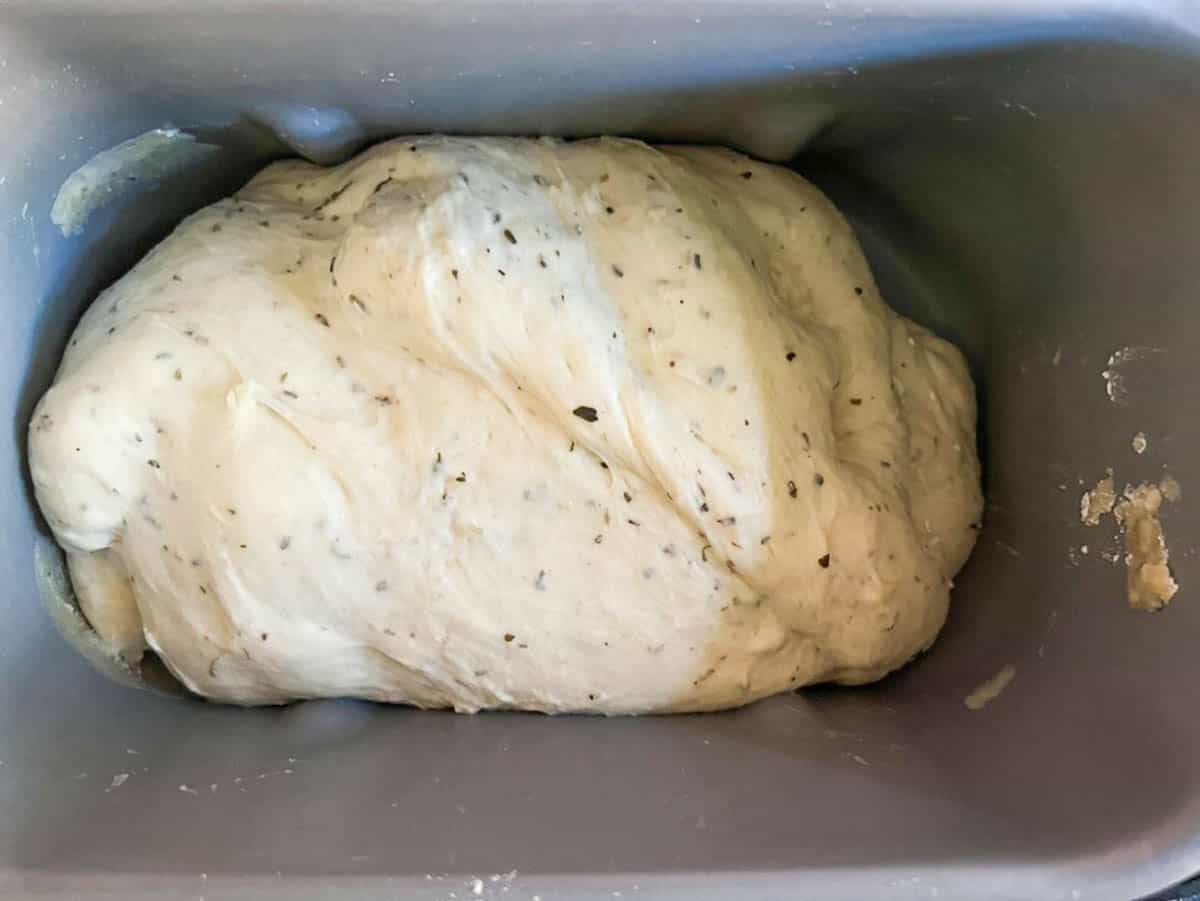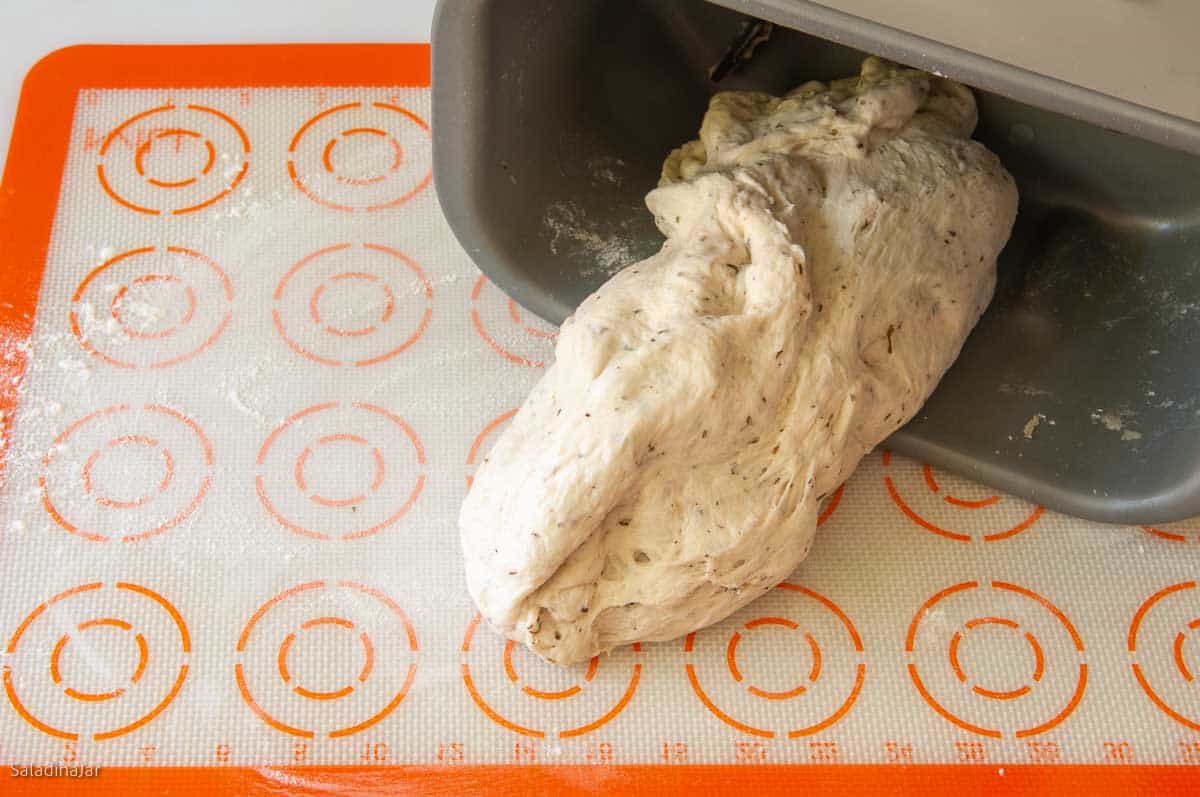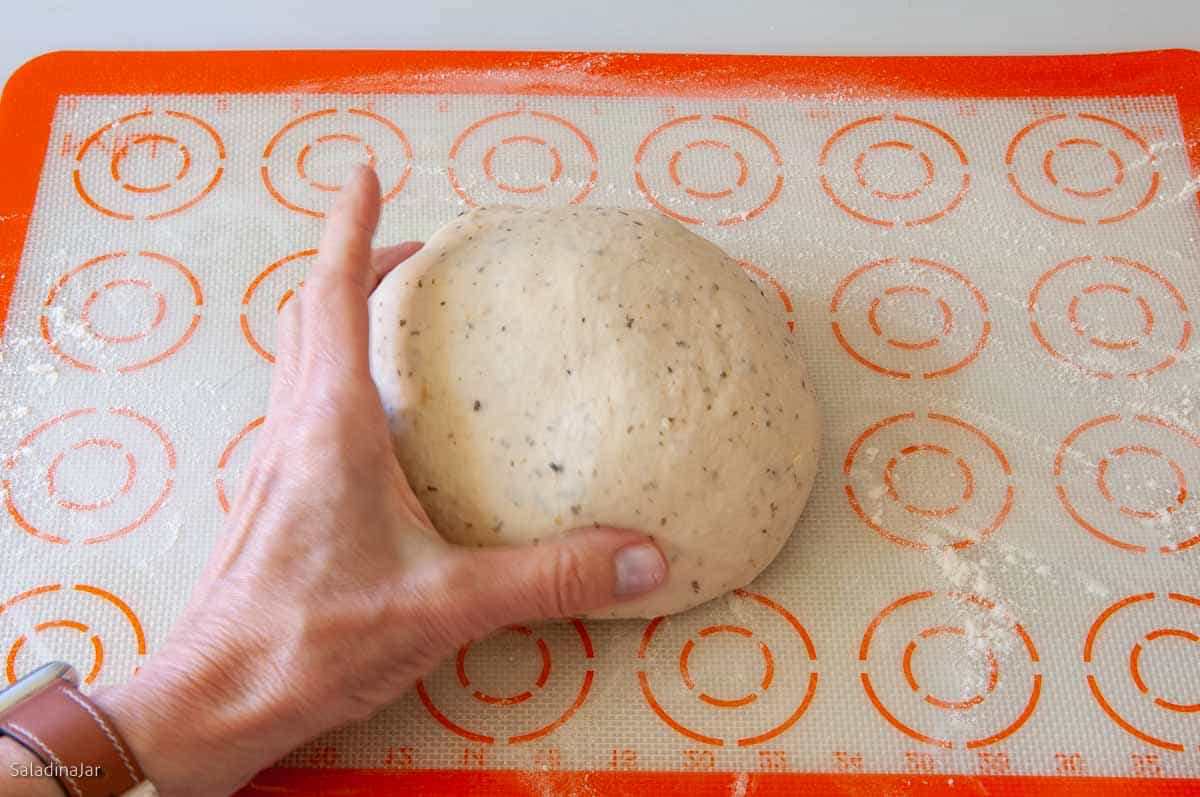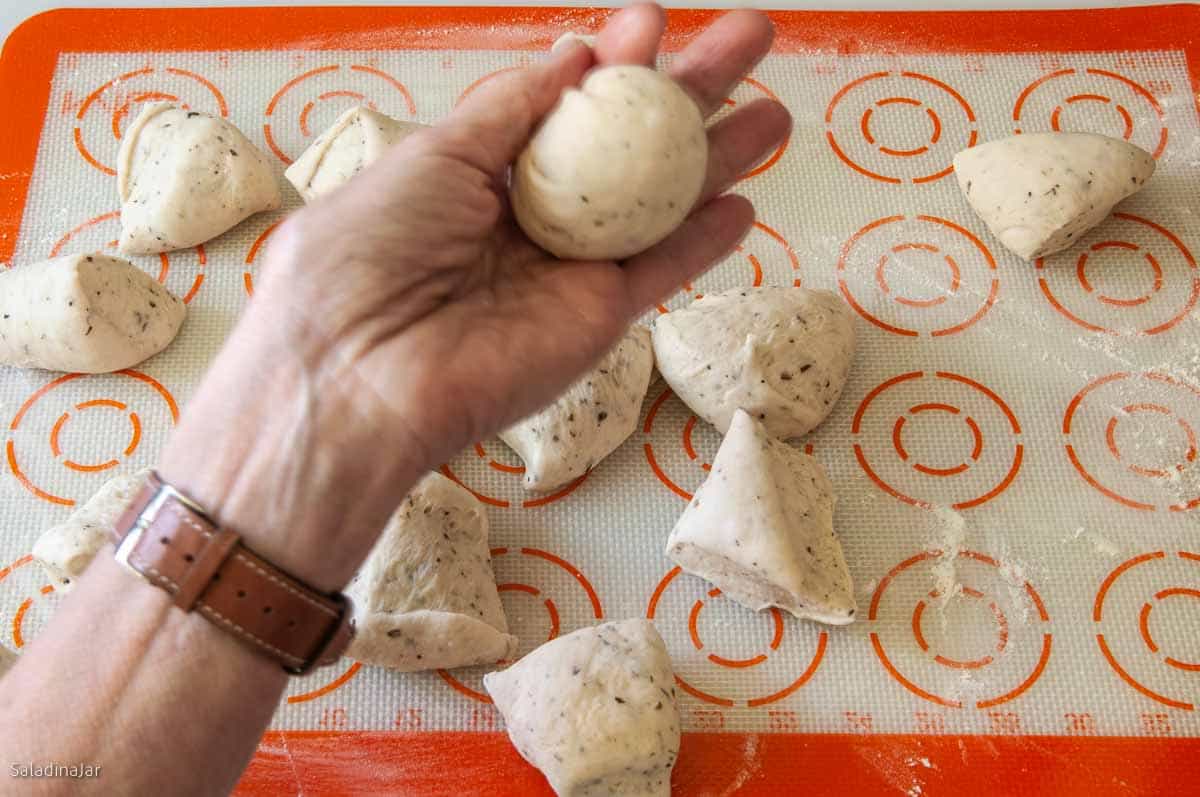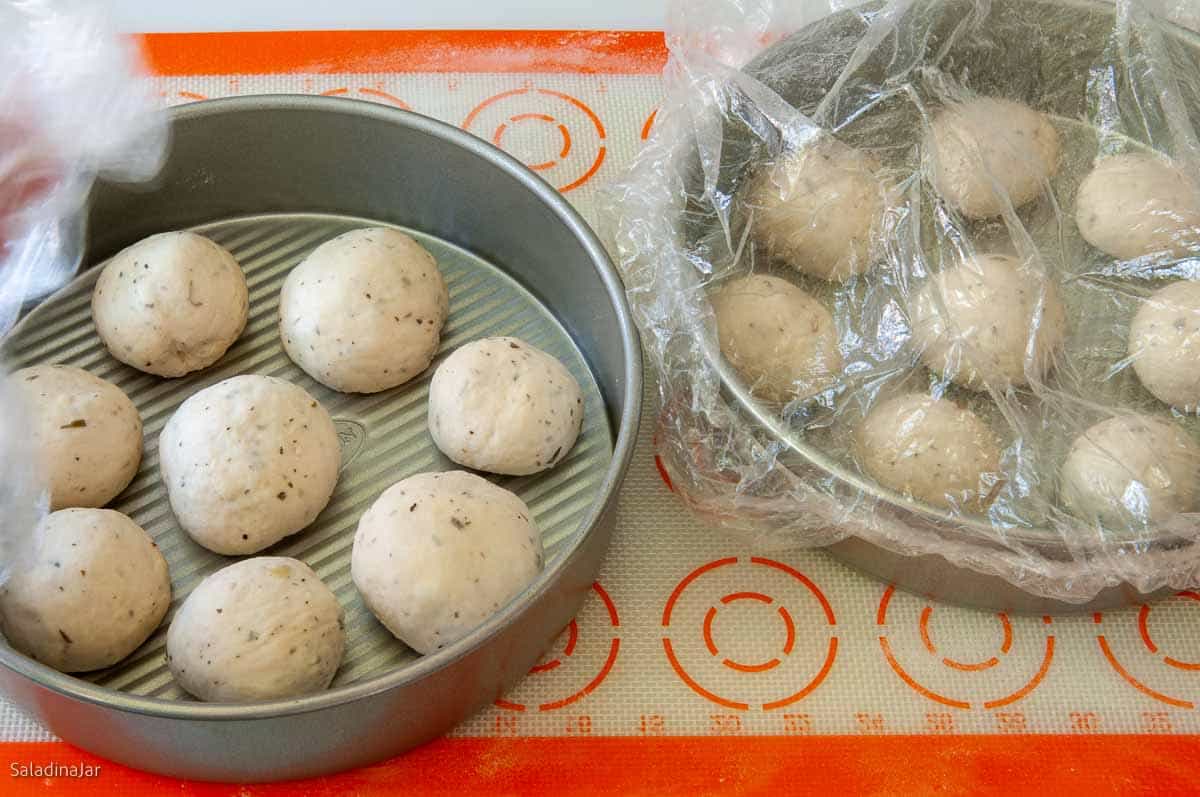 Preheat oven to 400˚F (200˚C) about 10 minutes before you think the rolls will be ready.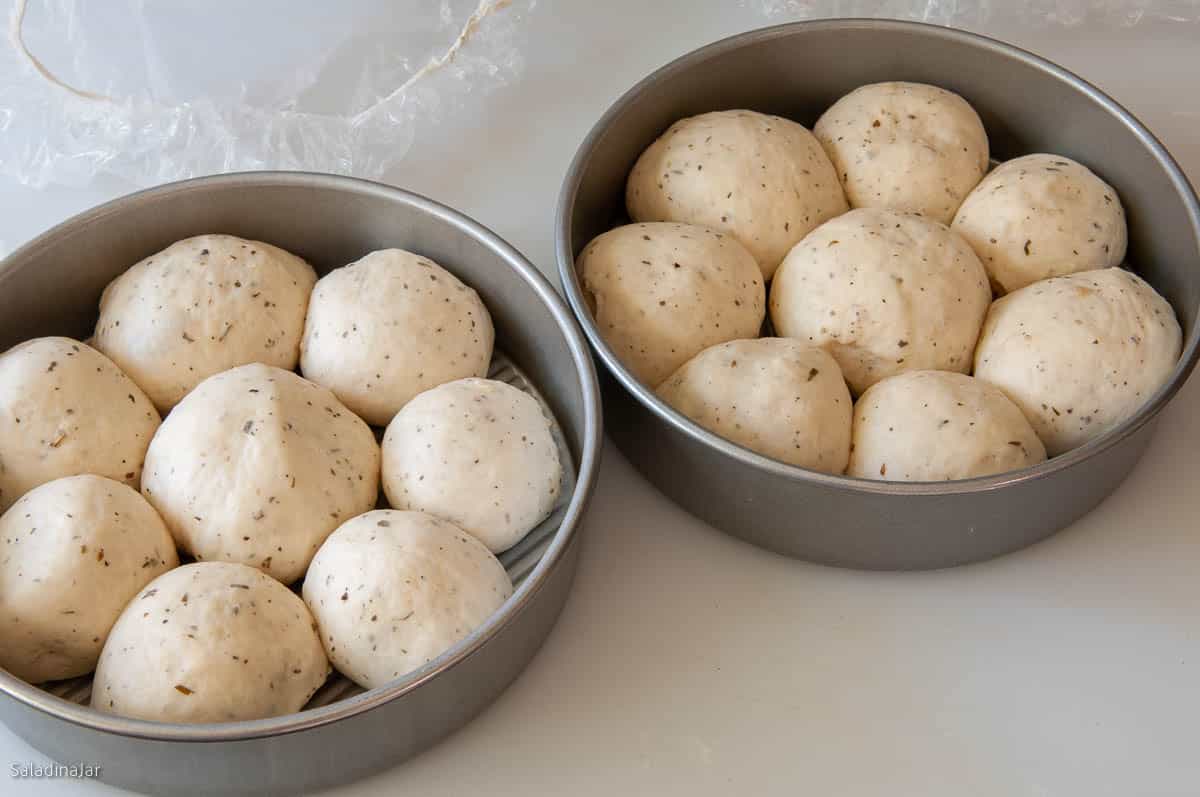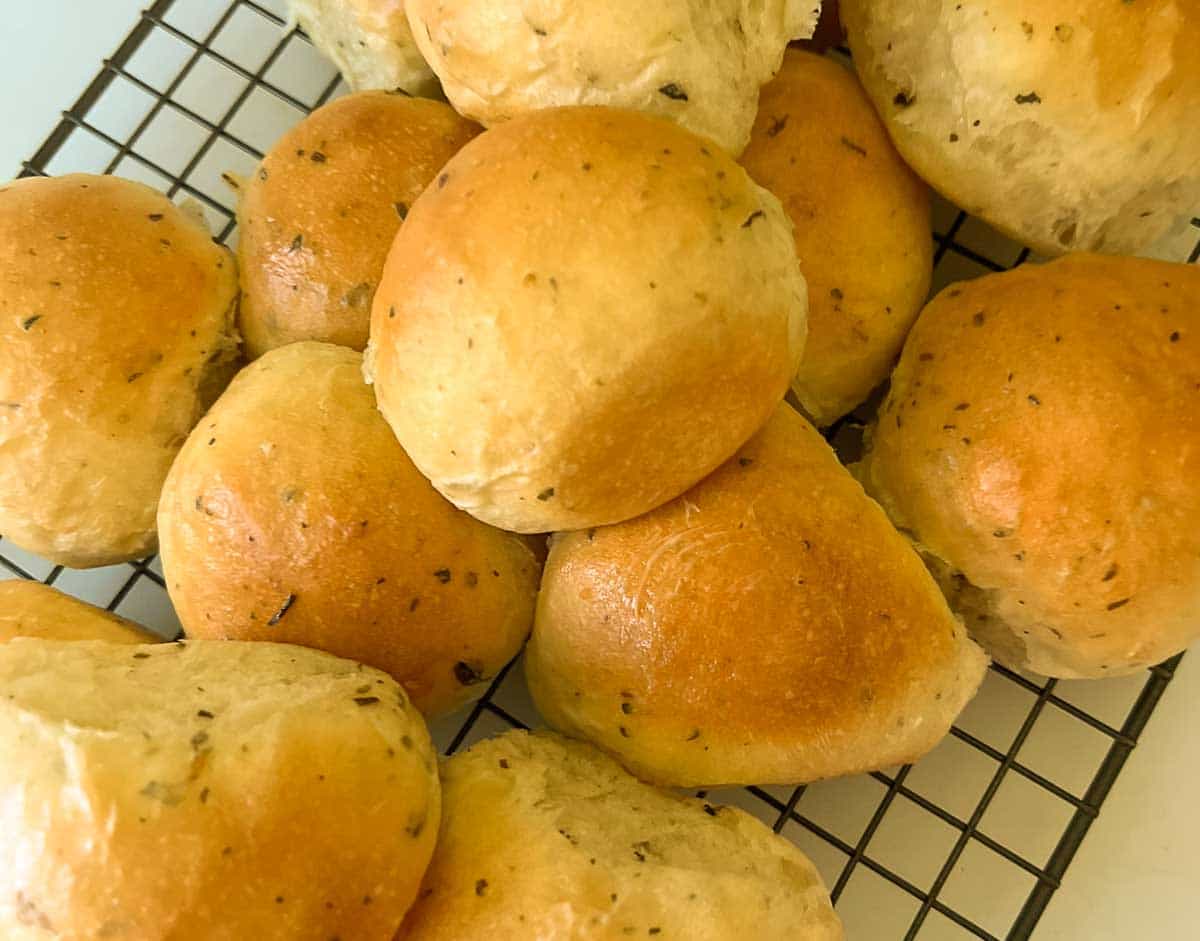 ---
FAQ about Herb Rolls with Garlic
Can I make these rolls ahead of time?
Make the dough the day before and refrigerate it after removing it from the bread machine. Press the air out of the dough and store it in a large, covered container. The next day, shape the rolls, allow them to rise again, and bake them as usual. The rise time will take longer because the dough is cold when you shape it.

You can also shape the rolls before refrigerating the dough. Shape the dough after removing it from the bread machine as directed above. Cover with plastic and place the shaped rolls into the refrigerator overnight. The next day, allow the rolls to come to room temperature and rise until almost double the original size. Bake as directed.
Should I brush these rolls with butter before baking?
I don't recommend brushing rolls with butter before baking. In my experience, butter before baking makes the finished crust wrinkle. If you like the buttery taste and shiny finish, brush your rolls after baking. The shiny finish that butter produces doesn't last. The butter will dry quickly and make the crust slightly softer, but it's pretty while it lasts.
Can I use fresh herbs instead of dried herbs?
Fresh herbs do not tolerate the baking process very well. I recommend dry herbs for this recipe.
---
If you have questions or suggestions, email me privately for a quick answer: Paula at saladinajar.com. Hope to see you again soon!
---
Herb Dinner Rolls with Garlic (Bread Machine Recipe)
These rolls are soft but slightly chewy dinner rolls. They will make your house smell like a chic Parisian cafe as they bake. Wonderful with a Thanksgiving turkey.
Ingredients
4

tablespoons

butter

-

113 gr

3

tablespoons

onion

-

finely chopped

1

clove

garlic

-

minced

¾

teaspoon

dried oregano

-

.7 gr

¾

teaspoon

dried basil

-

.7 gr

¾

teaspoon

dried tarragon

-

.7 gr

1

cup

water -

227 gr

1

teaspoon

table or sea salt

-

6 gr

2

teaspoons

granulated sugar

-

7 gr

3

cups

all-purpose unbleached flour

-

360 gr

1½

teaspoon

instant yeast

-

5 gr
Instructions
Melt butter in a small skillet and sauté the onions, garlic, and herbs over medium/low heat until the onions are soft. Pour immediately into the bread machine pan to cool. (Or use your microwave: Place the butter, onions, garlic, and herbs into a microwave-safe measuring cup and microwave on HIGH for 2-4 minutes or until the onions soften.)

Add cool water (on top of the butter mixture to cool it down), salt, sugar, flour, and yeast in the order listed.

Select the DOUGH cycle, then push START.

When the machine starts to mix, lift the lid and check the dough to make sure the paddles are engaged. The dough should start to clump immediately. Recheck 12-15 minutes later. Open the lid and watch the dough knead. The dough should stick to the sides, then pull away cleanly. If the dough is too wet, add flour one tablespoon at a time. If the dough is too dry, add one tablespoon of water. Allow time between each addition for the dough to absorb the water or flour before adding more.

At the end of the DOUGH cycle, check to ensure the dough has doubled in size. If so, remove the dough from your bread machine pan onto a floured surface.

Divide the dough into 16 equal pieces and form them into round balls. See the video tutorial for how I shape the balls. Place 8 balls into each of two 8-inch round pans. If you don't have non-stick pans, spray with Baker's Joy or a similar aerosol flour/oil mixture.

Cover the pans with tea towels or cheap shower caps. Set in a warm place to rise until the rolls are almost double in size.

Preheat your oven to 400˚F (200˚C) for about 10 minutes before you think your rolls will be ready to bake.

Bake for 12-15 minutes until golden brown.

Remove the dinner rolls to a cooling rack to prevent the bottom of the rolls from getting soggy.
Notes
Alternate Mixing Instructions:
Directions for making bread with a stand mixer or by hand:
To make this recipe in a heavy-duty stand mixer: Add ingredients to the bowl in the same order. Turn on LOW to mix until all ingredients are moistened. Then, using a dough hook, turn the speed to 2 or 3. Continue beating/kneading until dough becomes smooth and elastic (about 5-10 minutes). Cover and allow to rise in a warm place. Deflate dough gently and shape as indicated in the recipe.
If making by hand: Combine all ingredients into a shaggy ball in a large bowl. Turn dough out onto a floured surface. Knead with your hands until the dough becomes smooth and elastic. Kneading will likely take 10-20 minutes, depending on your experience. Place the dough ball into a greased bowl. Cover and allow to rise until double. Deflate the dough gently and shape as indicated in the recipe.
Please note: You can substitute active dry yeast for instant yeast. Dissolving it first is optional. Active dry yeast tends to rise slower initially but will catch up eventually.
Nutrition
Serving:
1
|
Calories:
113
kcal
|
Carbohydrates:
18
g
|
Protein:
3
g
|
Fat:
3
g
|
Saturated Fat:
2
g
|
Polyunsaturated Fat:
1
g
|
Monounsaturated Fat:
1
g
|
Trans Fat:
1
g
|
Cholesterol:
8
mg
|
Sodium:
172
mg
|
Potassium:
37
mg
|
Fiber:
1
g
|
Sugar:
1
g
|
Vitamin A:
94
IU
|
Vitamin C:
1
mg
|
Calcium:
9
mg
|
Iron:
1
mg