Are you curious about making classic brioche in a bread machine? This is a beginner's guide to point you down the right path.
You will also find instructions for making both brioche burger buns and simple round rolls. Or go for the traditional fluted shape with a little hat. If you are in a hurry, use the same dough to craft a simple brioche loaf.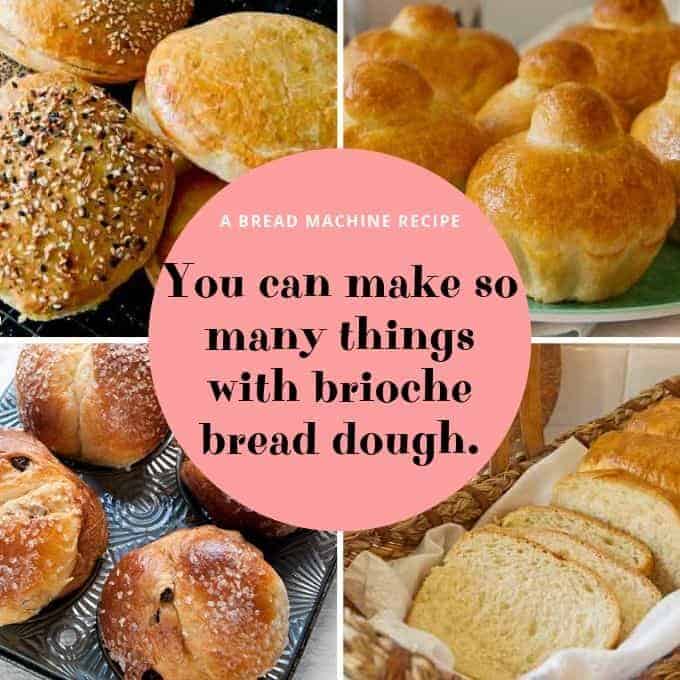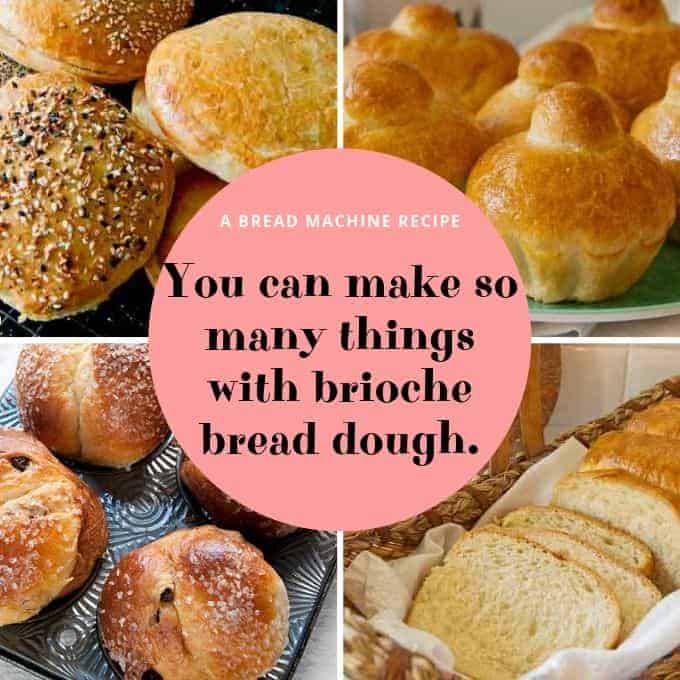 What makes brioche special?
Brioche is a finely textured, rich, buttery, and eggy bread. When done right, the bread can be pulled apart in layers and the crust will be almost flaky. Some bread machine recipes claim to be brioche, but the gluten is not well-developed so the texture is more like cake.
Don't be tempted to cut back on the butter or eggs. That's what makes brioche unique. Otherwise, you may end up with something more like traditional dinner rolls. Delicious in their own right, but not authentic brioche.
---
How do I shape brioche?
Does brioche have to be fancy with a little hat?
Of course not. You can make it the way you want.
The French call it brioche à tête (with a hat). I'm guessing this is how they do it in a bakery. But after making many buns with lopsided caps and ugly surfaces, I devised a cheater method. Keep reading for the details.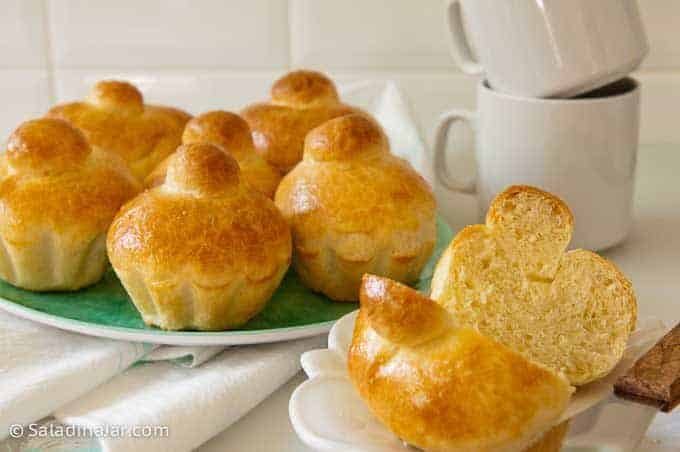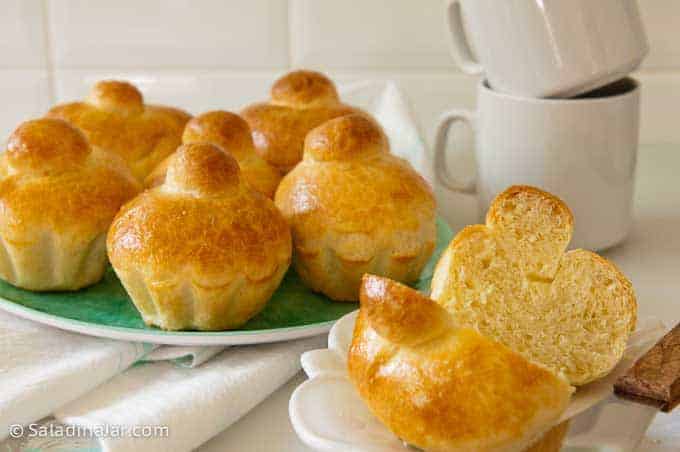 ---
Give me something easy...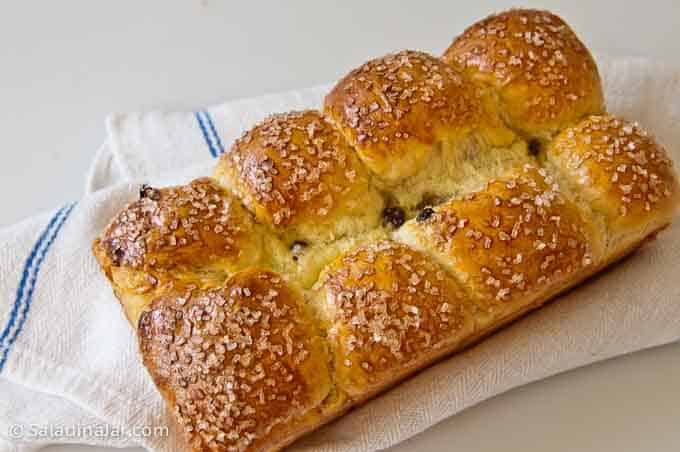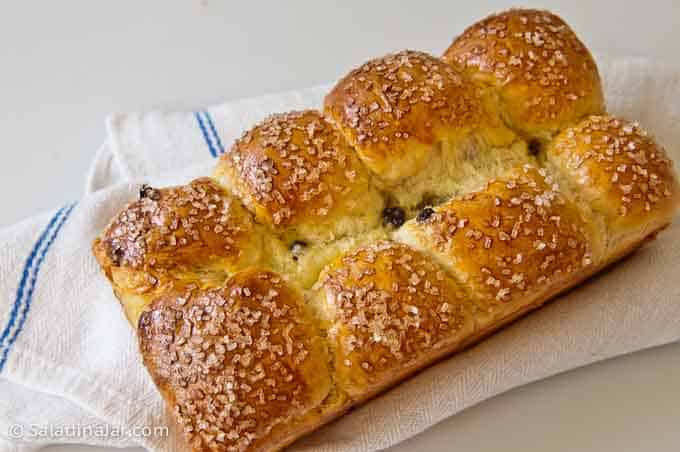 How about little balls lined up in rows inside a pan? Simple! If you're not sure how to make the balls, check out the video about my easy way to make perfectly round balls.
---
Looking for brioche burger buns?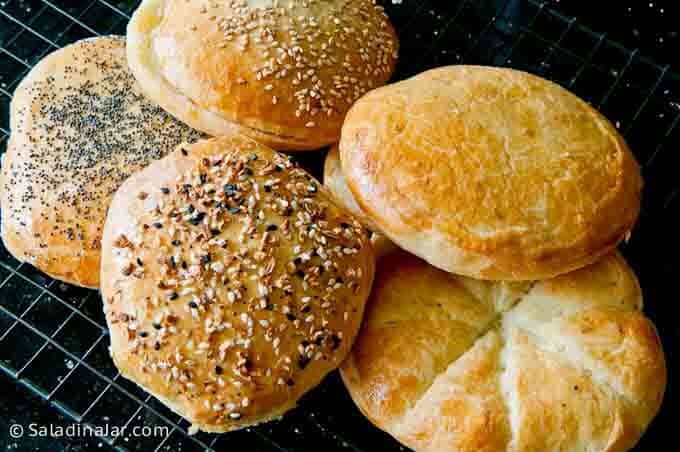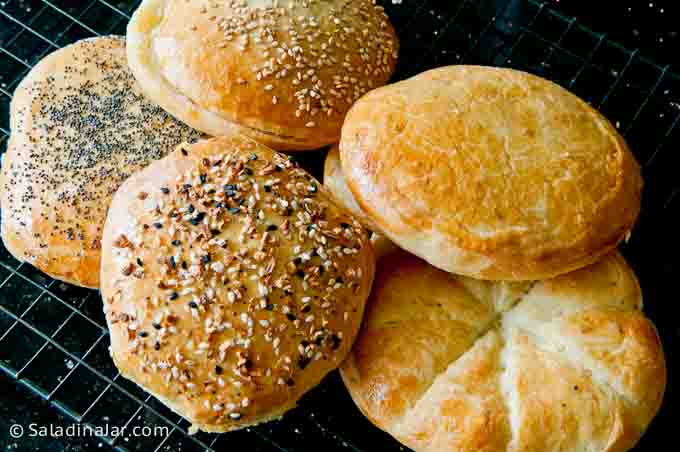 Brioche is having a moment as a "burger bun." One of my favorite recipes for fresh salmon patties suggests a brioche bun. The idea launched me into an obsession with making these buns at home.
Buns are as easy to make as balls. Portion them a little bigger and smash them. More instructions below.
---
How to shape brioche burger buns: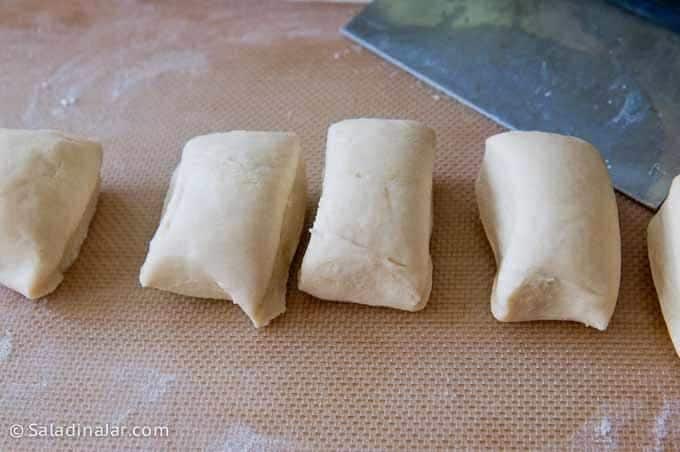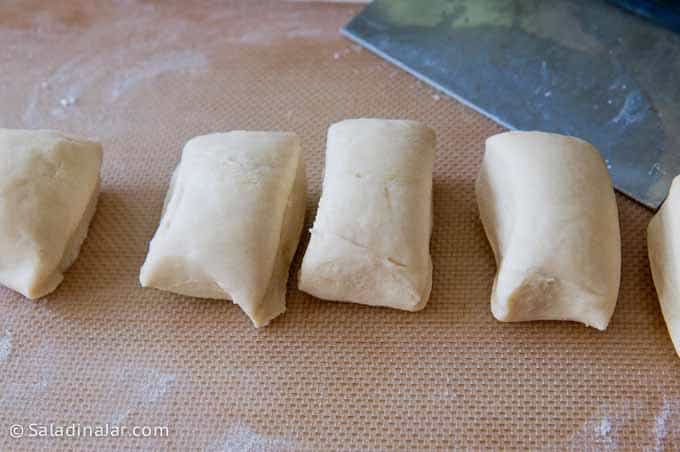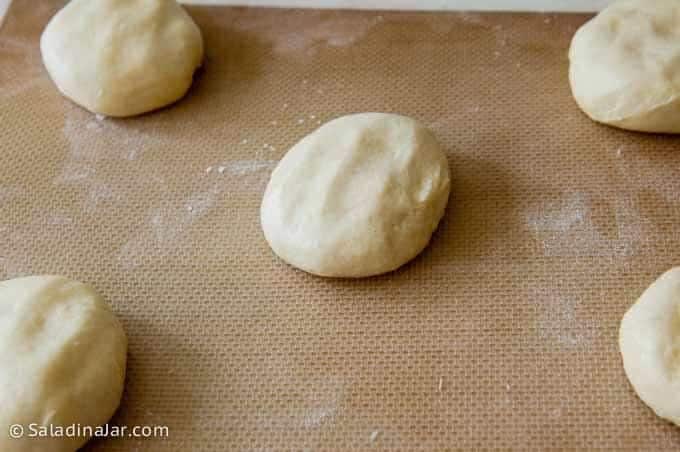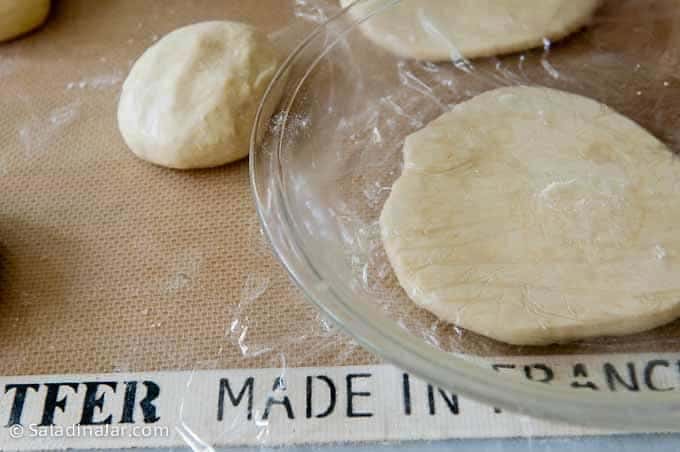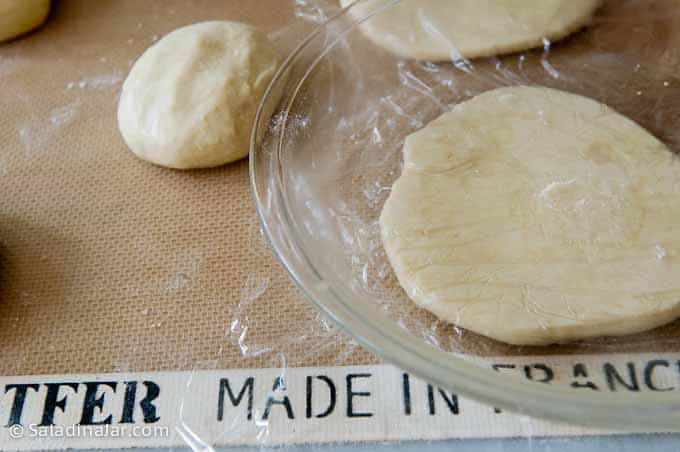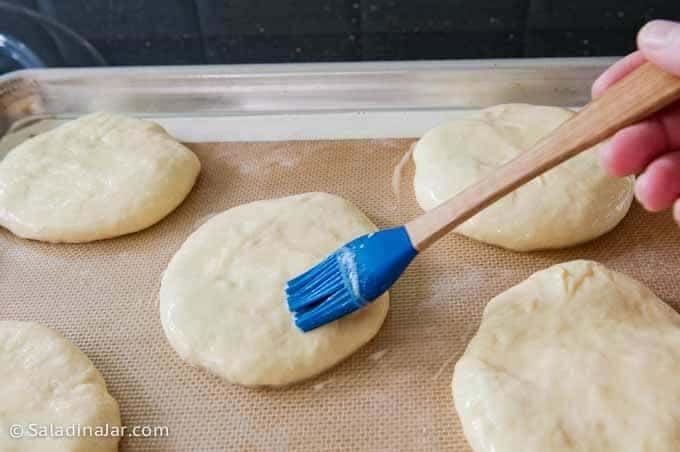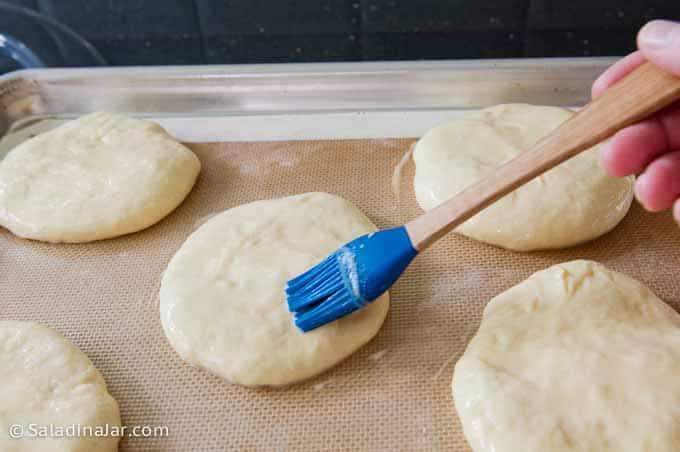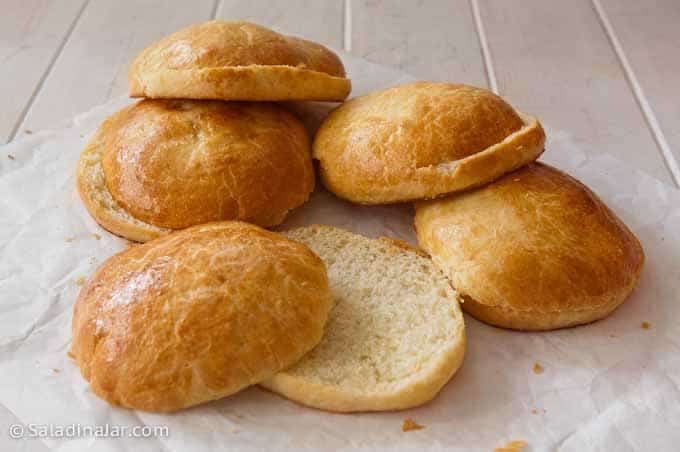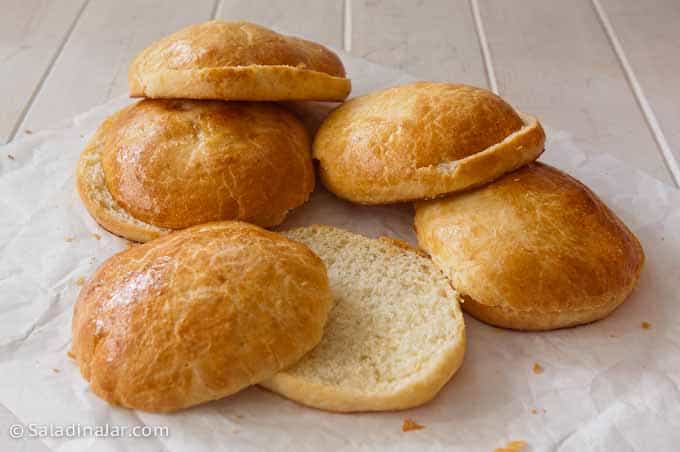 ---
How about brioche loaves?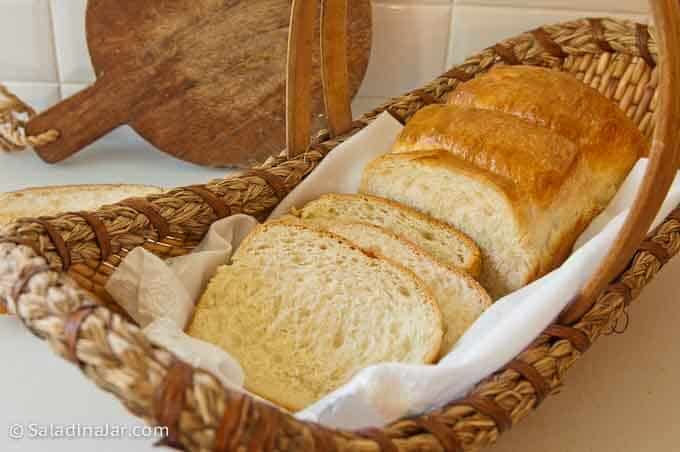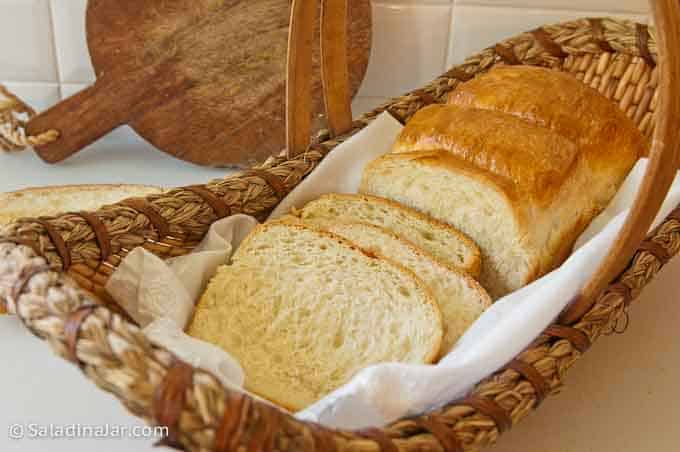 Brioche as a loaf is quick to shape. I've tried several ways, but the picture below shows my current favorite. Dividing the dough into four pieces instead of one helps avoid a blow-out on the sides as the bread bakes.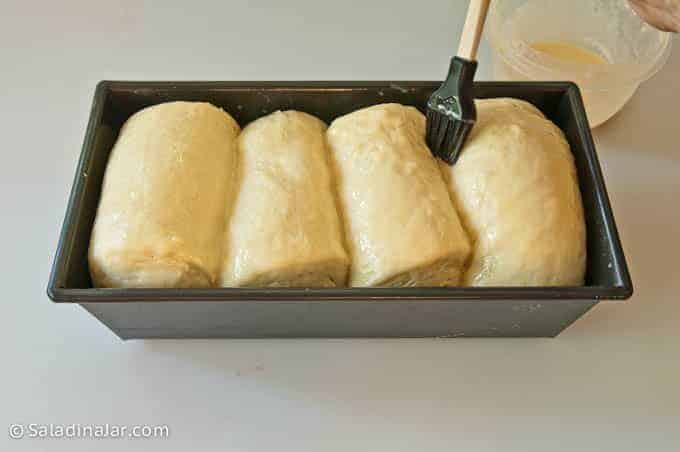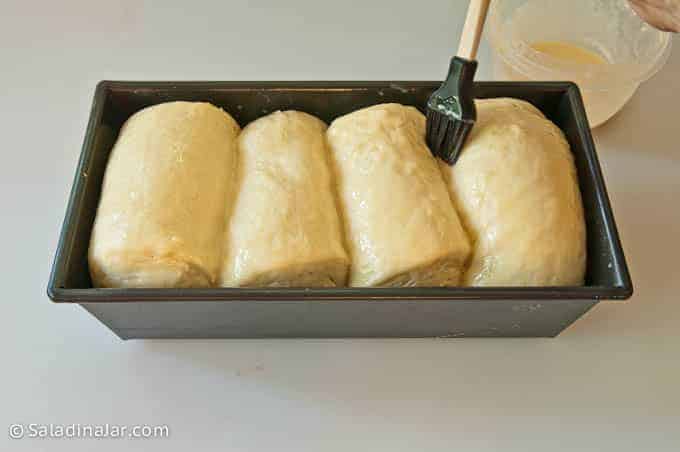 Sliced brioche makes a sophisticated grilled cheese sandwich or French toast. You can also make a killer bread pudding with day-old cubed brioche.
---
How to shape a brioche loaf: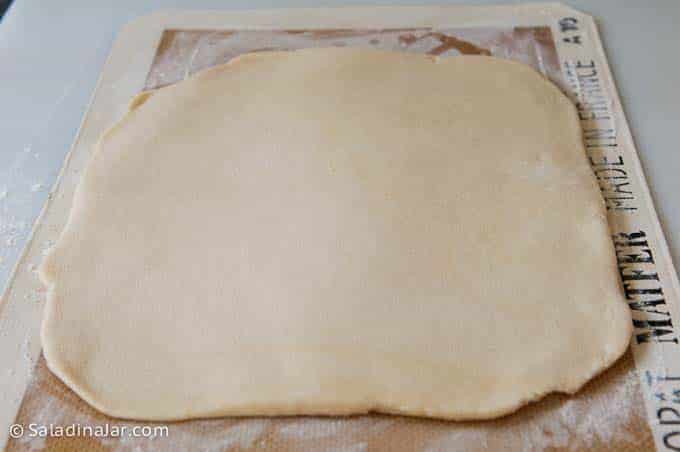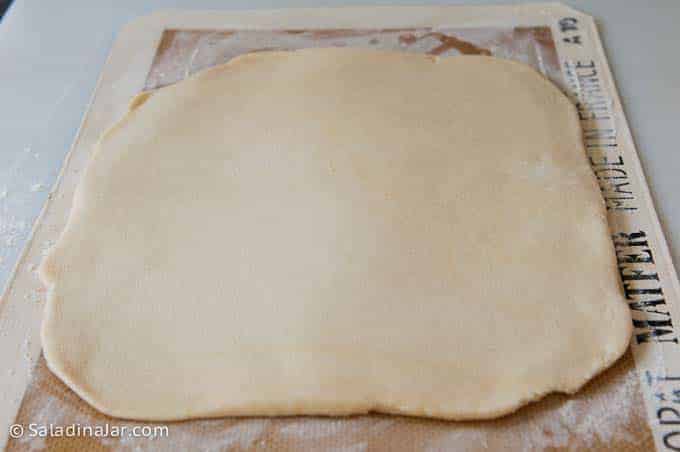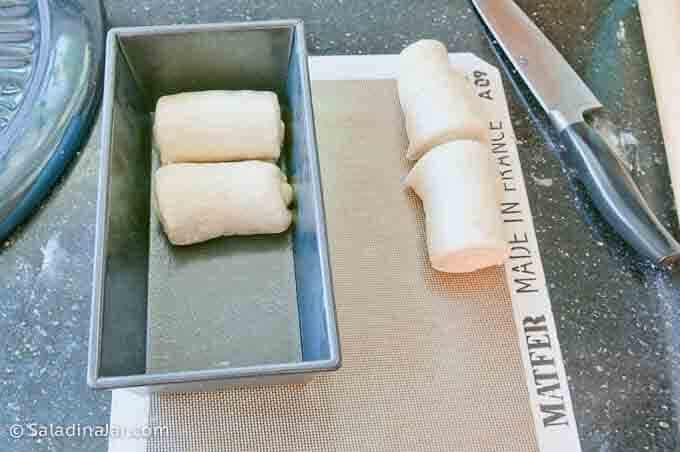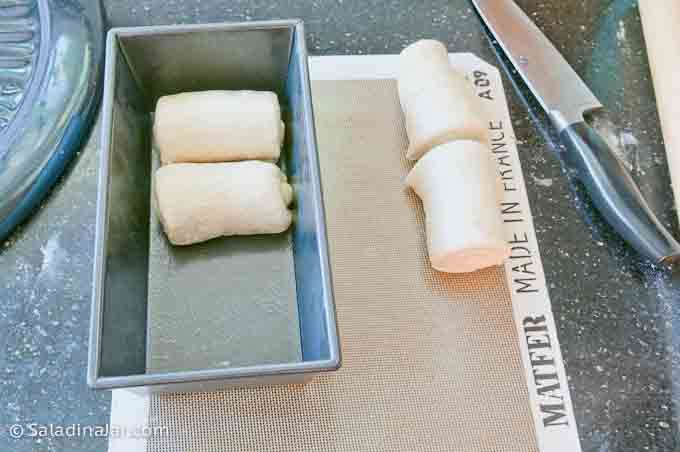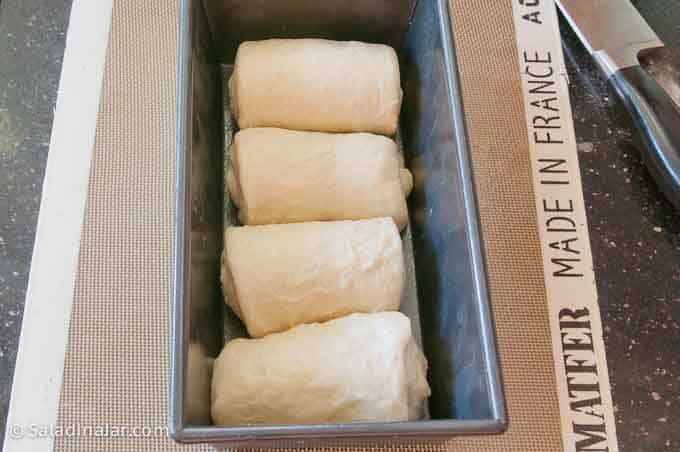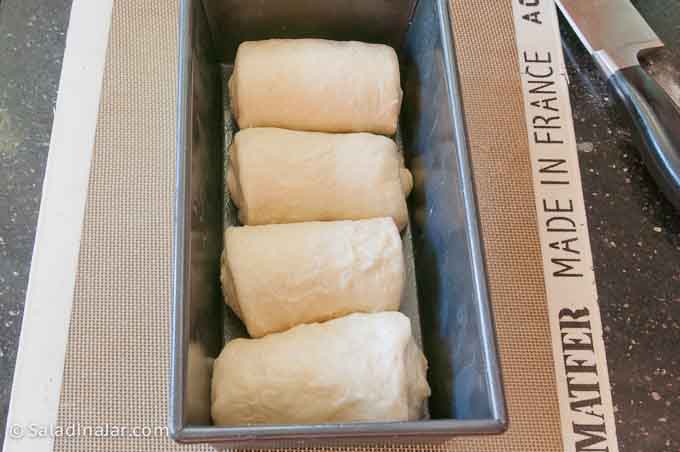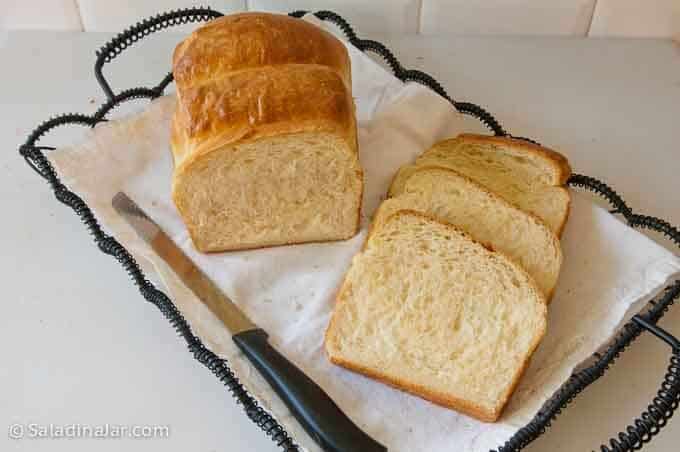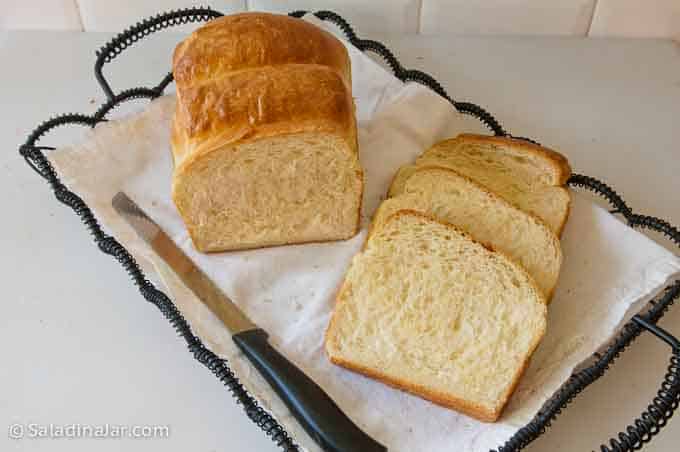 ---
A foolproof way to make the classic brioche à tête:
This is my method for keeping the hats straight.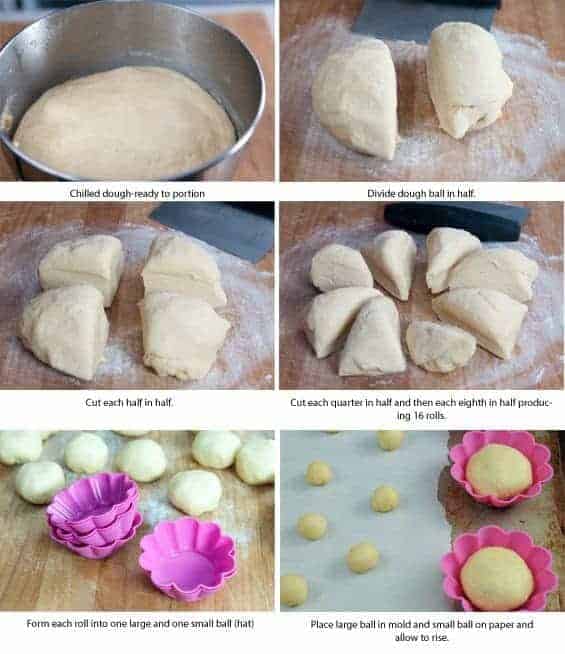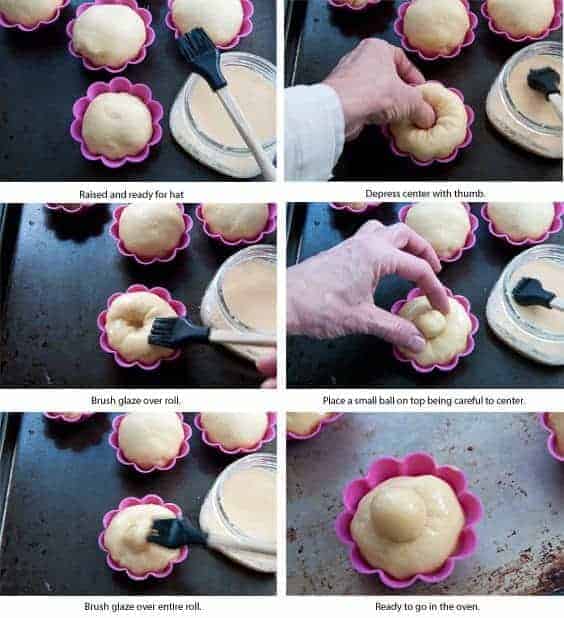 ---
A delicious breakfast orbBrunch brioche variation:
***Sugar-Crusted Raisin Brioche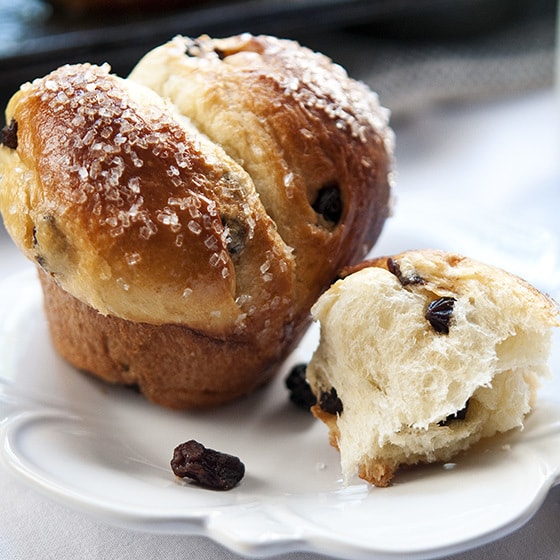 How to make Sugar-Crusted Raisin Brioche: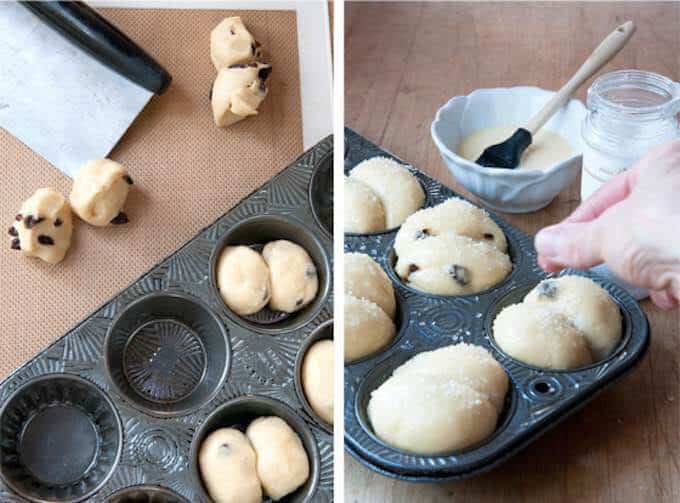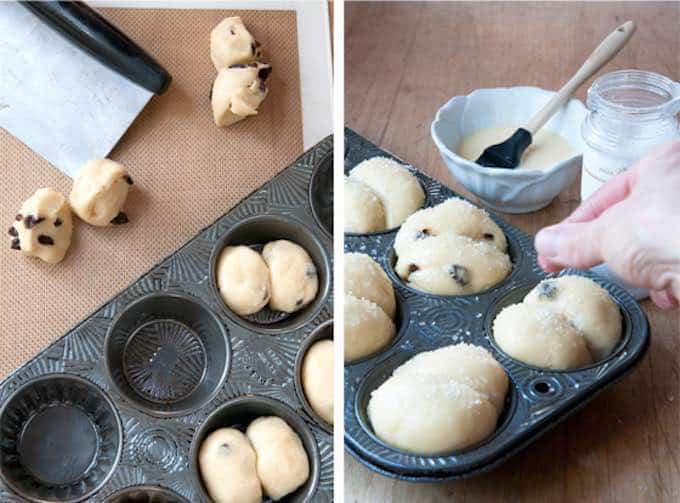 Add 3/4 cup of raisins or currants to the dough a couple of minutes before the kneading cycle ends in the bread machine. Some machines will beep when it's time to add fragile ingredients.
For rolls that look like those pictured, divide the dough into 24 equally-sized portions after the overnight chill, then roll into balls.
Place two balls side-by-side into each cup of a muffin pan.
Next, allow the formed rolls to rise for about 2 hours.
Finally, glaze and sprinkle rolls with sugar and bake.
Make cinnamon rolls or challah-like shapes if you are more adventurous. Just about anything you can do with a standard sweet-roll recipe, you can do with brioche. The variations are truly endless.
---
Why does using a bread maker call for a modified recipe?
I love bread machines, but I was not happy with my first attempts to make brioche in them. I know you can use a stand mixer or do it by hand. But I prefer to use my beloved bread machine since that is my specialty and passion.
Here are five modifications I made to my original recipe. Now my brioche turns out beautifully when mixed in a bread maker machine.

---
#1
Incorporated the Tangzhong technique
The Tangzhong method is a great way to increase the percentage of liquid in a bread recipe without resulting in a runny, sticky mess. The result is a moister bread with better texture. The dough is easier to handle. Furthermore, the bread machine blades can engage the dough to knead it more efficiently.
Tell me how to do it…
In this recipe, whisk 1 tablespoon of flour into 1/3 cup of milk (or water) and heat it in the microwave for a few seconds. It should turn into something that looks like thick gravy. Let it cool for a minute, then add to the bread machine and proceed as usual.
Kitchen Geek Alert!
Using less liquid and less flour means the eggs and butter can shine. When you add the eggs to the milk, you've got a ratio of 74% hydration. Here's how the entire recipe shakes out in Baker's percentages where the flour is 100%, and everything else is figured in relation to the flour.
Flour – 100%
Milk – 24%
Eggs – 43%
Butter – 50%
Sugar – 7%
Salt – 2.2%
Yeast – 1.7%
Thanks to "Alexa" who helped me with the calculations. If they are wrong, we likely had a miscommunication.
---
#2
Why bread flour?

The higher protein content of bread flour enables the best chance for well-developed gluten in the dough. This is a requirement to build a structure to support all that butter.
#3
Flour capacity in a bread machine
Most bread machines can only handle 3 to 3-1/2 cups of flour. Traditional and classic recipes calling for more than 4 cups of flour are generally not suitable. (Depends on your bread machine.) This recipe needs only 2 and 3/4 cups plus 1 tablespoon of flour.

#4
Adding the butter
This recipe calls for waiting until the dough has mixed for 10 minutes. After that time, lift the lid and drop in pliable butter, one tablespoon at a time. Wait until each piece of butter disappears into the dough before adding more.
#5
What is pliable butter?
Pliable butter is butter you can manipulate. You could say it's room temperature unless it's the middle of the summer and you don't have A/C.
When your butter starts to melt, it's too soft. If you can't readily cut it with a table knife, it's too hard. If you can squeeze it between your fingers as Dorie does, it's good.
"I like to squeeze the butter between my fingers to soften it even more just before I toss it into the bowl.

Dorie Greenspan, Around My French Table
Kitchen secrets for making Brioche:
#1
Use the "dough" cycle ONLY.
In general, all my bread-machine recipes use the "dough" cycle only. I do the shaping by hand, and my conventional oven does the baking. You can read about my philosophy here.
In the same way, I do not recommend making brioche from beginning to end in a bread machine. Let your bread maker do what it does best–mix and knead the dough.
This recipe works and tastes best when you chill the dough for 6-24 hours after the end of the dough cycle. This gives time for flavor to develop and for the butter to harden. Mixing and baking the dough from beginning to end in the machine would make that impossible.
#2
Can I substitute for the bread flour?
If you don't have bread flour, you can get away with unbleached flour. Some recipes call for a mixture, but I think all-bread-flour works best with a bread machine because of the higher protein content.
#3
Why you might need to add more flour:
Do you measure your flour by weight or with a cup? You can do either for this recipe. Measuring by weight is easier and faster in my book. However, it does not guarantee you are using the perfect amount of flour
Eggs can vary in size, providing more or less "liquid." Humidity in the air will also vary. Your measuring (or scales) could be slightly off. Any of these factors can cause you to need more or less flour.
When using a bread machine, you absolutely must open the lid and look at your dough. Check after it has kneaded for a few minutes.
You will learn to judge when your dough needs more flour or liquid. Practice helps. An experienced bread-maker looking over your shoulder is even better. Until then, watch the video to see how your dough should look.
#4
Do I have to use bread-machine yeast?
Bread-machine or instant yeast (same thing) (paid link)is more convenient. Unlike regular yeast, dissolving is unnecessary. When using regular yeast, pour it into the smallest amount of warm water (less than 1/4 cup) and stir until it dissolves. Add in place of instant yeast.
Note: You may have to add some extra flour to make up for the excess moisture.
#5
Doing the Tangzhong trick
When executing the Tangzhong technique, you will start by heating the milk and flour mixture. Using a microwave-safe pyrex dish, put the mixture in your microwave for 20 seconds. Whisk well.
If the milk mixture is not thick like pudding after 20 seconds, put it back into the microwave for another 10-15 seconds. The time will vary according to the wattage of your microwave.
Overcooking the milk and flour mixture may cause it to become a blob, too thick to blend into your dough correctly. I would throw it out and start over.
#6
Removing rolls from the pan:
Getting rolls out of the pan uninjured can be challenging. Try using a spray butter/flour mixture like Baker's Secret. (I can't tell you how handy this stuff is if you bake a lot.) Generously spray each cavity if you use a standard muffin pan.
When I discovered these individual silicone plastic pans/molds (paid link), my troubles were over. All was right with my brioche. You don't have to grease them ahead of time. Nothing sticks to them.
#7
Don't crowd rolls on the cookie sheet.
When crowded, they don't brown evenly. Speaking of browning, if rolls are getting too brown in the baking process, lay a piece of aluminum foil on top to protect the crust until the rolls are baked all the way through.
#8
Make the dough ahead of time.
Brioche rolls are a bit of trouble because they need a long chill time (6-24 hours). On the plus side, you can make the dough ahead of time. This detail makes them perfect for your Christmas, Thanksgiving, or Sunday dinner menu.
Also, the rising period after forming the rolls is usually over an hour. You will have plenty of time to focus on other last-minute details.
#9
Use exam gloves when shaping the dough.
The dough should be well-chilled when you are ready to shape it. If you work slowly, the gloves will help protect the dough from getting soft while you mess with it.
---
How to mix and knead brioche dough with a bread machine: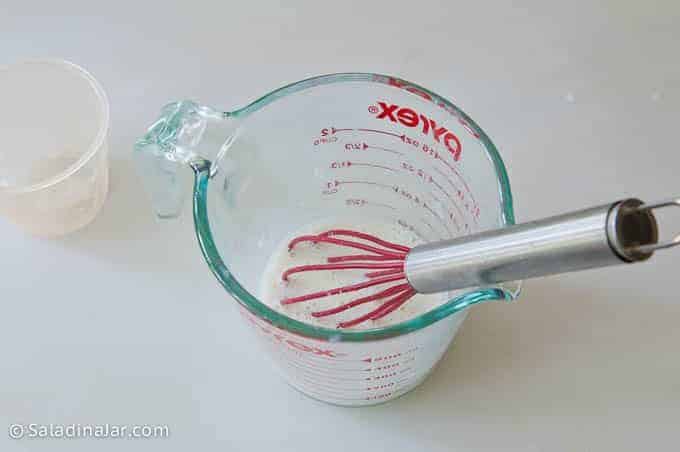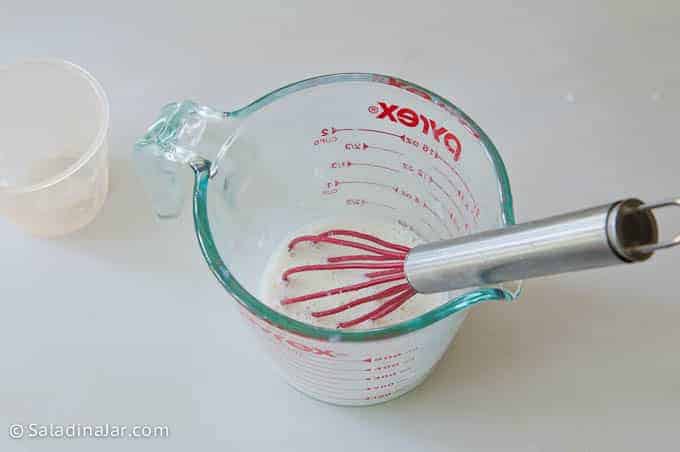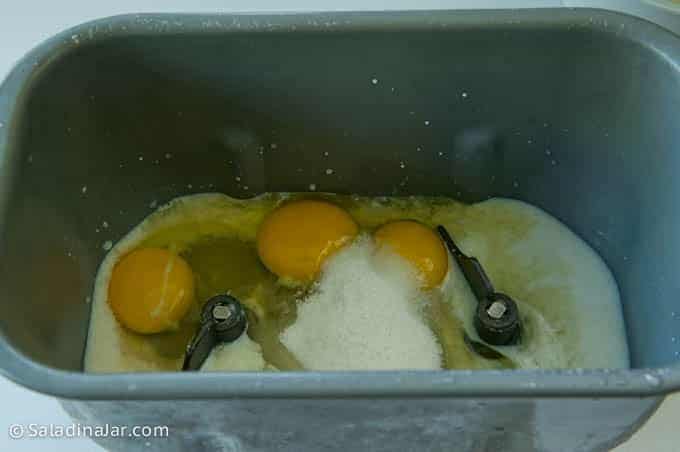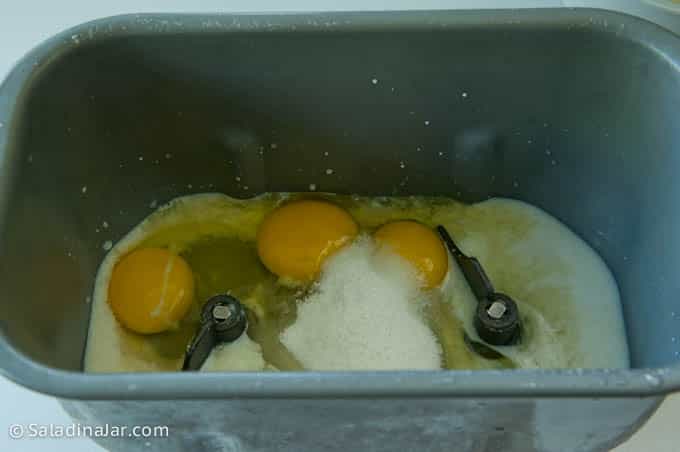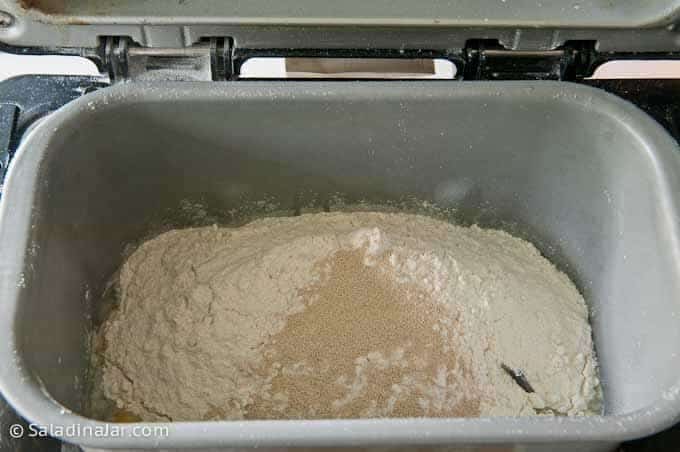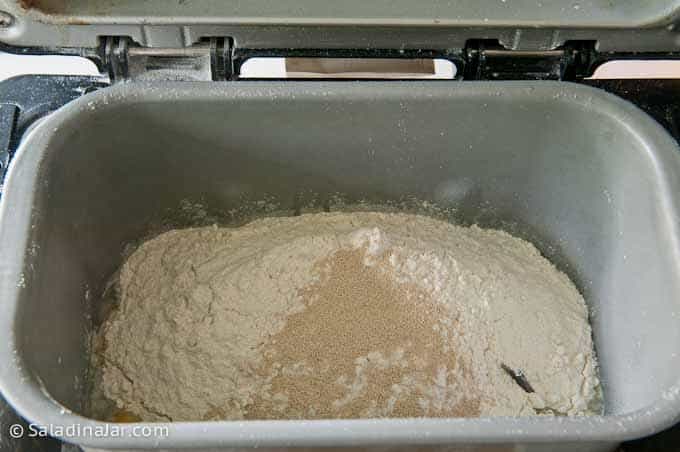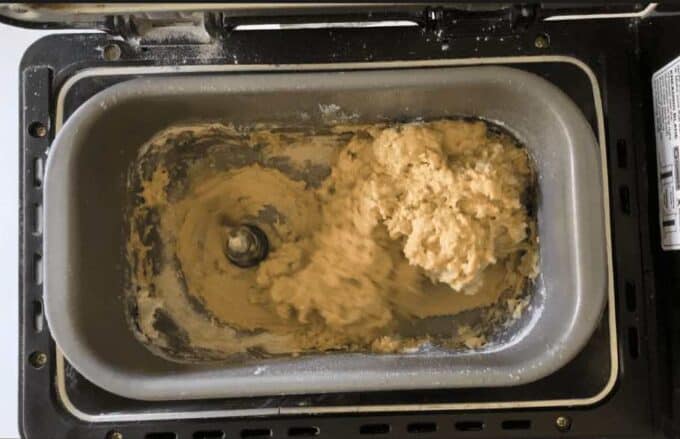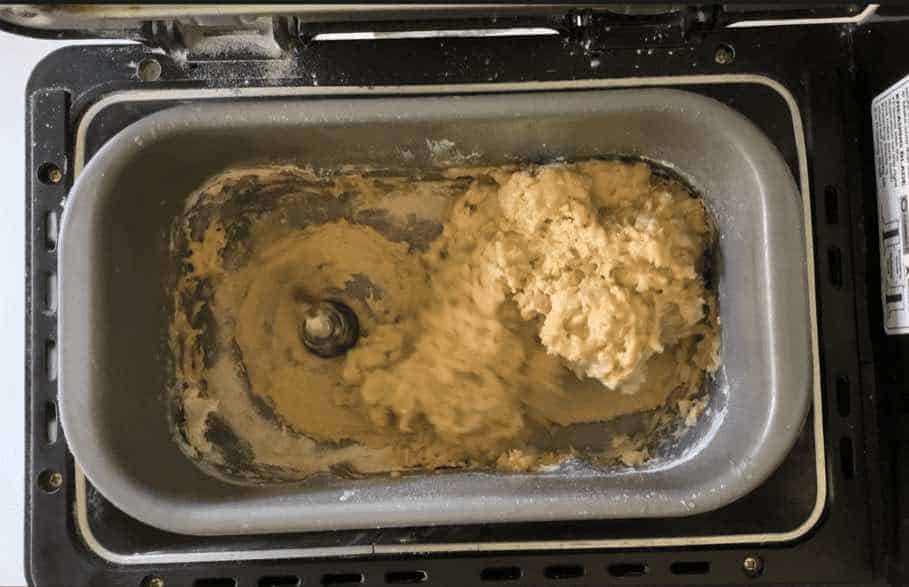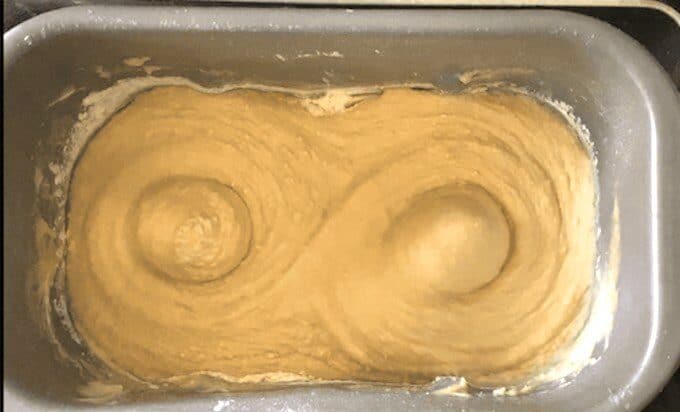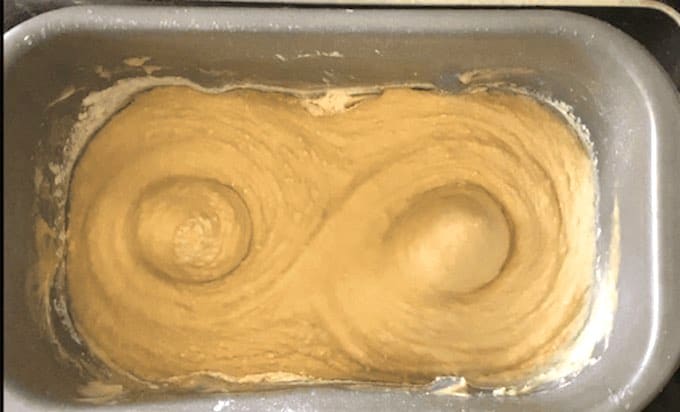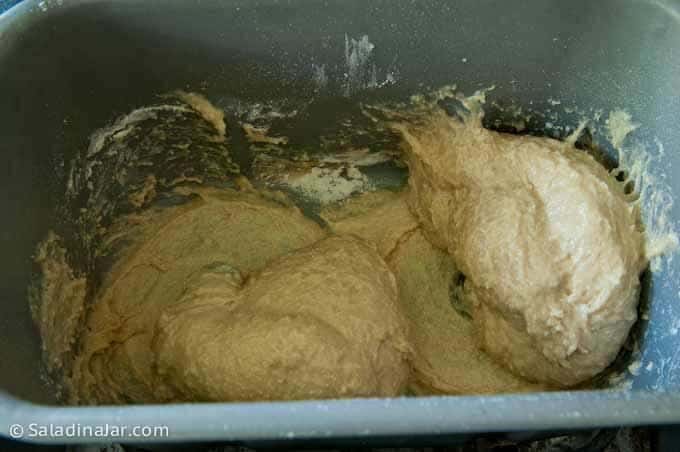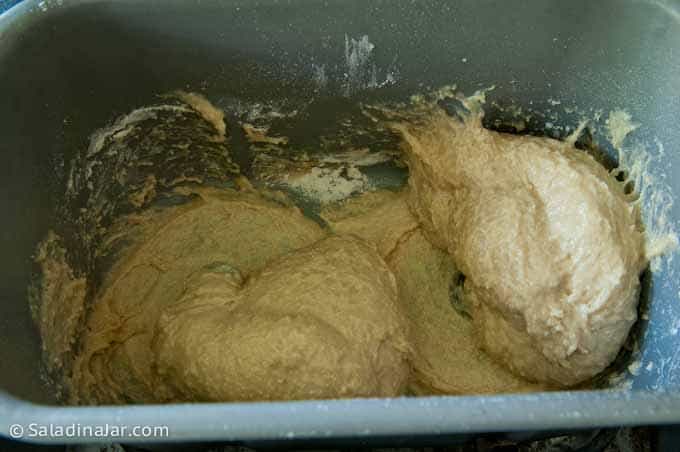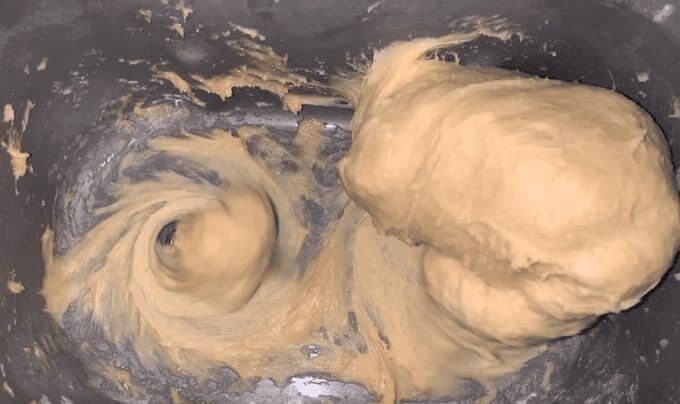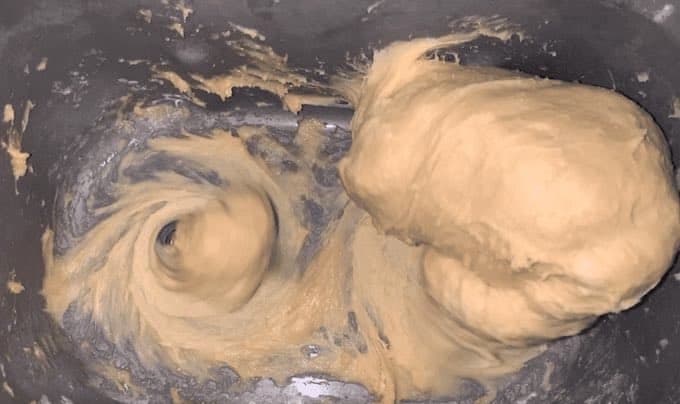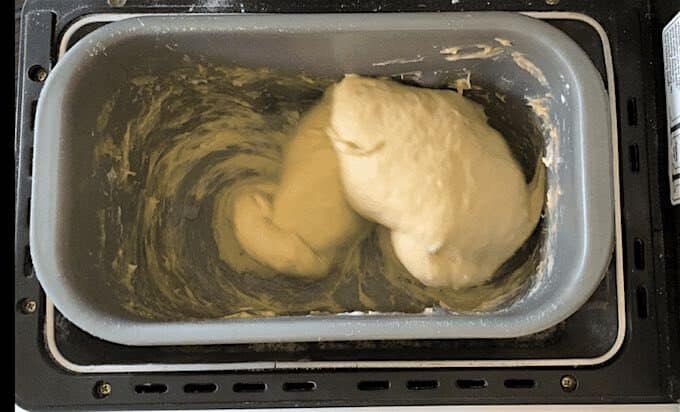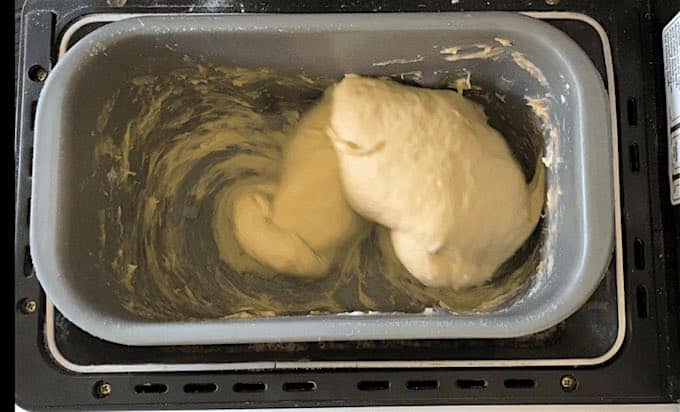 Revised and updated 07/13/19
---
Looking for More Recipes You Can Make in your Bread Machine?
---
"Why is my bread dense?"
Download a FREE printable guide to help you diagnose the cause of dense bread when you sign up to receive my free updates and exclusive bread-making tips in your inbox.
Don't worry. I won't share your address. Unsubscribe any time.
---
Yield: 12 rolls
How To Make Brioche with a Bread Machine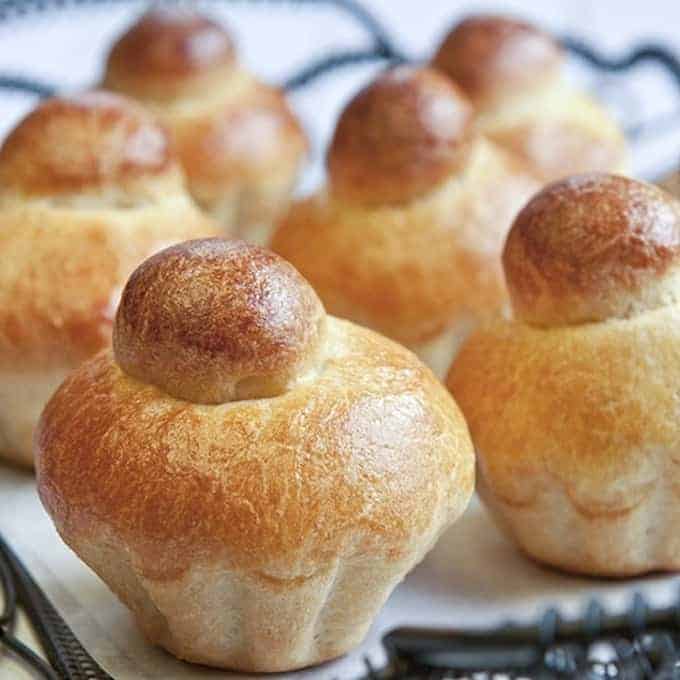 Now you can make classic brioche in your bread machine, then shape it by hand to meet your specific needs before baking in a conventional oven.
Total Time
10 hours
15 minutes
Ingredients
1/3 cup milk (82 g)
1 tablespoon bread flour (9 g)
3 eggs, room temperature
1-1/4 teaspoon salt (7.5g)
2 tablespoons sugar (25 g)
2-3/4 cups bread flour (330 g)
2-1/4 teaspoons bread-machine or instant yeast
12 tablespoons butter, pliable (IMPORTANT)
Glaze:
1 egg + 1 tablespoon heavy cream whisked together well.
Instructions
BEFORE YOU START: Set out the butter to soften. Butter must not be so warm that it turns to liquid. On the other hand, you should be able to cut it with a table knife.
Combine 1/3 cup of milk and 1 tablespoon of flour in a microwave-safe container. Whisk until smooth.
Microwave this liquid paste mixture for 20 seconds on High. Remove and stir. Place back into the microwave for 10-20 seconds or however long it takes to turn the mixture into a thick "gravy" consistency. Pour into the bread machine pan.
Add eggs, sugar, salt, 2-3/4 cups of bread flour, and yeast.
Select the DOUGH cycle and push start. After 8 minutes, open the lid of your bread machine and observe the kneading action. If the dough is too slack, add additional flour one tablespoon at a time, letting the dough absorb the flour before adding more.
You want the dough to be thick enough to hold its shape, stick to the sides, then pull away, but not "cleanly." This dough should be stickier than the average bread dough. But it must be firm enough for the bread machine blades to get traction as they knead the dough.
About 15 minutes into the dough cycle, open the lid again. Begin to add the butter to the dough, one tablespoon at a time. Let the dough absorb each piece of butter before adding more. The dough should be smooth and shiny at this point and pulling away from the sides.
Allow dough cycle to complete. The dough should be doubled in size. If the ambient temperature is chilly in your kitchen, you may need to allow the dough to rise longer until doubled.
Gently release the dough from the sides to remove some of the air.
Cover the bread machine bowl and place into your refrigerator for 6-24 hours. Do not skip this part. If you don't have time for the chill, you might want to make another kind of bread.

Instructions for shaping burger buns:

Form dough into 2 logs.
Cut each log into 5 equally-sized pieces. If you want sliders, cut more pieces. You get to decide. Make more than one size if you want to please everybody.
Form each portion into a ball and flatten it somewhat with your fingers on the Silpat or parchment-paper-lined baking tray.
Cover each bun with plastic wrap and smash it. I like to use a transparent glass pie plate so I can see how evenly I'm smashing the bun. Cover with a tea towel and allow to proof.
Preheat oven to 425 degrees F.
After rising to almost double their original size, press each bun gently and evenly with your fingers. Don't worry. They pop right up once you put them in the oven.
Paint with the glaze. Turn oven temperature back to 350 degrees F and bake for 15 minutes.
Remove buns onto a cooling rack. Slice horizontally with a serrated knife to use as buns.

Shaping a classic brioche with a topknot:

Place dough on a lightly floured board. LIghtly knead and mold into a ball. Divide in half. Cut each half into 6 pieces.
Pull a small amount off each of the 12 balls to make hats. Roll all portions into little balls. The smoother the better and practice helps. Place one large ball in each mold or fill a muffin tin. Place all small balls (future hats) on wax paper, parchment, or a silicone mat on cookie sheet.
Cover rolls with a tea towel and allow them to rise in a warm place until almost doubled. This may take 1-2 hours.
When rolls have almost doubled in size, use a greased thumb or the handle end of a wooden spoon to carefully depress dough in the center (all the way to the bottom.) Don't worry, it will spring back once it hits the oven. Brush with glaze.
Place a small ball in the center of the roll and again brush entire roll with glaze, taking care not to let glaze pool at the edges between the dough and the mold.
Place individual molds or muffins pans onto a cookie sheet to keep the bottoms from over-browning.
Preheat oven to 425 degrees. Then reduce temperature to 375 degrees and bake rolls for about 15 minutes. Loosely cover rolls with foil if tops are getting too dark. Internal temperature should reach 185-190 degrees.
Allow the rolls to cool for a couple of minutes. Turn out onto a cooling rack.
Best eaten the same day but also good toasted the next day.

Shaping a brioche loaf:

Roll out dough into an 11 x 15-inch rectangle with the short side towards you.
Roll up dough, starting with the short side. Divide into four equal parts.
Place each roll perpendicular to the long side of a greased 9 x 5 loaf pan. (I use Baker's Joy.)
Cover with a tea towel or shower cap. Allow dough to rise until it reaches the top of the pan.
Preheat oven to 425 degrees F.
Brush loaf with glaze.
Set oven temperature back to 350 degrees F. Bake for 30-35 minutes or until internal temperature reaches 190 degrees F. Cover loosely with a piece of aluminum foil if the top starts to get too brown.
Let the bread cool for about 10 minutes before removing it from the pan to a cooling rack.
Notes
Variation: Sugar-Crusted Raisin Brioche
Add 3/4 cup of raisins or currants to the dough a couple of minutes before the end of the dough cycle. Continue with step #7 in the general directions above.
Shaping Raisin Brioche
Divide the dough into 24 equally-sized portions after the overnight chill, then roll into balls.
Place two balls side-by-side in each cup of a muffin pan.
Next, allow the formed rolls to rise for about 2 hours.
Finally, glaze and sprinkle rolls with sugar and bake according to directions above.
Nutrition Information:
Yield:
12 rolls
Serving Size:
1 roll
Amount Per Serving:
Calories:

259
Total Fat:

14g
Saturated Fat:

8g
Trans Fat:

0g
Unsaturated Fat:

5g
Cholesterol:

94mg
Sodium:

341mg
Carbohydrates:

26g
Fiber:

1g
Sugar:

2g
Protein:

6g