Preview: How to Make a Gingerbread Church House includes patterns and directions for making a gingerbread church house to celebrate the holidays.
Imagine what it would be like to build a gingerbread house with a parent or grandparent. What a memorable tradition!
My sister Kay has a legendary and longstanding reputation for making gingerbread houses.
How do I know?
The local newspaper published an article with pictures telling about her houses. In my book, that makes it official.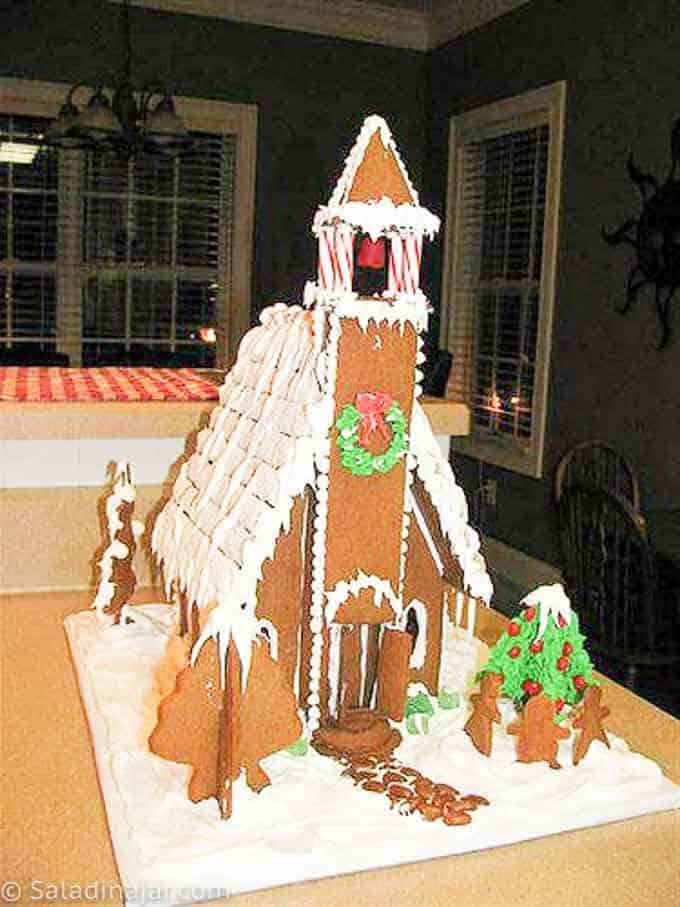 Her grandkids (Ellie pictured here) may not carry on the legacy, but the memories of watching and helping my sister work may be even more valuable.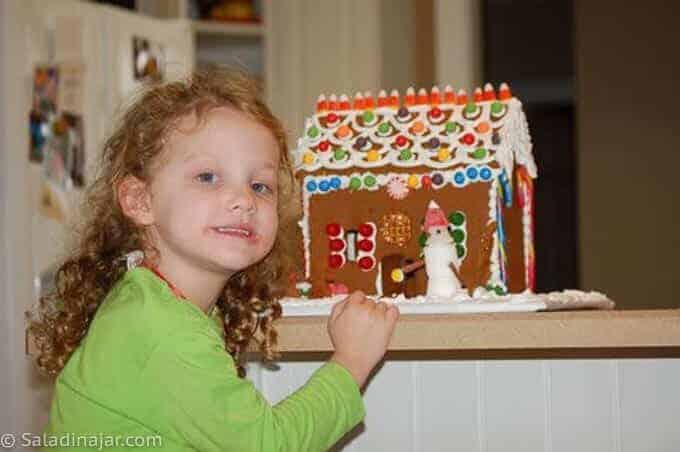 Recently, she took pictures of the process and was gracious enough to write out the instructions.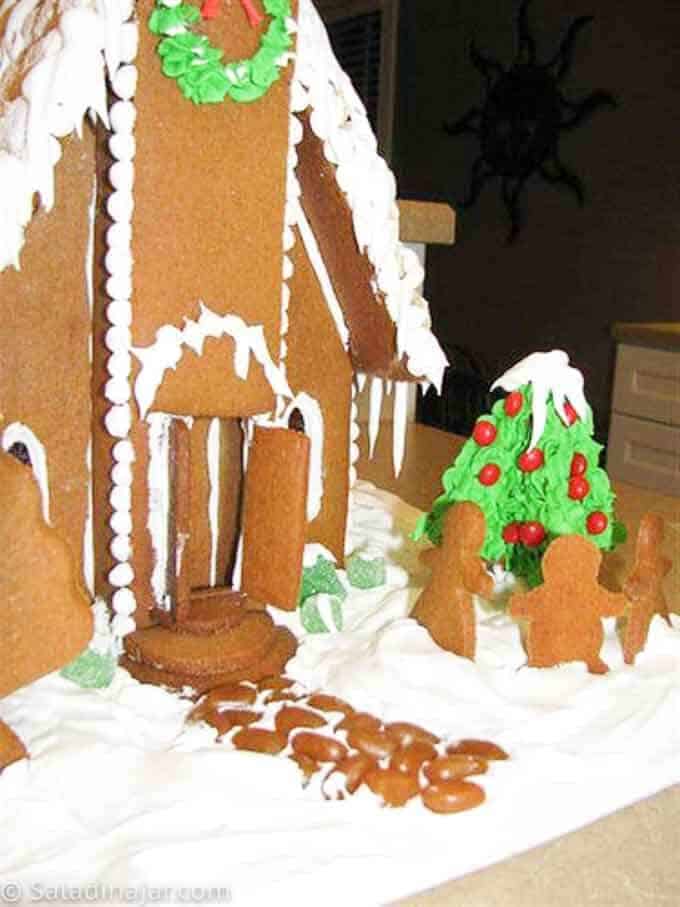 If you are looking for…
a new holiday tradition,
and you have a little bit of patience,
and you have kids or grandkids who like projects in the kitchen
Then, this is for you.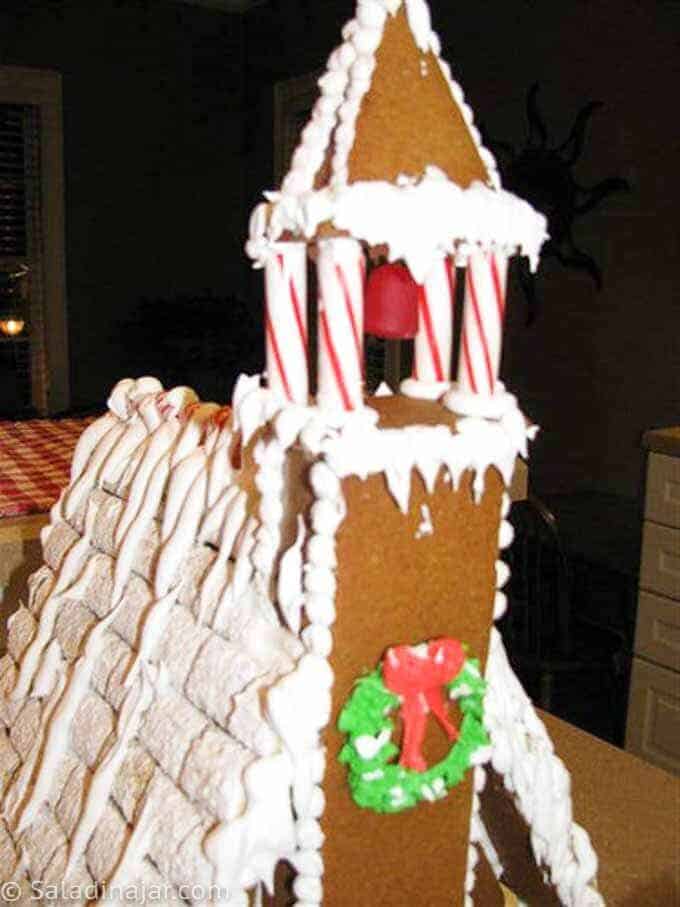 See the printable recipe for the gingerbread at the end of this post. My sister has written a detailed tutorial to hold your hand through the entire process.
How to assemble a gingerbread church house:
Click here to see pattern pieces for making a church house.
Preparing pattern pieces:
A manila file folder is a good weight of paper to use for the patterns. I prefer to use regular paper glued to the dull side of freezer paper (found in the foil, plastic wrap, etc. section of your grocery store). The bottom of the pattern will then be the shiny side of the freezer paper and will resist moisture, flour, grease, etc. Write on the top of each pattern piece a description and the number you need to make. For example, "roof – cut 2."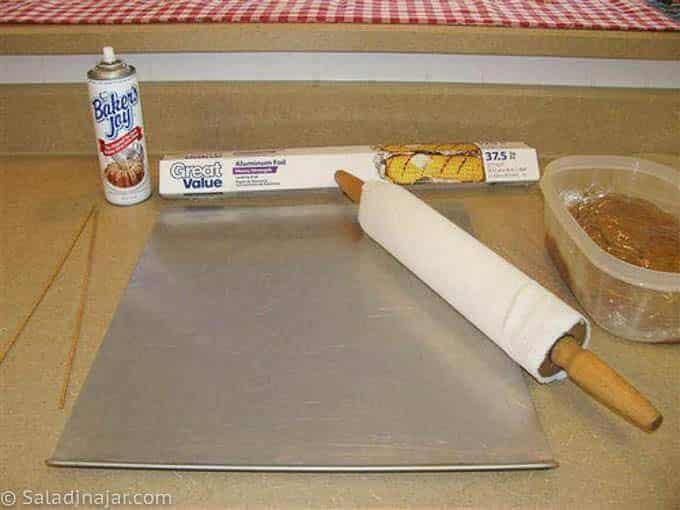 First: Prepare your baking sheets.
I prefer the air-insulated cookie sheets because they cook more evenly and there are no rims on 3 sides. You can also use a jelly-roll pan turned upside down.
Cover the baking sheet with heavy aluminum foil and then spray it with Baker's Joy.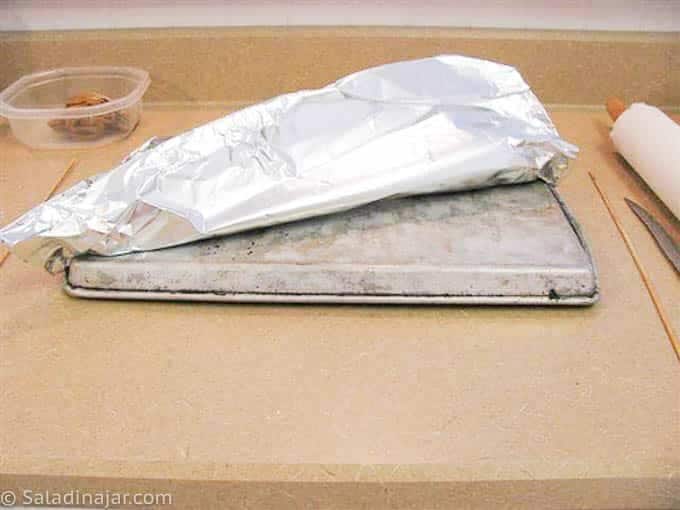 Second: Place your cookie sheet on a doubled bath towel.
The towel prevents it from sliding around on the countertop. It will also catch some of the floury mess.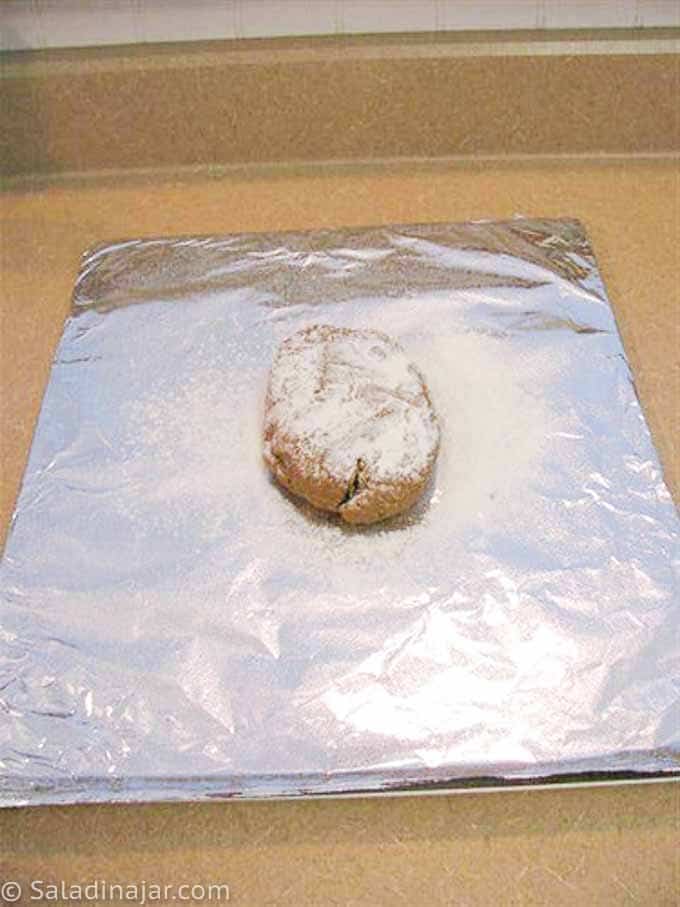 Third: Roll out the chilled dough directly on the prepared cookie sheet.
Make a ball of dough about the size of two fists and flatten it slightly with your hand into a rectangular shape. Using a rolling pin (preferably covered with a pastry stocking) and flour, as needed, roll the dough out to 1/8″ thickness.
Use two 1/8″ dowels (available at hardware or craft stores) cut the length of the cookie sheet. Letting the ends of the rolling pin rest on dowels gives a more even thickness. That's important!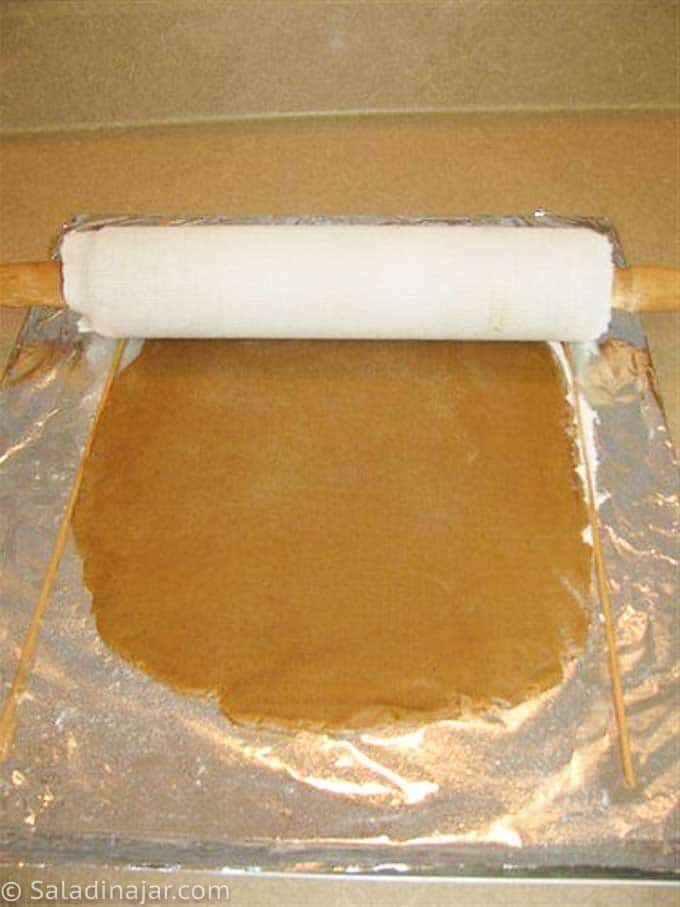 Fourth: Lay your pattern pieces on the rolled out dough.
Allow about 1/2″ margin around each piece to allow for expansion as it bakes. Using your thinnest knife with a sharp tip, cut around each pattern piece. Carefully remove the dough between the cut pieces and return it to your dough bowl. Remove the paper pattern.
Make your largest pieces first, and since small pieces bake much faster than large ones, try to group pieces on each tray that are somewhat the same size.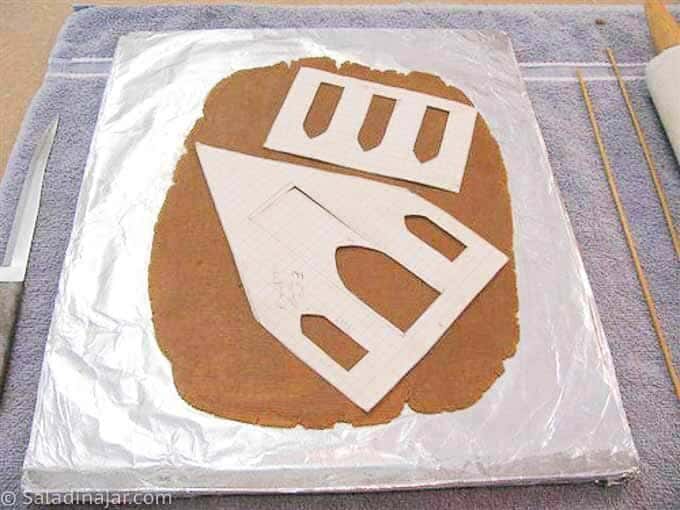 The KEY to successfully cutting out gingerbread is to keep the dough chilled as much as possible.
Rolling out the dough and then putting it in the freezer for 30 minutes before you cut the pieces works well. Keep the unused dough in the refrigerator as much as possible.
Working with 3 or 4 trays makes it easier to get a "system" going for rolling, cooling, cutting, baking, etc. If you still have trouble with the pattern pieces sticking to the dough, dust the bottom of the pattern lightly with flour before placing it on the dough.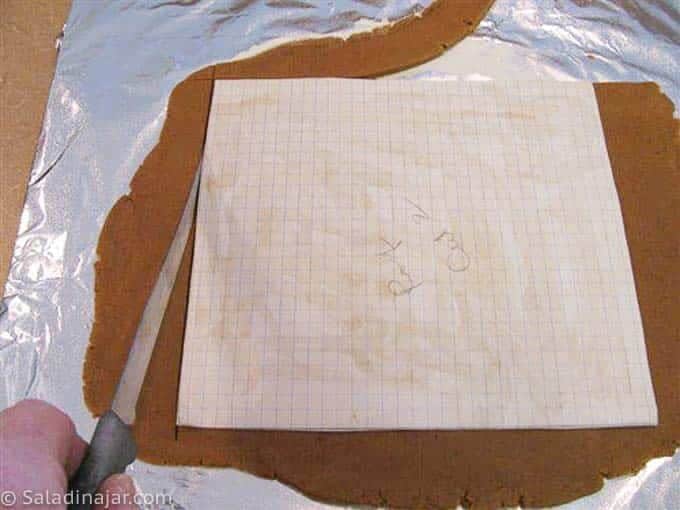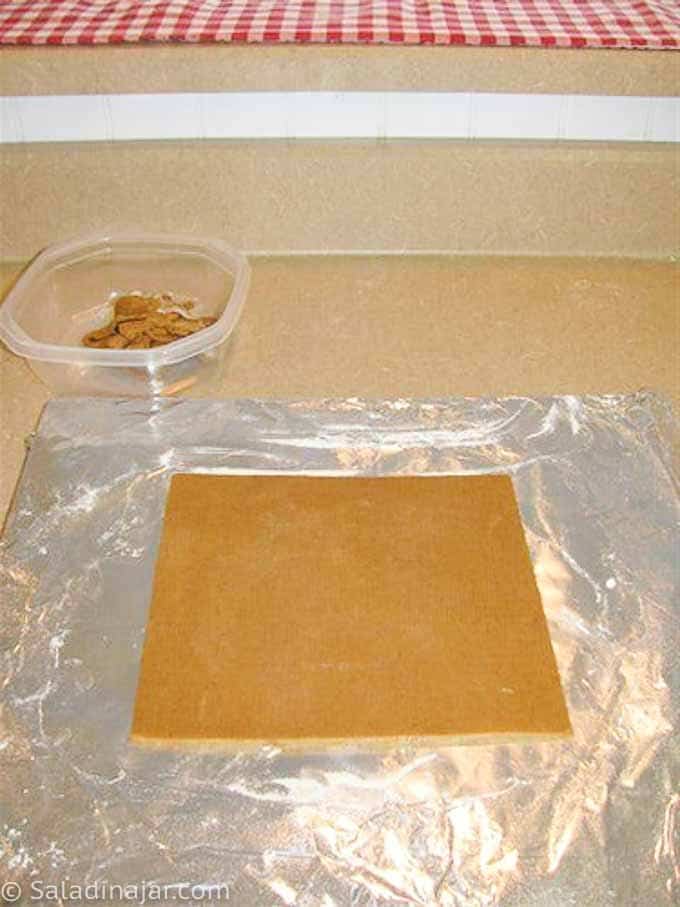 Fifth: Preheat oven to 350 degrees.
Bake large pieces about 14-18 minutes, and small pieces approximately 8-10 minutes.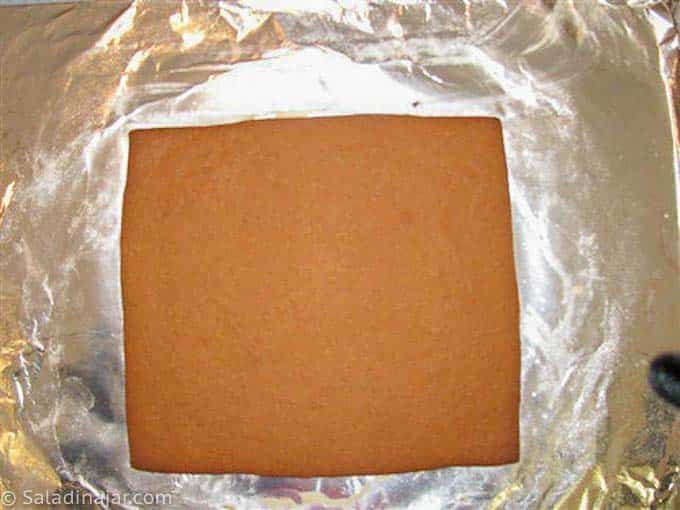 Sixth: When you remove the tray from the oven, IMMEDIATELY place it back on your towel.
Lay the paper pattern back on top of the gingerbread, and using your sharp knife, trim around the pattern piece again. The expansion during baking will cause it to be slightly larger and more irregular than the pattern.
This trimming has to be done while the gingerbread is hot because it hardens as it cools. Believe me, this will save you from a lot of frustration when you begin to assemble your house.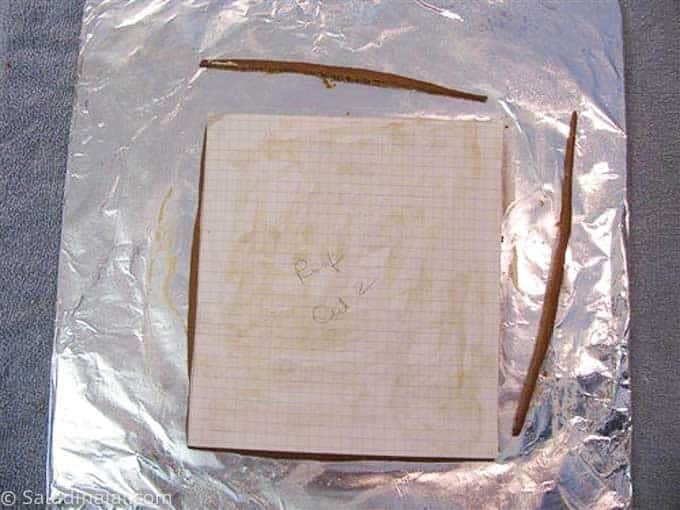 Once you have finished trimming, allow the gingerbread to cool for about 10 minutes and then remove from tray and lay it on a flat surface to finish cooling. If you have the time, put your pieces on flat trays and leave in the oven overnight with just the oven light on. This will help the drying process.
A word of caution…
I strongly suggest that you don't bake gingerbread on rainy, humid days. One of my first houses suffered a severe earthquake because of moisture.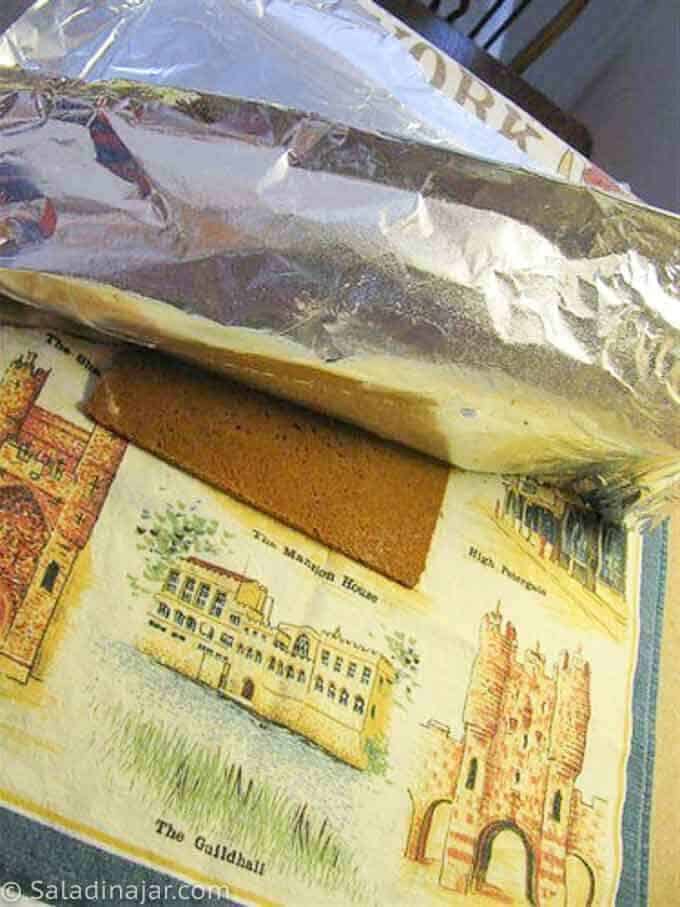 Seventh: Prepare your base.
I prefer a double layer of corrugated cardboard covered with white freezer paper (shiny side out). Foam board or cake plates will also work for small projects. Decide where you want to place the house on the base, considering how much space you want around each side for shrubs, trees, sidewalks, etc.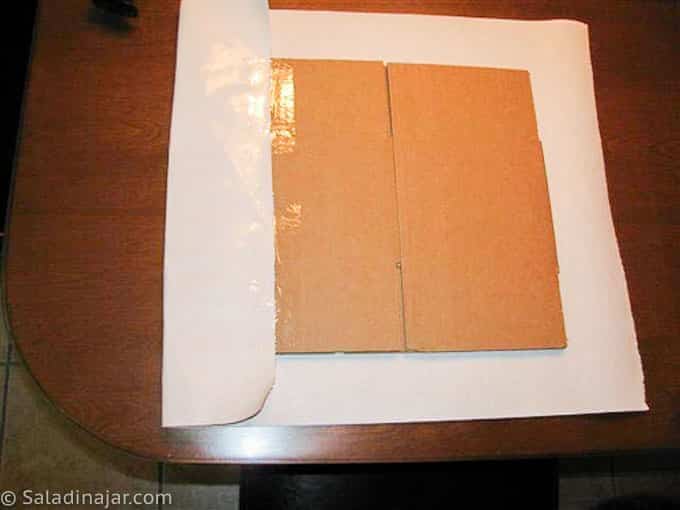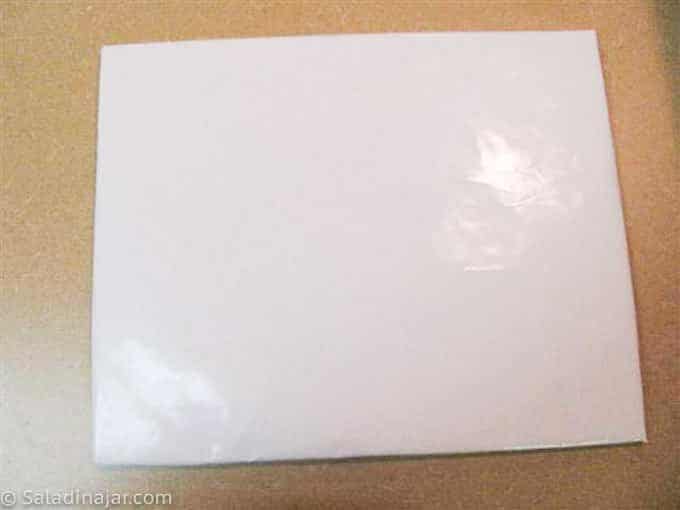 Time to put the house together…
See the printable recipe for the "glue" frosting at the end of the post.
Let the fun begin!
Fill your pastry bag (or a plastic baggie will also work – but not as well) with icing, and use a medium-size decorating tip (found in the cake decorating section).
Assembling the walls of the Gingerbread Church House:

Note: Some people prefer to decorate the sides BEFORE assembling the house. For example, in this church house I was making, I wanted "stained glass" windows, and that was easier to do with the sides laying flat on the counter.
Have handy 4 unopened soup cans, or something of similar weight and size.
Pipe a generous line of icing on your base where you want the first side to be. Pipe a smaller line of icing on the bottom edge of the gingerbread and set the piece in place. Prop the piece on each side with a soup can.
Continue until all sides are in place. Glue any place that two pieces of gingerbread touch. The icing should dry fairly quickly but you have several minutes to move the pieces to make it all fit together.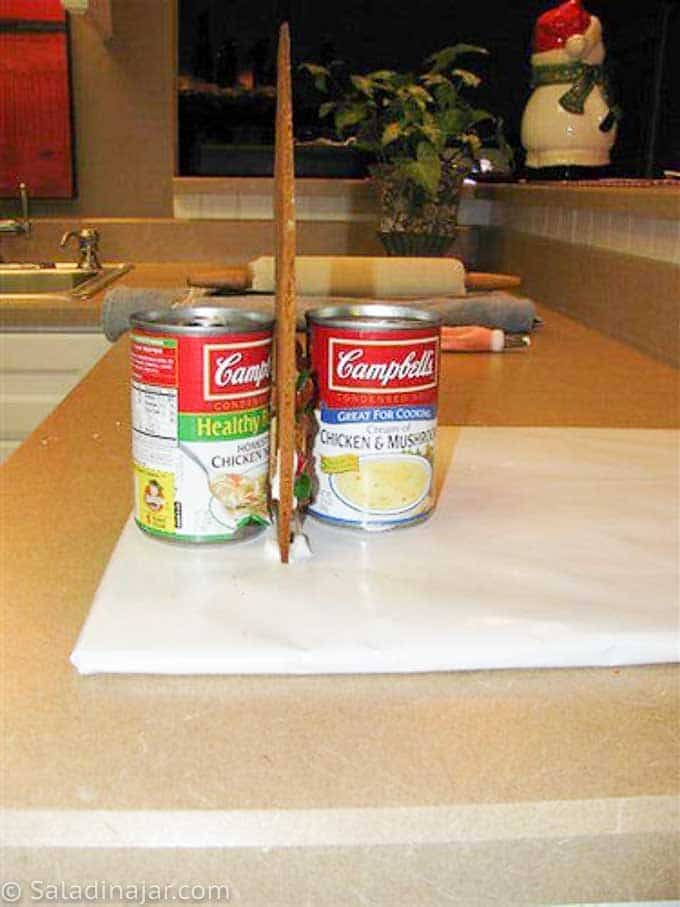 It's a good idea to make a "dry run" fitting the sides together before you apply the frosting. Be consistent about edges being inside or outside the piece next to it.
While it sounds confusing, you will figure it out if you play with the pieces.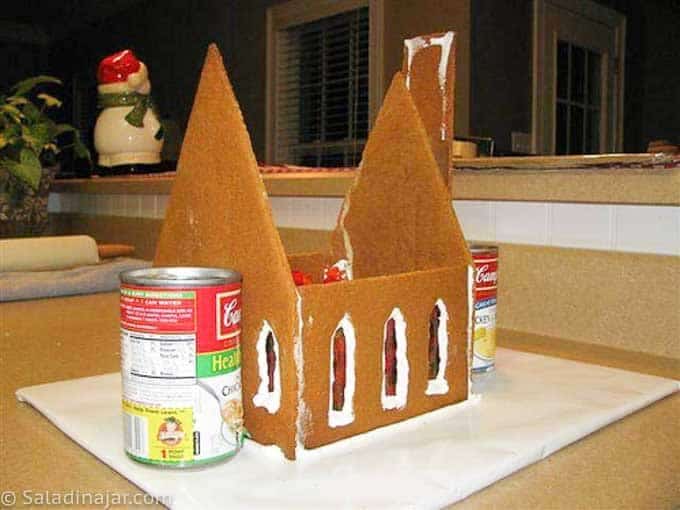 5 Hints for Making a Gingerbread House:
#1
When piping becomes difficult…
If it seems hard to squeeze out enough icing when you are trying to pipe or you can't make a continuous line because it breaks off, you may need to thin your icing with a small amount of water, OR you need to use a bigger decorating tip.
#2
Interested in doing "replica" gingerbread?
If you are interested in doing "replica" gingerbread (in other words, not a gingerbread house all covered with frosting and candy) , you might prefer to add some cocoa to your icing to color it. Your seams will not be obvious then, and won't have to be covered. The cocoa will cause the icing to be a bit drier, so you may have to add more water.
#3
Need a break?
At this point, allowing the assembled walls to dry overnight before proceeding is always a good idea. If it is a small house, you can go ahead and add the roof when the sides feel firm, and then let it all dry overnight.
#4
Let your imagination and creativity run loose.
Using your icing "glue", decorate with candy, cookies, crackers, cereal, gum, etc. Color your icing for decorating details. The cake decorating gel colors work best, but regular food coloring will also work as long as it doesn't thin the icing too much.
#5
Working with a preschooler?
If you are working with a pre-schooler, you can put the icing "glue" in place and let the child place the candy on it. Elementary students can probably handle both the glue and the candy with supervision. It is perfectly legal to lick the icing from your fingers!
Take a look at the decorating a 4 yr. old can do. She decided on everything herself. All I did was put the house together and apply icing for her.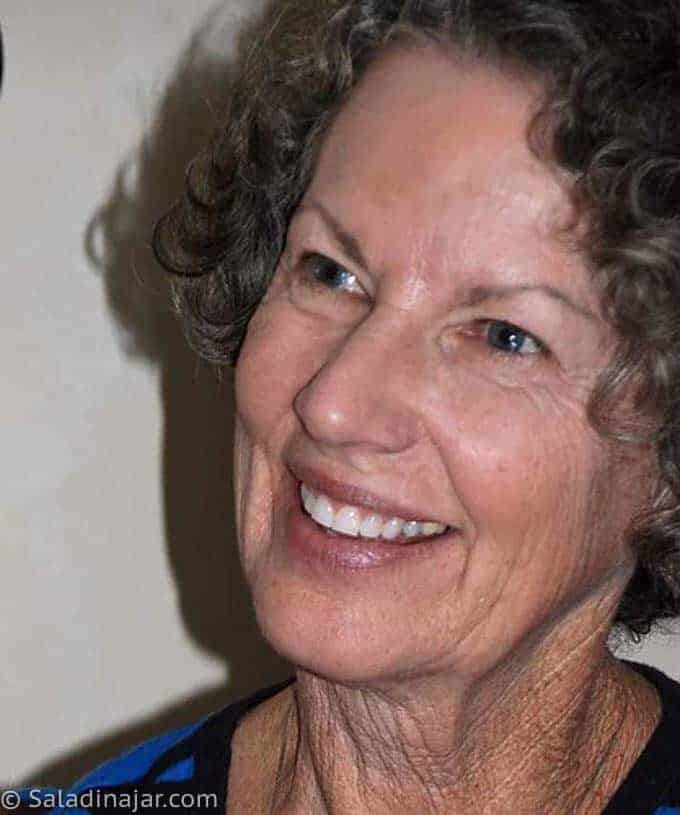 Thanks, Kay, for such an informative post.
What is the next recipe you would like to see?
If you enjoyed this recipe, it would help others and me if you gave it a five-star rating inside the recipe card below. 🤩 No comment required. Thank you.

Hope to see you again soon!
Paula
p.s. Questions or suggestions? Please email me: Paula at saladinajar.com.