Preview: Baked Flautas with Chicken and Spinach are made with flour tortillas, rotisserie chicken, spinach, and cheese. Serve with your favorite salsa and guacamole and get ready to hear, "More, please!"
These are so tempting, you won't be able to stop with just one. I usually have no room for dessert when I've had my fill of these Baked Flautas or Taquitos with Chicken and Spinach.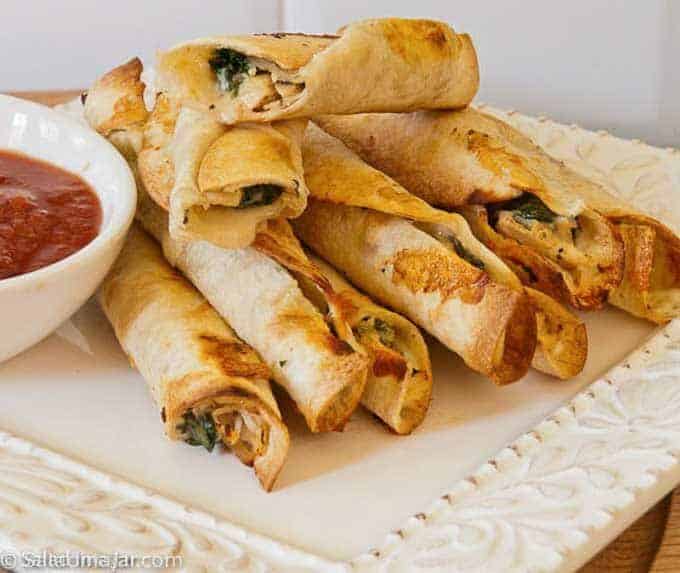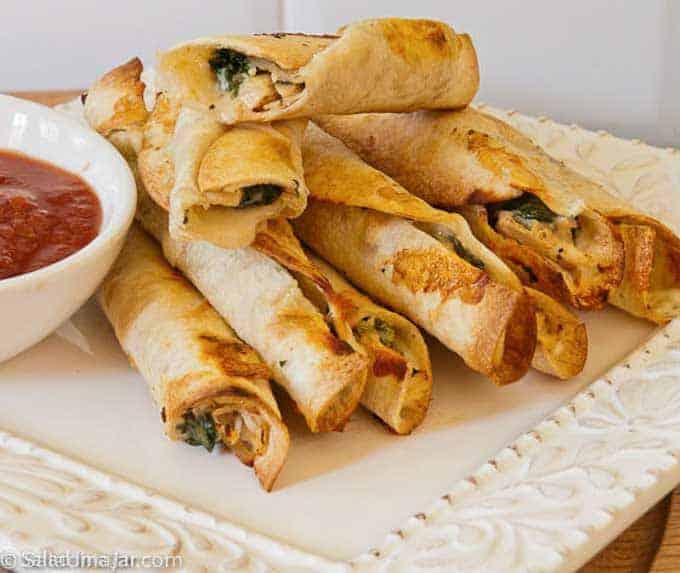 Recipe Inspiration
Anytime I have a partial package of fresh spinach hanging out in my fridge, this is my go-to solution for using it. In addition, you will need some flour tortillas, leftover rotisserie chicken (which I freeze for occasions like this), and some spicy cheese.
Some people call rolled up tortillas with a filling tacquitos. Others say they are flautas. The official difference seems to depend on the type of tortillas used.
However, the lines have been blurred by restaurants that use both terms interchangeably no matter what kind of tortillas are involved.
Ingredients
FLOUR TORTILLAS: Start with my favorite TortillaLand uncooked flour tortillas available dependably at Costco and other grocery stores. I like the TortillaLand tortillas because of the way they bake up flaky and crispy.

Another option is to make the tortillas yourself. This is my favorite homemade tortilla recipe. Obviously, you can use store-bought already-cooked flour tortillas.

CHICKEN: Shredded rotisserie chicken is what I usually pull out of my freezer for this recipe.


CHEESE: Use Pepper Jack cheese for the heat and flavor it adds. Monterey Jack would be a milder choice. Cheddar cheese also works.

If you use cheese without peppers, you might consider adding some chopped pickled jalapeños for the sake of spiciness.


SPINACH: Fresh spinach is the easiest in my book. If you use frozen spinach, be sure you squeeze it dry before adding it to a tortilla.
What to serve on the side
Make some fresh guacamole or use salsa as a dip for your flautas. They aren't the same without condiments. By the way, you can read the secret for buying good avocados here.
Variations
These taquitos are similar to the Crispy Egg and Sausage Breakfast Taquitos I've written about in the past. They are not limited to breakfast.
Assembling Baked Flautas with Chicken and Spinach: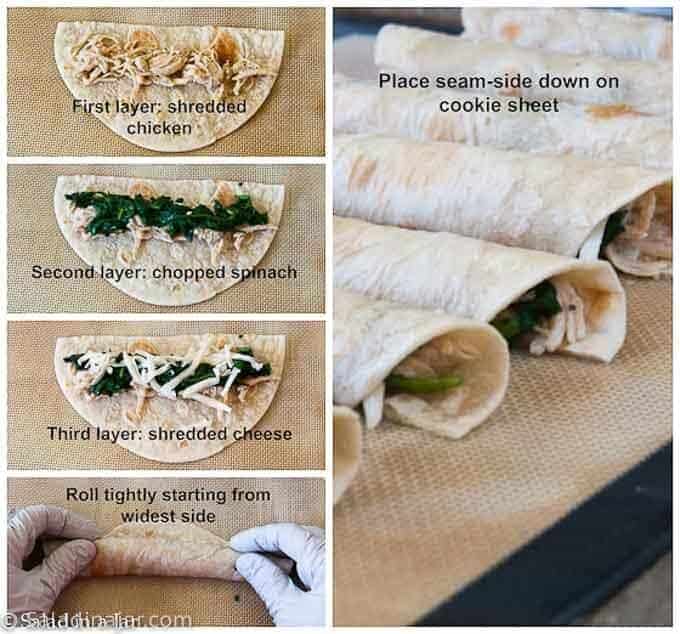 ---
More recipes for Tex-Mex lovers
---
Did you enjoy this recipe? If so, you can help others and me by leaving a 5-star 🤩 rating inside the recipe below. No comments are required.
Hope to see you again soon!
Paula
p.s. If you have any questions or suggestions, you can email me privately: Paula at saladinajar.com.