Simple Baked Flautas with Chicken and Spinach: Easy to Customize
Sneak Preview: Make Baked Flautas with Chicken and Spinach (aka Taquitos) with rolled flour tortillas, rotisserie chicken, spinach, and cheese. Serve with your favorite salsa and guacamole and get ready to hear, "More, please!"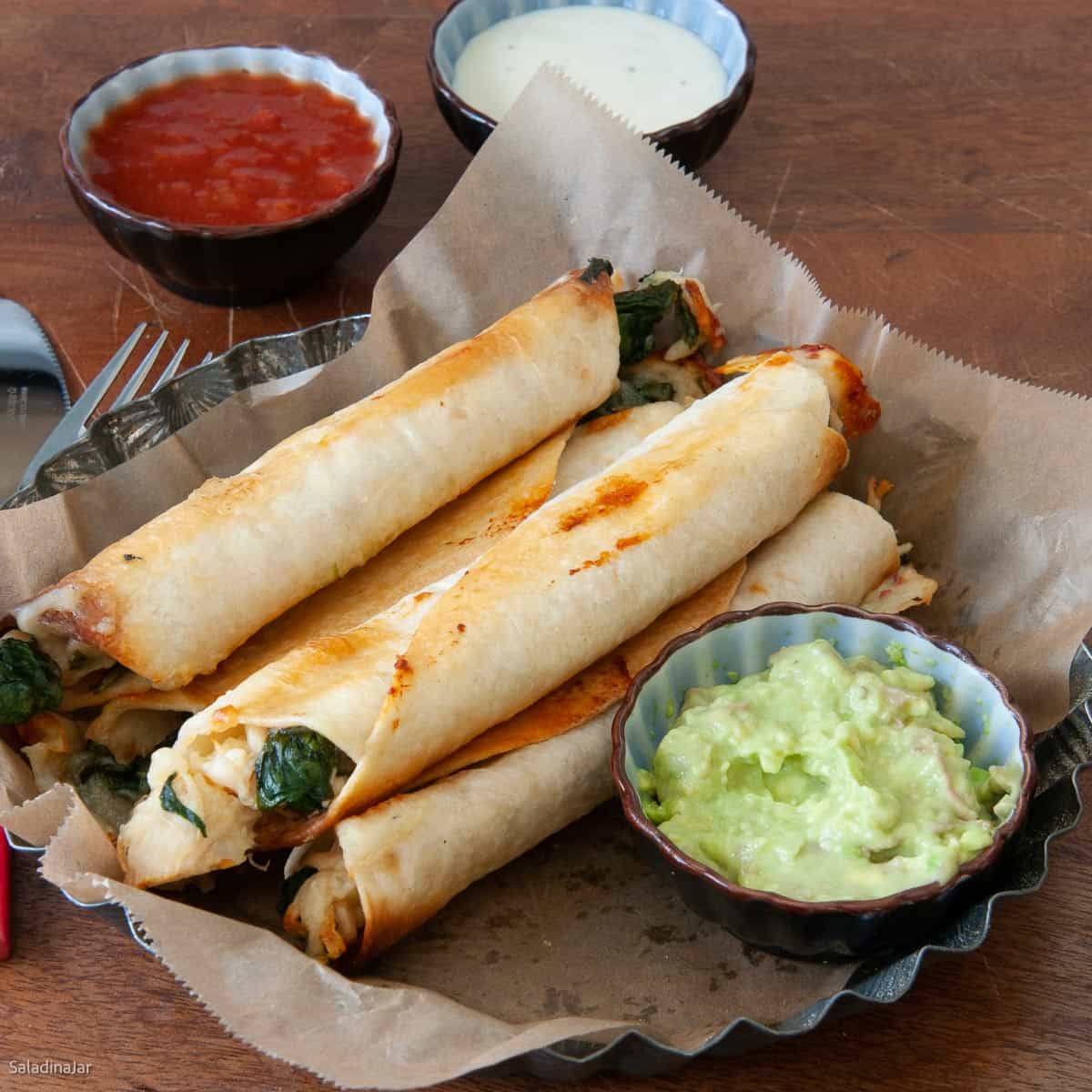 As an Amazon Associate, I earn from qualifying purchases.
Baked flautas are my go-to solution whenever I have a partial package of fresh spinach hanging out in my fridge. In addition to spinach, you'll need some flour tortillas, leftover rotisserie chicken (which I freeze for occasions like this), and spicy cheese like Pepper Jack.
This flauta recipe is so simple it calls for only four ingredients. However, feel free to add onions, jalapenos, garlic, beans, cumin powder, or other spices to kick up the flavor.
This is a good recipe for singles and couples. It's easy to scale the recipe down. Instead of heating a full-size oven, use your toaster oven or a portable grill like a Ninja Foodie to bake these up in a hurry.
Ingredients and substitutions: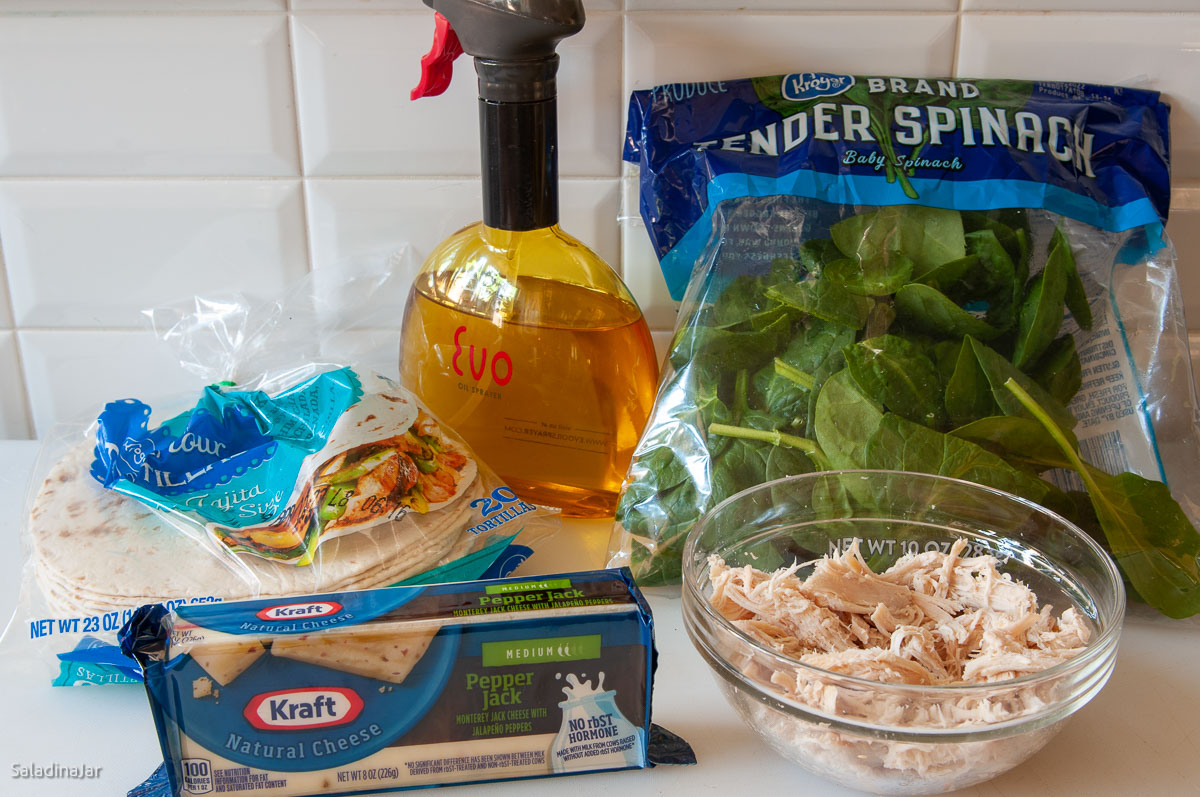 FLOUR TORTILLAS: I start with my favorite TortillaLand uncooked flour tortillas available dependably at Costco and other grocery stores. I like the TortillaLand tortillas because of the way they bake up flaky and crispy.

Another option is to make the tortillas yourself. This is my favorite homemade tortilla recipe. Obviously, you can use store-bought, already-cooked flour tortillas. I encourage you to look for and buy the thinnest ones at the store. They will bake up crispier than thick tortillas.


CHICKEN: Shredded rotisserie chicken is my first choice. Ground beef, leftover roast beef, or turkey would make great substitutes. Lunch meat will work as well.


CHEESE: Use Pepper Jack cheese for the heat and flavor it adds. Choose Monterey Jack for a milder flavor. Cheddar cheese also works.

If you can't find Pepper Jack, I would consider adding fresh or pickled jalapenos to provide some spice. After all, Tex-Mex should never be bland.


SPINACH: Fresh spinach is the easiest in my book. If you use frozen spinach, be sure you squeeze it dry after heating and before adding it to a tortilla. If you are feeding a spinach hater–just leave it out. That's what I do for the grandkids.
What to serve on the side:
Let's face it. These are simple flautas. They aren't the same without condiments. Fresh guacamole, salsa, sour cream, or ranch dressing are all appropriate dips for your flautas.
Another way to serve flautas is on a bed of lettuce with shredded cheese on top and your choice of condiments.
By the way, you can read the secret to buying good avocados here if you like to make guacamole but get frustrated when buying avocados.
Can I freeze flautas?
Yes. Let baked flautas cool to room temperature. Then, double-wrap to prevent freezer burn.
I like to wrap them in foil, then plastic wrap or a plastic bag. When ready to eat, remove from the freezer and bake at 350˚F (180˚C) for 8-10 minutes until warmed through.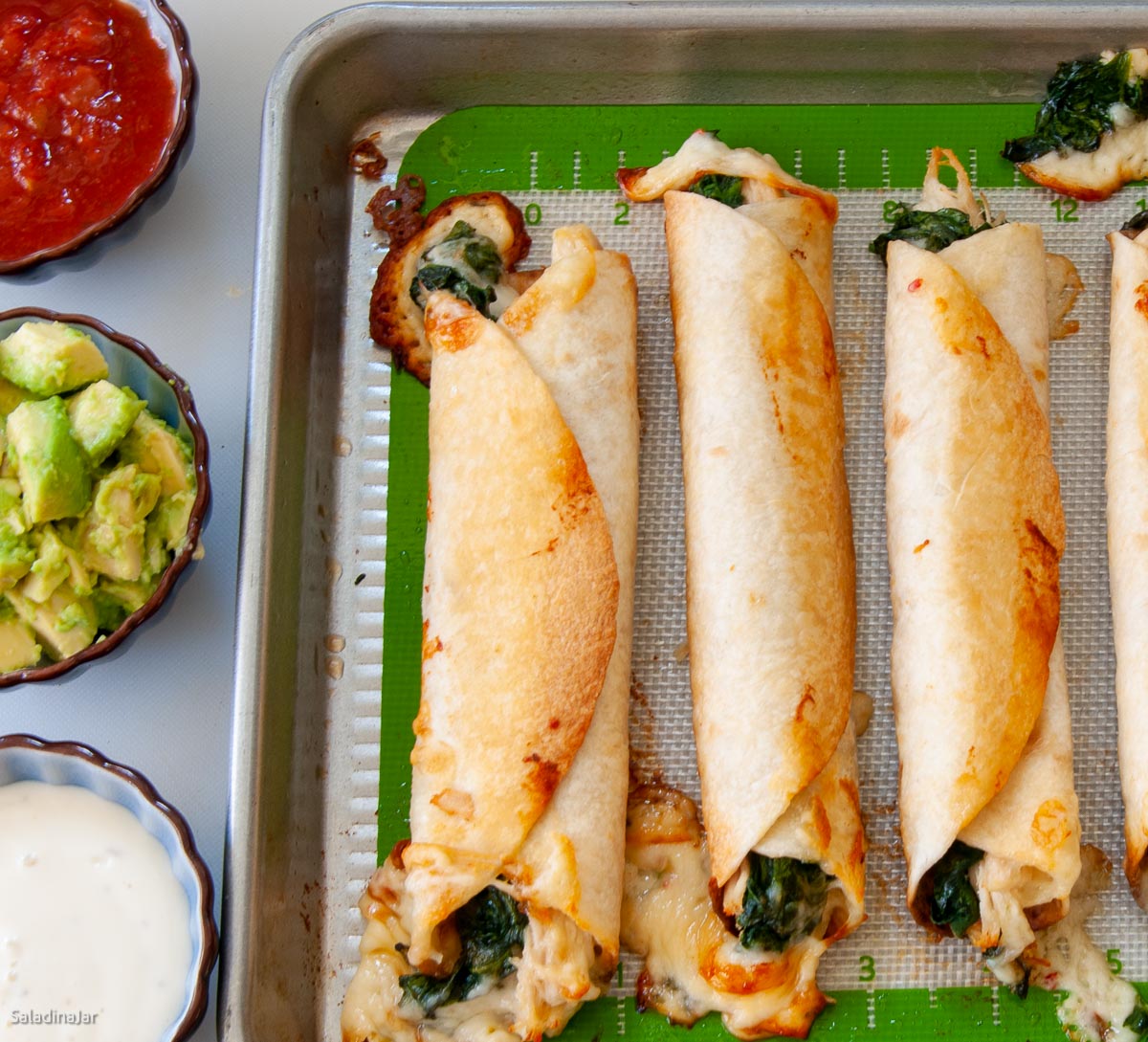 Variations:
Crispy Egg and Sausage Breakfast Taquitos are similar to these flautas. However, don't limit them to breakfast because they contain eggs and sausage.
Assembling Baked Flautas with Chicken and Spinach:
Prepare the ingredients: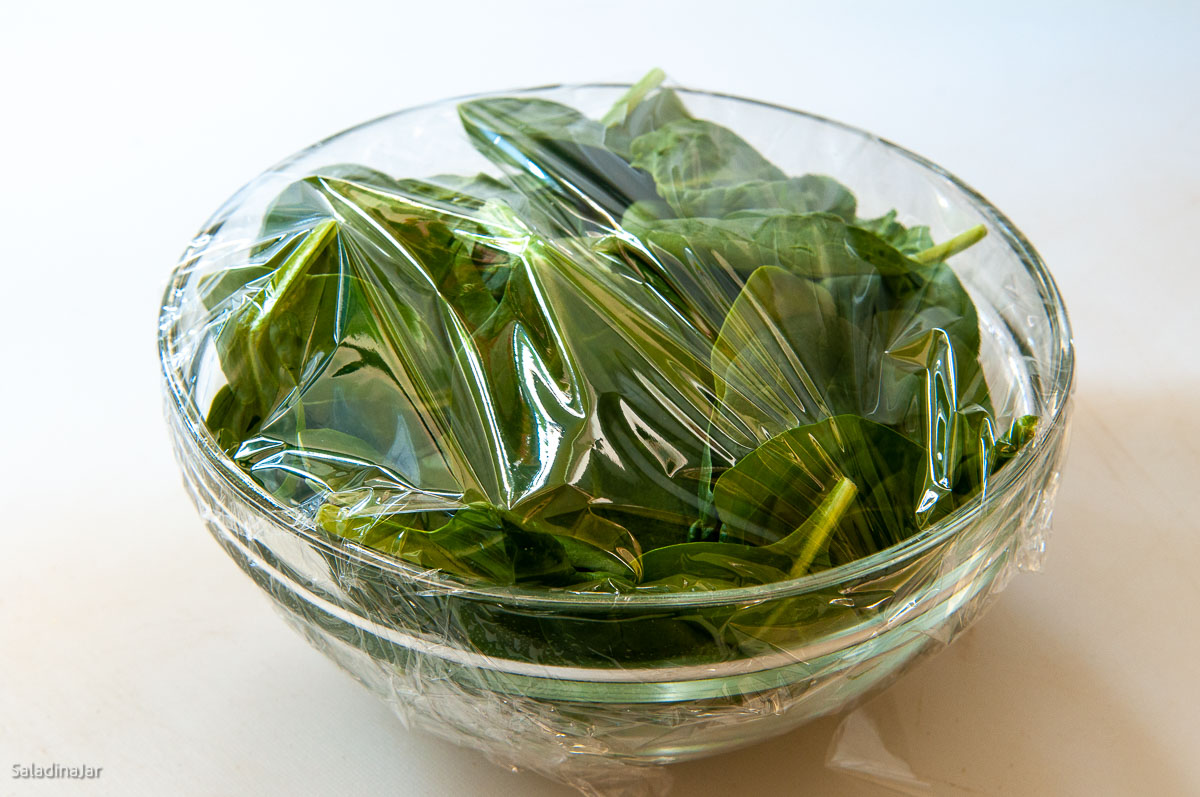 If using fresh spinach, grab a handful and put into a microwave-safe bowl. Cover with a plate or plastic wrap, then microwave for one minute. As soon as the spinach cools, squeeze out as much water as possible.
If using frozen spinach, microwave the spinach just long enough to defrost. Squeeze out as much water as you can.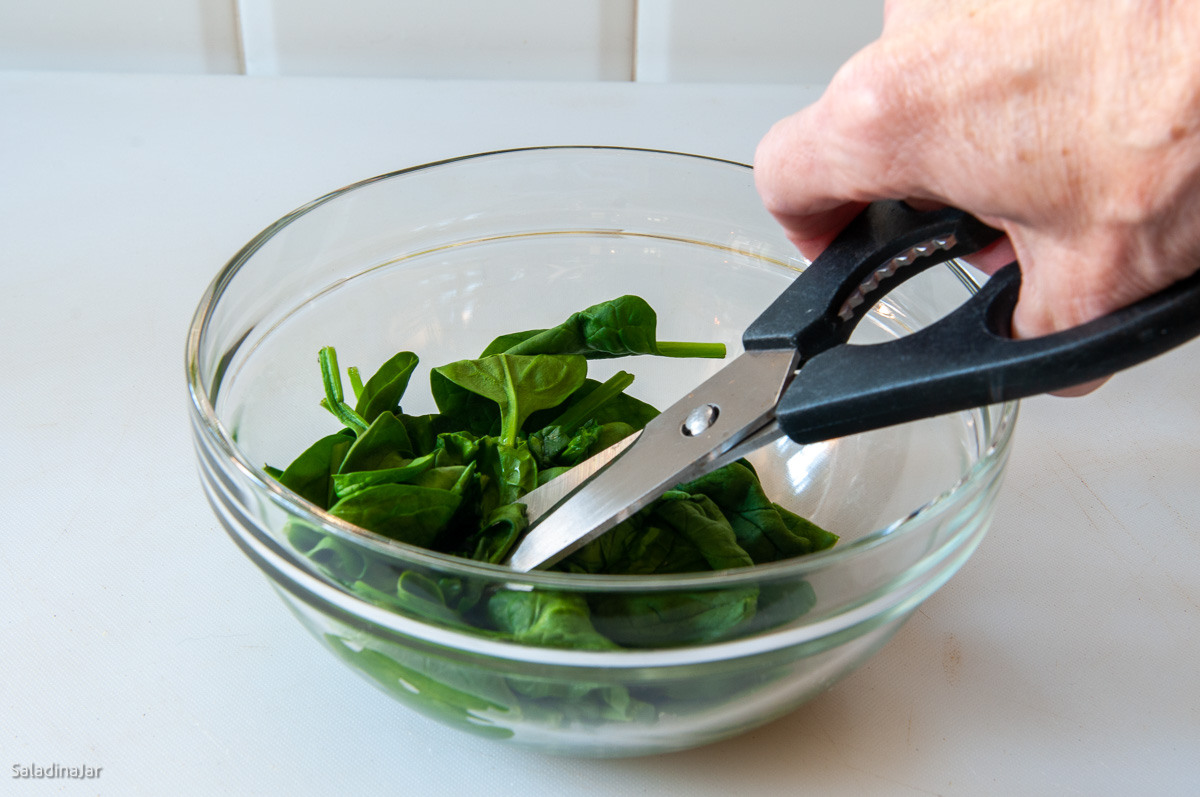 I use kitchen shears to snip the spinach into smaller pieces. Doing this makes it easier to eat the flautas.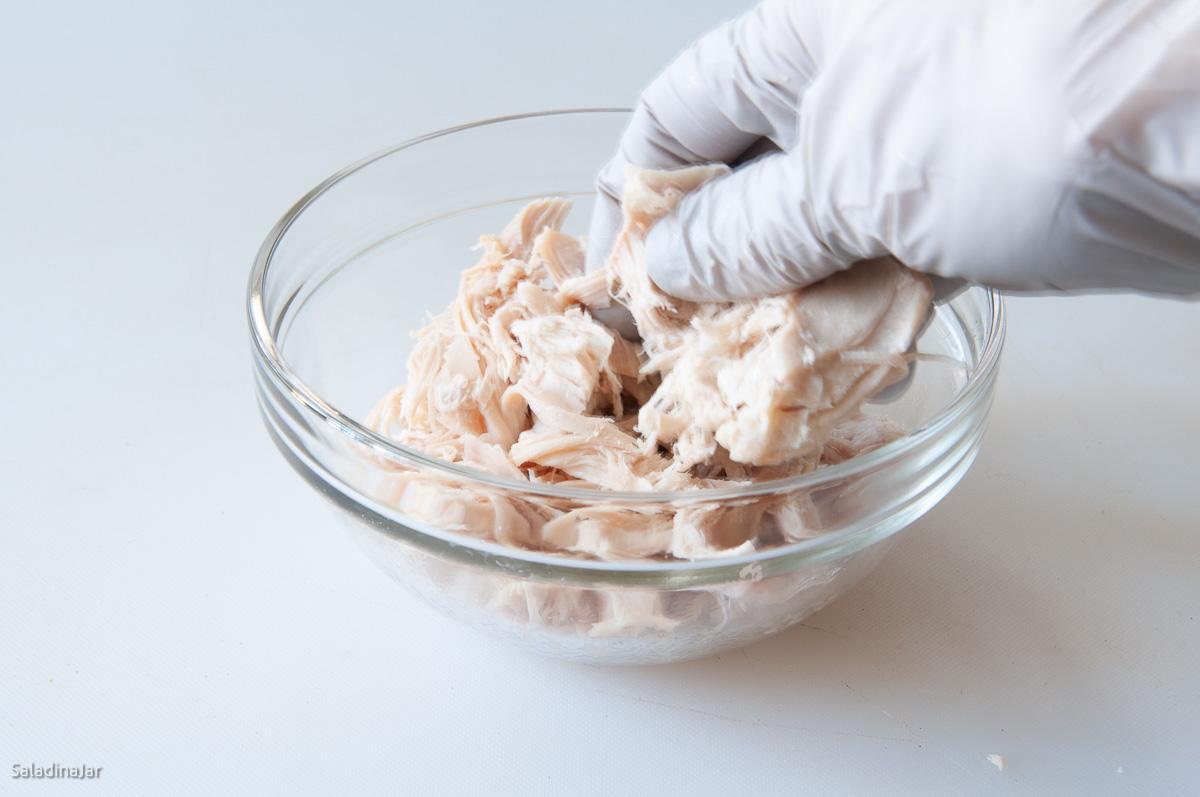 Shred the chicken with two forks or your hands.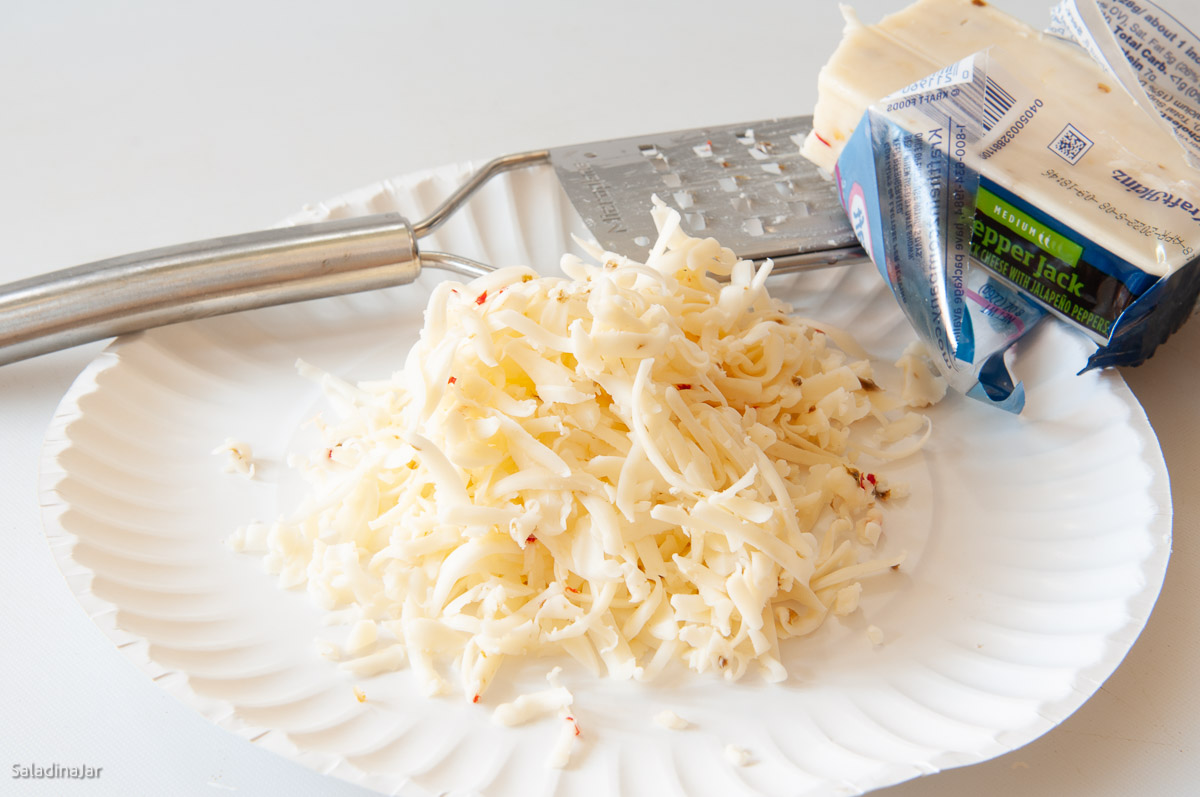 Shred the cheese.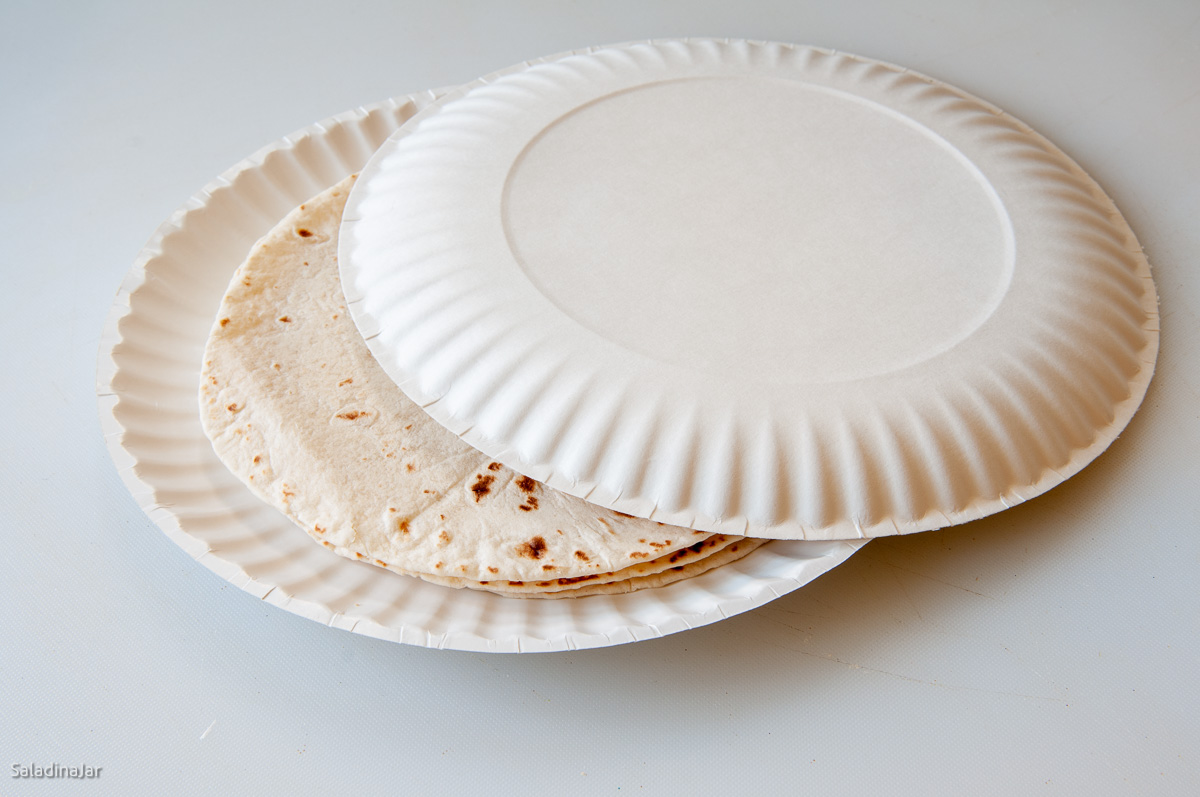 Wrap tortillas in damp paper towels. Or place the tortillas between two dinner plates or two paper plates. Warm the covered flour tortillas in the microwave for 30 seconds on HIGH.
Assembing baked flautas: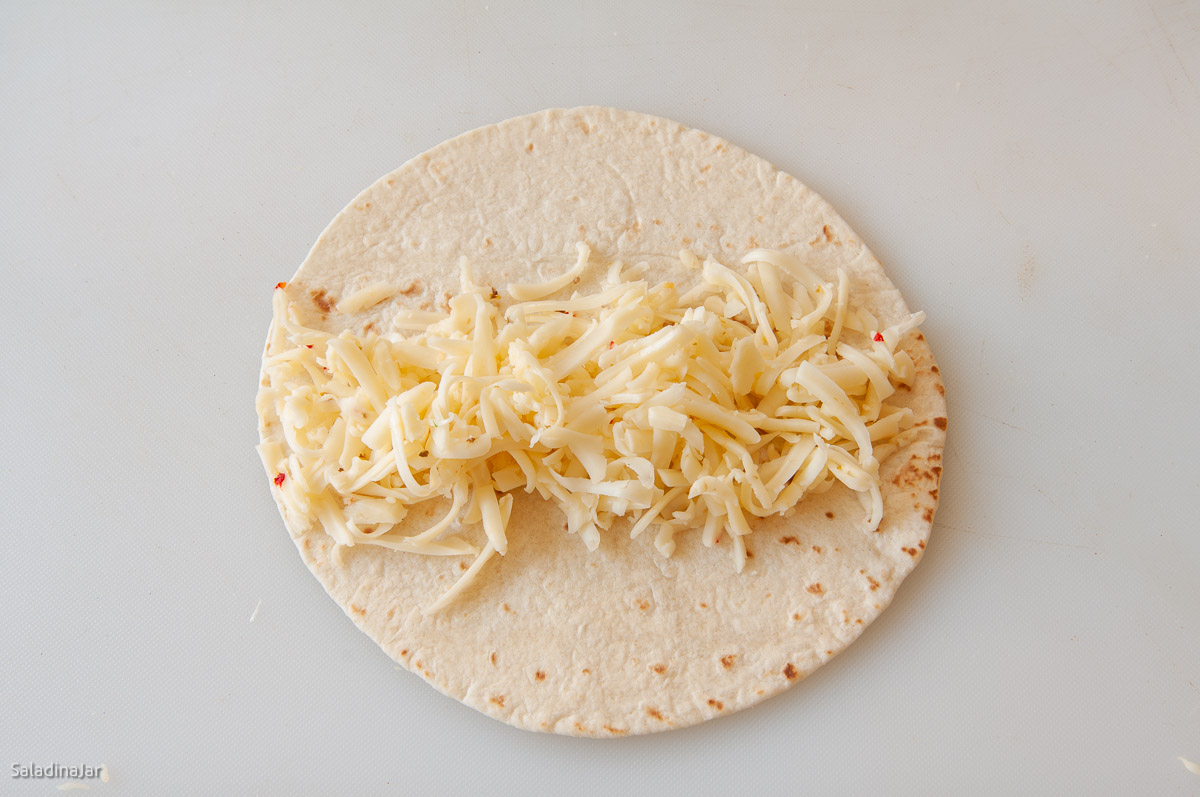 Liberally sprinkle cheese across the tortilla in a horizontal line. Make sure you push cheese to the edge.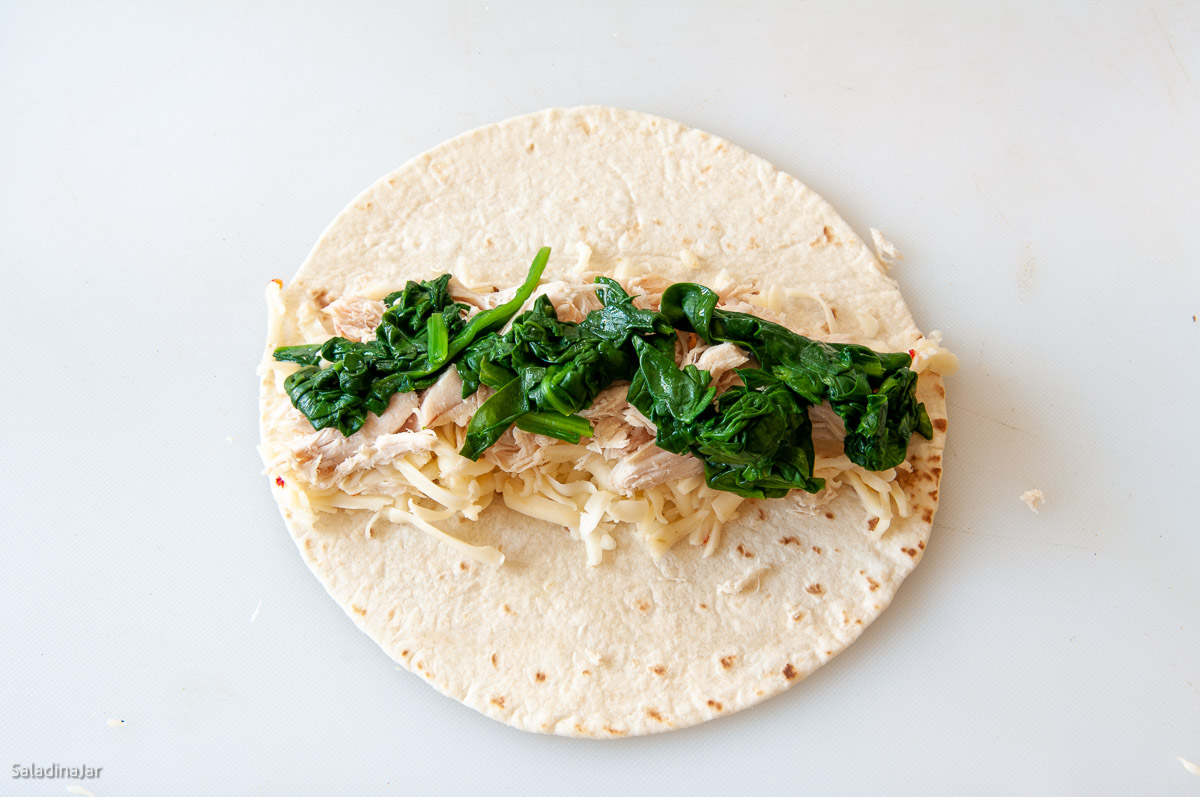 Add chicken (about 1/4 cup) over the top of the cheese, then spinach.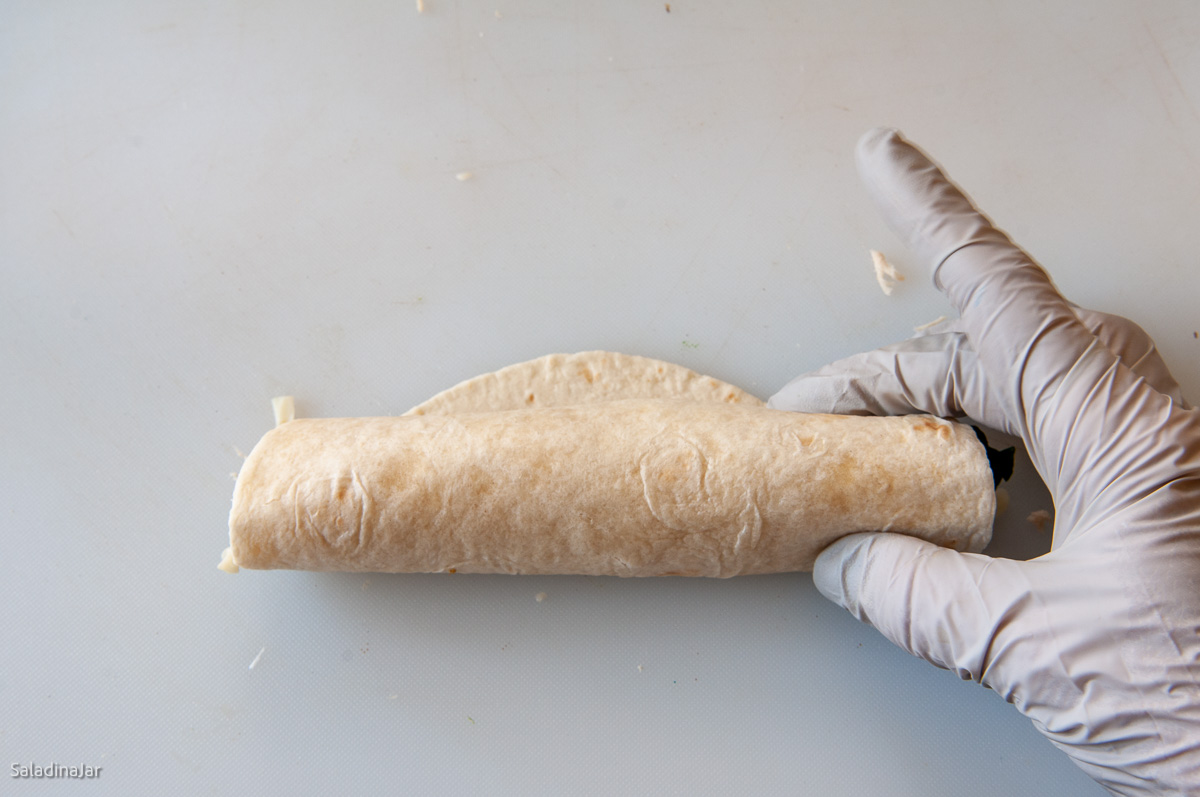 Roll the filled tortilla tightly, ensuring the ingredients inside are compact. Place them seam-side down onto a prepared cookie sheet. If you want a crispy and flavorful crust, give the rolled tortillas a quick spritz of oil or a light spray of aerosol oil. (Coconut oil is especially nice.)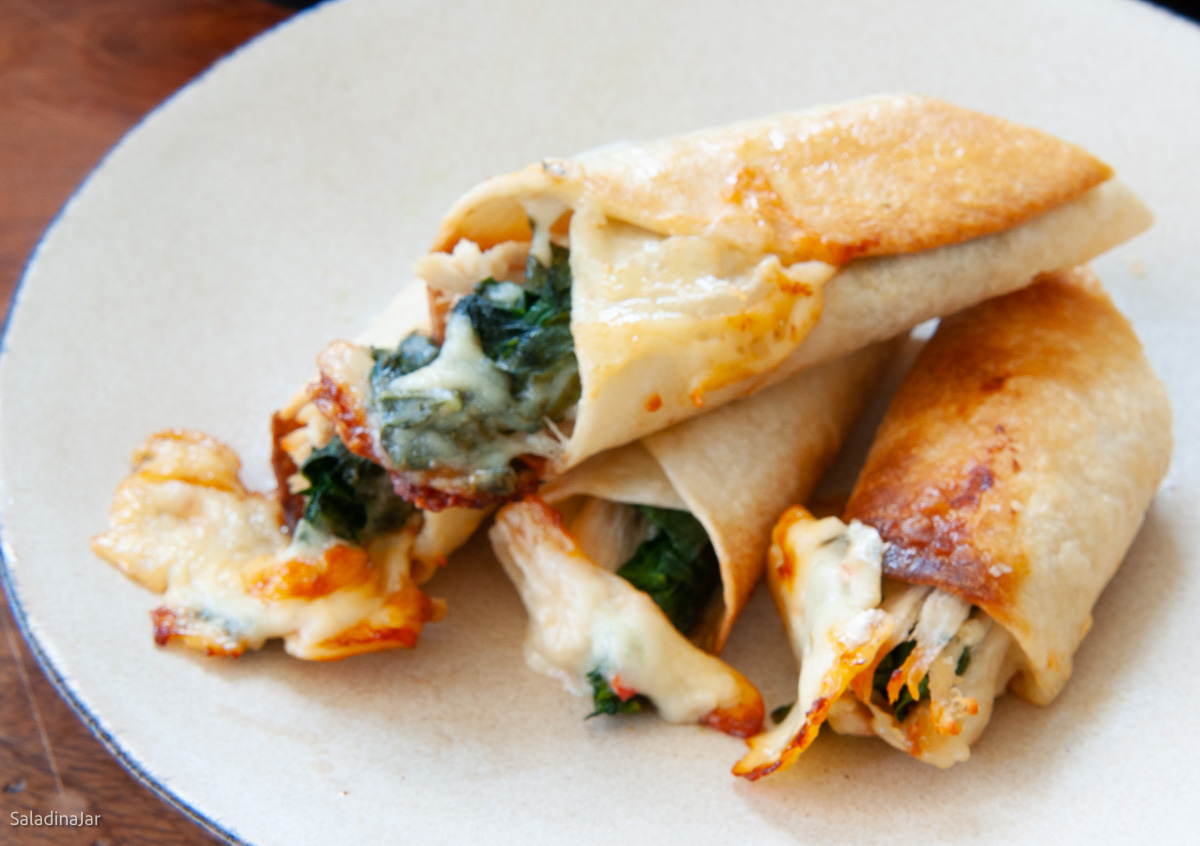 Bake in a preheated 450˚F oven for 8 minutes on one side. Flip over and bake an additional 5-8 minutes until the flautas are toasty golden brown.
---
FAQ about Flautas:
Should I use flour tortillas or corn tortillas?
Unless your corn tortillas are fresh off the griddle, they are not as easy to roll (and stay rolled) as flour tortillas. If you need a recipe that uses corn tortillas, see these Green Chile Enchiladas.
How do I soften tortillas so they will wrap more easily?
If your tortillas are very fresh, you probably won't need to soften them. Otherwise, wrap six tortillas in wet paper towels and microwave on HIGH for 30 seconds.
When the cheese melts and leaks out, how can I keep the flautas from sticking to the pan?
Nothing seems to stick to a silicone baking sheet that fits into the bottom of a cookie sheet. These sheets are fairly inexpensive and you can throw them into the dishwasher. Another option is parchment paper in place of the silicone mat. A heavy baking pan like this one from USA pans is another option.
Why are my tortillas breaking?
Tortillas break because they are too dry, too cold, or too thick. Use fresh, warm, and thin tortillas. Many people and restaurants fry corn tortillas briefly before filling them to make them less likely to break. That is not an option at my house because of the mess and the smell. Baking is healthier, too.
---
If you have questions or suggestions, email me privately to Paula at saladinajar.com. Hope to see you again soon! Paula
---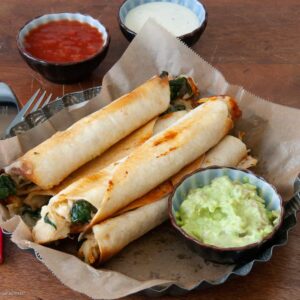 Simple Baked Flautas with Chicken and Spinach
These baked Chicken and Spinach flautas (aka taquitos) are made with flour tortillas, rotisserie chicken, spinach, and cheese.
Ingredients
6

flour tortillas

-

6 to 8-inches in diameter

3

cups

fresh spinach, chopped

-

4 oz

1½

cup

rotisserie chicken, shredded

1½

cups

Monterrey Jack cheese or Pepper Jack, shredded

-

6 oz

Olive oil or coconut oil spray
Instructions
If you are using uncooked tortillas, cook them per the directions on the package. If using cooked tortillas that are larger than 6 inches in diameter, you may want to cut them in half.

Place fresh spinach into hot skillet and heat just until wilted. Or microwave fresh spinach in a small covered bowl until the leaves wilt. Drain off all liquid.

If using frozen spinach, defrost in a small bowl in the microwave. Press out as much liquid as you can.

Distribute equal amounts of shredded cheese, chicken, and spinach down the center of each tortilla. See the picture above.

Starting with one side (or the long side if using a tortilla cut in half), tightly roll each tortilla and place it onto a cookie sheet seam-side down. The cheese will melt and stick as these flautas bake, so I recommend lining a cookie sheet with non-stick aluminum foil, parchment paper, or a silicone baking mat for easy removal of the flautas and quick clean-up.

Spray both sides of rolled tortillas with olive oil or coconut oil.

Bake at 450˚F for 8 minutes or until the flautas start to brown. Carefully flip flautas so the seam-side is up and continue to bake for another 5-8 minutes until flautas are golden brown and crispy all over.

Note: If seams start to pop open after you flip flautas, gently press them back together with your tongs while flipping.
Nutrition
Nutrition Facts
Simple Baked Flautas with Chicken and Spinach
Amount per Serving
% Daily Value*
* Percent Daily Values are based on a 2000 calorie diet.
Like this recipe? Thanks for leaving a 5-star rating inside the recipe at the top! 🤩