Cajun Chicken Stew with Mushrooms: Even Better the Next Day
Sneak Preview: This Cajun Chicken Stew with Mushrooms starts with sautéed chicken. Add a delicious roux sauce and lots of veggies including baby Bella mushrooms and baby carrots. Simmer for an hour. Serve immediately or the next day. As you can imagine, leftovers are outstanding.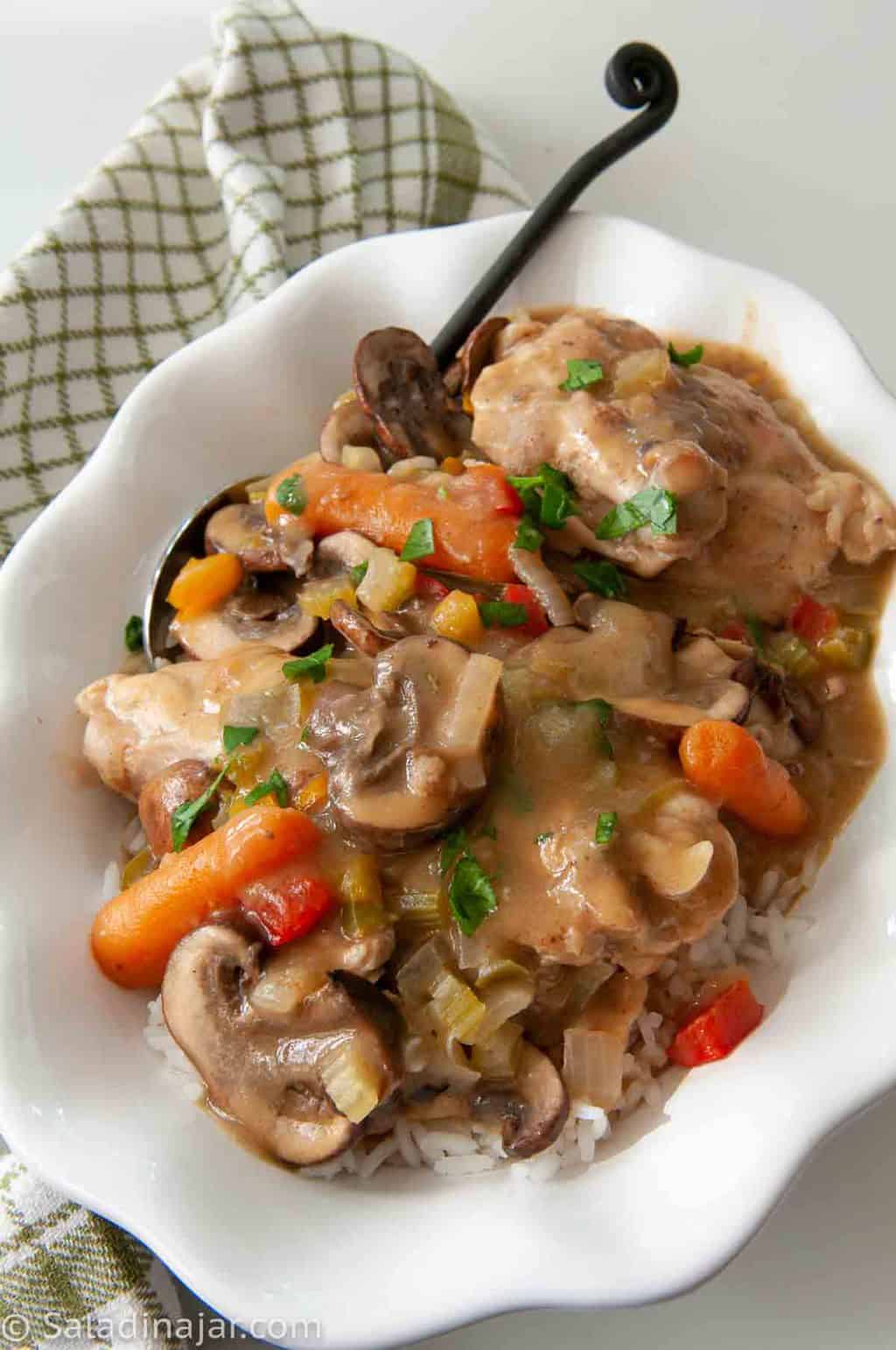 As an Amazon Associate, I earn from qualifying purchases.
The messiest pages in my 3-ring binder of favorite recipes are those for make-ahead entrees. I couldn't live without them. Can you? Cajun Chicken Stew with Mushrooms only improves as it rests in the fridge.
No worries if you want to eat it immediately. Please do so.
---
Ingredients and substitutions:
Chicken: Use a whole chicken if you like all the different pieces. One of the advantages of a whole chicken is that you can make broth with the backbone, wings, etc. However, use only the thighs, breasts, or boneless chicken, if you prefer. I pull the skin off because, after the chicken cooks for an hour, the skin will no longer be crispy.

Butter: Substitute vegetable oil for the butter. Several readers have suggested that oil works better in getting the roux brown before it burns. Suit yourself.

Flour: Bleached or unbleached all-purpose flour will work. If you need to go gluten-free, you can substitute almond flour. However, the texture will not be as smooth and rich as it is with regular flour.

Onions: Use fresh or frozen diced onions.

Celery: Celery is an essential part of this dish. I can't think of any substitutes to recommend.

Bell Peppers: I like to use many colors of bell peppers: red, yellow, orange, and green. At the very least, use green bell peppers to get the authentic Cajun taste.

Garlic: Garlic is an important ingredient. Fresh is always better but jarred garlic is acceptable.

Mushrooms: Baby Bellas hold their shape better than standard white button mushrooms. They are also more attractive in the final dish. Although you see them sliced in the pictures, I now prefer to quarter them.

Carrots: After making this for years, I started adding baby carrots because it's easy to throw them in the pot, and then I don't have to prepare another vegetable for dinner.

Seasonings: Adding the spices as specified will produce a fairly spicy dish typical of Cajun fare.
---
Can I make this recipe ahead of time?
A couple of days ago, I made this for our mid-week family dinner–an informal affair with our married kids, their spouses, and our grandson. Even though it was my day off, I knew I would be gone all day. It was easy to put together early in the morning, refrigerate, and serve for dinner.
This Cajun Chicken Stew recipe improves after hanging out in the fridge for a few hours. The flavors mix, meld and marry, producing a wonderful gumbo-like flavor. Make it 24 hours ahead of time and refrigerate for the best flavor.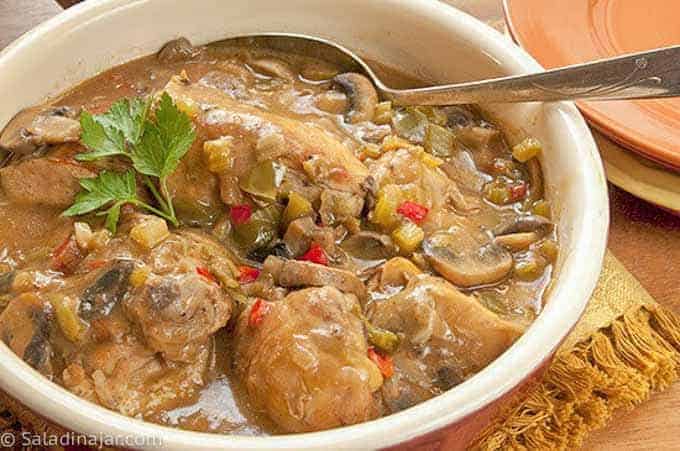 How to make Cajun Chicken Stew: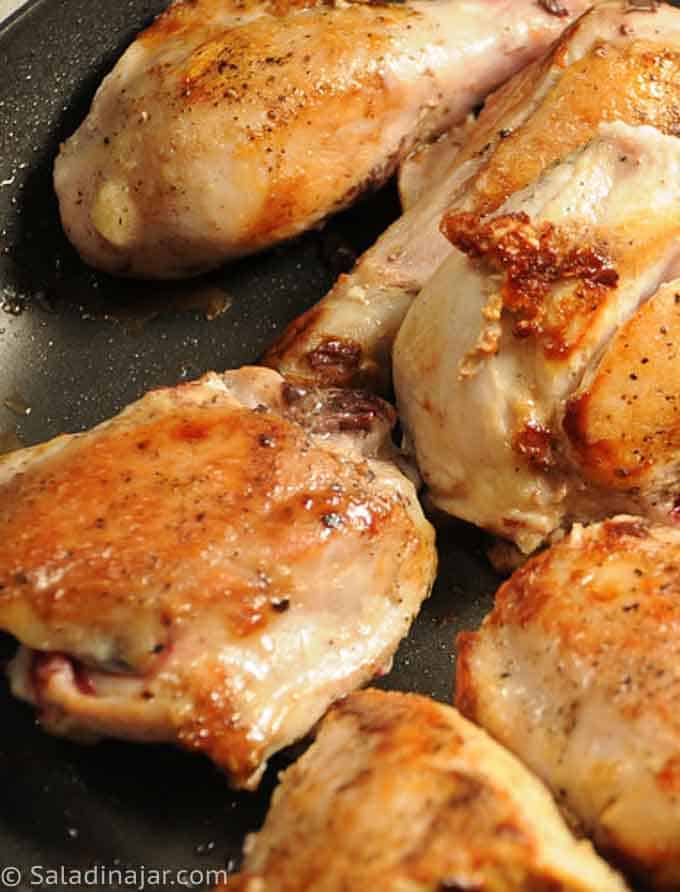 Brown chicken thighs, legs, and breasts in a large skillet.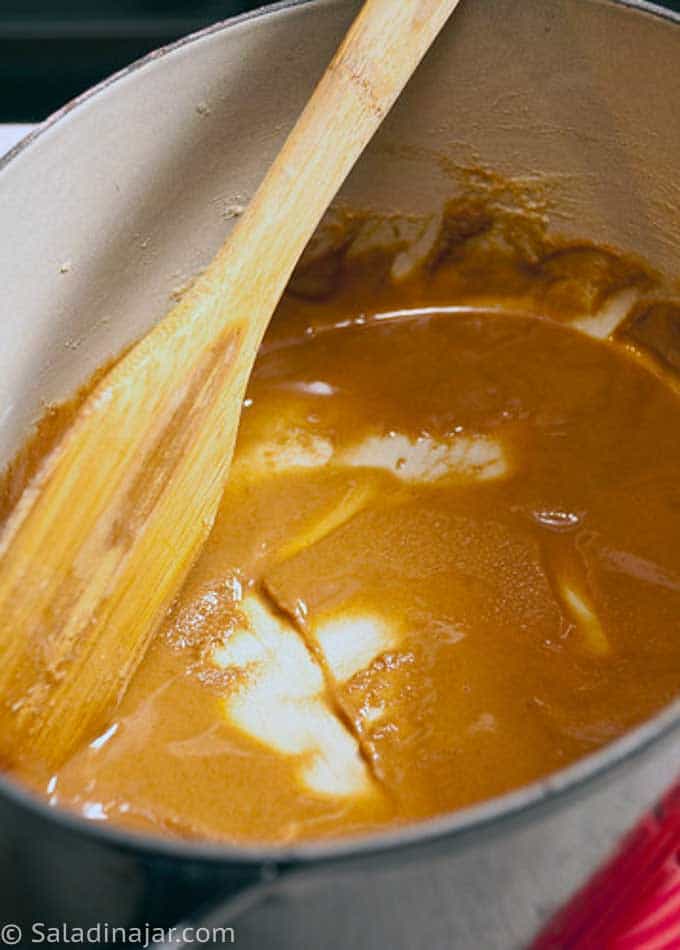 Make the roux. Melt butter in a heavy pot or Dutch oven over medium heat. Add flour and continue to stir with a wooden spatula. At first, the mixture will be crumbly. Keep stirring. It will eventually start to turn brown. Aim for dark butterscotch or the color of milk chocolate. If you start to see black specks, it has burned, and the taste will be off. Throw the roux out and start over.
If preferred, make a roux with your microwave and transfer the roux mixture to the Dutch oven.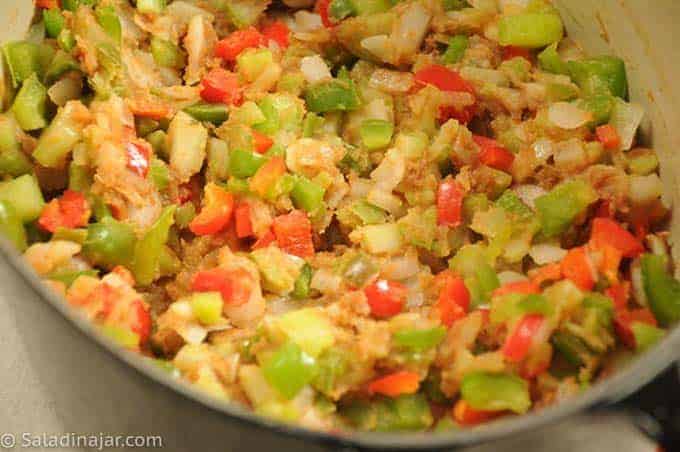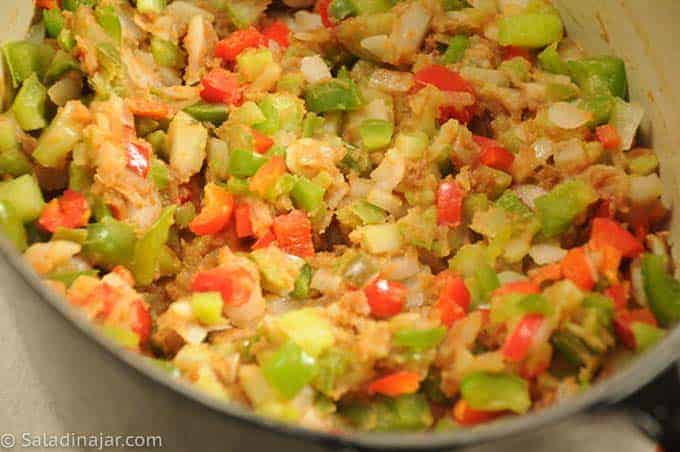 Add chopped onions, celery, and red or green bell peppers to the roux and sauté until softened. Add garlic and cook for a couple more minutes.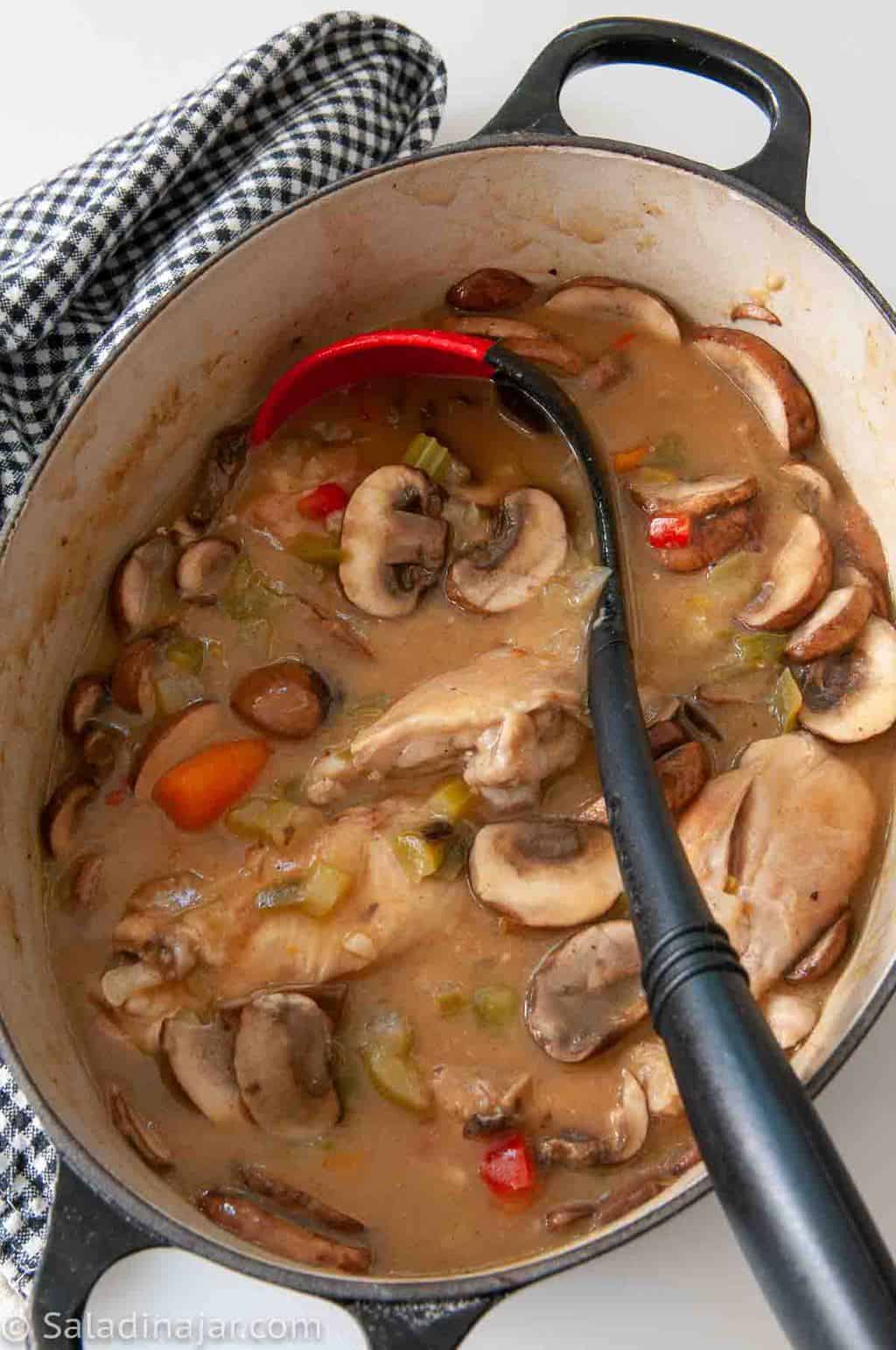 Add warm chicken broth, mushrooms, baby carrots, spices, and chicken. Cover. Simmer for 45 minutes to 1 hour.
---
FAQ for Chicken Fricassee:
What can I serve with this recipe?
The sauce makes a deliciously rich and silky gravy best enjoyed over a pile of long-grain rice. I use a rice cooker with a timer so the rice will be ready when I walk in the door. Try mashed cauliflower or riced cauliflower as a low-carb alternative. Round out the menu with a good loaf of homemade French bread to sop up the gravy.
Can I freeze chicken stew?
Yes. After it cools, pour it into a freezer-safe container. Seal well. Freeze for 2-3 months.
Can I use pork or shellfish (like shrimp or crawfish) instead of chicken?
Cut pork loin into small pieces and sauté it like the chicken. If using shellfish, wait about ten minutes before you're ready to serve before adding it to the vegetables and sauce. It won't take long for the seafood to cook. Overcooking makes shrimp or crawfish tough.
---
Parting thoughts: Just like gumbo, this dish shines brightest the next day. You don't have to be in Cajun country to enjoy it.
More chicken recipes:
---
If you have questions or suggestions, email me privately for a quick answer: Paula at saladinajar.com. Hope to see you again soon!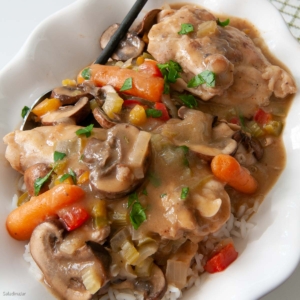 Cajun Chicken Stew Recipe with Mushrooms
Cajun Chicken Stew with Mushrooms starts with a roux-based gravy. Add in Cajun seasonings, and you've got a winner. A good make-ahead dish.
Ingredients
¼

cup

oil

-

(divided, 1 T for frying the chicken and 3 T for making the roux

1

cut-up chicken or 5-6 chicken breasts

-

or 6 boneless, skinless thighs

½

teaspoon

salt

¼

teaspoon

pepper

½

cup

all-purpose flour

1-1/2

cups

chopped onions

1-1/2

cups

chopped celery

1

cup

chopped green bell peppers

½

cup

chopped red bell peppers

1-2

cloves

chopped garlic

2-1/2

cups

hot chicken stock

8

ounces

mushrooms, fresh

-

baby bellas or white button mushroom

¼

pound

baby carrots

1

bay leaf

¼

teaspoon

cayenne pepper

2

teaspoons

Worcestershire sauce

2-3

drops Louisiana hot sauce

½

teaspoon

seasoned salt

Parsley for garnish or chop and add for fresh flavor
Instructions
Pour 1 T of oil into a large heavy pan. Pat the chicken dry, sprinkle it with salt and pepper, and place them into the hot oil. When browned on both sides, remove them from the pan to another dish.

Pour 3 tablespoons of oil into the same pan over medium heat. Stir in ½ c flour and continue to stir until it is a dark butterscotch flavor. If necessary, add an extra tablespoon of oil to make the roux come together.

Add 1½ c onions, 1½ c celery, 1 c green peppers, ½ c red peppers, and 1-2 garlic cloves, chopped, to the roux. Cook until softened. Stir frequently.

Add hot chicken stock to the vegetables, stirring as you go.

Add the 8 oz mushrooms, ¼ lb carrots, browned chicken, and the remaining seasonings (1 bay leaf, ¼ t cayenne pepper, 2 t Worcestershire sauce, 2-3 drops Louisiana hot sauce, ½ teaspoon seasoned salt) except for parsley. Cover and simmer for 45 minutes to 1 hour or until the chicken is tender.

Remove bay leaf and add chopped parsley before serving over rice. Even better served the next day.
Notes
I usually cut up a whole chicken but you could use any chicken pieces you already have or prefer such as boneless, skinless breasts or thighs. You don't have to remove the skin but I wouldn't have it otherwise. Because I used a whole chicken, I had the back and wings leftover to make fresh broth–just boil in a pot of water adding a little salt and black pepper.
Nutrition
Serving:
1
|
Calories:
491
kcal
|
Carbohydrates:
17
g
|
Protein:
31
g
|
Fat:
33
g
|
Saturated Fat:
12
g
|
Polyunsaturated Fat:
5
g
|
Monounsaturated Fat:
12
g
|
Trans Fat:
1
g
|
Cholesterol:
139
mg
|
Sodium:
645
mg
|
Potassium:
652
mg
|
Fiber:
2
g
|
Sugar:
4
g
|
Vitamin A:
4293
IU
|
Vitamin C:
51
mg
|
Calcium:
51
mg
|
Iron:
3
mg