Easy Pork Stroganoff Recipe with Sour Cream and Mushrooms
Sneak Preview: This recipe for Pork Stroganoff with Sour Cream features sautéed pork loin strips in a sour cream gravy seasoned with cumin and cilantro for a Southwestern flair. Serve over rice, noodles, or mashed cauliflower.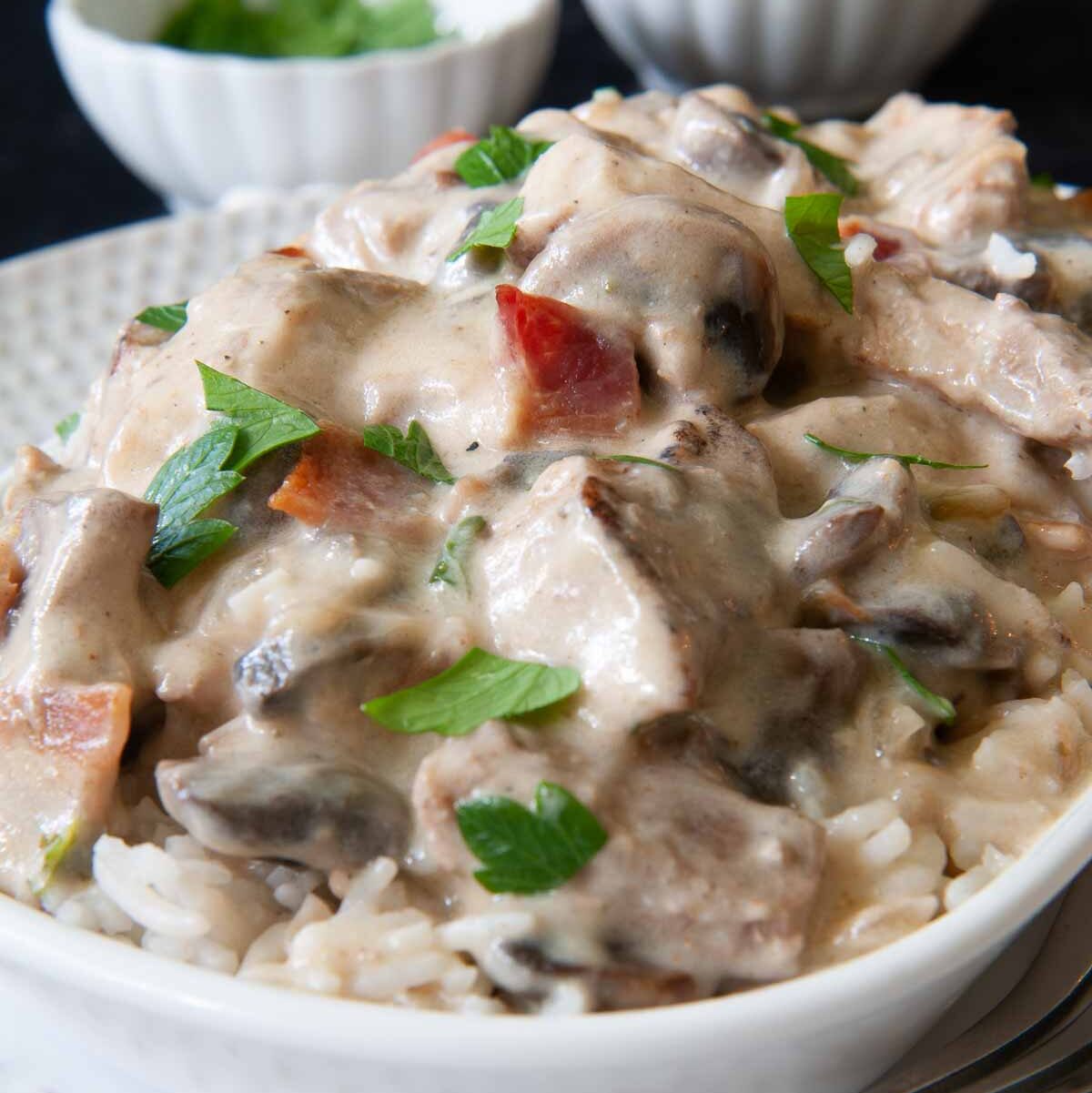 As an Amazon Associate, I earn from qualifying purchases.
Have you been to Santa Fe, New Mexico? Walking the streets, you can smell the flavors of the Southwest, beckoning you to the many restaurants. I get nostalgic whenever I think about it or make this recipe.
Pork loin, bacon, cumin, sour cream, cilantro-can you imagine how fragrant these ingredients are when cooking in your kitchen? (Reminds me of this recipe for Bacon-Wrapped Stuffed Pork Tenderloin with Raspberry Chipotle Sauce. The smell, while it bakes, is incredible.)
Combine them for a hearty Southwestern entree reminding you of Beef Stroganoff. The sour cream is the same. The mushrooms are the same. The strips of tender meat are the same.
The difference? Instead of beef, this stroganoff is made with pork loin and seasoned with cumin and cilantro. You'll soon be wondering why you haven't made this already.
The 10th edition of the Cooking Texas Style cookbook contains the recipe that inspired me. I've been making it for years, so it's well-tested.
The name of the recipe in the book is "Puerco en Salsa de Comino," but that doesn't mean a lot to me despite three years of high school Spanish. So I renamed the recipe to Pork Stroganoff so I could remember it.
Another good pork recipe: Mini Sausage Kabobs with Sweet and Sour Sauce
---
Ingredients and substitutions: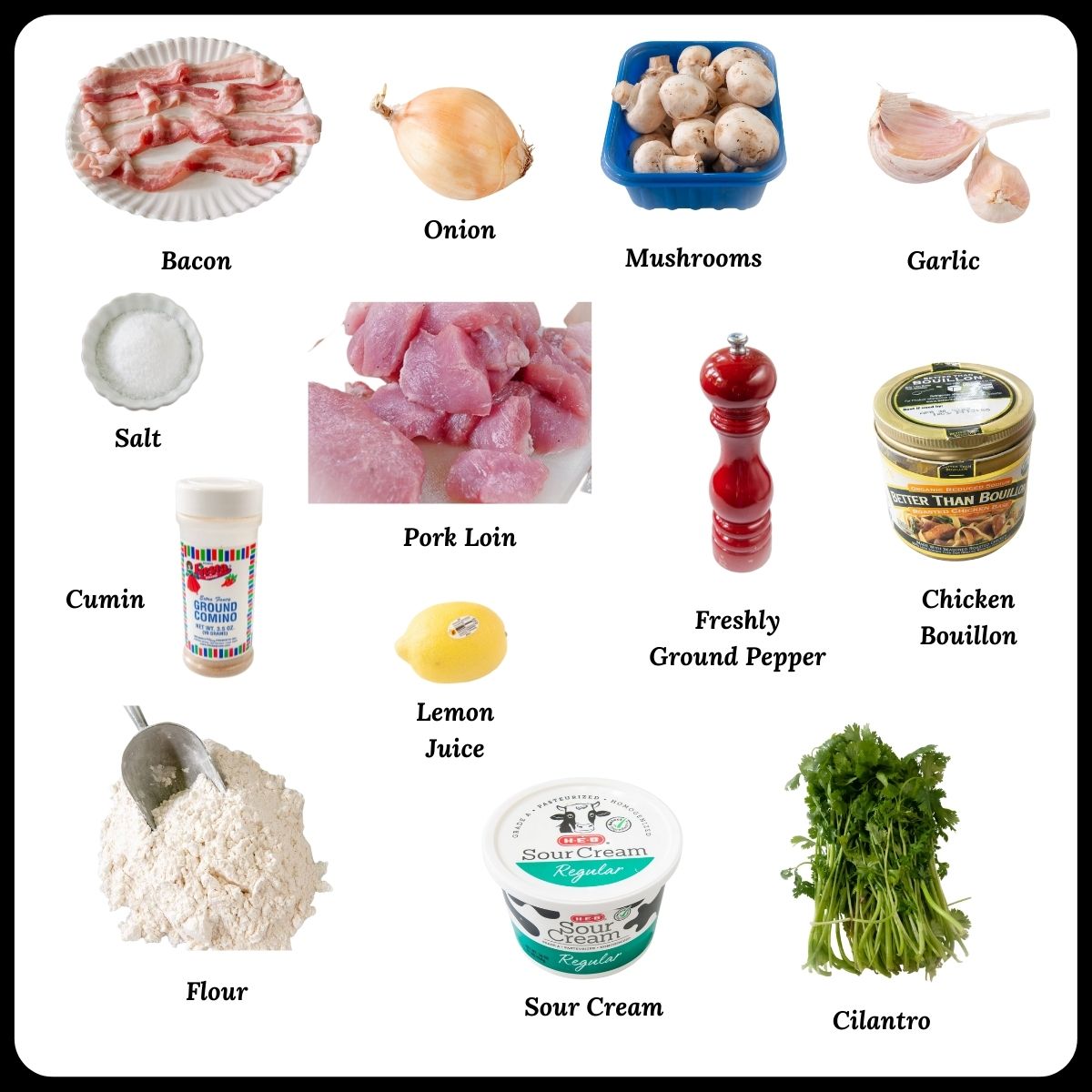 PORK: If you shop the meat counter at Costco, you have most likely noticed the pork loin that's usually reasonably priced. Just today, I can't resist. It's the kind of lean pork I like best for this recipe. Although it's possible to use pork tenderloin, the cooking directions differ.

Another possibility is to use leftover pork chops in skinny strips. You won't need to simmer the meat and mushrooms nearly as long when using leftover pork.

Speaking of leftover pork, Pork and Hominy Stew is another good idea to stash in your leftover meat file.

MUSHROOMS: Fresh white mushrooms are my preference. Did you know button mushrooms are the same as white mushrooms, just smaller? Crimini mushrooms are brown and are interchangeable with white mushrooms. Another option: Canned button mushrooms, drained, of course.

CUMIN: Powdered cumin is a hallmark spice in Southwestern cooking. You could leave it out, but then you will lose much of the "Southwestern flavor." Don't be discouraged from buying the spice, thinking you will never use it. It's called for in most chili recipes.

SOUR CREAM: Substitute possibilities include crème fraîche and full-fat yogurt. If you leave it out completely, I'm not sure you can call it stroganoff.

CILANTRO: Cilantro is a garnish and flavor frequently used in Southwestern cuisine. (Don't miss the trick below for chopping cilantro painlessly.) Chopped parsley is a good but less flavorful substitute.
Related Post for Meat Lovers: Easy Stuffed London Broil with Sausage
---
Tip: How to cut herbs easily
Try using a pizza wheel to chop fresh herbs. It works great, especially when the blade is good and sharp.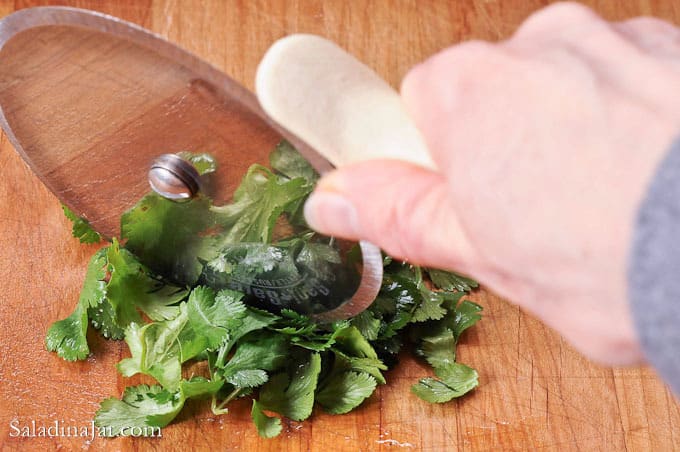 ---
How to make Pork Stroganoff with a Southwestern Twist: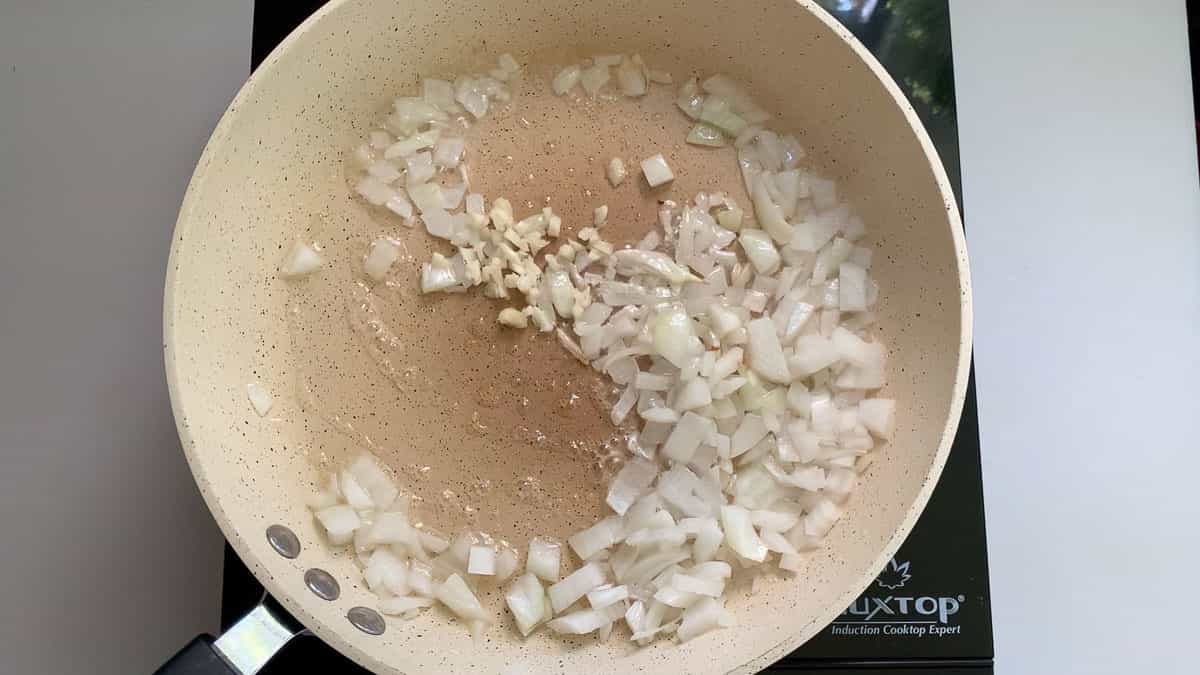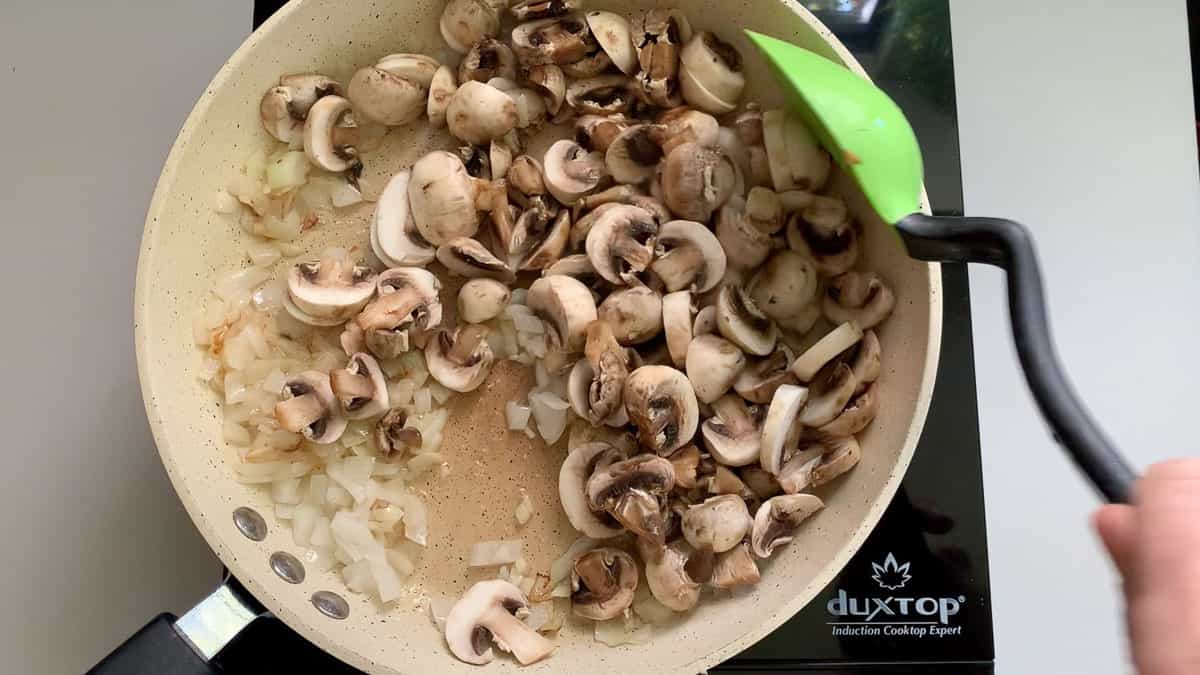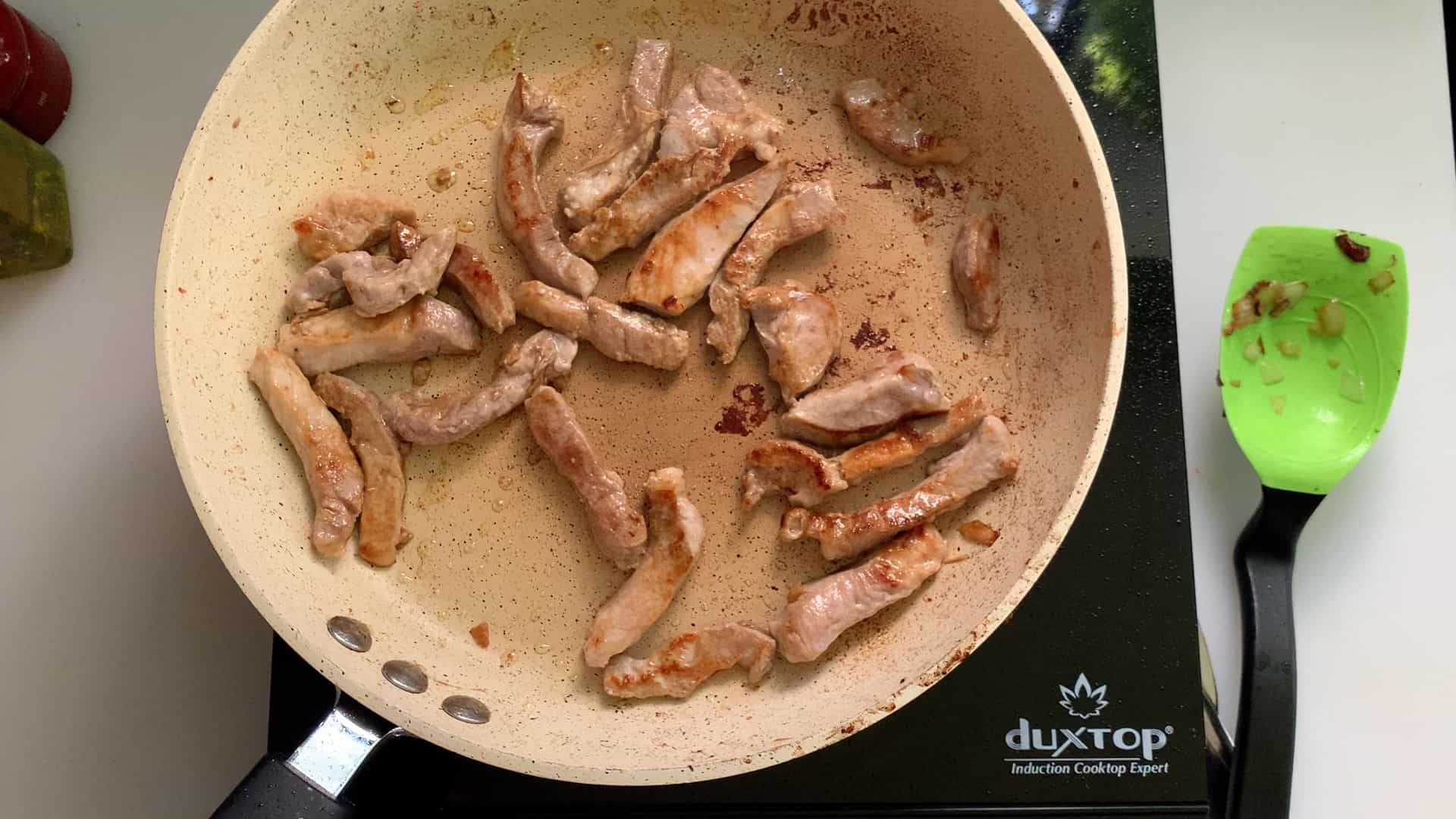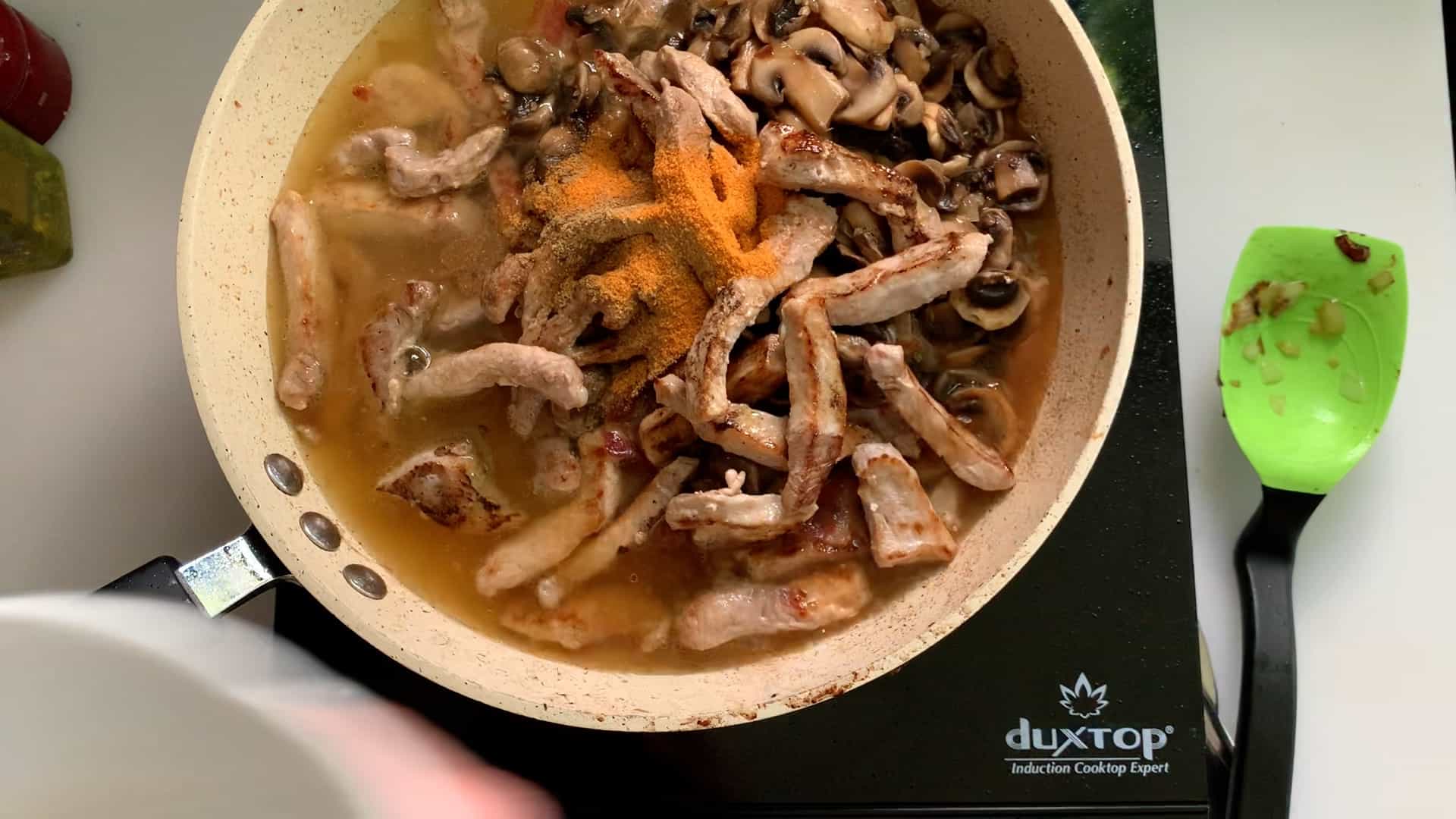 ---
Making the sauce:
Combine the flour and water in a separate bowl, then add to the pan. Simmer for another 10 minutes until it thickens.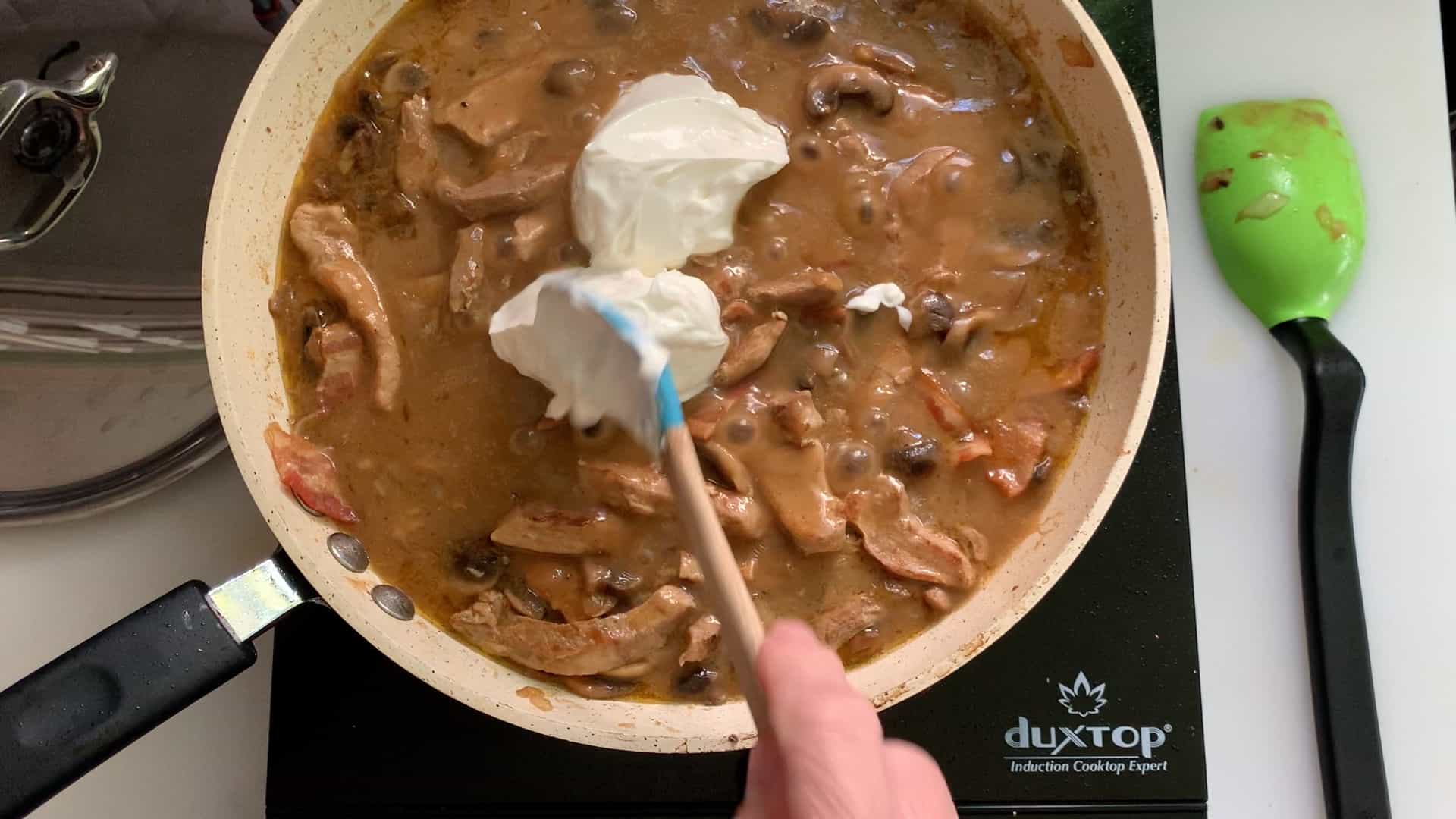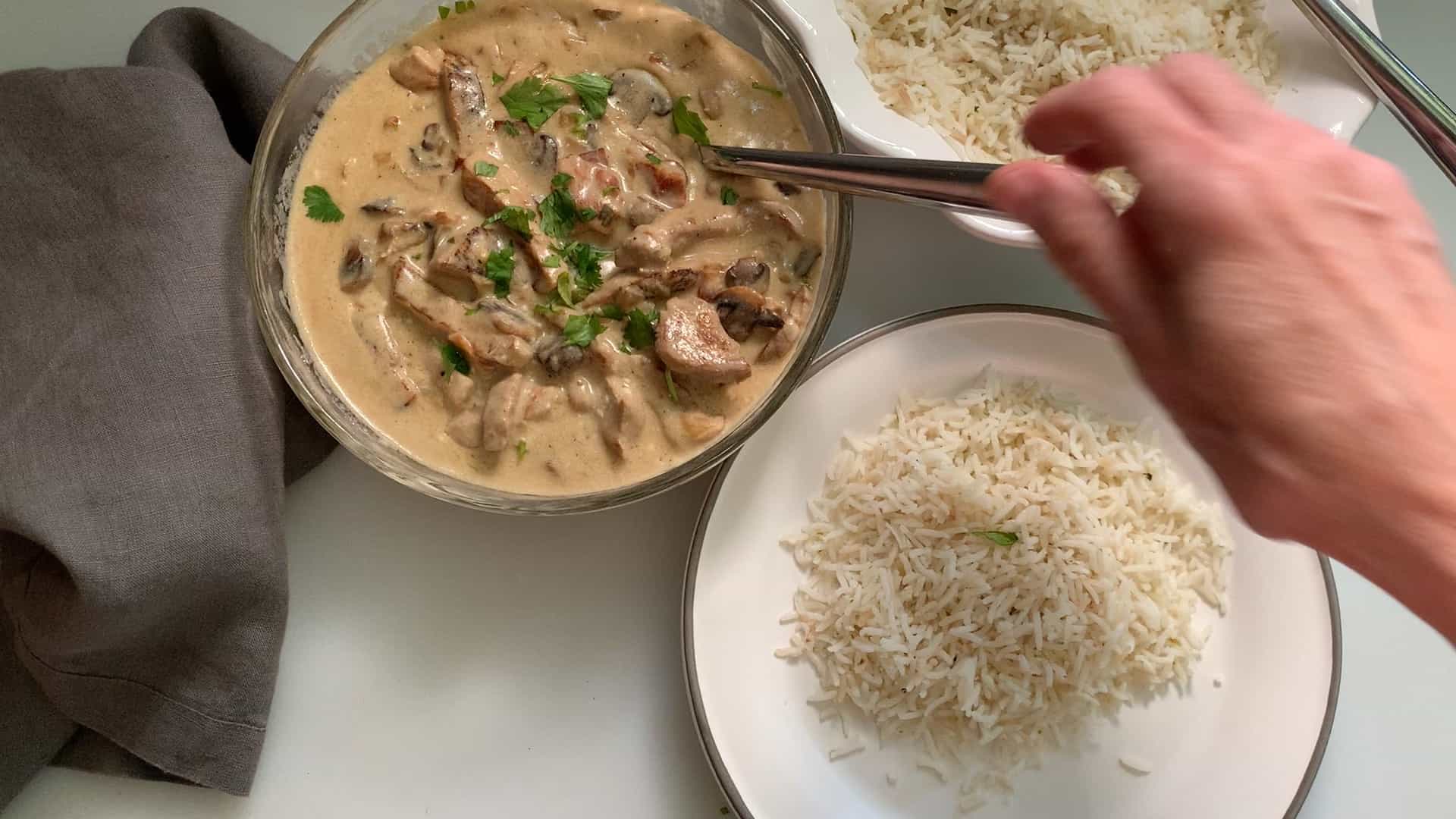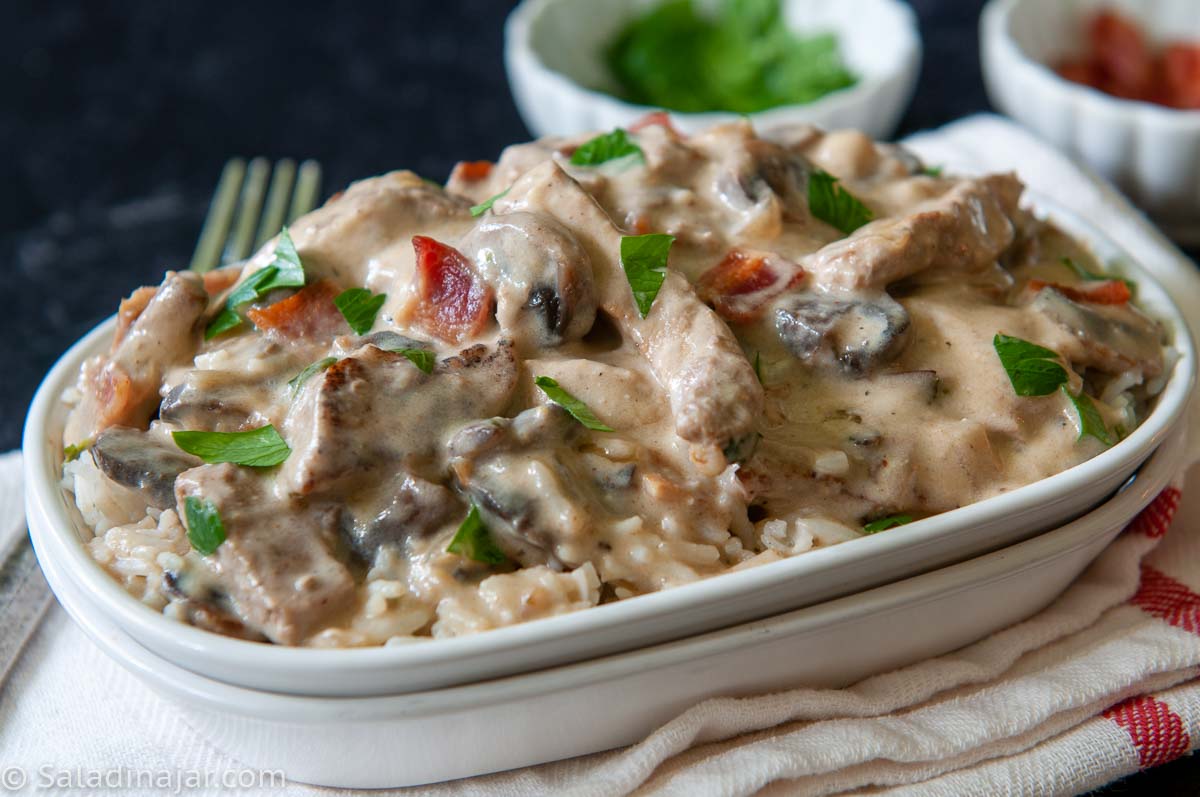 ---
FAQ about Pork Stroganoff:
Can I make this ahead of time?
Prepare this dish a day ahead of time if you like. Save the cilantro until you are ready to serve.
Can pork stroganoff be frozen?
If you want to freeze this dish before serving, don't add sour cream or cilantro. Instead, stir in the sour cream after thawing the frozen casserole. Garnish with cilantro at the last minute.
Can I reheat this recipe?
Yes, but do it gently. If the stroganoff boils, the sour cream may separate.
---
Parting thoughts: While this recipe may not taste exactly like what you might get in Santa Fe, you'll enjoy the Southwestern flavors for a change of pace.
---
If you have questions or suggestions, email me privately for a quick answer: Paula at saladinajar.com. Hope to see you again soon!
Pork Stroganoff Recipe with Sour Cream and Mushrooms
Sautéed pork in a sour cream gravy is seasoned with cumin and bacon, then garnished with cilantro. Serve over rice or noodles.
Ingredients
3

slices

bacon

-

diced

1

small

onion

-

chopped

1

clove

garlic

-

minced

¼

teaspoon

salt

-

table or sea salt

8

oz.

button mushrooms

-

sliced

1

pound

lean pork loin

2

tablespoons

bacon drippings or vegetable oil

1½

teaspoon

ground cumin

1

teaspoon

seasoning salt

1

teaspoon

freshly ground pepper

1

cup

chicken stock or broth

¼

cup

fresh lemon juice

2

tablespoons

all-purpose flour + 3/4 cup cool water

½

cup

sour cream

2

tablespoons

chopped fresh cilantro
Instructions
Sauté 3 slices of bacon in a large frying pan. Remove the bacon and set it aside while saving the grease in the skilled.

Fry 1 small chopped onion, 1 clove garlic, and ¼ teaspoon salt in bacon grease until soft. Add 8 oz. of sliced mushrooms and fry until slightly soft. Remove and reserve.

Cut 1 lb. of pork cut into bite-sized pieces and brown over medium-high heat. Do this in two batches so the pan isn't overcrowded. After you put pork pieces in the pan, don't turn until well browned on the first side. Turn and fry on the other side. You may need to add additional oil for the second batch.

Add the fried bacon (save a tablespoon to garnish), and veggies you've already browned back to the skillet with the pork along with 1 T cumin, 1 t seasoning salt, and 1 teaspoon freshly ground pepper. Stir in 1 c chicken stock and ¼ c lemon juice. Cover and simmer for 30-45 minutes.

Whisk 2 T flour and ¾ c water together in a separate bowl or jar until smooth. Pour over the pork mixture and simmer for 10 minutes. Remove from heat and stir in ½ c sour cream. Garnish with 2 T chopped cilantro for color and additional flavor and 1 T bacon, if desired.
Nutrition
Nutrition Facts
Pork Stroganoff Recipe with Sour Cream and Mushrooms
Amount per Serving
% Daily Value*
* Percent Daily Values are based on a 2000 calorie diet.
Like this recipe? Thanks for leaving a 5-star rating inside the recipe at the top! 🤩