Nice and Spicy Summer Squash Casserole with Stuffing and Green Chiles
Sneak Peek: Serve this Nice and Spicy Summer Squash Casserole with Stuffing and Green Chiles as a vegetable side dish or vegetarian entree. The recipe contains no condensed cream of mushroom soup or cream of chicken soup.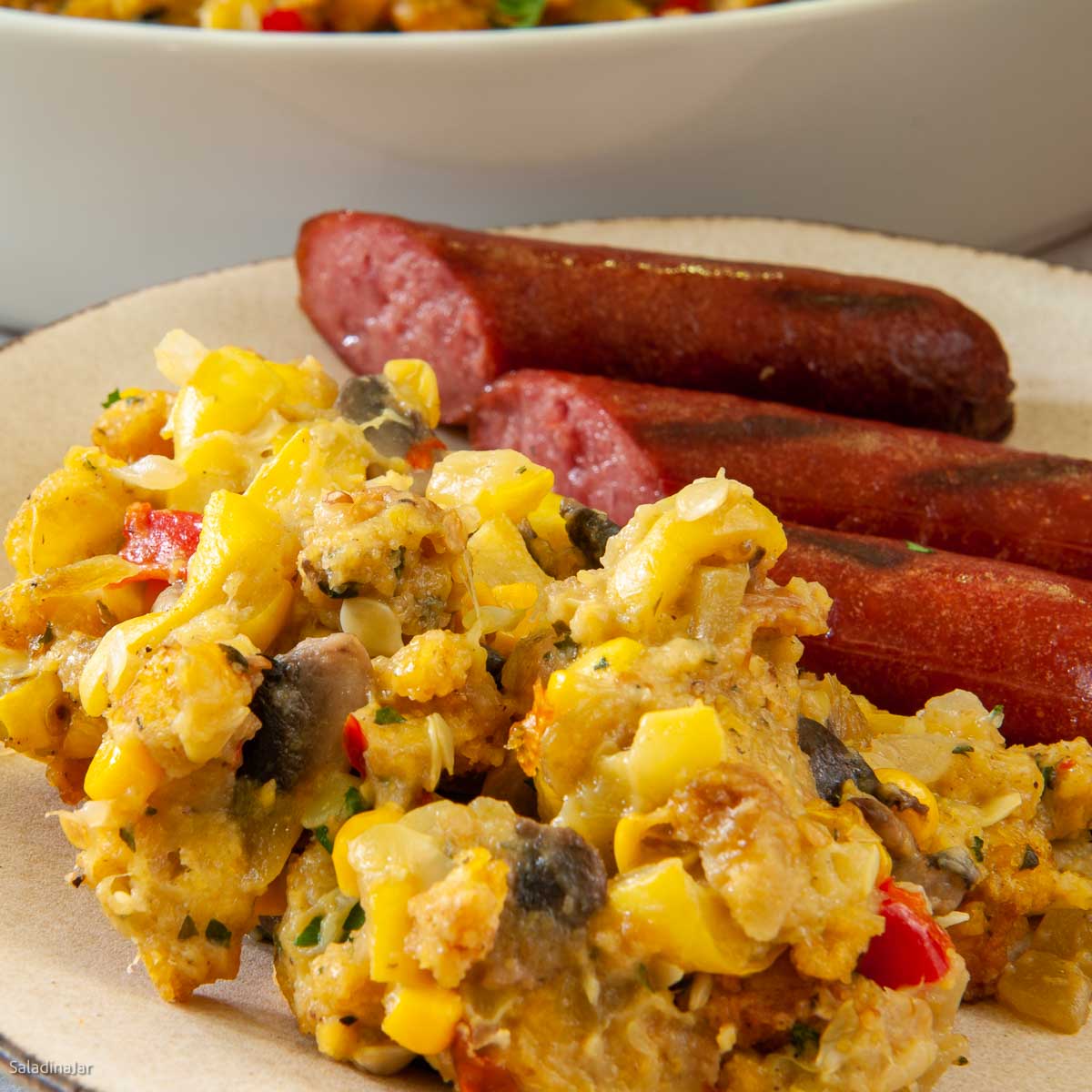 As an Amazon Associate, I earn from qualifying purchases.
If you are here because you are blessed with an oversupply of summer squash, congratulations. This recipe offers something different from the usual squash casserole.
If you are here because you have leftover cornbread, this recipe is perfect to recycle it, particularly if you have at least 2 cups. You can substitute homemade cornbread for storebought stuffing.
Many years ago, I tasted a version of this Summer Squash Casserole made with leftover cornbread. It was so delicious that I never forgot about it.
Over the years, I've perfected and tweaked the recipe. It's like a marriage between cornbread dressing and a Tex-Mex summer squash casserole. The green chiles, corn, and shredded cheese take it over the top.
Ingredients and Substitutions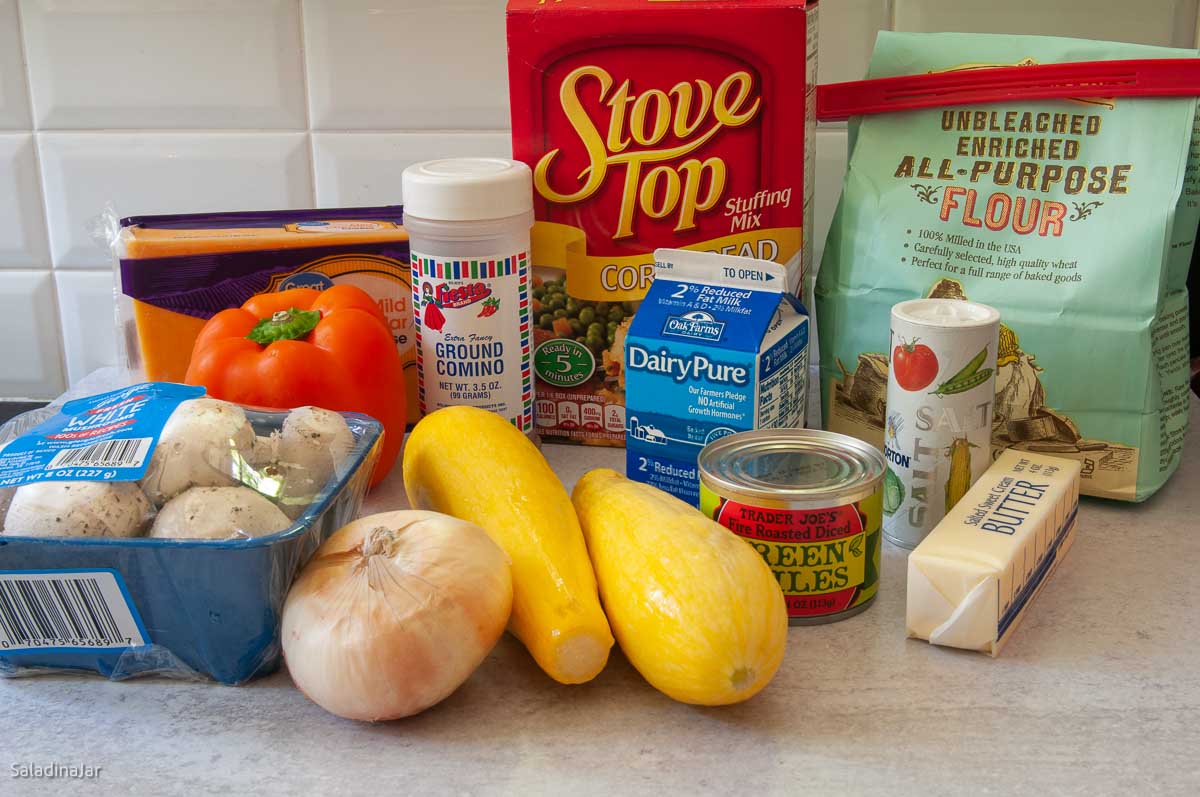 SUMMER SQUASH: Yellow summer squash is considered a summer squash. It is somewhat sweeter than zucchini.

Try to buy the smaller yellow or summer squash in the store. If you grow them yourself, be sure to pick them before they get too big and tough. Peeling is not necessary. In case you have more squash than you know what to do with, check out these Simple Squash Patties, Baked Yellow Squash Soufflé, and Baked Parmesan Squash.

ONIONS: Yellow or white onions would both be appropriate in this recipe.

BELL PEPPERS: Use red, yellow, or orange peppers. Green peppers are not as sweet as the other colors and have their own distinctive flavor. Suit yourself. Using many colors adds visual appeal to this recipe.

***Did you know you can chop and freeze bell peppers? Wash, seed, and chop. Place them into a plastic bag and drop them into the freezer.

MUSHROOMS: White button mushrooms are the easiest to come by in my area, so that's what I use. Canned mushroom bits and pieces are the cheapest way to go. Leave them out if you don't like or can't buy mushrooms.

MILK: Use fat-free, low-fat, whole milk, or evaporated milk.

CORN: This is a very important ingredient in my book. Fresh corn cut off the cob is the best, of course. But I rarely have that on hand. Frozen corn is almost as good. Use canned corn as a last resort.

GREEN CHILES: Green chiles add spice to this recipe. Start with a 4 oz. jar of chopped chiles (or less if you're a bit timid when it comes to peppers). Add more chiles if you like spicy food. A dash of Sriracha sauce will also add some quick zip.

STUFFING: Use boxed cornbread stuffing mix like you would use at Thanksgiving. Buying stuffing from the store (Stove Top or Pepperidge Farms are good brands) is the easiest choice. It's high in salt and other seasonings, so taste the casserole before adding any salt.
No stuffing available? I often use leftover dried-out cornbread. I keep cornbread in my freezer saved from serving my favorite cornbread recipe since it makes too much for the two of us.

See the notes in the recipe for how to dry and crumble homemade cornbread.

CHEESE: The recipe calls for one cup of shredded Cheddar cheese or Monterrey Jack. Use Pepper Jack if you want more spice. You can either stir all of the cheese into the casserole before baking or hold back half of it to sprinkle on top of the casserole in the last 5 minutes of baking.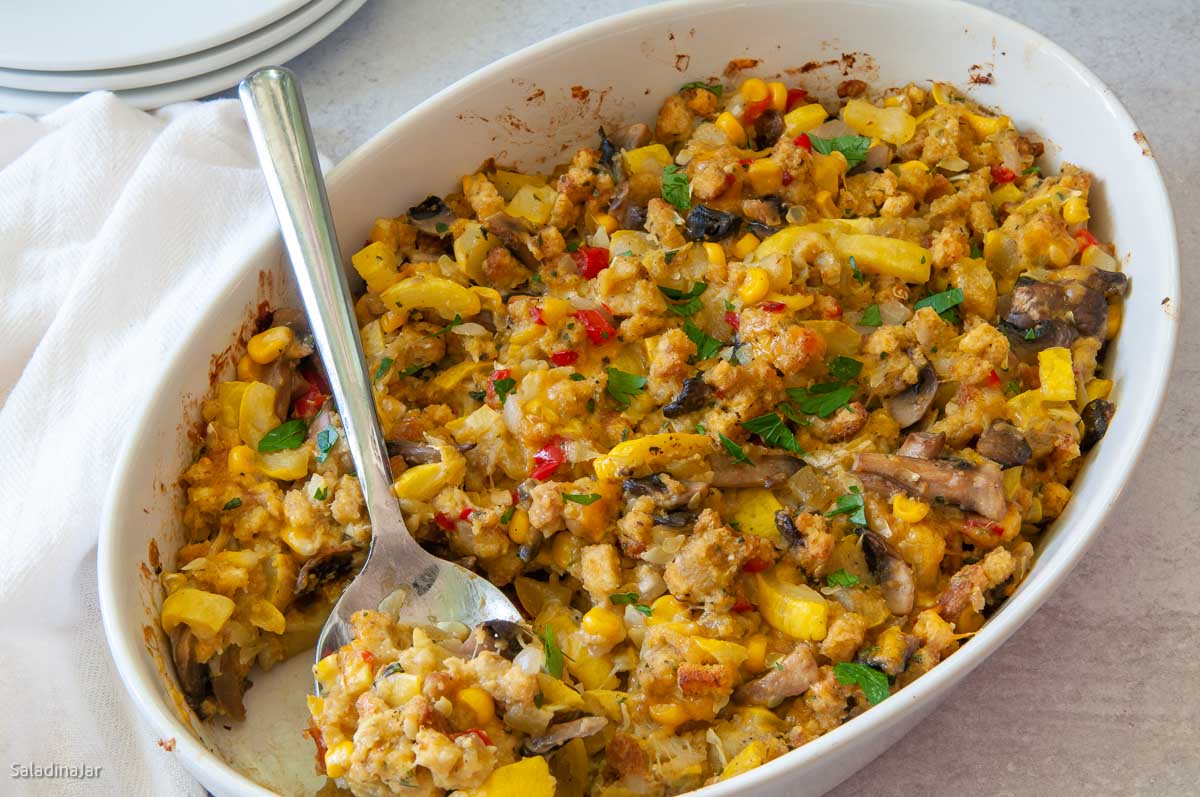 How to make Nice and Spicy Squash Casserole with Stuffing and Green Chiles: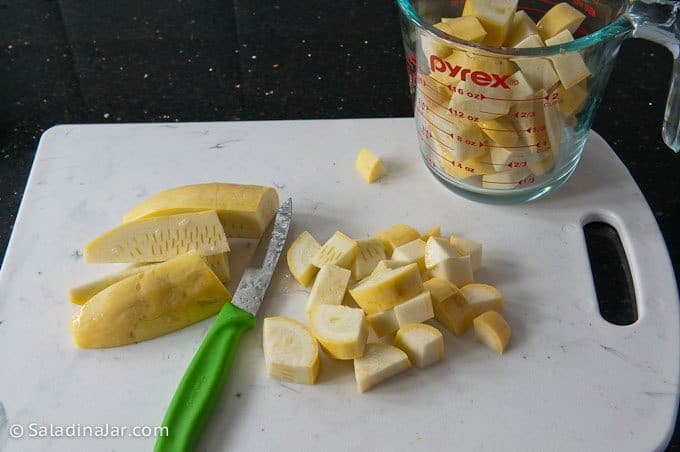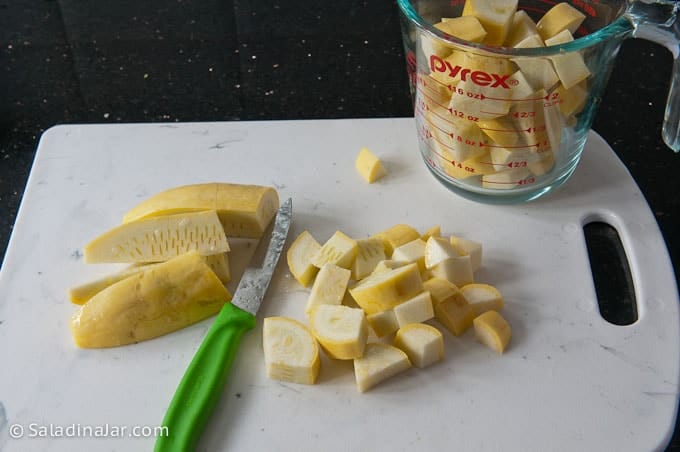 Fill a microwave-safe glass Pyrex container with chunks of squash. (It does not need to be peeled.) Cover with plastic wrap or a lid. Cook in the microwave on HIGH until tender. (Times will vary. Start with 8-9 minutes.)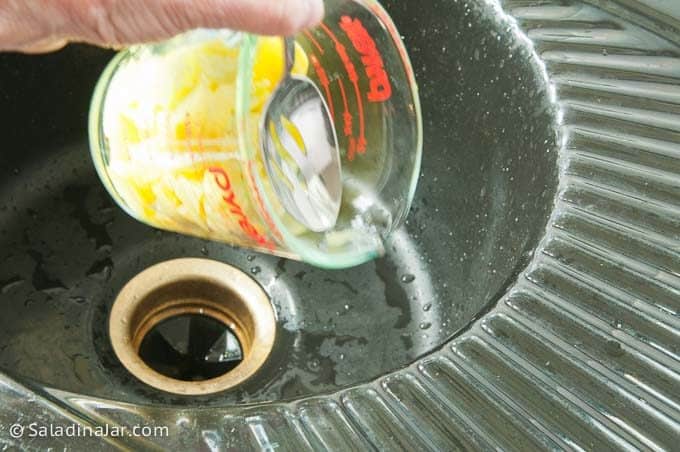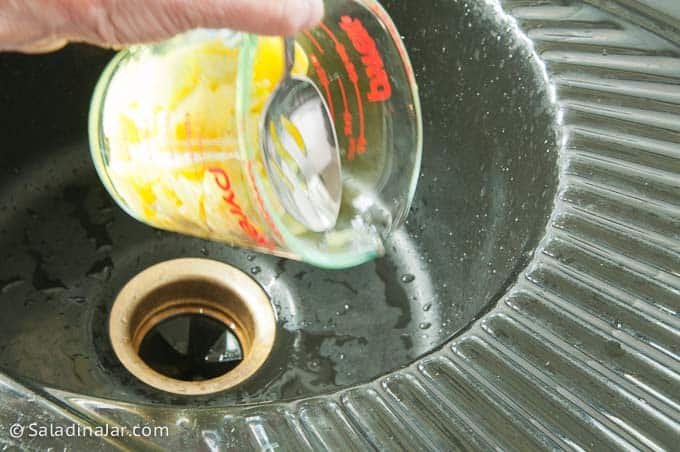 Use a potato masher or large fork to press on the cooked squash to squeeze out as much moisture as possible.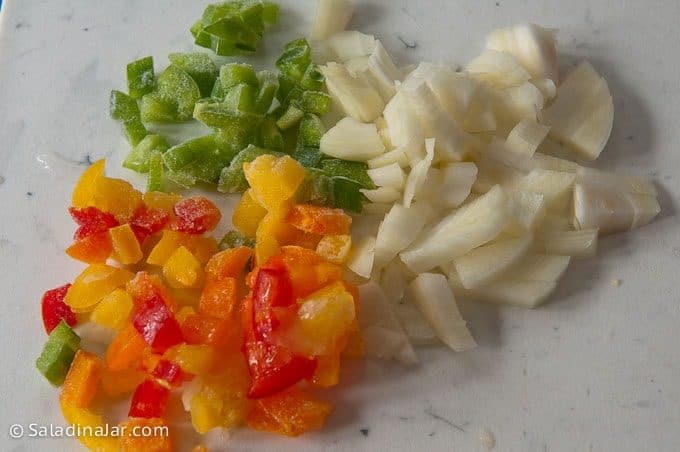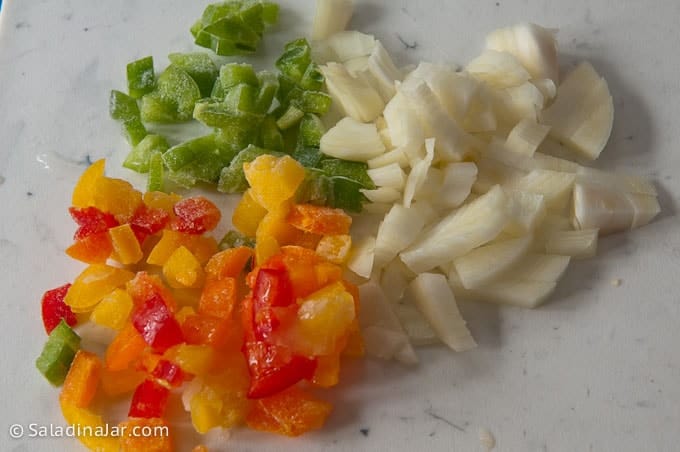 Cut up onions and your choice of bell peppers.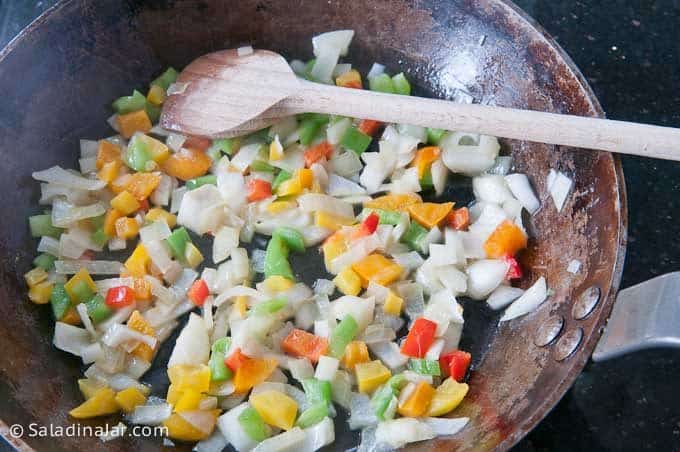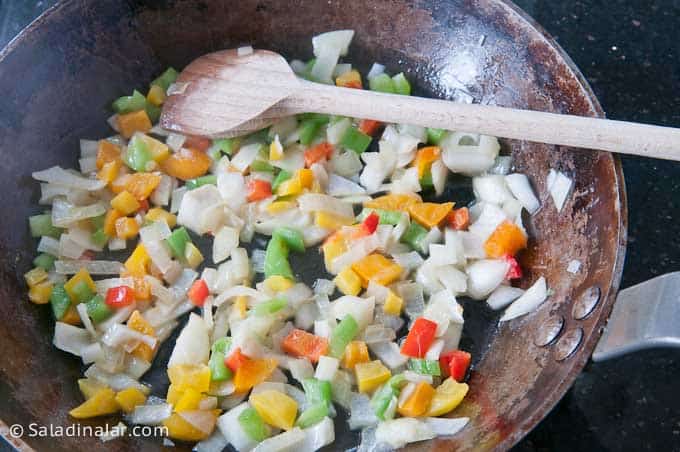 Sauté the vegetables in a large skillet or pan over medium-high heat using 2 tablespoons of melted butter until softened.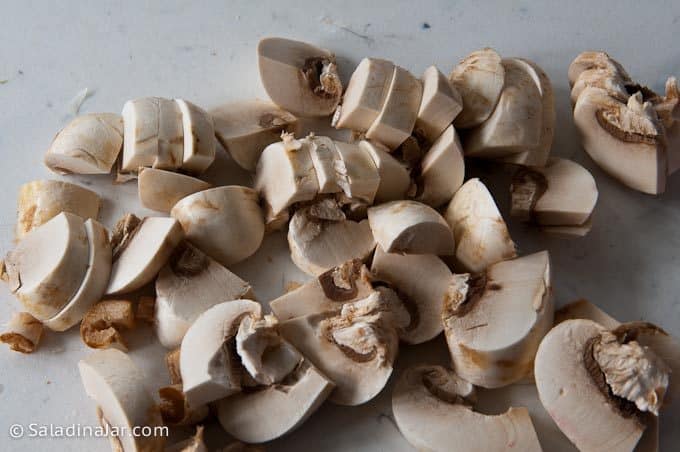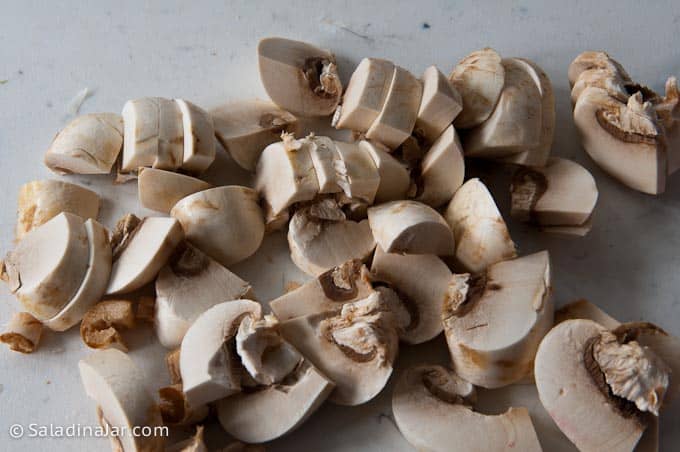 Add mushrooms cut into small pieces to the skillet and continue frying. Add cumin after the mushrooms soften.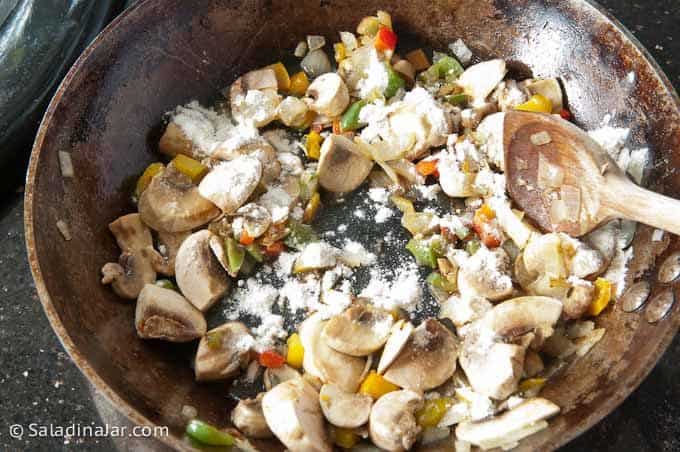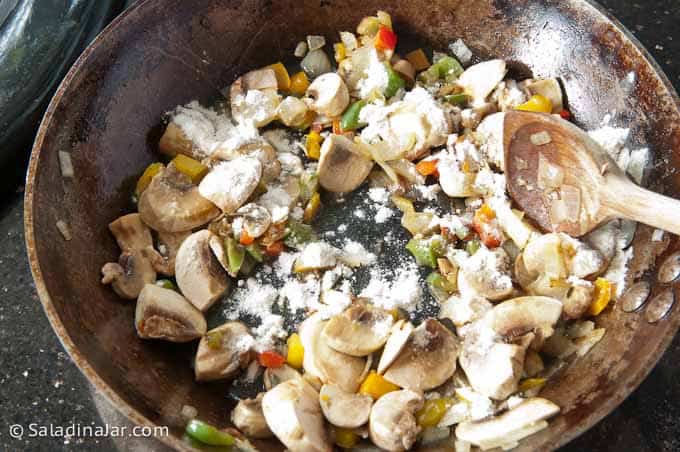 Sprinkle flour over vegetables in the skillet and stir until flour disappears.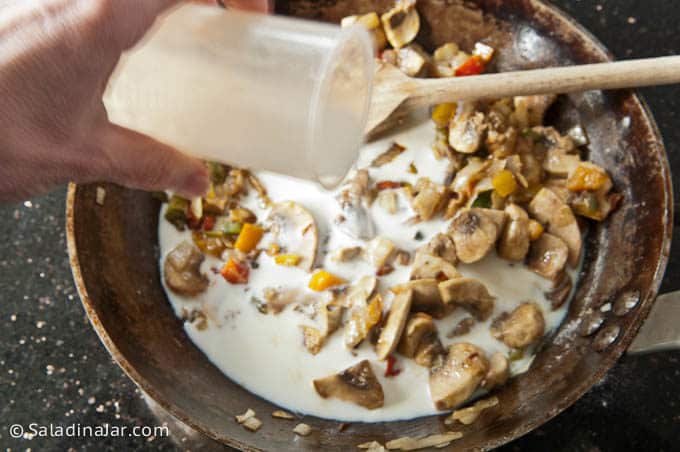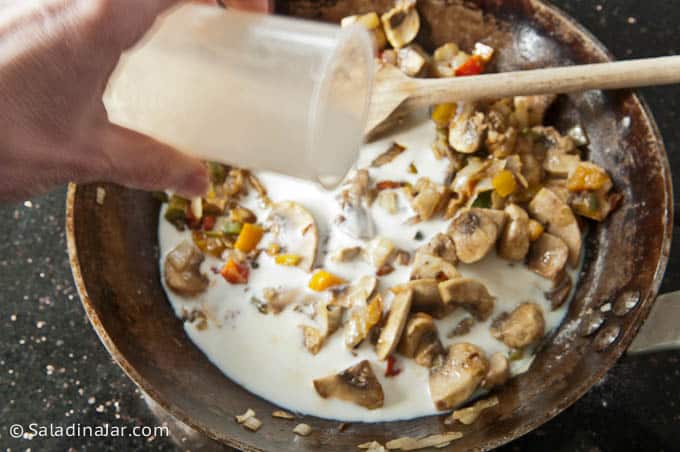 Add milk.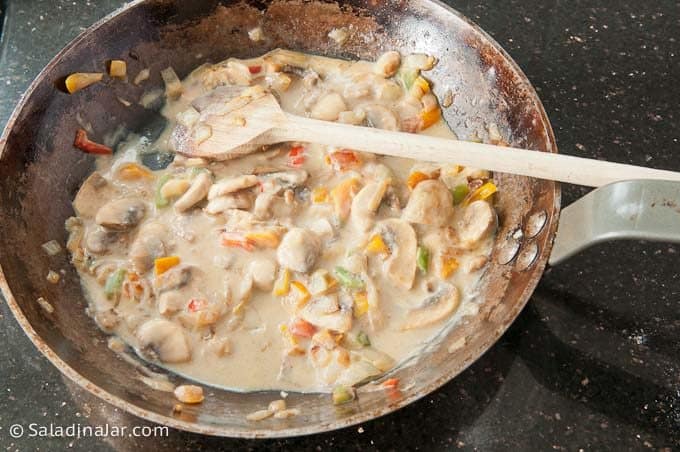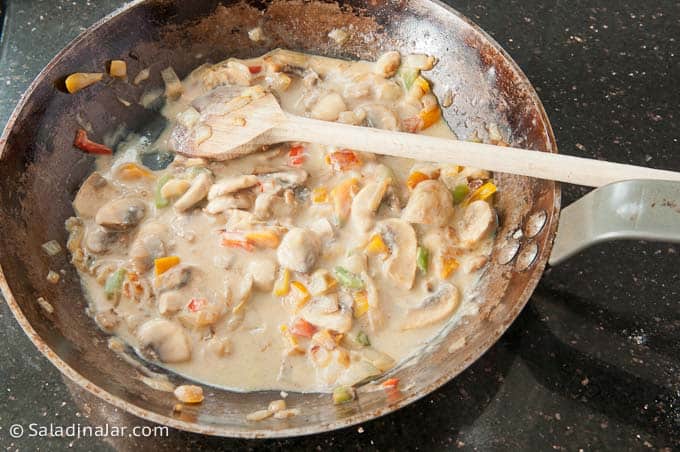 Stir until smooth and thickened.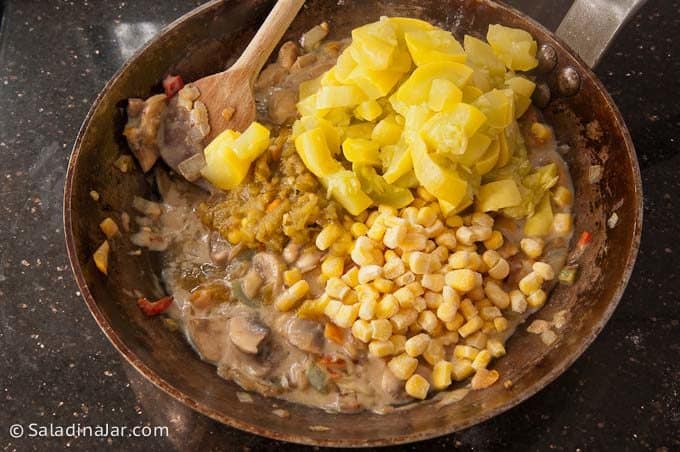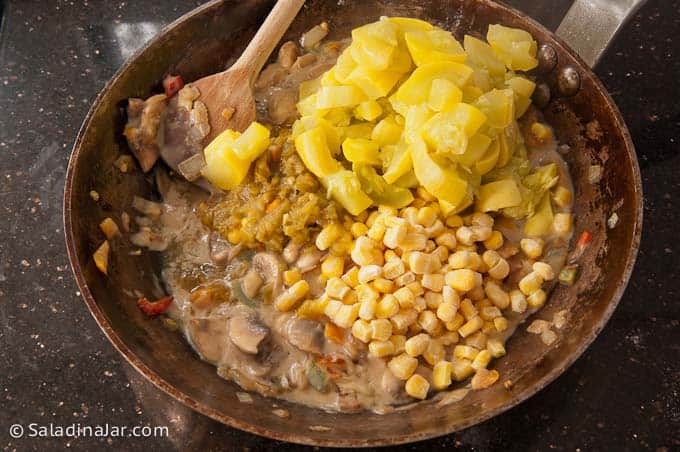 Add corn, green chiles, and cooked, smashed, and drained summer squash. Stir the squash mixture slightly.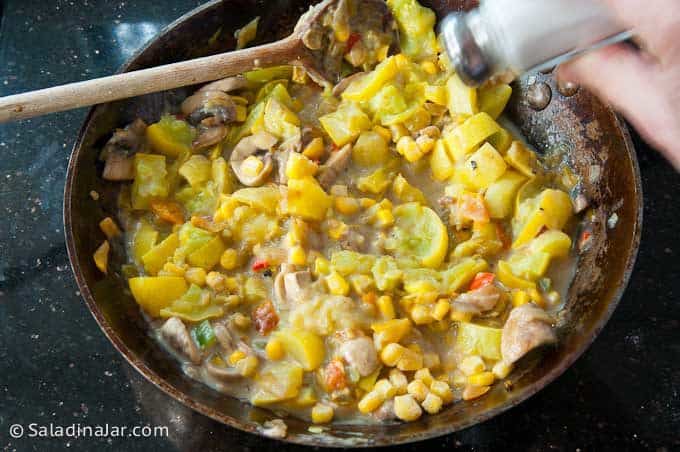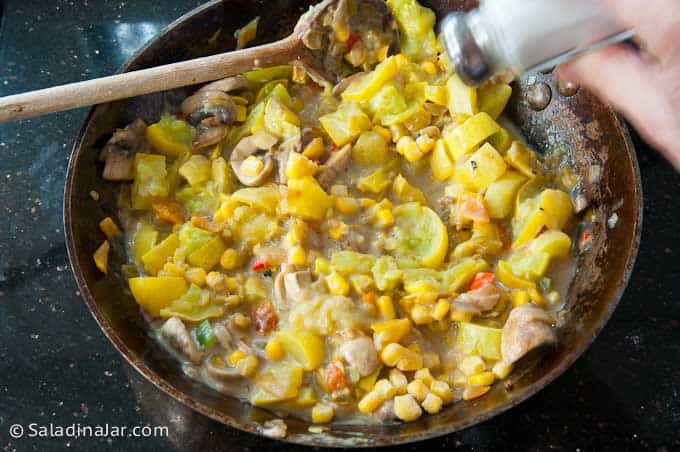 Check the taste (it's safe). Add salt and pepper if necessary.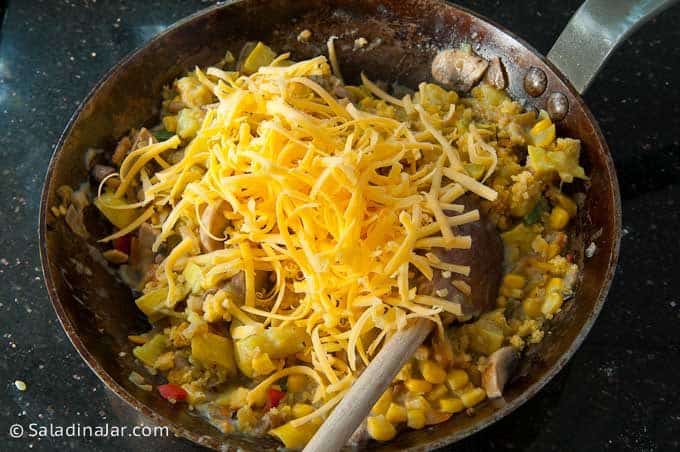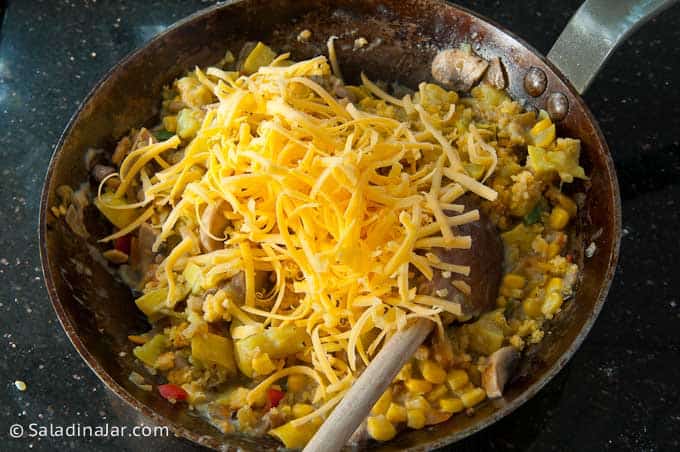 Fold in the dry stuffing mix and shredded cheese.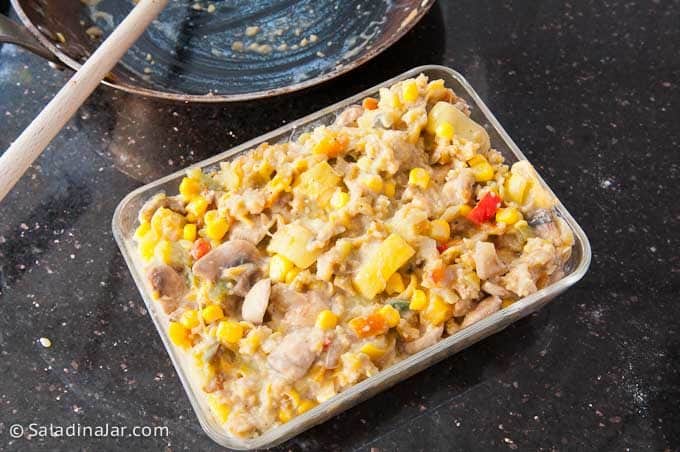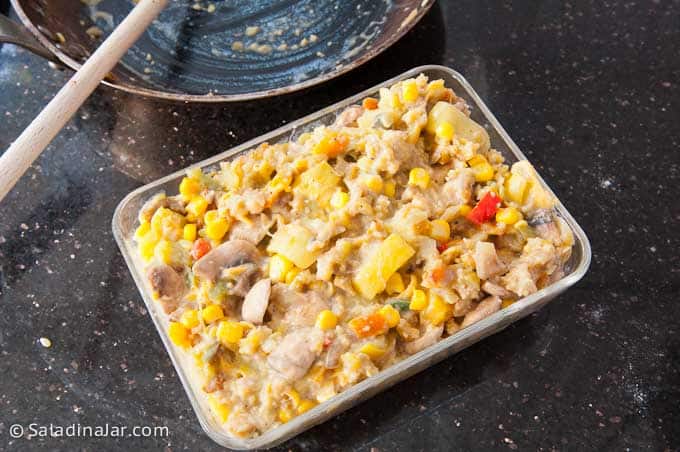 Pour into a casserole baking dish or pan and bake in a 400˚F preheated oven.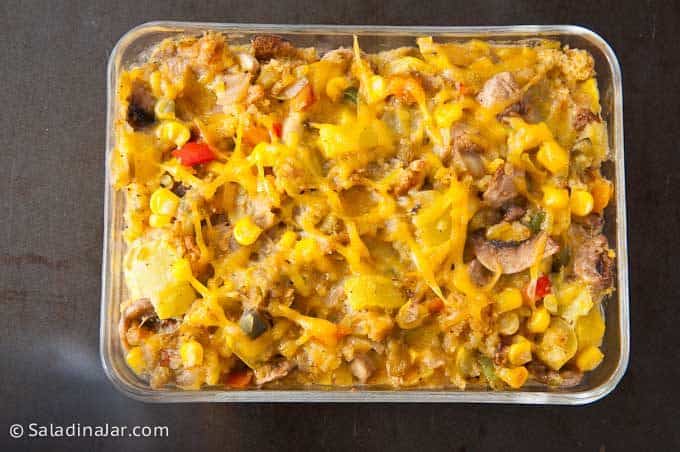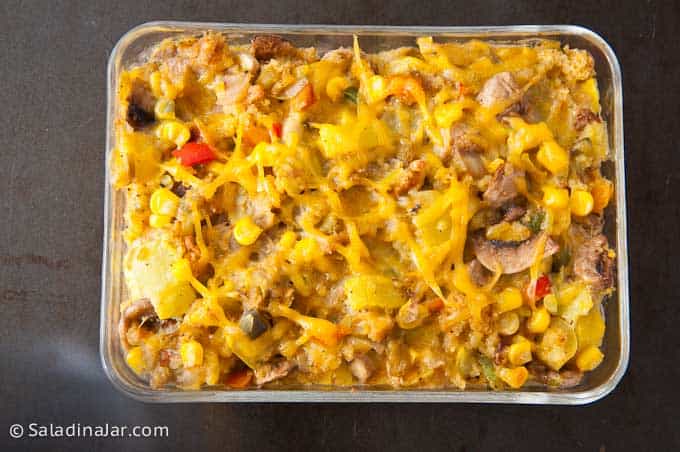 Optional: Sprinkle more cheese on top 5 minutes before the dressing is ready to take out of the oven.
FAQ about this Spicy Yellow Squash Dressing:
Can I make squash casserole ahead of time?
You can make this earlier in the day, refrigerate and bake. However, I prefer to bake it the same day I assemble it so the cornbread won't get too mushy.
Can I freeze this recipe?
Yes. Because of the cornbread, I recommend you use it within a month.
How spicy is this recipe?
The spiciness level depends on the green chiles. Some are much spicier than others. Reduce the number of chiles or leave them out if you're not a fan of spicy food.
Vegetable mixtures can be a little scary, but I think you will enjoy this casserole if you like Tex-Mex or spicy food. I love to eat this with grilled smoked sausage. It's one of my favorite comfort menus.
---
If you have questions or suggestions, email me privately to Paula at saladinajar.com. Hope to see you again soon! Paula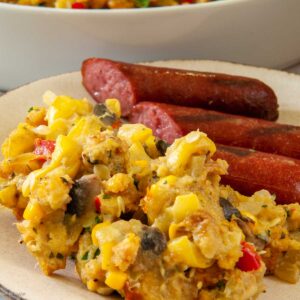 Nice and Spicy Summer Squash Casserole Recipe with Stuffing and Green Chiles
This is a spicy mixture of summer squash, corn, green chiles, and stuffing. Southern cuisine combined with Tex-Mex flavors makes a memorable side dish or vegetarian entree.
Ingredients
4

cups

summer squash

-

chopped (3 small squash or 2 medium squash)

2

tablespoons

butter

½

medium onion

-

chopped

½

cup

red or green bell peppers

-

chopped

8

ounces

white mushrooms

-

cut into small slices

¼

teaspoon

cumin

1

tablespoon

unbleached all-purpose flour

1

cup

milk

1

cup

frozen corn

4

ounces

chopped green chiles

-

more or less depending on your taste

1

cup

stuffing mix or leftover cornbread

-

(See the notes if using cornbread)

½

teaspoon

salt

Freshly ground black pepper

1

cup

Cheddar or Monterrey jack cheese, shredded

-

4 ounces
Instructions
Cook 4 C chopped summer squash with a tablespoon of added water. Cover and microwave on HIGH for about 8-9 minutes. Mash squash with a fork or masher and drain well. Set aside.

While the squash cooks, sauté chopped onions (half an onion) and ½ C of bell peppers in 1 tablespoon of butter melted in a large skillet over medium heat. After the vegetables soften, add 8 ounces of sliced mushrooms and cook another 2-3 minutes. Add 1/4 teaspoon of cumin.

Add 1 tablespoon of flour to softened veggies. Cook and stir for about two minutes, then add 1 cup of milk (whole or low-fat) to make a sauce. Stir and cook on medium-low until thickened like gravy.

Add 1 cup of corn, 1 4-oz can of green chiles (drained), and cooked, drained, squash. Season to taste with ½ teaspoon salt (only if needed, storebought stuffing can be salty already) and 1/4 teaspoon of pepper. Fold in the dried cornbread and cheese. If you prefer, save half the cheese to sprinkle on top in step 5.

Place into a greased 1-1/2 quart casserole dish. Place into a 400˚F (200˚C) oven for 20 minutes or until heated through. Sprinkle the remaining cheese on top during the last 5 minutes.
Notes
How to dry out cornbread: Crumble cornbread with your hands and let it dry on the counter for a few hours. You can hasten the process using an oven at 300˚F until the cornbread is dry. It isn't easy to specify a time as it will depend on how moist the cornbread is. Mine usually takes 15 minutes.
Nutrition
Nutrition Facts
Nice and Spicy Summer Squash Casserole Recipe with Stuffing and Green Chiles
Amount per Serving
% Daily Value*
* Percent Daily Values are based on a 2000 calorie diet.
Like this recipe? Thanks for leaving a 5-star rating inside the recipe at the top! 🤩