Street Corn and Zucchini Quesadillas are a delicious vegetarian entree with corn, zucchini, bacon, and lots of cheese to glue it all together.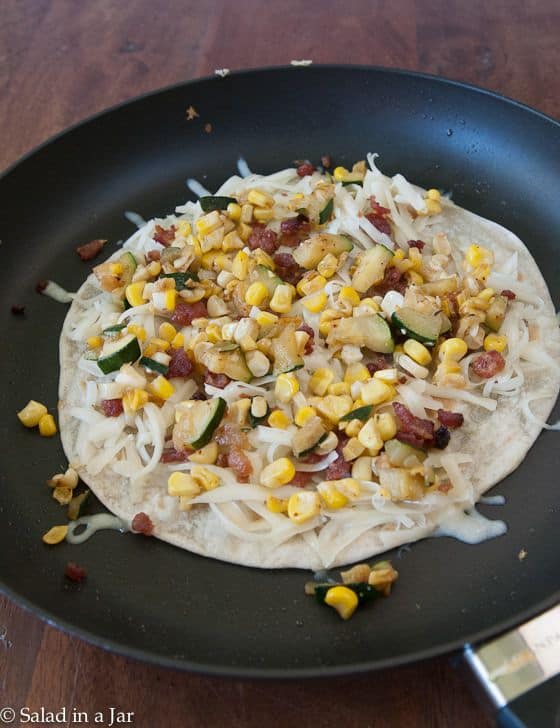 Spring is here, and I recently saw corn on the cob for sale at my local grocer.
YES! Time for Street Corn and Zucchini Quesadillas.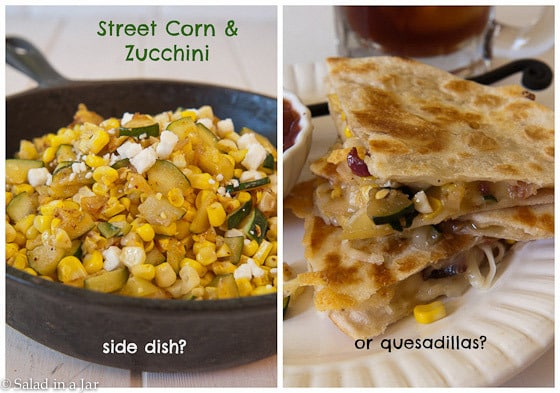 If you're not familiar with street corn, it's highly spiced and seasoned corn-on-a-stick that is often sold at festivals or fairs.
I love corn in all forms, except maybe canned. It reminds me of elementary school, so this dish is one of my favorites.
Back home in Indiana, we froze a lot of home-grown corn. When Mom finished cutting the corn from the cob, I would look for the largest pieces of stuck-together corn kernels to eat as my reward for helping.
For some unexplainable reason, they tasted better than individual kernels. I occasionally still try to recreate those delectable little chunks as evidenced by the pictures on this post for Calabacita with Potatoes.
The secret to getting those little chunks of corn?
Cool the corn before you cut it off the cob.
Kitchen secrets for cutting quesadillas:
Kitchen scissors or a pizza cutter will make it easy to divide your quesadilla into wedges for neater consumption. If you have neither, use a sharp knife.
If you don't have a sharp knife or even if you do, consider eating these when camping where it doesn't matter so much what your food looks like or what you look like when eating it.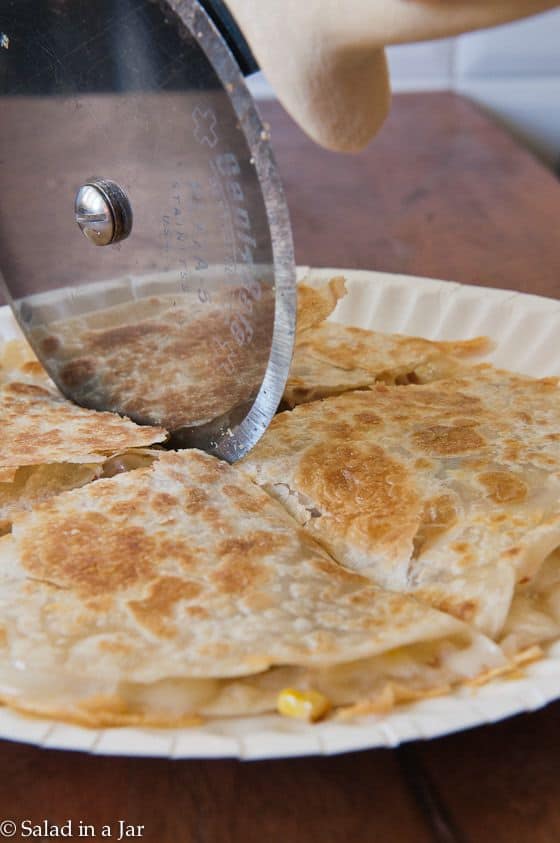 ---
---
Did you enjoy this recipe? You can help others (and me) by leaving a rating on the recipe card itself underneath the picture. No comment required. Thank you.

Hope to see you again soon!
Paula
p.s. Questions? Email me: paula at saladinajar.com.
Posts Related to Street Corn and Zucchini: