Sweet Potato Balls: A Fun and Festive Side Dish
Sneak Preview: These Sweet Potato Balls are mashed sweet potatoes formed into balls, covered with chopped pecans, then baked–an impressive side dish, for sure. Ingredients include egg whites, cayenne pepper, pecans, and butter.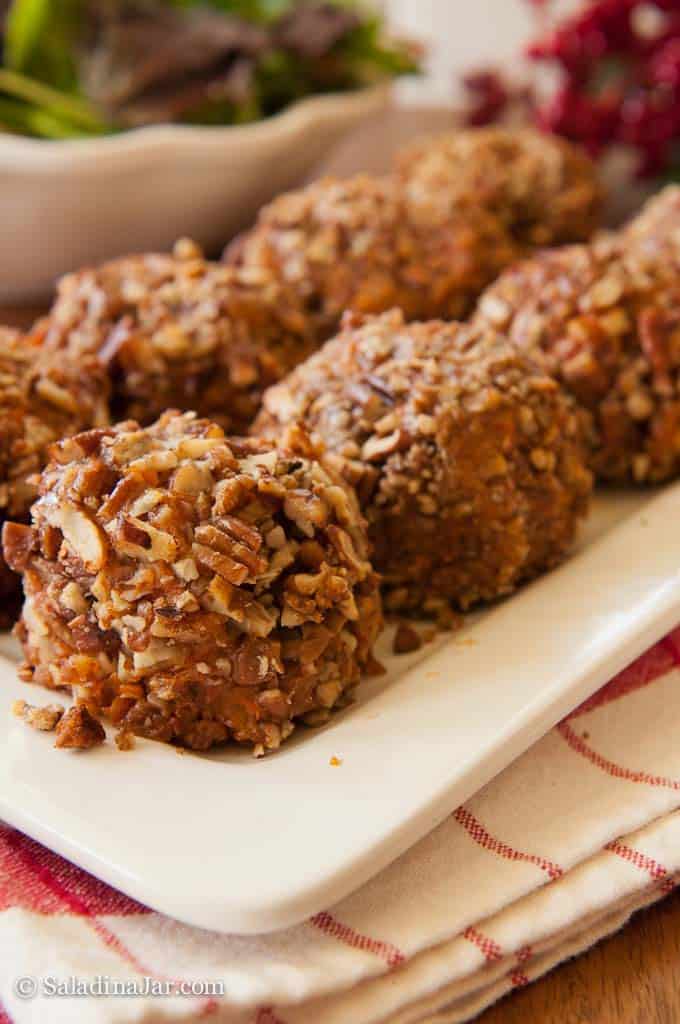 As an Amazon Associate, I earn from qualifying purchases.
How do you resist buying too many when sweet potatoes go on sale? I can't. Then I find myself with an overabundance of sweet potatoes and few ideas for preparing them.
Several years ago, my friend Debbie came to the rescue with her Baked Sweet Potato Balls recipe. So now I'm sharing my version of her recipe.
Baked Sweet Potato Balls with a Pecan Crust are seasoned, mashed sweet potatoes shaped into balls, rolled in a spicy egg white mixture, then coated with chopped pecans. Make these a tradition on your holiday menu.
---
What makes these Sweet Potato Balls special?
The technique for cooking sweet potatoes comes from the Nov-Dec 2018 issue of Cooks Country. It's a simple task on top of the stove that results in a rich, concentrated sweet potato flavor.
Marshmallows seem to find their way into many sweet potato casseroles served around the holidays, but I finally decided to say "no" to a vegetable dessert.
Instead, I use a little Swerve (but you can use sugar or your favorite sweetener) to get the slightly "sweet" flavor in the sweet and spicy pecan coating. The "spicy" notes come from Worcestershire sauce, paprika, and cayenne.
Ingredients and substitutions:
Sweet Potatoes: I recommend using fresh sweet potatoes. Canned sweet potatoes are too mushy and don't hold together like fresh ones. I have not tested this recipe with yams. Read more about the difference between sweet potatoes and yams.

Salt: Table salt, sea salt, or Kosher salt–they're all good.

Cayenne pepper: This pepper has some kick to it. Go easy if you aren't familiar with it. Did you know the cayenne pepper is best kept refrigerated?

Egg Whites: Egg whites are an important part of the glaze. They are a carrier for spices and seasonings and also serve to clue the pecans to shaped sweet potato balls. If you want a good recipe for the leftover egg yolks, try making egg noodles from scratch, or make a vanilla cream pastry filling in your microwave.

Sugar: I tested the recipe with granulated sugar, but light or dark brown sugar would also do the trick. If you prefer to avoid sugar, try Swerve or stevia as a substitute.

Worcestershire sauce: This popular sauce adds an extra dimension of flavor. Please don't leave it out.

Paprika: Use sweet paprika for flavor and color.

Pecans: Buy pecan pieces to save money since you will chop them anyway. I have not tested this recipe with other nuts, although I always leave them off a couple of potato balls for anybody who can't eat nuts.

Butter: Use salted or unsalted butter. Substitute margarine or dairy-free butter if necessary.
Variation:
Add a teaspoon of cinnamon or a dash of nutmeg instead of Worcestershire sauce for a more traditional sweet potato flavor.
If you don't want to buy pecans (they can be quite expensive), replace them with crumbled cornflakes.
---
How to make Sweet Potato Balls: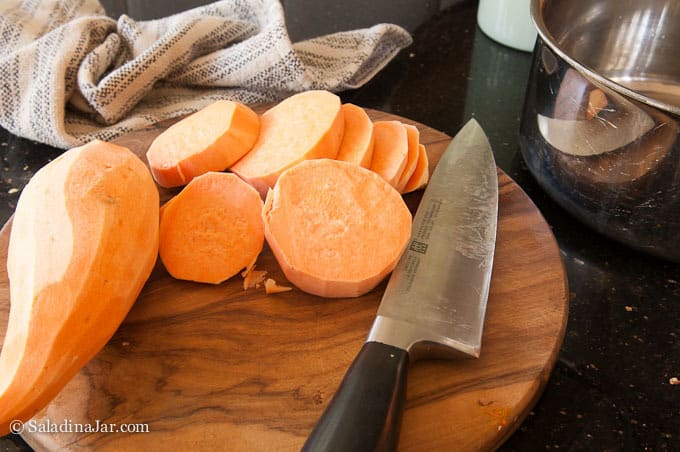 Prepare sweet potatoes:
Use a knife to slice peeled sweet potatoes into 1/2-inch pieces.
Add six tablespoons of water and sweet potatoes to a medium pot. Cover. (Boil the potatoes immediately after peeling and slicing them to keep them from turning brown.)
Cook on medium-low for 25-30 minutes, occasionally stirring until the potatoes are tender.
Drain the potatoes and allow them to cool and dry for a few minutes.
Mash with a fork or potato masher. Add salt and cayenne. Taste the potatoes at this point to ensure the seasonings are correct.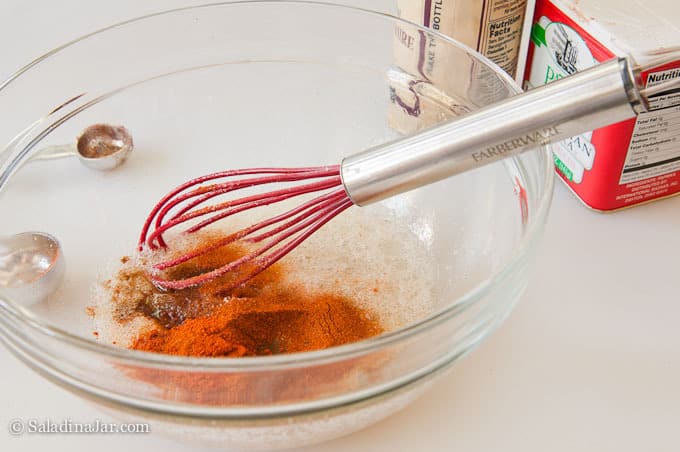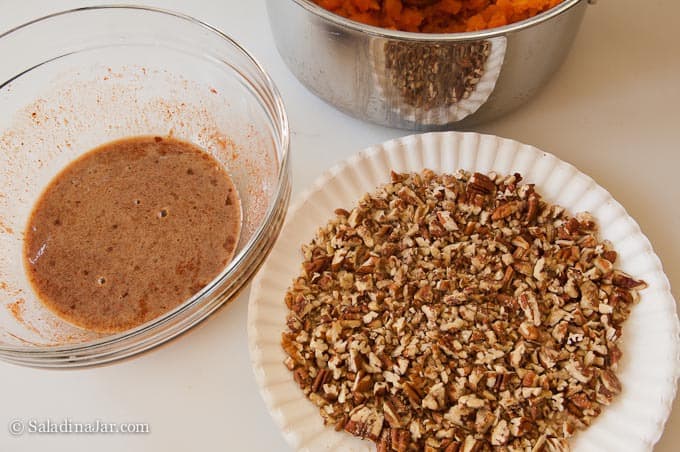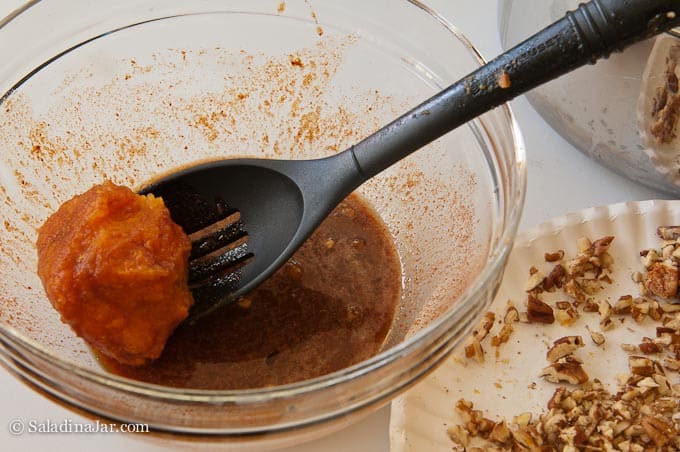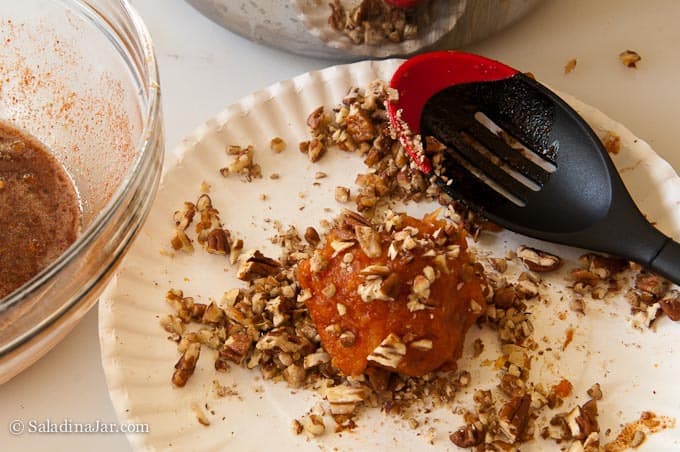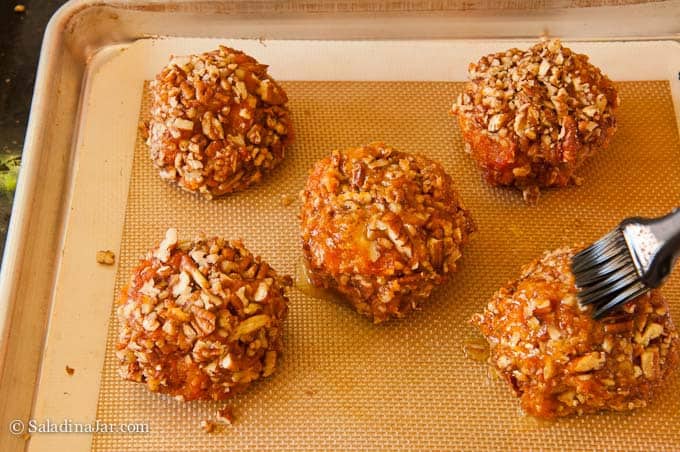 FAQ for Sweet Potato Balls recipe:
How can I peel sweet potatoes ahead of time without them turning brown?
Just like white potatoes, immediately place peeled sweet potatoes in a bowl full of water to slow down the browning.
Can this sweet potato recipe be made ahead?
Admittedly, these sweet potato balls are a little trouble. But luckily, you can do most of the work ahead of time.

Prepare balls and bake them at your convenience. When cool, wrap sweet potato balls well and freeze. Allow to thaw and reheat in the oven before serving.
Closing Thoughts: Since I only make this recipe for big holiday meals, I love that you can make the balls ahead of time and freeze them. Thanks to my friend for sharing this lovely recipe.
---
Recipe Help at Your Fingertips: For questions or suggestions, email Paula at saladinajar.com. If you need help, I'm happy to troubleshoot via email (faster than leaving a comment). Attach pictures and as many details as possible for the best advice.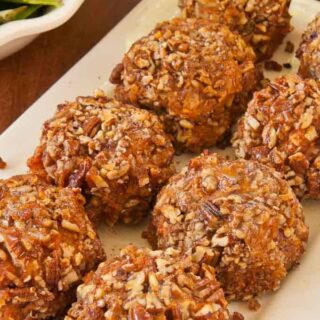 Sweet Potato Balls: A Fun and Festive Side Dish
These mashed sweet potatoes are formed into balls, rolled in a spicy egg white mixture, and then rolled in chopped pecans. They are a delicious make-ahead alternative to marshmallow, butter, and sugar-laden sweet potato casseroles.
Share recipe love here. ⬇
Ingredients
2

pounds

(

907

g

)

sweet potatoes

–

fresh

6

tablespoons

(

90

g

)

water

½

teaspoon

salt

dash

(

Dash

)

cayenne pepper
Egg White Coating
2

large

(

2

)

egg whites

1

teaspoon

water

1

teaspoon

salt

2

tablespoons

(

24

g

)

granulated sugar

2

teaspoons

Worcestershire sauce

1

tablespoon

paprika

1

teaspoon

cayenne

2

cups

(

250

g

)

finely chopped pecans

3

tablespoons

(

42

g

)

butter, melted
Instructions
Peel and cut

2 pounds

(

907

g

) sweet potatoes into half-inch slices. Place them into a covered pot with

6 tablespoons

(

90

g

) water. Cook over medium-low heat, occasionally stirring until potatoes are soft. It usually takes 20-25 minutes.

Drain the potatoes and allow them to cool and dry for a few minutes. Mash with a fork or potato masher. (Do not use a mixer, food processor, or immersion blender as they will cause sweet potatoes to be too soft.)

Season with

½ teaspoon

salt and

dash

(

Dash

) cayenne pepper.

Preheat oven to 400˚ F (200˚C). Prepare a cookie sheet by covering it with parchment paper, a silicone mat, or grease it well.

Mix

2 large

(

2

) egg whites,

1 teaspoon

water,

1 teaspoon

salt, and

2 tablespoons

(

24

g

) granulated sugar with a fork until frothy. Add

2 teaspoons

Worcestershire sauce,

1 tablespoon

paprika, and

1 teaspoon

cayenne. Mix well.

Spread

2 cups

(

250

g

) finely chopped pecans on a piece of wax paper or a plate.

Make sweet potato balls using a spring-loaded ice cream scoop. I like balls between ⅛ to ¼ cup size. (Surgical gloves are really helpful here.) Drop balls one at a time into the egg white mixture with a slotted spoon making sure the whole ball gets coated. Then cover each ball with finely-chopped pecans.

Place on a prepared cookie sheet. Brush with

3 tablespoons

(

42

g

) butter, melted.

Bake for 15-20 minutes or until nuts become toasty and balls are heated through.
Notes
If you have any of the egg white mixture left over, here's an idea. Add a tablespoon of melted butter to the mixture and stir. Add more pecans–1/2 cup. Pour onto a greased or silicone mat-covered baking sheet. Bake at 350 for 15 minutes or until toasty. These are so good crumbled over a salad. Or….you could eat them straight up as I do.
The nutritional estimates on this recipe may be a little high because you will probably have a little bit of the egg mixture and butter left over after making the balls.
Nutrition
Serving:
1
|
Calories:
341
kcal
|
Carbohydrates:
30
g
|
Protein:
5
g
|
Fat:
24
g
|
Saturated Fat:
4
g
|
Polyunsaturated Fat:
6
g
|
Monounsaturated Fat:
12
g
|
Trans Fat:
1
g
|
Cholesterol:
11
mg
|
Sodium:
564
mg
|
Potassium:
527
mg
|
Fiber:
6
g
|
Sugar:
9
g
|
Vitamin A:
16376
IU
|
Vitamin C:
5
mg
|
Calcium:
58
mg
|
Iron:
1
mg
HELP OTHERS find this recipe. Leave a 5 🌟🌟🌟🌟🌟 rating at the top of the recipe card if you enjoyed it. No comment is required.