Thin Baked Sweet Potato Chips That Will Disappear in a Flash
Sneak Peek: Thin Baked Sweet Potato Chips are crispy slices of sweet potatoes coated with olive oil, then baked in the oven. Resistance is futile!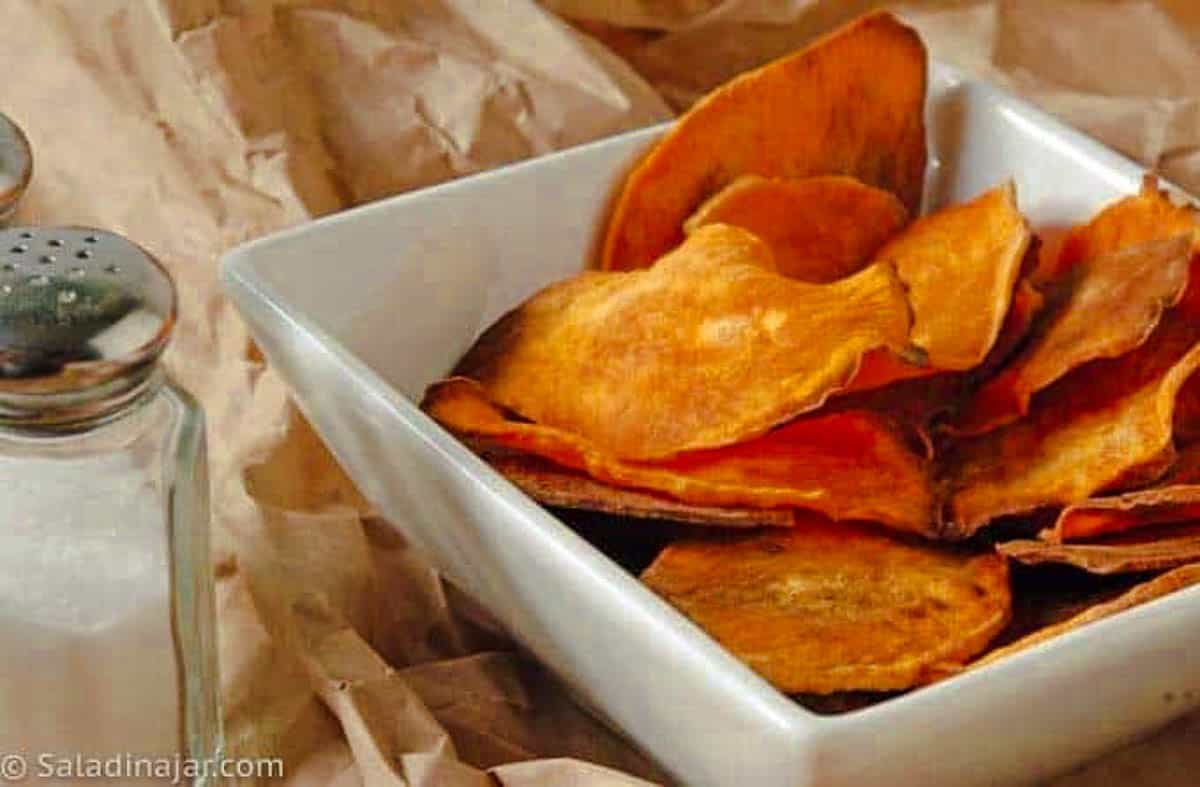 As an Amazon Associate, I earn from qualifying purchases.
My daughter-in-law gave my family the nickname "the condiment family." Now that I think about it, she might be right.
Do you have a refrigerator door full of condiments? If so, let's talk.
We love to dip. Not the nasty kind of dip that rots out your lower lip. We're talking about various condiments like mustard, ketchup, ranch dressing, sweet and sour sauce, salsa, etc.
Happy Cooks Speak Up:
"Easy, healthy and tasty." —Patricia G
What is a good dip for Sweet Potato Fries?
We love MayoChup. We also love it with French fries (and just about everything else, too). It's sold in the same aisle as mayonnaise, steak sauce, etc.
Frozen sweet potato fries vs. crispy baked sweet potato chips:
Frozen sweet potato fries from the store are excellent and straightforward to prepare. But these chips are delicious if you would rather have half the calories for just a little more effort.
However, they do require attention in the oven as some will cook more quickly than others due to slight irregularities in thickness. Perfection is overrated!
---
How to prepare homemade sweet potato slices: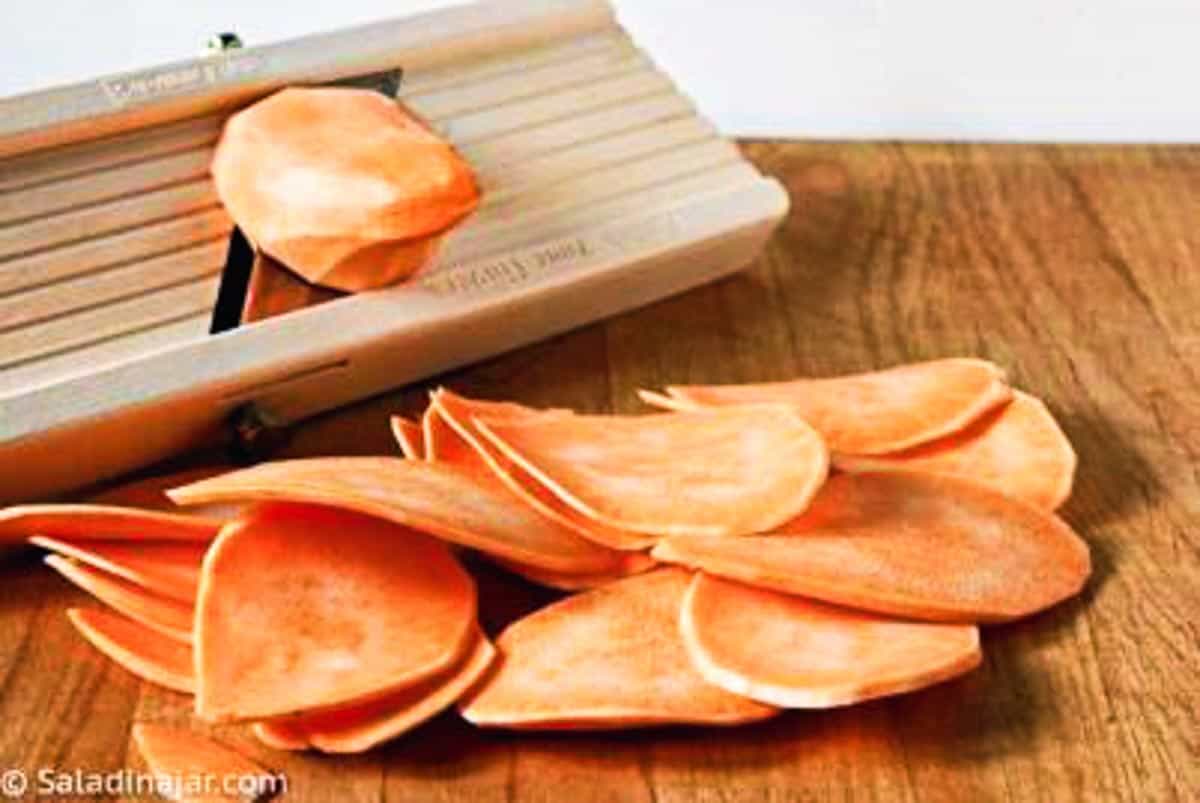 See how thin those slices are? You need a mandolin to do this easily. The one pictured is older and still available.
If you don't get the potatoes sliced thin enough, they won't get crispy. Of course, you can try it with a sharp knife. A food processor with a thin slicing attachment can also work.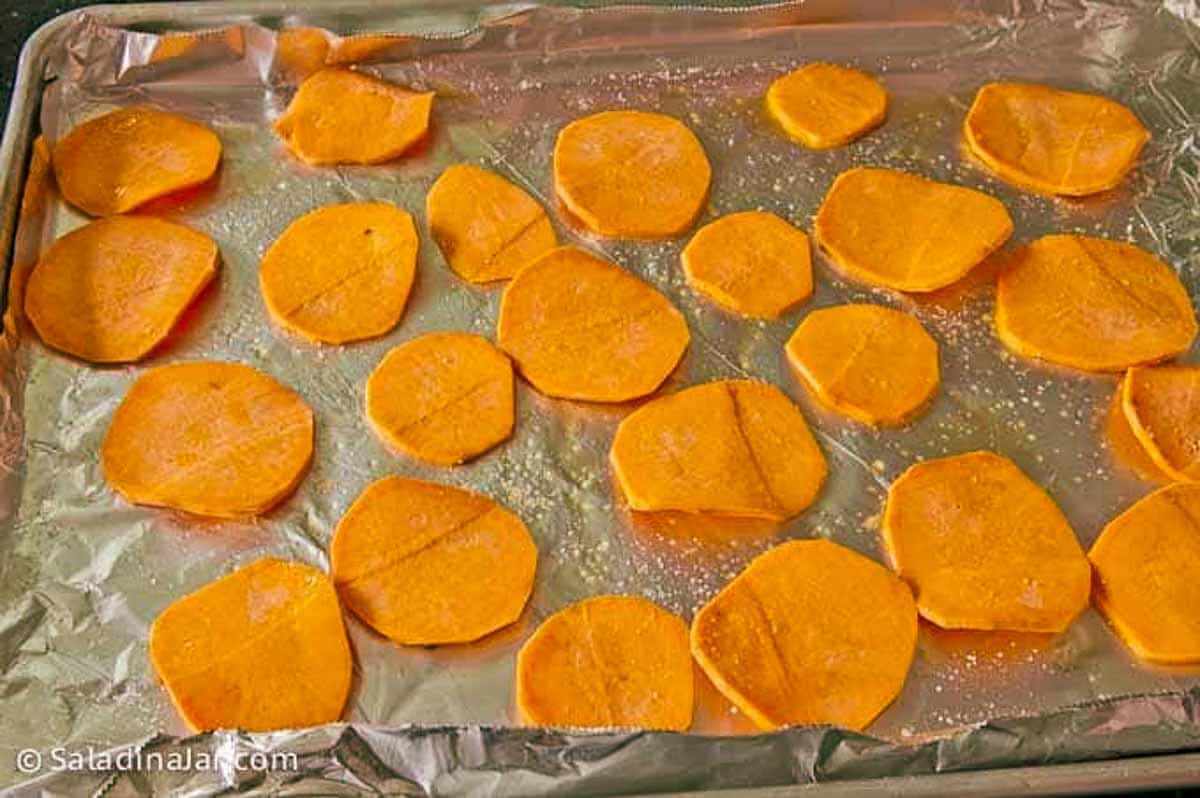 ---
What Do You Serve with Thin Sweet Potato Chips?
Chicken Salad or Ham Salad is particularly tasty when served on top of sweet potato chips.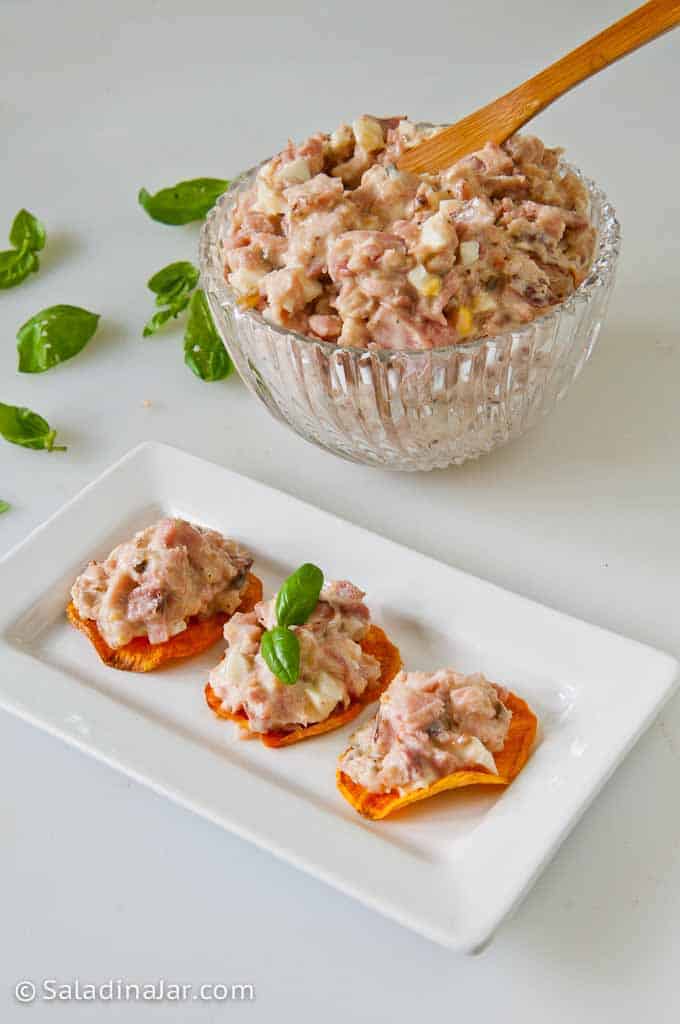 ---
FAQ Homemade Baked Sweet Potato Fries
Do I need to soak the sweet potato slices in water before baking?
No. If you peel and slice the sweet potatoes ahead of time, cover them with water to prevent discoloration. Drain well and dry the chips before spraying them with oil and putting them into the oven.

The key to crispy baked sweet potato slices is to slice them very thin.
How do you keep sweet potato chips from getting soggy?
Slice them very thin, spray them with oil, and eat them while they are hot.
---
Recipe Help at Your Fingertips: For questions or suggestions, email Paula at saladinajar.com. If you need help, I'm happy to troubleshoot via email (faster than leaving a comment). Attach pictures and as many details as possible for the best advice.
---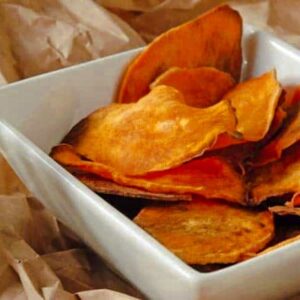 Thin Baked Sweet Potato Chips Recipe
Homemade sweet potato chips baked in the oven turn out crispy when sliced thin and given a light coating of oil.
Share recipe love here. ⬇
Ingredients
1

medium sweet potato

–

5 inches long

1

tablespoon

olive or avocado oil

pinch

(

Pinch

)

of sea salt
Instructions
Preheat oven to 400˚F (200˚C).

Spray a baking sheet with nonstick cooking spray or use a silicone baking sheet (my choice) or parchment paper. Slice

1

medium sweet potato into very thin slices.

In a large bowl, toss potato slices with

1 tablespoon

olive or avocado oil and a

pinch

(

Pinch

) of sea salt to coat lightly. Lay the slices in a single layer on the prepared baking sheet.

Bake for 15 minutes. Flip each chip and bake for 5 minutes more or until chips are crisp. Watch carefully at the end so they don't burn.
Nutrition
Serving:
1
|
Calories:
159
kcal
|
Carbohydrates:
23
g
|
Protein:
2
g
|
Fat:
7
g
|
Saturated Fat:
1
g
|
Polyunsaturated Fat:
1
g
|
Monounsaturated Fat:
5
g
|
Sodium:
62
mg
|
Potassium:
381
mg
|
Fiber:
3
g
|
Sugar:
5
g
|
Vitamin A:
16031
IU
|
Vitamin C:
3
mg
|
Calcium:
34
mg
|
Iron:
1
mg
HELP OTHERS find this recipe. Leave a 5 🌟🌟🌟🌟🌟 rating at the top of the recipe card if you enjoyed it. No comment is required.