Preview: This potato and sweet potato mash makes a beautiful and tasty side dish that's not overly sweet and cloying.
Are you tired of sweet potato casseroles that make you feel like you need a can of Redi-Whip to top them off?
I love a good sweet potato pie–for dessert. But when I'm eating turkey, roast beef, or even green bean casserole, it doesn't seem fittin' to plop a brown-sugar, butter-saturated spoonful of sweet potatoes down next to them.
If you feel the same way, this recipe is a beautiful alternative.
Why is mixing these sweet potatoes and white potatoes a good idea?
So often, a dish of 100% sweet potatoes can be cloying.
Adding white potatoes seems to mellow out the sweet potatoes. They also complement each other texture and taste-wise.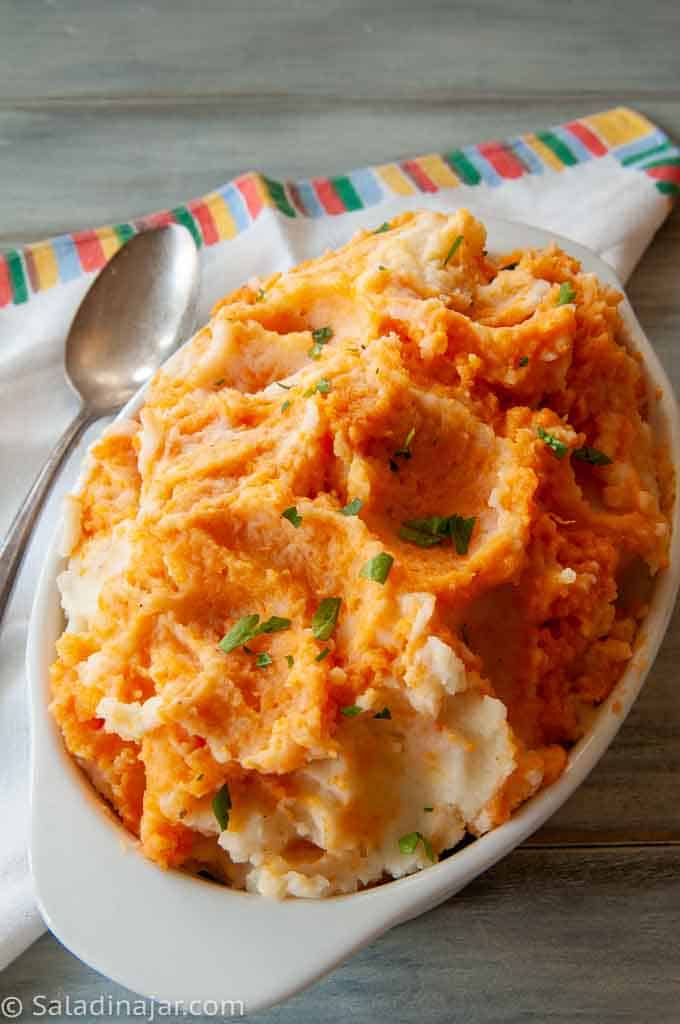 If you have a lonely potato or two sitting on your kitchen counter, add it to potatoes of the other color. For example, if you only have one or two sweet potatoes, make up the difference with more white potatoes. It doesn't matter.
FAQ about Mashed Potatoes and Sweet Potatoes:
Can I substitute yams for sweet potatoes?
I don't recommend it. Real yams are entirely different root vegetables that are more like yucca in texture and flavor. They are not even in the same family as sweet potatoes. In the United States, yams are not seen very often in grocery stores unless you go to a specialty market.
Can I use white sweet potatoes or purple sweet potatoes for the orange ones?
White sweet potatoes and purple sweet potatoes (if you can find them) are generally interchangeable. Both varieties tend to be denser and starchier.
The novelty of the orange and white colors will be for naught if you use the white sweet potatoes. The purple potatoes may bleed into the white potatoes when you make the swirl since they are boiled first.
How do you prevent the colors from bleeding if you use purple potatoes? Mary-Frances Heck, author of Sweet Potatoes suggests roasting, sautéeing, or frying. As you can imagine, purple bleeding would blur the swirl effect in a bad way.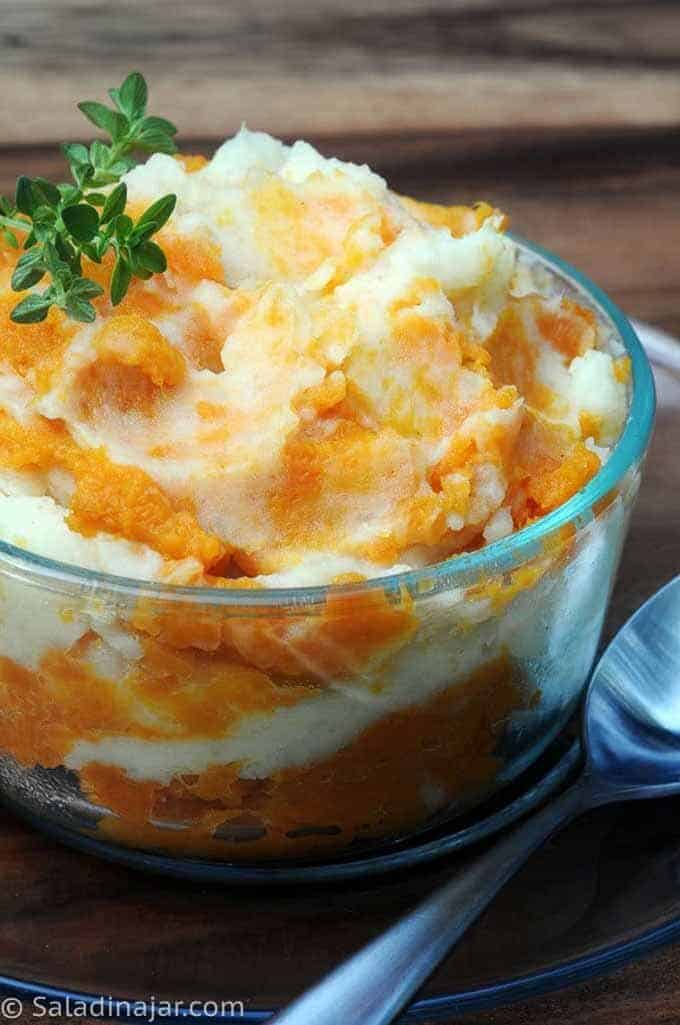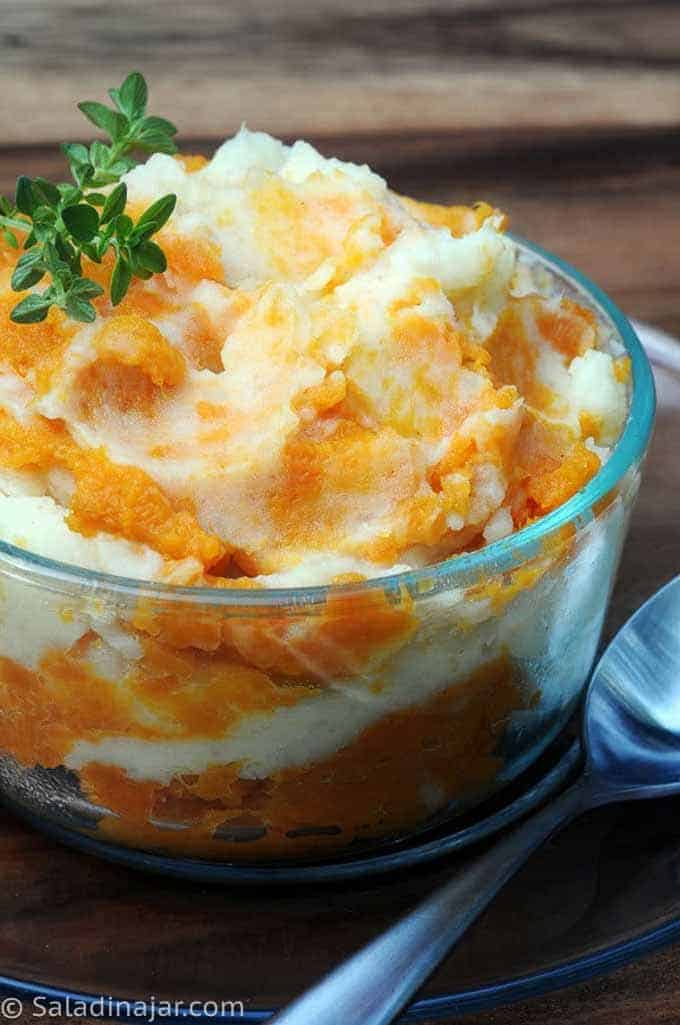 What variety of white potatoes is the best for this recipe?
Yukon Gold or russets are best, in that order. The variety and age of your potatoes affect how much milk you need to add. Start with less and add more milk only as need it to get the best texture.
Do I have to peel the potatoes?
No, you can leave them unpeeled if you prefer. Scrub them well and cut them into chunks. Leaving the skins on will give some texture and extra fiber.
Suit yourself on this one. You can peel both types of potatoes (specified in the recipe), or just the sweet potatoes, or don't peel (but do scrub) at all.
---
What do I serve with this side dish?
Whenever you would serve mashed potatoes is a good time to serve this casserole. Try a little gravy over the top.
If you're trying to cut back on gravy, this recipe is also a good way to go. The sweet potatoes add flavor.
Don't save this dish for the fall and winter holidays alone. It's perfect with grilled meats–especially something spicy like sausage.
How to make White and Sweet Potato Mash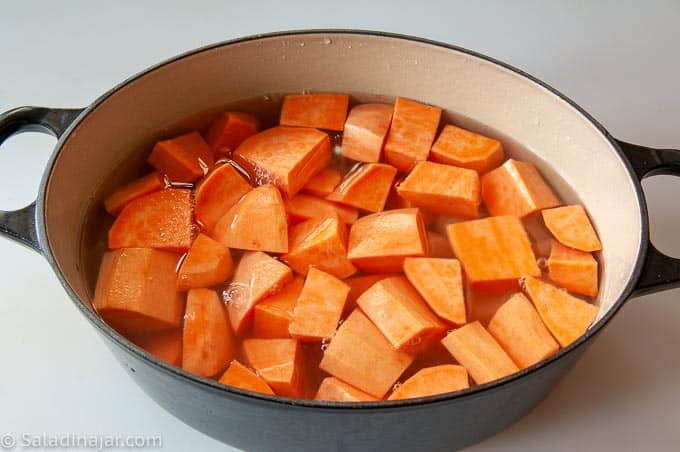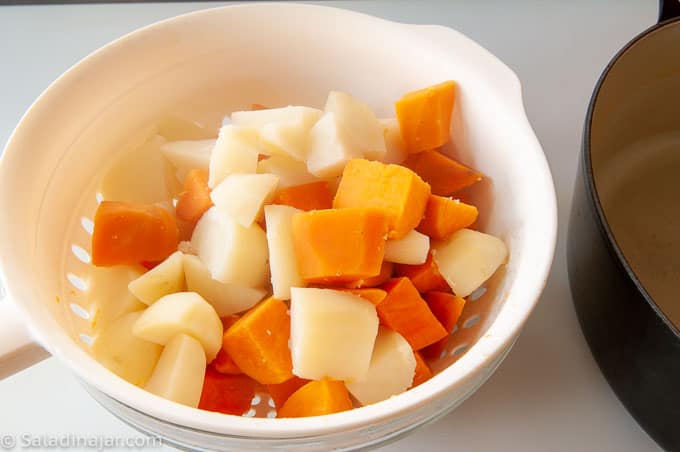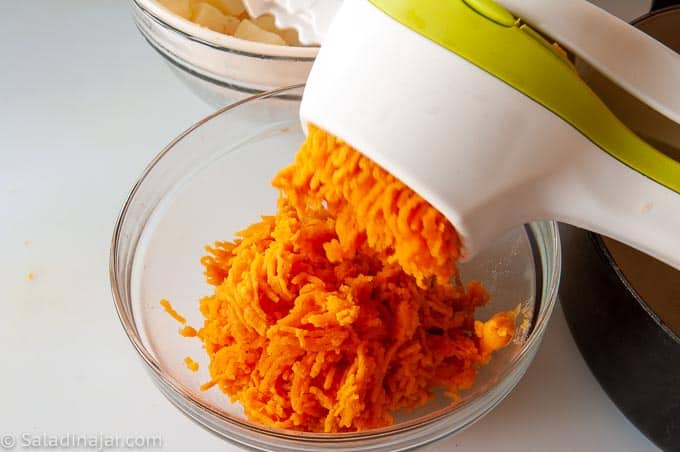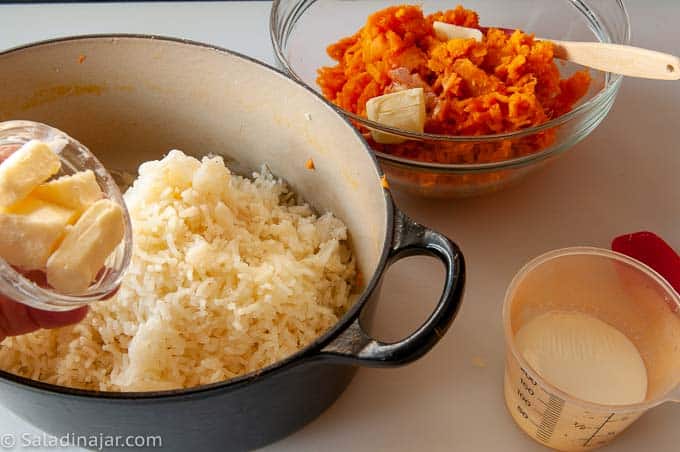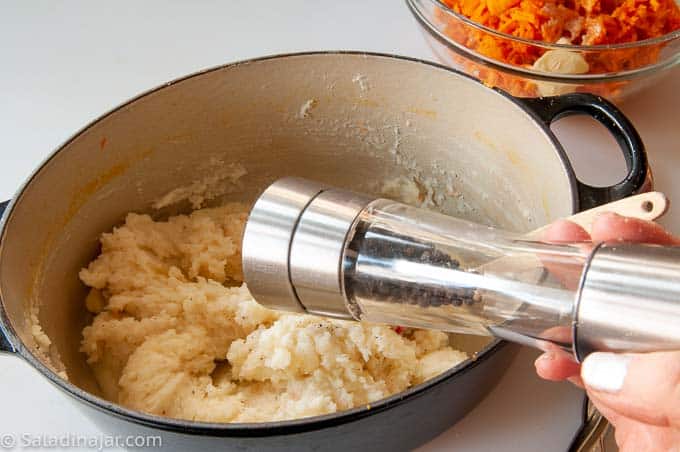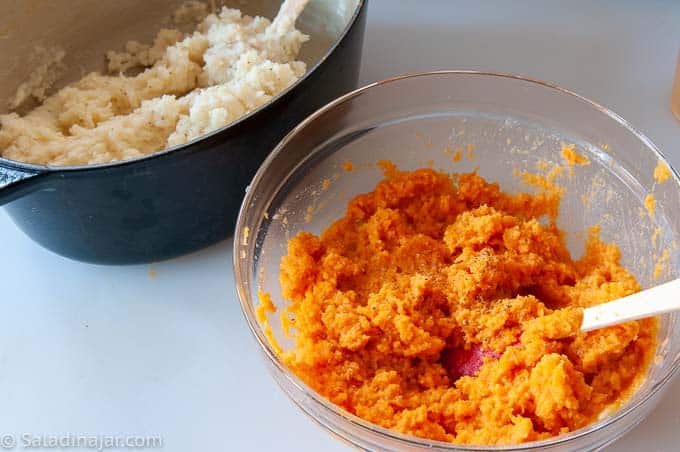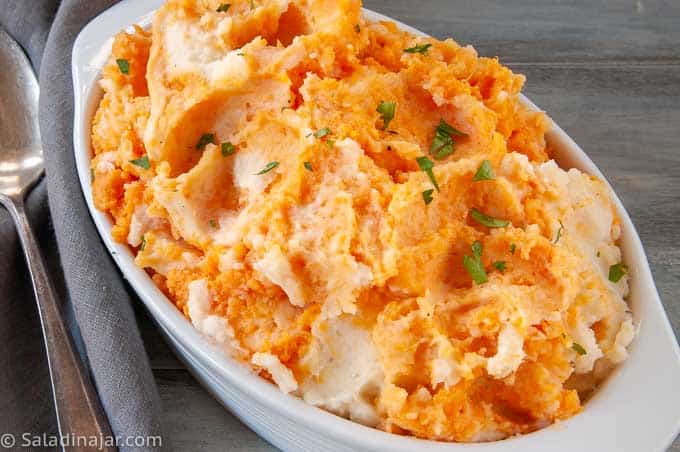 ---
More recipes for potato lovers
---
Did you enjoy this recipe? If so, you can help others and me by leaving a 5-star 🤩 rating inside the recipe below. No comments required.
Hope to see you again soon!
Paula
p.s. If you have any questions or suggestions, you can email me privately: paula at saladinajar.com.