Make this fun-to-eat Pull-Apart Yeast Bread scratch recipe in a bread machine. Pile three different flavors of rolls into one bundt pan. Everyone gets to choose their favorite flavor: cheese, cinnamon-sugar, or buttered…or maybe one of each?!
Although this recipe is written to be mixed and kneaded in a bread machine, you have other options. This recipe will work with frozen bread dough or see the notes at the end of this recipe to use a stand mixer or make by hand.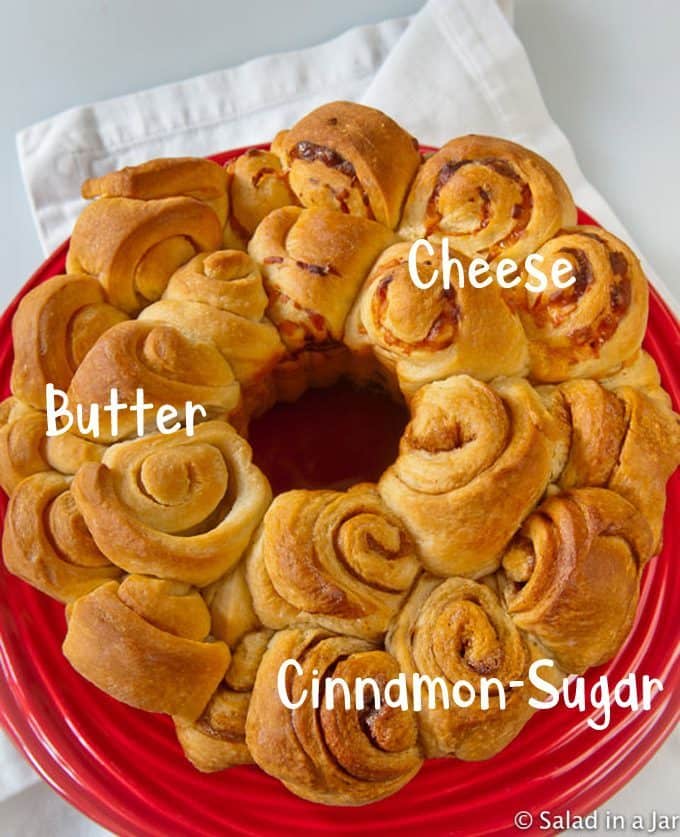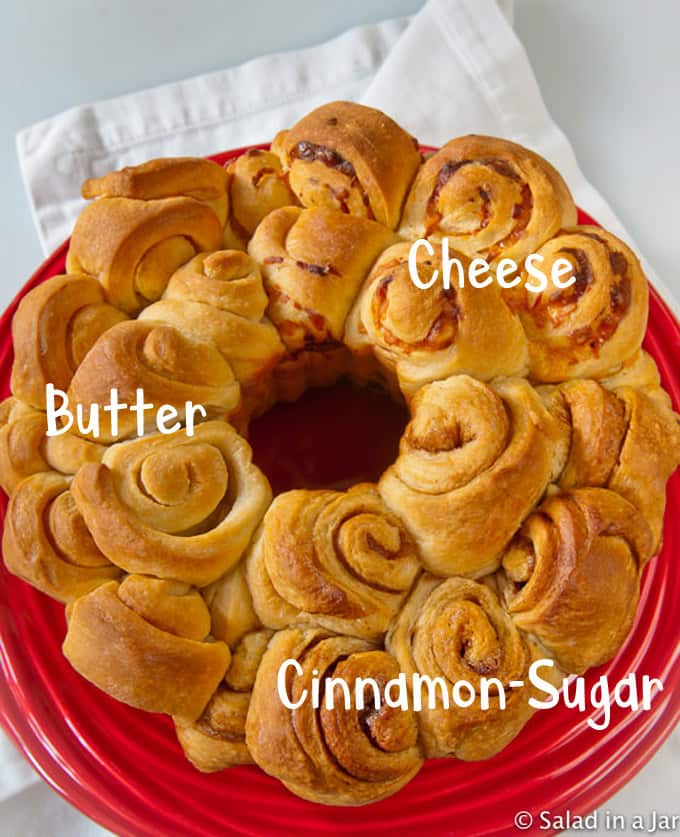 Three-Flavor Pull-Apart Bread (what we typically call "monkey bread") gives me that kid-in-a-candy-or-ice-cream-store feeling. Surely you know it. Which flavor should I choose? Cheese, cinnamon-sugar, or buttered? How about one of each? Maybe two?
Admittedly, this bread is slightly more involved than my plain monkey bread recipe. While both are mixed and kneaded in the bread machine, the shaping and assembly make them different.
---
---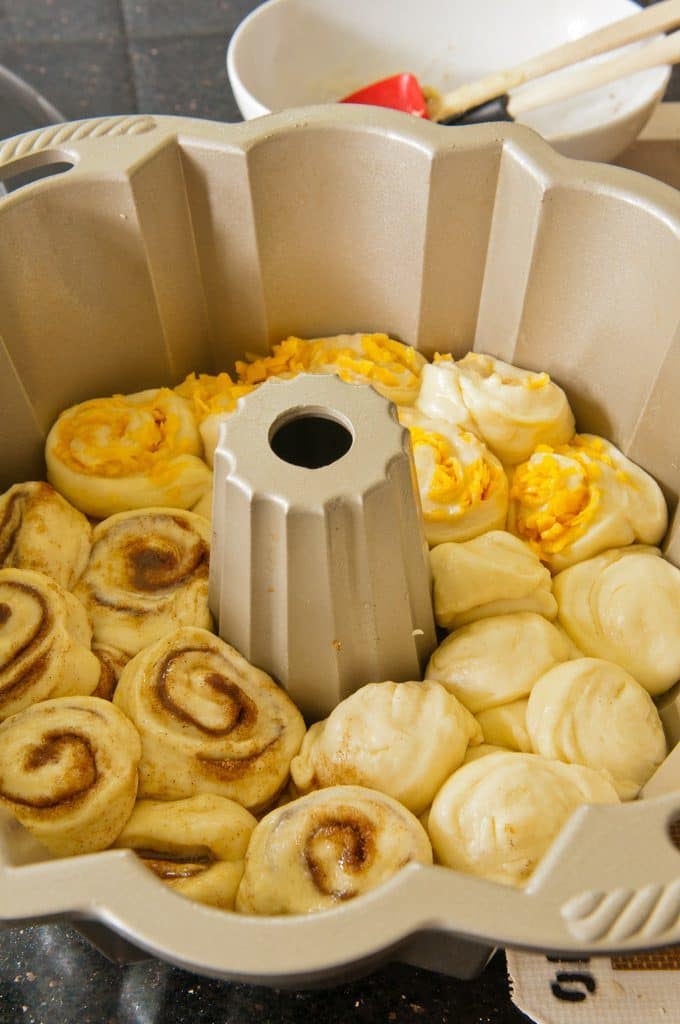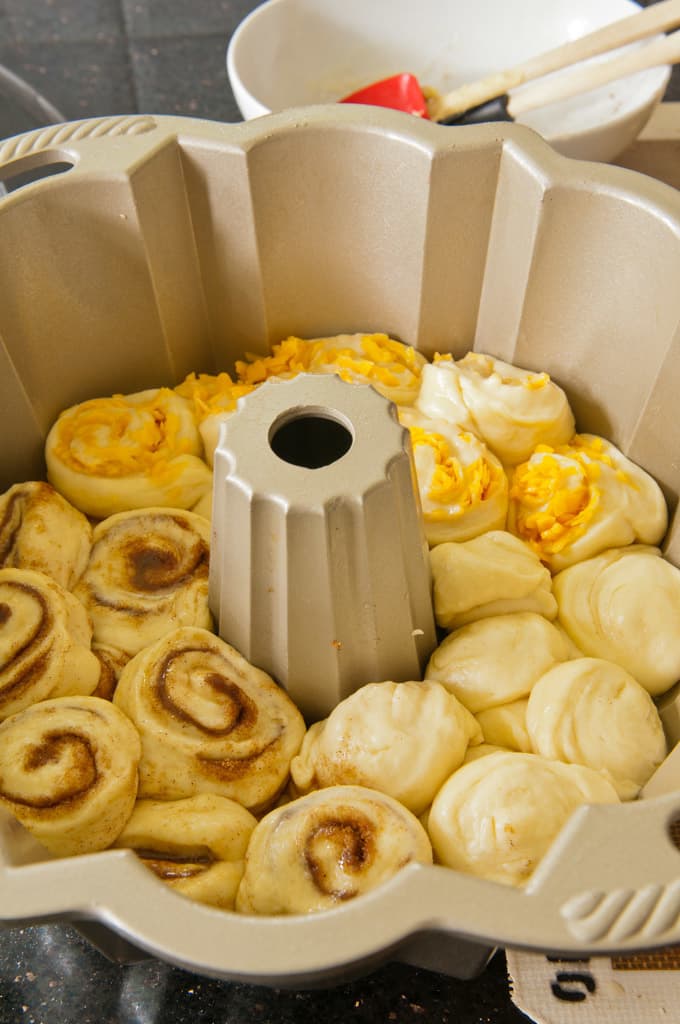 ---
What occasion is best for this Pull-Apart Bread recipe?
My favorite time to bring out this bread is for a family dinner where kids and adults are both present. Everybody is happy with the choices.
Another good time to pull out this bread recipe is when you want to give somebody fresh-baked bread. They will appreciate the butter rolls for dinner, the cinnamon-sugar rolls for breakfast, and the cheese rolls for dinner or a snack.
How do you serve this recipe?
Sometimes, people think this scratch pull-apart bread is actually a cake instead of bread, especially if you serve it with the bottom side up. I suggest you tell them or show them by pulling off the first piece. Otherwise, you might end up with an untouched masterpiece because they think it is dessert.
---
Posts Related to this Pull-Apart Bread:
---
Pin the picture below to save for later.


---
---
---
Did you enjoy this recipe? You can help others (and me) by leaving a rating on the recipe card itself underneath the picture. No comment required. Thank you.

Hope to see you again soon!
Paula
p.s. Questions? Email me: paula at saladinajar.com.
---
Yield: 16 servings
Pull-Apart Bread Machine Recipe with Three Flavors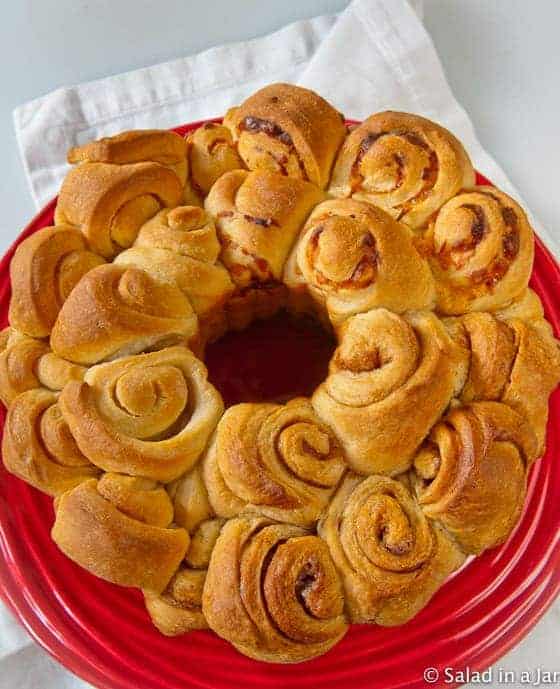 Monkey Bread (yeast) with 3 different flavors: butter, cheese, cinnamon-sugar; mixed and kneaded in a bread machine
Total Time
3 hours
30 minutes
Ingredients
Dough
1 c. warm milk
1 1/4 t. salt
1 large egg
1/4 cup salted butter, softened + additional 1/4 butter for dipping dough before adding to pan
3 tablespoons sugar
3 1/4 cups unbleached flour (hold back 1/4 cup flour to use only if needed to make dough the right consistency
2 1/4 teaspoons bread machine or instant yeast
Flllings:
1 cup shredded Cheddar cheese (a generous cup)
1 tablespoon milk
1/4 cup brown sugar
1 teaspoon cinnamon
Instructions
Dump all ingredients into bread machine in order listed. Select dough cycle and start.
Check dough about 10 minutes into the mixing process. If too sticky, add the 1/4 cup flour one tablespoon at a time. Dough should touch the side, then pull away--like the dough at the bottom of this picture.
When dough cycle completes and dough has doubled in size, dump dough out of pan onto a floured surface. I like to use a floured silicone baking mat because it can go into the dishwasher.
Divide dough into 3 parts each a slightly different size: 11 ounces, 10 ounces, and 9 ounces. Weigh it or just eyeball it.
Take the largest dough ball (11 oz) and roll it into a 9 x 13-inch rectangle. Brush the surface with milk. Evenly spread sugar and cinnamon over the entire surface. Roll it tightly starting from the long end. Cut into 12 equal little pinwheels.
Lightly dip/coat each pinwheel with butter and lay with the cut side down into your prepared (sprayed with mixture of flour and oil) 12-cup bundt pan.
Stack all cinnamon-sugar pieces on top of each other taking up a little less than one third of the pan using care to put the cut sides flat into the pan. See picture above.
Roll the medium-sized ball (10 oz.) into a 9 x 13-inch rectangle. Sprinkle evenly with a generous cup of shredded Cheddar cheese. Continue by rolling and cutting just like the cinnamon-sugar rolls. After lightly dipping in melted butter, place rolls, cut sides down into 1/3 of the pan, leaving one third for the buttered rolls.
Again, roll the smallest ball (9 oz.) into a 9 x 13-inch rectangle. Slather with softened butter. Roll up tightly, starting with the long end, and slice roll into 12 pieces.
Dip pinwheels in butter and fill in remaining 1/3 to 1/2 space left in bundt pan. (You want the plain dough area to be smaller initially as it will proof faster and rise higher than the cheese or cinnamon-sugar dough. If they are all equal when you finish laying all the rolls in the pan, your final product will most likely be lopsided.)
Cover and let rise until doubled. This may take as long as 60-90 minutes, depending on the ambient temperature.
Bake at 350 degrees for 35-40 minutes or until golden brown and baked through. If necessary, cover with foil to keep the top from over-browning. This burns easily on top, so watch carefully.
Let bread sit for at least 5 minutes before turning it out onto a serving plate. Slice OR serve uncut and let people pull off what they want.
Notes
If you decide to use frozen bread dough, let the dough thaw completely before you start to roll it out. You will need about 30-32 ounces of dough to get the same volume as making this recipe from scratch.
Alternate Mixing Instructions:
Directions for making bread with a stand mixer or by hand:
To make this recipe in a heavy-duty stand mixer, add ingredients to the bowl in the same order. Turn on low to mix until all ingredients are moistened. Using a dough hook, turn speed to 2 or 3 and continue beating/kneading until dough becomes smooth and elastic (about 5-10 minutes). Cover and allow to rise in a warm place. Deflate dough gently and shape as indicated in the recipe.
If making by hand, combine all ingredients into a shaggy ball in a large bowl. Turn dough out onto a floured surface and knead with your hands until dough becomes smooth and elastic, a process that will likely take 10-20 minutes depending on your experience. Place the dough ball into a greased bowl. Cover and allow to rise until double. Deflate dough gently and shape as indicated in the recipe.
How to substitute active dry yeast for bread-machine yeast or instant yeast:
If you substitute regular yeast for instant or bread-machine yeast, you must dissolve it first before adding to the dry ingredients. Stir it into about 1/4 cup of the lukewarm liquid called for in the recipe. Let sit for about 10 minutes. Add to other wet ingredients and then add dry ingredients. Proceed as directed to knead and shape the dough.
Nutritionals will vary depending on which flavor roll you choose.
Recommended Products
As an Amazon Associate, I earn from qualifying purchases. But don't worry. This doesn't change the price you pay.
Nutrition Information:
Yield:
16
Serving Size:
1
Amount Per Serving:
Calories:

317
Total Fat:

14g
Saturated Fat:

6g
Trans Fat:

0g
Unsaturated Fat:

6g
Cholesterol:

28mg
Sodium:

384mg
Carbohydrates:

42g
Fiber:

1g
Sugar:

5g
Protein:

6g
Nutritionals will vary depending on which flavor roll you choose.