Cheesy-Crusted Yeast Rolls are a pillowy soft, cheese-infused dinner roll with a chewy, cheesy crust. They make scrumptious slider buns, too.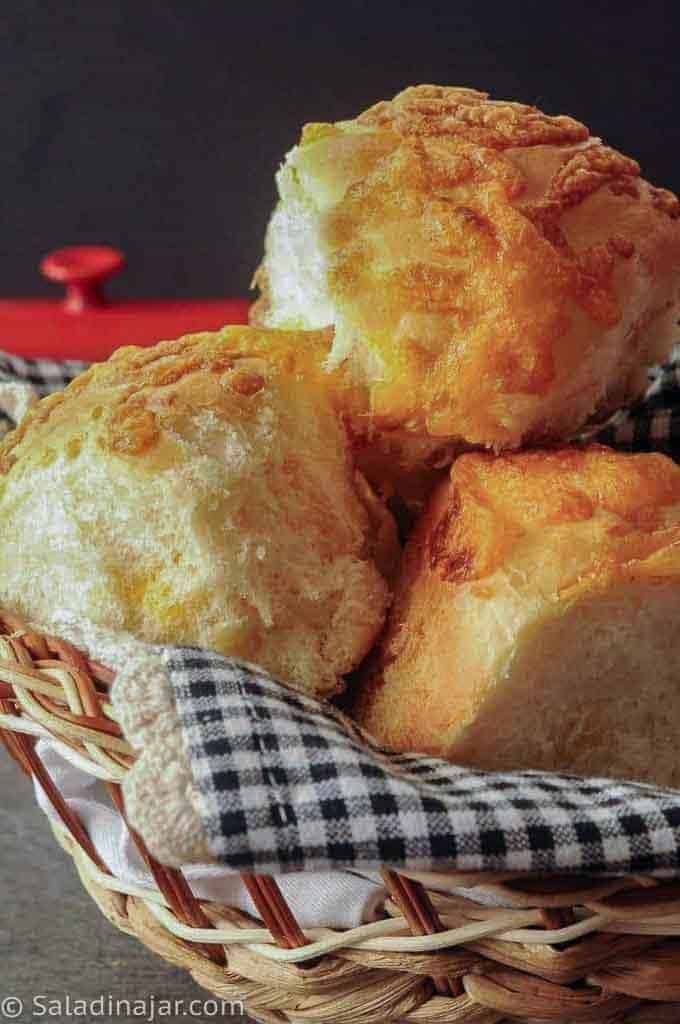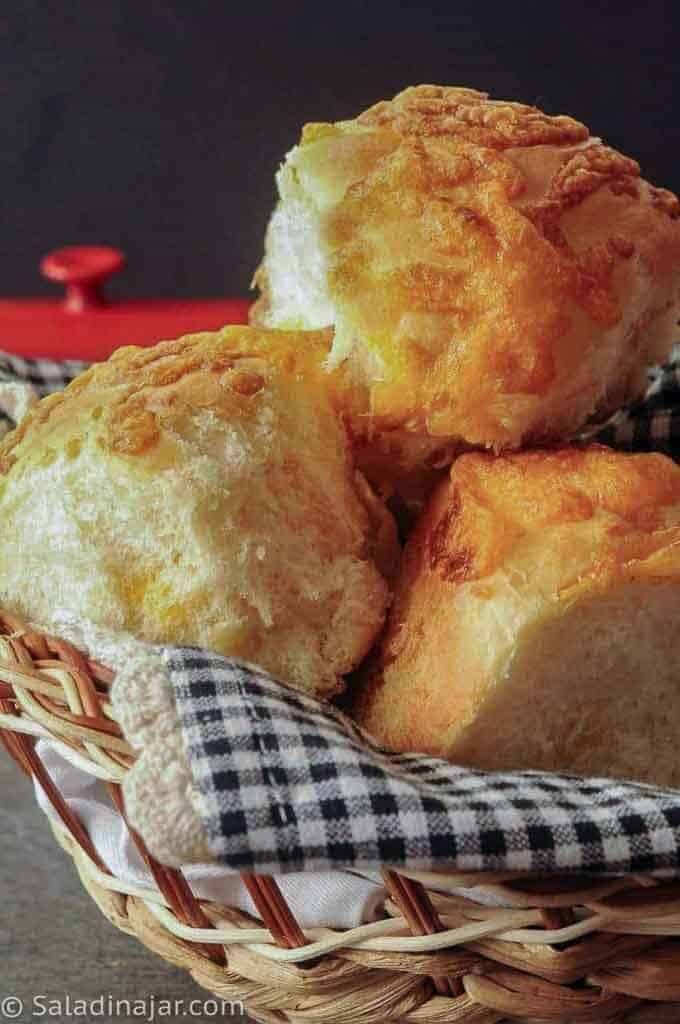 These may be the best cheese rolls on the planet! My family thinks so.
Should I use a bread machine or a stand mixer to make these?
I nearly always make these in my bread machine–but I used an electric stand mixer this time to illustrate a different method. Click here to see the same dough mixed and kneaded in a bread machine.
If you follow that recipe, don't forget to knead in the shredded cheese after the dough has risen in the bread machine and before you make the dough into balls.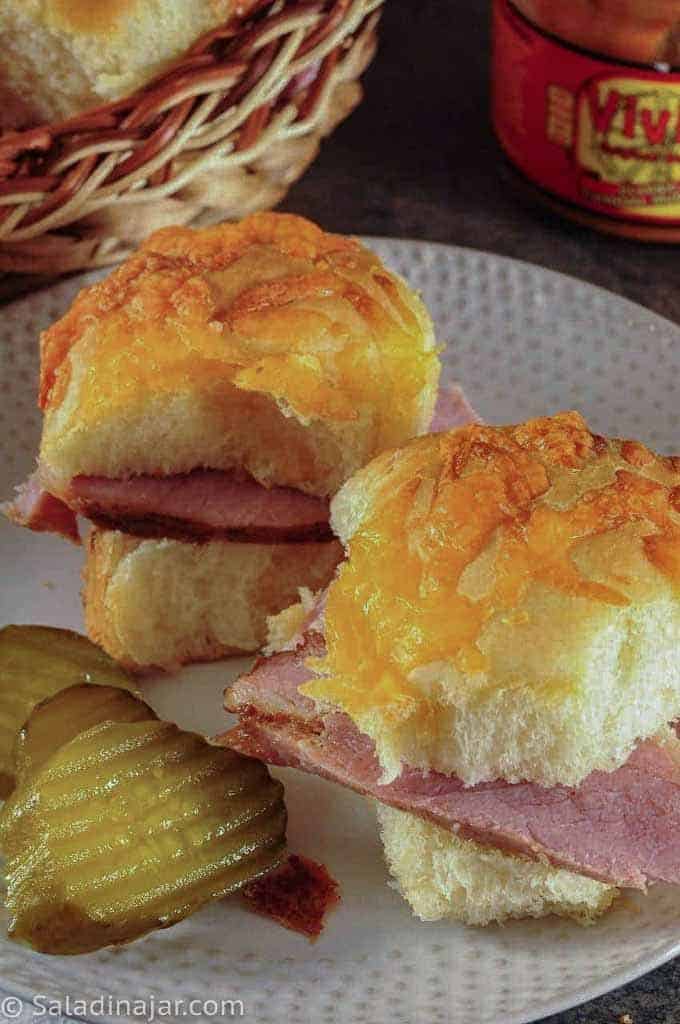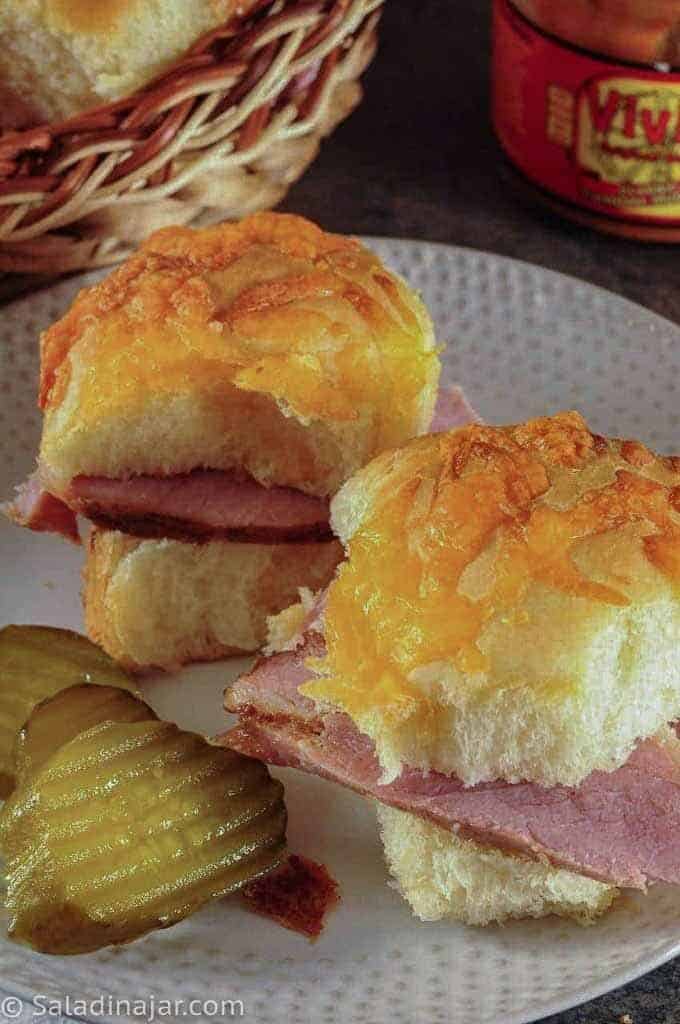 Making sandwich buns with this dough:
In addition to dinner rolls, try using Cheesy-Crusted Yeast Rolls as slider buns. Sliced ham and a little mustard are all you need for a memorable sandwich.
The small size of slider buns helps with portion control. On the other hand, you could make your rolls twice as big (or any size you want since you're doin' the makin' and use them as regular buns.
Can I use regular yeast instead of instant or bread machine yeast?
Note: You can still use bread machine or instant yeast in a stand mixer. However, if you decide to use regular yeast instead, it must be dissolved before adding it to the other ingredients.
Use a small amount of the warmed liquid specified in the recipe. Add yeast and stir to dissolve. Allow this mixture to sit for 10-15 minutes until it bubbles
How to mix up Cheesy-Crusted Yeast Rolls in a stand mixer: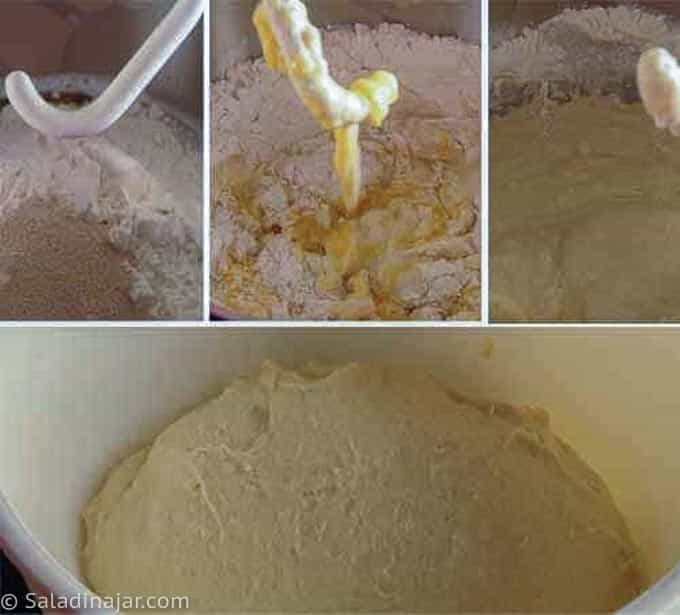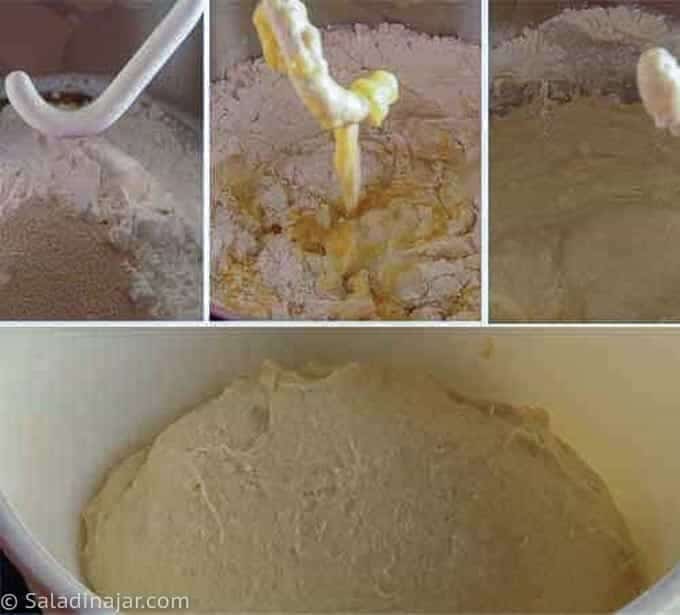 How to add the cheese and form the rolls: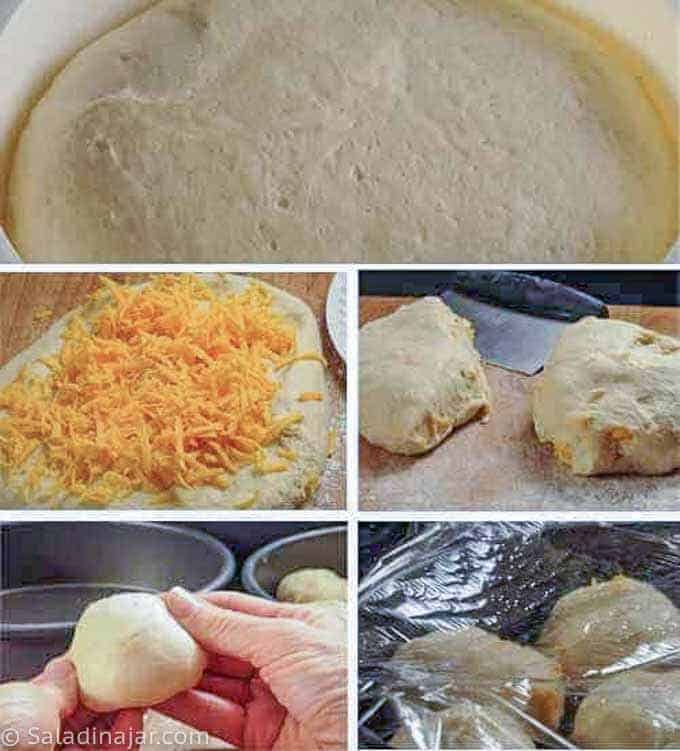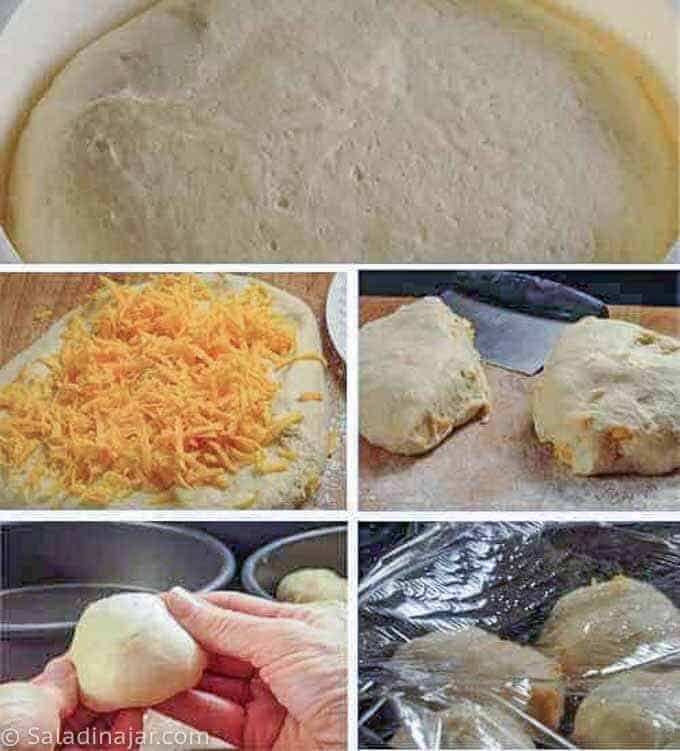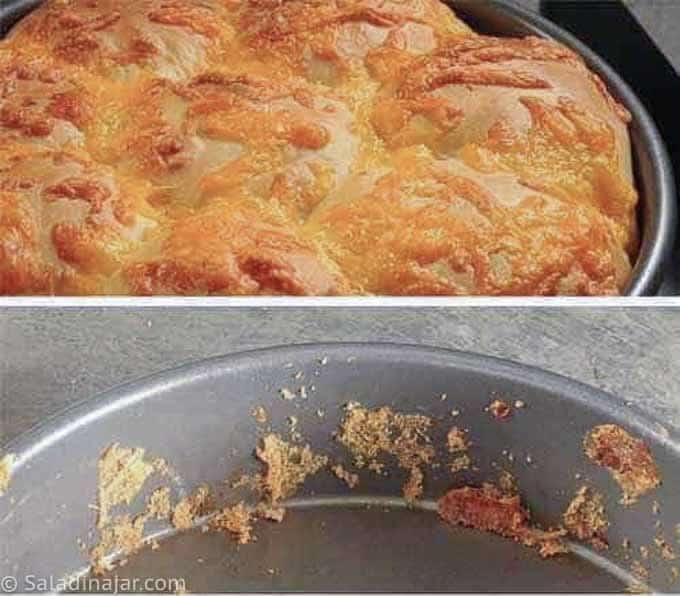 See those cheesy bits left clinging to the pan? Consider them the cook's reward.
Pin the picture below to save for later.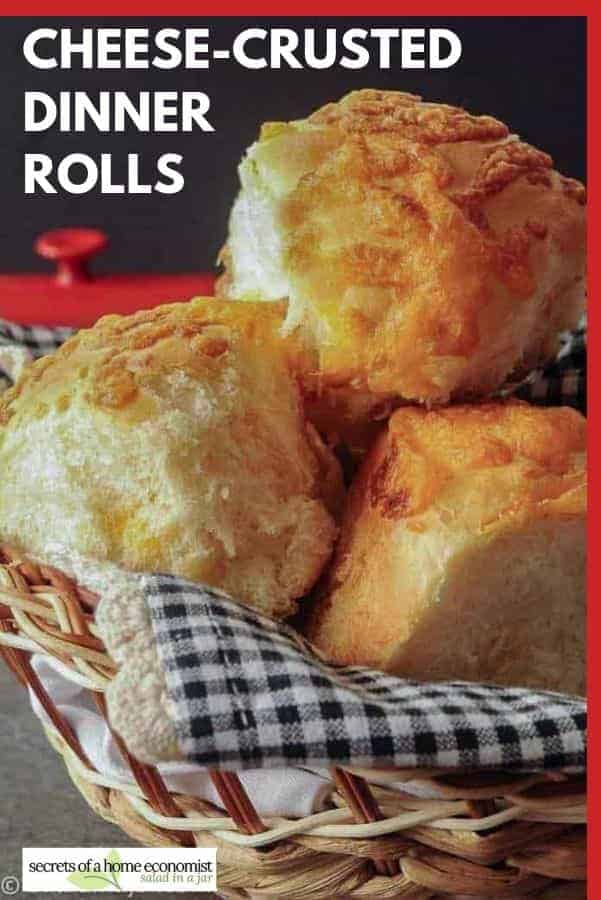 If you make this and enjoy the recipe, it would help me and others if you would return to this post and leave a rating (on the recipe card itself underneath the picture). Although always appreciated, no comment is required. Thank you for visiting! Paula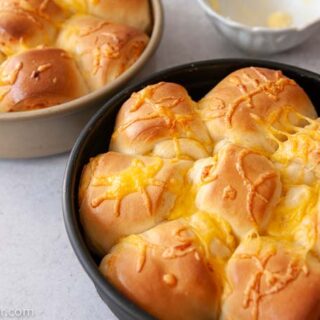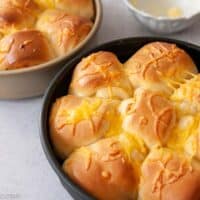 Cheese Yeast Rolls
Prep Time:
2 hours
45 minutes
Cheesy-Crusted Yeast Dinner Rolls are light and fluffy dinner rolls with melty cheese on the inside and crusty cheese on the outside.
Ingredients
1  cup milk, divided
3 to 3-1/4 cups unbleached flour, divided
1 egg
1 tablespoon heavy cream or 1 egg yolk
2 tablespoons sugar
1  1/4 teaspoon salt
4 tablespoons softened butter
2 teaspoons bread machine or instant yeast
2 cups of shredded cheese
Instructions
Making the Dough:
Tip: It's easier to measure out the total amount of milk and flour (as directed in step #1) you will need before you get started

Measure out 1 cup of milk. In a separate small bowl, measure out 3 cups flour.
Make flour paste by whisking 3 tablespoons of the flour you just measured out and half of the milk (1/2 cup) together in a medium microwave-safe bowl. Cook on High in the microwave for 1 minute, whisking every 30 seconds. Cook an additional 15-30 seconds, if necessary, until mixture is as thick as pudding.
Add the remaining 1/2 cup of milk to the cooked milk/flour mixture and whisk energetically. It's OK if there are still a few lumps. They will disappear in the mixing process. Add to the bread machine pan.
Add egg, heavy cream or egg yolk, sugar, salt, softened butter, remaining flour (hold back about 1/4 cup), and yeast to the pan and select the dough cycle. Press "Start."
After about 10 minutes, open the bread machine lid and check the dough. If too wet, add more flour 1 tablespoon at a time. If too dry, add more milk 1 tablespoon at a time.
When dough cycle finishes, check to see if the dough has risen to double its original size. If so, remove it to a floured surface. If not, allow the dough to remain in the machine until it is double.
Making and Baking the Rolls:
Remove the dough from the bread machine onto a floured surface. I like to use a silicone mat because clean-up is easy (dishwasher).
Divide dough in half. Form each half into a neat ball, flouring the surface as you work to prevent sticking.
Use a rolling pin to roll one dough ball into a 13 x 9 rectangle.
Divide into 4 equally-sized strips long-ways, then divide each strip in half short-ways. You should have 8 total strips. Roll each strip starting from either of the short ends.
Place rolls into a greased (spray with Baker's Joy for best results) 8 or 9-inch pan in a spoke fashion. Repeat steps 2-4 with the other half of the dough.
Cover pans with a tea towel or cheap shower cap and set aside to rise again until almost double. This will probably take an hour, plus or minus, depending on the room temperature.
Preheat oven to 375 degrees F when you think the rolls are almost ready to bake.
Place rolls on the middle shelf of your oven. Bake for 14-17 minutes or until golden brown.
Remove from the oven and allow to sit for about 5 minutes. Run a plastic knife around the edge to loosen any cheese stuck to the edge. Turn rolls out onto a cooling rack for another 10-15 minutes. Brush all over with melted butter.
Tip: If you leave rolls in the pan too long after baking, they will sweat and become soggy on the bottom.
Notes
Directions for making bread with a stand mixer or by hand:
To make this recipe in a heavy-duty stand mixer, add ingredients to the bowl in the same order. Turn on low to mix until all ingredients are moistened. Using dough hook, turn speed to 2 or 3 and continue beating/kneading until dough becomes smooth and elastic, about 5-10 minutes. Cover and allow to rise in a warm place. Deflate dough gently and shape rolls as indicated in recipe.
If making by hand, combine all ingredients into a shaggy ball in a large bowl. Turn dough out on a floured surface and knead with your hands until dough becomes smooth and elastic, a process that will likely take 10-20 minutes depending on your experience. Place dough ball into a greased bowl. Cover and allow to rise until double. Deflate dough gently and shape rolls as indicated in recipe
Please note: If you substitute regular yeast for instant or bread machine yeast, you must dissolve it first before adding to the dry ingredients. Stir it into about 1/4 cup of the lukewarm liquid called for in the recipe. Let sit for about 10 minutes. Add to other wet ingredients and then add dry ingredients. Proceed as directed to knead and shape rolls.
Nutrition Information:
Yield:

16
Serving Size:

1 roll
Amount Per Serving:
Calories:

297
Total Fat:

9g
Saturated Fat:

4g
Trans Fat:

0g
Unsaturated Fat:

4g
Cholesterol:

29mg
Sodium:

239mg
Carbohydrates:

43g
Fiber:

2g
Sugar:

3g
Protein:

10g
If you enjoy making and/or eating bread, take a look at these delicious ideas: